Banana Oatmeal Breakfast Cookies (One Bowl)
Banana Oatmeal Breakfast Cookies are so healthy they can be eaten for breakfast! They are made in ONE bowl, taste like chewy oatmeal cookies and are gluten free and vegan!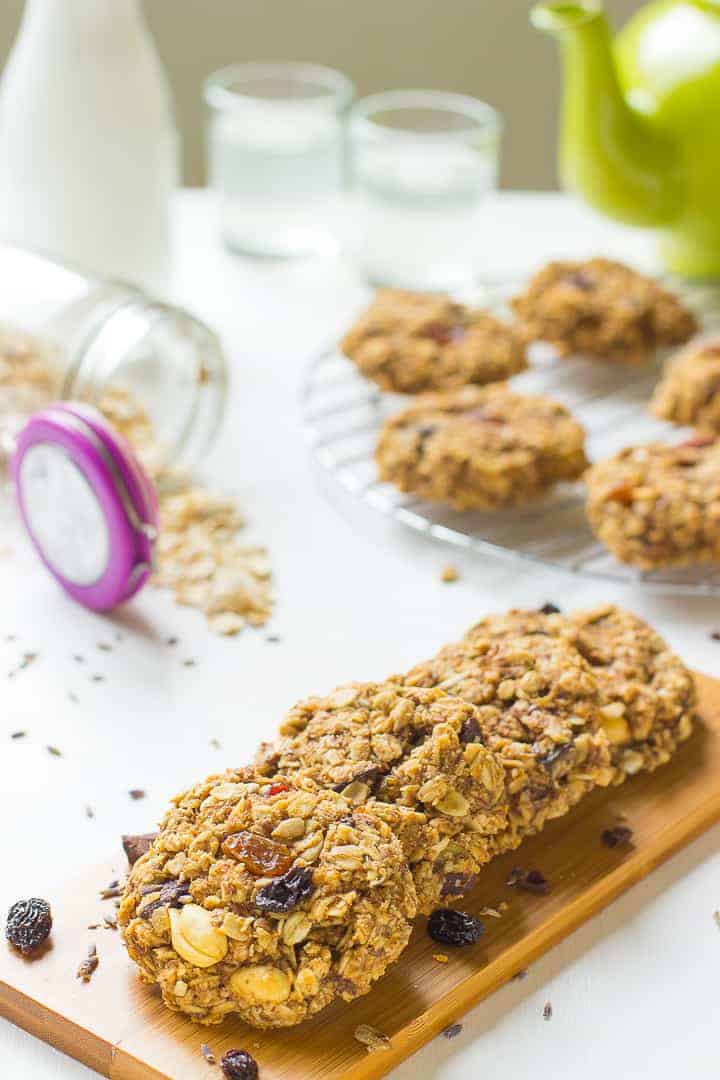 Picture this. It's Monday (I know), you wake up late, and you're rushing. Chaos is about to break loose when you remember: You have cookies for breakfast. Is there anything better? Actually yes, and that's banana oatmeal breakfast cookies that are loaded with nutrition, protein and are down right good for you. I'm talking cookies as healthy as you're oatmeal, that are easy on the go, delicious and the solver of problem mornings. They are 100% perfect for back to school season.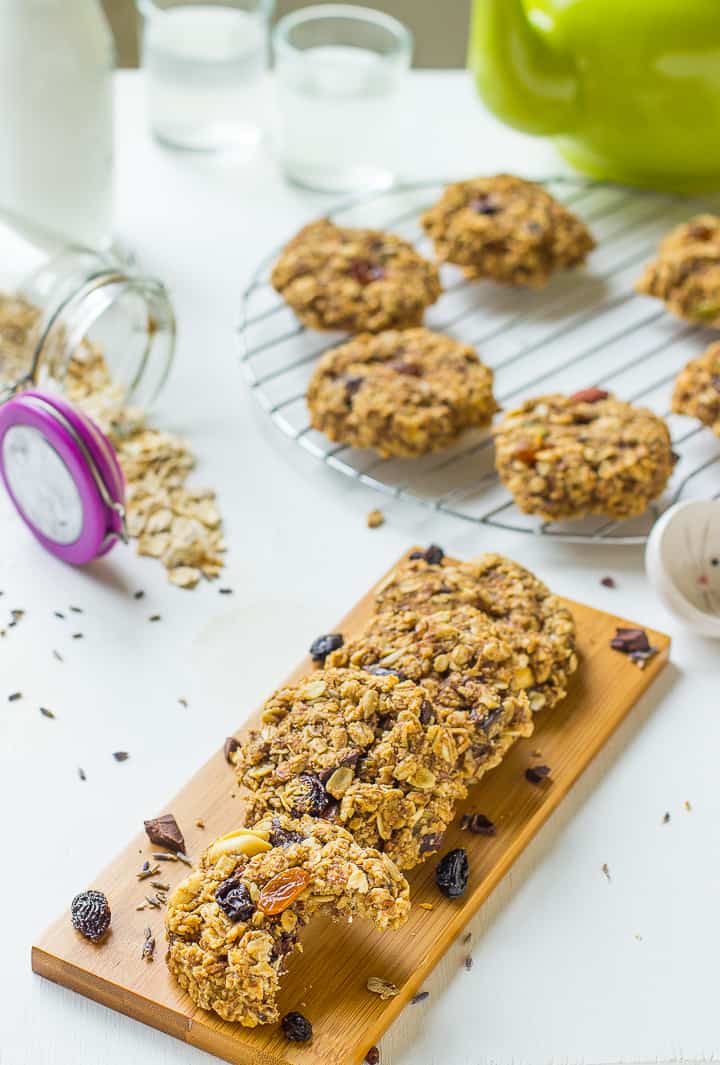 This isn't my first trip down the happy breakfast cookies lane. I've made Pumpkin Oatmeal Breakfast Cookies before and was immediately hooked. It's like – all my favorite things crammed beautifully into a set of cookies that are healthy enough for breakfast?! Who wouldn't get on board with that?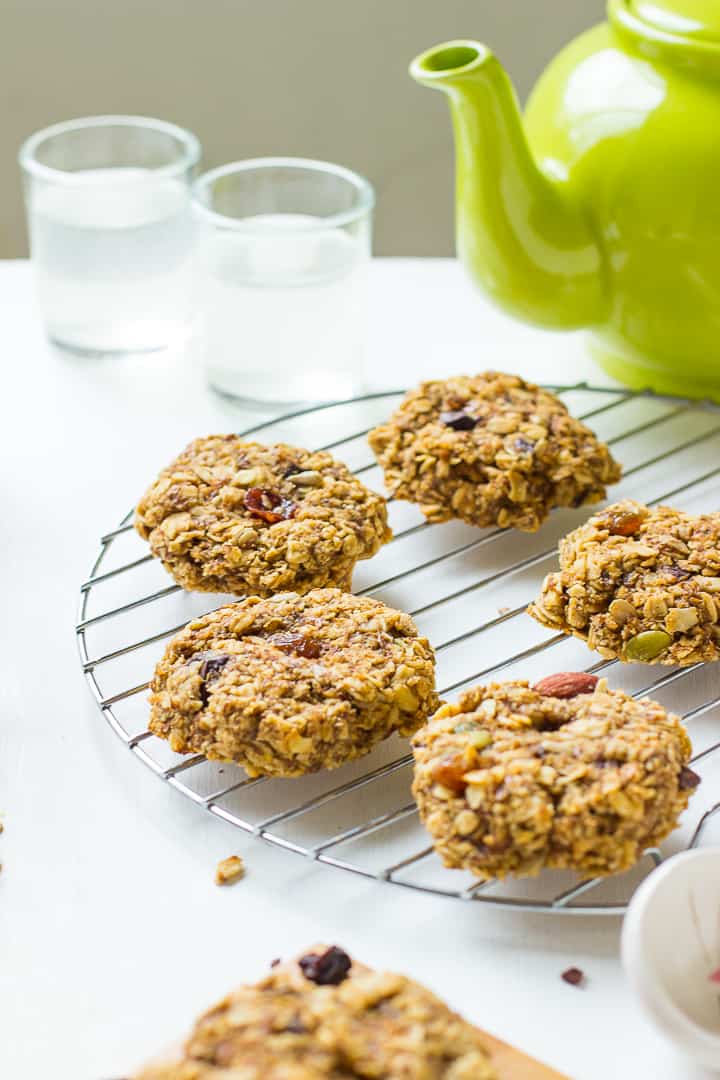 For this trip, I switched it up a bit. I wanted to make these banana oatmeal breakfast cookies; ones you could have even if pumpkin wasn't in season. So I opted for bananas as a delicious replacement to the protein, and threw in some yummy natural protein butter. I'm a big advocate for peanut butter; it's creamy, delicious, and has so much protein. It's a must for my oatmeal, and was a must for these cookies.
Add in some quick oats, a sweetener such as maple syrup, and your favorite toppings – chocolate chips, nuts, raisins…you name it. You can totally customise this to what you have at home. Got almonds? No problem. Want to try cranberries, golden raisins and regular raisins?
The world is your oyster.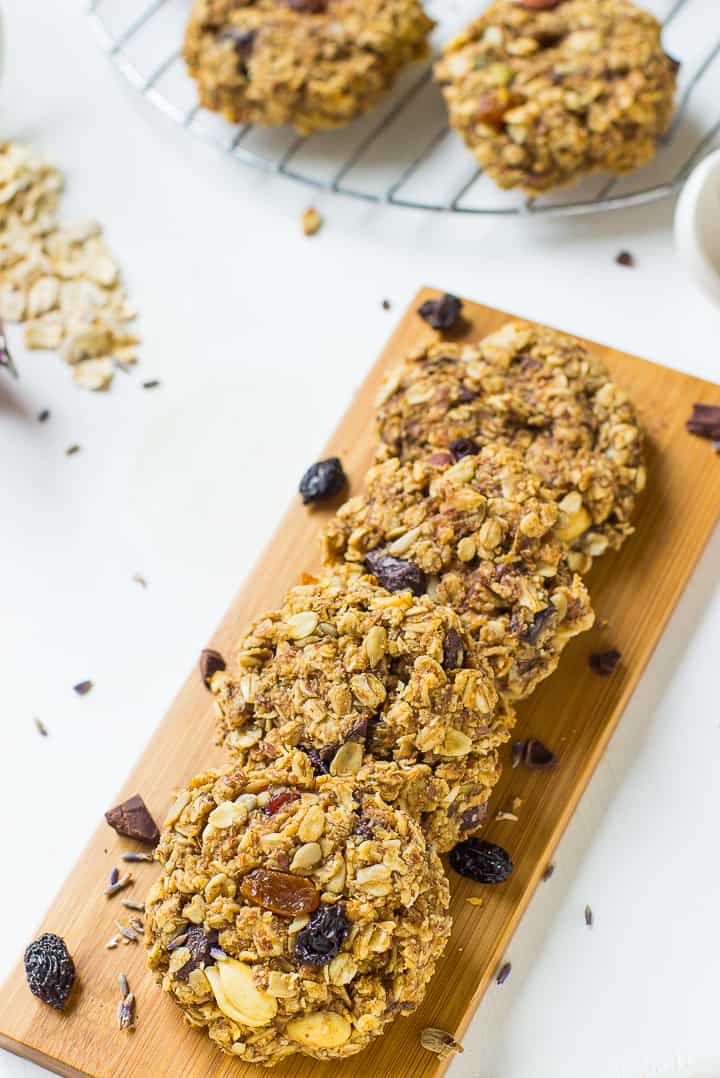 I know, I sound super excited and giddy. BUT, these are COOKIES we are talking about. Cookies that as I took these pictures, I resisted the great, GREAT temptation to tear into these. The second I ended this shoot, I said to myself, "Sthelf, these are the besffhstt". That's said with a half a cookie in my mouth, so…you get my muffled gist.
I would make this of course, and have, over and over. They are SO convenient for quick on the go breakfasts, and also for snacks. They hold up great and perfect for everyone.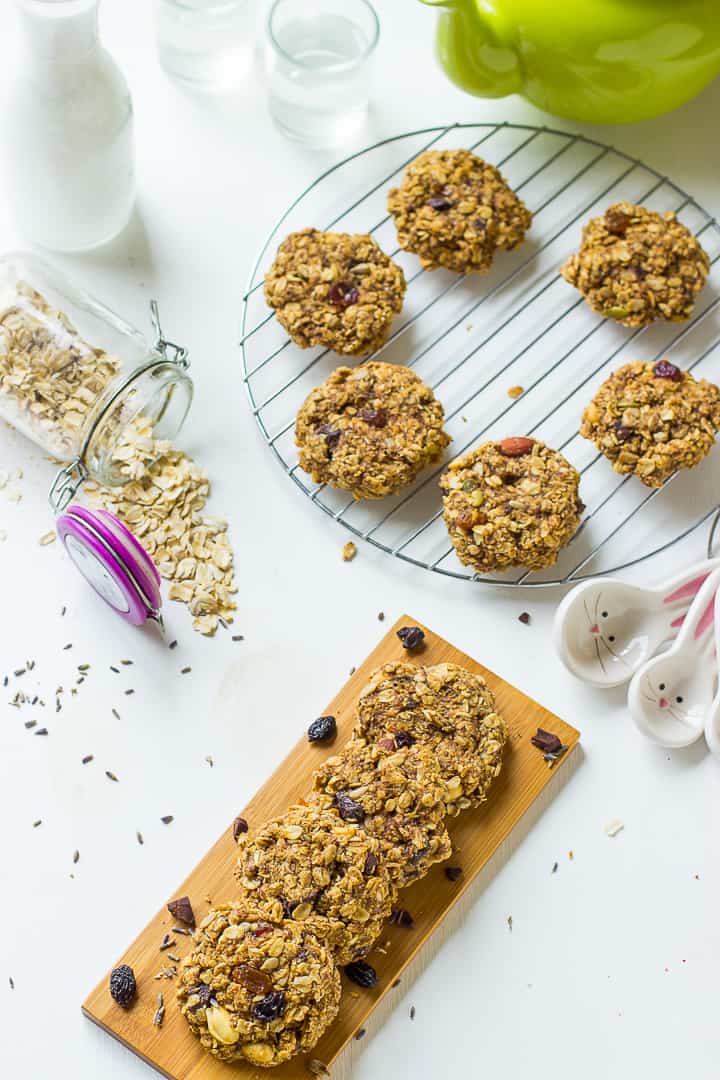 P.S. Here are some of the items I used to make this recipe if you'd like to use them too:
| WHAT YOU'LL NEED // SHOP MY FAVORITE INGREDIENTS & PREP PRODUCTS |


If you try this Banana Oatmeal Breakfast Cookies please let me know in the comment section below, or tag me on instagram with the hashtag #jessicainthekitchen! For more exclusive recipes follow me on Instagram AND on Snapchat: jessinkitchen.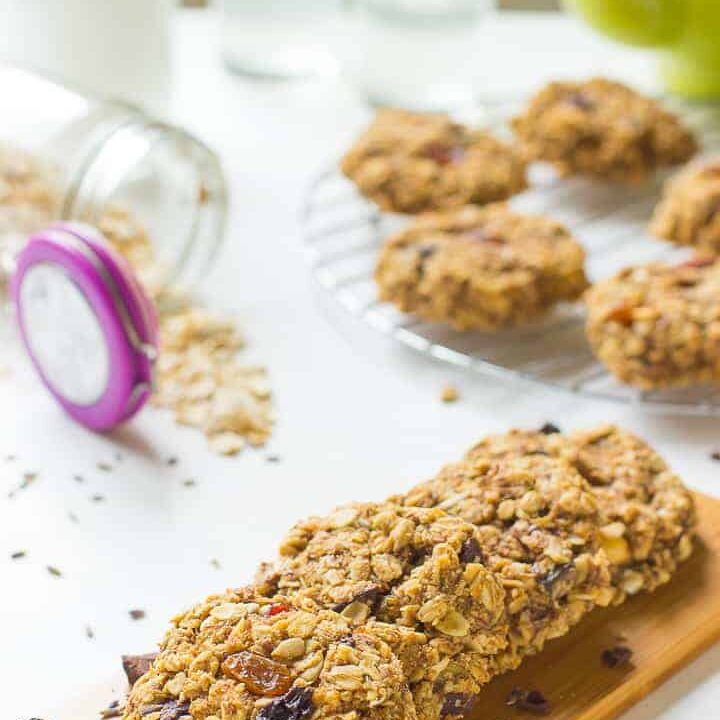 Banana Oatmeal Breakfast Cookies (One Bowl)
Banana Oatmeal Breakfast Cookies are so healthy they can be eaten for breakfast! 
Ingredients
2 1/4 cups rolled quick oats
1/2 teaspoon sea salt
1 teaspoon baking powder
1/2 teaspoon cinnamon
1/2 teaspoon nutmeg
1/4 cup ground flaxseeds
1/2 cup mashed bananas, very ripe
1/4 cup organic peanut butter, microwave for 30 seconds
1/4 cup maple syrup
1/4 cup vegan chocolate chips
1/4 cup raisins
optional: sunflower seeds, cranberries and other nuts
Instructions
Preheat the oven to 325 ° F/ 165° C.

Line a baking sheet with a SILPAT or other silicone baking mat.

Mix all the dry ingredients together, then add in the wet ingredients in order.

Use a wooden spoon or spatula and stir together until together, stirring for about 30 seconds so as to incorporate everything but not over mix. The batter should be sticky and thick.

Using a little less than 3 tablespoons for each cookie, form dough firmly into cookies, and place on baking mat. Leave a little space between each cookie (they won't spread out while baking but will puff up just a little bit).

Bake for 12-15 minutes on the top rack of your oven until tops are golden brown.

Allow to cool for 5 minutes on baking mat then transfer to a wire rack to cool completely. Enjoy!
Notes
Notes:
1. This recipe is vegan and gluten free.
HOW TO STORE: Cookies will last up to 3-5 days in an airtight storage container in the fridge.
Calories: 193kcal, Carbohydrates: 29g, Protein: 5g, Fat: 8g, Saturated Fat: 2g, Polyunsaturated Fat: 2g, Monounsaturated Fat: 2g, Sodium: 190mg, Potassium: 223mg, Fiber: 4g, Sugar: 9g, Vitamin A: 8IU, Vitamin C: 1mg, Calcium: 63mg, Iron: 2mg
Disclaimer: Although jessicainthekitchen.com attempts to provide accurate nutritional information, kindly note that these are only estimates. Nutritional information may be affected based on the product type, the brand that was purchased, and in other unforeseeable ways. Jessicainthekitchen.com will not be held liable for any loss or damage resulting for your reliance on nutritional information. If you need to follow a specific caloric regimen, please consult your doctor first.