Pumpkin Chocolate Chip Oatmeal Breakfast Cookies (VIDEO)
These Pumpkin Breakfast Cookies are super tasty, gluten free and vegan! They make a quick and easy breakfast on the go.
Easy Pumpkin Breakfast Cookies
I have great news friends and it involves pumpkin, chocolate chips, oatmeal and cookies for breakfast. Yes, I'm speaking of pumpkin breakfast cookies. The name given to cookies that once realised could easily by the ingredients in your oatmeal (these are actually variations of the ingredients in my daily oatmeal) are given the name cookies because, who doesn't want to have cookies for breakfast?! I want to have these pumpkin breakfast cookies for breakfast. Every day.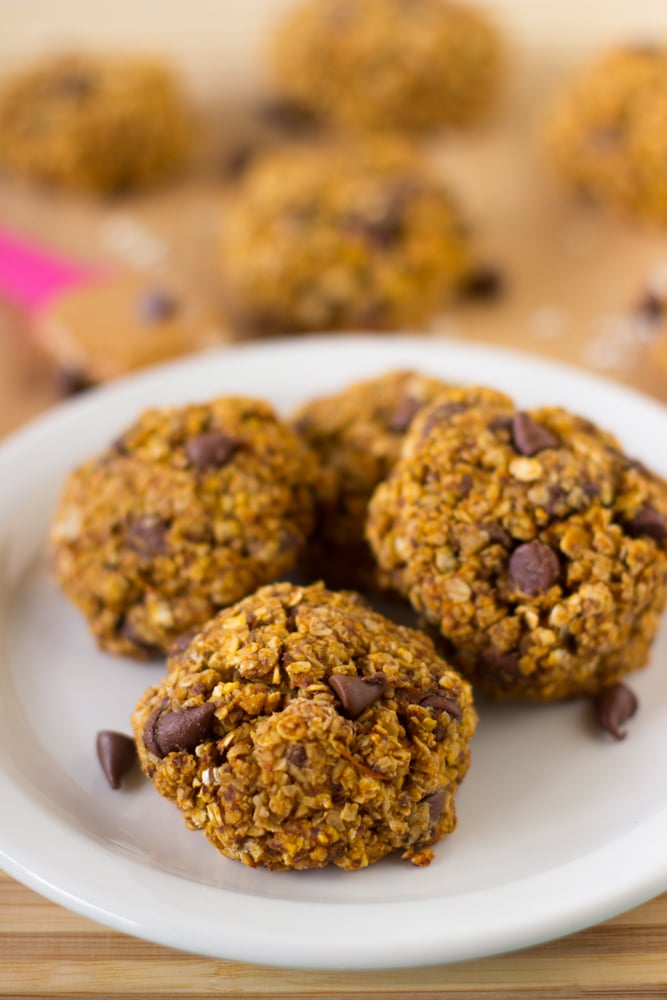 Now that that's over, back to these pumpkin breakfast cookies.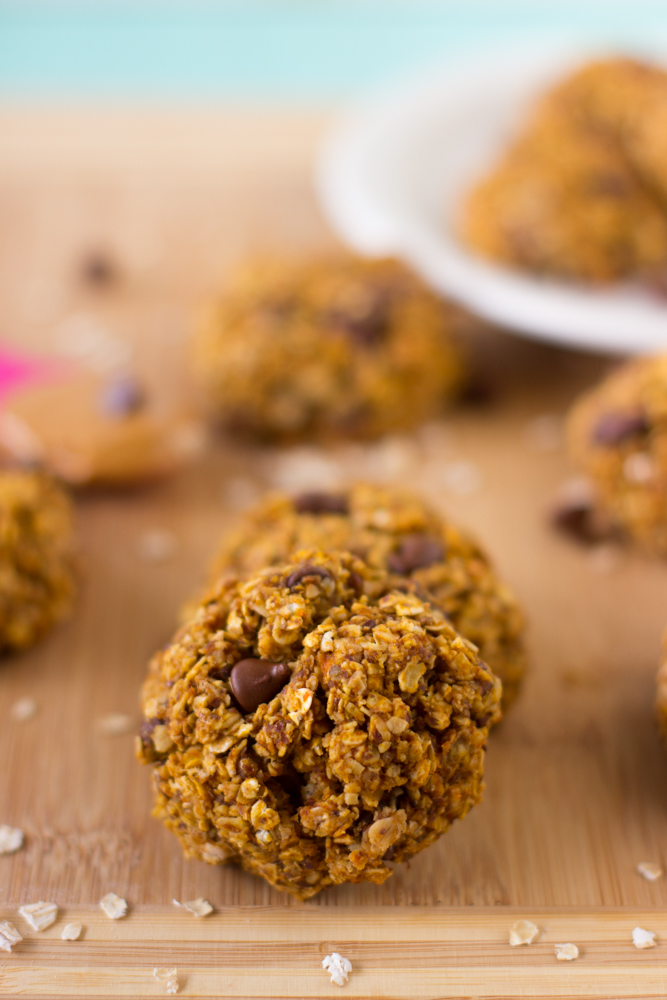 Breakfast Pumpkin Cookies
I've seen the breakfast cookies phenomenon around but really got into trying to create a fall theme breakfast cookies. Not only do I love pumpkin (thanks mom!) but I'm a fan of all things delicious and healthy. People tend to get scared when they hear vegan cookies but I mean this in all the right ways. These cookies are soft, chewy, hold together well, somehow slightly creamy due to the peanut butter and just the right amount of sweetness that you'd allow in your oatmeal (plus a little). I loved these cookies; we all did.
What I really loved about these Pumpkin Chocolate Chip Oatmeal Breakfast Cookies is that it really was healthy enough for breakfast as opposed to dessert. If you're like me and actually prefer lighter desserts to decadent desserts, it could easily double as dessert. Last month I picked up quick oats by accident and notice they almost melted away, but finally found a great purpose for them! They work perfectly here because instead of adding too much chew, they add the firm cookie but melt-in-your-mouth effect. Combined with the always accepted flavour of sweet pumpkin, and of course, chocolate chips. I didn't have much seeds on hand, but I would also add some seeds in there if you wanted to, and feel free to experiment with different kinds of nut butters!
This is one cookie I will definitely be getting into a whole lot more.
For more pumpkin breakfast ideas, try my pumpkin waffles and pumpkin pancakes.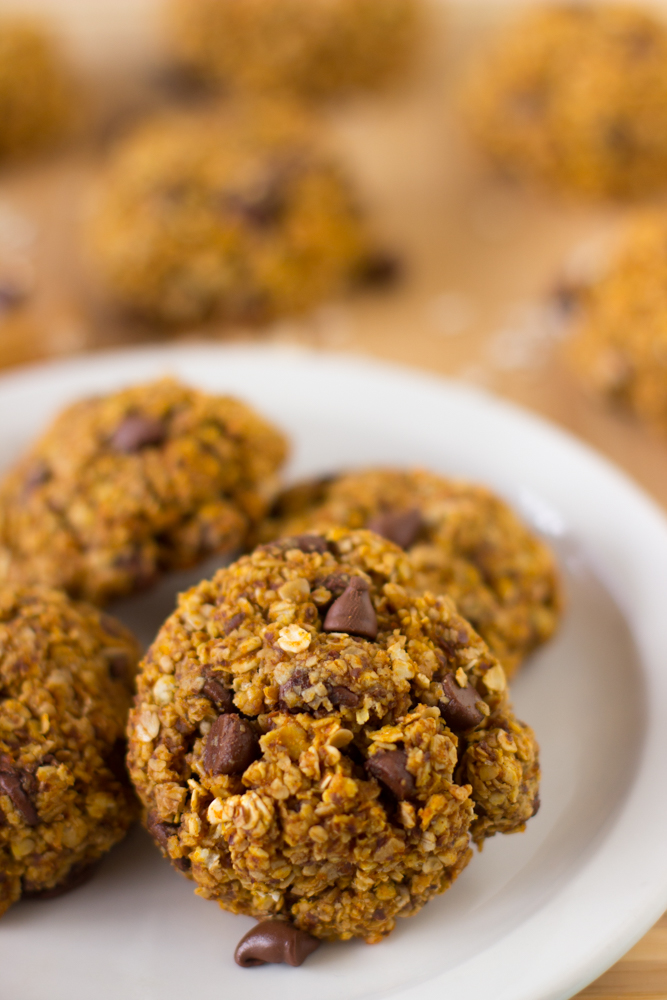 P.S. Here are some of the items I used to make this recipe if you'd like to use them too:
| WHAT YOU'LL NEED // SHOP MY FAVORITE INGREDIENTS & PREP PRODUCTS |

RELATED POSTS
Vegan Pumpkin Chocolate Chip Bread
Vegan Pumpkin Chocolate Chip Muffins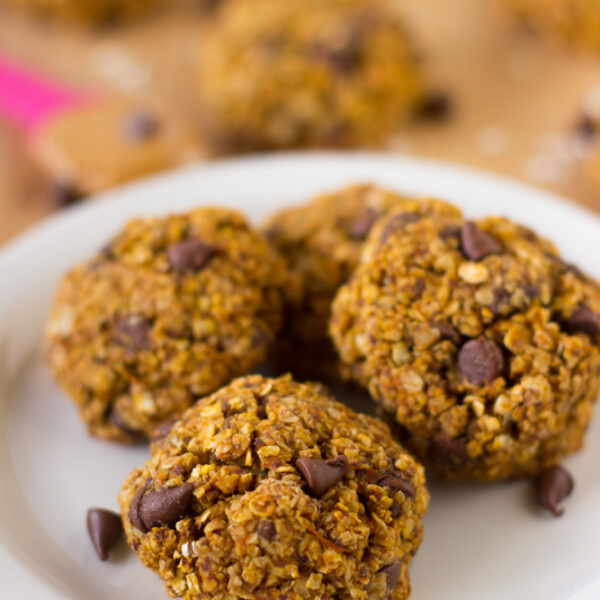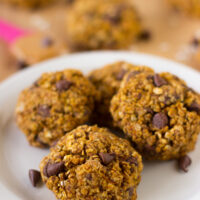 Pumpkin Chocolate Chip Oatmeal Breakfast Cookies
These Pumpkin Breakfast Cookies are super tasty, gluten free and vegan! They make a quick and easy breakfast on the go.
Ingredients
2 1/4 cups rolled quick oats
1/2 teaspoon fine sea salt
1 teaspoon baking powder
1/2 teaspoon cinnamon
1/2 teaspoon all spice
1/4 cup ground flax seeds
1/2 cup pumpkin puree
1/4 cup organic peanut butter
1/4 cup maple syrup
1/3 cup vegan chocolate chips
Instructions
Preheat the oven to 325 degrees Fahrenheit.* Line a baking sheet with a SILPAT or other silicone baking mat.



Mix all the dry ingredients together, then add in the wet ingredients in order.


Use a wooden spoon or spatula and stir together until together, stirring for about 30 seconds so as to incorporate everything but not over mix. The batter should be sticky and thick.


Using a little less than 3 tablespoons for each cookie, form dough firmly into cookies, and place on baking mat. Leave a little space between each cookie (they won't spread out while baking but will puff up just a little bit).


Bake for 15 minutes on the top rack of your oven until tops are golden brown.


Allow to cool for 5 minutes on baking mat then transfer to a wire rack to cool completely. Enjoy!
Notes
*In general, I find when making recipes that are gluten free or use gluten free flours baking at 25 degrees less is always best.
Cookies will last up to 3-5 days in an airtight storage container.

If you try this Pumpkin Chocolate Chip Oatmeal Breakfast Cookies please let me know in the comment section below, or tag me on instagram with the hashtag #jessicainthekitchen! For more exclusive recipes follow me on Instagram AND on Snapchat: jessinkitchen.
Calories: 183kcal, Carbohydrates: 25g, Protein: 5g, Fat: 8g, Saturated Fat: 2g, Sodium: 191mg, Potassium: 182mg, Fiber: 4g, Sugar: 9g, Vitamin A: 1906IU, Vitamin C: 1mg, Calcium: 65mg, Iron: 2mg
Disclaimer: Although jessicainthekitchen.com attempts to provide accurate nutritional information, kindly note that these are only estimates. Nutritional information may be affected based on the product type, the brand that was purchased, and in other unforeseeable ways. Jessicainthekitchen.com will not be held liable for any loss or damage resulting for your reliance on nutritional information. If you need to follow a specific caloric regimen, please consult your doctor first.