Pumpkin Pancakes
With hearty pumpkin puree and your favorite fall flavors, these moist and fluffy pumpkin pancakes are the perfect breakfast treat. They're easy to make, creamy and rich, and also vegan, and easy to make gluten free!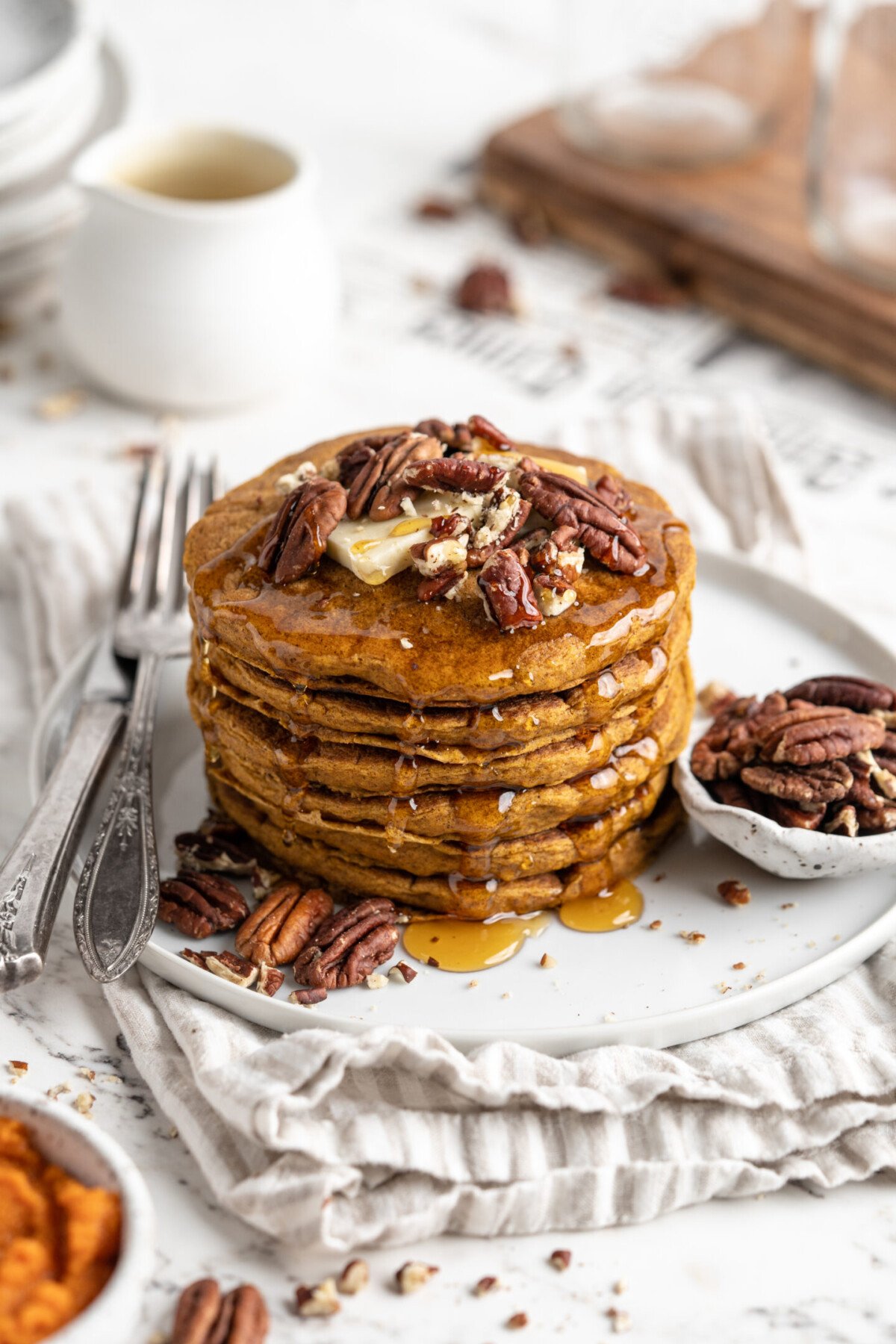 Once fall arrives, I find myself making as many pumpkin recipes as possible. Pumpkin just screams autumn, and the hearty, earthy, and rich flavor is so comforting when the weather gets cold. One of my favorite ways to use pumpkin is to make pumpkin pancakes. They're packed full of fall flavors, and they're completely vegan, too.
A lot of vegan and gluten free pancakes are dense and heavy, but these pumpkin pancakes are anything but that. They're moist, tender, and pillowy, and they taste like something from your favorite breakfast joint. You've got to try making this pumpkin pancake recipe.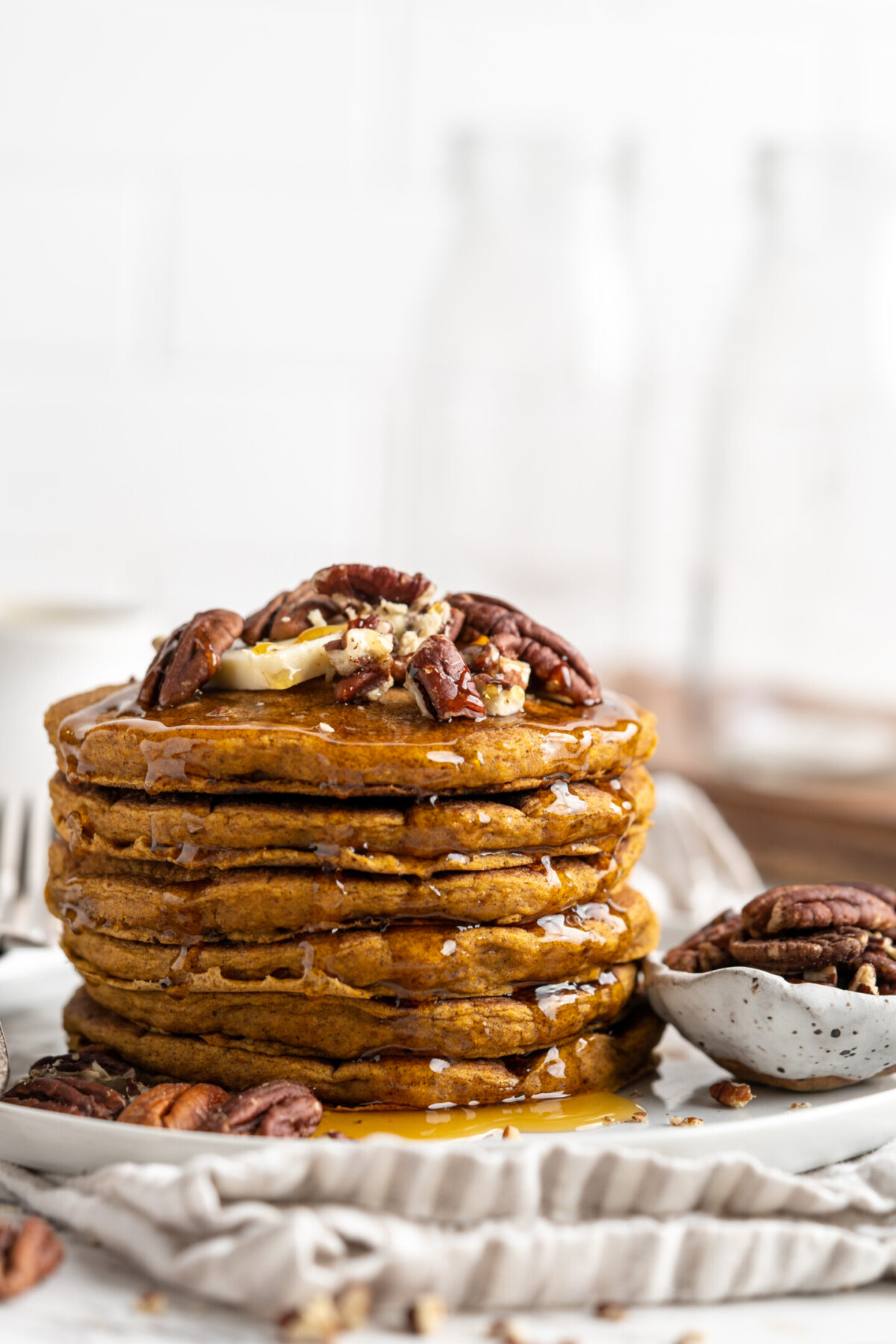 Why You'll Love These Pumpkin Pancakes
This is one of my favorite breakfast recipes, and it will quickly become one of yours, too! Here's why these are the best pumpkin pancakes I've ever had.
Quick and easy. This recipe is so simple. All you really have to do is mix the ingredients together and cook the pumpkin pancakes. What could be easier than that? It takes less than 20 minutes to make these vegan and gluten free fall pancakes, so you can throw them together any morning.
Light and fluffy. These pumpkin pancakes are soft, tender, and airy. A lot of gluten free and vegan pancakes are chewy, dense, and dry, but not this recipe. A flax egg and baking powder make the pumpkin pancakes fluffy, while a good amount of almond milk and non-dairy yogurt keeps them moist.
Perfect for fall. You can make pumpkin pancakes all year long, and believe me, I do! But they're especially perfect in the fall. With hearty pumpkin puree, rich and decadent maple syrup, and spicy cinnamon, they're loaded with your favorite fall flavors.
Vegan and easily made gluten free. These pumpkin pancakes are a sweet breakfast that will make your mornings even better. There's no dairy or eggs, and the sweetness comes from just a touch of maple syrup or cane sugar.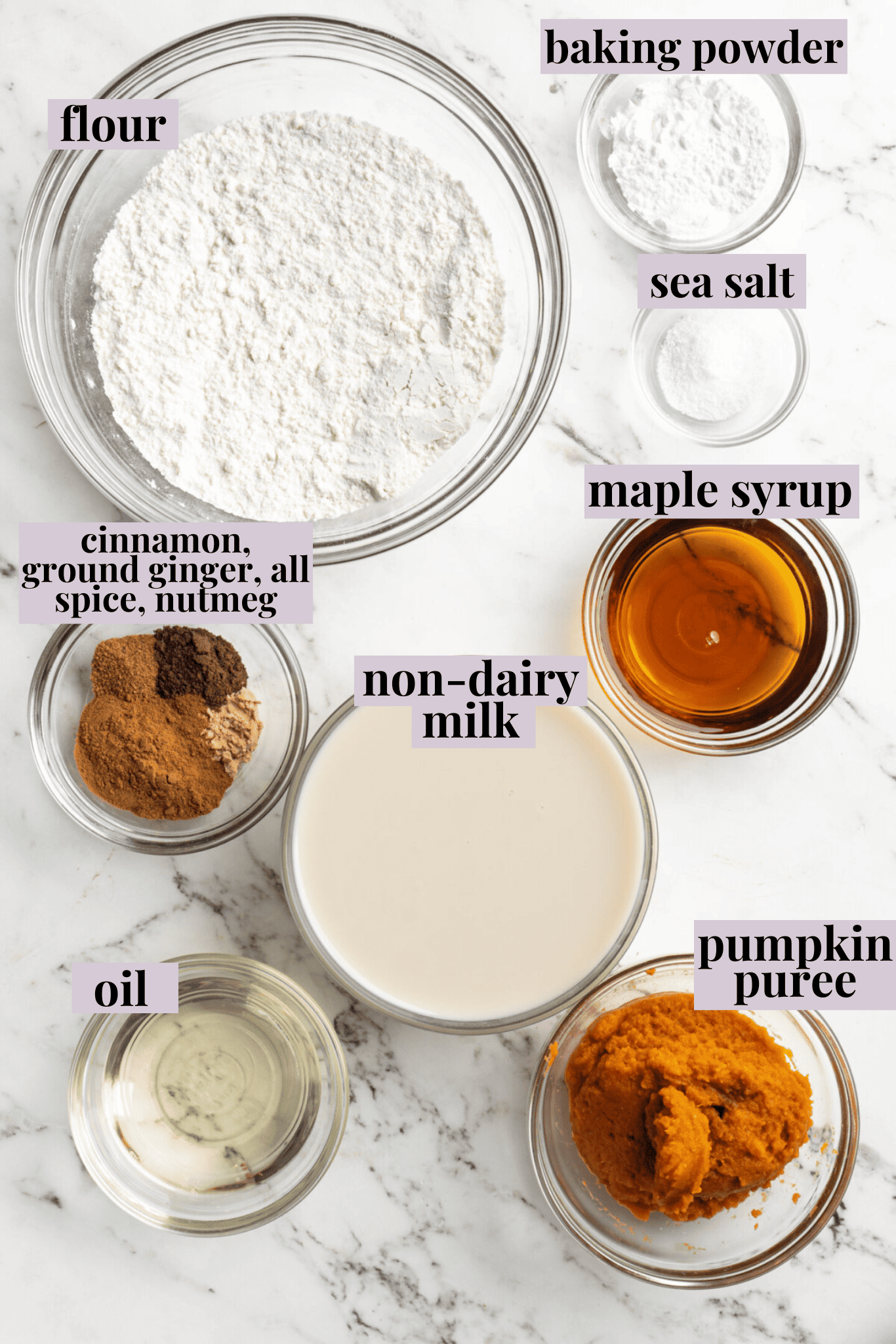 What You'll Need
Here are all the ingredients that you'll need to make these fluffy cinnamon pumpkin pancakes. Make sure to check out the recipe card at the end of the article for the exact amounts of each ingredient.
Pumpkin puree – Make sure to use unsweetened and unflavored puree. Or you can make your own at home.
Non-dairy milk – You can use other types of non-dairy milk if you prefer.
Melted vegan butter or oil
Maple syrup
Salt
Cinnamon, allspice and nutmeg – you can also use 2 ¾ teaspoons pumpkin pie spice.
Flour – If you're gluten free, you can also use oats that are ground in a food processor or coffee grinder.
Baking powder
How to Make Pumpkin Pancakes
This light and autumnal pumpkin pancake recipe takes less than 20 minutes to make. Here's how to do it.
Mix the wet ingredients and seasoning. Add the pumpkin puree, non-dairy milk, vegan butter or oil, maple syrup, sea salt, cinnamon, allspice and nutmeg to a mixing bowl. Whisk until smooth.
Add the dry ingredients. Pour the flour and baking powder into the bowl, and whisk until all the ingredients are combined and smooth.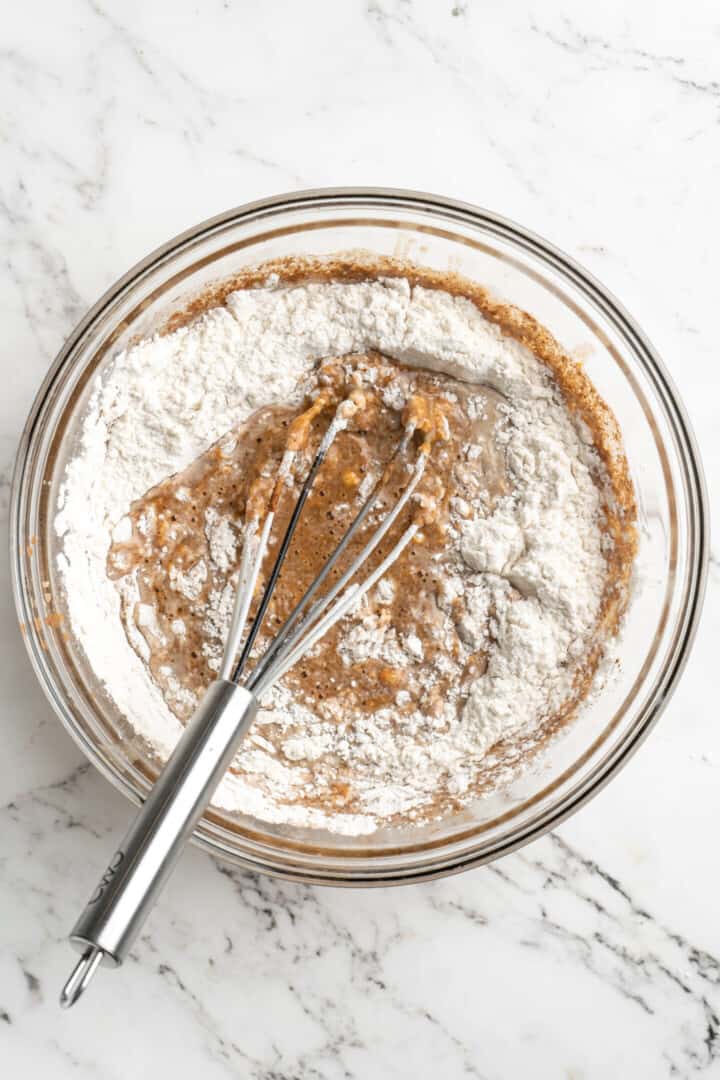 Heat. Put a griddle pan or a cast iron skillet over medium heat and grease with cooking spray or a small amount of oil.
Cook. Pour about ¼ cup of pancake batter onto the skillet. Wait until bubbles start to form on top of the pancakes, then wait an additional 2 minutes. Flip the pancakes and cook for 3 more minutes, or until cooked through.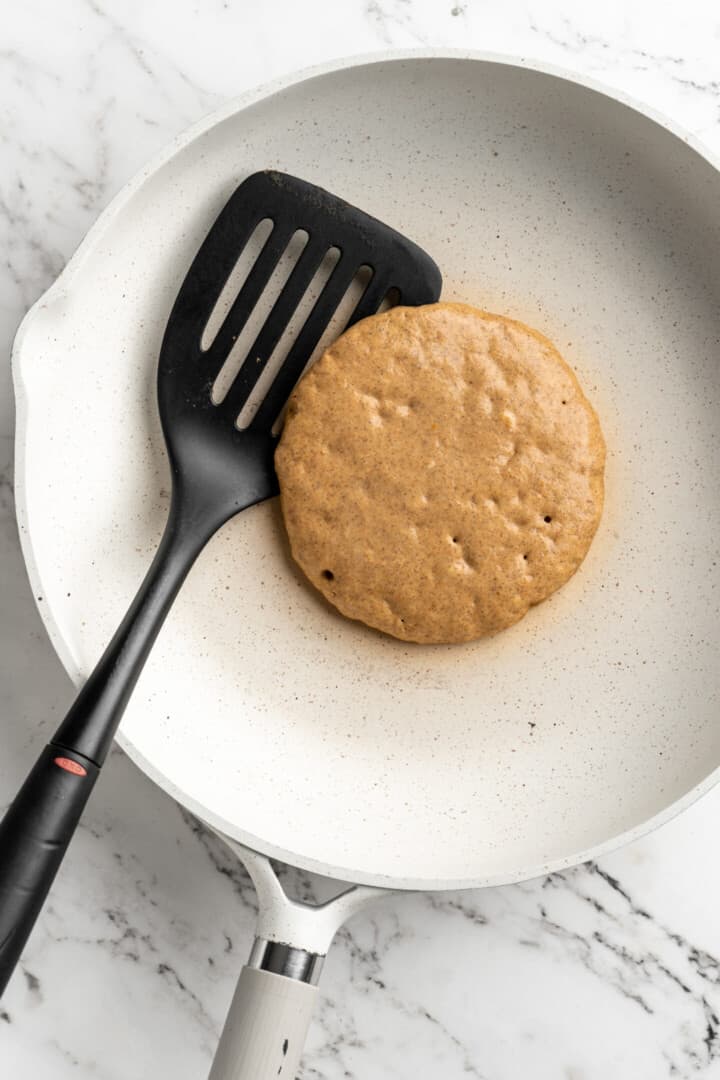 Repeat. Remove the pancake and repeat with the rest of the batter. You can cook multiple pancakes at once if your griddle is big enough.
Serve. Serve the pancakes hot with your favorite toppings.
Tips For Making This Pumpkin Pancake Recipe
This is such an easy recipe to make, but here are some of my favorite tricks for making these pumpkin pancakes.
Use homemade puree. This recipe is delicious if you use store-bought pumpkin puree. But it's even tastier if you make your own. My Homemade Pumpkin Puree recipe is quick and easy, and it will give your pancakes a much stronger pumpkin flavor.
Adjust the timing. Every stove and every griddle are different, so it's important to adjust the cooking time when you make these pumpkin pancakes. After you make the first pancake, check to make sure it's cooked all the way through. Adjust the cooking time based on how done the pancake is, and how brown the top and bottom are.
Keep warm. It's best to serve pumpkin pancakes hot off the griddle. But if you're trying to serve a large batch at once, you'll want to keep the finished pancakes warm while you cook the rest. To do that, wrap them in a kitchen towel and store them in the oven turned to the lowest setting.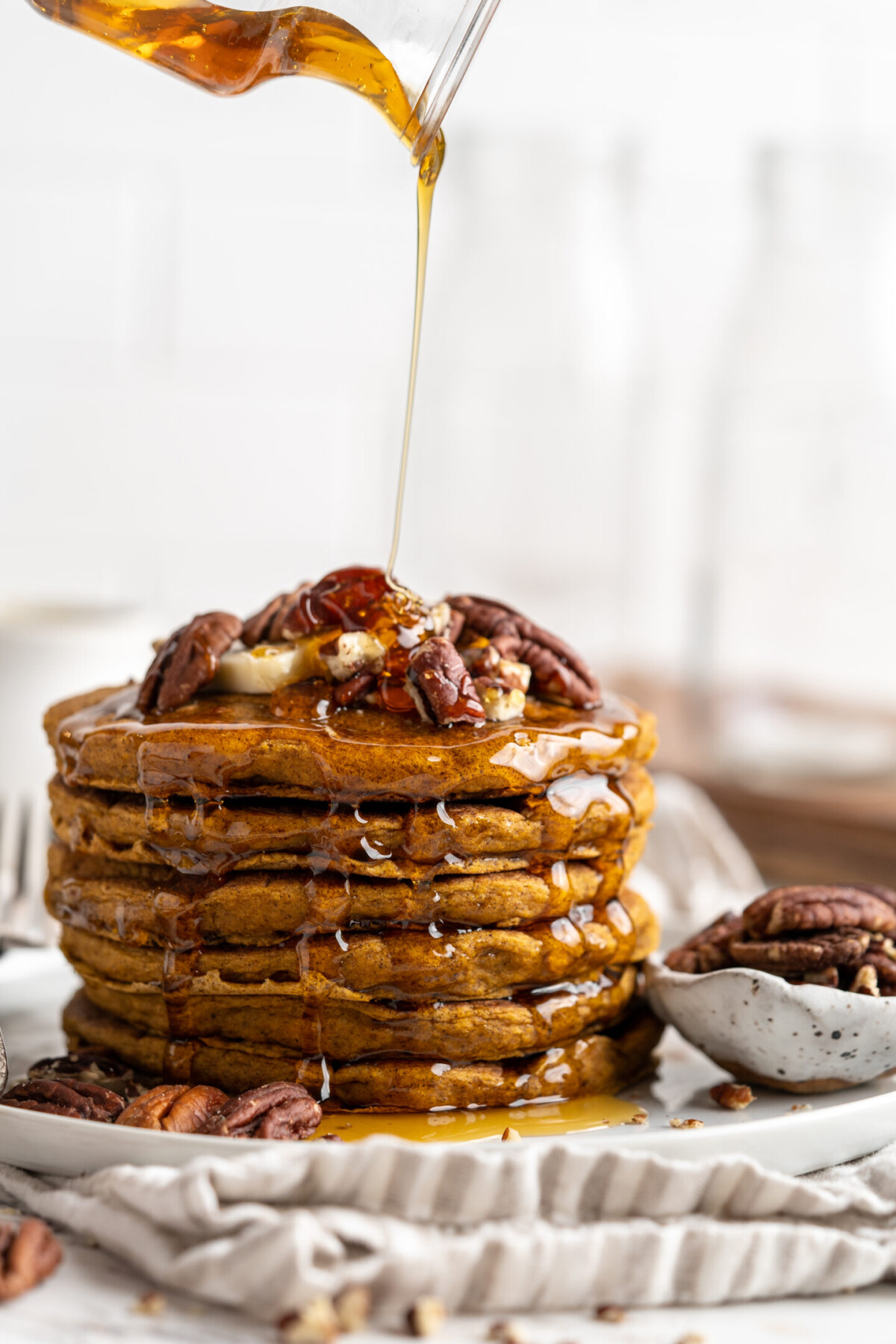 Serving Suggestions
These pumpkin pancakes are so delicious all on their own, especially when topped with jam, maple syrup, nuts, or fresh fruit. But I love to serve them on the weekend as part of a larger breakfast spread. Here are a few breakfast foods and drinks that I think go wonderfully with fluffy and decadent pumpkin pancakes.
How to Store & Reheat Leftovers
Leftover pumpkin pancakes will last for 4 days in the fridge, as long as you store them in an airtight container or bag. I recommend separating the pancakes with a layer of wax paper. You can reheat them in the toaster or in a skillet over medium heat.
Can I Freeze These Pumpkin Pancakes?
Yes! I love to freeze this perfect fall breakfast so that I can have hearty pumpkin pancakes whenever I want. Store the pumpkin pancakes in an airtight bag or container, separating each pancake with a layer of wax paper. They'll last in the freezer for at least 6 months. You can reheat them in the toaster directly from the freezer.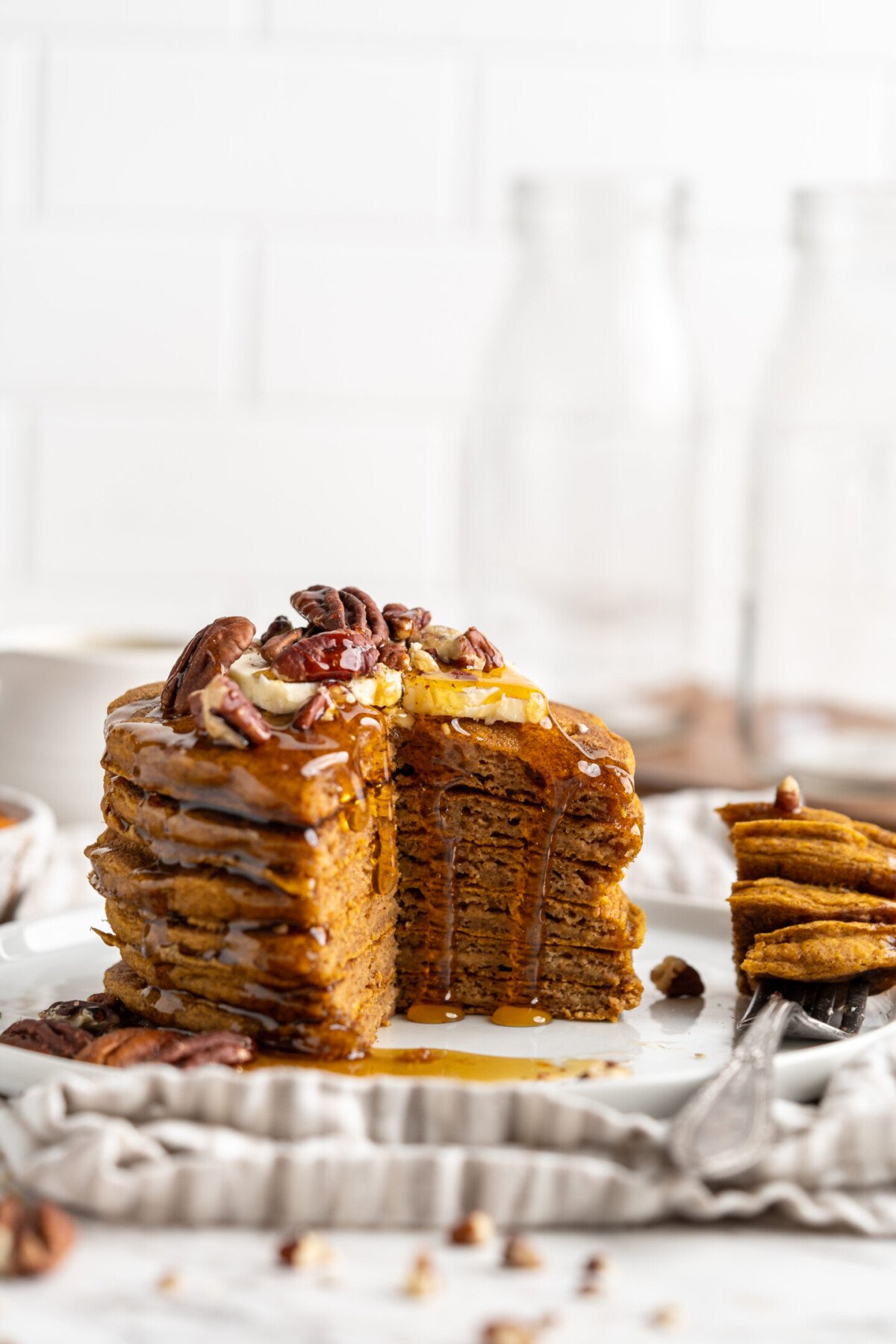 More Pancake Recipes
Pancakes are one of my go-to breakfasts. And while I love these pumpkin pancakes, I make a lot of other pancake recipes, too. Here are some more of my favorites.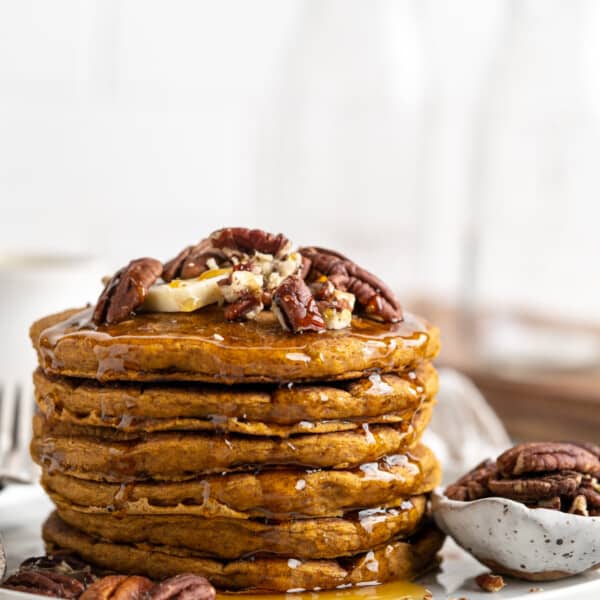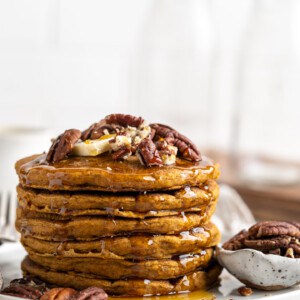 Pumpkin Pancakes
These easy vegan pumpkin pancakes are rich and hearty, but moist and fluffy. They're loaded with your favorite fall flavors, and the perfect breakfast on a cold morning.
Ingredients
1/2 cup pumpkin puree
2 tablespoons maple syrup or cane sugar
1 cup vegan milk + 2 tablespoons
1 tablespoon melted vegan butter or oil
1/2 teaspoon sea salt
2 teaspoons cinnamon
¼ teaspoon ground ginger, or ¼ teaspoon pumpkin pie spice
¼ teaspoon all spice, or ¼ teaspoon pumpkin pie spice
¼ teaspoon nutmeg, or ¼ teaspoon pumpkin pie spice (for a total of ¾ teaspoon for all three spices)
1 1/4 cups flour, 150g, or for gluten free, oats ground in a food processor or in a coffee grinder
1 tablespoon baking powder
Instructions
In a large bowl, add in the pumpkin puree, maple syrup, vegan milk, melted vegan butter or oil, sea salt, cinnamon, ground ginger, all spice and nutmeg. Stir/whisk vigorously to combine everything for about 2 minutes.

Sift in the flour and baking powder and using a spatula, gently mix the batter until JUST combined. It's okay (and normal) to have some lumps. The sifting really helps to make the pancakes fluffy.

Let the batter sit for 5 minutes.

Heat a griddle pan or a cast iron skillet over medium heat and brush with coconut oil or vegan butter.

Spray or grease ¼ cup measuring cup with some oil so the batter doesn't stick. Scoop about ¼ cup of batter and pour into the pan/skillet for in an even layer for one pancake.

Wait until some bubbles start to form on top. Allow to cook for about 2-3 more minutes and then flip the pancakes over once the bubbles begin to pop on top. Cook for about 2-3 more minutes until batter is cooked through.

Repeat for the rest of the pancakes. Serve pancakes hot with a pat of butter and drizzle with maple syrup on top and your favorite toppings.

Enjoy!
Notes
If you're making a lot of pancakes, you can preheat your oven to 200°F and keep them on a baking pan in the oven while you make the rest.
Expert Tips & FAQ
Pancakes are very simple to make once you know a few key tips:
Test to ensure that your baking powder is still active. Let's just say I've confidently whipped up a double batch of pancakes only to realise I had tossed my good baking powder and kept the expired one. We don't want that! It's very easy to test and will make all the difference in getting your pancakes nice and fluffy!
Don't overmix your batter. Like, seriously. Lumpy pancake batter is key for light and fluffy pancakes, so ensure that it looks similar to the photos above.
Sifting your ingredients really helps with the fluffiness. If you don't have a strainer, sieve or sifter, that's okay you can still make the recipe, I do recommend it however.
While pancakes aren't as precise as baking a cake, I would still recommend weighing out your ingredients. It ensures the perfect consistency of the batter.
Ensure all your wet ingredients are room temperature. Cold soy milk doesn't mix very well, so I always pull a new container (I usually make several batches of pancakes at a time) OR I take my bottle from the fridge, pour out what I need and warm it up in the microwave so its room temperature. If you're planning ahead, you can always just leave it on your counter until it is room temperature.
Freeze your pancakes so they last! I recommend flash freezing them then heating them up in your toaster oven. They remain just as light and fluffy.
Calories: 118kcal, Carbohydrates: 21g, Protein: 3g, Fat: 2g, Saturated Fat: 0.4g, Polyunsaturated Fat: 1g, Monounsaturated Fat: 1g, Trans Fat: 0.3g, Sodium: 332mg, Potassium: 110mg, Fiber: 1g, Sugar: 4g, Vitamin A: 2501IU, Vitamin C: 3mg, Calcium: 148mg, Iron: 1mg
Disclaimer: Although jessicainthekitchen.com attempts to provide accurate nutritional information, kindly note that these are only estimates. Nutritional information may be affected based on the product type, the brand that was purchased, and in other unforeseeable ways. Jessicainthekitchen.com will not be held liable for any loss or damage resulting for your reliance on nutritional information. If you need to follow a specific caloric regimen, please consult your doctor first.