Gluten Free Pumpkin Pancakes
These Gluten Free Pumpkin Pancakes are melt-in-your-mouth pancakes! Light and fluffy, these gluten free pancakes take only 10 minutes to make!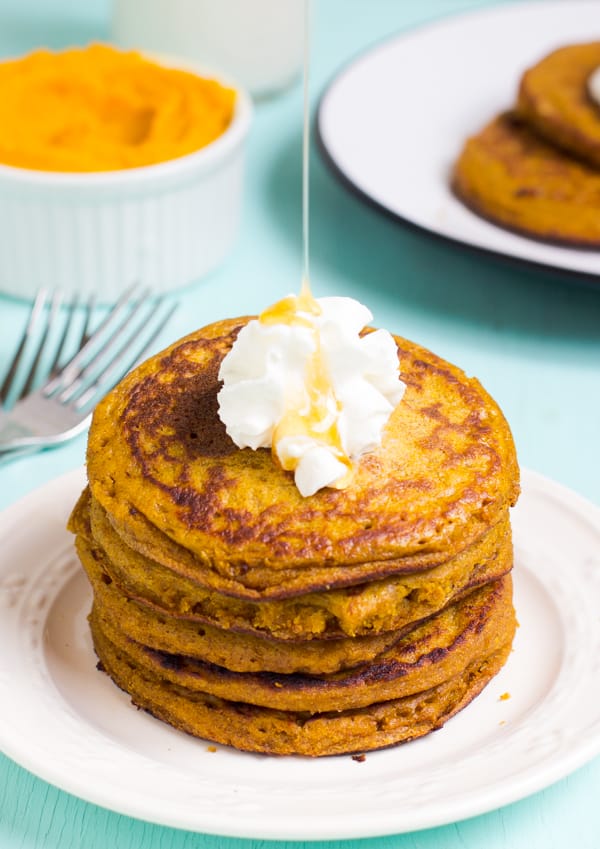 Two words: I'm back! The last time I shared with you was quite a while ago, and I just want to say THANK YOU to everyone who expressed such KIND words to me and my *drumroll* husband! We've been married for almost two months now (whaaaat?! When did that happen??) and not to sound cheesy but it's been bliss. Like, Netflix marathons with your best friend bliss. Totally awesome. I plan to share some wedding pictures with you in a soon-to-be post but how about we jump right on into these pancakes?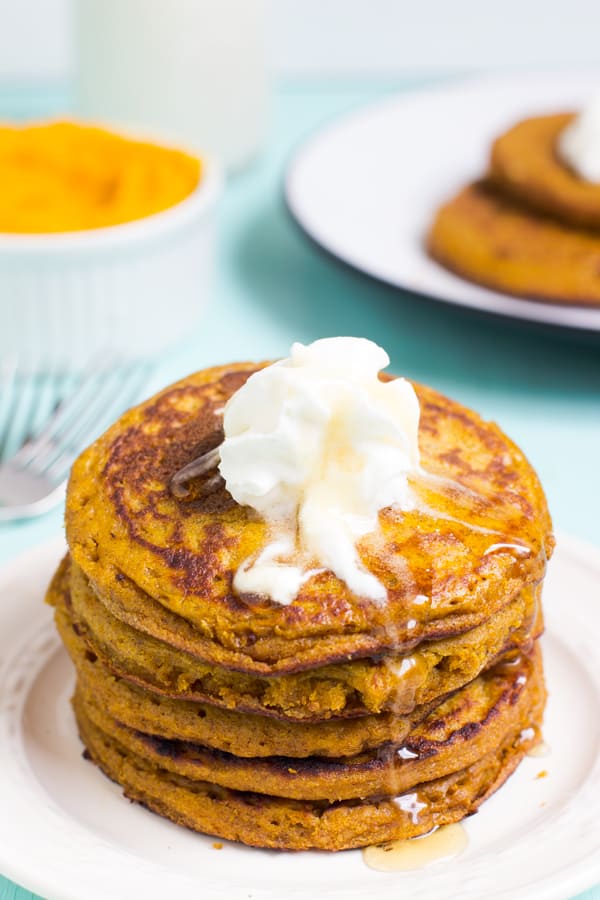 So, we are celebrating two things today. 1) These amazing gluten free pumpkin pancakes 2) today is a Surprise Virtual Baby Shower for Cheryl of 40 Aprons!! I thought, what better day to jump back into blogging with you all then a day commemorating such a lovely event! Cheryl is expecting her beautiful baby boy this month and we wanted to celebrate it with a virtual baby shower. I linked to all the other recipes of the lovely ladies who are participating in this, and major thanks to Melissa of Simply Whisked and Meriem of Culinary Couture for organising this!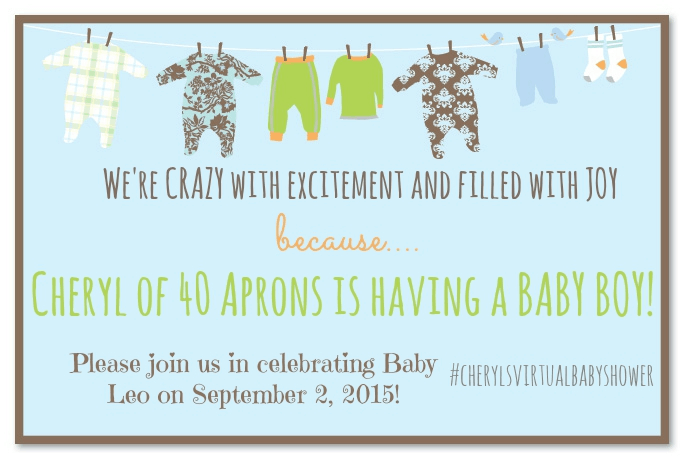 So let me tell you about my relationship with Cheryl a bit. Cheryl and I are what I would definitely describe as pen pals, except via email. I'm not even sure how our very first email interaction went, I just know that when I see an email from Cheryl, I go to grab a drink/brownie (oops), ensure I'm seated and comfy, and sit back for the next 20 minutes or so to read it. We send these REALLY long emails filled with SO much detail that I may burst out in laughter and get a few strange looks from the Mr. I'm pretty sure it began with the fact that part of her honeymoon was in Paris, and me messaging her about it since the Mr. and I went to Paris and Italy for our honeymoon (mostly Paris) and I wanted some great ideas.
From then we found out that we definitely both love to travel, share a lot of the same tastes, and both really know how to share a lot of details!! When Cheryl told me that she was pregnant I was SO happy for her!! Cheryl, it's great having a blogger friend like you and here's to MANY more crazy long detailed interactions! I hope baby Leo brings you nothing but joy, happiness and lots of love for you and O!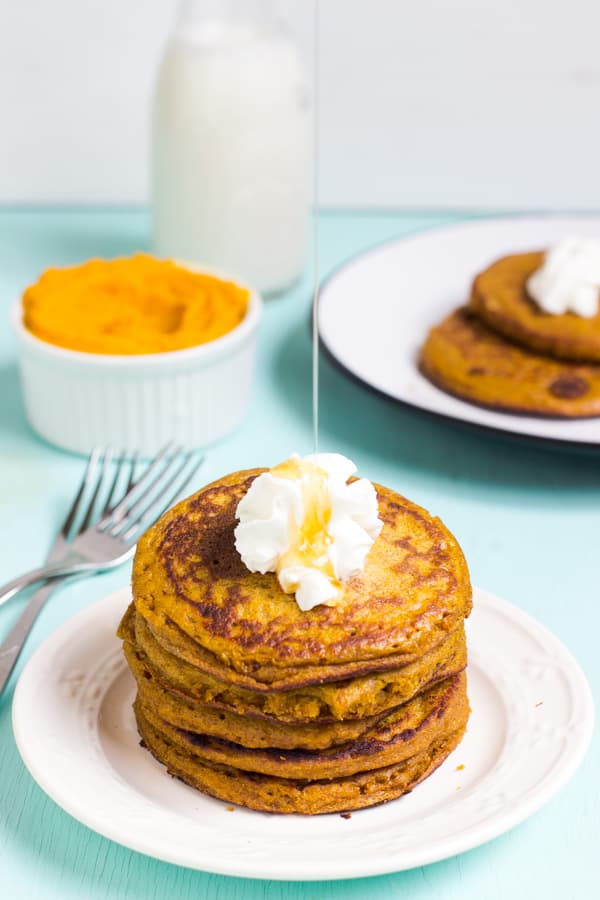 So, since Cheryl is having her beautiful baby in the fall season, I thought, uh, why not make something with pumpkin! Pumpkin is by far, one of my favourite ingredients. We use it all year round (cue endless amounts of pumpkin soup like this recipe by my mom!) so whenever it's fall season, I use it any way I possibly can. I've already made about 8 cups of homemade pumpkin puree in prep of the season, and the very first recipe I made were these gluten free pumpkin pancakes.
This is kind of the recipe that was created for busy people, be it busy moms, working moms, or new wives trying to sort out their home but who still want to enjoy the festivities of the season! It tastes just ten minutes to prepare this recipe, and once you take a bite out of your first pancake you'll be so happy that you made these pancakes.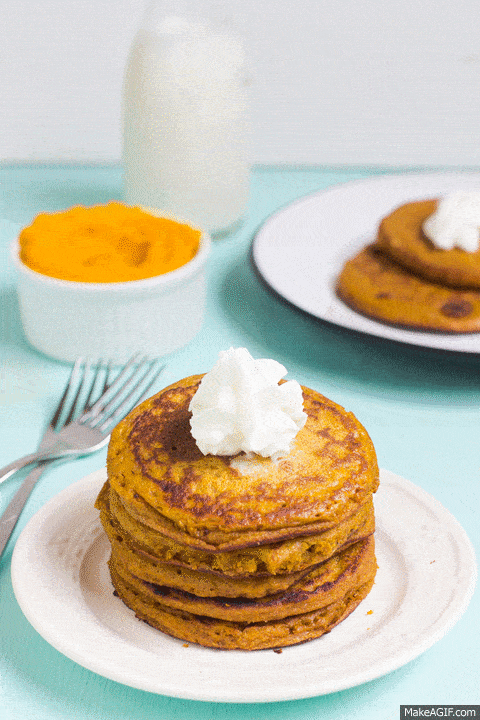 Picture this. Hot, fluffy pancakes with a hint of pumpkin topped with your favourite toppings of whipped cream, a dab of butter, maple syrup, agave or honey or even a sprinkling of powdered sugar. You push your fork into a piece, smear it into the toppings, and take a bite.
These gluten free pancakes are soft, light, fluffy and literally melt in your mouth. Recipe testing is probably my favourite past time, and I ran right over to the Mr. saying "try this! try this!" as he tried to read in peace and to my delight his eyes brightened up at the taste of these pancakes. This is major: he isn't the biggest pumpkin fan, so to win over a non-pumpkin fanatic means that you'll definitely fall deep for these pancakes. I used ground GF-certified oats in substitute for flour, to create a gluten free pumpkin pancakes recipe with oat flour that you wouldn't even realise was gluten free.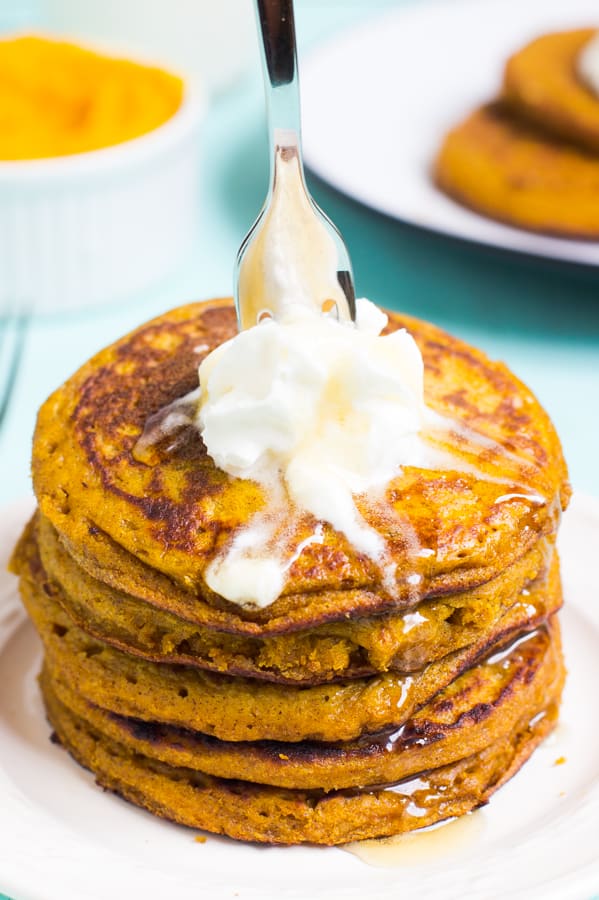 I also personally tested it out, and these pancakes freeze really well. Just place them in a resealable zipped plastic bag and separate them with wax paper. Pop then into your toaster and heat them up until they are ready for business. I plan to make a really large batch one time so that mornings can get even easier for the upcoming fall season. Here's to many more fall recipes!
P.S. Here are some of the items I used to make this recipe if you'd like to use them too:
| WHAT YOU'LL NEED // SHOP MY FAVORITE INGREDIENTS & PREP PRODUCTS |

RELATED RECIPES
If you enjoyed these Gluten Free Pumpkin Pancakes, you'll also enjoy:
These Flourless Apple Pie Pancakes!
These Pumpkin Chocolate Chip Breakfast Cookies (GF)
This Vegan Pumpkin Chocolate Chip Bread (GF)
Gluten Free Pancake Recipes from Around the Web
Gluten Free Pancake Mix by Minimalist Baker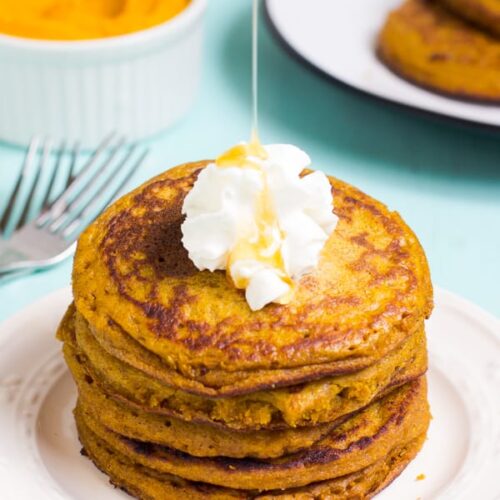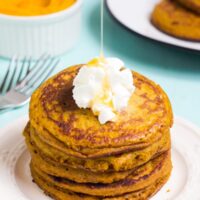 Gluten Free Pumpkin Pancakes
These Gluten Free Pumpkin Pancakes are melt-in-your-mouth pancakes! Light and fluffy, these gluten free pancakes take only 10 minutes to make!
Ingredients
1 1/4 cups oat flour, or oats ground in a food processor or in a coffee grinder
1 large flax egg
2 teaspoons baking powder
1/2 teaspoon salt
1/2 cup pumpkin puree learn how to make fresh pumpkin puree
1 tablespoon maple syrup
1 cup almond milk
2 tablespoons thick vegan yogurt or coconut cream
2 teaspoons cinnamon
Instructions
In a large bowl, whisk the oat flour, baking powder, and salt.

Add the remaining pancake ingredients and whisk until just combined and smooth. The batter will thicken slightly while you wait for the griddle pan to heat up.

Heat a griddle pan or a cast iron skillet over medium heat and grease with oil or cooking spray.

Pour the batter into a liquid measuring cup, then pour about 1/4 cup's worth for one pancake. Wait until some bubbles start to form on top. Allow to cook for 2 more minutes and then flip the pancakes over. Cook for about 3 more minutes until batter is cooked through.


Serve pancakes hot and drizzle honey on top and your favorite toppings.
Notes
This recipe is gluten free.
TO MAKE IT VEGAN & DAIRY FREE
Use thick coconut cream or vegan yogurt instead of the yogurt. You can also use a flax egg – learn how to make a flax egg , instead of the regular egg. You can also use maple syrup or agave nectar instead of the honey.
Due to the pumpkin, the pancakes may take longer than usual to cook. Try the first one FIRST, and ensure it's cooked all the way through, then use that timing for the rest of the batch.
These Gluten Free Pumpkin Pancakes are melt-in-your-mouth pancakes! Light and fluffy, these gluten free pancakes take only 10 minutes to make!
Calories: 118kcal, Carbohydrates: 19g, Protein: 4g, Fat: 3g, Saturated Fat: 1g, Sodium: 340mg, Potassium: 134mg, Fiber: 3g, Sugar: 3g, Vitamin A: 2724IU, Vitamin C: 1mg, Calcium: 144mg, Iron: 1mg
Disclaimer: Although jessicainthekitchen.com attempts to provide accurate nutritional information, kindly note that these are only estimates. Nutritional information may be affected based on the product type, the brand that was purchased, and in other unforeseeable ways. Jessicainthekitchen.com will not be held liable for any loss or damage resulting for your reliance on nutritional information. If you need to follow a specific caloric regimen, please consult your doctor first.