Strawberry Banana Bread (Gluten Free + Vegan)
This Strawberry Banana Bread is loaded with so much juicy fruit flavour! If you want a great banana bread you can have with breakfast, tea, or dessert this it! Gluten free, made with healthier ingredients but still absolutely divine!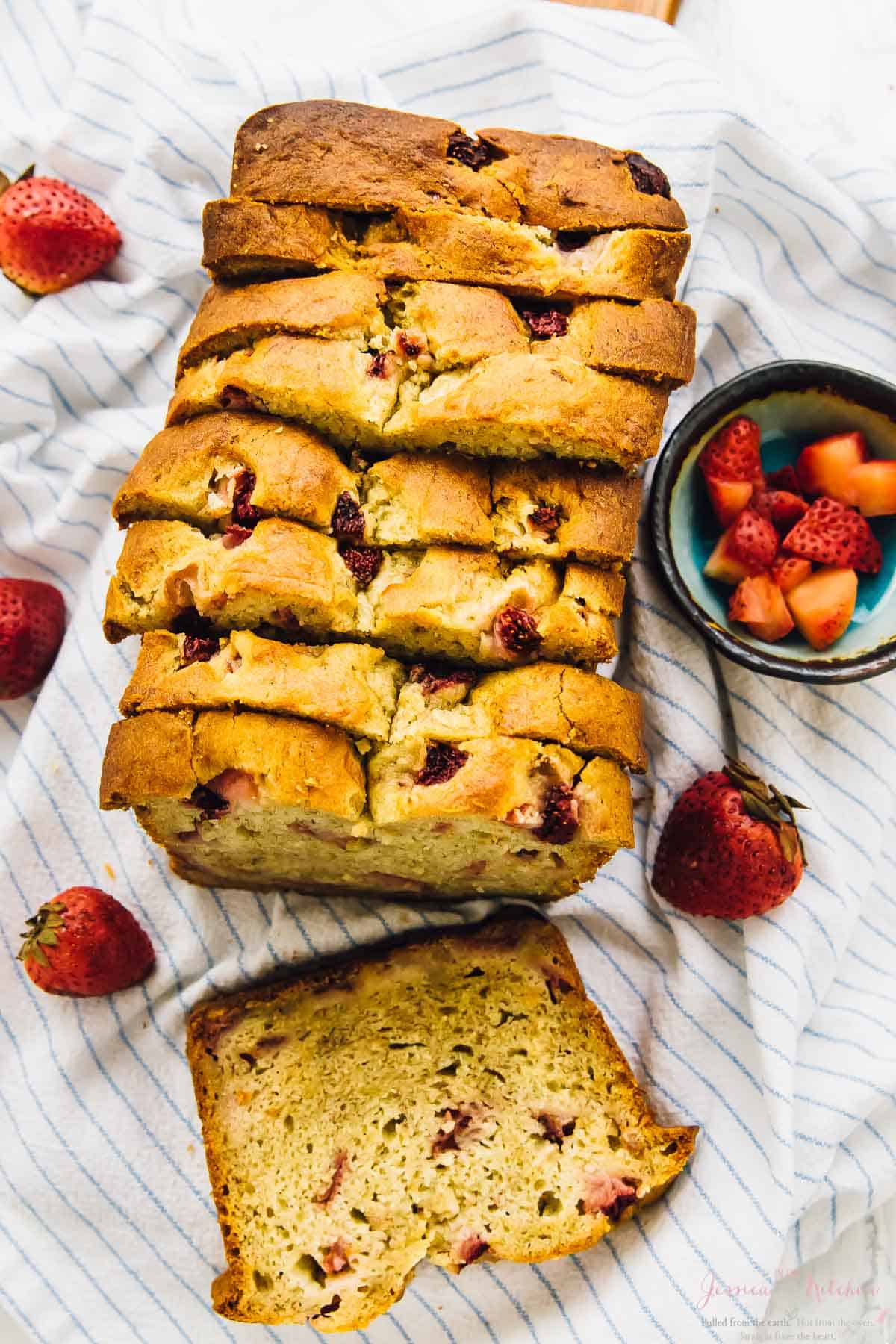 Before I go into why you without a doubt need this Strawberry Banana Bread in your life, I have some exciting news to share! I've been featured in ESSENCE magazine!! It's my Mexican Street corn recipe, and I am pretty much over the moon excited about it!! It's their July 2017 issue, so if you see it, please give me a shoutout!
Now, to this Strawberry Banana Bread. I brought this bread to family breakfast last Sunday and let's just say…it finished immediately. AKA, you need to make this.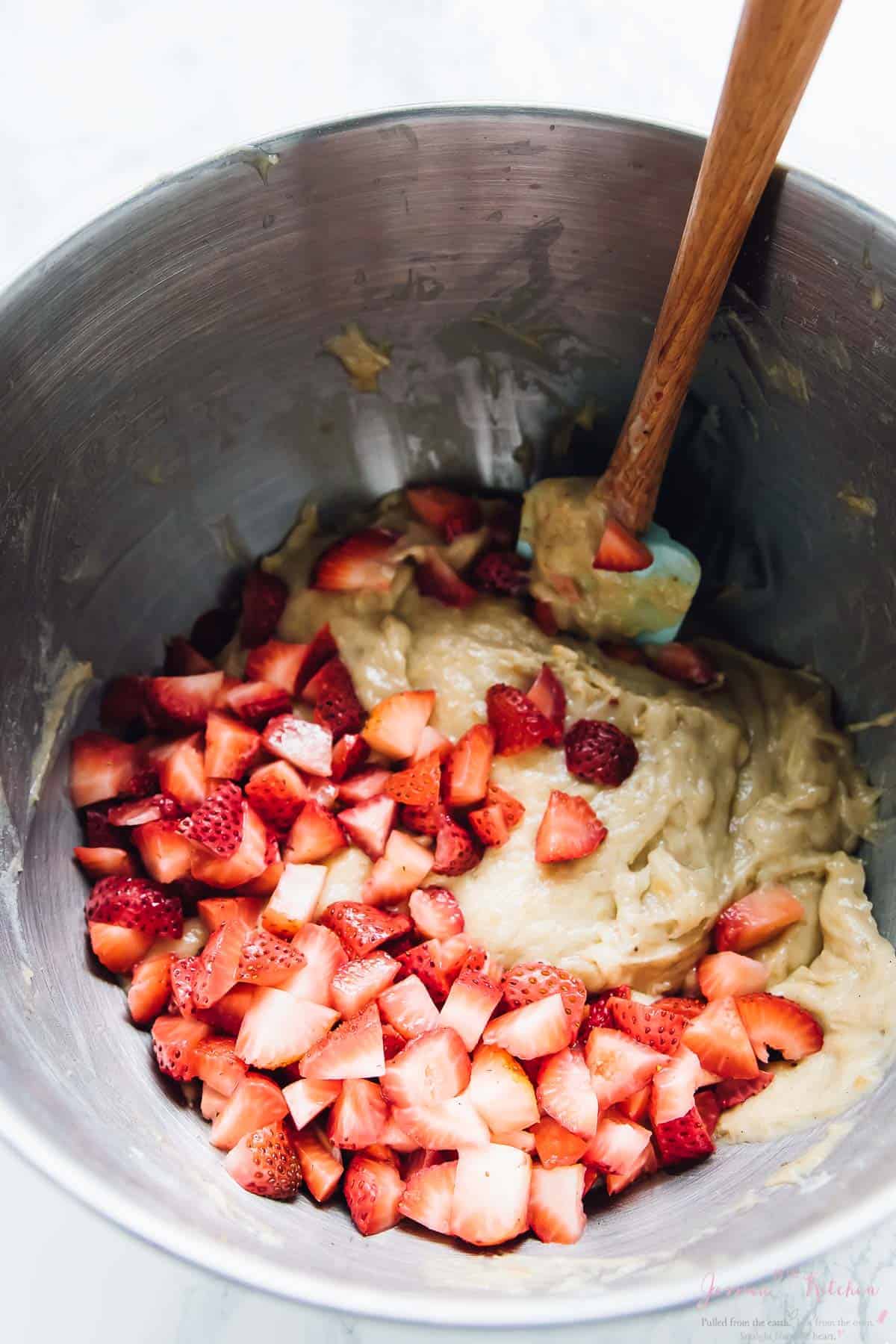 This bread came about from buying pounds upon pounds of extra strawberries, because well, summer. After eating them in endless overnight oats, fruit bowls, and in pretty much everything, it occurred to me to add this to my vegan banana bread to boost the fruit flavour to over the top. Best decision ever.
Not only does this add lots of strawberry flavour, and making the Strawberry Banana Bread nice and fluffy, it really transforms the bread into the ideal summer sweet bread.
Speaking of summer, how are you enjoying your summer holidays? I know, if you're an adult you don't get that once upon a time months off of life summer holiday (how did no one tell us that wouldn't last for our entire lives??), but hopefully you'll still get to enjoy your summer evenings, and even get to take a weekend to a week off of work.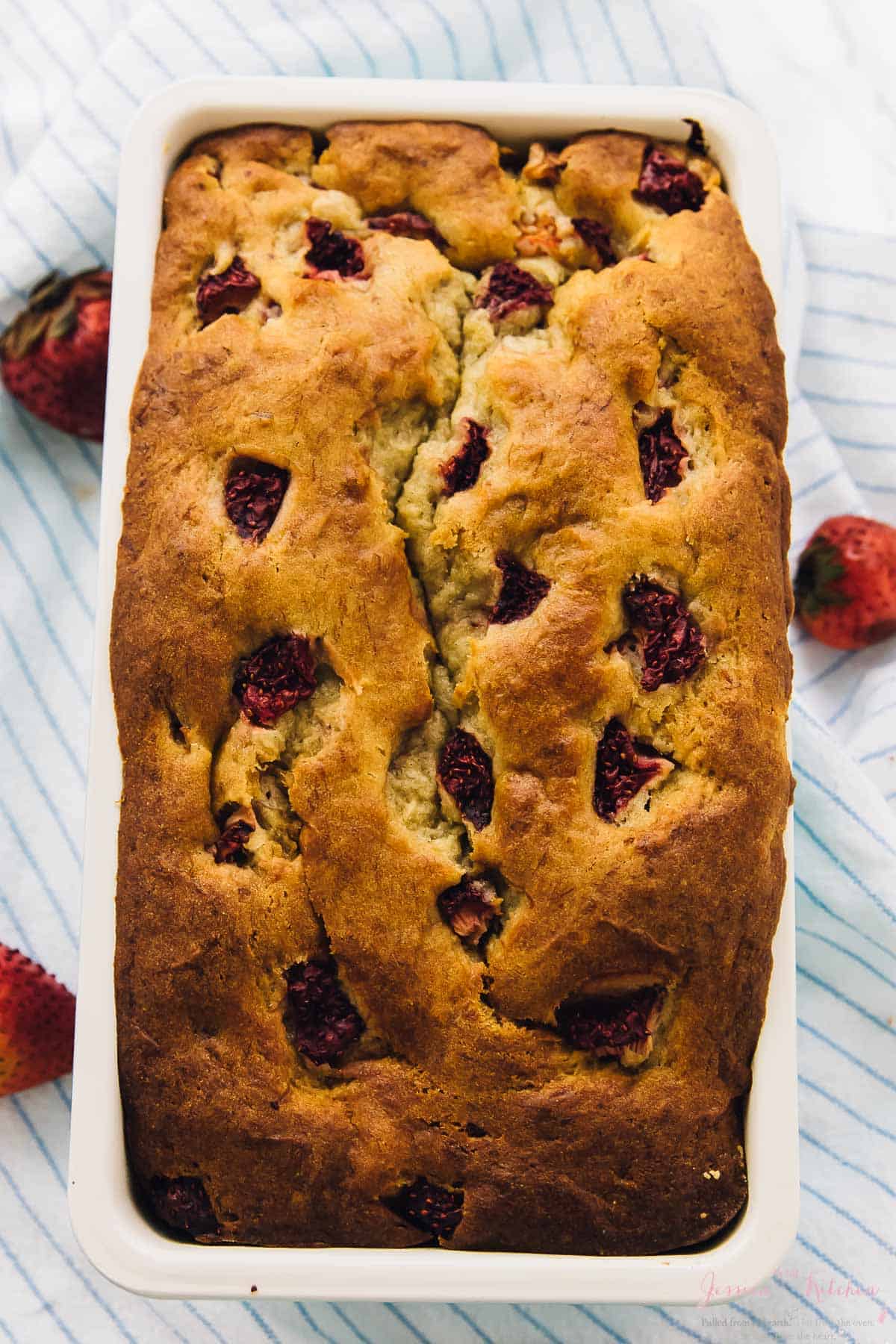 For this summer, I'm trying to add more nature to my life. I've been on the ultimate fruit kick, and I'm really starting to appreciate the changes between the different seasons. Firstly, you'll probably see majority fruit content for the next upcoming months, because I simply can't stop eating fruit! It helps that here in Jamaica all the fruits come to life in summer, so I've been going from strawberries to passionfruit to mangoes for my daily snack, which has been the ultimate treat. I've set a daily goal to have at least two pieces of fruit each day, especially to help with hydration in this heat.
The other thing I'm trying to do more of is going outside. I'm that girl who cuts her hair each summer, because of the heat, and I almost find myself trying to run from it. Not this summer. I'm not exactly going to be sunbathing in the heat, but I want to be outside a whole lot more. That means less screen time, and more time by the pool, the beach, or walking the strip to our airport by the water in the evenings. Having to water my plants daily has helped tremendously with that, and I can feel myself getting more energy from it.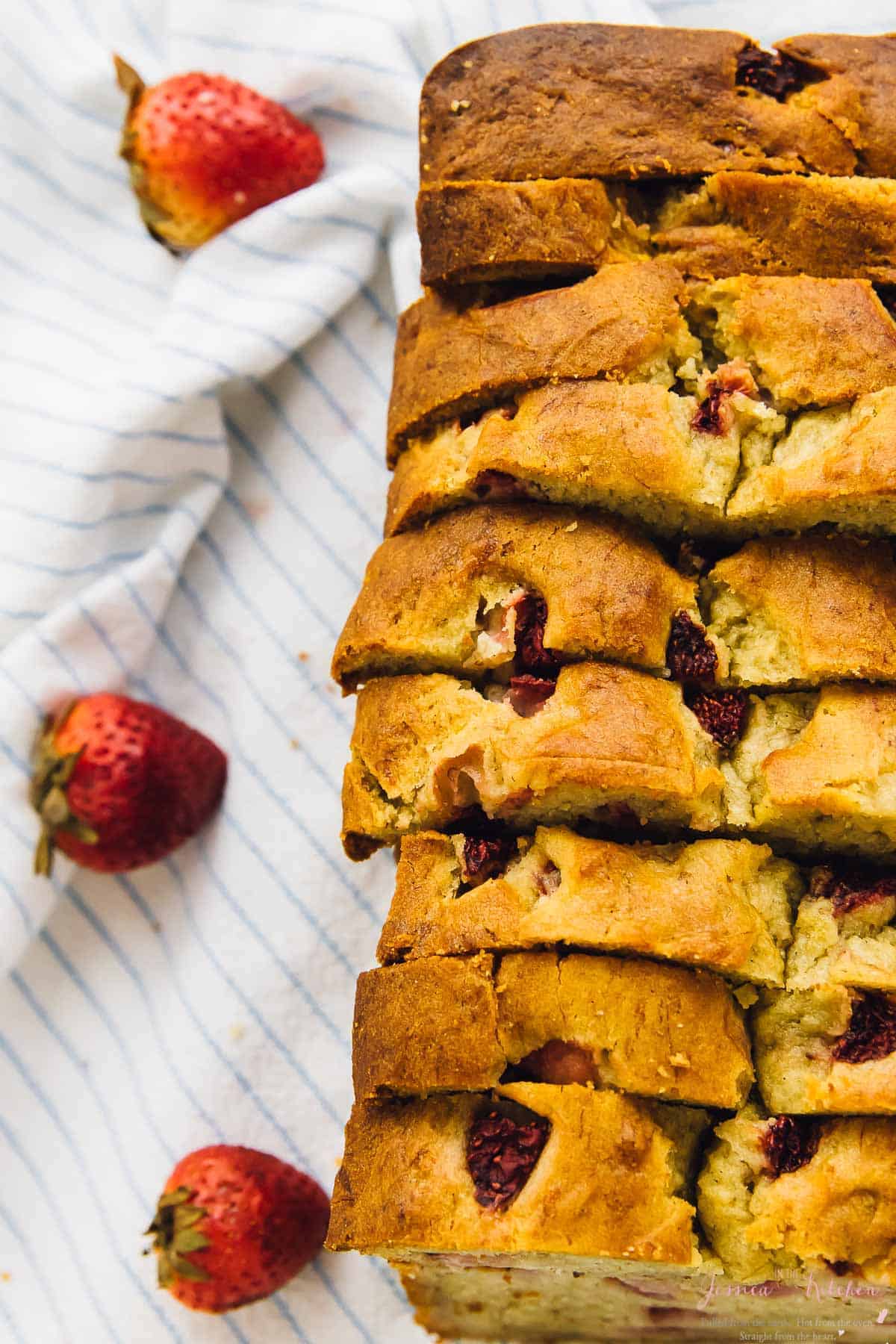 As a result I'm really looking forward to our wedding anniversary! If you've been here for a while then you know that the Mr. and I got married on the 4th of July, and this year we plan to spend it swimming with fishes, enjoying fresh Caribbean food and staying in a natural beach hut over the water. I'm hoping to really dive right into the whole natural summer vibe, just like we did while Tulum, Mexico. Just one day away from my phone felt so relaxing. I'll be sharing a whole lot more about our summer plans in an upcoming out of the Kitchen post! Sneak peek: we're going to London!!
Long story short, this strawberry banana bread is not only loaded with all the fruits, but it's vegan and gluten free and ties perfectly into summer plans. You can have a slice with your breakfast, afternoon tea, or even for dessert. It's sweet, but not overly sweet, and works perfectly for any occasion. I hope you enjoy!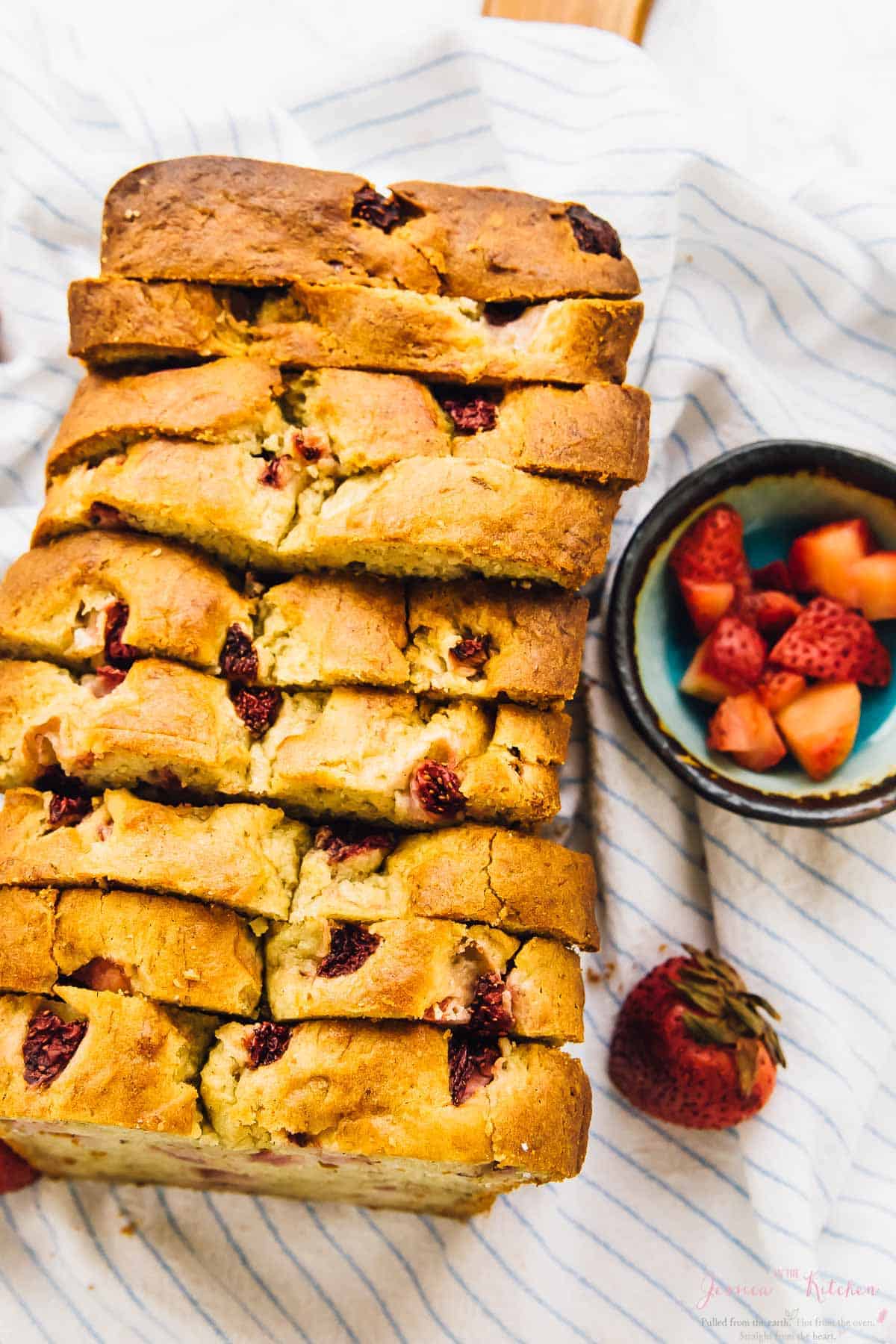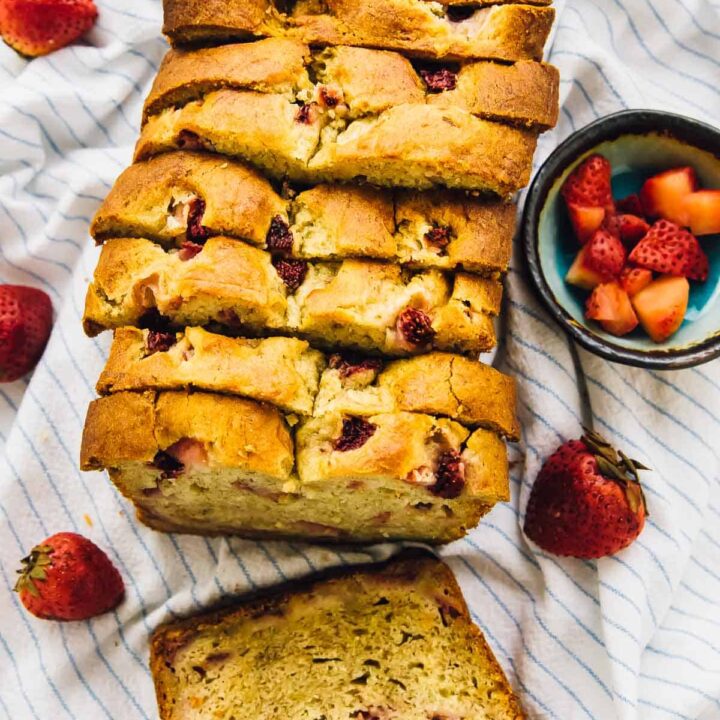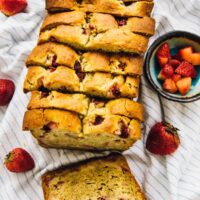 Strawberry Banana Bread
This Strawberry Banana Bread is loaded with so much juicy fruit flavour! If you want a great banana bread you can have with breakfast, tea, or dessert this it! 
Ingredients
Strawberry Banana Bread
10 ounces Gluten Free Baking Flour Mix (I use Bob's Red Mill), 284g
1 teaspoon baking powder
1/2 teaspoon baking soda
1/2 teaspoon sea salt
2 flax eggs or egg replacer, I used Bob's Red Mill Egg Replacer
1 cup coconut sugar, 175g
1/2 cup coconut oil
1/2 vanilla bean or 1 teaspoon vanilla extract
1/2 cup vegan coconut or plain yogurt
3/4 cup mashed bananas, very ripe bananas - black skin if possible
1 1/2 cups chopped strawberries, some reserved for the top
Instructions
Strawberry Banana Bread
Preheat the oven to 350 degrees. Flour and butter/prepare your 9 x 5 banana bread pan. Set aside.

In a medium sized bowl, sift the gluten free flour mix, baking powder, baking soda and sea salt and whisk to combine.

In a mixer attachment bowl, add the flax eggs/egg replacer, sugar and coconut oil. Mix together for about 2 minutes on medium-low speed.

Scrape the vanilla bean and add to the mixture. Add the vegan yogurt and the mashed bananas and mix everything together for 2 more minutes on medium low speed, scraping down the sides and bottom to ensure everything is combined.

Add in ½ of the dry ingredients mixture, combine for 30 seconds, and then add in the rest of the dry ingredients mixture. Mix again for another 30 seconds, ensuring everything is combined.

Remove bowl from mixer and fold in the chopped strawberries into the batter until evenly distributed. The batter should be very thick.

Add the batter to the banana bread pan and use your spatula to smooth down the top. Sprinkle some oats and chopped pecans on top.

Bake the banana bread on the top shelf of your oven for 60-70 minutes, until a toothpick comes out with a few crumbs. You don't want it to come out clean, so watch your banana bread from about 60 minutes depending on your oven.

Remove from oven and allow to cool for 10 minutes in pan. Transfer the bread to a wire rack by placing the wire rack on top of the bread, then holding the sides of the pan and flipping it over and removing the pan. Hold the sides of the bread to turn right side up. You can also turn the pan over into your hand, and then flip right side up and place on a wire rack.

Allow the bread to cool completely. Slice as desired. Enjoy!
Notes
If you try this Strawberry Banana Bread (Gluten Free) please let me know in the comment section below, or tag me on instagram with the hashtag #jessicainthekitchen! For more exclusive recipes follow me on Instagram AND on Snapchat: jessinkitchen.
Calories: 267kcal, Carbohydrates: 39g, Protein: 3g, Fat: 13g, Saturated Fat: 10g, Sodium: 247mg, Potassium: 105mg, Fiber: 4g, Sugar: 15g, Vitamin A: 11IU, Vitamin C: 16mg, Calcium: 62mg, Iron: 1mg
Disclaimer: Although jessicainthekitchen.com attempts to provide accurate nutritional information, kindly note that these are only estimates. Nutritional information may be affected based on the product type, the brand that was purchased, and in other unforeseeable ways. Jessicainthekitchen.com will not be held liable for any loss or damage resulting for your reliance on nutritional information. If you need to follow a specific caloric regimen, please consult your doctor first.