Slow Cooker Quinoa Enchilada Casserole (Vegan)
This healthy Slow Cooker Quinoa Enchilada Casserole takes only 15 minutes of prep, then add it all into the slow cooker! It's filling, serves lots of leftover and is bursting with flavour!
Am I the only one ready to jump on a permanent blanket, with a glass of apple cider, and to eat all the comfort foods for this season?! Even though it's been a steady 86 degree F weather, I'll still be getting on board and eating all the comfort food. Making this Slow Cooker Quinoa Enchilada Casserole truly brought back some amazing memories from past holiday seasons that we've made it. I can't believe I haven't shared it here before, but it would be criminal to let another holiday season pass and not let you indulge in this divine dish.
Get ready for comfort heaven, friends.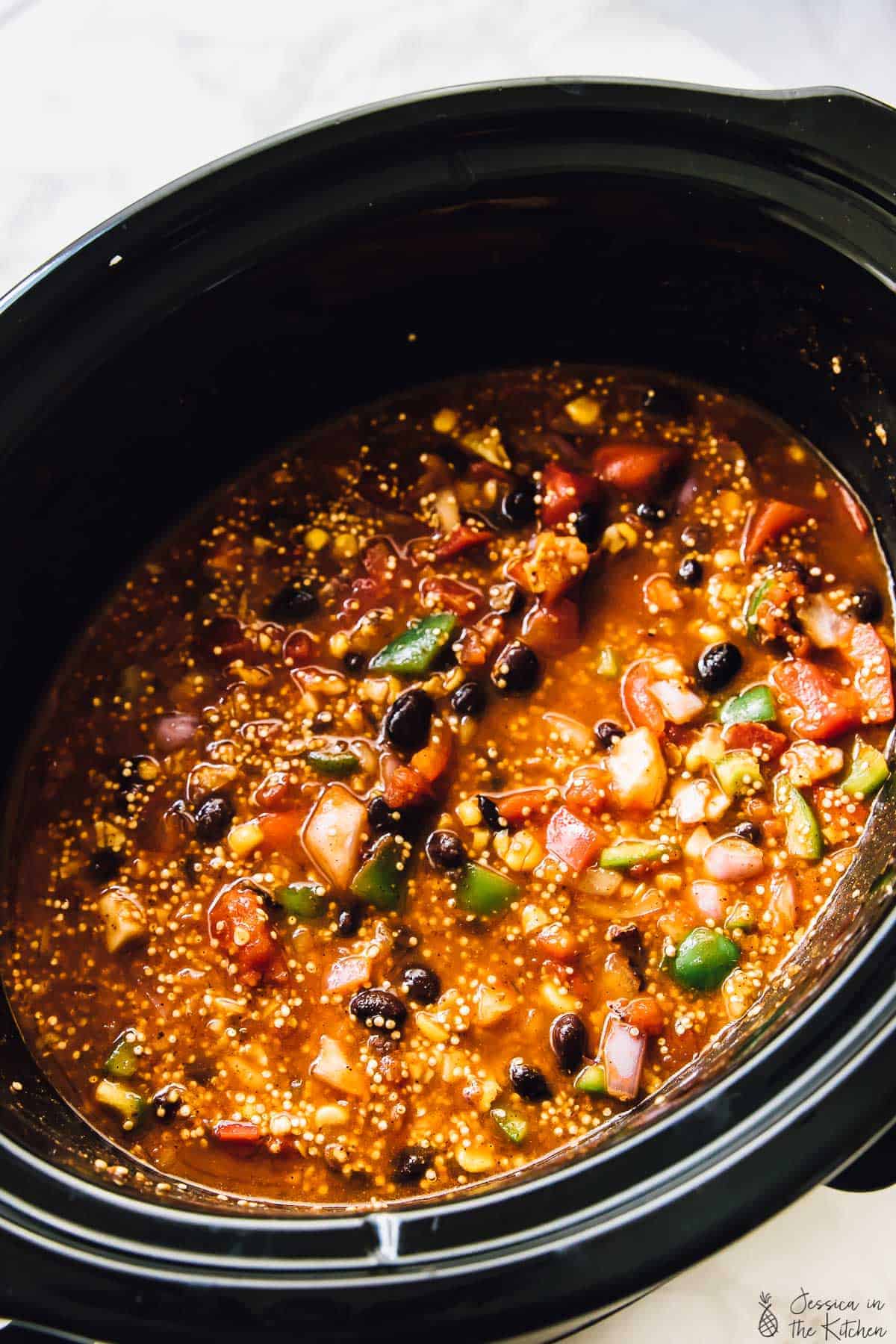 When I first became vegetarian, I delved a bit directly into everything slow cooker/crockpot. It's kind of funny that I never used it before becoming vegetarian, since it has served me so well. I quickly learned that pretty much everything tastes better once it's been cooking away for hours, and this Quinoa Enchilada Casserole is no exception.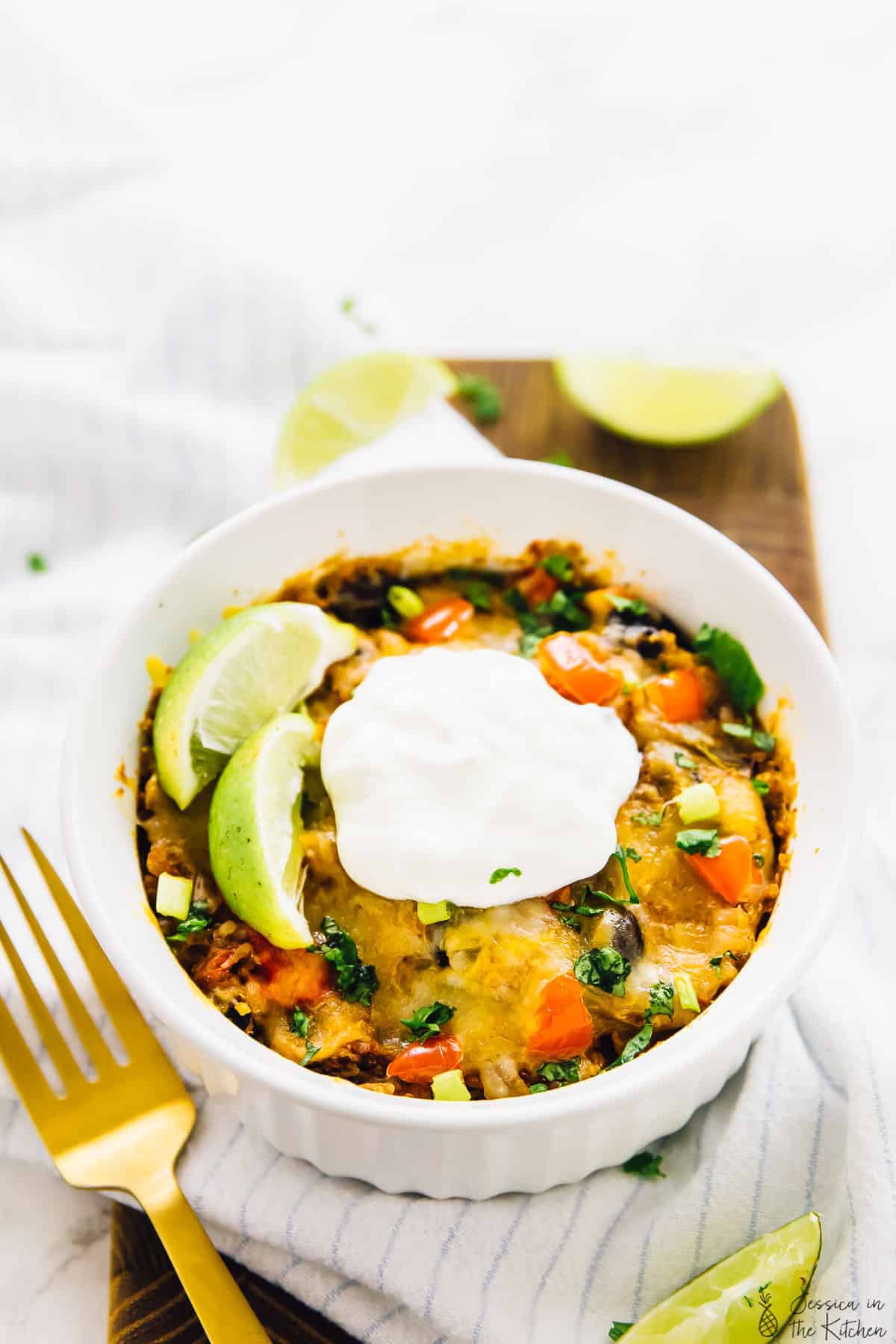 Like I mentioned, we've been making this for years. It is so many things, but mainly:
healthy
so filling
perfect for cooking for crowds in general, especially during this holiday season
comfort food heaven
loaded with protein, fibre, and lots of wholesome vegetables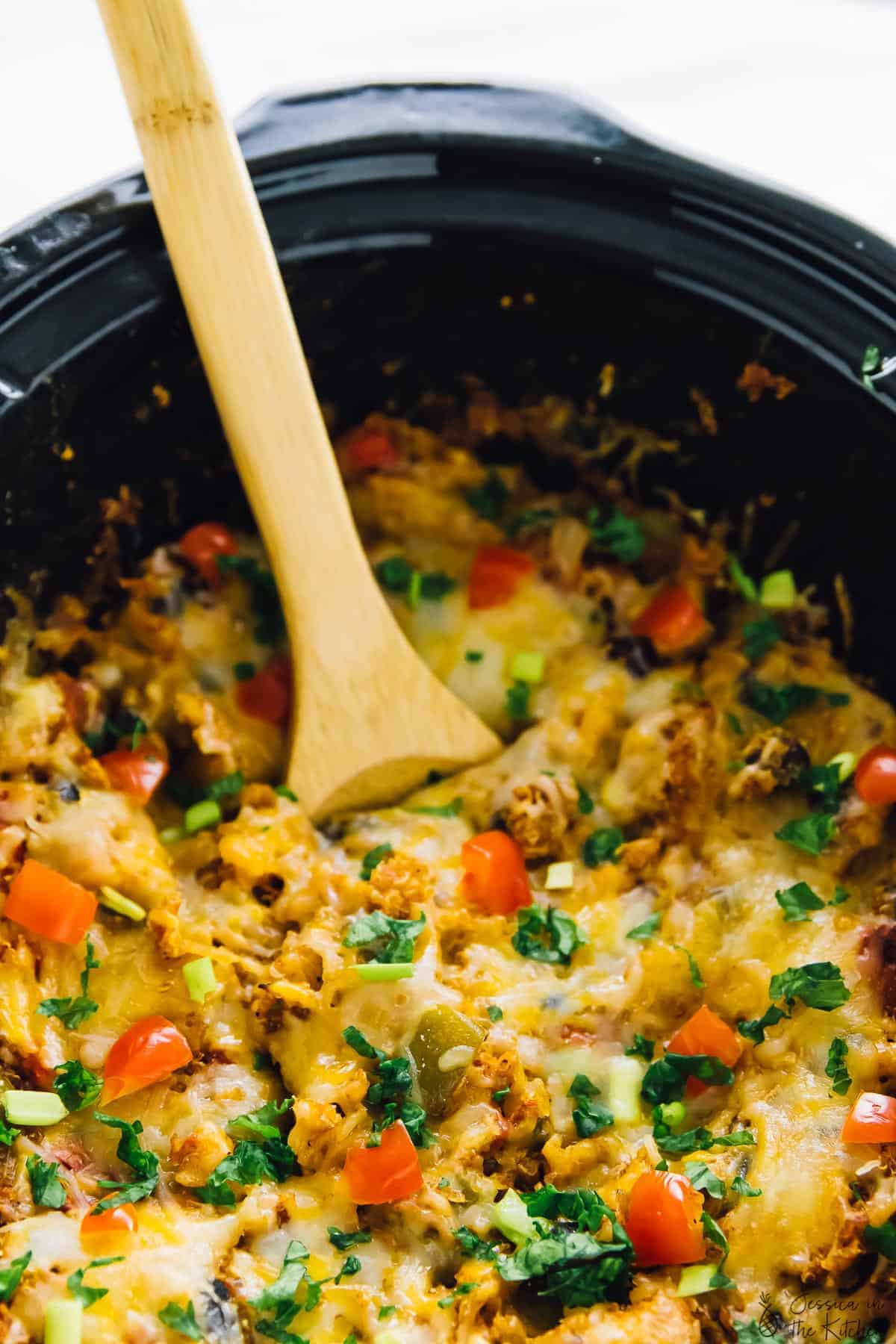 The mix of Mexican-esque flavours really create the perfect meal that'll make your whole house smell amazing too. I switched it up from how we usually make this to include some enchilada sauce and lime to pump up the flavours. If you haven't noticed, I am a lime OBSESSED girl. It brings up all the hidden flavours in dishes. Trust me when I say it is a necessity to use here.
My favourite ingredient in this quinoa enchilada casserole/bake is definitely the quinoa. It adds so much fibre, and really brings the whole dish literally together. As if things couldn't get better, some vegan sour cream is like a dollop of heaven on top of this. If you're not vegan, you can use regular cheese and sour cream, so this recipe suits everyone.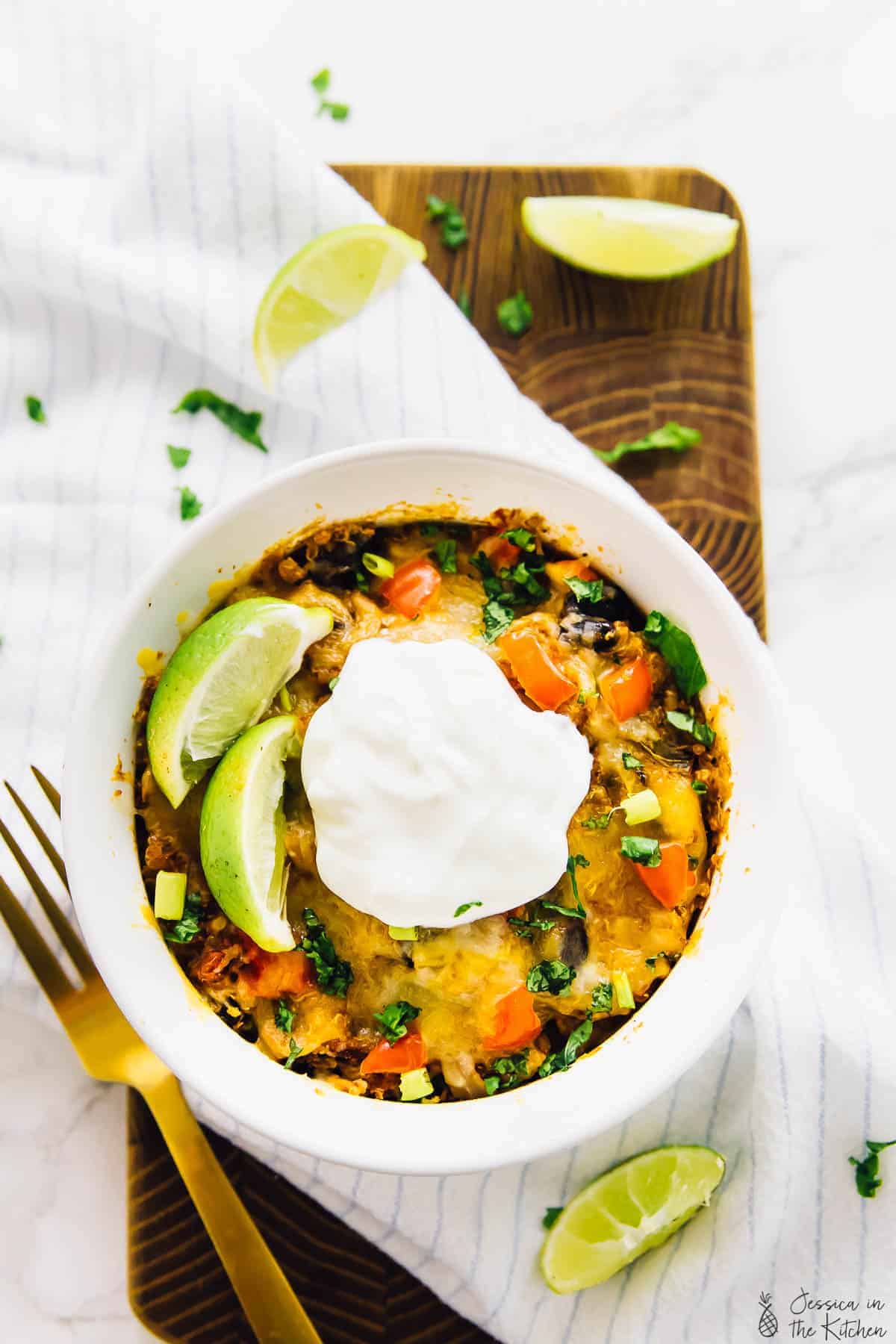 Get ready for your family, kids, and friends "casually passing by" to ask for seconds of this. By the way, you can freeze this too! Get comfy, eat up, and enjoy friends.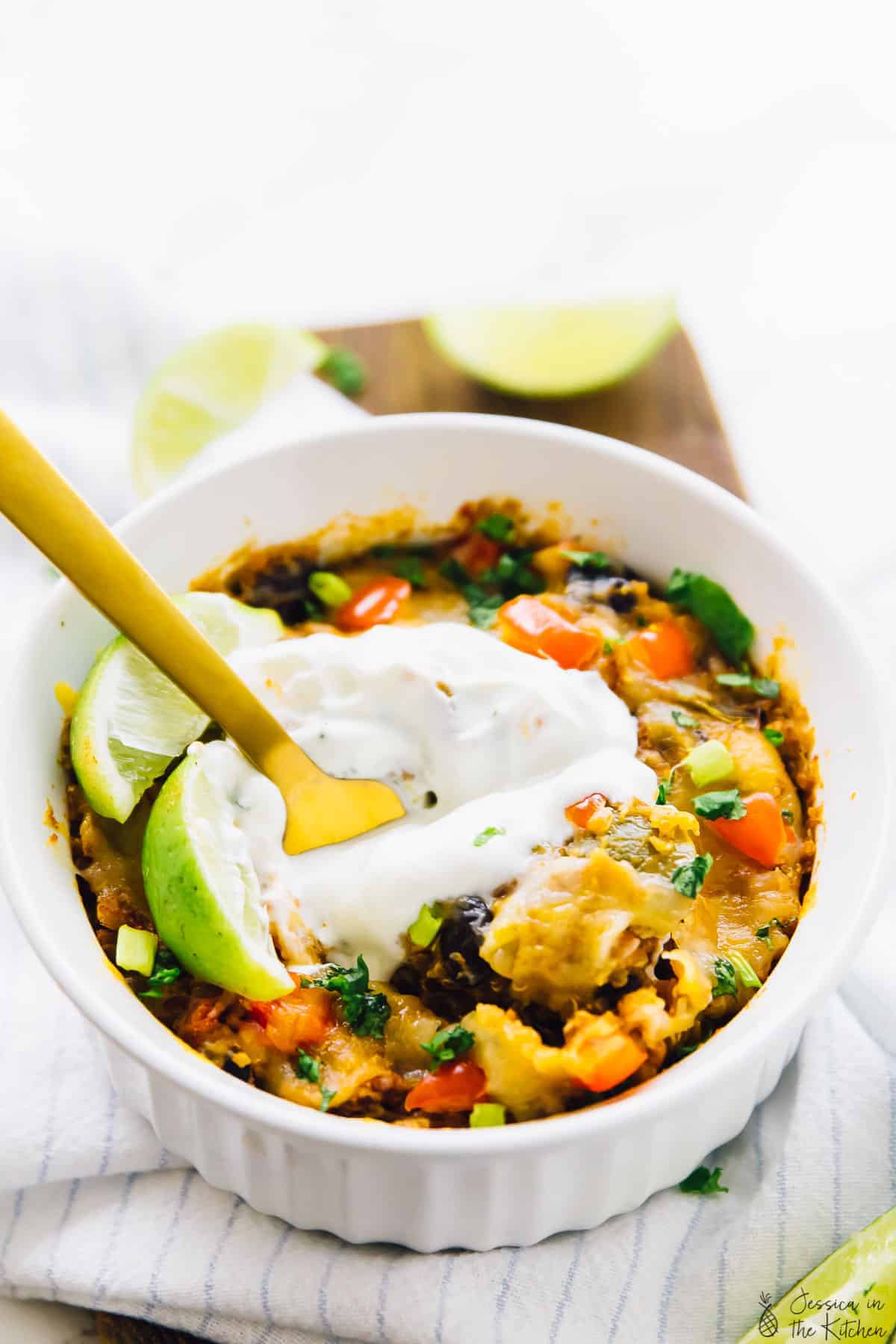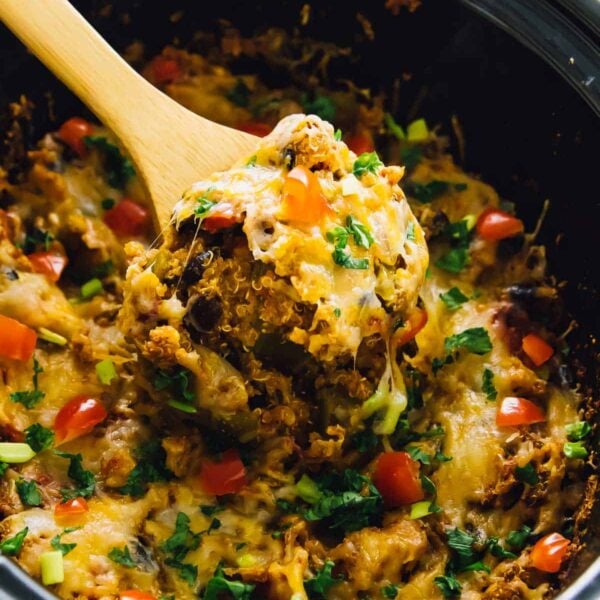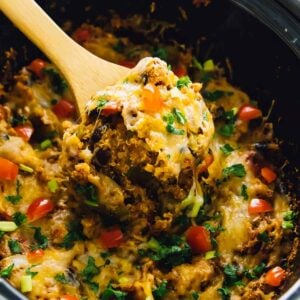 Slow Cooker Quinoa Enchilada Casserole
This healthy Slow Cooker Quinoa Enchilada Casserole takes only 15 minutes of prep, then add it all into the slow cooker! It's filling, serves lots of leftover and is bursting with flavour!
Ingredients
2 ¼ cups vegetable broth, (540ml)
1 ½ cups uncooked quinoa, (270g)
15 oz can black beans, drained and rinsed, (425g)
15 oz can corn kernels, drained and rinsed, (418g)
14.5 oz can diced tomatoes, about 2 cups (do not drain), (411g)
1 cup enchilada sauce, (150ml)
¾ cup chopped green bell pepper, (roughly 100g)
¾ cup chopped red bell pepper, (roughly 100g)
1 medium onion, chopped OR ½ large red onion (100g)
5 cloves garlic, minced
1 tablespoon chili powder or chipotle powder
½ teaspoon sea salt
½ teaspoon ground black pepper
1 ½ teaspoons cumin powder
juice of 1 large lime, about 1 ½ tablespoons
1 ¼ cups vegan mozzarella cheese shreds, or a mix if you like
TO GARNISH: chopped parsley, chopped tomatoes, vegan sour cream
Instructions
Add the veggie broth, and then all the ingredients EXCEPT the cheese and the lime into the slow cooker. Stir a few times to completely combine.

Set the slow cooker to HIGH for 2 to 2 ½ hours. I've made it both ways, and it just depends on your individual slow cooker.

When there are about 10 minutes left, open the slow cooker and add the lime juice and ½ the cheese. Stir it in as best as you can, then smooth the mix back flat again. Sprinkle the rest of the cheese over the top. Place the lid back on and let it cook for the last 10 minutes.

When the casserole is ready, serve with your favourite toppings (avocado, chopped green onions, parsley, tomato and sour cream). Enjoy!!
Notes
Notes
This quinoa enchilada casserole lasts in the fridge for a week. You can freeze it very easily in an air-tight Tupperware container.
Link to vegan sour cream
If you're not vegan, yes you can use substitutes for the sour cream and the cheese!
Calories: 440kcal, Carbohydrates: 75g, Protein: 17g, Fat: 9g, Saturated Fat: 2g, Sodium: 1384mg, Potassium: 861mg, Fiber: 14g, Sugar: 9g, Vitamin A: 1614IU, Vitamin C: 49mg, Calcium: 100mg, Iron: 6mg
Disclaimer: Although jessicainthekitchen.com attempts to provide accurate nutritional information, kindly note that these are only estimates. Nutritional information may be affected based on the product type, the brand that was purchased, and in other unforeseeable ways. Jessicainthekitchen.com will not be held liable for any loss or damage resulting for your reliance on nutritional information. If you need to follow a specific caloric regimen, please consult your doctor first.