White Bean and Kale Soup (Vegan, Slow Cooker)
This White Bean and Kale Soup is hearty & so incredibly easy to make! It's made in your slow cooker, and is loaded with flavour!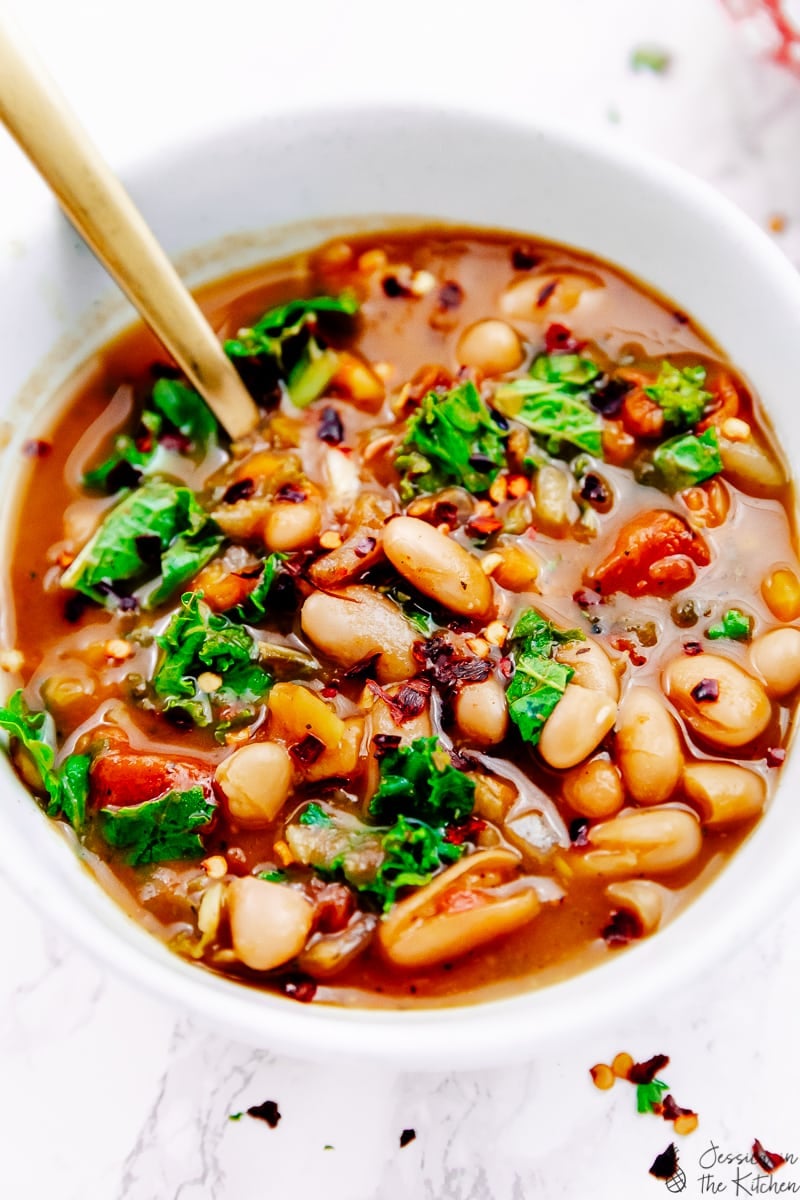 You know what I love about this time of year? Even here, it gets cooler. It's been raining every single day, and as such it's cooling the place down. As a result, it puts me in a constant mood for all things cozy and comforting. Case in point? This Whote Bean and Kale Soup.
This soup screams comfort. It's made with your typical mire poix, creamy white beans, comforting tomatoes, kale and amazing seasonings. It's nourishing while also being absolutely healthy. The best part? It's made in your slow cooker!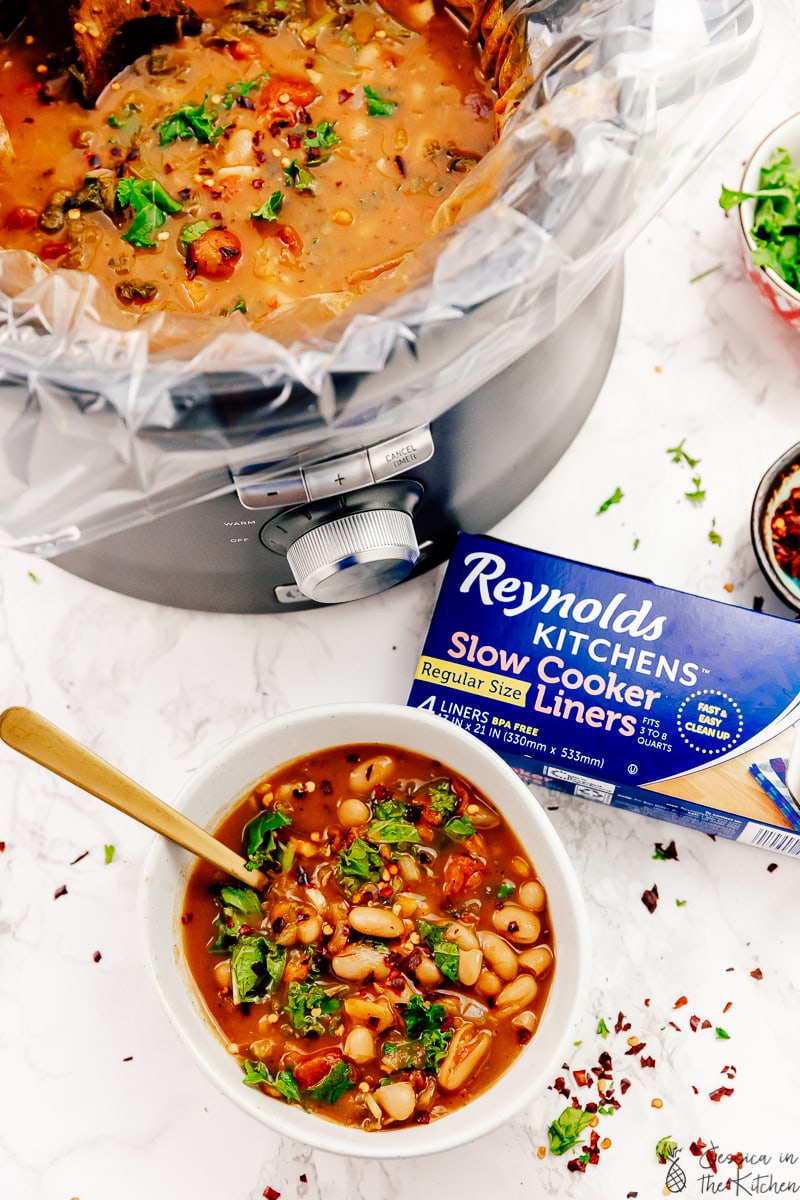 I love slow cooker recipes, but you know what I love more? Not having to clean out the giant slow cooker container. While my slow cooker is brand new, if you have an older slow cooker (like I did) then you know the struggles of food sticking to your slow cooker. You know what it's like to have to soak your slow cooker overnight. Hello
Reynolds Kitchens Slow Cooker Liners
! I honestly love these and if you're a parent, I feel like you'll love these even more.
All the enjoyment of the food without the mess. After it's done, take out the liner and bam – No mess! I love that it's also plastic free and BPA free – so it basically ticks all my boxes! The
Slow Cooker Liners
also come in two different sizes, so whether you have a 1-3 QT or a 3-8QT slow cooker, you can grab the right size for you. If you're making a ton of slow cooker recipes this holiday season, be sure to grab a couple boxes of these
Reynolds Kitchens Slow Cooker Liners
. I even went through other women's reviews on their Instagram page and people are lovinggggg these.
How to Make White Bean and Kale Soup
The best thing about this soup is that you just put everything in your slow cooker, mix it together, and let it cook together. That's it. Could it be simpler?
What's revealed is basically the perfect fall and winter soup. That being said, of course it works all year round too. I love that it's chock full of veggies and flavour, while still being hearty.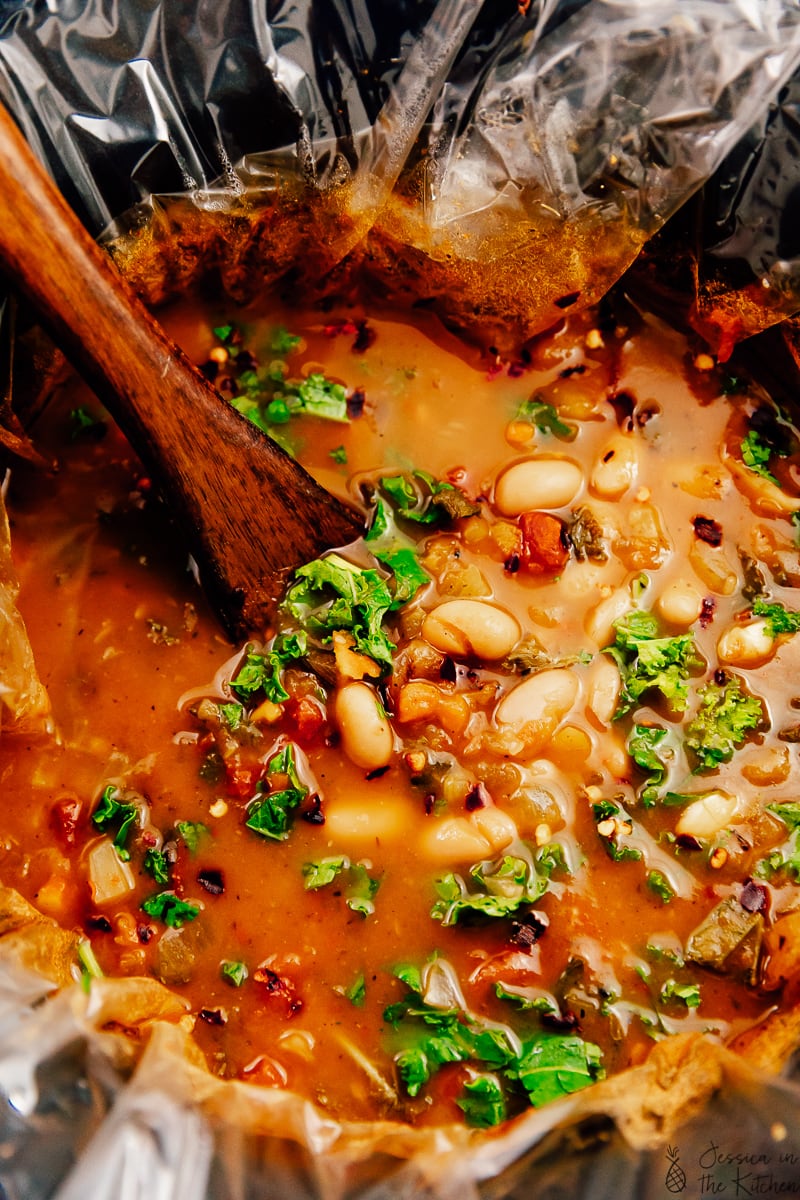 You know what would also be amazing with this soup?
Pesto
. I…know. Ever since making batches of pesto, I've been adding it in everything. Pesto
popcorn
, pesto sandwiches, pasta, Buddha bowls. Everything you can think of. But a dollop of the creamy brine-y green goodness sauce would really add even more flavour to this soup. This soup is also so customisable, so feel free to switch it up how you want!
I hope you love this soup and that you are getting comforting weather your way, or that it's coming soon! Either way, you'll definitely devour this soup. Eat up and enjoy!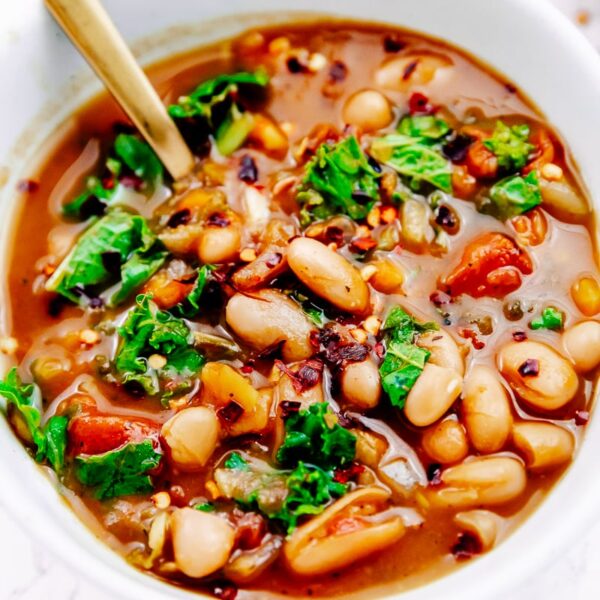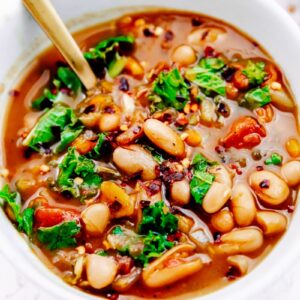 White Bean and Kale Soup (Vegan, Slow Cooker)
This White Bean and Kale Soup is hearty & so incredibly easy to make! It's made in your slow cooker, and is loaded with flavour!
Ingredients
1 large, 188g red onion, diced
4 stalks celery, diced
1 large carrot or two medium size carrots, 226g, diced
5 cloves 12g garlic, minced
14 ounce can diced tomatoes
salt & pepper to taste, I use 3/4 teaspoon sea salt and 1/4 teaspoon freshly ground black pepper
1 tablespoon Italian seasoning or 1 teaspoon dried oregano, 1 teaspoon dried parsley, 1 teaspoon dried basil
2 15 ounces each cans white kidney beans
4 cups vegetable broth
2 cups kale
Juice of two limes, about 1-2 tablespoons
Instructions
Turn your slow cooker on and to warm. Line your slow cooker with one Reynolds Kitchens Slow Cooker Liner according to the box's directions.

Into the Reynolds Kitchens Slow Cooker Liner, add all of the ingredients into the slow cooker except the kale and the lime. Stir to combine.

Set the slow cooker to high for 3 hours or on low for 6 hours (for high, monitor the last 30 minutes and for low, monitor the last hour). At the end, stir in the kale and the lime juice and let it cook for about 5 more minutes.

Serve and enjoy!
Notes
In a soup like this, a high quality veggie broth makes all the difference. Adding an all natural veggie broth paste is great option to get high quality!
Calories: 232kcal, Carbohydrates: 45g, Protein: 14g, Fat: 1g, Saturated Fat: 1g, Sodium: 791mg, Potassium: 888mg, Fiber: 13g, Sugar: 4g, Vitamin A: 4378IU, Vitamin C: 43mg, Calcium: 122mg, Iron: 6mg
Disclaimer: Although jessicainthekitchen.com attempts to provide accurate nutritional information, kindly note that these are only estimates. Nutritional information may be affected based on the product type, the brand that was purchased, and in other unforeseeable ways. Jessicainthekitchen.com will not be held liable for any loss or damage resulting for your reliance on nutritional information. If you need to follow a specific caloric regimen, please consult your doctor first.