Vegan Banana Bread (Gluten Free)
Enjoy deliciously moist banana bread with this Vegan Banana Bread that's also gluten free! It's made with healthier ingredients but still absolutely divine!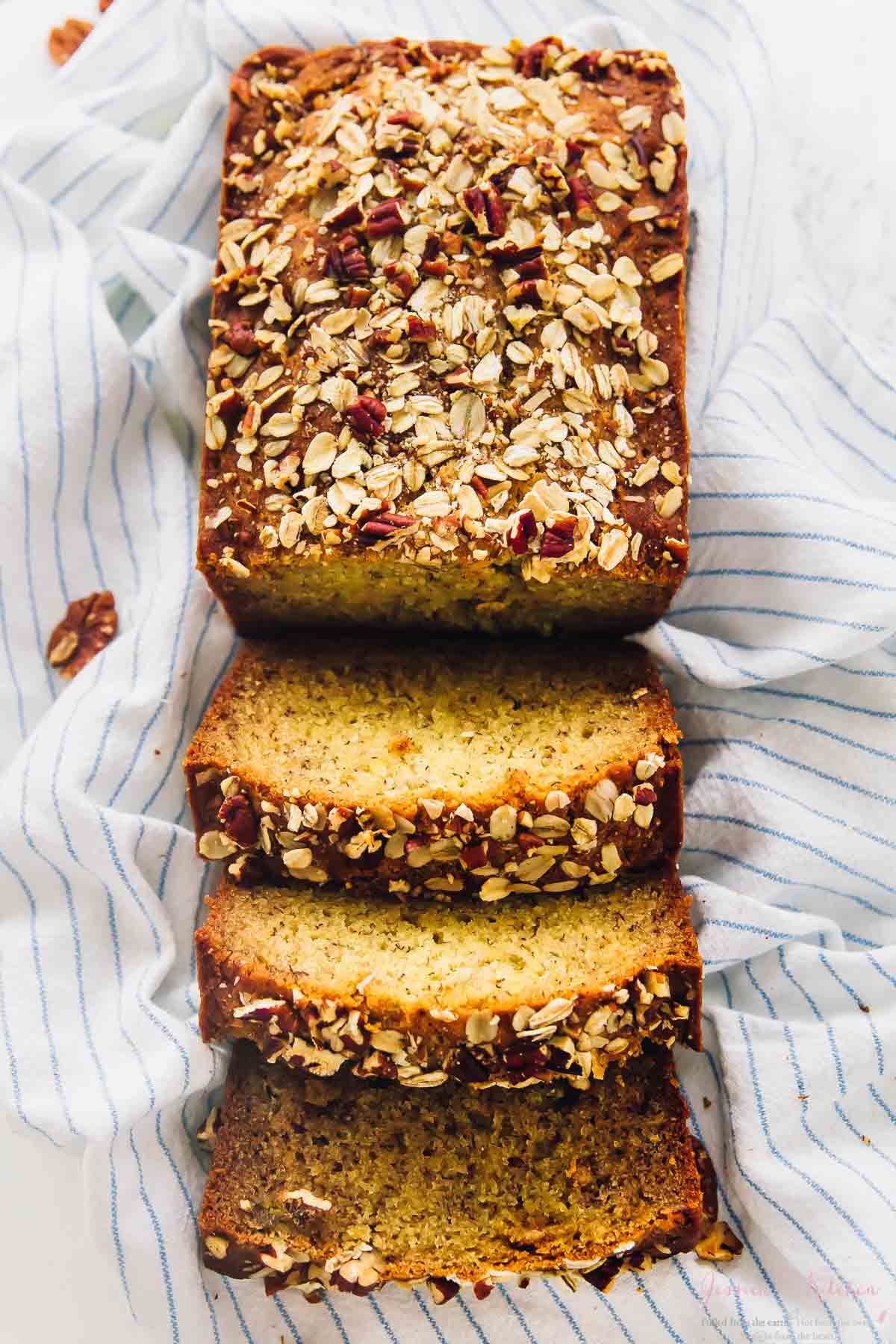 I can't believe Mother's Day is so close already! If you're still trying to figure out what to make mom, let me stop you right here: she will 100%, guaranteed love this banana bread. Bonus points if banana bread is a favourite of hers, this recipe will show her just how much you love her. Extra, extra bonus? It's vegan, and gluten free, and the ingredients are lightened up so that not only will you and mom enjoy every single bite, you'll do so with no guilt.
Hello vegan banana bread heaven.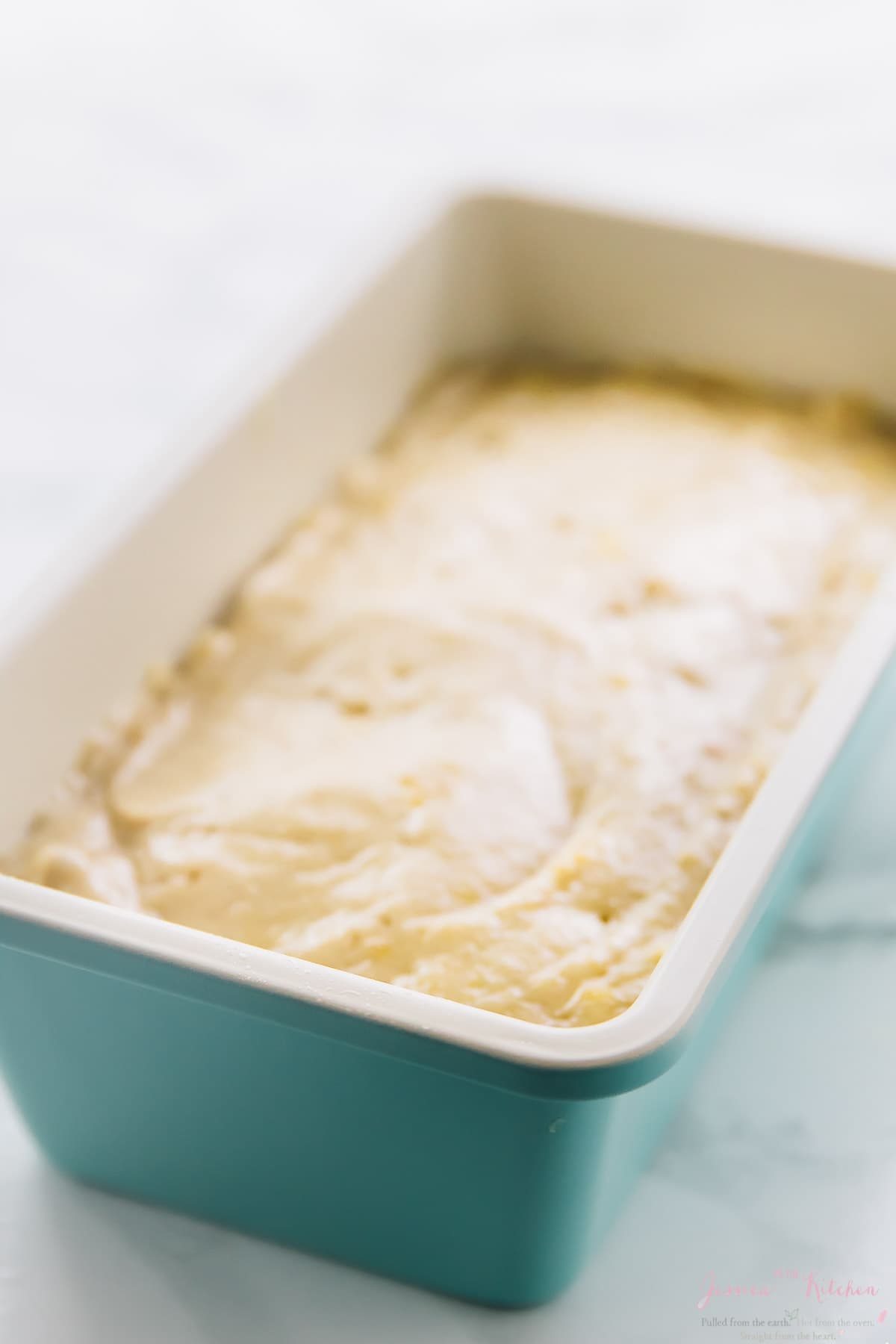 It's been in the works for ages for me to make a vegan banana bread. I don't know why it took so long, but regardless, I'm so glad that this happy day has come.
This entire vegan banana bread was finished and devoured within 24 hours. I PROMISE I did not eat all of it myself, I shared like a ⅓ of one slice. Okay, kidding, I actually shared this up, because it would be pretty mean after taking a bite to not want to spread the love of this beauty.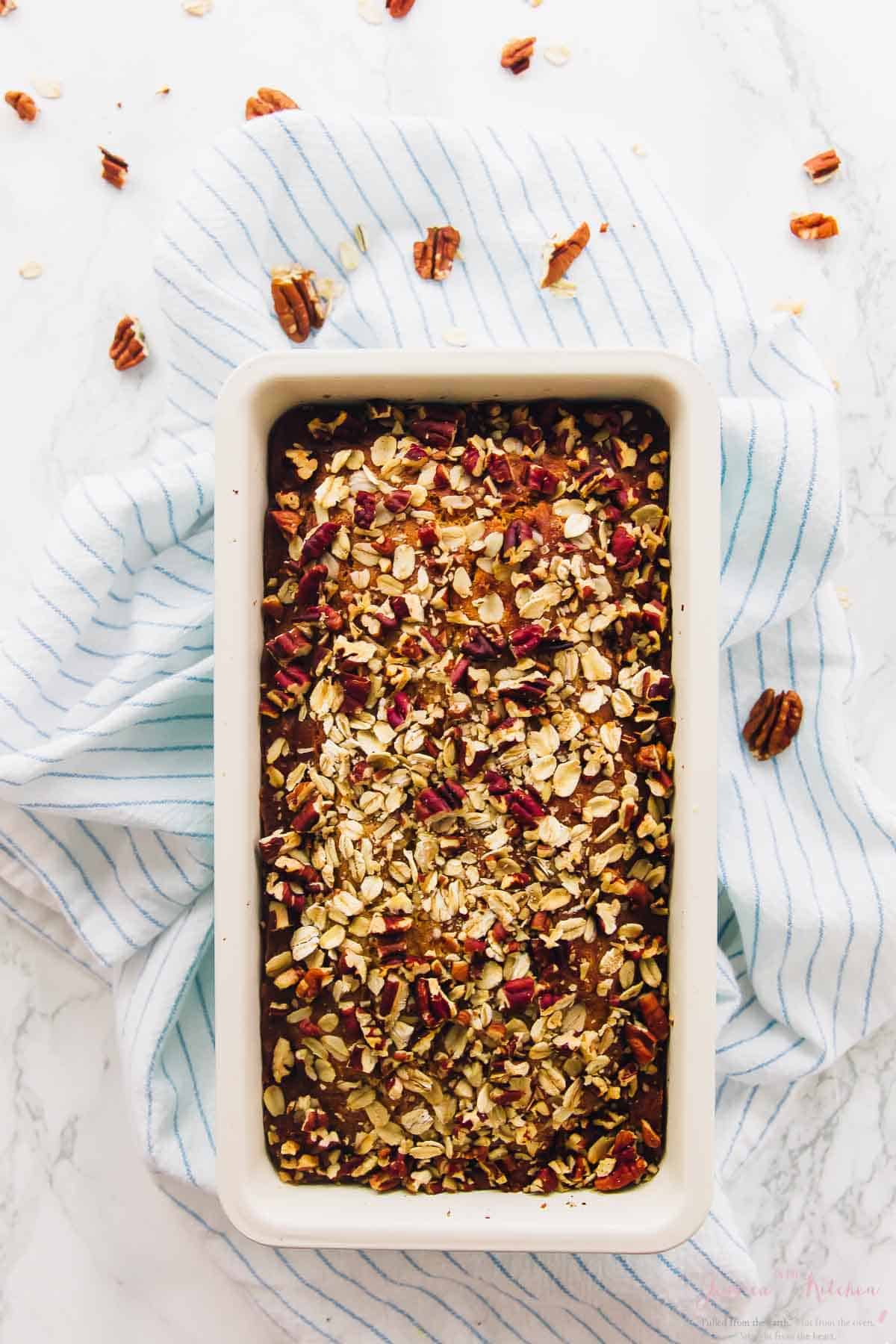 I worked off of my gluten free banana bread to create this, and I'm so glad that my base recipe is so great because it was as easy as just using egg replacers and vegan yogurt to make this bread vegan. I tried other versions, and enjoyed this one the absolute most – it retains the moisture, the sweet taste, and of course, the unmistakable banana bread texture. A good soft and hearty slice, but with melt in your mouth perfection.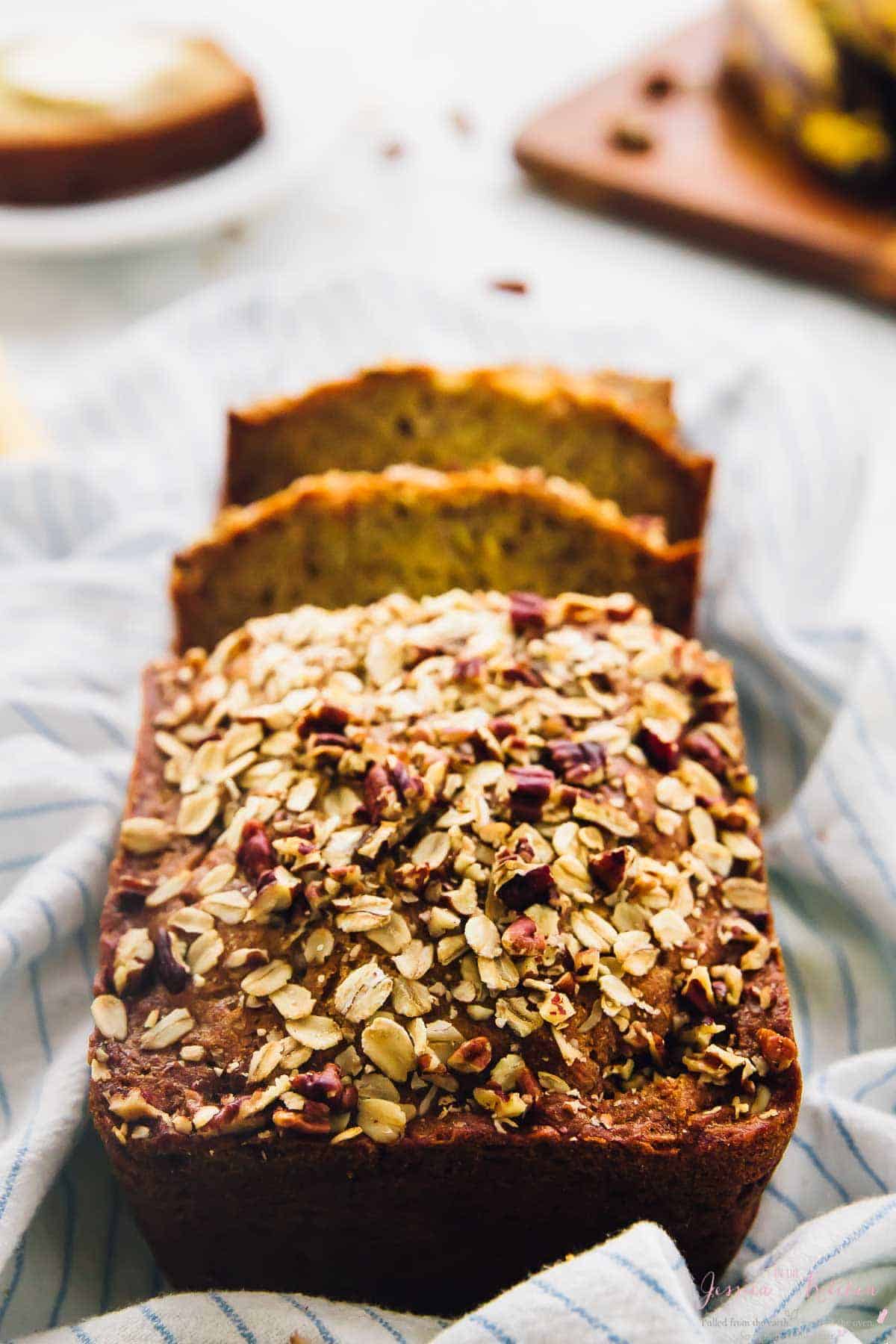 I also added pecans on top, and swapped out the walnuts and chocolate chips in the batter of the bread. Of course, you could definitely add these, but I was feeling pretty purist whilst making this banana bread. I'm actually learning a lot about minimalist right now, and I felt inspired to let the banana shine through and be the king of this Vegan Banana Bread. I did feel that the pecans and GF certified oats on top were so essential. They add a beautiful topping, a different texture, and of course, when nuts and oats are toasted, an intoxicating fragrance and taste. If you do add walnuts or any other nuts into the batter, definitely toast them before. It'll elevate them so much more.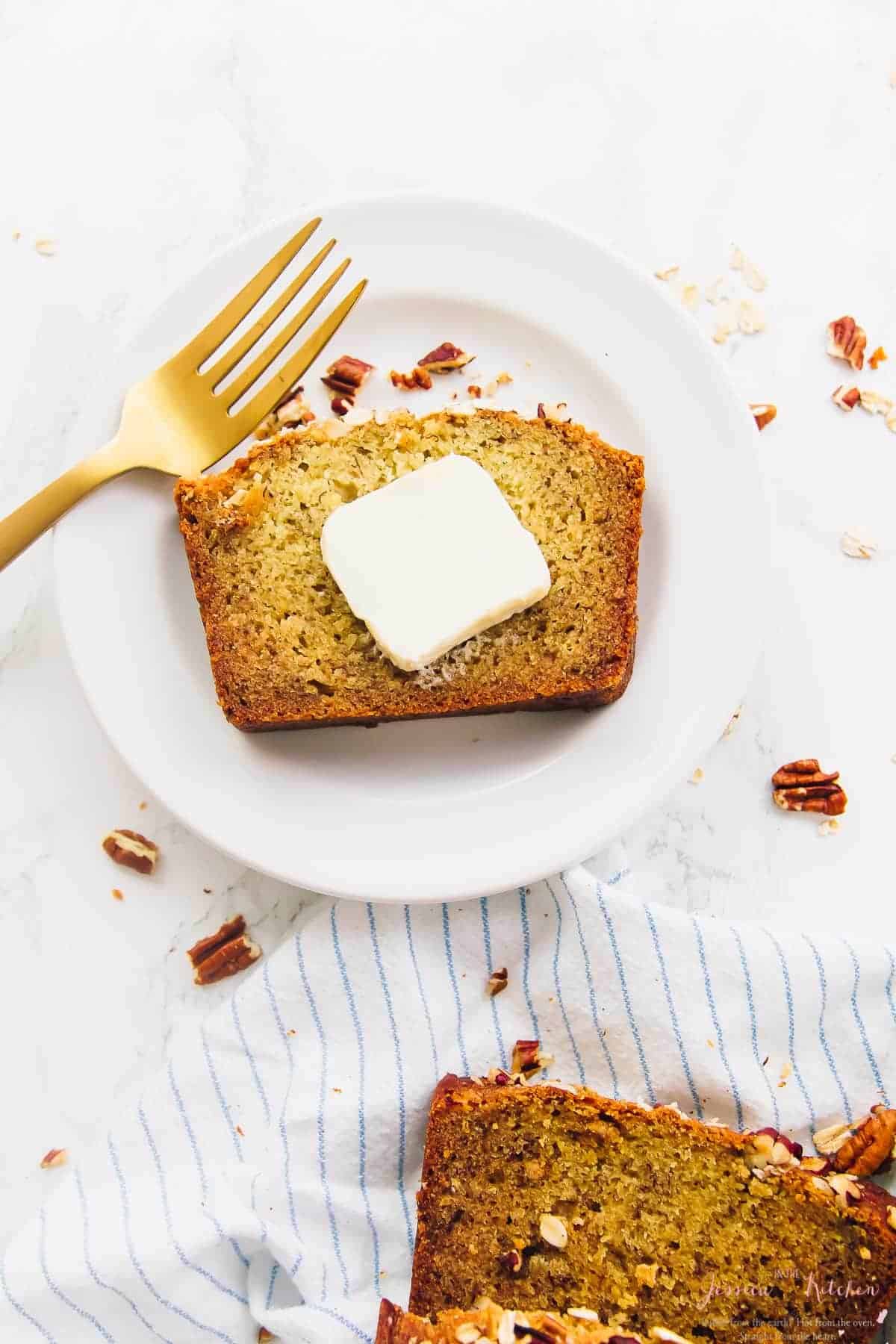 Speaking of tips for banana bread please friends, use ripe bananas. Like, so ripe, you can't peel and eat them, because they are soft piles of mush. These are the sweetest and most moist ripe bananas, and will give you the absolute best flavour possible. Then, add a dab of butter on your slice. Okay, so my dab was pretty huge and I ended up splitting it between three slices, but, you get the gist. 🙂
Last tip, enjoy every single slice. You, mom, everyone, deserves it.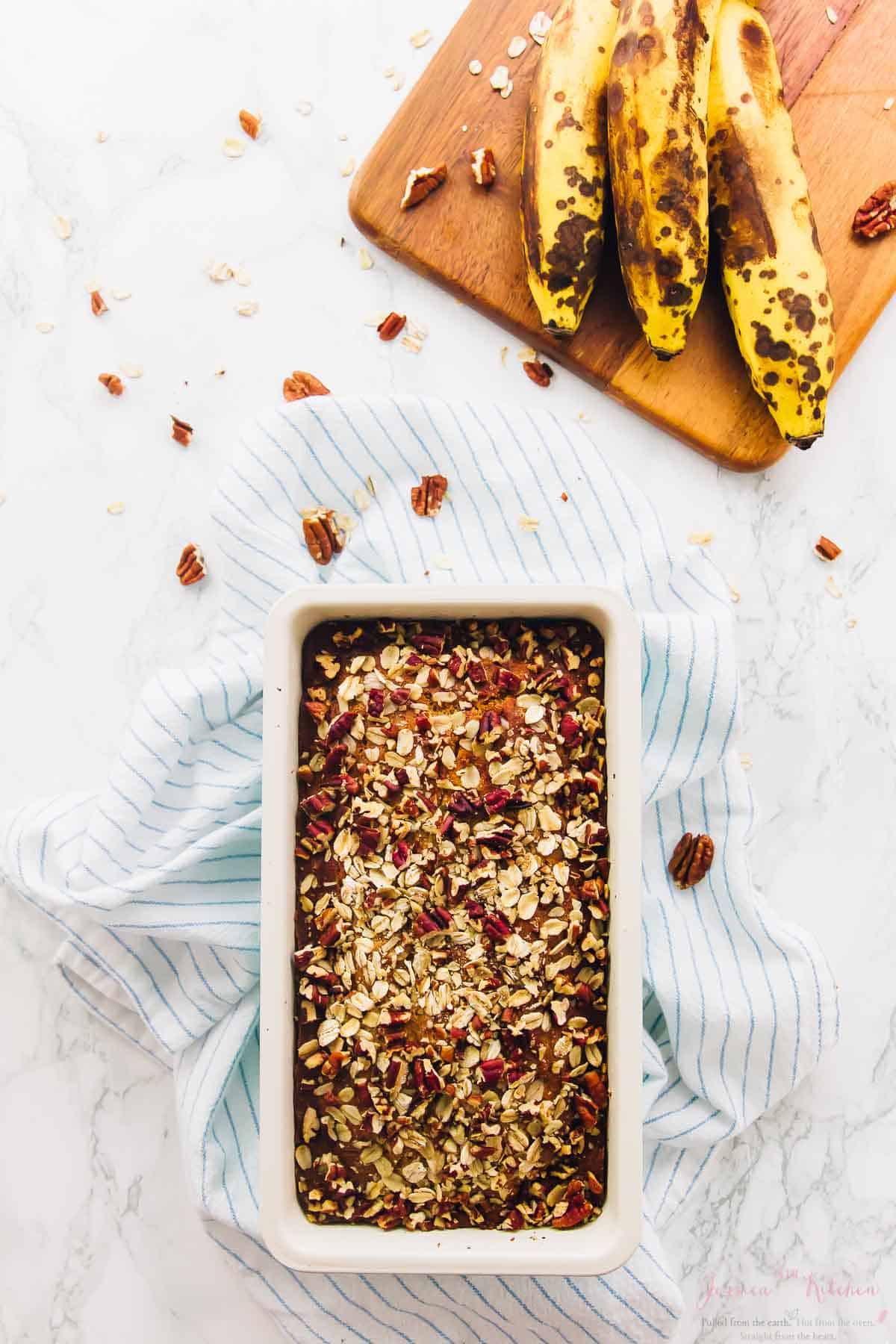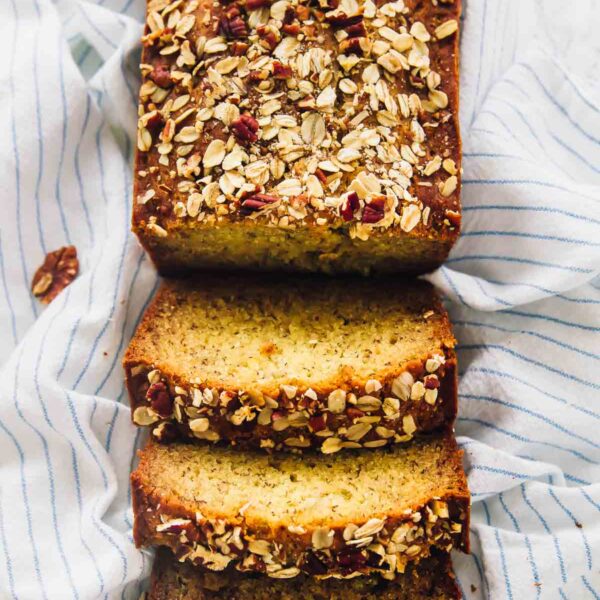 Vegan Banana Bread
Enjoy deliciously moist banana bread with this Vegan Banana Bread that's also gluten free! It's made with healthier ingredients but still absolutely divine!
Ingredients
Vegan Banana Bread (Gluten Free)
10 ounces Gluten Free Baking Flour Mix (I use Bob's Red Mill), 284g or 2 ¼ cups flour, sifted
1 teaspoon baking powder
1/2 teaspoon baking soda
1/2 teaspoon sea salt
2 flax eggs or egg replacer, I used Bob's Red Mill Egg Replacer
1 cup coconut sugar, 175g
1/2 cup coconut oil
1/2 vanilla bean or 1 teaspoon vanilla extract
1/2 cup vegan coconut or plain yogurt
3/4 cup mashed bananas, very ripe bananas - black skin if possible
GF certified oats, such as Bob's Red Mill and chopped pecans, for topping (optional)
Optional: chocolate chips or nuts
Instructions
Vegan Banana Bread (Gluten Free)
Preheat the oven to 350 degrees. Flour and butter/prepare your 9 x 5 banana bread pan. Set aside.

In a medium sized bowl, sift the gluten free flour mix, baking powder, baking soda and sea salt and whisk to combine.

In a mixer attachment bowl, add the flax eggs/egg replacer, sugar and coconut oil. Mix together for about 2 minutes on medium-low speed.

Scrape the vanilla bean and add to the mixture. Add the vegan yogurt and the mashed bananas and mix everything together for 2 more minutes on medium low speed, scraping down the sides and bottom to ensure everything is combined.

Add in ½ of the dry ingredients mixture, combine for 30 seconds, and then add in the rest of the dry ingredients mixture. Mix again for another 30 seconds, ensuring everything is combined.

Remove bowl from mixer and, IF adding, fold in the chocolate chips and chopped nuts into the batter until evenly distributed. The batter should be very thick.

Add the batter to the banana bread pan and use your spatula to smooth down the top. Sprinkle some oats and chopped pecans on top.

Bake the banana bread on the top shelf of your oven for 60 minutes, until a toothpick comes out with a few crumbs. You don't want it to come out clean, so watch your banana bread from about 50 minutes depending on your oven.

Remove from oven and allow to cool for 10 minutes in pan. Transfer the bread to a wire rack by placing the wire rack on top of the bread, then holding the sides of the pan and flipping it over and removing the pan. Hold the sides of the bread to turn right side up. You can also turn the pan over into your hand, and then flip right side up and place on a wire rack.

Allow the bread to cool completely. Slice as desired. Enjoy!
Notes
TO MAKE BANANA BREAD MUFFINS: Make the batter, and pour into a prepared muffin dish. Bake for about 20-23 minutes.
HOW TO STORE BANANA BREAD: After your banana bread has cooled completely, wrap in saran wrap. Place in a plastic zipped bag (remove the air) and store for up to 1 week on your container. Do not place in the fridge as they may dry it out.
HOW TO FREEZE BANANA BREAD: If freezing, store as above, and then place in the freezer. Remove from the freezer when needed and thaw on the counter.
P.S. ensure that you use gluten free certified oats, or you can just leave the oats off!
If you try this Vegan Banana Bread (Gluten Free) please let me know in the comment section below, or tag me on instagram with the hashtag #jessicainthekitchen! For more exclusive recipes follow me on Instagram AND on Snapchat: jessinkitchen
Calories: 162kcal, Carbohydrates: 23g, Protein: 2g, Fat: 8g, Saturated Fat: 6g, Sodium: 154mg, Potassium: 45mg, Fiber: 2g, Sugar: 9g, Vitamin A: 7IU, Vitamin C: 2mg, Calcium: 37mg, Iron: 1mg
Disclaimer: Although jessicainthekitchen.com attempts to provide accurate nutritional information, kindly note that these are only estimates. Nutritional information may be affected based on the product type, the brand that was purchased, and in other unforeseeable ways. Jessicainthekitchen.com will not be held liable for any loss or damage resulting for your reliance on nutritional information. If you need to follow a specific caloric regimen, please consult your doctor first.