Jalapeño Cornbread Waffles with Roasted Garlic & Rosemary (Vegan + Gluten Free)
These Jalapeño Cornbread Waffles are the ultimate savoury waffles! They're made with roasted garlic, rosemary, and are perfect for brunch or breakfast for dinner!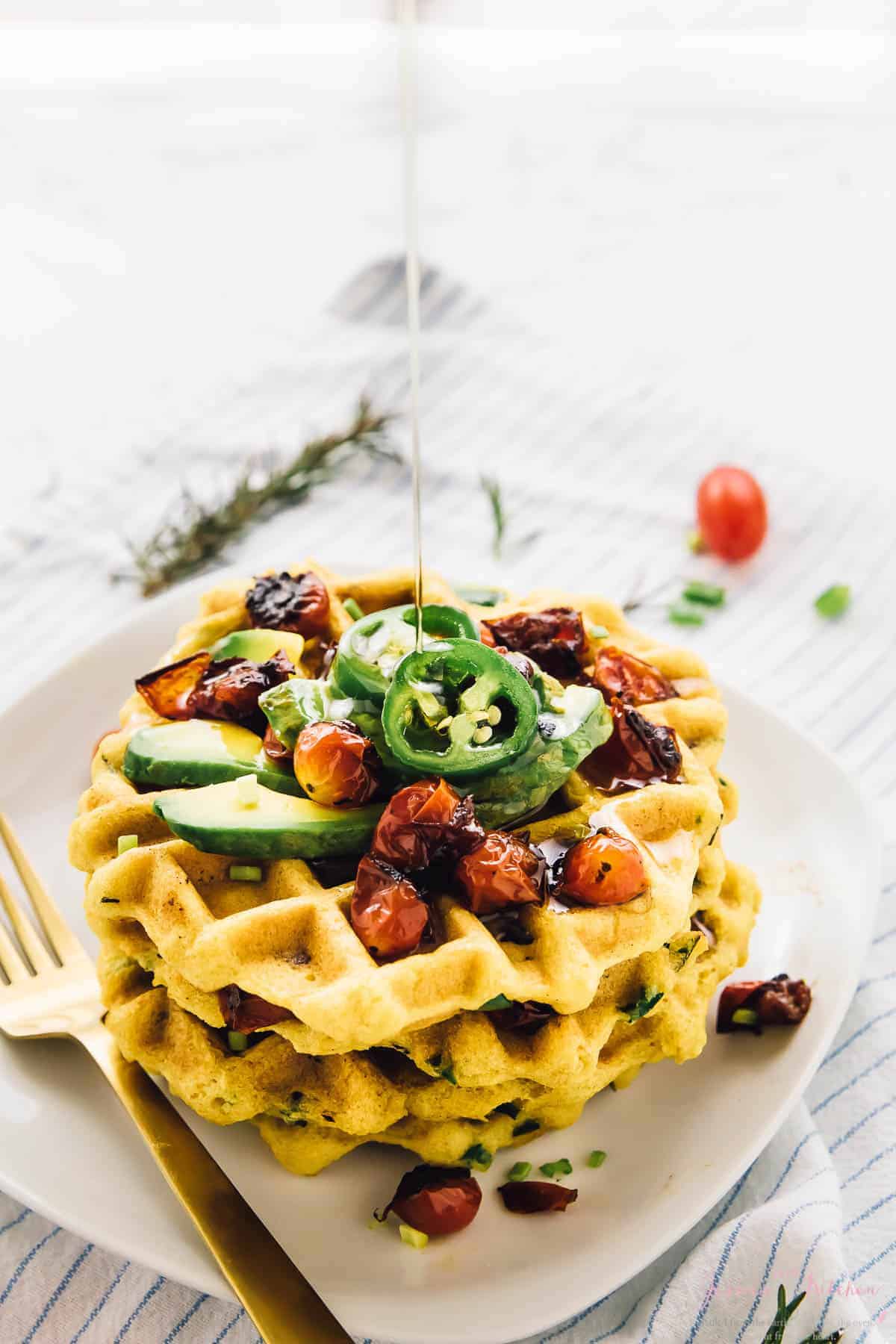 Friends. FRIENDS. These waffles. These Jalapeño Cornbread Waffles with roasted garlic, freshly chopped rosemary, and topped with all the avocado, roasted tomatoes and maple syrup. These savoury waffles deserve, absolutely deserve, a place in your breakfast, brunch, or breakfast for dinner life routine. This will, most definitely, blow you away with its flavour, taste and absolute ease to make. These were the easiest waffles I've ever made, and they will have you feeling like a waffle queen/king.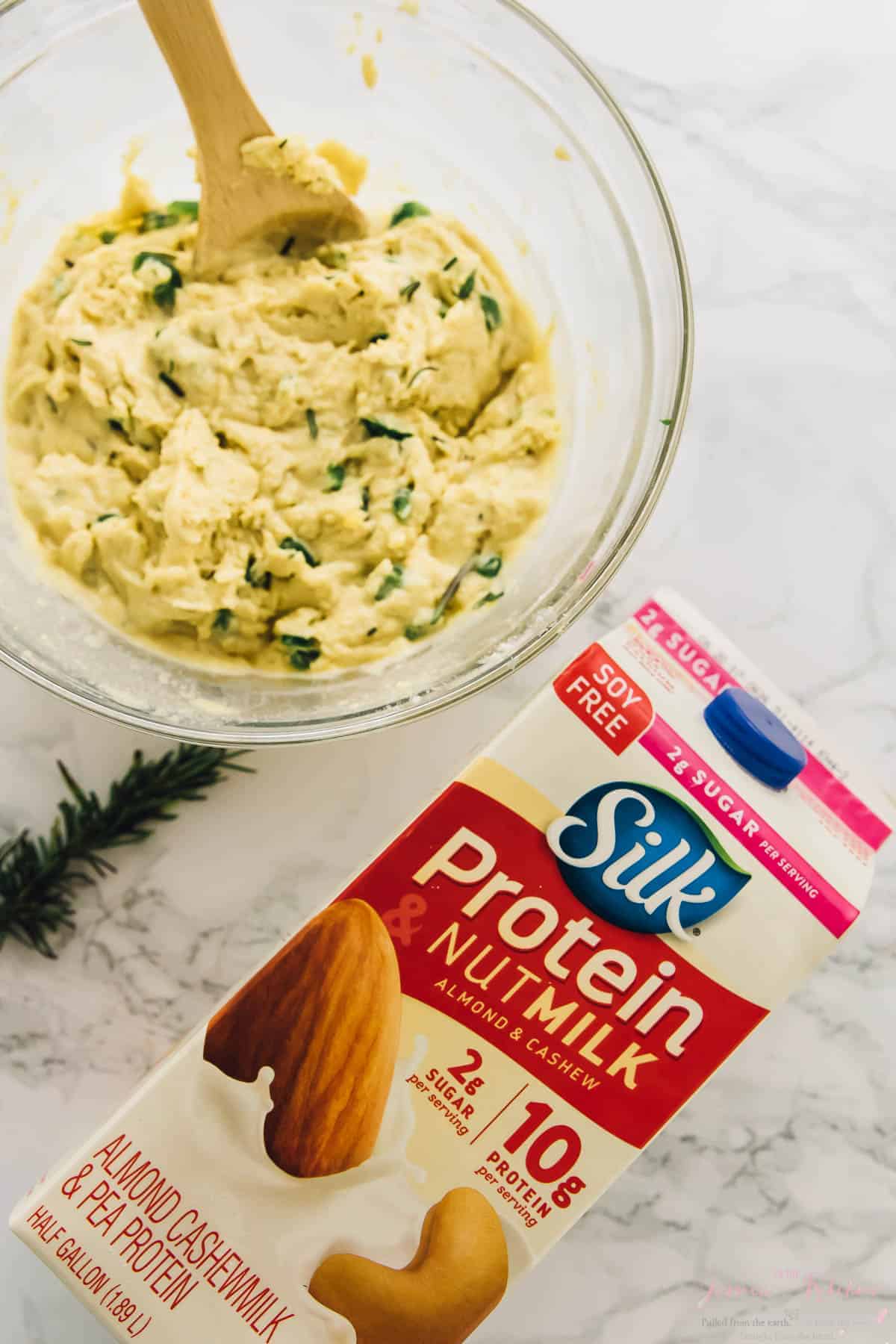 I first tried the new Silk® Protein Nutmilk back in December, and I fell in love with just how creamy, and smooth it was. The combination of almond milk + cashew milk really took the creaminess over the top while keeping it light in everything you use it in. Naturally, I was so excited to use it again, this time to show how easily it subs into your favourite recipes, while adding 10g of protein. YES, 10g! That means that your delicious, gluten free and vegan breakfast will keep you full and nourished all morning long.
I kind of ran around the house, holding it in my hand, wondering what recipe I would try it in first to show you all. As soon as I opened my fridge and saw the cornmeal & gf flour (flour keeps longer in the fridge), I knew I had to make these cornbread waffles for you.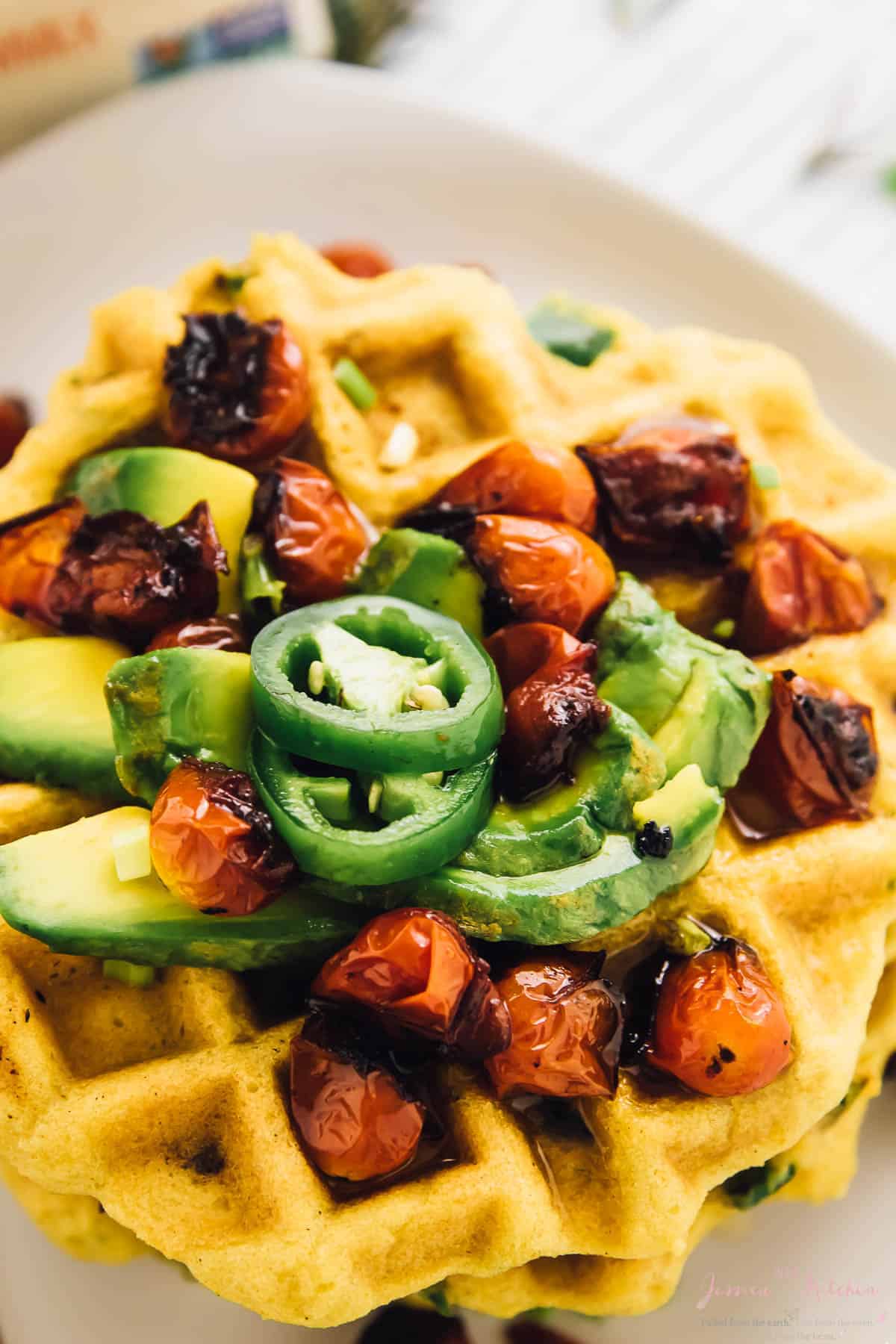 So, the Mr. and I have been making waffles for breakfast for about, well, the last 4 months. Not every single morning, but when we do, it automatically becomes the best morning ever. If you're new to savoury waffles, this is something that you will try and most definitely love. When it comes to these Jalapeño Cornbread Waffles, for example, they're simply cornbread, in a new, absolutely divine and tasty way, that allows you to naturally, put all your favourite toppings on top. Truthfully, it almost seems as if cornbread was made for waffles. You drizzle maple syrup on your cornbread? You do the same over these waffles. That "sweet heat" combination is to die for. Then, when you think it can't get better, add a little hot sauce on top of it all. Oh my, we're in waffle heaven now.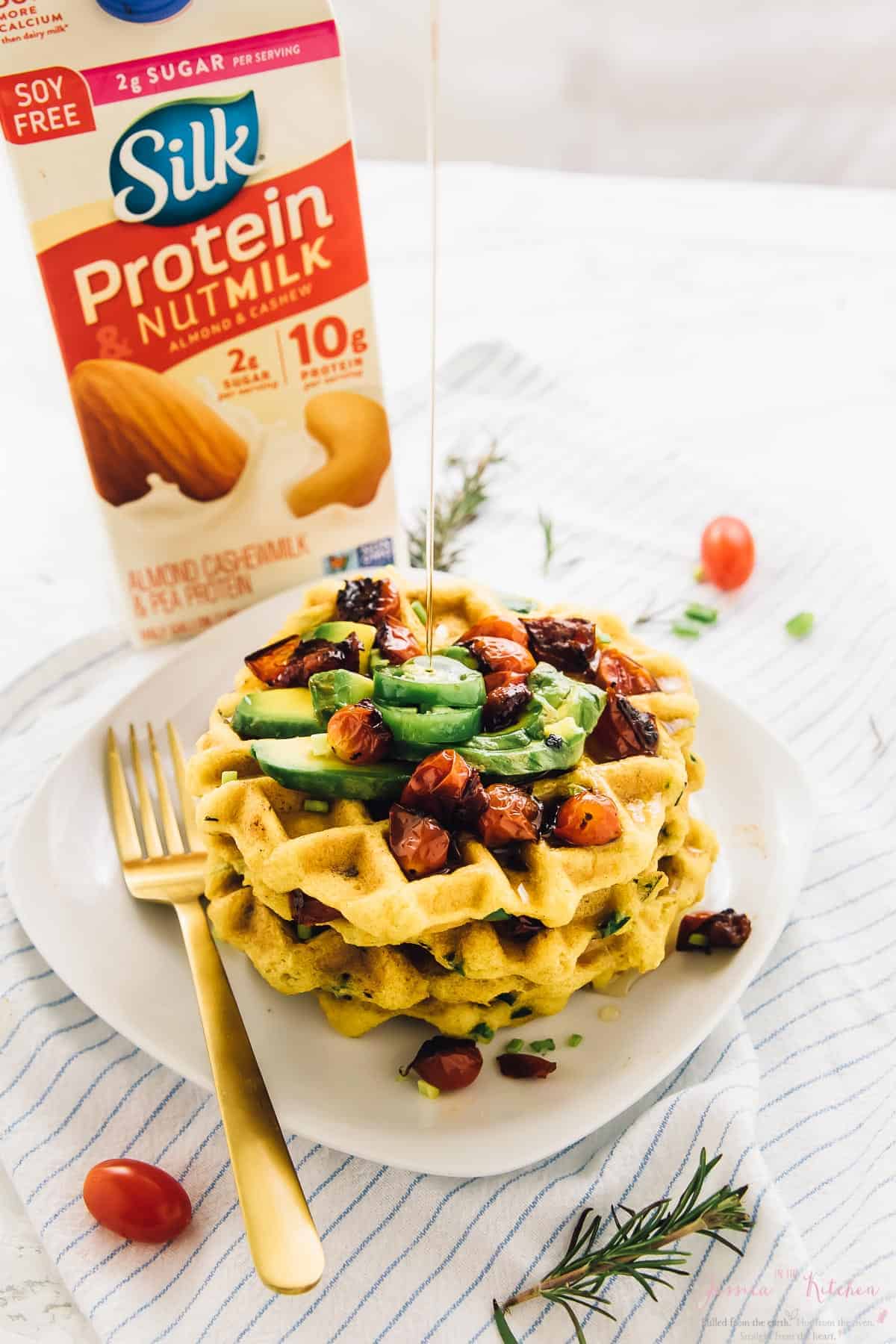 These waffles really make any meal you add them to, top notch. They're sweet, spicy, savoury and SO stunning in flavour, texture and taste. The waffles are crunchy on the outside and so fluffy on the inside. The jalapeño adds a divine kick to it, and the rosemary adds a lovely subtle flavour to them. None of the flavours compete with each other, but instead, meld perfectly. Best part? They actually kept me full thanks to the 10g of protein that the Silk® Protein Nutmilk adds to these waffles. I love that the protein is made 100% from peas, too, while keeping the batter nice and fluffy. Case in point – I had these for dinner too, and 5 hours later, I'm still comfortably full.
Give these beautiful Jalapeño Cornbread Waffles a try friends. Feel free to switch things up – basil instead of rosemary would be divine too, and you can add even more toppings on the waffles, like vegan sour cream. Can you imagine vegan coconut bacon on top of these? Let me know what amazing combinations you try!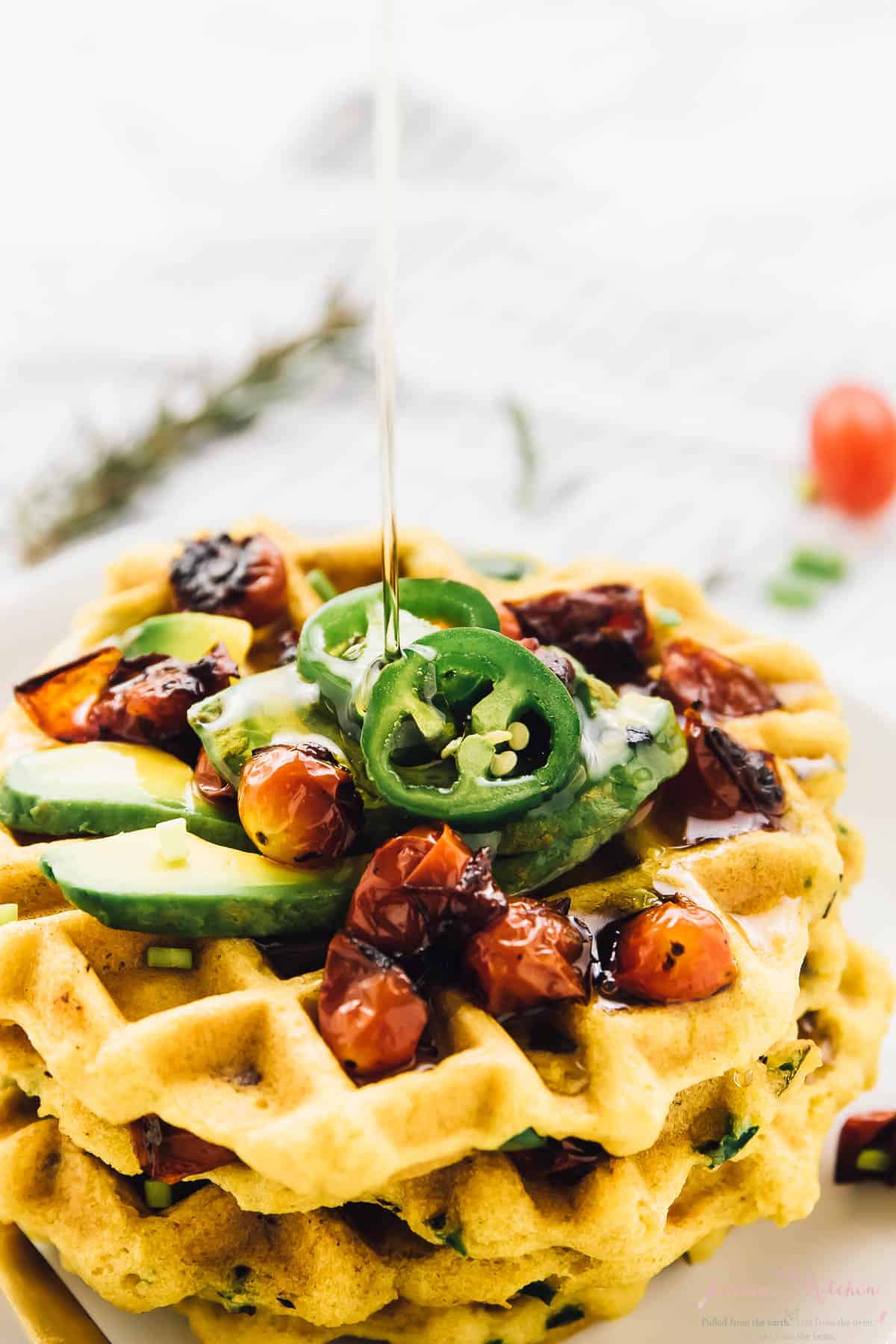 YOUR QUESTIONS ANSWERED
Q: Can I make these without gluten free flour?
A: Yes, you can!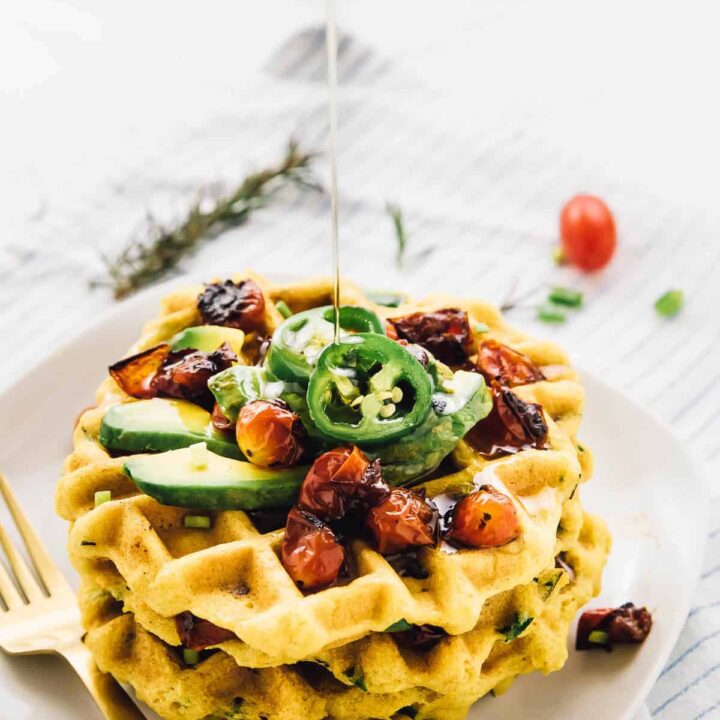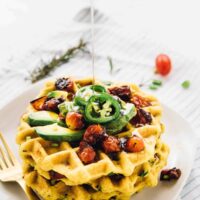 Jalapeño Cornbread Waffles with Roasted Garlic & Rosemary
These Jalapeño Cornbread Waffles are the ultimate savoury waffles! They're made with roasted garlic, rosemary, and are perfect for brunch or breakfast for dinner!
Ingredients
Jalapeño Cornbread Waffles with Roasted Garlic & Rosemary
1 1/4 cups fine grain cornmeal, 150g
1 cup All Purpose Gluten Free Flour Mix, 148g
1/2 teaspoon baking soda
1 1/2 teaspoons baking powder
3/4 teaspoon sea salt
1 vegan egg replacer
1 1/4 cups Silk® Protein Nutmilk
2 teaspoons apple cider vinegar or white vinegar
1/4 cup unmelted melted vegan butter, 44g
1 jalapeño, chopped and de-seeded
4 cloves roasted garlic
2 teaspoons freshly chopped rosemary
Instructions
Jalapeño Cornbread Waffles with Roasted Garlic & Rosemary
Mix the almond milk and apple cider vinegar together. Let sit for at least 3 minutes to create a vegan buttermilk.

In a large bowl, mix all the dry ingredients, including the rosemary, together. Set aside.

In a smaller bowl, mix all the wet ingredients, including the butter milk.

Pour the wet ingredients into the dry and mix until combined.

Add in the diced jalapeños and mix gently.

Preheat your waffle iron in the meantime and grease according to manufacturer's settings. I set mine two dials before max because I like mine crisp but also very fluffy.

Using a wooden spoon, scoop out some batter and pour into the middle of the greased waffle maker. Close and let cook until the steam has completely finished to rise from the waffle maker. Don't open it before the steam is finished! Remove each waffle and place on a baking sheet in your oven or toasted oven on "warm" or 200F to keep warm and crispy until finished with the entire batter.

Serve with your choice of toppings! I enjoy roasted tomatoes (I just sauté them in some coconut oil in a cast iron skillet), sliced avocados and chopped scallions and a drizzle of maple syrup on top. Enjoy!
Notes
Notes:
This recipe is vegan and gluten free.
If you try these Jalapeño Cornbread Waffles with Roasted Garlic & Rosemary please let me know in the comment section below, or tag me on instagram with the hashtag #jessicainthekitchen! For more exclusive recipes follow me on Instagram AND on Snapchat: jessinkitchen.
This is a sponsored conversation written by me on behalf of Silk. The opinions and text are all mine. Thank you for supporting the brands that support Jessica in the Kitchen!
Calories: 417kcal, Carbohydrates: 61g, Protein: 9g, Fat: 17g, Saturated Fat: 3g, Sodium: 923mg, Potassium: 192mg, Fiber: 9g, Sugar: 2g, Vitamin A: 38IU, Vitamin C: 5mg, Calcium: 217mg, Iron: 3mg
Disclaimer: Although jessicainthekitchen.com attempts to provide accurate nutritional information, kindly note that these are only estimates. Nutritional information may be affected based on the product type, the brand that was purchased, and in other unforeseeable ways. Jessicainthekitchen.com will not be held liable for any loss or damage resulting for your reliance on nutritional information. If you need to follow a specific caloric regimen, please consult your doctor first.