Vegan Cornbread Muffins (Soft and Fluffy)
These Vegan Cornbread Muffins are moist and tender and made with jalapeños! They have a delicious spicy kick, are vegan and are made with healthier ingredients!
WATCH THE VIDEO TO SEE HOW IT'S MADE: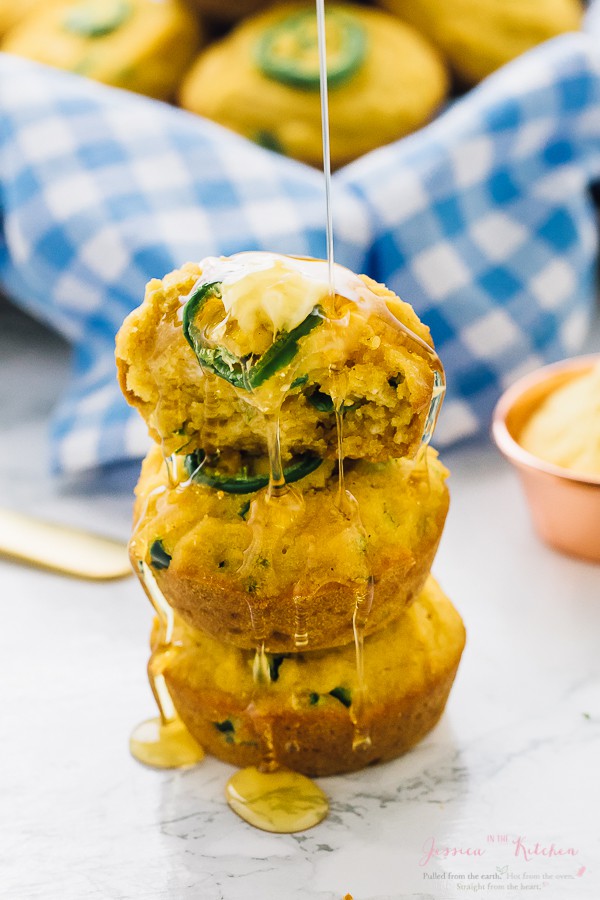 Friends, I'm in full-blown Thanksgiving vegan recipes mode by now. It's almost two weeks away (what?!) and having all your delicious recipes in your arsenal is key. These vegan cornbread muffins for example, and definitely happening on Thanksgiving for me.
I'm talking moist, tender, fluffy and with an insanely delicious light kick of spice thanks to the addition of the jalapeño. You need to make these.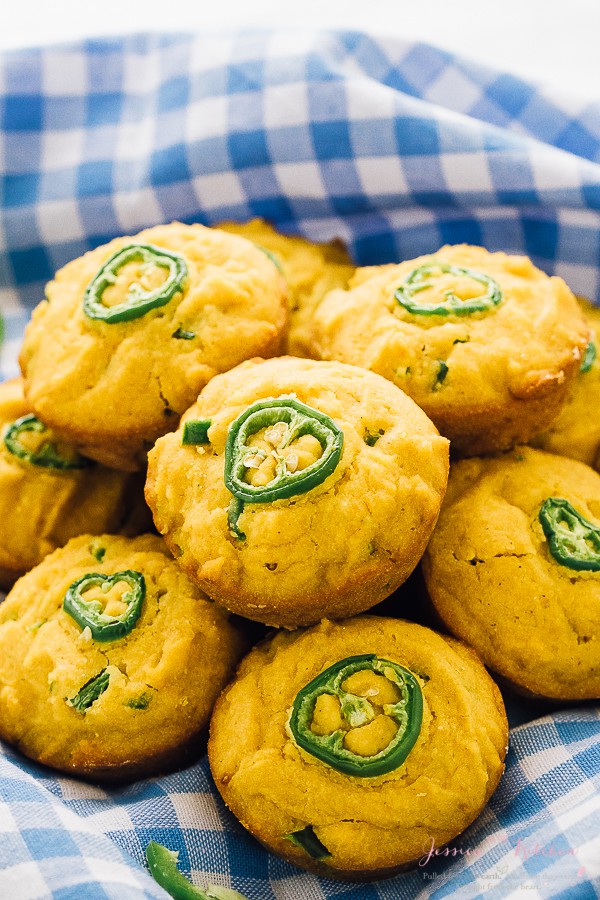 We aren't going to get into any unnecessary chit chat (…right) but dive right into these vegan cornbread muffins. I've always loved cornbread, and have always loved making it. This time around I wanted to try something a bit different – making them vegan, gluten-free and into muffins. Whoa, pull out the drawing board.
Transforming regular cornbread into vegan and gluten-free cornbread is actually a lot easier than I thought it would be. I sat down with my usual stack of papers and millions of measurements and worked away until I found a great recipe combination. I referred to my trusty Williams-Sonoma cooking book for basic ingredients and went working from there.
After a few successful trials and ahem, numerous amounts of taste testing, I was ready to share these beauties with you.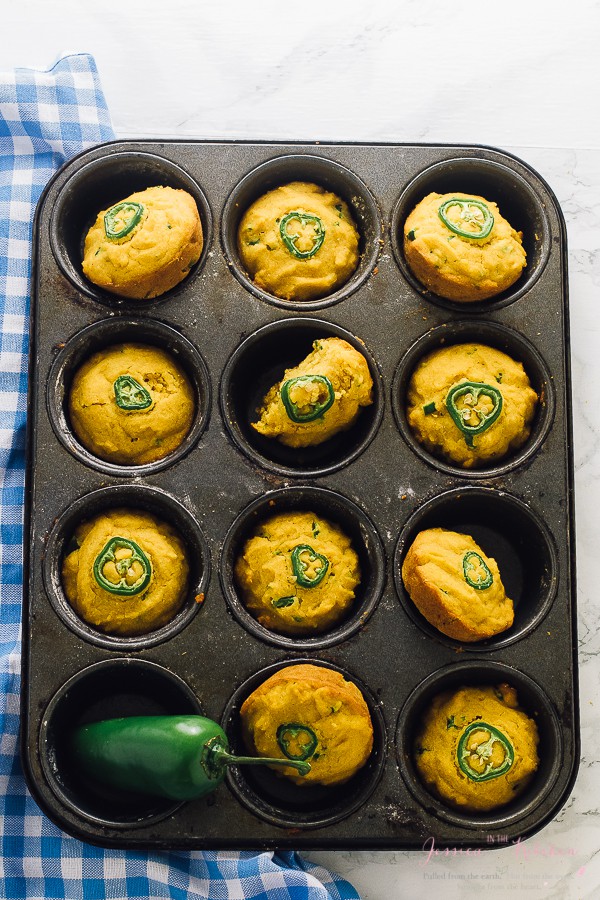 I have to warn you: these muffins are incredibly addictive. The cornbread is not at all grainy, and works perfectly with the gluten free flour. The mix of maple syrup and cane sugar give a slightly sweet taste to give you that sweet cornbread taste we all know and love. The vegan buttermilk helps to lighten it all up. The pumpkin puree, OH the puree, helps to keep it beautifully moist even with 1 ¼ cup of cornmeal.
Then there's the jalapeños. I may never make cornbread again without jalapeños. That kick of spice is unbelievably appealing. It's not even that spicy, no worries, but it's such a beautiful hint that you know these aren't any regular 'ole gluten free cornbread muffins. If you want to cut down the spice, just remove the jalapeños from the tops of the muffins. I put them there more for presentation that anything, but they definitely up the spice factor.
These are definitely going to be a favourite at your Thanksgiving table. Thanks to the ingredients, everyone can enjoy them despite dietary restrictions, while also knowing that they are also healthier than normal at just 118 calories each. Remember to serve these up with some vegan butter and a drizzle of maple syrup. It's cornbread custom.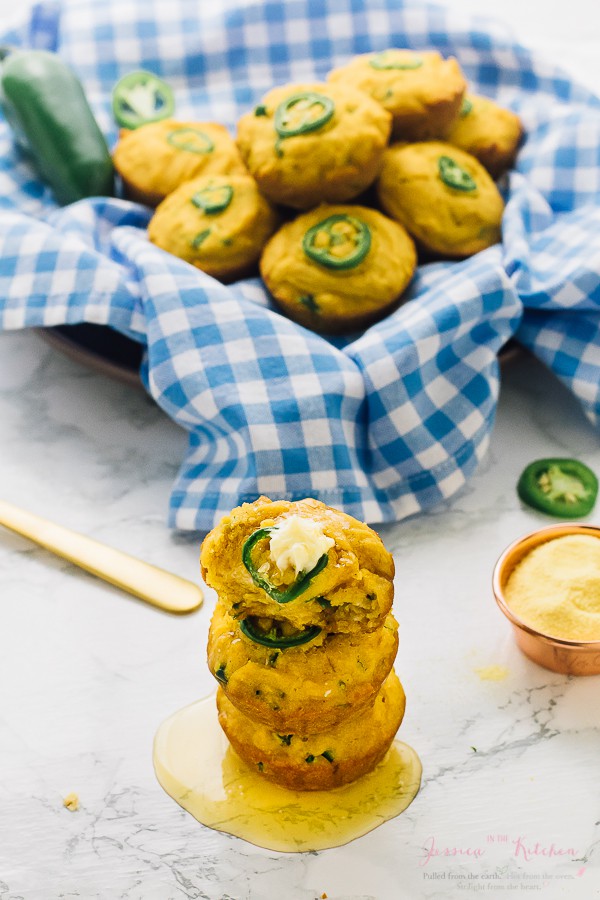 NUTRITIONAL BENEFITS
Surprise! There are actually health benefits to these muffins!
Pumpkin puree – these muffins have lots of fiber and bursting with Vitamin A thanks to the pumpkin puree.
They are much healthier than your standard cornbread thanks to cutting down on the oil, replacing fat with pumpkin and reduced sugar.
Jalapeños – the spice from the jalapeños actually aids digestion.
Almond milk – the almond milk boosts the calcium levels of these muffins.
YOUR QUESTIONS ANSWERED
Q: Can I make these without gluten free flour?
A: Yes, you can!
P.S. Here are some of the items I used to make this recipe if you'd like to use them too:
| WHAT YOU'LL NEED // SHOP MY FAVORITE INGREDIENTS & PREP PRODUCTS |


If you try these Vegan Gluten Free Cornbread Muffins please let me know in the comment section below, or tag me on instagram with the hashtag #jessicainthekitchen! For more exclusive recipes follow me on Instagram AND on Snapchat: jessinkitchen.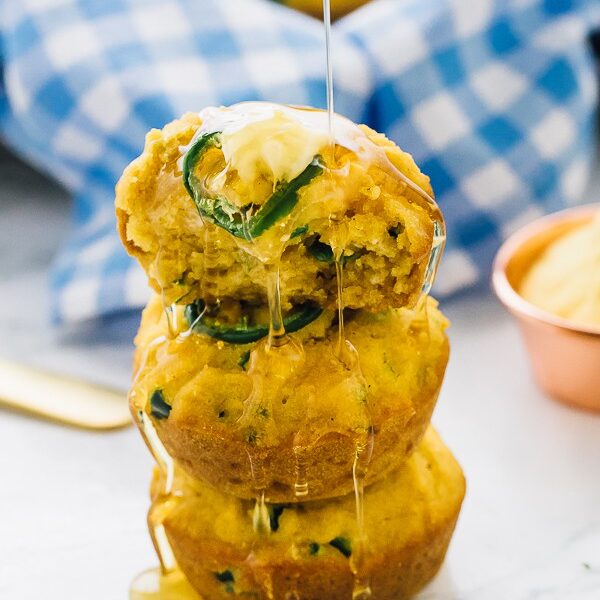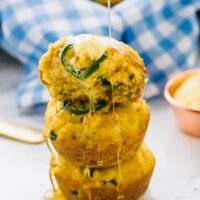 Vegan Cornbread Muffins
These Vegan Cornbread Muffins are moist and tender and made with jalapeños! They have a delicious spicy kick, are vegan and are made with healthier ingredients!
Ingredients
Gluten Free Cornbread Muffins – Vegan
1 1/4 cups fine grain cornmeal, 150g
1 cup all purpose flour, (148g) OR All Purpose Gluten Free Flour Mix (NOT Baking Mix)
1/2 teaspoon baking soda
1 1/2 teaspoons baking powder
3/4 teaspoon sea salt
1/3 cup pumpkin puree
1 cup unsweetened almond milk, any vegan milks
2 teaspoons apple cider vinegar or white vinegar
1/4 cup melted vegan butter, (44g)
3 tablespoons cane sugar, or coconut sugar or organic brown sugar
3 tablespoons maple syrup, (69g)
2 jalapeños, de-seeded and finely diced plus slices for the tops
Instructions
Preheat oven to 350°F/180°C.

Line a muffin tin with cupcake liners. If not using liners, grease lightly with coconut oil or spray with baking spray. Set aside.

Mix the almond milk and apple cider vinegar together. Let sit for at least 3 minutes to create a vegan buttermilk.

In a large bowl, mix all the dry ingredients together. Set aside.

In a smaller bowl, mix all the wet ingredients together slow to incorporate, then a bit quicker to mix together properly.

Pour the wet ingredients into the wet and mix until combined.

Add in the diced jalapeños and mix gently.

Spoon equally throughout the 12 muffin cups.

Add a thin slice of jalapeño to the top of each and press down gently.

Bake for 18-22 minutes. The muffins are done when they bounce back slightly to touch.

Serve immediately and enjoy!
Notes
This recipe is vegan and gluten free.
HOW TO STORE
These cornbread muffins can be stored in an airtight tupperware container on the counter for up to 5 days. You can also use them as a base for your cornbread stuffing recipe.
Calories: 160kcal, Carbohydrates: 27g, Protein: 3g, Fat: 5g, Saturated Fat: 1g, Sodium: 302mg, Potassium: 88mg, Fiber: 3g, Sugar: 7g, Vitamin A: 1084IU, Vitamin C: 3mg, Calcium: 72mg, Iron: 1mg
Disclaimer: Although jessicainthekitchen.com attempts to provide accurate nutritional information, kindly note that these are only estimates. Nutritional information may be affected based on the product type, the brand that was purchased, and in other unforeseeable ways. Jessicainthekitchen.com will not be held liable for any loss or damage resulting for your reliance on nutritional information. If you need to follow a specific caloric regimen, please consult your doctor first.