Girls Night In: Wine & Cheese Night + Popcorn!
Here are my top tips and guides for How To Throw an EASY Girls Night In with the three best elements: Wine & Cheese & Gourmet Popcorn! Wine & Cheese night just got upgraded!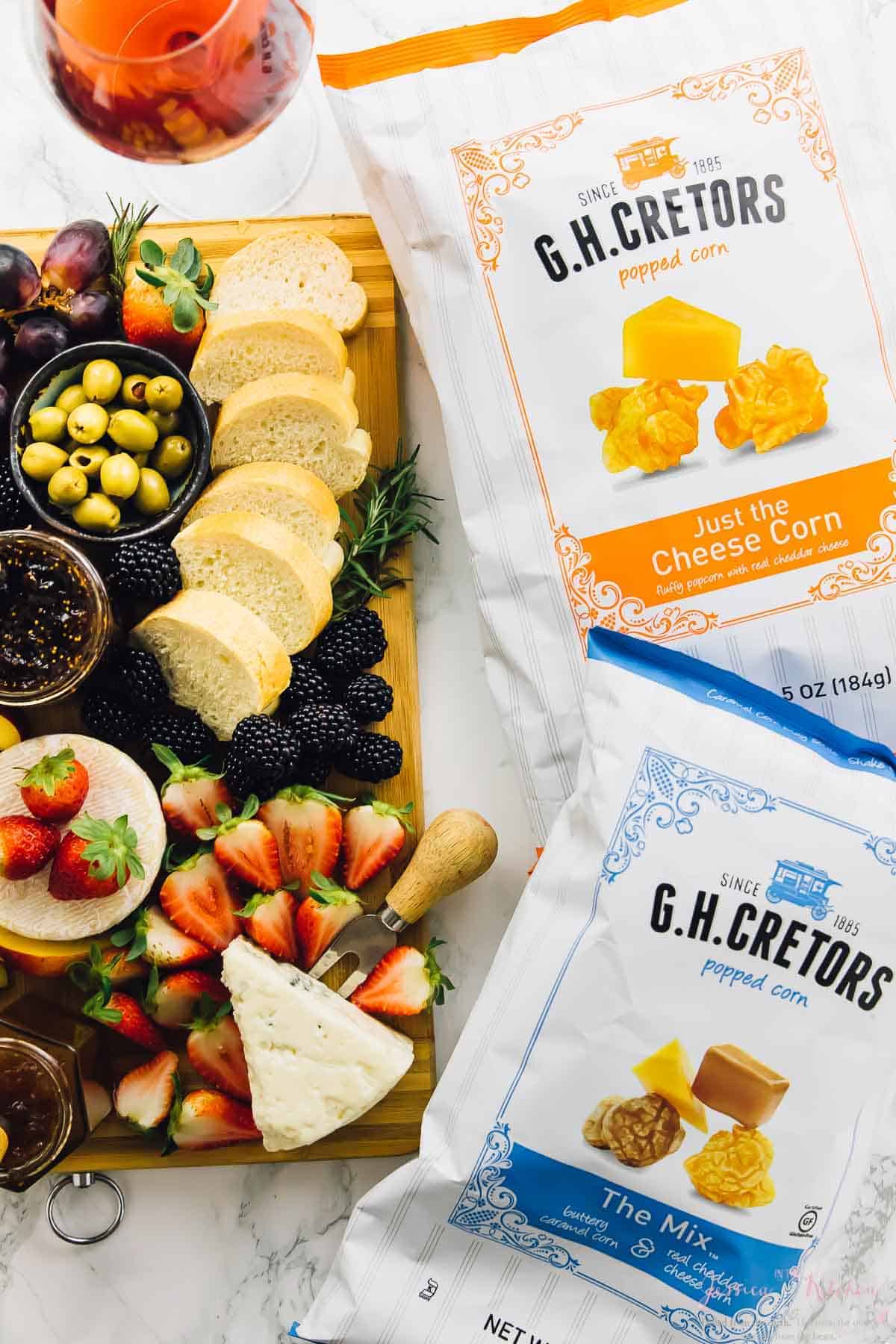 Have you been keeping up with my Instagram page? If yes, then you definitely saw the play-by-play of our Girls Night In this last weekend! Girls Night In is such a sacred event for me: it does not happen often enough, but when it does, it's a night filled with laughter until tears, catching up, nostalgia, and so much good food.
Did the food part catch your attention? Because that's what this entire post is about – how to host an amazing Girls Night In aka a really fun wine & cheese night, filled with 1) popcorn, aka G.H. Cretors mouthwatering and palette pleasing options, 2) the cheeseboard of your dreams, and 3) the best wine pairings to go with it all. Grab a great movie and let's get started!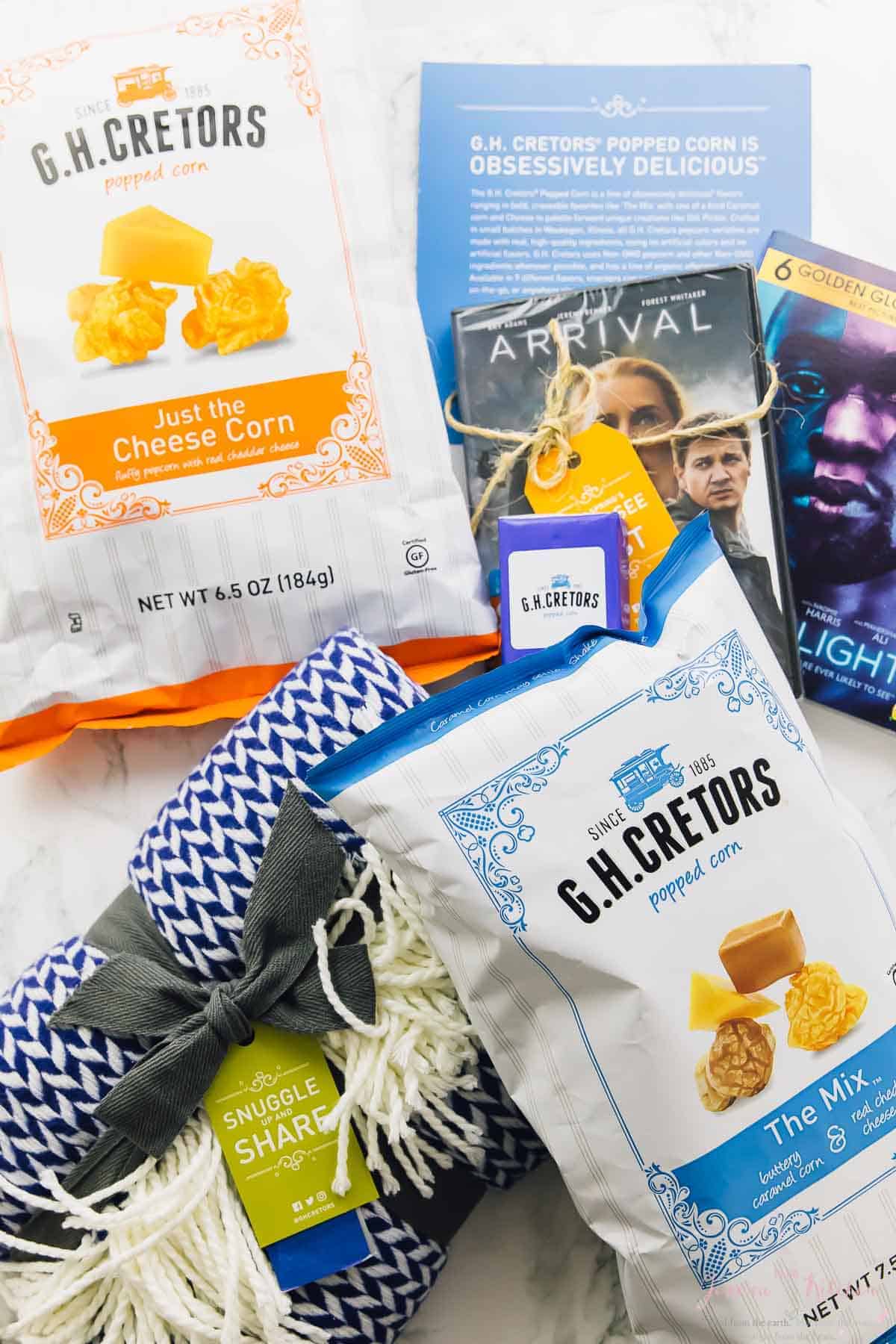 A few weeks ago, G.H. Cretors reached out to me and sent me their ultimate movie night package: two award winning movies, a comfy blanket, tissues for clean snacking, and best of all, their out-of-this-world-popcorn. So, upon being sent this package, I knew the perfect way to celebrate with the movie night package would be to host a girls night in! A lot of you have also been asking me to do one, so I knew it was the perfect opportunity to finally do a post about it. I have always loved hosting friends, and I'm not about stuffy events, but instead well-coordinated, cozy but still stylish get togethers where laughter and good food are always welcomed and present, which is exactly what this girls night in ended up being. Here are my favourite food options & tips for a girls night in!
The Popcorn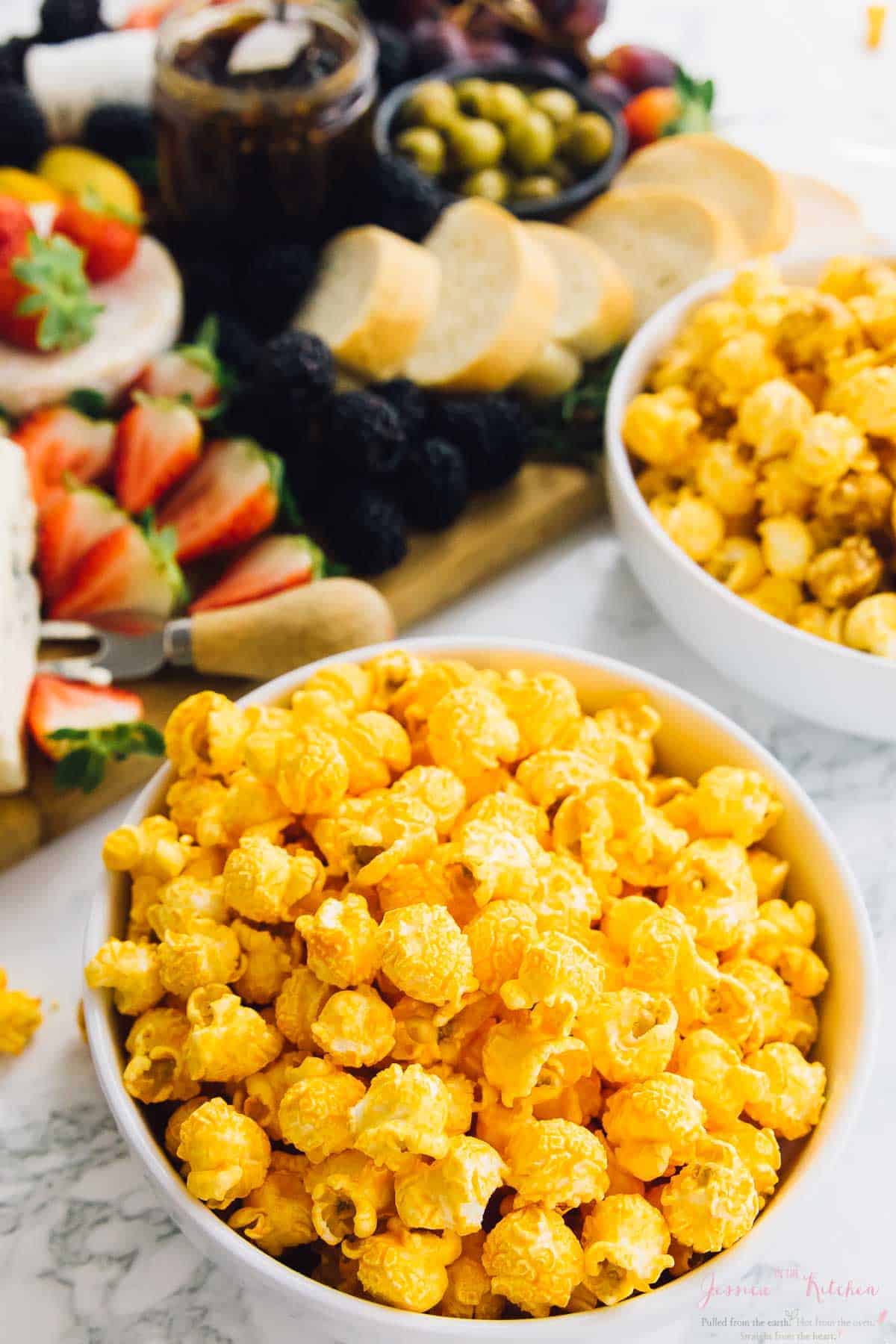 Small bites are the easiest snacks for a girls night in and helps to keep it casual, so popcorn is always a perfect option, and what movie night is complete without popcorn? Okay, so yeah, popcorn is great, right? But this popcorn, whoa friends, if you haven't tried it yet, it's best you get your hands on it soon. G.H. Cretors makes all of their artisanal popcorn products in small batches, so it's packed with high quality, great tasting ingredients, and you can definitely tell! The popcorns are also 100% gluten free, and use non GMO-ingredients. I was sent their Just The Cheese Corn, and "The Mix" – buttery caramel and real cheddar corn popcorn products for my movie night, and they definitely pleased.
My girlfriends kept commenting on the fact that they did not want to stop eating it. We dove in before our movie even started – one bite will do that to you – and it was the perfect companion throughout our movie too. My friends know that I'm a bit of a history geek, and I love finding out the history of basically everything that I love. G.H. Cretors history actually dates back all the way to 1893 with Charles Cretors, confectioner and inventor, who unveiled the first popcorn machine at the Chicago World's Fair. How cool is that?! I may or may not have watched this cool video at least 5 times.
2. The Wine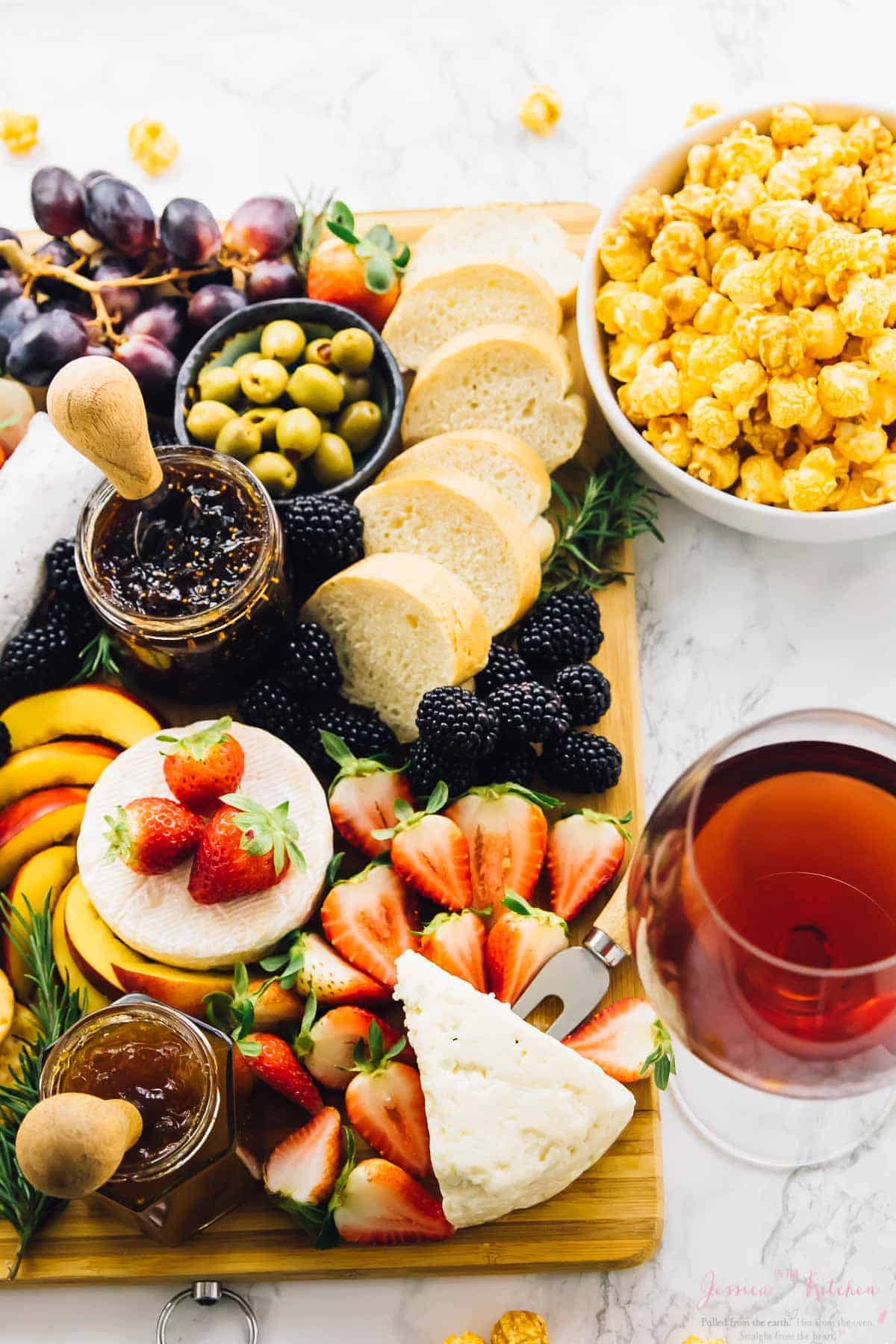 Is any gathering of girlfriends ever complete without wine? By the way, did you know that wine & popcorn pairings are actually a thing? Popcorn is said to make wine "pop", and pop it did! I did a bit of research, and found the best wine to pair with your popcorns:
G.H. Cretors Just The Cheese popcorn: pairs well with a great Malbec or Pinot Noir
G.H. Cretors "The Mix" – buttery caramel + cheese popcorn: pairs well with a Moscato, Cabernet, or even a Prosecco.
The popcorn totally worked!! I love a great red, and my Malbec tasted even better than it usually does thanks to this pairings. Definitely give this one a try. When it comes to the wines for your girls night in, depending on how many guests you're going to have, you don't need to have a ton of different wines. It was just four of us, and two bottles served us well throughout the whole night. Simplicity is key!
3. The Cheese Board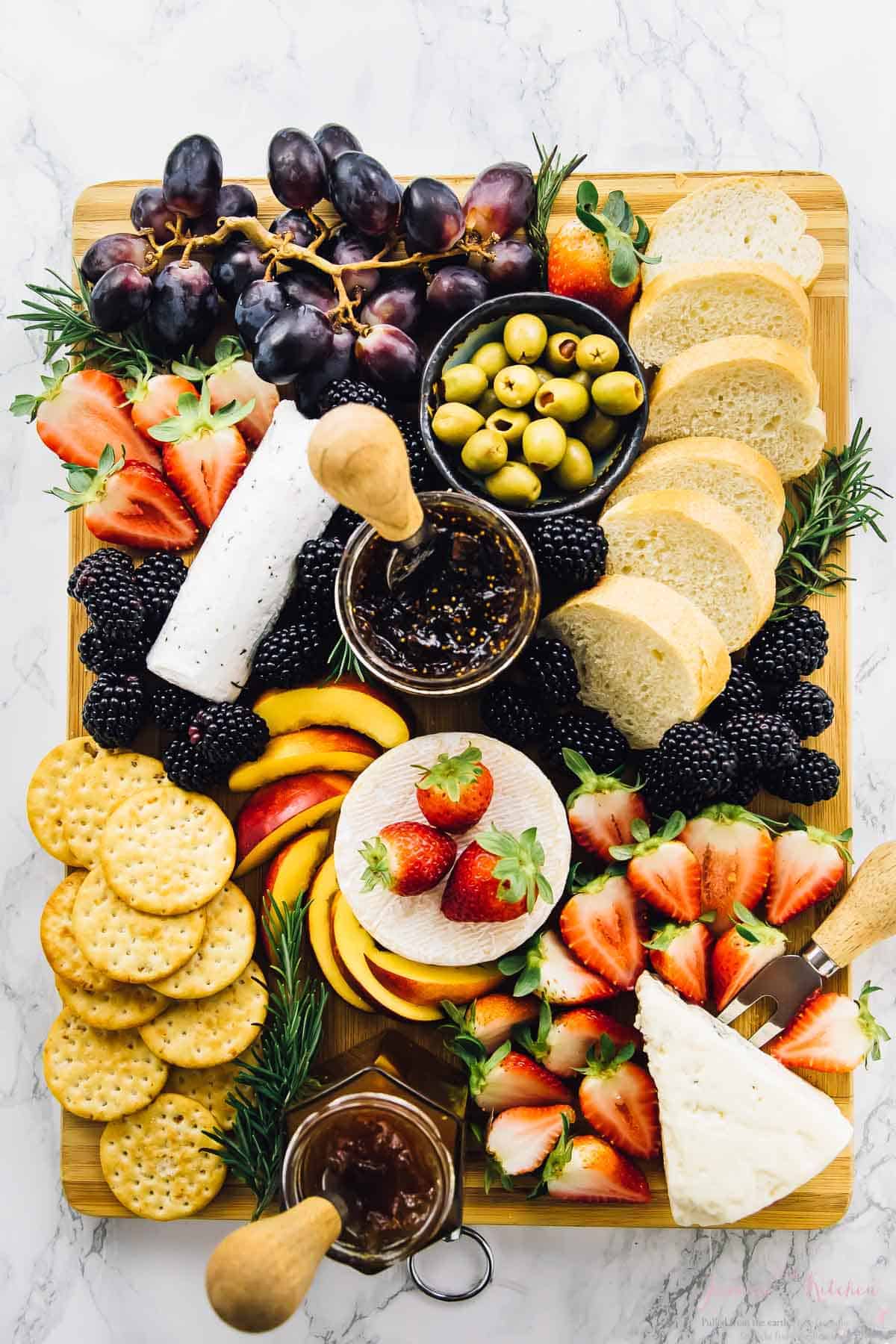 Oh, cheese. P.S., before I go any further, yes you can do this with vegan cheese, and I have! My Pistachio-Crusted Vegan Cheese Ball would go perfectly for a cheese board. Cheese boards are a lot easier than they look, I promise! I wanted to have easy, simple, bite size snacks for this girls night in, and the cheese board was a perfect accompaniment to the popcorn. A great cheese board has a nice mix of different tastes, textures and treats that all end up working with each other. Let me give you an example – I go for a 1) cheese element (d'oh) 2) salty element 3) jams/condiments 4) carbs (breads and crackers) and 5) fruits. Sometimes I will add in nuts, but they're not always super necessary. With this simple guide, you can get items that are simple, easy and that pair well together.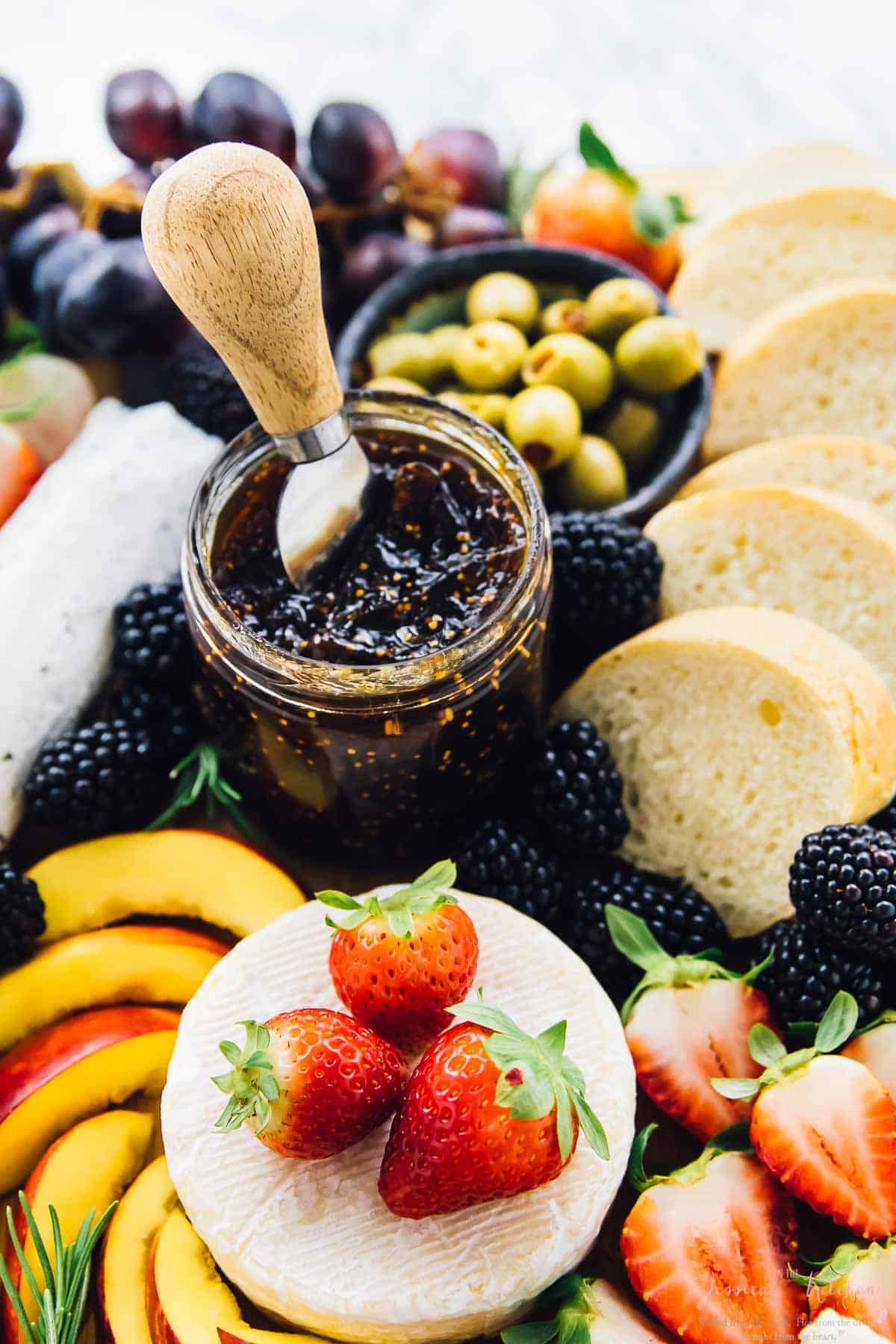 For my cheeses, I got a goat cheese log, a gorgonzola wedge, and a brie wheel. P.S. – heat your oven to 350 F degrees, and bake the brie for 10 minutes. It becomes a divine, gooey centrepiece for your cheeseboard! My for salty element, olives, because, I am an olive-obsessed fiend. For my condiments/jams – I went for a fig jam (which is my new favourite jam in life), and a sweet pepper jelly. Simple, and goes well with everything. For my carbs I went for some water crackers (a staple) and butter toasted baguettes. For my fruits I kept it really summery – strawberries, blackberries, peaches, and some grapes. The board took me about 15-20 minutes to assemble, mainly because I was also sharing photos in between ;).

top 5 girl's night in tips
So, my general, top 5 girl's night in tips would be:
Have easy, bite size, snacks/foods for your girlfriends. A cheese board and popcorn, such as G.H. Cretor's popcorn, is perfect for this! It creates a community feel – everyone dipping into the same bowl/board, and naturally brings everyone closer together. P.S. I've included the recipe for the cheeseboard below!
Put on a movie and grab a comfy blanket. G.H. Cretor's provided us with both so we were officially set for the night! You want this to be a cozy, chill night, and these items always make that work. It's also a natural conversation starter!
Wine! Sometimes I like to mix it up with some sangria too, but you can't go wrong with a great wine that pairs perfectly with your popcorn.
Set a casual dress code for the night. It'll make it even more inviting – if you wanted to even do a pyjama theme, that would be so cool too!
Have fun! Okay, I kind of cheated here, but seriously, enjoy yourselves! You're with your girlfriends – sit back, relax, and laugh the night away!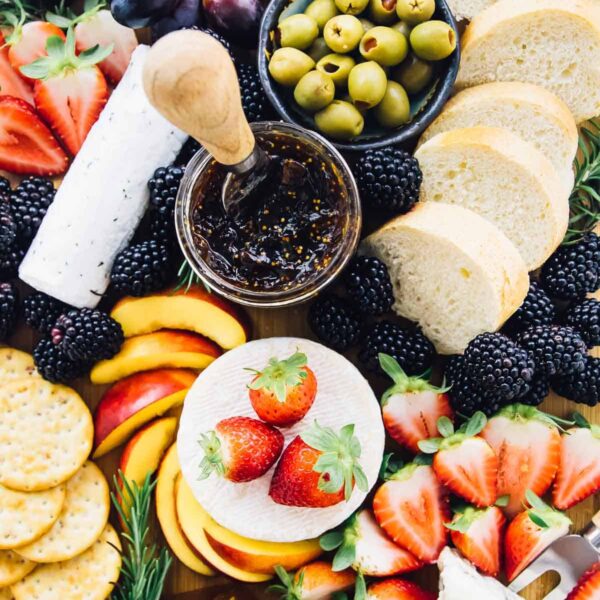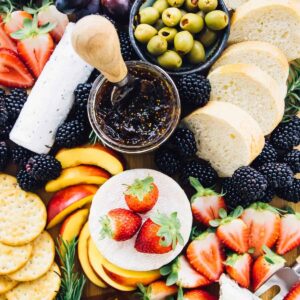 How To Build The Easiest Cheese Board
Here are my top tips and guides for How To Throw an EASY Girls Night In with the three best elements: Wine & Cheese & Gourmet Popcorn!  Wine & Cheese night just got upgraded!
Ingredients
How To Build The Easiest Cheese Board
1 petite brie wheel
1 goat cheese log
1 wedge of gorgonzola cheese
strawberries
peaches
blackberries
grapes on the vine
olives, I love pimento stuffed olives
1 jar of fig jam
1 jar of sweet pepper jelly
1 baguette, sliced and brushed with butter, toasted lightly (I used vegan butter)
water crackers/any crackers of choices
Instructions
How To Build The Easiest Cheese Board
Arrange items on the cheese plate as desired!

To bake brie: preheat oven to 350 F degrees. Place brie wheel on parchment paper and bake for 5 to 7 minutes. Remove, let cool for 5 minutes, and enjoy!
Notes
Notes:
This cheeseboard is 100% customisable. I also love adding nuts, including toasted nuts, or caramelised walnuts
P.S., other amazing G.H. Cretor's flavours are:
Obsessively Delicious flavors include:
The Mix (cheddar cheese and caramel)
Organic Chile Jalapeño White Cheddar o Organic Dill Pickle
JusttheCheese
JusttheCaramel
Organic Extra Virgin Olive Oil
NEW Organic White Cheddar
NEW Organic Honey Butter Kettlecorn o NEW Organic Salted Butter
G.H. Cretors can be found nationwide in Walgreens, Target, Rite Aid, BJs and more. For full retail locations near you, check out the store locator here.
This is a sponsored post written by me on behalf of G.H. Cretor's. The opinions and text are all mine. Thank you for supporting the brands that support Jessica in the Kitchen!
Calories: 293kcal, Carbohydrates: 39g, Protein: 11g, Fat: 10g, Saturated Fat: 5g, Cholesterol: 18mg, Sodium: 735mg, Potassium: 174mg, Fiber: 3g, Sugar: 6g, Vitamin A: 339IU, Vitamin C: 10mg, Calcium: 119mg, Iron: 2mg
Disclaimer: Although jessicainthekitchen.com attempts to provide accurate nutritional information, kindly note that these are only estimates. Nutritional information may be affected based on the product type, the brand that was purchased, and in other unforeseeable ways. Jessicainthekitchen.com will not be held liable for any loss or damage resulting for your reliance on nutritional information. If you need to follow a specific caloric regimen, please consult your doctor first.