Cranberry Orange Bread with Orange Glaze
This cranberry orange bread is soft and moist, with just the right amount of sweetness. It takes just over an hour to make, and it's vegan!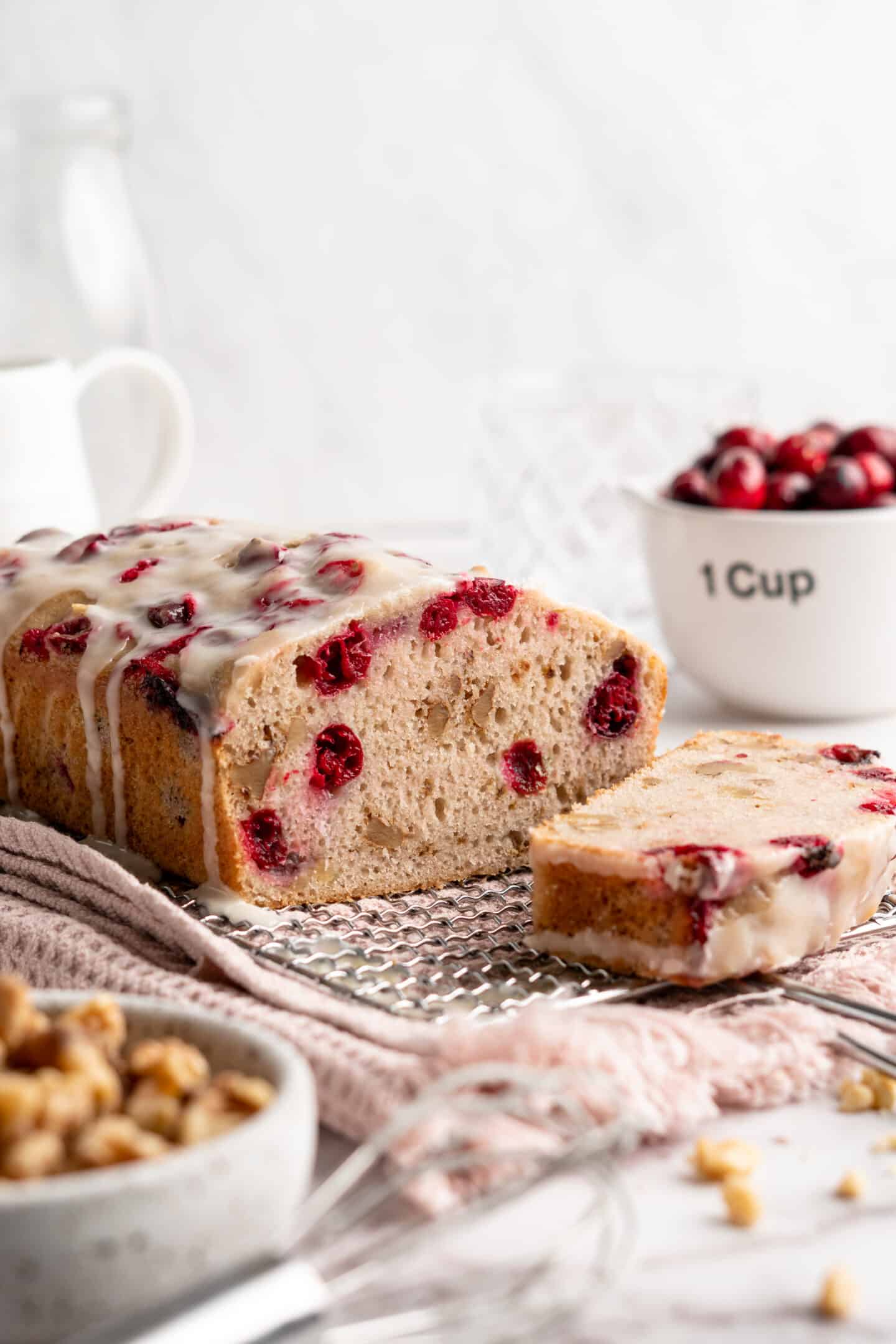 This recipe for cranberry orange bread is one of my favorite vegan baked goods. The bread is sweet enough to be an afternoon treat with a cup of tea or a whipped Dalgona coffee, but it's healthy enough to be a great breakfast food.
Applesauce gives this recipe a subtle, rich sweetness, and also keeps the bread moist. Toasted walnuts add a buttery, nutty flavor, and some great texture, while homemade vegan buttermilk makes the bread slightly tangy. And the cranberries really shine through, with the perfect splash of tartness.
And just in case you needed even more reasons to bake this cranberry orange bread, it's vegan and easy to make!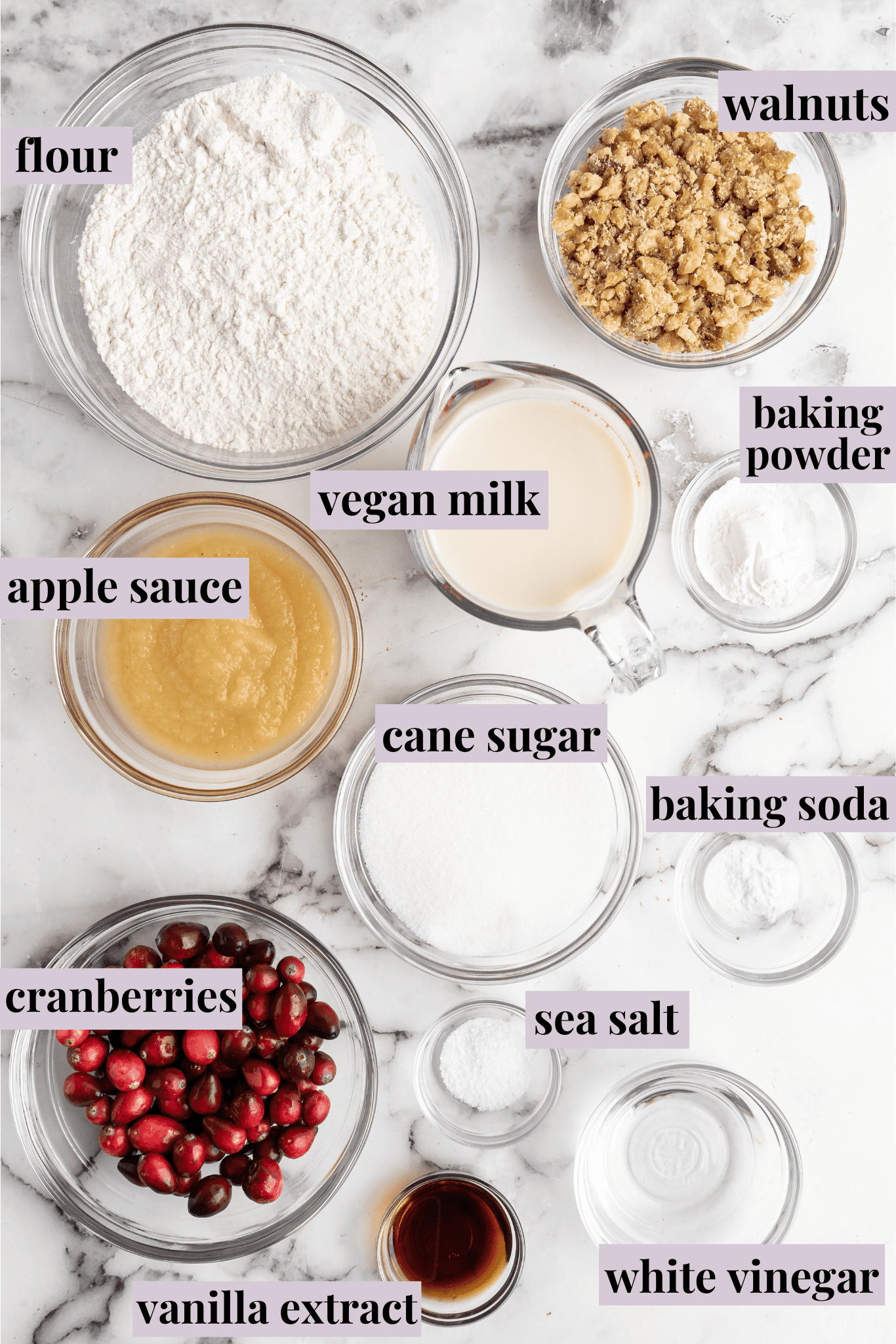 Notes on Ingredients
Here are all the ingredients you need to make this tender, vegan cranberry orange bread. Check out the recipe card at the bottom of the page to see the exact quantities for each ingredient.
For the Bread:
Soy milk – You can use whatever type of plant-based milk you prefer, just make sure that it's unsweetened and unflavored.
Apple cider vinegar – White vinegar also works for this recipe.
All-purpose flour
Granulated sugar – You can also use cane sugar. 
Baking powder
Baking soda
Sea salt
Orange juice – to add a subtle touch of orange flavour. If you want more, you can sub even more of the milk for orange juice up to ½ cup.
Orange zest – optional, but also boosts the orange flavour.
Applesauce – Make sure you use unsweetened applesauce.
Vanilla extract – Try to use a pure extract that doesn't have any artificial flavors. 
Cranberries – You can use fresh or frozen cranberries in this recipe. 
Walnuts
For the Optional Glaze:
Powdered sugar
Orange juice – Make sure you use juice with no pulp.
How to Make Cranberry Orange Bread
Here's how to make this easy cranberry bread. It takes just over an hour from start to finish.
Toast the walnuts. Spray a pan with oil, add the walnuts, and cook for a few minutes, until you can smell them. Remove from the heat and let cool. If the walnuts aren't already chopped, now's the time to chop them.
Dredge the cranberries. Coat the cranberries in a little bit of flour, then set aside.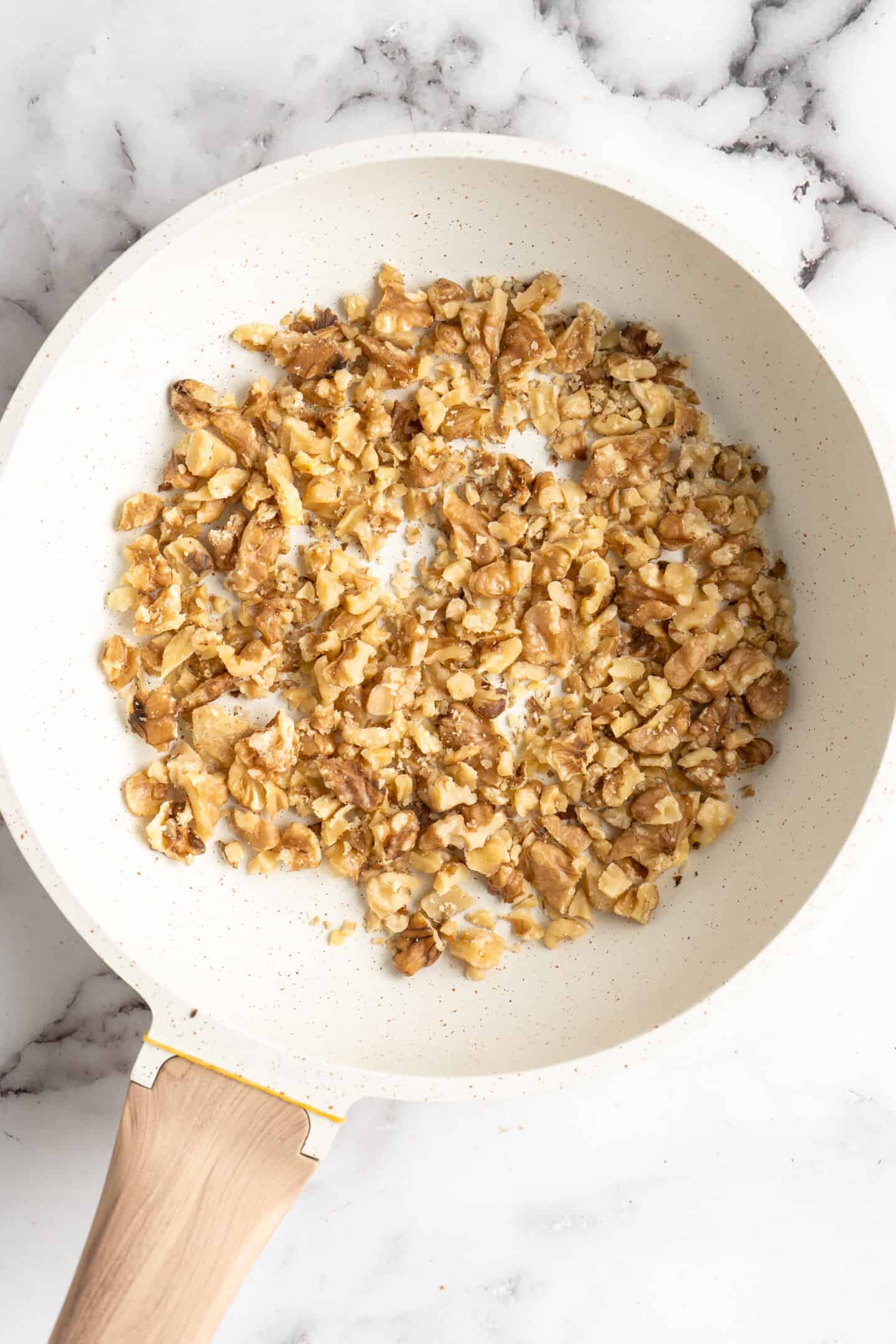 Prep. Preheat the oven to 350F, and lightly grease a 9×5-inch loaf pan.
Make the buttermilk. Combine the milk and vinegar to make a homemade vegan buttermilk.
Mix the dry ingredients. Add the flour, sugar, baking powder, baking soda, and salt to a bowl, and stir to combine.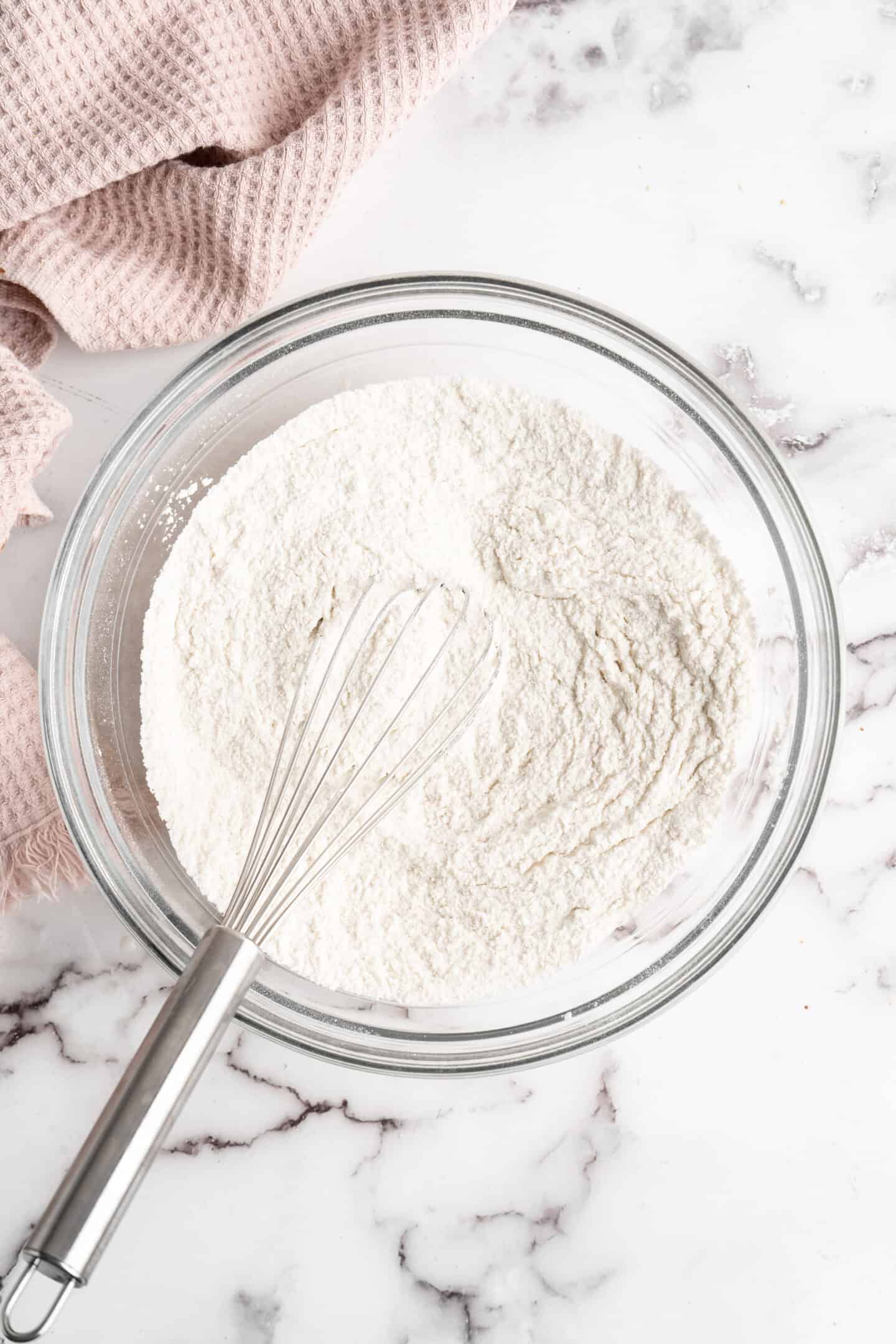 Add in the wet ingredients. Add the buttermilk, orange juice, orange zest, applesauce, and vanilla extract to the mixing bowl. Stir until the wet and dry ingredients are combined.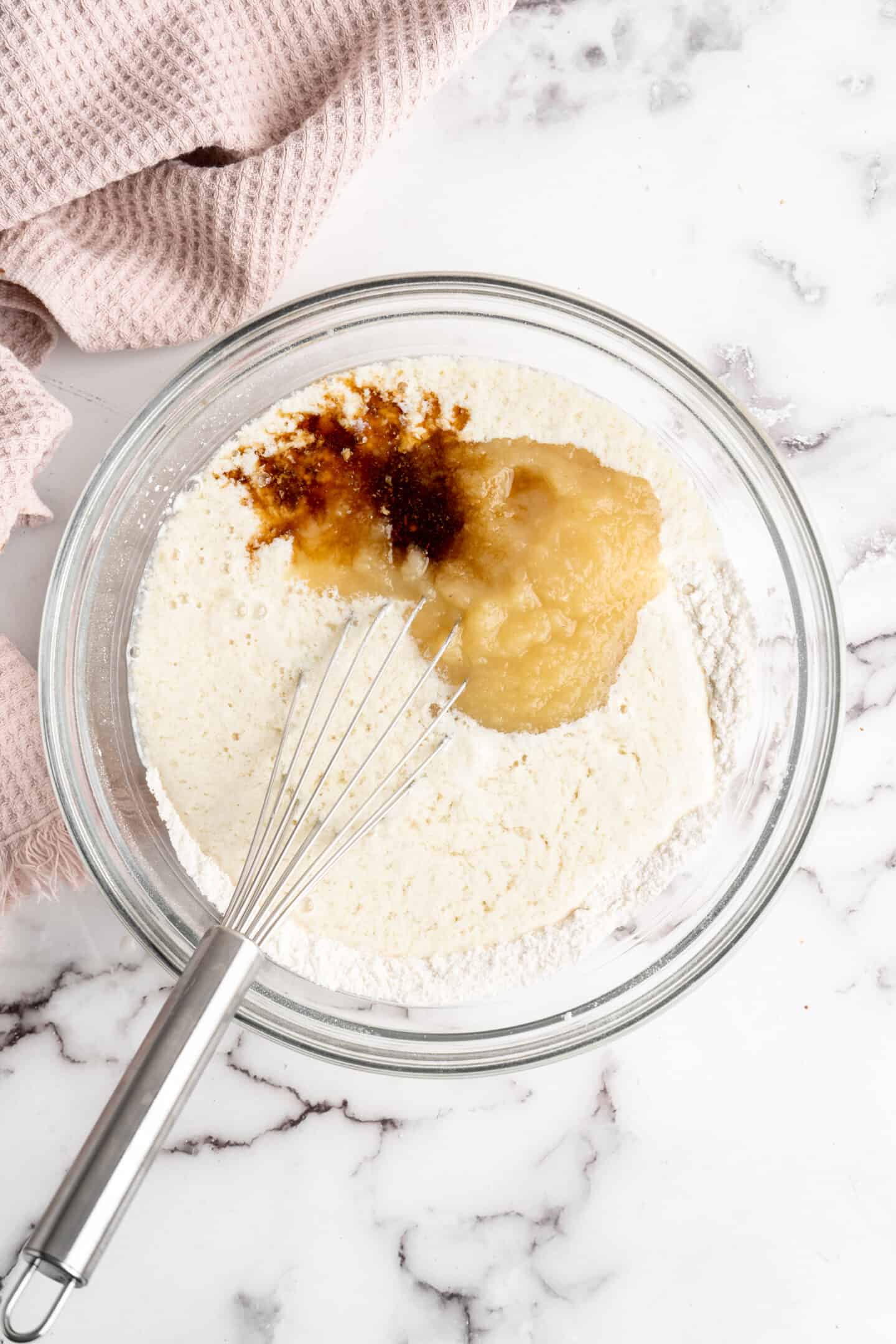 Add the cranberries and walnuts. Fold the cranberries and the walnuts into the mixture.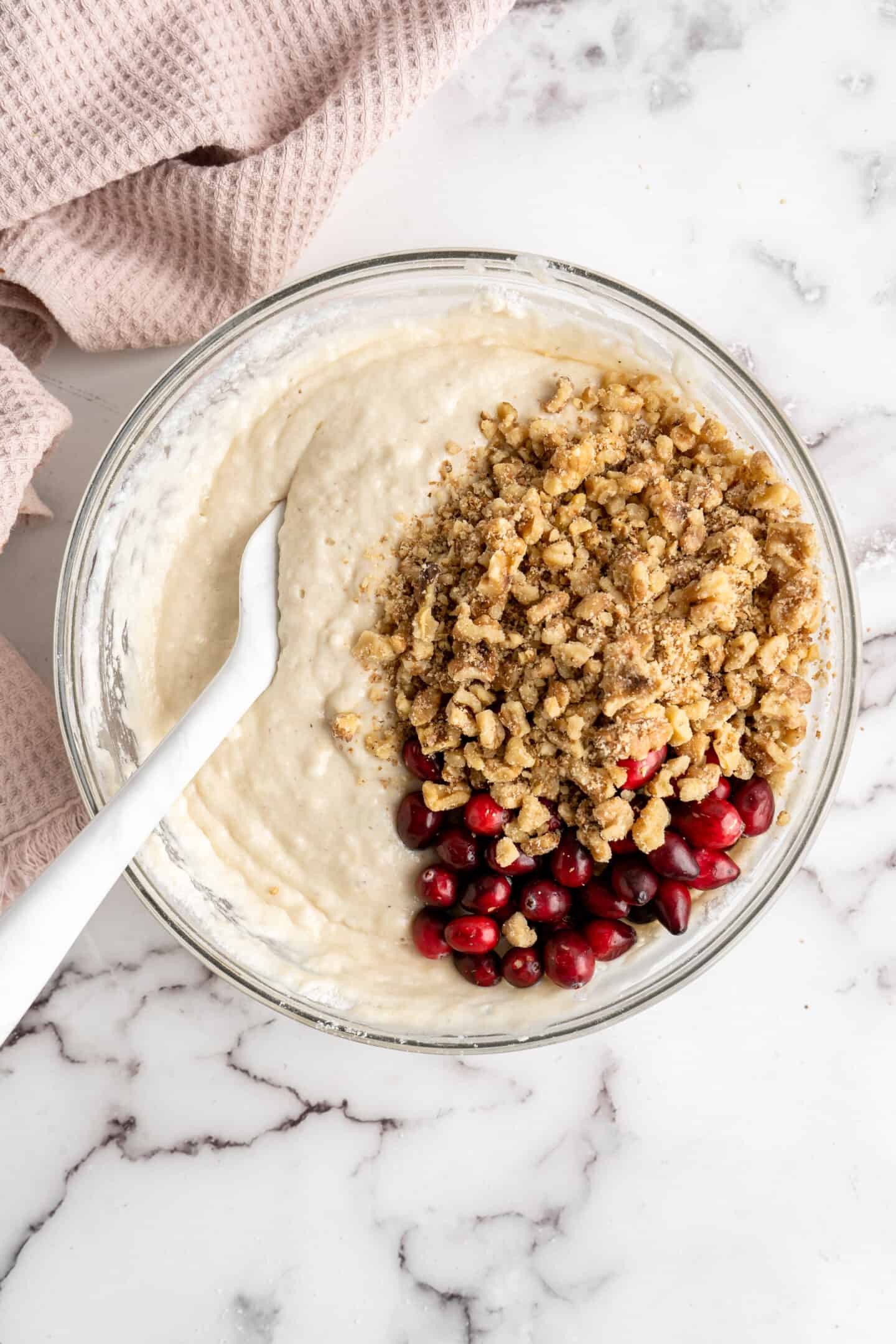 Transfer to the pan. Pour the vegan cranberry orange bread batter into the loaf pan. Top with a few more cranberries.
Bake. Place the loaf pan in the center of the oven, and bake until a toothpick inserted into the center of the bread comes out clean, and the sides of the bread pull away from the pan. This should take about 55 minutes to an hour.
Cool. Remove the cranberry bread from the oven, and let it cool for 10 minutes. Then remove the bread from the pan, and cool on a wire rack.
Make the glaze. Combine the powdered sugar and the orange juice until well combined. Add more orange juice if the glaze is too thick, or more powdered sugar if it's too thin.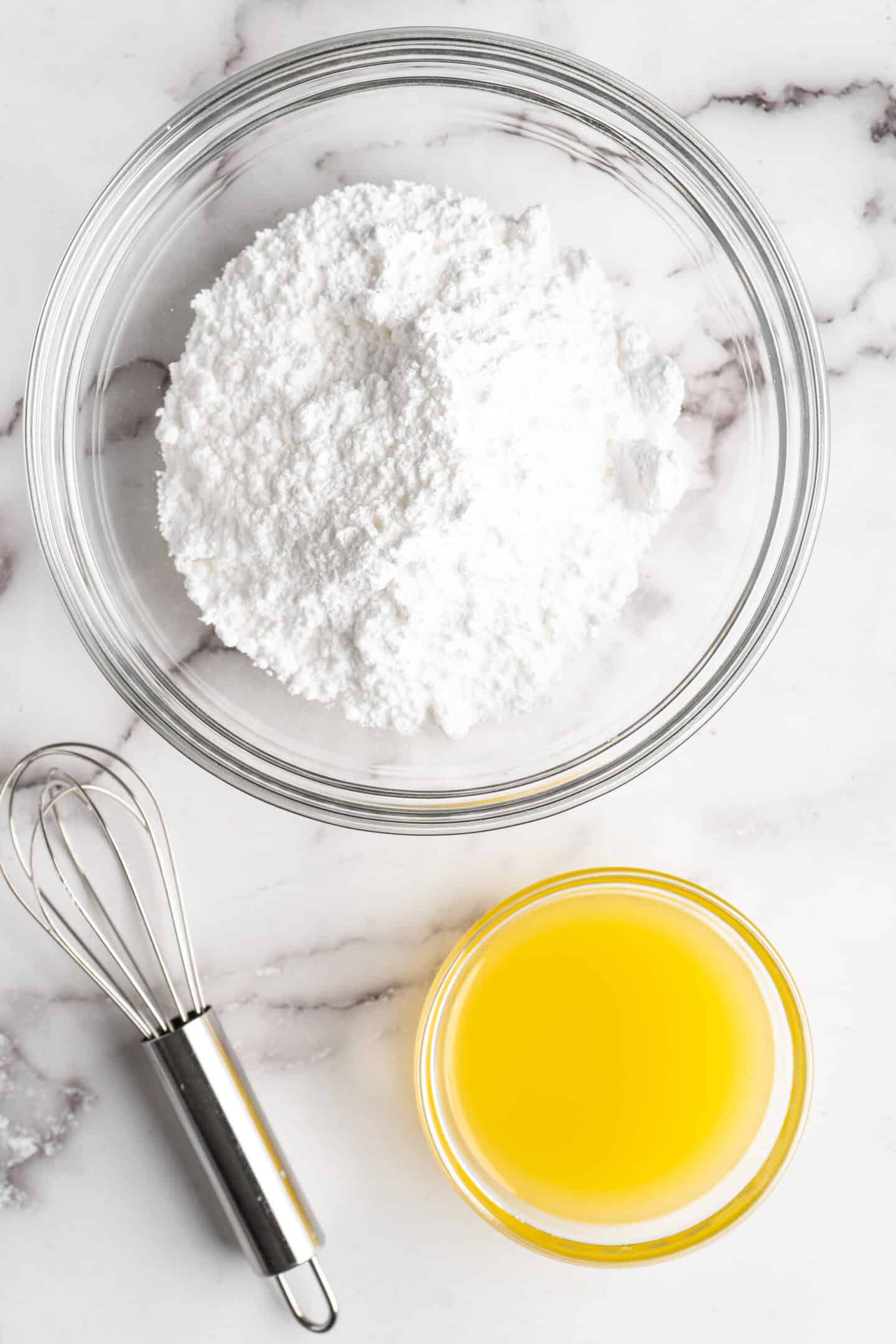 Glaze the vegan bread. Once the cranberry orange bread has cooled fully, drizzle some of the glaze on top, then serve.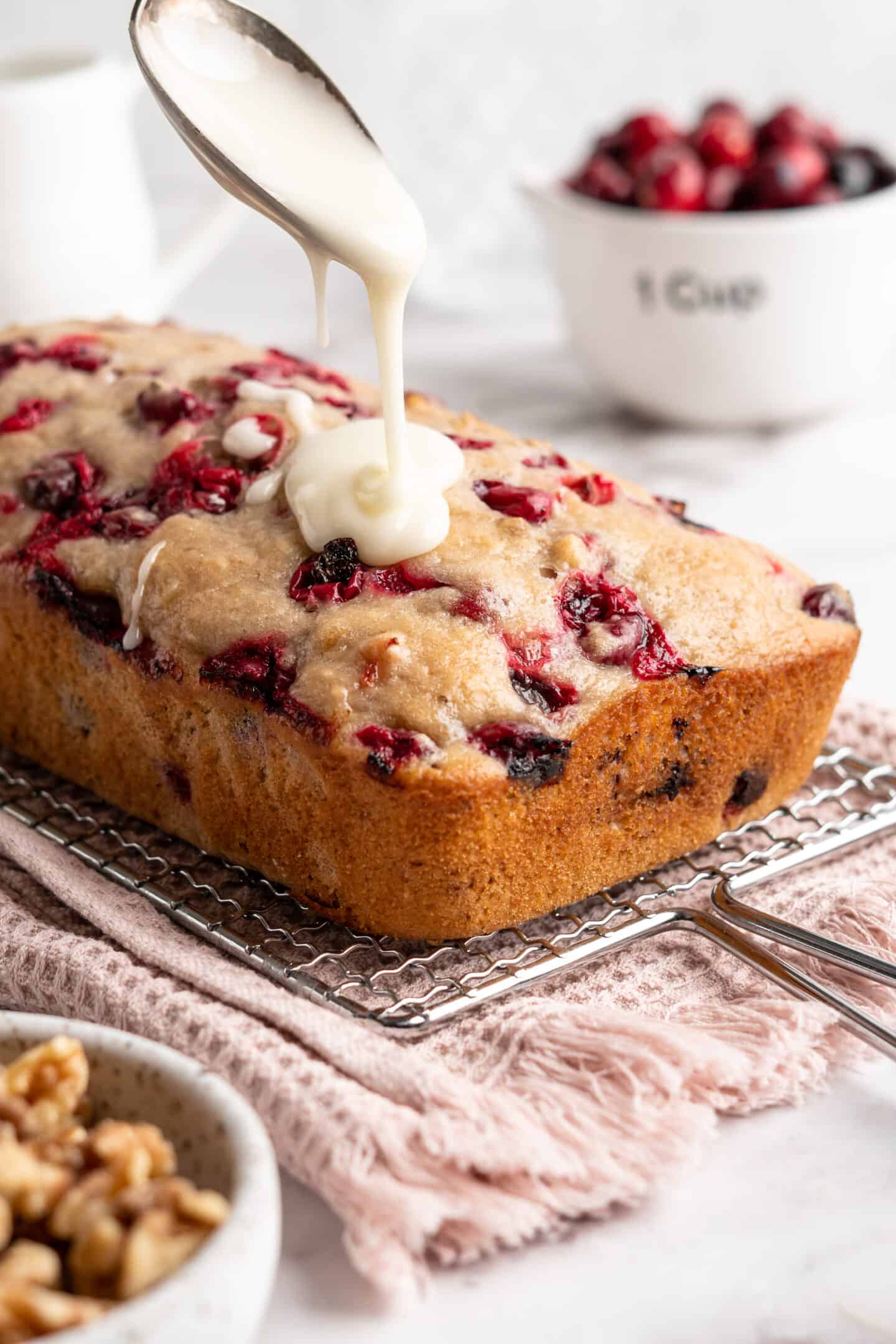 Tips for Success
Here are some tricks and tips for making the best vegan cranberry orange bread.
Use room temperature milk. If you can, pull your non-dairy milk out of the fridge a few hours before making this recipe, so that it's at room temperature when you start baking. Room temperature milk will react better to the vinegar when making buttermilk, and will mix better with the dry ingredients in the batter.
Don't overmix. When mixing the wet and dry ingredients, stir only until the ingredients are combined. You don't want to mix the batter for long, and risk overmixing it. If you overmix the batter, you'll break down the gluten in the flour, and remove some of the air from the batter. This will make the bread hard and dense, instead of tender and fluffy.
Cool completely. It will be tempting to eat this vegan cranberry orange bread as soon as it comes out of the oven, but make sure you don't do that. Let the bread cool fully, which will allow it to firm up.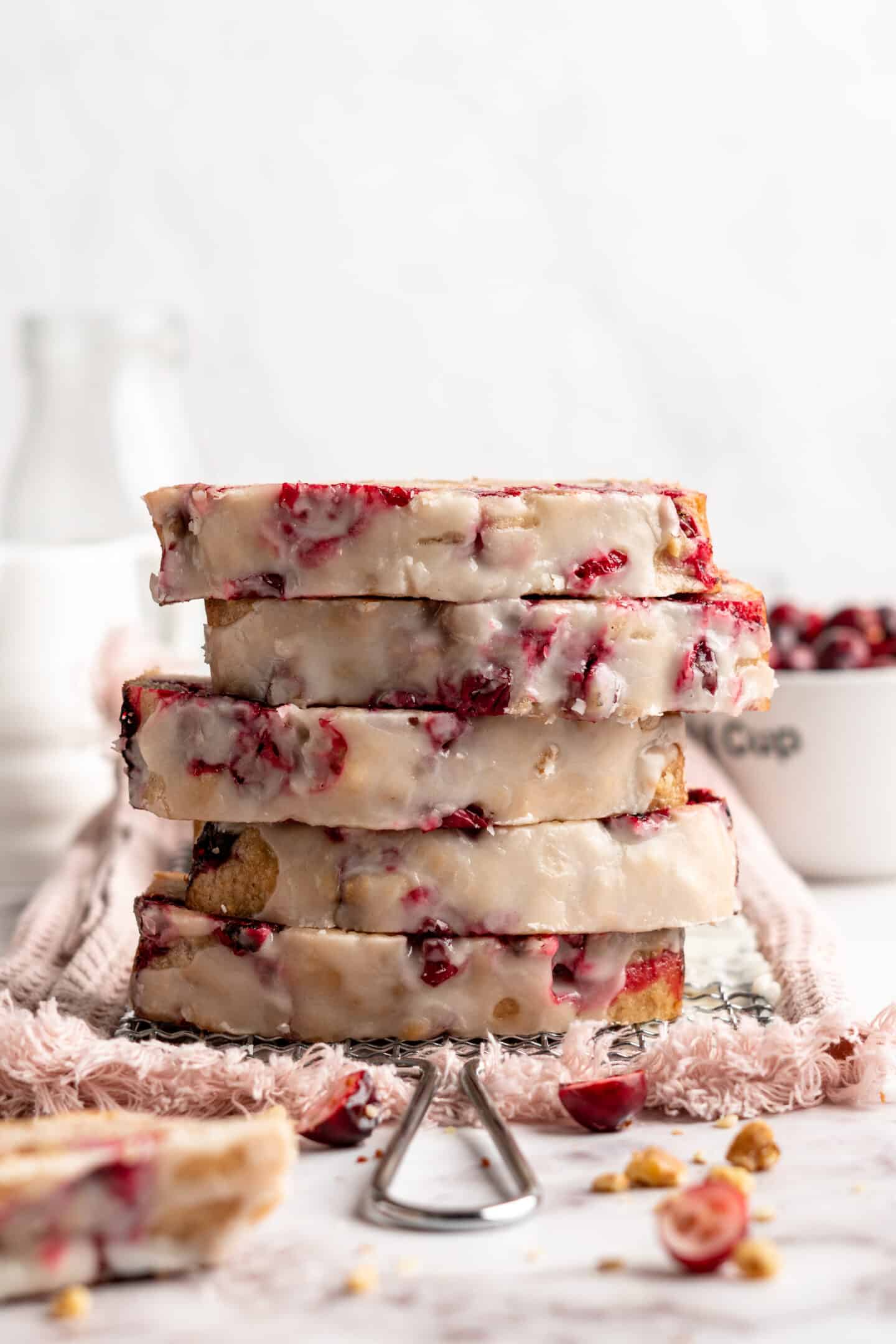 Can You Make This Recipe Gluten-Free?
You can absolutely make this vegan cranberry bread gluten-free. To do so, simply replace the all-purpose flour with your favorite gluten-free flour blend.
How to Store Cranberry Orange Bread
To store leftovers of this vegan bread, place it in an airtight bag or cover it in plastic wrap. It will last for 2 days at room temperature, or for a week in the fridge. You can eat the cranberry orange bread cold, or heat it in a toaster on medium heat.
Can This Recipe Be Frozen?
Yes! You can definitely freeze this cranberry bread for an easy snack later. Store the bread in an airtight bag and freeze for up to 4 months. I recommend slicing the bread into pieces before freezing, so that you can take individual slices out of the freezer whenever you want them. Defrost the frozen cranberry orange bread by toasting it.
More Cranberry Recipes
I'm a big fan of cranberries. If you enjoyed this vegan cranberry orange bread, then try one of my other favorite cranberry recipes!
Enjoy friends! If you make this cranberry orange bread, please snap a photo and tag #jessicainthekitchen on Instagram! We'd also love it if you would leave a comment below, and give the recipe a rating! Thanks so much!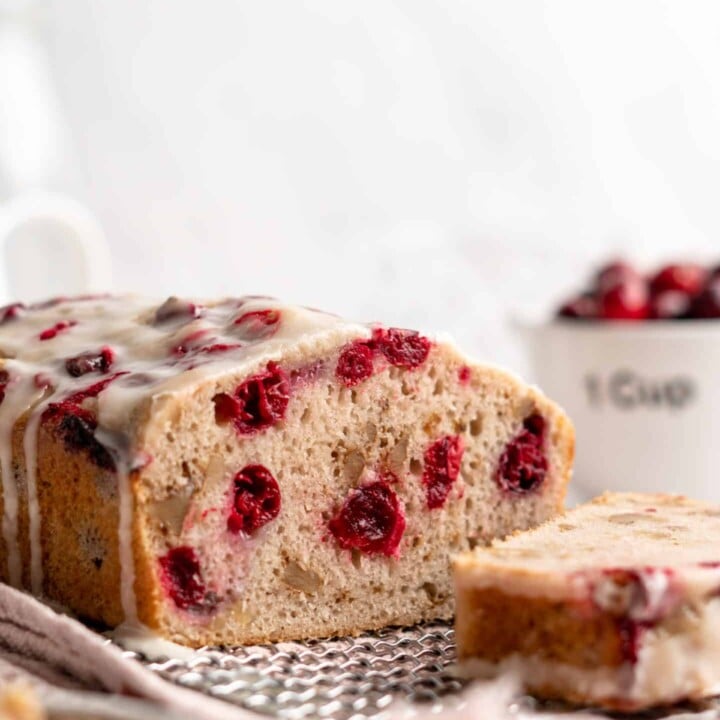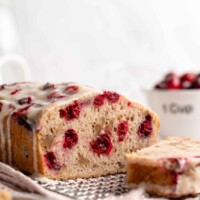 Cranberry Orange Bread with Orange Glaze
This cranberry orange bread is tart, sweet, and nutty. It's also easy to make, and 100% vegan!
Ingredients
For the Bread:
¾ cup + 2 tablespoons unsweetened soy or other plant based milk, (210mL) room temperature
1 tablespoon apple cider vinegar, or white vinegar
2 cups all-purpose flour, (240g)
1 cup granulated or cane sugar, (200g) (if using a white sugar, make sure it's organic)
2 teaspoons baking powder
½ teaspoon baking soda
½ teaspoon sea salt
2 tablespoons orange juice
2 teaspoons orange zest, optional but does boost orange flavour
½ cup unsweetened applesauce, (122g)
1 teaspoon vanilla extract
1 cup cranberries, fresh or frozen
½ cup chopped and toasted walnuts , (56g)
For the Optional Glaze:
1 cup powdered sugar
2 tablespoons orange juice
Instructions
Prep Steps
Toast the walnuts slightly in a pan sprayed with oil for a few minutes until fragrant. You can chop them before toasting, or after once they've cooled slightly.

Coat the cranberries in about 1 teaspoon of flour so that they don't sink to the bottom of the pan. Set aside both until needed later on.
For the Bread
Preheat the oven to 350°F/180°C. Lightly grease a 9 x 5-inch loaf pan.

In a liquid measuring cup, combine the milk and vinegar to make vegan buttermilk. Let it sit while you move on with the recipe.

In a mixing bowl, combine the flour, sugar, baking powder, baking soda, and salt.

Add the orange juice, optional orange zest, applesauce, buttermilk mixture, and vanilla. Mix until just incorporated. Don't over-mix. Fold in the cooled walnuts, followed by the coated cranberries, mixing as little as possible.

Pour into the prepared pan and place a few more cranberries on top. Bake in the center of the oven until a toothpick in the center comes out clean and the sides start to pull away from the pan, 55 minutes to 60 minutes (I did 1 hour).

Cool for 10 minutes in the pan, then transfer to a wire rack to cool completely.

Allow the bread to cool completely.
For the Orange Glaze
Mix together the powdered sugar and orange juice until fully combined. Feel free to thicken if desired with more powdered sugar or thin out with more milk or orange juice depending on which flavor you prefer.

Drizzle on the orange glaze, ensuring to spread it down the sides too. Slice as desired. Enjoy!
Notes
*The orange zest is optional but does boost the orange flavour. Store in an airtight bag at room temperature for up to 2 days, in the fridge for up to a week, or in the freezer for up to 4 months. Defrost and reheat in the toaster. 
Calories: 146kcal, Carbohydrates: 33g, Protein: 3g, Fat: 0.3g, Saturated Fat: 0.04g, Polyunsaturated Fat: 0.1g, Monounsaturated Fat: 0.03g, Sodium: 257mg, Potassium: 44mg, Fiber: 1g, Sugar: 13g, Vitamin A: 13IU, Vitamin C: 3mg, Calcium: 52mg, Iron: 1mg
Disclaimer: Although jessicainthekitchen.com attempts to provide accurate nutritional information, kindly note that these are only estimates. Nutritional information may be affected based on the product type, the brand that was purchased, and in other unforeseeable ways. Jessicainthekitchen.com will not be held liable for any loss or damage resulting for your reliance on nutritional information. If you need to follow a specific caloric regimen, please consult your doctor first.