Vegan Cranberry "Goat Cheese" Crostini – 10 Minutes + GIVEAWAY!!
This Vegan Cranberry Goat Cheese Crostini is a super quick and easy 10-minute appetiser that's bound to please your guests! It's great for using up leftover cranberry sauce!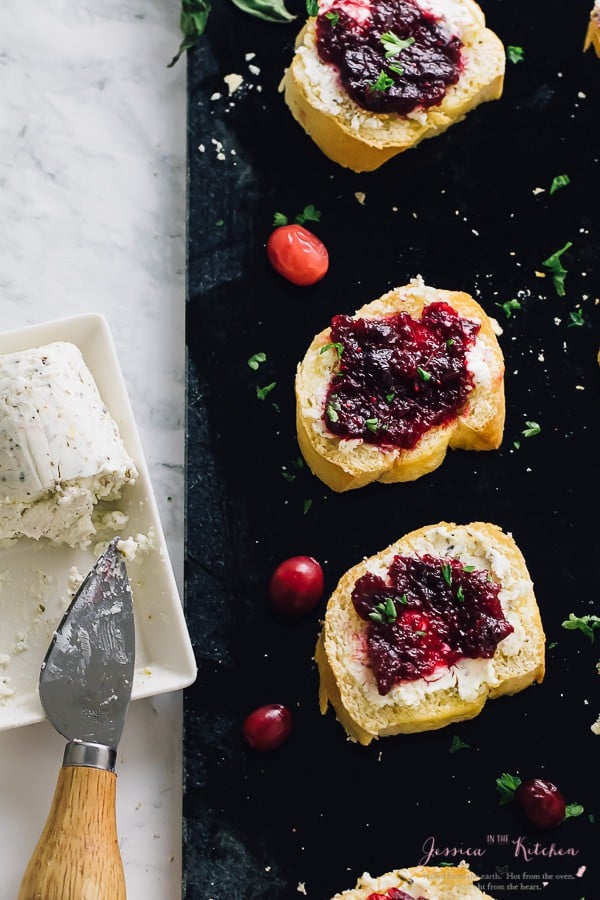 Happy almost 2017! I hope your Christmas holidays were full of love and laughter and endless amounts of these cookies, these cookies, and this eggnog. I have one more recipe to share before we dip into the New Year – this Cranberry Goat Cheese Crostini. Super quick, as easy as spreading jam on toast and done in no time. Oh and did I mention – it's also so delicious!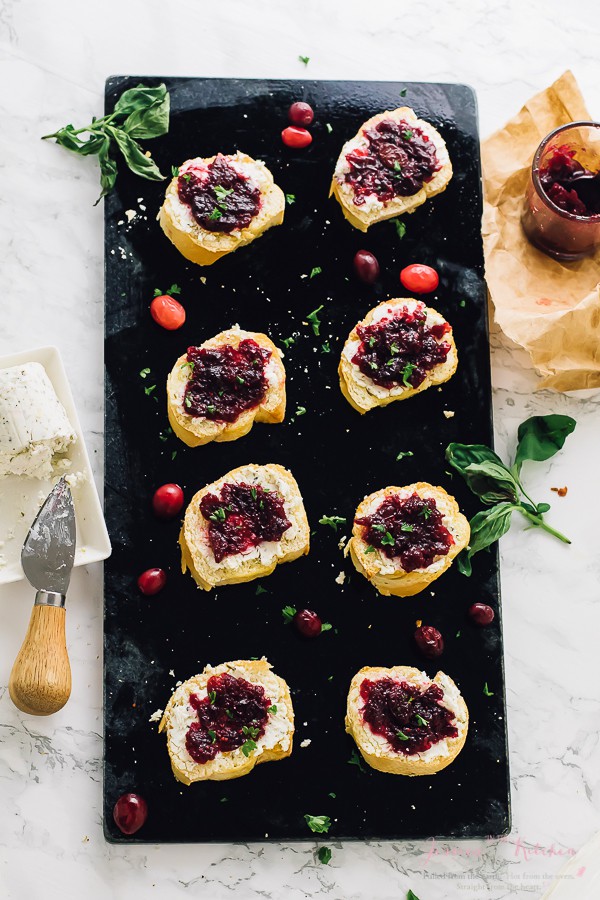 Here's the thing about the holidays. After Thanksgiving you end up with so much leftover cranberry sauce, and if you make it again for Christmas, same "problem". I mean, it isn't really an issue in this house because I just spread it on all the sandwiches. What is does mean is that you can make these cranberry "goat cheese" crostini in no time because it consists of cranberry sauce, vegan soft cheese spread aka the goat cheese, and a baguette. So easy.
Making the actual dish is as easy as bringing the ingredients to room temperature, toasting the bread for five minutes, and then spreading on the vegan goat cheese, and then the cranberry sauce. You could as easily use any other soft vegan cheese such as my homemade cheese ball or even a delight you found at the grocery store. P.S. That black soapstone piece that these are sitting on is actually designed to bake the bread on, AND keep the appetisers warm for up to 30 minutes. Highly recommend it for future appetisers. Not that these even lasted 30 minutes in our house…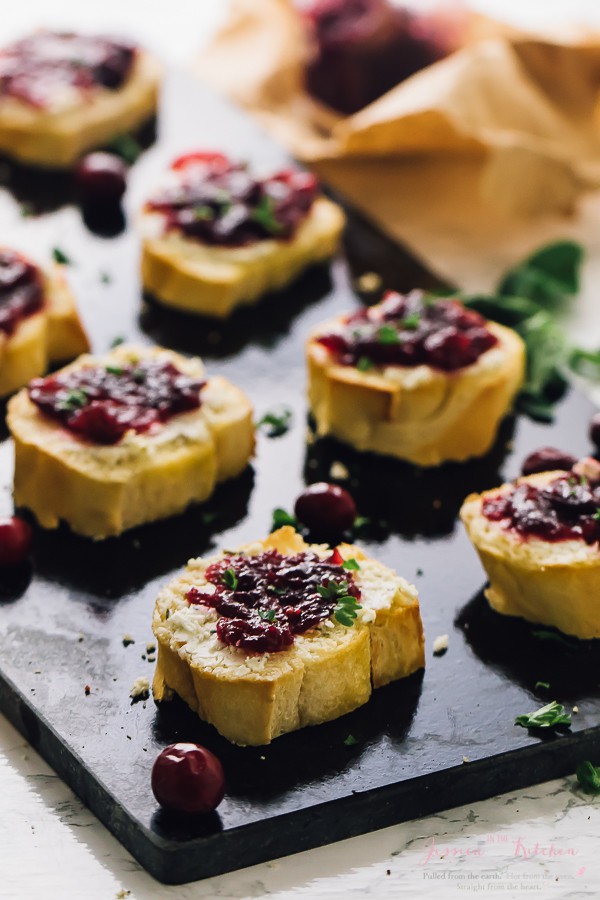 Even though I've given you instructions and measurements, the world is your oyster. Want more cheese? No problem. Want to use a different kind instead? Also completely fine. Want to triple the amount of cranberry sauce – joking not joking – go ahead. You can even add some parsley, basil or sage to brighten it up which is totally optional. I just wanted to keep this appetiser completely customisable and simple for you.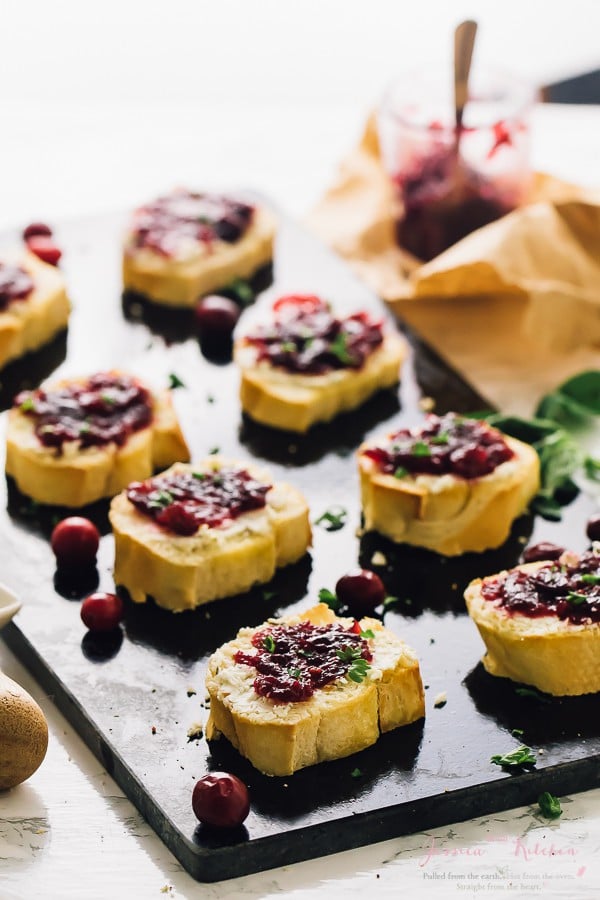 If we don't see (speak? Read to?) each other before 2016 is over, I hope you have a brilliant New Year's Eve and New Year! I honestly can't wait to share loads of yummy, healthy, meal prep friendly recipes starting January 2 so see you then!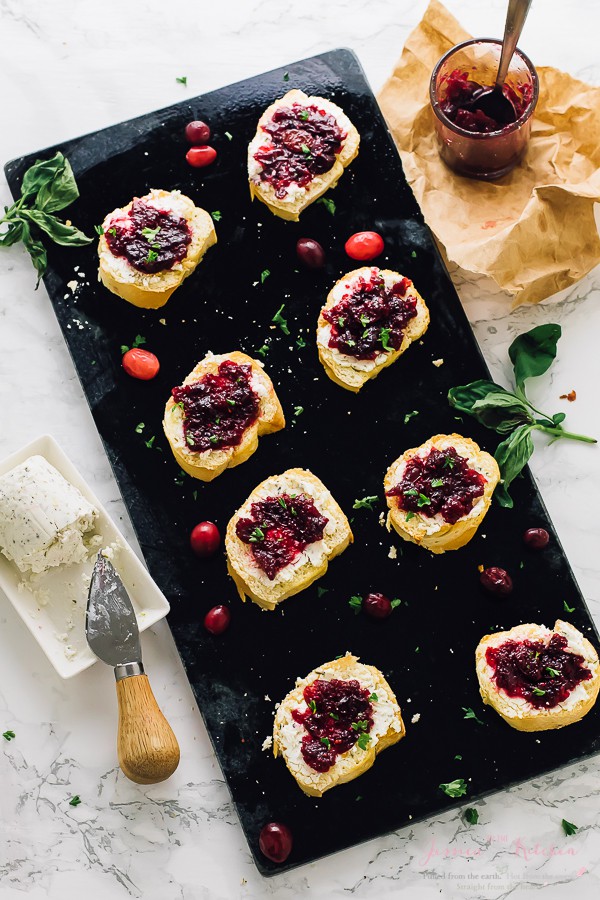 P.S. Here are some of the items I used to make this recipe if you'd like to use them too:
| WHAT YOU'LL NEED // SHOP MY FAVORITE INGREDIENTS & PREP PRODUCTS |


If you try this Cranberry Goat Cheese Crostini please let me know in the comment section below, or tag me on instagram with the hashtag #jessicainthekitchen! For more exclusive recipes follow me on Instagram AND on Snapchat: jessinkitchen.
GIVEAWAY TIME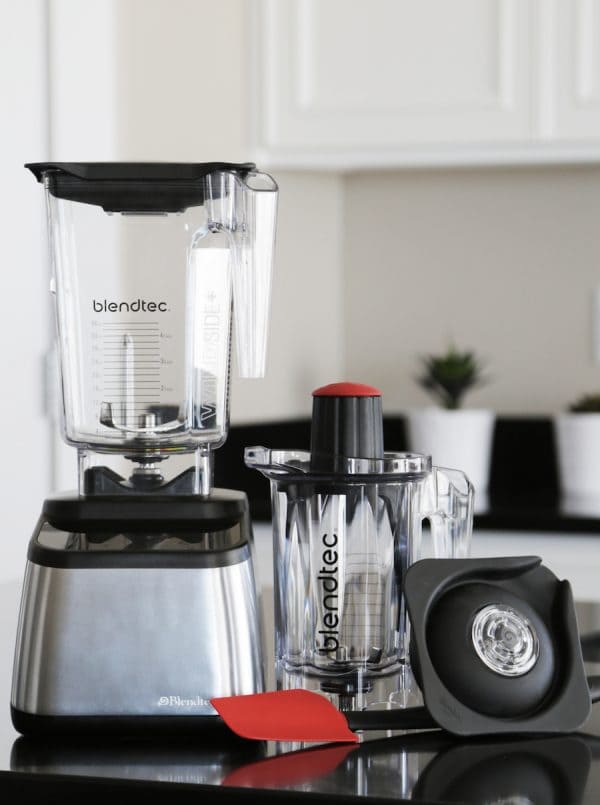 So the year is almost over but I have a great surprise for you! Blendtec and I partnered to give away this Blendtec 725 Designer Blender and Twister Jar ($809.90 Value) – hop on over to https://www.instagram.com/jessicainthekitchen/ for a chance to win!
Here's the video for this divine Pistachio-Crusted Vegan Cheeseball which BY THE WAY you can make instead of using goat cheese to keep this recipe deliciously vegan. You can also find even more recipes to make in your brand new Blendtec at Blendtec's holiday winter recipes page.

HEAD TO INSTAGRAM FOR GIVEAWAY -> https://www.instagram.com/jessicainthekitchen/
MORE AMAZING VEGETARIAN NEW YEAR'S EVE RECIPES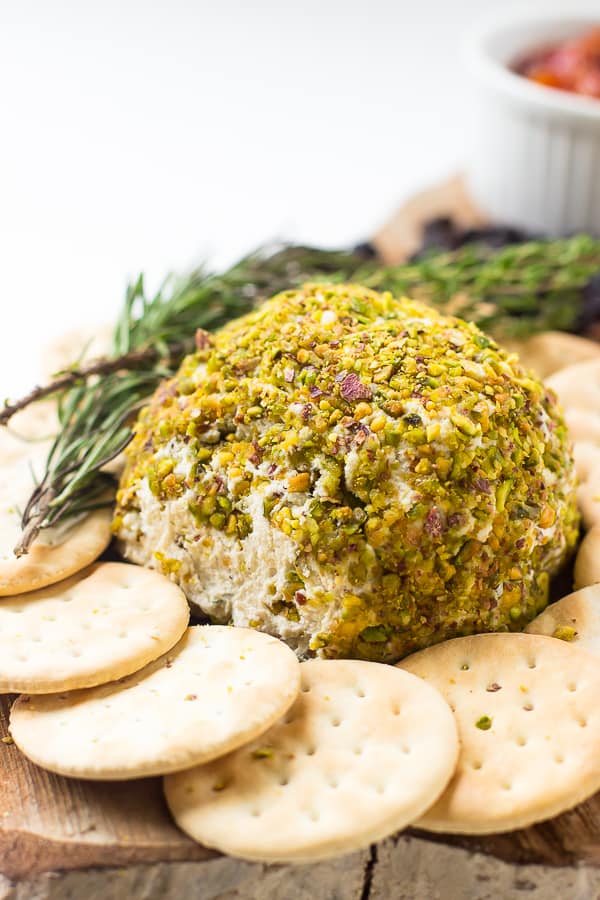 Pistachio-Crusted Vegan Cheese Ball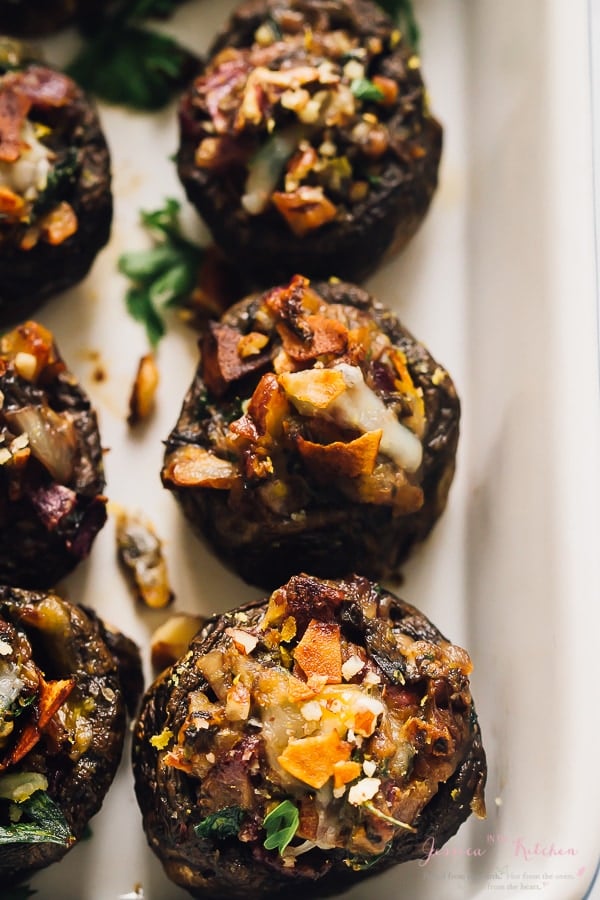 Vegan Stuffed Mushroom with Coconut Bacon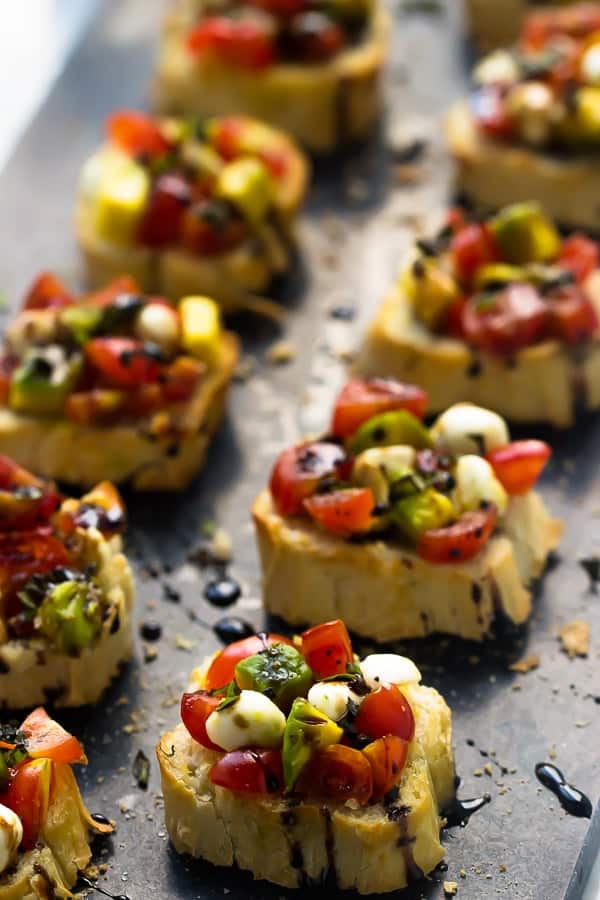 10-Minute Avocado Caprese Bruschetta
Cranberry Goat Cheese Crostini
This Vegan Cranberry Goat Cheese Crostini is a super quick and easy 10-minute appetiser that's bound to please your guests! It's great for using up leftover cranberry sauce! 
Ingredients
Cranberry Goat Cheese Crostini
4 ounces vegan "goat cheese", softened and room temperature
1/2 cup homemade cranberry sauce, room temperature
1/2 baguette
Optional - top with basil for garnish
Instructions
Cranberry Goat Cheese Crostini
Preheat your oven to 450 degrees.

Line a baking sheet with a silicone mat or place a baking stone into preheating oven.

Bake for 3 to 5 minutes, until crispy.

Remove the toasts from the oven and top each with some vegan goat cheese and cranberry sauce. Optionally top with shredded basil. Enjoy!
Calories: 229kcal, Carbohydrates: 36g, Protein: 4g, Fat: 7g, Saturated Fat: 2g, Sodium: 485mg, Potassium: 43mg, Fiber: 2g, Sugar: 14g, Vitamin A: 15IU, Vitamin C: 1mg, Calcium: 45mg, Iron: 1mg
Disclaimer: Although jessicainthekitchen.com attempts to provide accurate nutritional information, kindly note that these are only estimates. Nutritional information may be affected based on the product type, the brand that was purchased, and in other unforeseeable ways. Jessicainthekitchen.com will not be held liable for any loss or damage resulting for your reliance on nutritional information. If you need to follow a specific caloric regimen, please consult your doctor first.