Cranberry Orange Sauce (Vegan) (Video)
Cranberry Orange Sauce is a quick and easy cranberry sauce that comes together in 20 minutes and is the ultimate crowd pleaser!
WATCH THE VIDEO TO SEE HOW IT'S MADE: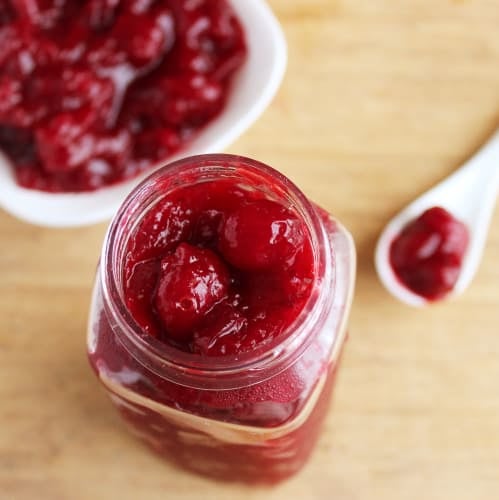 Cranberry Sauce is a staple to any Thanksgiving meal, and honestly, after learning how to make it I will never try canned cranberry sauce! As I mentioned in my last post, this is my first "official" Thanksgiving, and this Cranberry Orange Sauce tops any other that I have tasted. It's nothing but the simple ingredients of cranberries, orange juice and sugar that makes this gem. I have a ton of leftover ideas already brimming away because this sweet and tangy sauce tastes as if it could go with anything really; and that's something I am not complaining about.
There isn't much to say about this sauce, and I am sure it's been said many times before but it is an excellent addition to your Thanksgiving meal. I actually ended up drowning all my sides in it simply because, well, it tastes amazing. I was slightly fearful that it would be too sweet, but the sugar used balances out the complete tartness and acidity of the cranberries so you are left with a tangy flavour reminiscent to cranberry juice that compliments any neutral flavours it is paired with, such as my Vegan Meatloaf. Heck, I even put a piece with my stuffing! I was in cranberry heaven.

I had this both fresh and after being in the fridge for a few days – I would recommend making this before the actual day. The flavours just seemed to mellow a lot more and it's not a drastic difference but it is a noticeable difference in the flavours.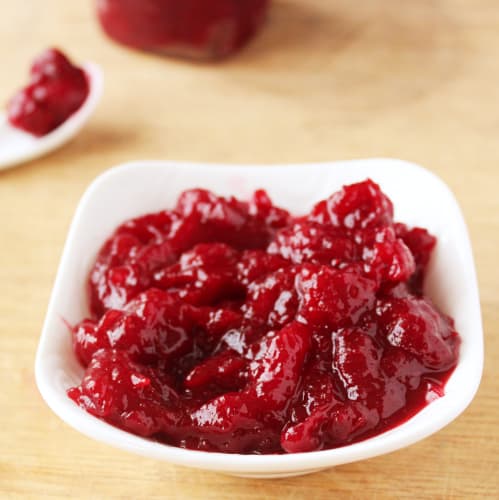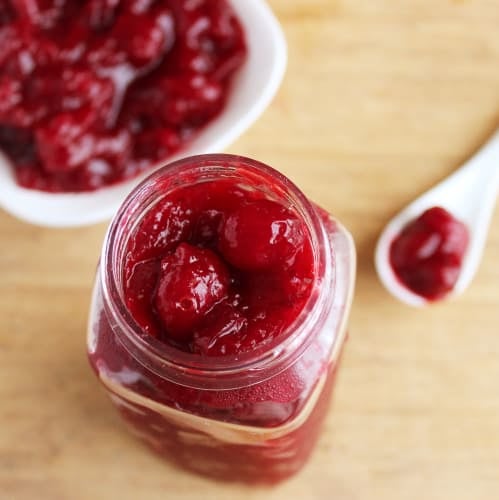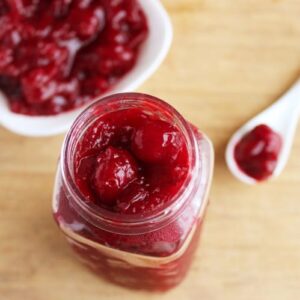 Cranberry Orange Sauce
Cranberry Orange Sauce is a quick and easy cranberry sauce that comes together in 20 minutes and is the ultimate crowd pleaser!
Ingredients
4 cups of cranberries, frozen or fresh
1 cup orange juice
1 cup cane sugar, sucanat or coconut sugar or maple syrup
Instructions
Mix the ingredients together.

Place on the stove and bring to a boil. You should hear the cranberries bursting.

Bring down to a simmer on your stove and allow to simmer for 10-15 minutes, mixing every now and then to ensure all ingredients are incorporated.

Allow the cranberry sauce to cool, and serve immediately or you can store it in the refrigerator for up to a week.

Enjoy!
Calories: 120kcal, Carbohydrates: 34g, Protein: 1g, Fat: 1g, Saturated Fat: 1g, Sodium: 1mg, Potassium: 113mg, Fiber: 2g, Sugar: 30g, Vitamin A: 92IU, Vitamin C: 22mg, Calcium: 7mg, Iron: 1mg
Disclaimer: Although jessicainthekitchen.com attempts to provide accurate nutritional information, kindly note that these are only estimates. Nutritional information may be affected based on the product type, the brand that was purchased, and in other unforeseeable ways. Jessicainthekitchen.com will not be held liable for any loss or damage resulting for your reliance on nutritional information. If you need to follow a specific caloric regimen, please consult your doctor first.