Vegan Turkey Roast
A vegan turkey roast is the perfect entree for the holidays. This plant-based main course wonderfully replicates the taste of turkey, with rich, savory flavors that will make your mouth water.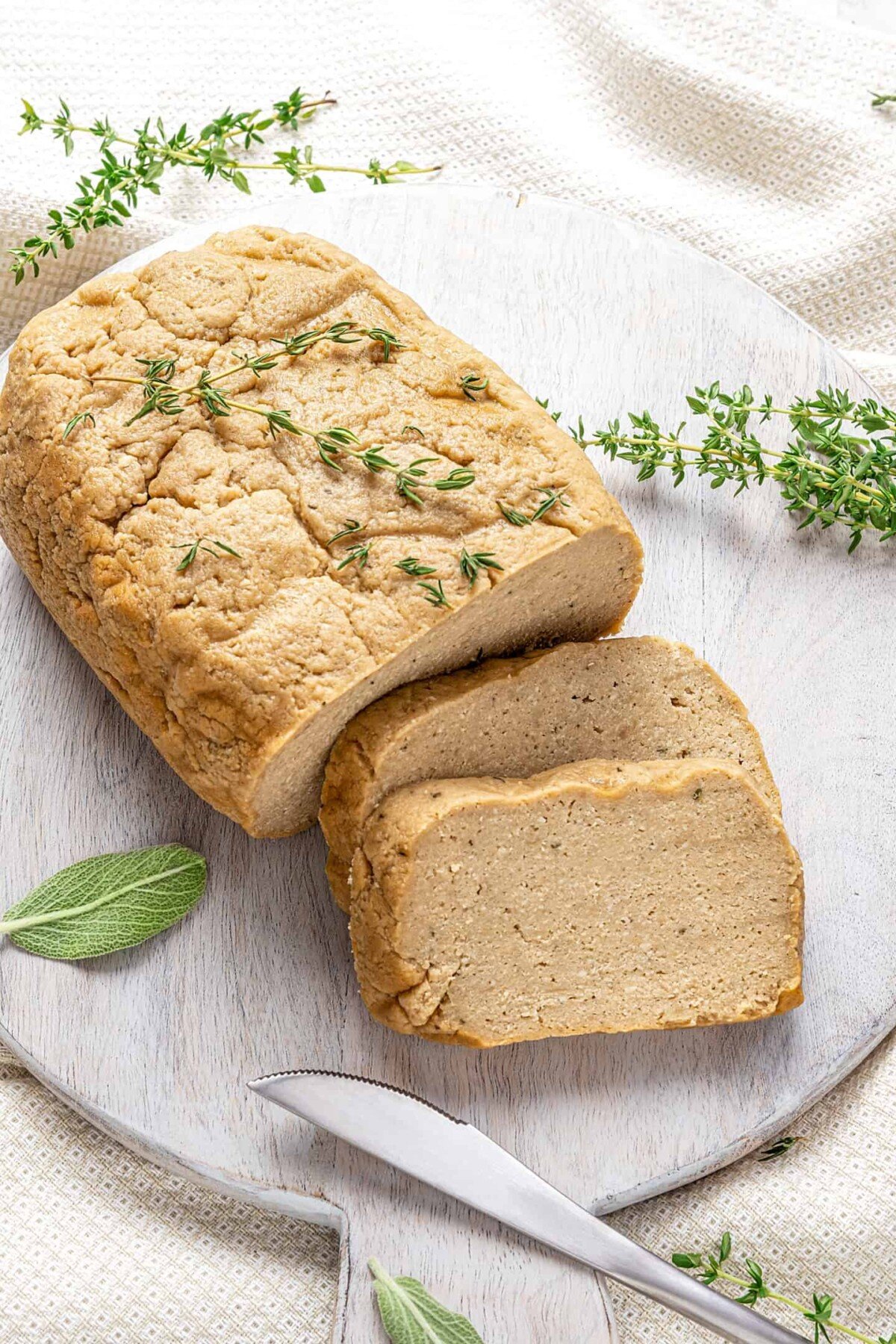 Holiday foods are delicious and fun, but rarely vegan. That's always a bummer for me. But thankfully I found the perfect solution: vegan turkey roast.
This plant-based turkey loaf uses blended tofu as the base. The texture and the flavor are both very similar to a roast turkey, making it a perfect headliner at Thanksgiving, Christmas, or any special occasion. I love to serve it alongside my vegan garlic mashed potatoes, my vegan green bean casserole, and my cranberry orange sauce.
The herbs in this vegan turkey roast will make your entire home smell like the holidays. And once you take your first bite and see how moist and flavorful it is, you'll be in plant-based heaven.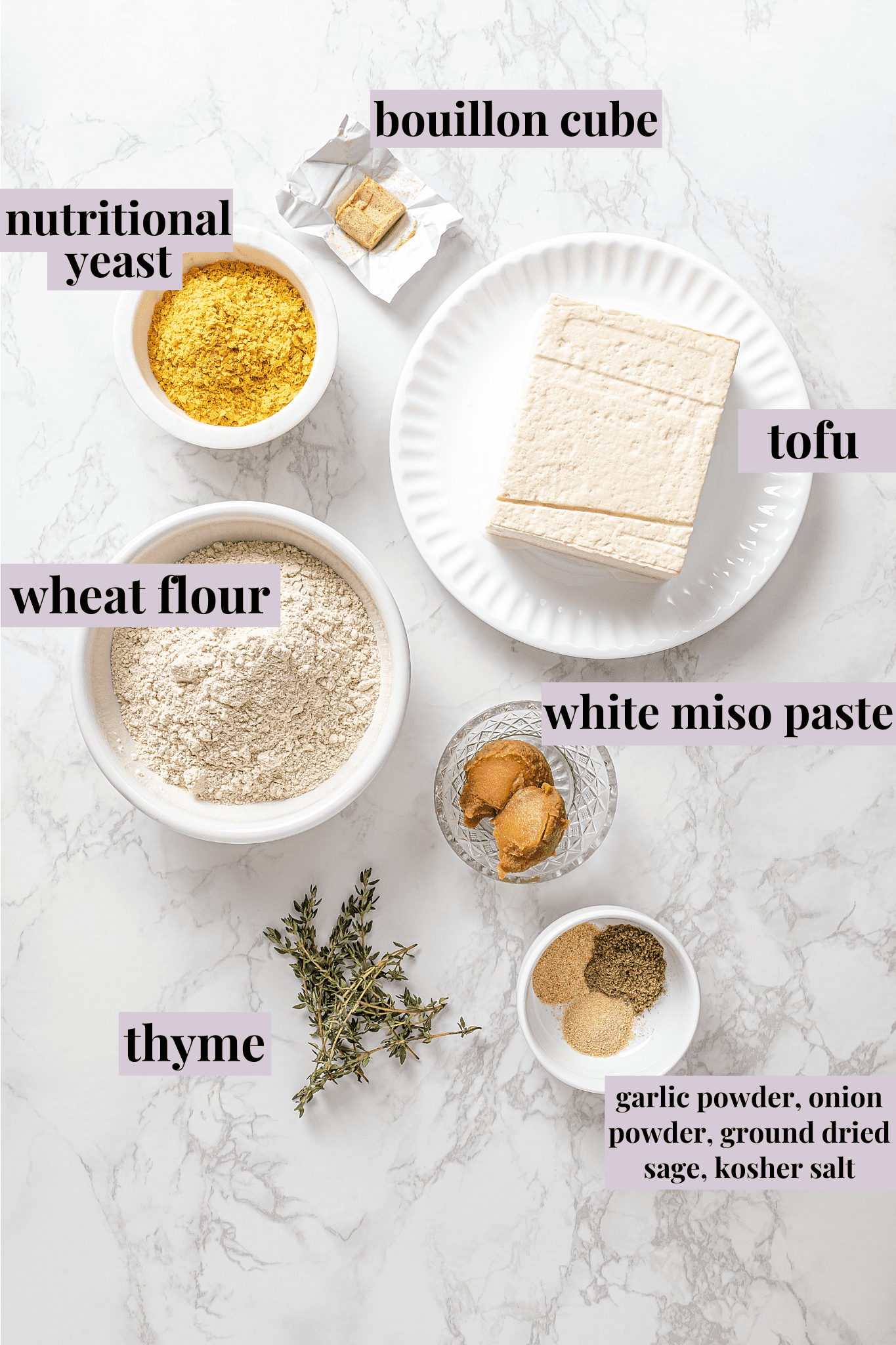 Notes on Ingredients
For exact quantities, scroll to the bottom of the page to find the recipe card.
Extra-firm tofu – Using extra-firm tofu will allow the vegan turkey roast to hold its shape when you cook it. Other types of tofu are likely to fall apart.
Vital wheat gluten flour
Nutritional yeast
White miso paste – Miso paste helps give the vegan turkey loaf a meaty flavor.
Fresh thyme – Dried thyme will also work.
Onion powder
Vegetable broth paste or bouillon cubes
Garlic powder
Kosher salt
Ground dried sage
What is Vital Wheat Gluten Flour?
One of the key ingredients in this plant-based turkey roast is the vital wheat gluten flour. Vital wheat gluten flour is the protein that is found in wheat. It's essentially just gluten, and when added to bread recipes, it makes the bread chewier. It's commonly used as a main ingredient in seitan, which is why it works so well in this recipe.
How to Make Vegan Turkey Roast
This recipe has a few steps, but don't worry: it's straightforward to make. And it's a lot of fun!
Blend the tofu. Put the tofu in a food processor and blend it until it is fully broken down.
Make the dough. Add the yeast, vital wheat gluten flour, miso paste, vegetable paste/bouillon cubes, garlic powder, onion powder, thyme, ground sage, salt, and some water to the food processor. Blend in the food processor until a dough forms.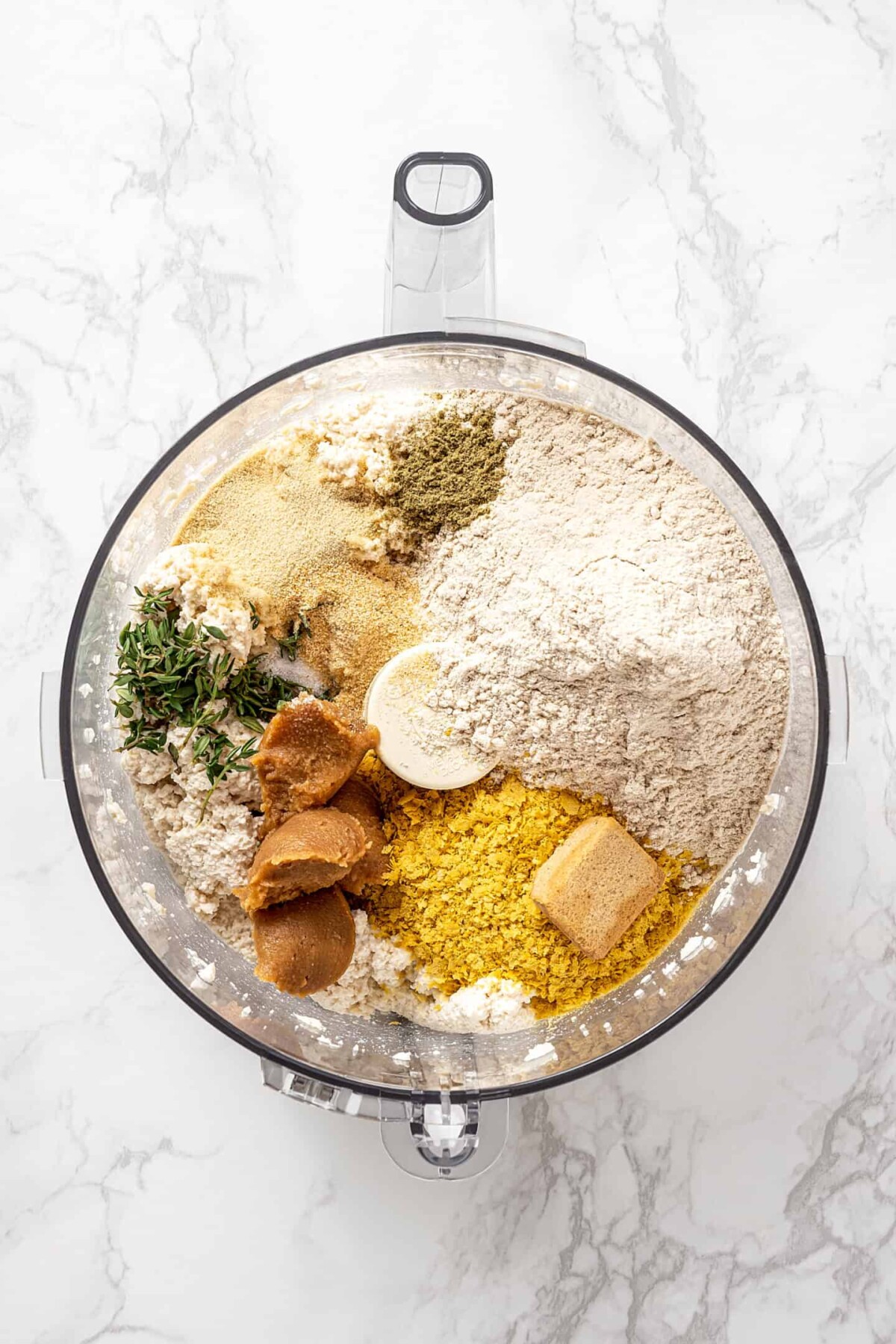 Shape. Place the dough on a piece of aluminum foil and shape into a loaf, or whatever shape you prefer. Wrap the foil around the dough, but not too tight, and crimp to seal.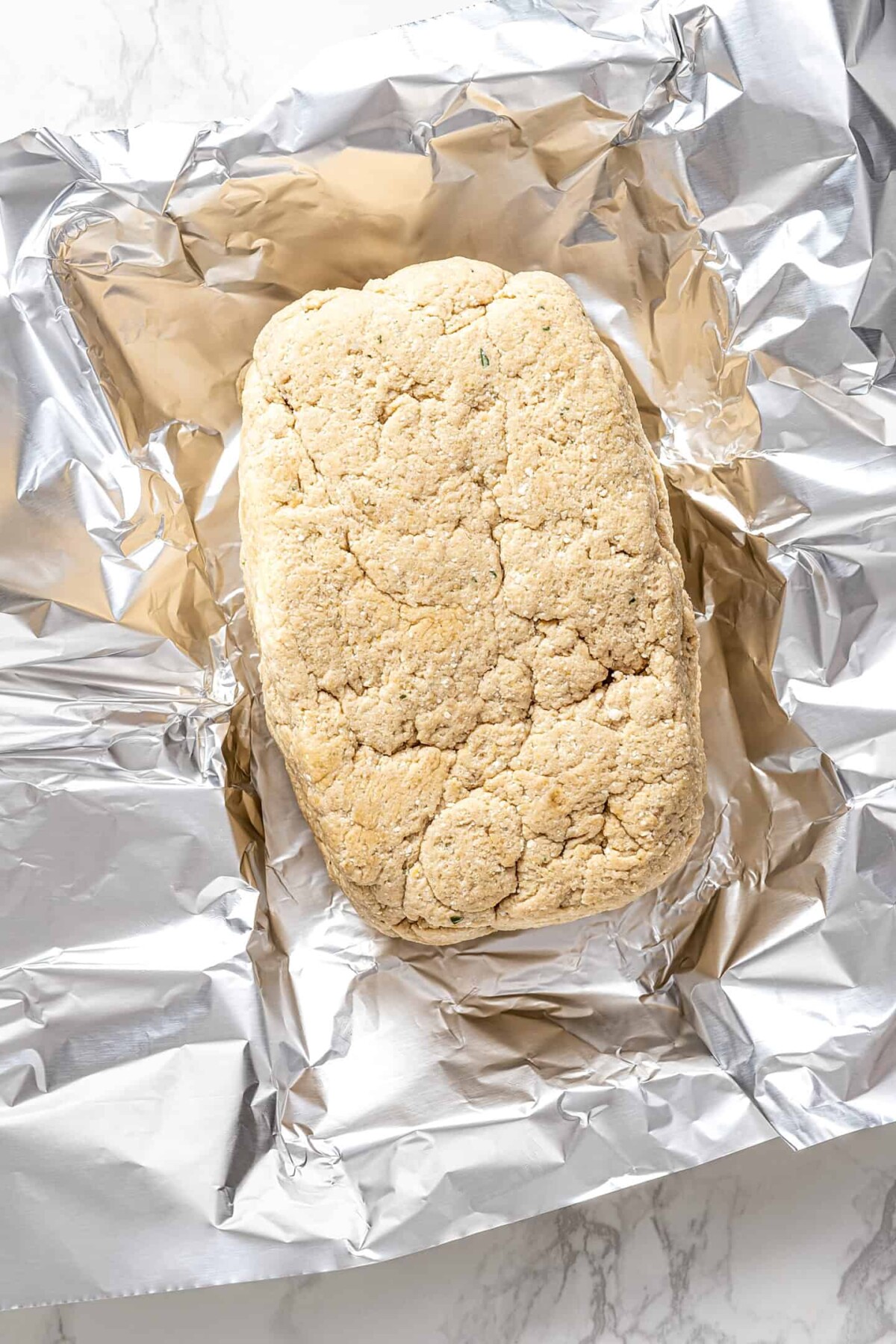 Steam. Place the wrapped vegan turkey loaf in a steaming basket. Put the basket in a pot with a little bit of water, and place over a burner. Cover the pot and steam for about an hour.
Cool. Remove the vegan turkey roast from the steamer and place it on a wire rack. Remove the aluminum foil and let the loaf cool.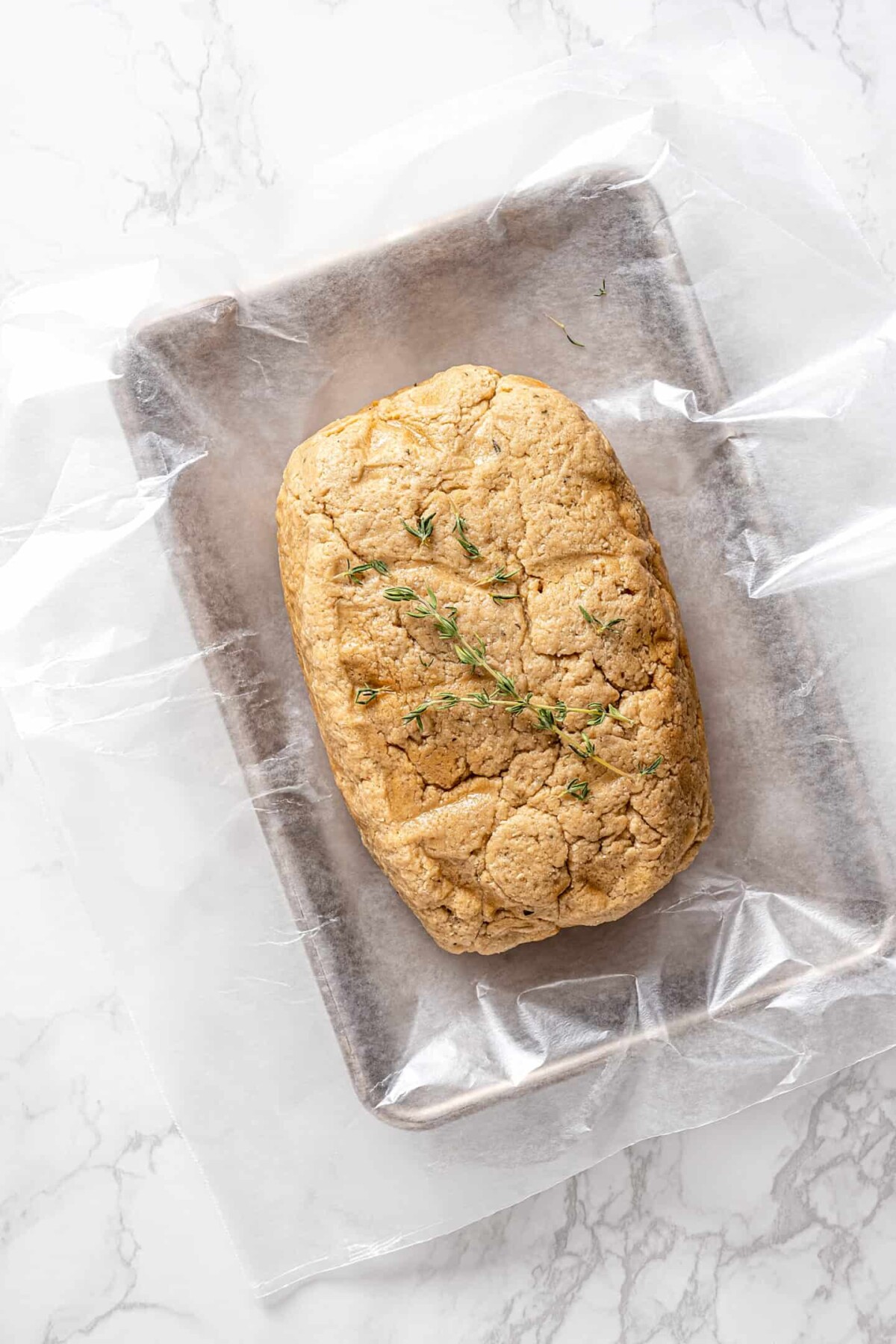 Tips for Success
Here are a few tricks and tips for making the best possible vegan turkey loaf.
Don't over mix the dough. When blending all the ingredients for the dough, be sure not to over mix. If you over mix, you can break down the gluten in the flour. This will make the texture a lot worse.
Use a thermometer. Thermometers aren't just for checking the temperature of meat. They're also for checking the temperature of meat substitutes! Make sure that the internal temperature of the vegan turkey loaf is at least 160F before turning off the heat.
Cool it fully. For best results, cool the vegan turkey roast in the fridge overnight. This will allow the loaf to fully set before you eat it.
How to Store a Vegan Turkey Loaf
Store the plant-based turkey in an airtight container in the fridge for up to 3 days. You can eat it cold, or place it in the oven to warm it up.
Can I Freeze Vegan Turkey Roast?
Yes! This vegan turkey recipe will last in the freezer for up to 4 months. Store it in an airtight container, and thaw in the fridge before reheating.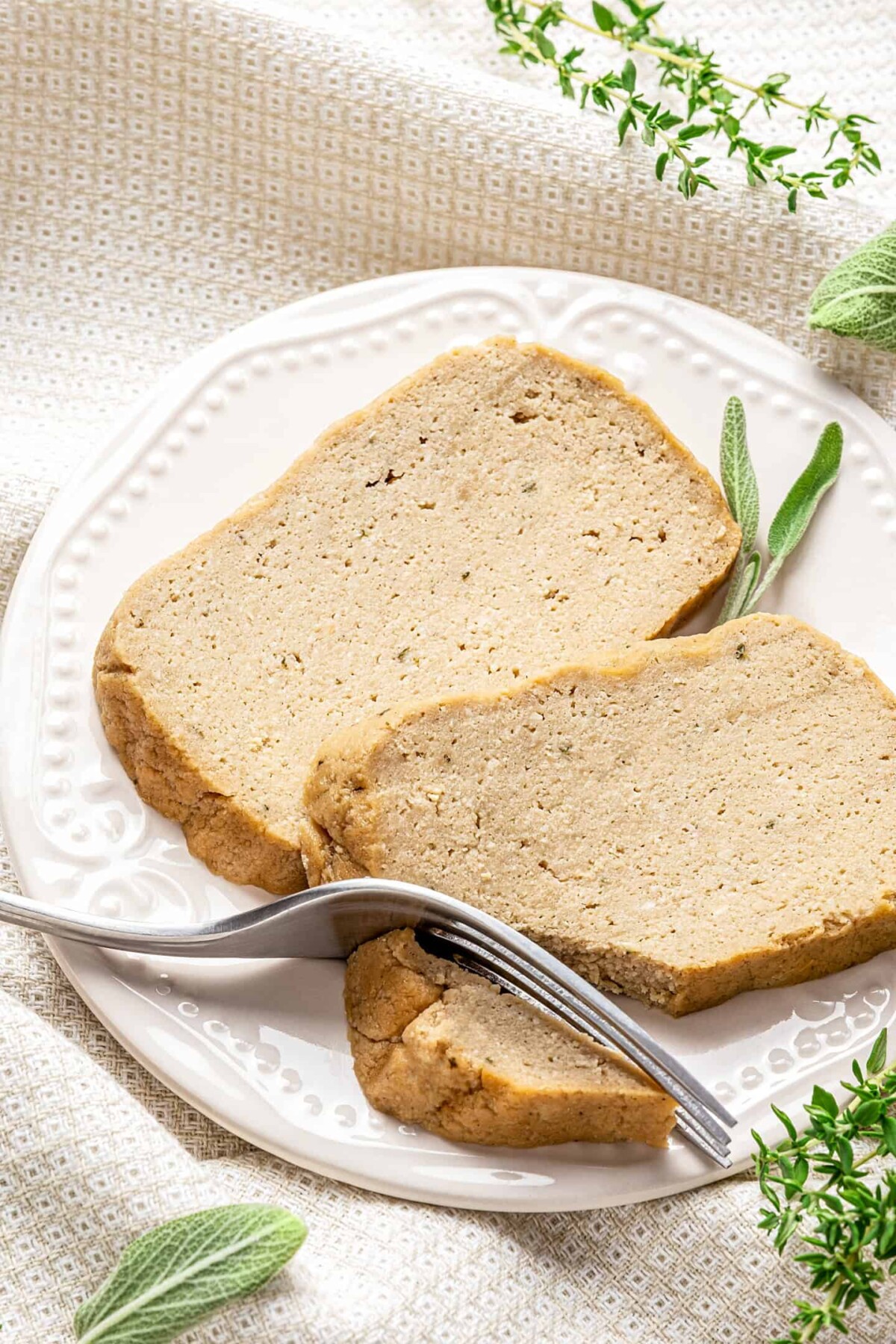 Enjoy friends! If you make this vegan turkey roast recipe, please snap a photo and tag #jessicainthekitchen on Instagram! We'd also love it if you would leave a comment below, and give the recipe a rating! Thanks so much!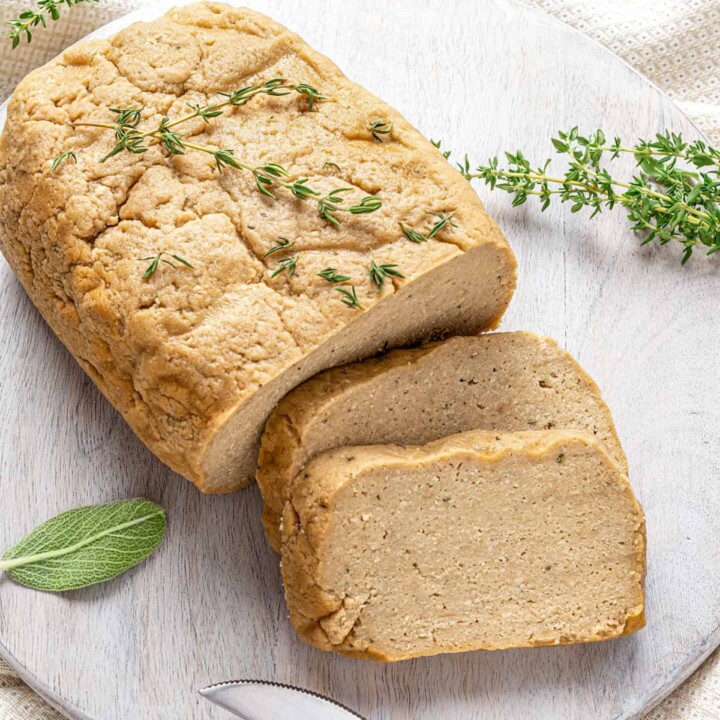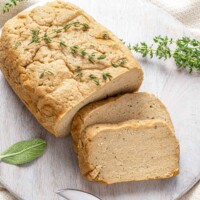 Vegan Turkey Roast
This turkey roast is 100% plant based, and is moist and flavorful. It's the perfect item to headline a vegan holiday feast.
Ingredients
1 14-ounce extra-firm tofu, drained and pressed for 30 minutes
1 teaspoon garlic powder
2 teaspoons onion powder
2 tablespoons white miso paste
1 tablespoon fresh thyme leaves, or 1 teaspoon dried thyme
2 teaspoons vegetable broth paste, or 1 vegetable bouillon cube (I love using the no chicken one paste by Better Than Bouillon)
½ teaspoon sea salt
½ teaspoon ground dried sage
3 tablespoons vegetable broth or water
¼ cup nutritional yeast
1 ½ cups vital wheat gluten flour
Smooth and Creamy Vegan Gravy, to pour over
Instructions
Place the tofu in a food processor and blend until broken down.

Add the garlic powder, onion powder, white miso paste, thyme, vegetable broth powder, sea salt, ground dried sage, broth or water, nutritional yeast and the vital wheat gluten. Process until the ingredients form a cohesive dough, scraping down the sides of the processor and folding the ingredients together as needed. Avoid over-mixing.

Place the dough on a large sheet of aluminum foil. Shape into a loaf, or any shape you'd like, then wrap the foil around the dough, crimping the edges to seal closed. Don't make the foil too tight, as the loaf will expand as it steams.

Place a steamer basket inside a large pot with 2 inches of water. Place the loaf into the steamer basket and bring to a boil. Cover and steam for 1 hour, or until the internal temperature reaches at least 160°F.

Transfer the loaf to a wire rack, remove the foil, and cool to room temperature. For the best texture, cool overnight in the fridge.
Calories: 101kcal, Carbohydrates: 6g, Protein: 18g, Fat: 1g, Saturated Fat: 0.1g, Polyunsaturated Fat: 0.3g, Monounsaturated Fat: 0.1g, Sodium: 311mg, Potassium: 74mg, Fiber: 1g, Sugar: 0.3g, Vitamin A: 45IU, Vitamin C: 2mg, Calcium: 40mg, Iron: 2mg
Disclaimer: Although jessicainthekitchen.com attempts to provide accurate nutritional information, kindly note that these are only estimates. Nutritional information may be affected based on the product type, the brand that was purchased, and in other unforeseeable ways. Jessicainthekitchen.com will not be held liable for any loss or damage resulting for your reliance on nutritional information. If you need to follow a specific caloric regimen, please consult your doctor first.