Hasselback Butternut Squash with Maple Pecan Drizzle
Tis' the season for this decadent and delicious Hasselback Butternut Squash with Maple Pecan Drizzle that will be a stunner on all your Thanksgiving and other holiday tables!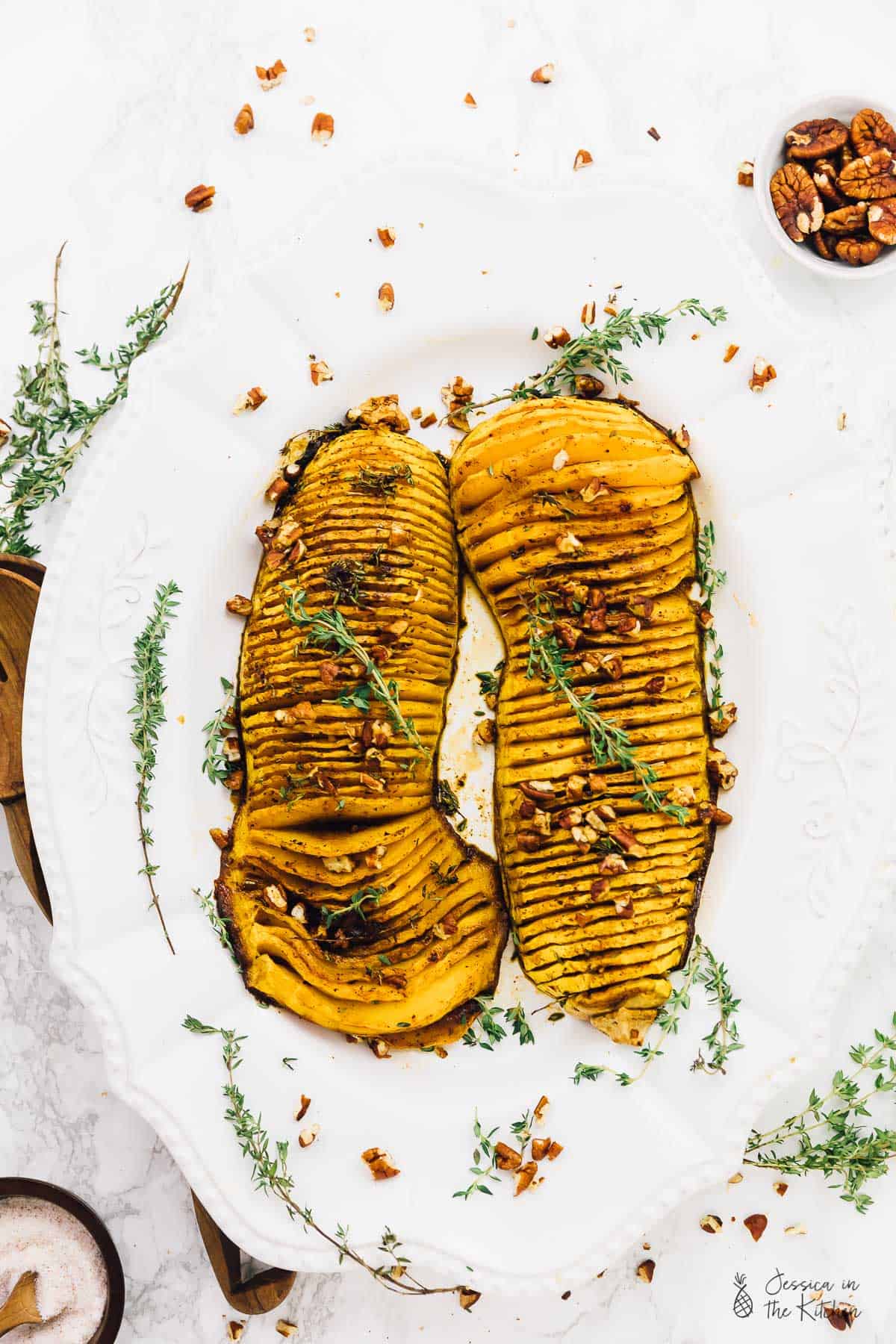 This post is sponsored by Thrive Algae Oil. All opinions and text are 100% mine. Thank you so much for supporting the brands that support Jessica in the Kitchen!
Every time I look at the photos for this Hasselback Butternut Squash I remember just how delicious it was. I mean, truthfully you can never go wrong with Butternut Squash, but let me tell you friends – this dish is worth making. Again and again.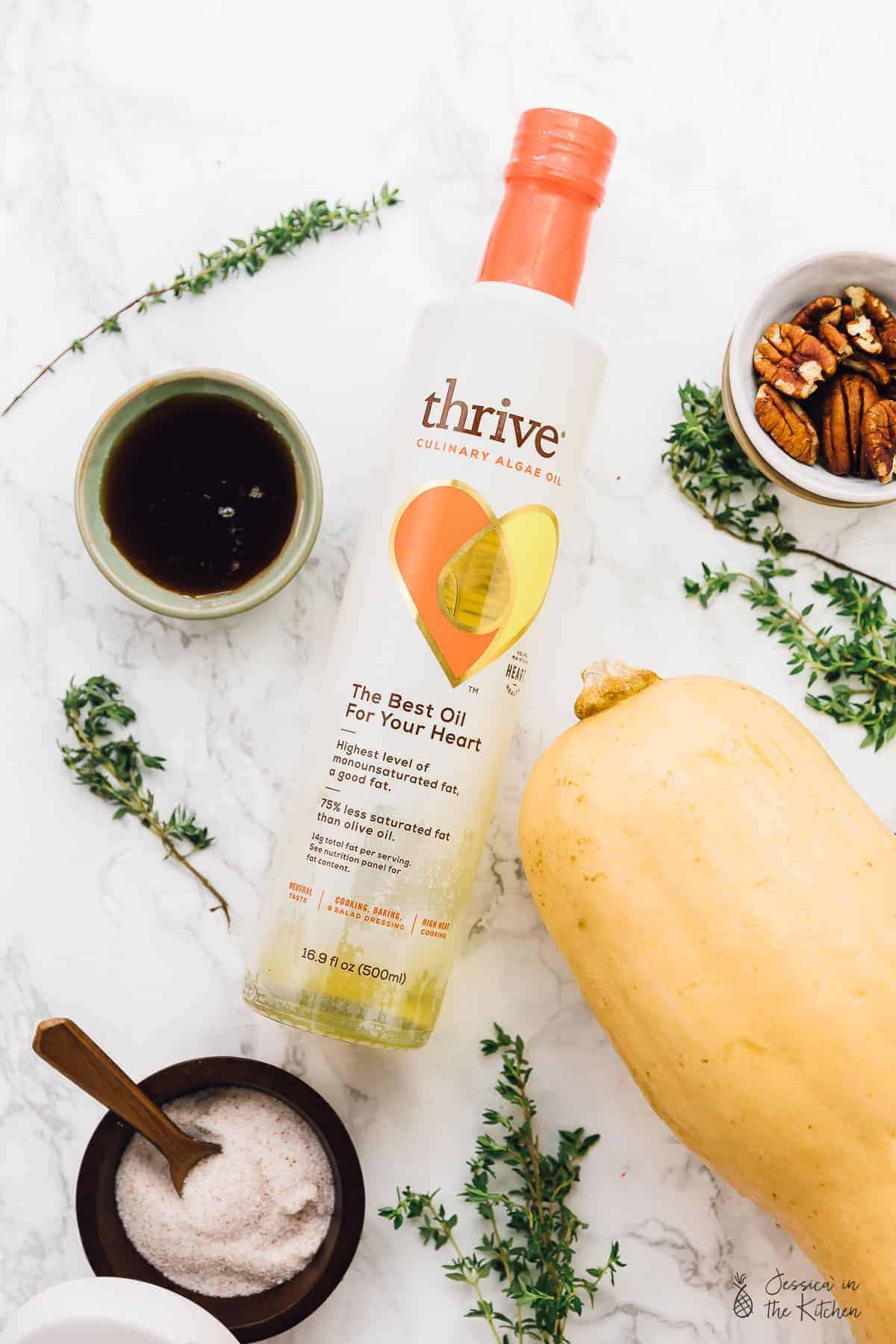 Let's start at the beginning. I really wanted a Thanksgiving dish for vegans and non vegans alike that would have everyone saying "WOW" as it was placed on the table. After trying a Butternut Squash dessert that really changed the way I saw the Squash, I knew I had to use it. Something about Butternut Squash just says decadent yet classy, doesn't it? So I wasn't so surprised when I took this out of the oven, dove right in and happily sighed. I was satisfied. So satisfied. Not only does this look beautiful, it tastes that way too. The Squash itself pulls in so much flavour and that maple pecan drizzle does wonders to complement it.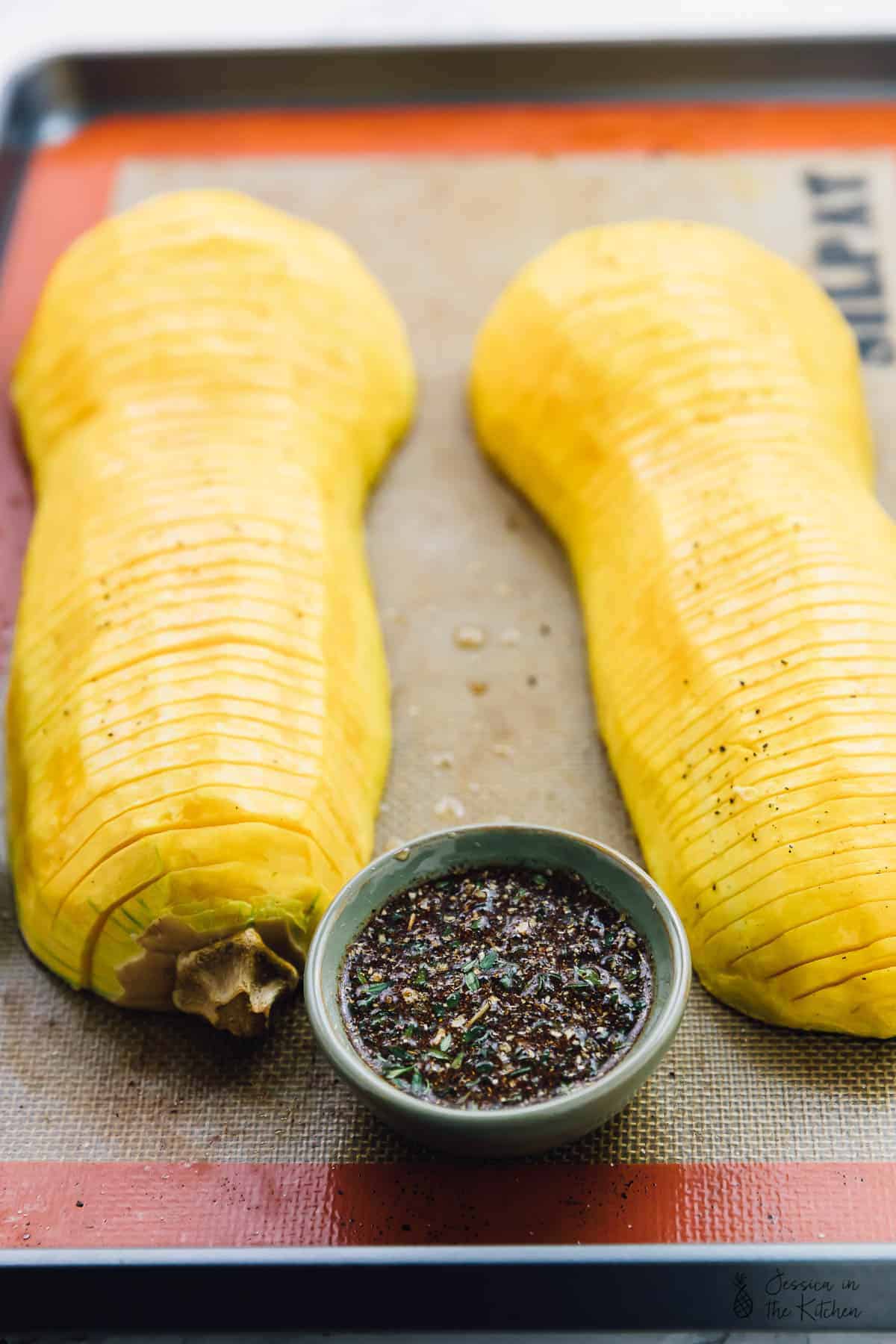 Before you even get there though, the first thing you need to do is properly oil the butternut squash. My oil of choice for this is Thrive Algae Oil. It has such a high smoke point (up to 485°) and works great at this high roasting temperature. The algae was actually originally sourced from the sap of a Chestnut tree, and was specifically chosen for its great fat profile and taste. I also love that it doesn't compete with the flavours of the butternut squash, but instead highlights them. Plus, Thrive Algae Oil contains a high percentage of monounsaturated fats (MUFAs) (like the good stuff in avocados) which is definitely the type of fat you want in all your cooking! You can use Thrive anywhere you'd use olive oil or other oils, and you can find it in plenty of stores or on Amazon!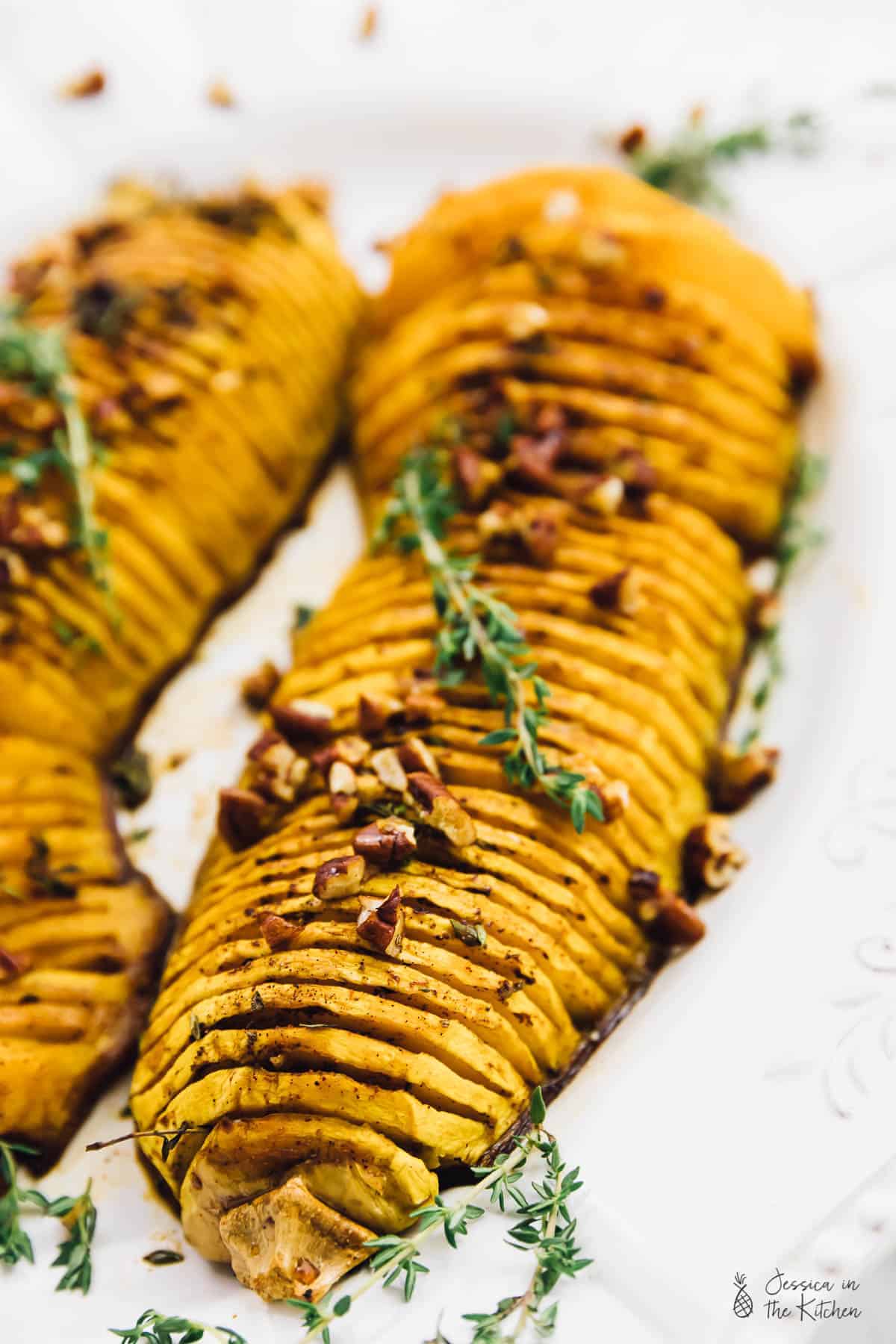 Now that you have the perfect canvas, it's time to make those beautiful slits. It's not as hard as it looks. You just need to take your time and slit it ¼" inch apart. You want to do it this close cause it'll look extra pretty. Also for ease when it comes to eating. Then you drizzle that easy drizzle on top and bake away. The results of this Hasselback Butternut Squash with Maple Pecan Drizzle are mind-blowingly stunning, and look like they took so much effort, even though it's pretty simple to accomplish!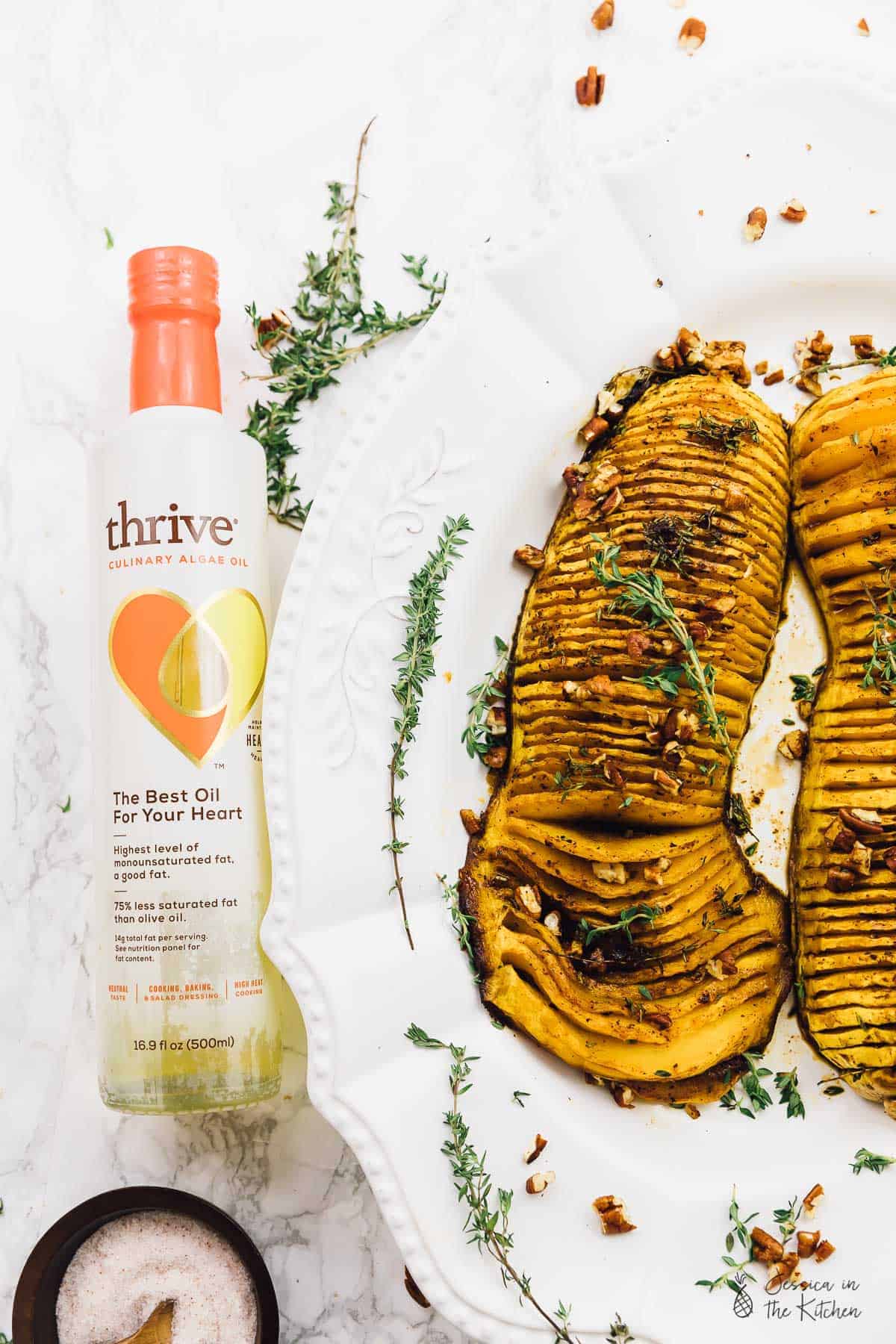 Enjoy friends!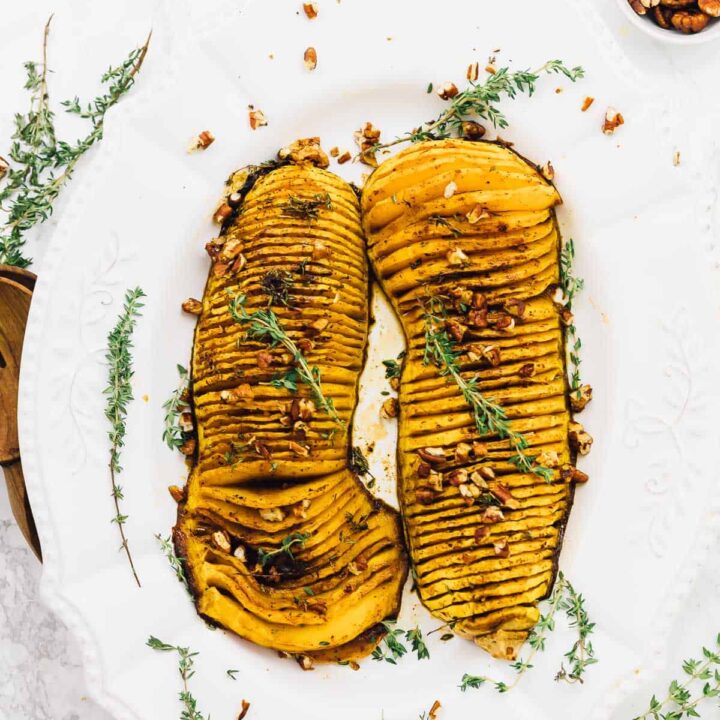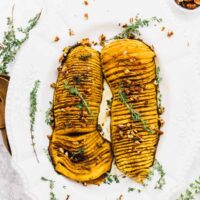 Hasselback Butternut Squash with Maple Pecan Drizzle
Tis' the season for this decadent and delicious Hasselback Butternut Squash with Maple Pecan Drizzle that will be a stunner on all your Thanksgiving and other holiday tables!
Ingredients
Hasselback Butternut Squash
1 butternut squash, halved, peeled, seeds removed
1 tablespoon Thrive Algae Oil
Sea salt and black pepper
Thyme on stems to push into butternut squash
Maple Pecan Drizzle
2 1/2 tablespoons maple syrup
½ teaspoon all spice
½ teaspoon cayenne - I like it hot, you can lower to ¼ teaspoon or remove
½ teaspoon dried sage
1 tablespoon fresh thyme, chopped
¼ cup chopped pecans
Instructions
Preheat oven to 425°F/220°C.

Halve your squash lengthwise and scoop out seeds with a large spoon. Using a peeler, remove skin and white flesh below (until you reach the deep orange flesh). Place your butternut squash halves down on a silicone or foil lined parchment paper baking dish with slightly high edges. 

Rub Thrive Algae Oil all over the butternut squash. Use more Thrive Algae Oil if needed depending on the size of your butternut squash. Season with sea salt and black pepper.

Roast your squash halves for 15 minutes.

Mix the Maple Pecan Drizzle ingredients together with a whisk.

Remove squash from baking sheet and onto a cutting board (I use a large spatula to help me. Using a sharp knife, create slits ¼" apart on the butternut squash (look at the photo above). Try to slice deeply, but don't cut through it. It's okay if you do once or twice, it's still beautiful!

Place squash back onto the baking sheet. Add in the water into the baking dish to prevent burning. The liquid will also caramelise beautifully. Brush the drizzle over the squash, reserving a little bit, and push thyme on stems into the slits. Bake for 50 more minutes. Check every 15 minutes or so to see if the water has run out, then add more.

Add the chopped pecans into the last of the reserve maple drizzle, then pour it all over the top. Bake for 5 more minutes.


Remove, allow to cool slightly and enjoy!
Calories: 202kcal, Carbohydrates: 33g, Protein: 3g, Fat: 9g, Saturated Fat: 3g, Sodium: 82mg, Potassium: 748mg, Fiber: 5g, Sugar: 12g, Vitamin A: 20285IU, Vitamin C: 48mg, Calcium: 130mg, Iron: 2mg
Disclaimer: Although jessicainthekitchen.com attempts to provide accurate nutritional information, kindly note that these are only estimates. Nutritional information may be affected based on the product type, the brand that was purchased, and in other unforeseeable ways. Jessicainthekitchen.com will not be held liable for any loss or damage resulting for your reliance on nutritional information. If you need to follow a specific caloric regimen, please consult your doctor first.