Gingersnap Molasses Cookies (Vegan, Soft and Chewy )
These Soft Chewy Gingersnap Molasses Cookies are a MUST make for the holidays! They are vegan, gluten free and delicious! P.S. You can't eat just one!!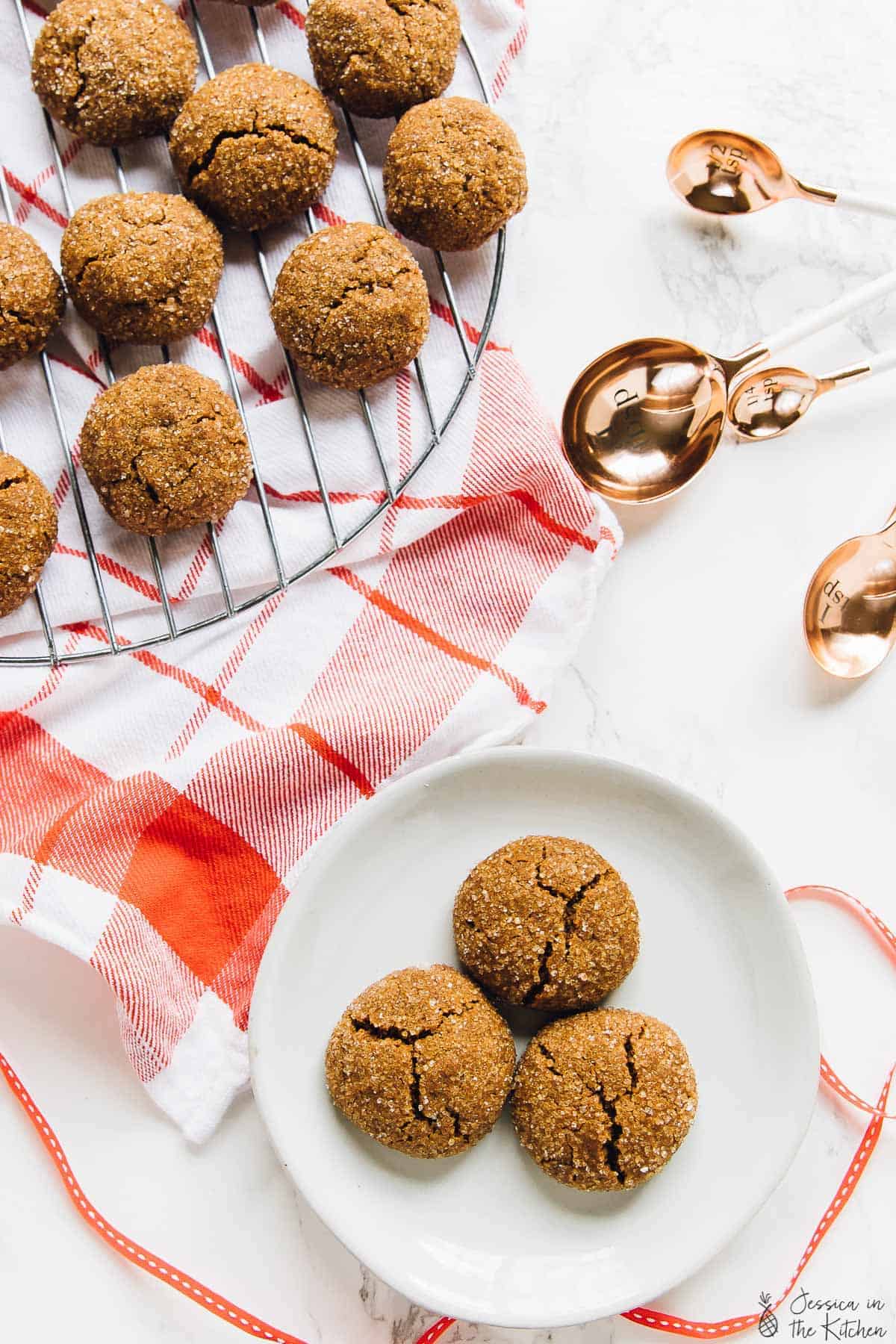 I've been playing Christmas music since Thanksgiving non-stop. I mean, I of course played it before that, but it's kind of been on all day and night since then. If you know me, then you know that it's my favourite season, so I am currently in FULL lit mode right now. With all our decorations out so that we can decorate our house, and our tree in place, let's just say I needed to make a quick dessert to go along with all the Christmas movies also playing non-stop. I think you get the gist.
These Soft Chewy Gingersnap Molasses Cookies (Vegan and Gluten Free) really, really hit the spot. Oh friends, let me tell you. If you're a ginger fan, you're going to devour this. If you're not (like the Mr.) you will still love these because they have the perfect ginger flavour balanced alongside the other spices. These cookies come together in 30 minutes because there isn't any real chill time. You just stick them in the fridge while the oven preheats, which is all they need.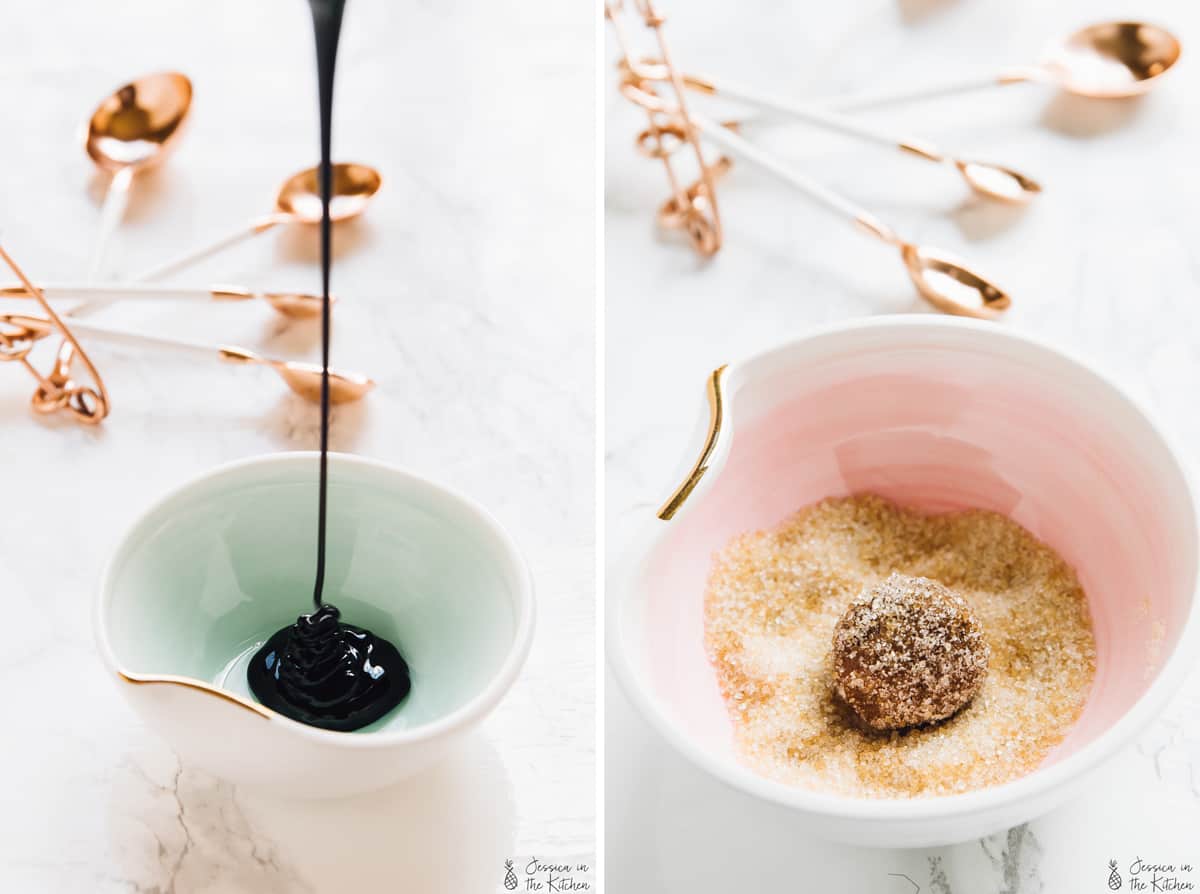 Let's get into these ingredients, though. I made these cookies eons ago in 2011, in my Jessiker Bakes days. I changed them up to make them gluten free and vegan, and let me tell you, they are just as delicious. First you bite in, and get that divine sugar coating slight crunch. Then they have that perfect slight chew, and a burst of flavour comes your way thanks to all the spices and the molasses.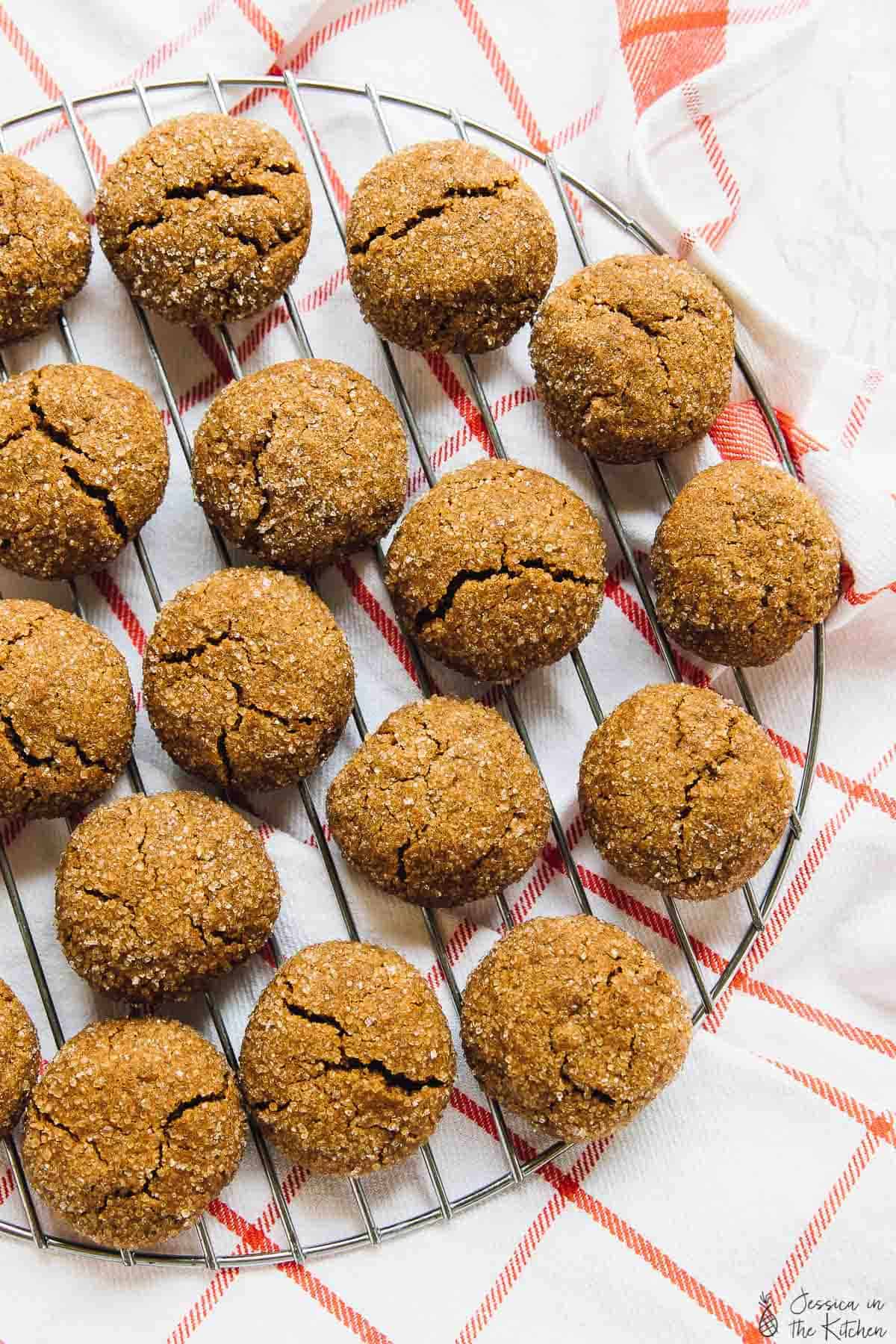 For me, the molasses are crucial. They really are the main reason for the chew, and add a stunning colour to the inside of the cookies. Get a great quality authentic version for your cookies. Also, make sure that you slightly oil whatever you use to measure it because it is stickyyyyy. Talking from experience, friends.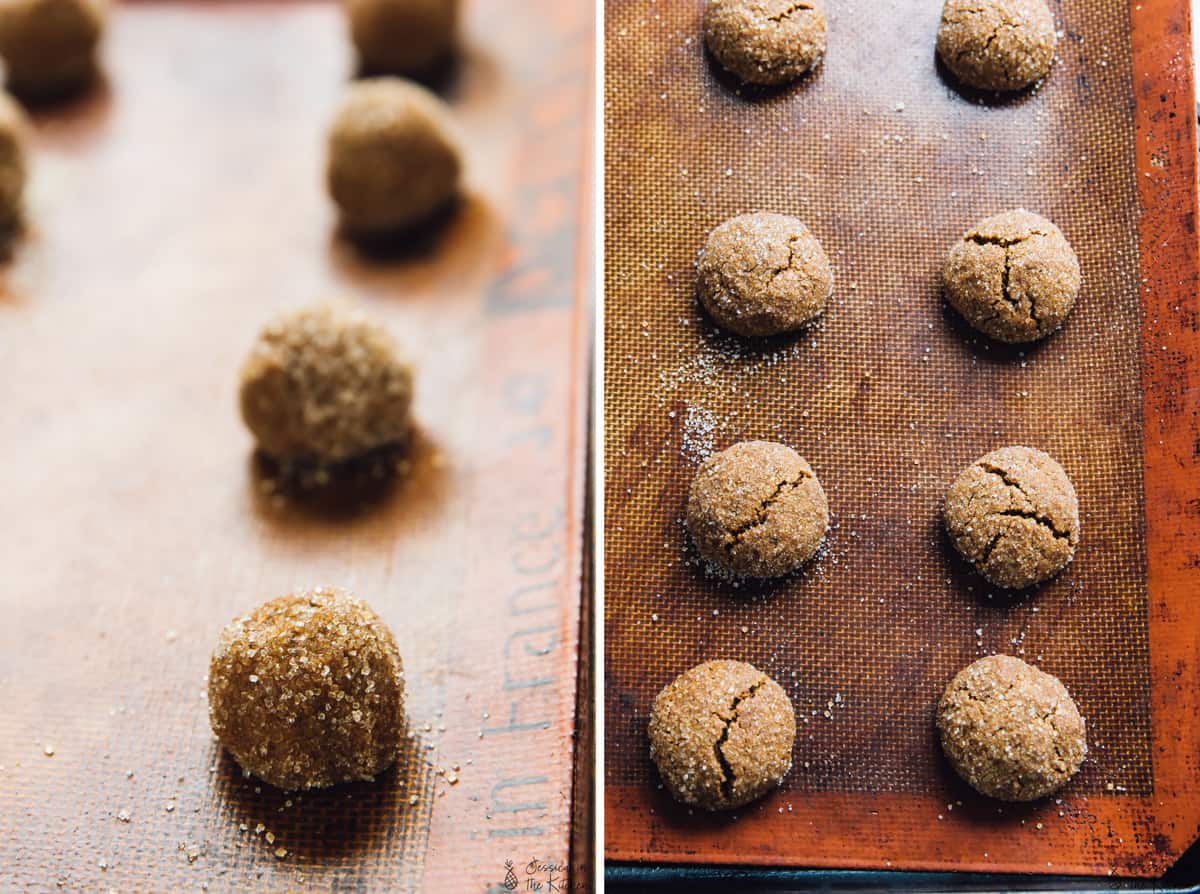 Watching the cookies bake is almost as satisfying as taking that first bite. Wait, you don't pull up in front of your oven while desserts are baking? Hmm. Anyway, they slowly form that perfect crackly ginger cookie look and puff up just slightly. I legit did a happy dance once that crack formed. Trust me – you will too!!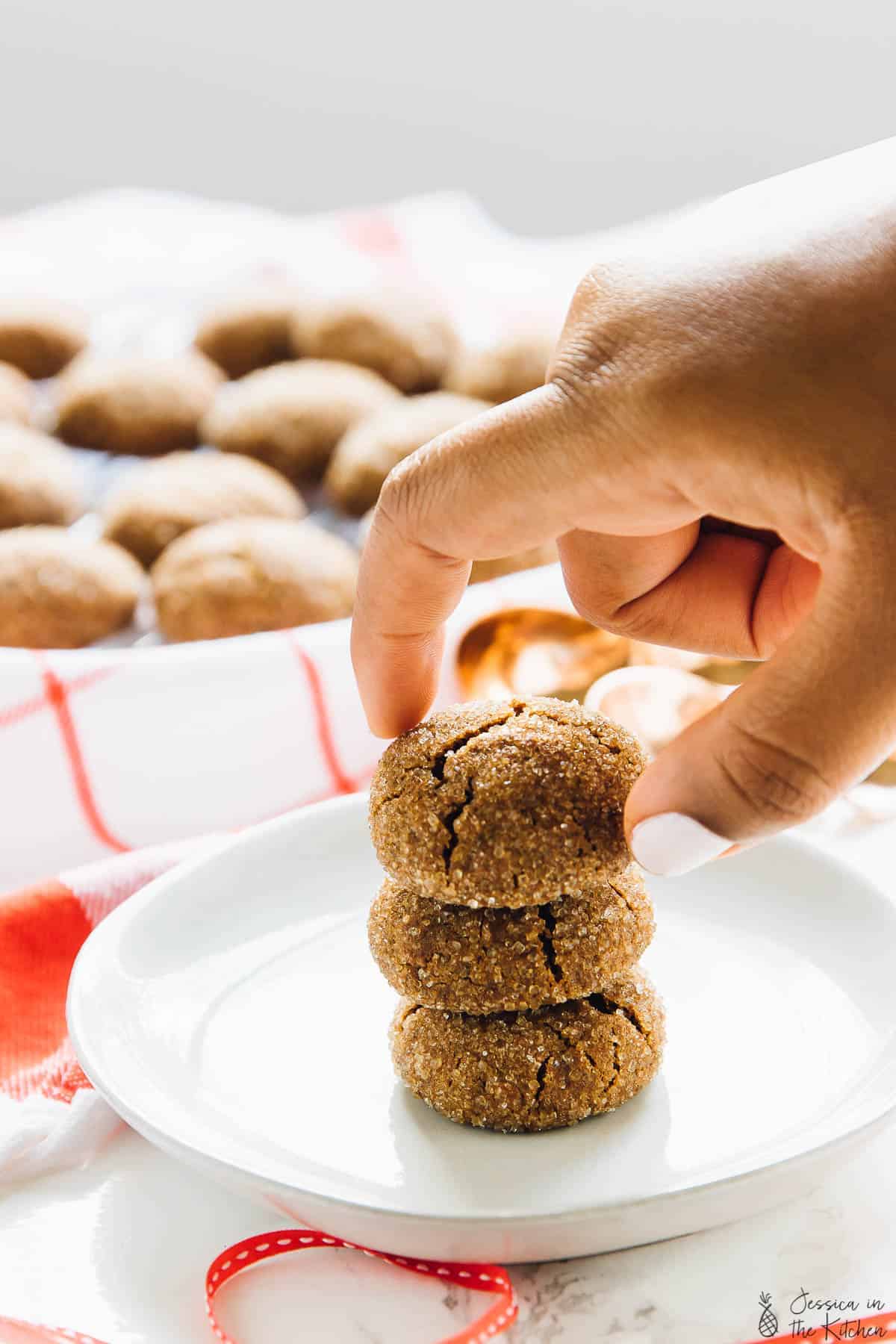 Anyway, enough chatting, get to baking!! Also, fair warning – call your friends before you bake these. Yes, they're small cookies, but I still had five in ONE sitting. They'll love you for sharing and you won't single-handedly eat half the batch.
Enjoy, friends! Last note, this dough freezes perfectly, and the cookies get that chew after they've cooled – so let them cool first! They're even better the next day.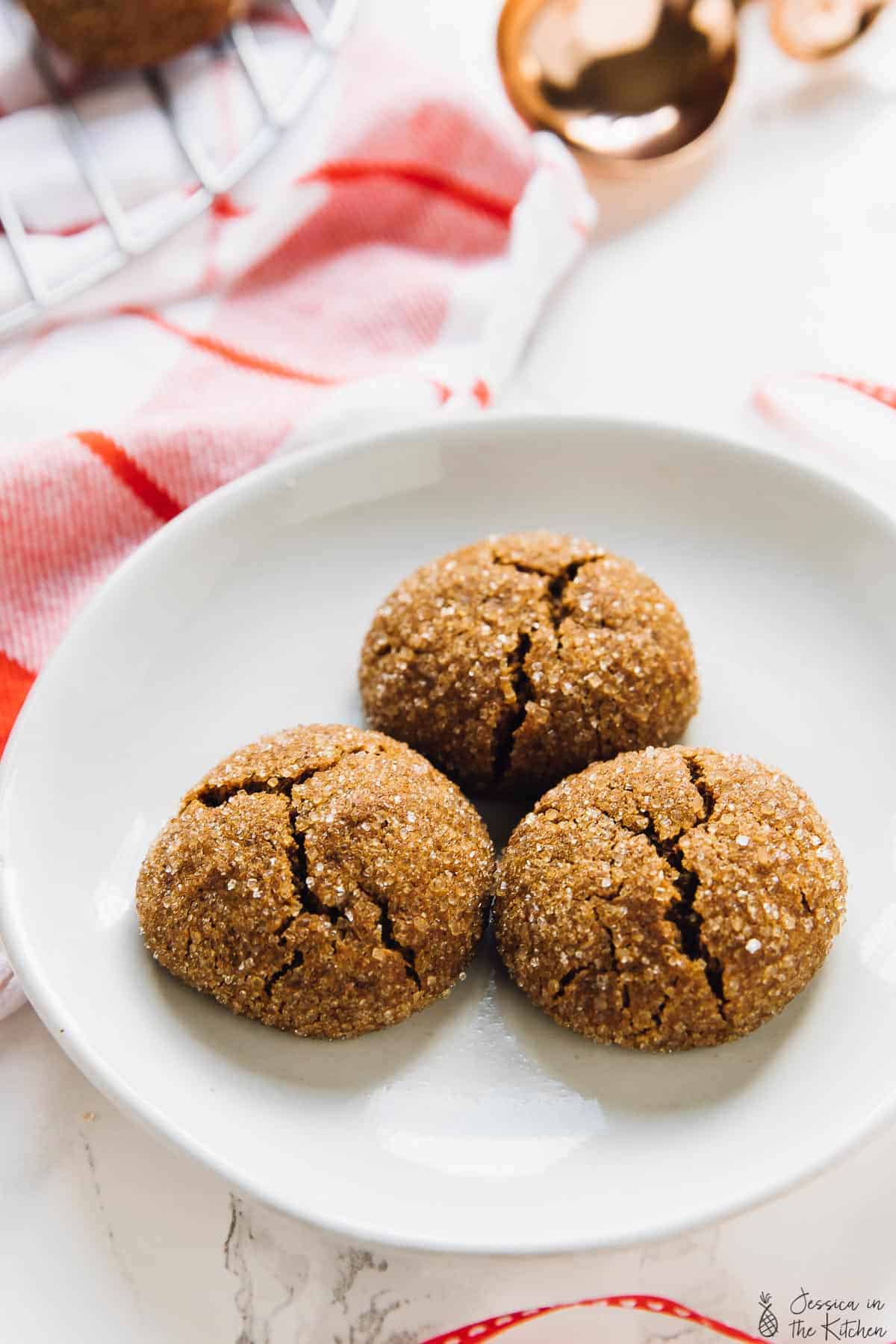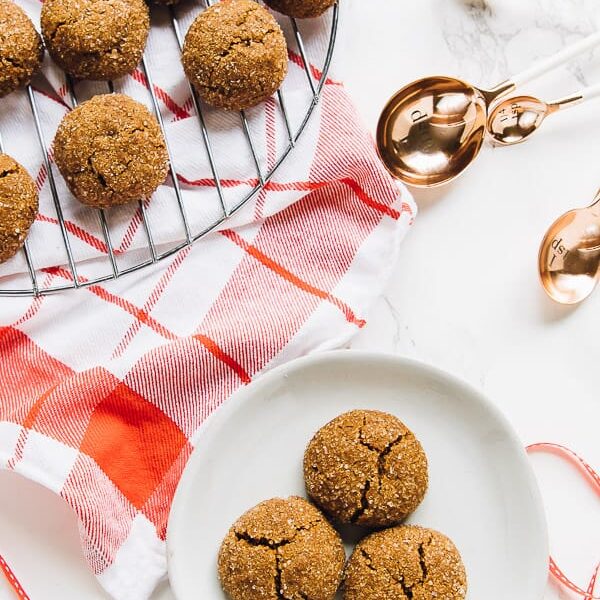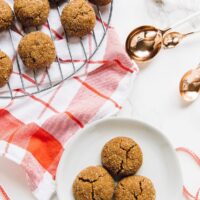 Soft Chewy Gingersnap Molasses Cookies (Vegan and Gluten Free)
These Soft Chewy Gingersnap Molasses Cookies are a MUST make for the holidays! They are vegan, gluten free & made with unrefined ingredients! P.S. You can't eat just one!!
Ingredients
1 cup unrefined turbinado cane sugar, 192g
¾ cup salted vegan butter, cold*, 169.5g
1 egg substitute - 1 flax egg or powder*
1 teaspoon vanilla extract
¼ cup cane molasses, 84g
2 cups gluten free baking flour mix (I use Bob's Red Mill 1:1 Baking Flour), 296g
1 ½ teaspoons baking soda
1 teaspoon ground cinnamon
1 ¼ teaspoons ground ginger
½ teaspoon sea salt
½ teaspoon allspice
¼ cup unrefined cane sugar (for rolling), 48g
Instructions
1. In a large bowl, using a stand or hand mixer, cream the sugar and butter in a large bowl for at least 5 minutes until creamed and combined. Scrape down the bowl, and mix in the egg replacement, the vanilla and the molasses, and blend again for another minute.

2. In a separate bowl (I usually just mix them in the measuring scale container), mix together the flour, baking soda, cinnamon, salt, allspice and ginger. Add the flour mixture into the molasses mixture in 3 different portions, mixing each. time for about 15 seconds. Scrape down the bowl again and mix one more time.

3. Gather the dough together into a ball and place the container in the fridge while the oven preheats. Preheat the oven to 350°F/180°C degrees. In a bowl, add the sugar for rolling the cookies in. Set aside

Once preheated, take the dough out the fridge. Using a 1 ¼-inch cookie scoop (or ½ tablespoon cookie scoop), scoop the dough and roll into a ball. Roll dough into 1 inch size balls or use a 1 1/4 -inch ice cream scoop. Roll each cookie dough in the sugar to coat thoroughly. Place on a cookie sheet line with a silicone baking mat (you will need more than one if making the entire recipe), allowing some space between each cookie.

4. Bake 12-14 minutes at 350°F/180°C degrees. Allow to cool partially before moving to a cooling rack to cool completely. Enjoy! Store the cookies in an air tight container once cooled.
Notes
Notes *most vegan butter is salted! If you use unsalted, compensate it with more sea salt. *Bob's Red Mill's Egg Replacer powder is my FAVOURITE egg replacement for baking, especially cookies! You can easily half this recipe and I did for the photos above. The cookies are small and very easy to share with family and friends. * I use Wholesome's unrefined cane sugar. It is 100% unrefined, and fair trade and my favourite sugar choice. * You can substitute coconut sugar for these, but I didn't use them since I didn't want it to overpower the molasses or the ginger flavour.
Calories: 269kcal, Carbohydrates: 41g, Protein: 2g, Fat: 12g, Saturated Fat: 2g, Sodium: 324mg, Potassium: 110mg, Fiber: 2g, Sugar: 27g, Calcium: 32mg, Iron: 1mg
Disclaimer: Although jessicainthekitchen.com attempts to provide accurate nutritional information, kindly note that these are only estimates. Nutritional information may be affected based on the product type, the brand that was purchased, and in other unforeseeable ways. Jessicainthekitchen.com will not be held liable for any loss or damage resulting for your reliance on nutritional information. If you need to follow a specific caloric regimen, please consult your doctor first.