Vegan Oatmeal Cookies
With the perfect chewy texture, hearty oats, and cinnamon raisin flavour, these vegan oatmeal cookies are an old-fashioned favourite!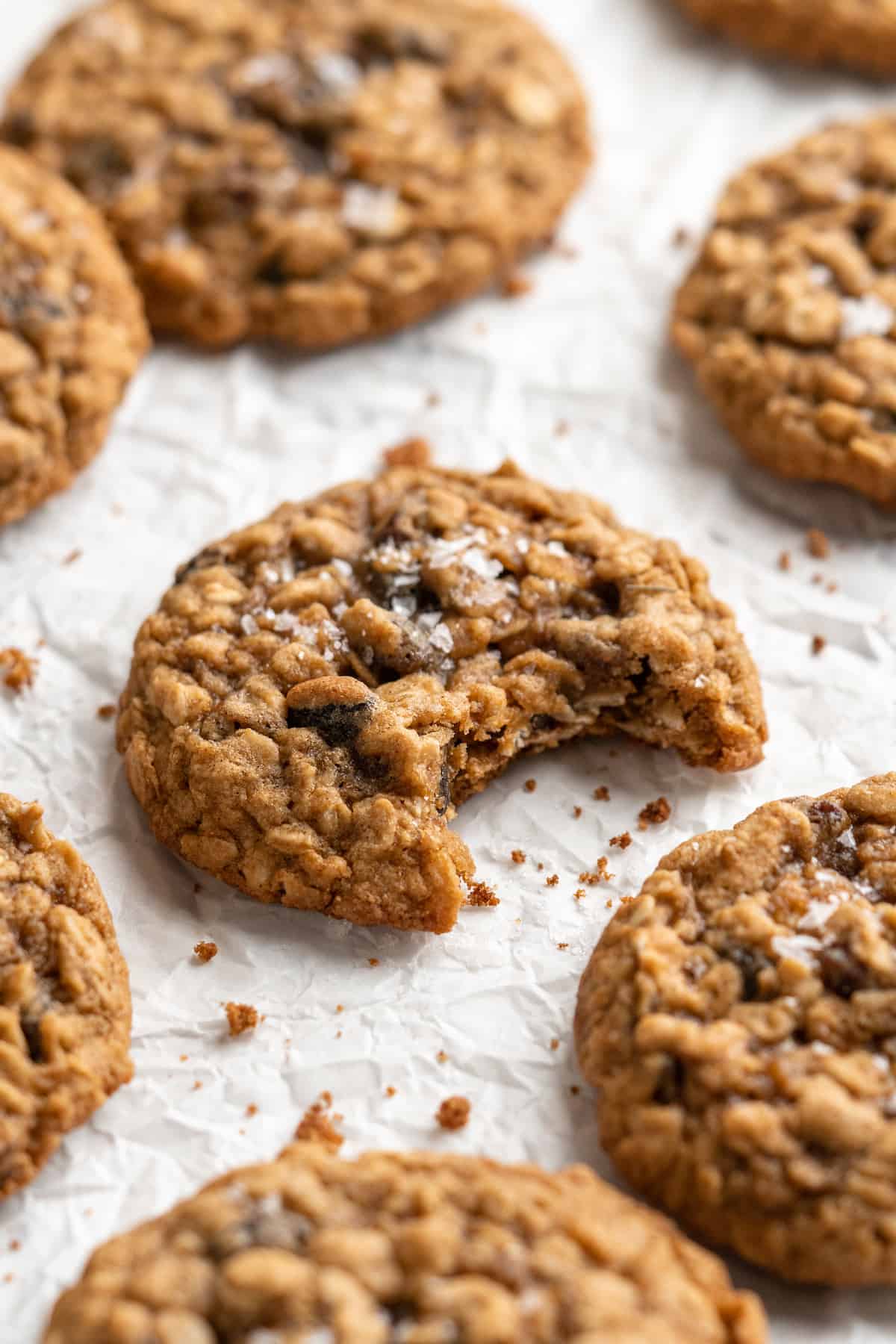 As much as I love a truly unique cookie recipe, there's something to be said for the classics. I mean, there's a good reason sugar cookies and snickerdoodles are always popular—they're tried-and-true! These vegan oatmeal cookies definitely qualify as one of those classic cookie recipes we all need in our lives.
Traditional oatmeal raisin cookies benefit from the addition of butter, which gives them their signature flavour, richness, and texture. With so many high-quality vegan butters on the market these days, it's easy to swap out the dairy with something plant-based.
Another important component of oatmeal cookies is eggs, which act as a binding agent and also contribute to the texture. To make vegan oatmeal cookies, I replaced the eggs with a mixture of ground flax seeds and water. This combination creates a similar texture and helps hold the dough together without using animal products.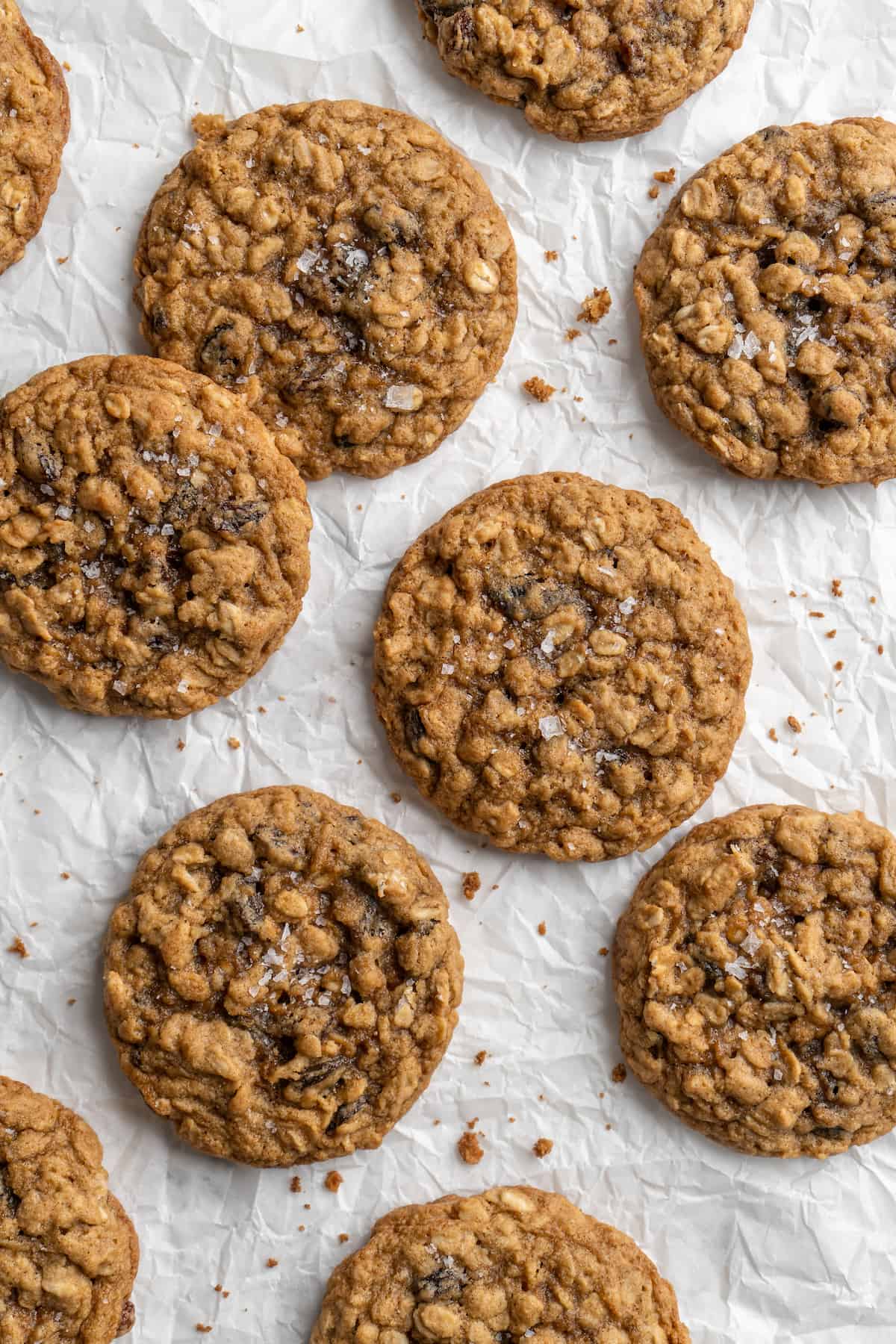 Why You'll Love This Vegan Oatmeal Cookie Recipe
Here's what makes these vegan oatmeal cookies a standout:
Crispy on the edges, chewy in the middle. AKA the best of both worlds. (If you love that texture, you'll also enjoy my White Chocolate Macadamia Nut Cookies!)
Made with simple, wholesome ingredients. You probably have most of them on hand in your pantry already.
Every bit as delicious as the original. This is a vegan cookie recipe that won't disappoint!
Easy to make. There are no complicated techniques needed here and the dough comes together in a snap.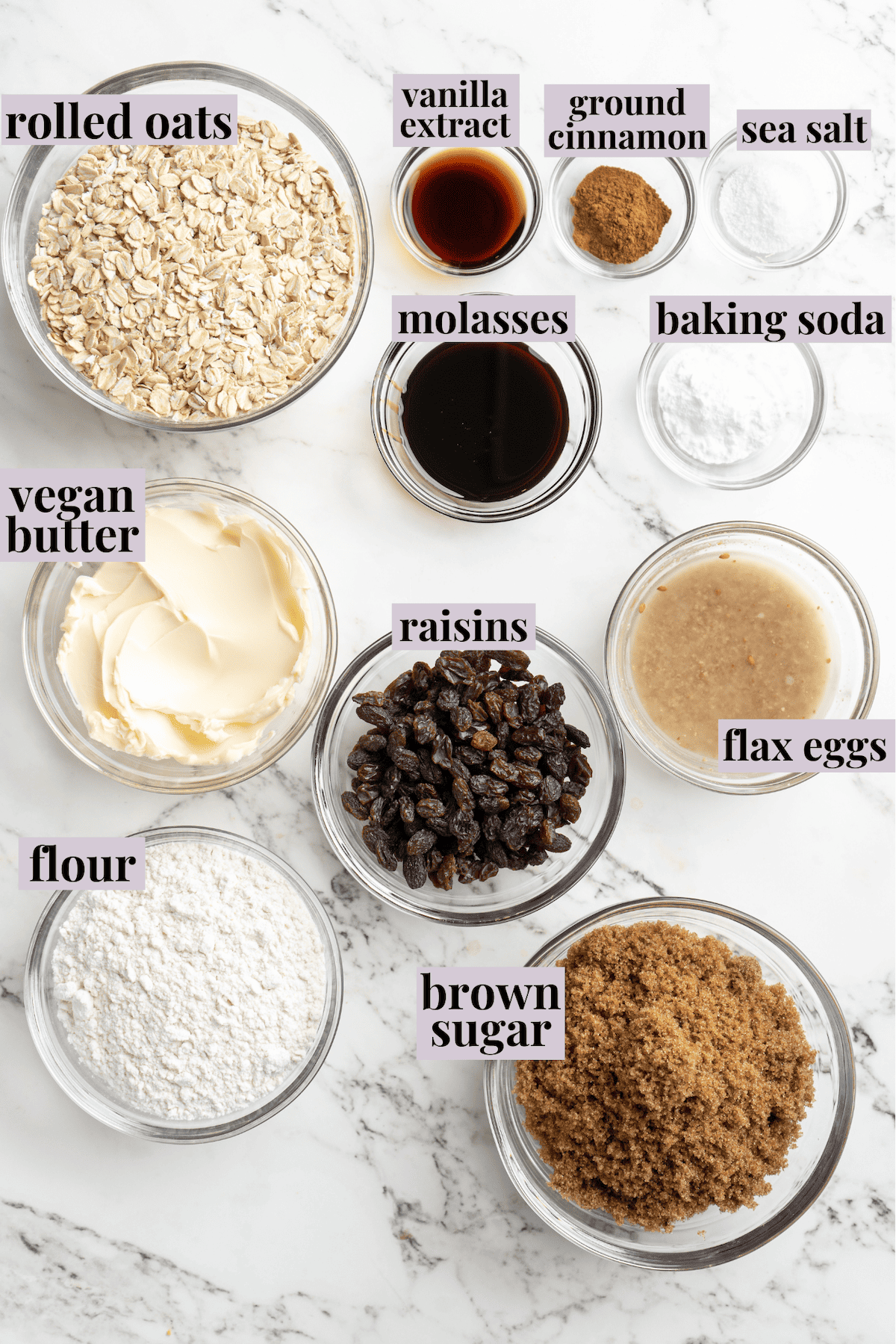 Notes on Ingredients
Scroll down to the recipe card to find the ingredient quantities and recipe instructions.
Vegan butter – Use store-bought or homemade vegan butter.
Brown sugar – Either light or dark will work; dark brown sugar has a more pronounced molasses flavour.
Flax eggs – After mixing the flax eggs, chill for 15 minutes in the refrigerator.
Old-fashioned rolled oats – Also known as rolled oats.
All-purpose flour – Be sure to lightly spoon this into the measuring cup if you're measuring by volume instead of going by weight.
Baking soda
Ground cinnamon – For that signature cozy oatmeal cookie flavor.
Sea salt
Vanilla extract
Pure cane molasses – Optional, but an excellent addition for depth and flavour.
Raisins
What Type of Molasses Is Best for Baking?
The darker the molasses, the stronger the flavour. If you want a noticeable molasses taste in your baking (as you would with Vegan Gingerbread Men), you'll need to use dark molasses. If you prefer a milder flavour, opt for for light or medium molasses.
How to Make Vegan Oatmeal Cookies
Although these cookies come together quickly, do keep in mind that you'll need to plan for an hour of chilling time. This keeps the cookies from spreading on the baking sheet.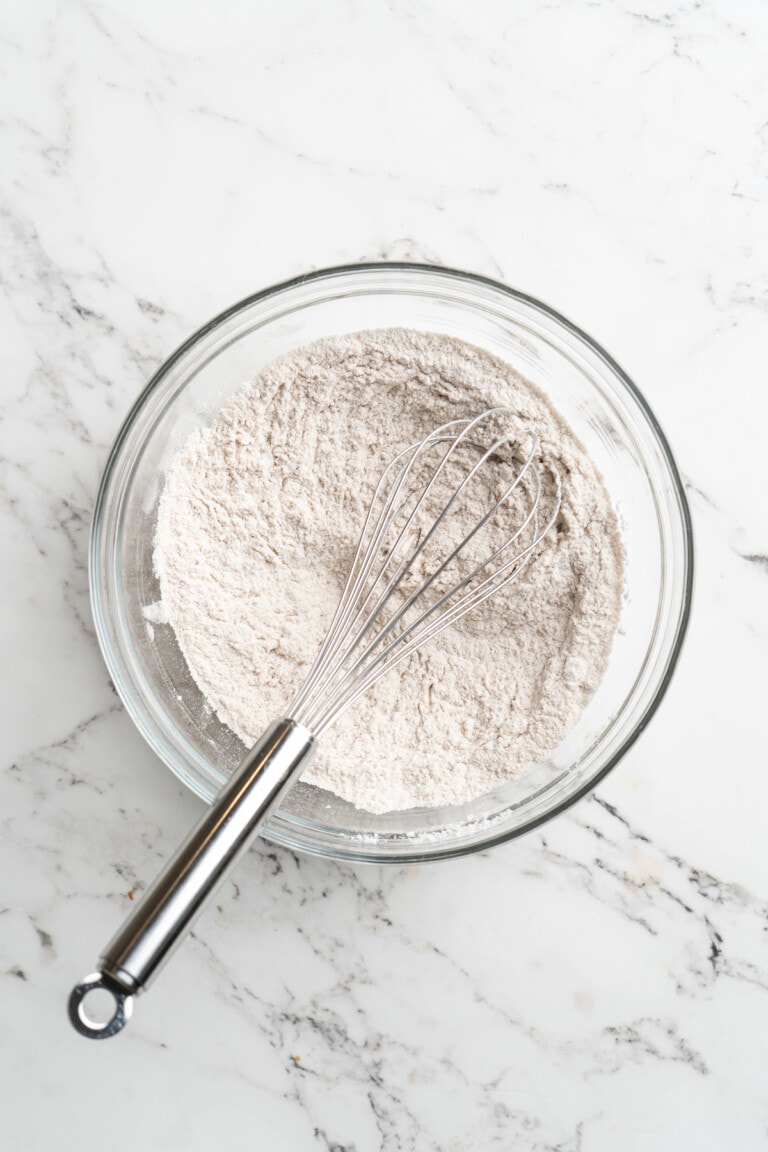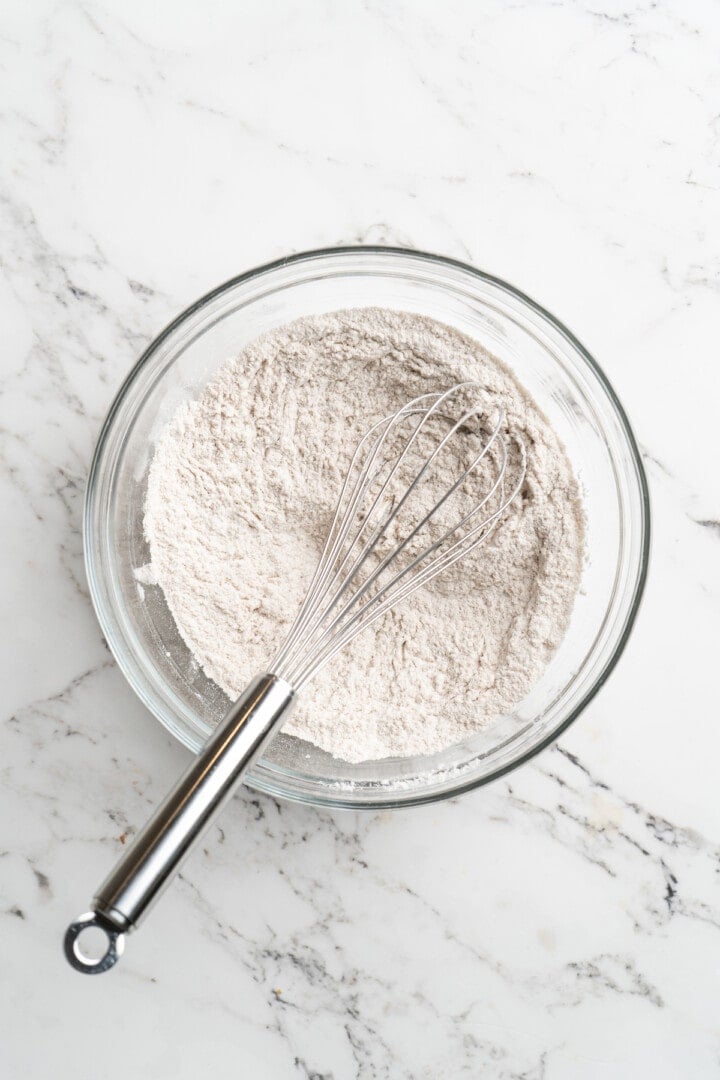 Prepare. Line a baking sheet with a silicone mat or parchment paper.
Mix the dry ingredients. Sift the flour, baking soda, cinnamon, and sea salt into a bowl.
Beat the wet ingredients. In a separate mixing bowl, cream the butter and sugar with an electric mixer on medium speed for 3 minutes. Beat in the flax egg and vanilla extract until the mixture is light and creamy.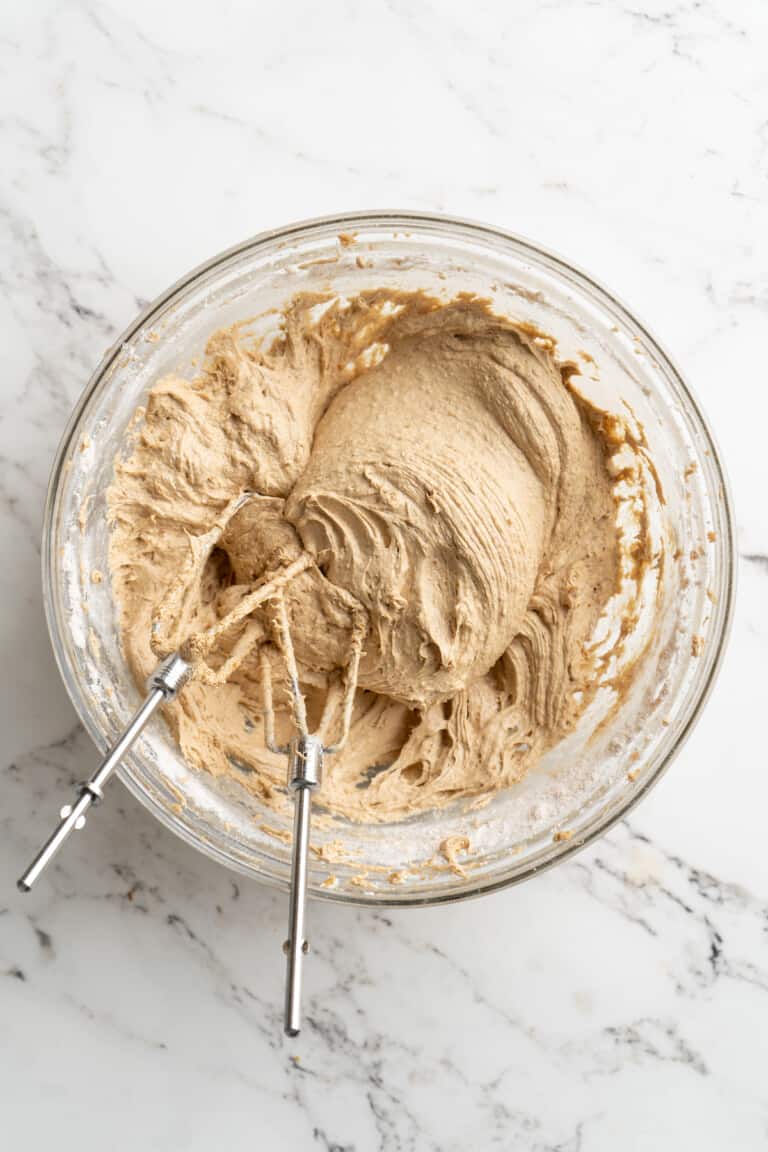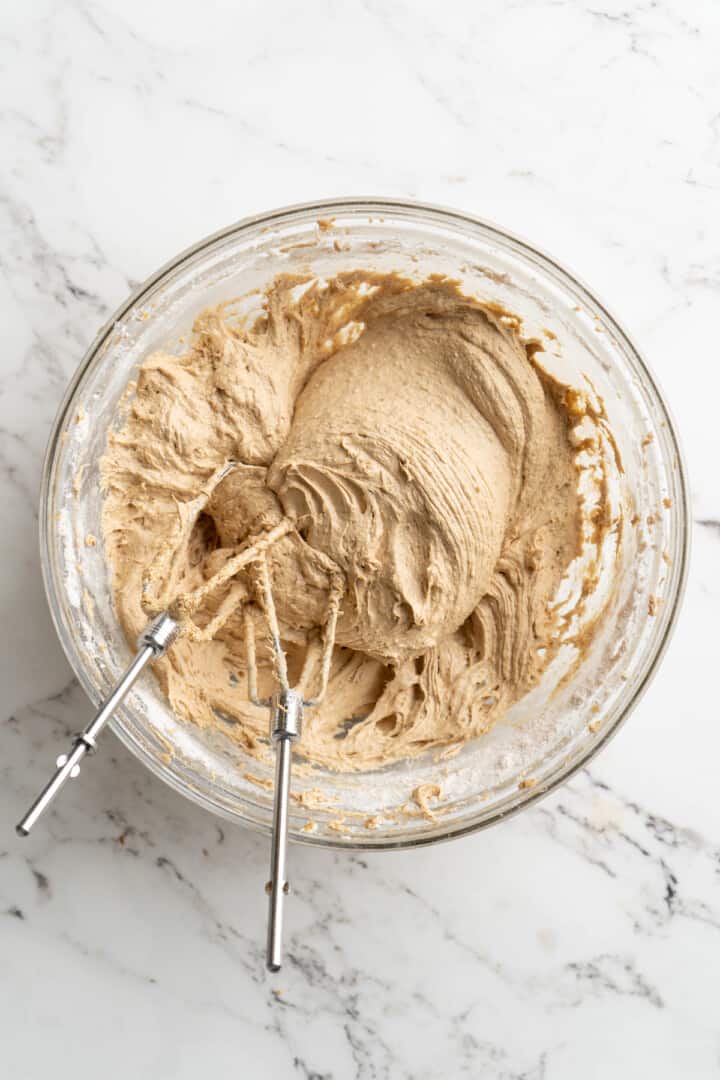 Finish the dough. Mix in the dry ingredients in two batches, for about 30 seconds each. Fold in the molasses if using, followed by the oats and raisins.
Chill. Cover the bowl and place it in the refrigerator for one hour. Start preheating the oven just before the chilling time is done.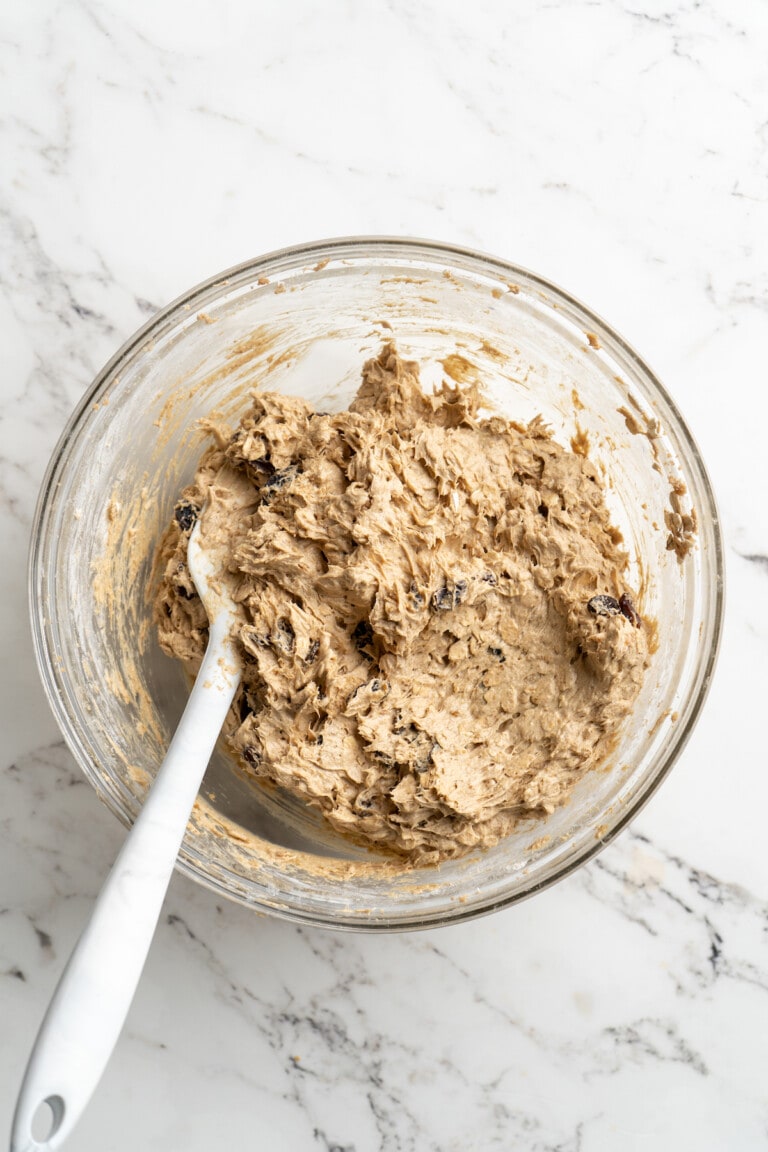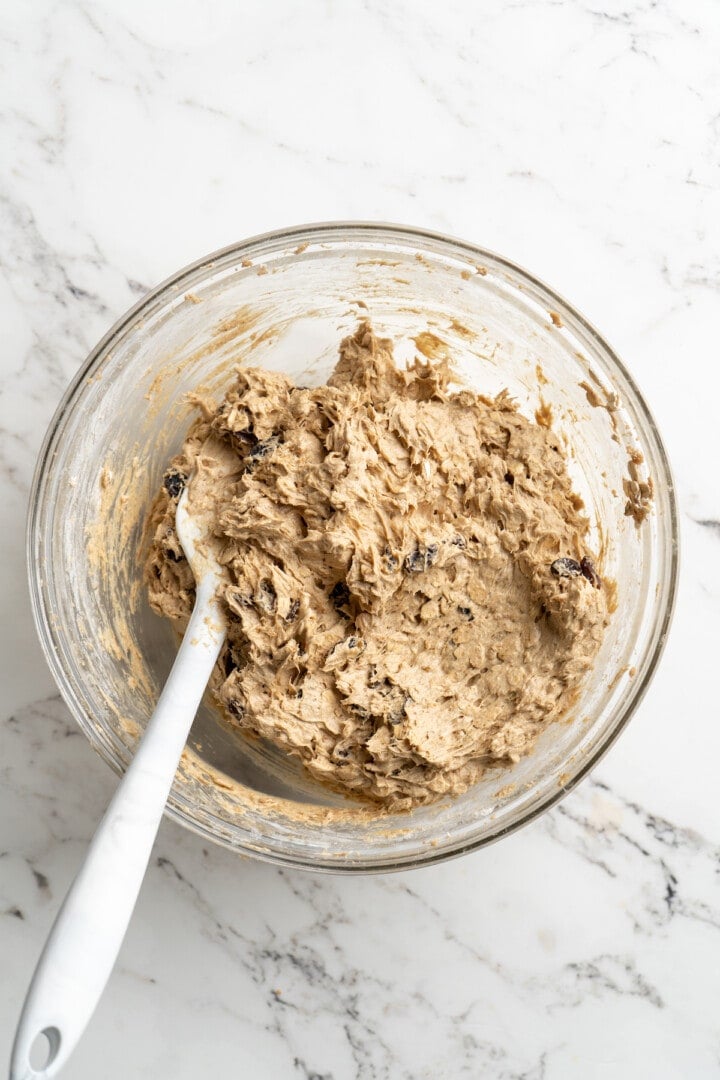 Form the cookies. Scoop 2 tablespoons of dough from the bowl and roll it into a cookie. Set the cookie on the baking sheet and repeat with the remaining dough, leaving 2 inches between the cookies.
Bake. Place the pan in the oven and bake for 12 to 14 minutes. Cool on the baking sheet for 5 to 10 minutes, then finish cooling on a wire rack.
Tips for Success
Follow these pointers for perfect vegan oatmeal cookies.
Make sure your vegan butter is at room temperature. This will make it easier to cream the butter and sugar without any stray lumps of butter in the mixture.
Chill the dough for at least 1 hour. This helps prevent spreading and results in a chewier texture. If needed, you can chill the dough longer than this, but you'll have to let the dough sit at room temperature for about 20 minutes before forming the cookies.
Allow the cookies to cool before eating. They'll continue to bake from the residual heat of the pan, giving them that perfect crispy on the edges, chewy in the middle texture.
Don't alter the base of the recipe. If you make substitutions, the cookies may not turn out.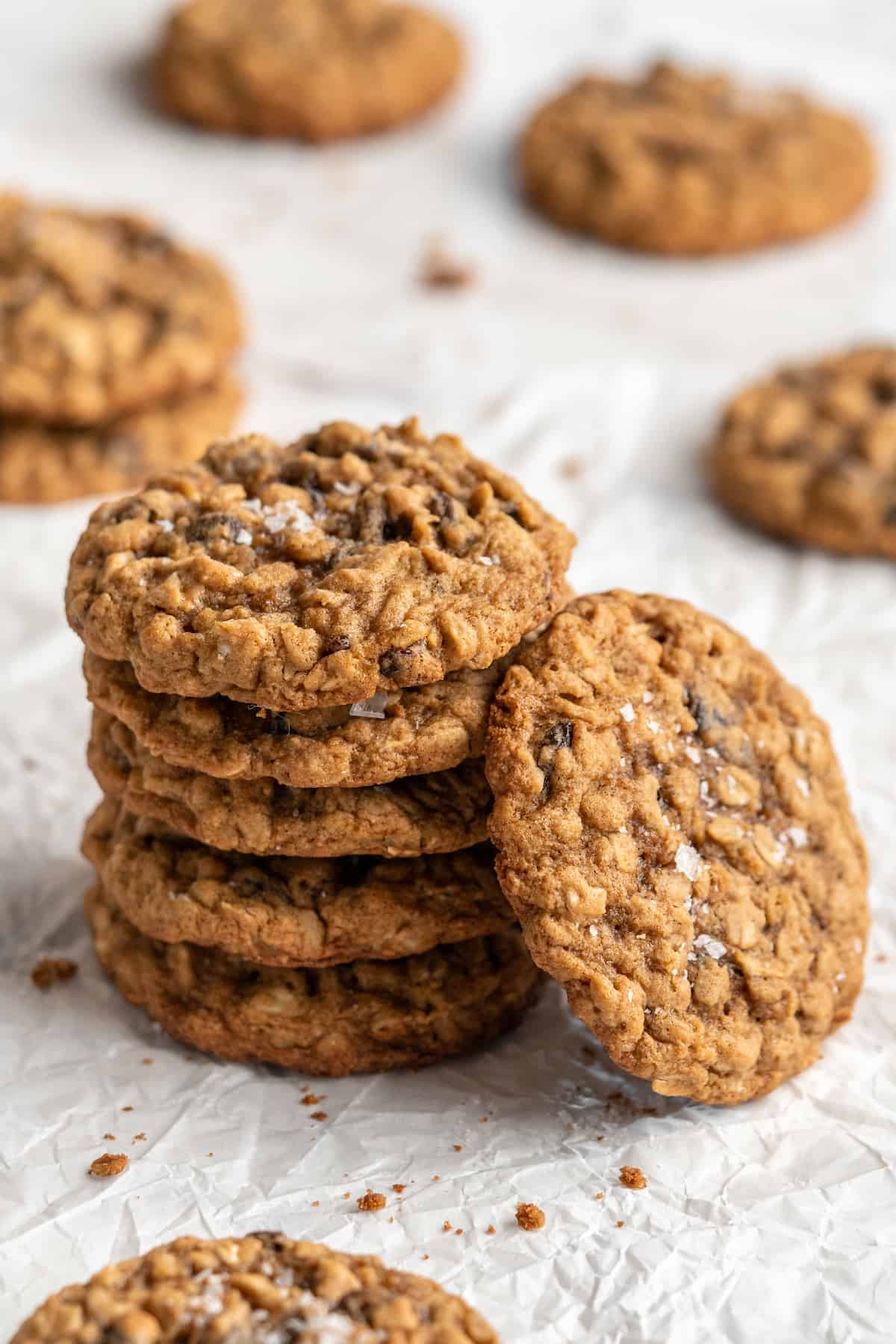 Variations
As mentioned above, I don't recommend making big changes to the base of this recipe. One exception is that you can make these gluten-free vegan oatmeal cookies by substituting a measure-for-measure gluten-free all-purpose flour.
If you're not a fan of raisins, you can swap those for chopped nuts or chocolate chips, but be sure to use the same amount.
How to Store
Store vegan oatmeal cookies in an airtight container at room temperature for up to 5 days.
Can I Freeze This Recipe?
You can freeze these vegan oatmeal cookies before or after baking. To freeze them before, portion the dough into balls and freeze them on a tray lined with parchment paper. Once frozen, transfer the dough balls to an airtight container or freezer bag and store in the freezer for up to 3 months. When ready to bake, simply place the frozen dough balls on a baking sheet and bake as directed, adding a few extra minutes to the baking time.
To freeze after baking, let the cookies cool completely and then place them in an airtight container or freezer bag. Freeze for up to 3 months and thaw at room temperature before enjoying.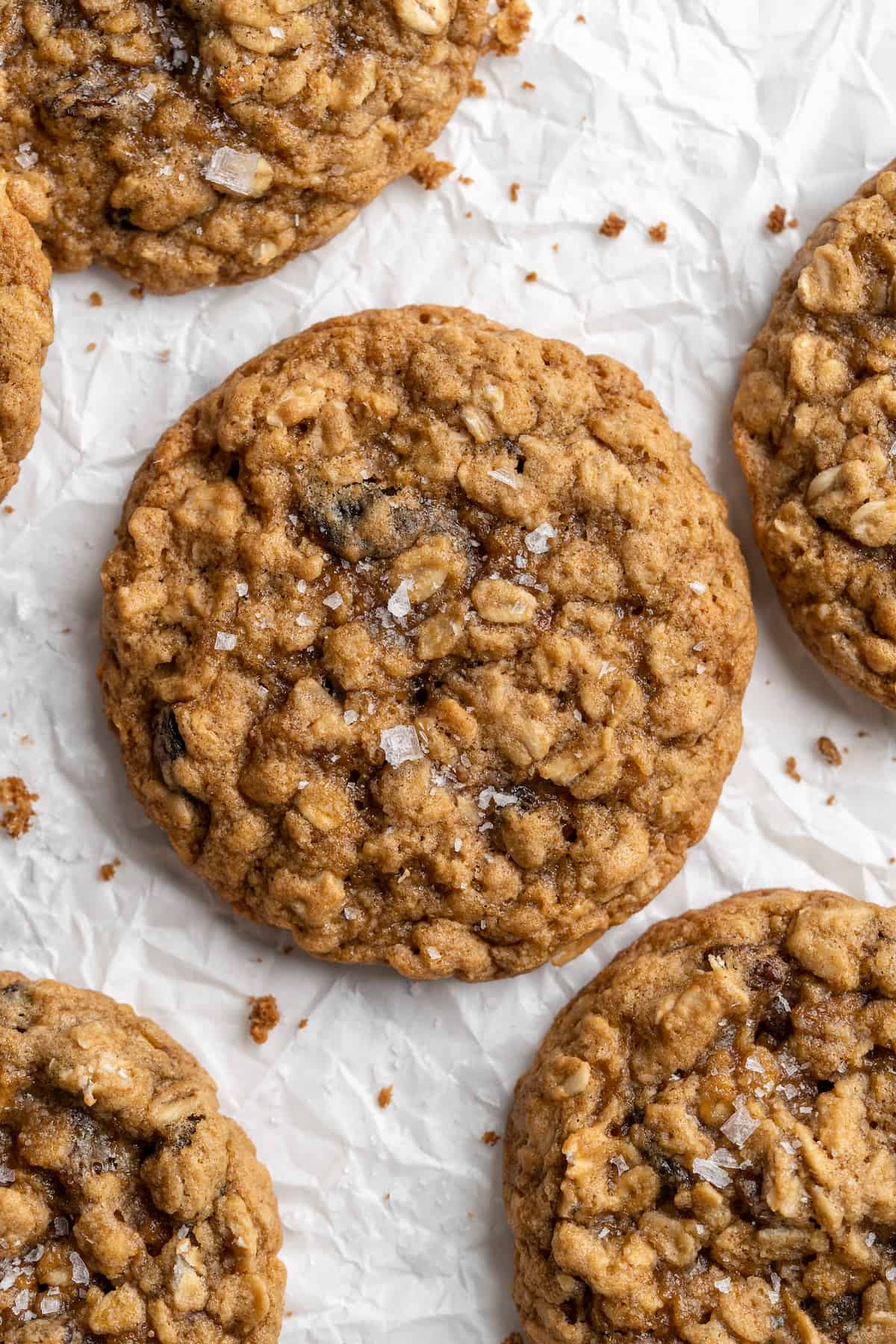 More Vegan Cookie Recipes
Enjoy friends! If you make this vegan oatmeal cookie recipe, please snap a photo and tag #jessicainthekitchen on Instagram! We'd also love it if you would leave a comment below, and give the recipe a rating! Thanks so much!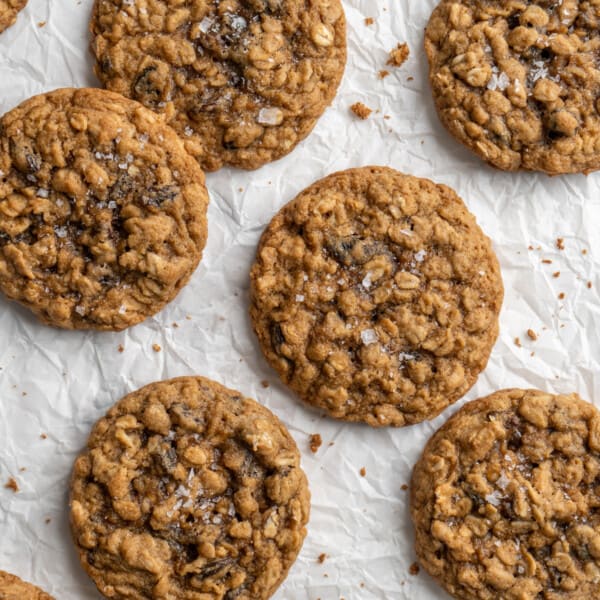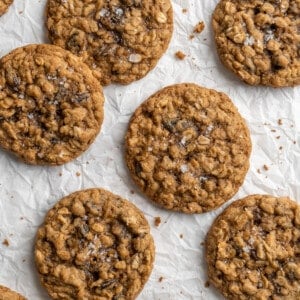 Vegan Oatmeal Cookies
With the perfect chewy texture, hearty oats, and cinnamon raisin flavour, these vegan oatmeal cookies are an old-fashioned favourite!
Ingredients
½ cup vegan butter, room temperature (112g)*
1 cup brown sugar, (200g)
2 flax eggs, (set in the fridge prior to for 15 minutes)
1 ½ cups old fashioned rolled oats, aka rolled oats
1 cup all purpose flour, (120g)
2 teaspoons baking soda
½ teaspoon ground cinnamon
½ teaspoon sea salt
1 teaspoon vanilla extract
1 tablespoon pure cane molasses, optional BUT highly recommended**
¾ cup raisins
Instructions
Line a large baking sheet or two smaller baking sheets with silicone mats or parchment paper.

In a bowl sift together the flour, baking soda, cinnamon and sea salt to combine. Set aside.

In a larger bowl, mix together the vegan butter and sugar on medium speed for 3 minutes to cream together. Add in the flax egg and the vanilla extract, and mix for another 2 minutes on medium speed until the mixture is light and creamy and emulsified.

Add in the dry ingredients in two batches, mixing for 30 seconds each until the dry mixture is just combined, scraping down the sides to combine. If you're using the molasses, fold it in completely here. Fold in your oats, then your raisins, until completely folded in. I use a spatula for this step.

Cover your dough and place in the fridge for 1 hour to chill. Preheat your oven to 350°F/180°C near the last 15 minutes of chill time.

Using 2 tablespoons per cookie, scoop the dough and roll into a ball. The dough should be thick and easy to roll. Feel free to add extra raisins on top.  Place on the baking sheet, allowing at least 2 inches of space between each cookie.

Bake for 12-14 minutes.

Remove from oven.

Allow to cool on the baking sheet for at least 5-10 minutes (trust me) outside of the oven, then transfer to a wire rack. You don't want to disturb them before that – the cookies are still cooking from the residual heat. Serve and enjoy! Store the cookies in an airtight container once cooled, or leave them on the wire rack.
Notes
** I understand that not everyone has molasses, and the cookies taste fantastic without it, but I REALLY loved the depth that the molasses added to this recipe. If you have it, fold it in right before you add in your oats and raisins!
Get your cookie dough balls nice and round. This yields a beautiful end cookie.
Give each cookie enough space to bake. You want to leave at least 2 inches between each because they spread. I used two cookie sheets and put them on the middle rack.
Allow the cookies to cool. Trust me! When they're done, I let them cool on the cookie sheet *OFF* (I move them to an oven mitt or trivet while still on the cookie sheet) the stove for 5 minutes. This helps them to set, without over baking them.
You can easily substitute gluten free flour by weight.
Don't substitute the ingredients other than the flour, or if you do, don't expect they'll need the same time. That also counts for smaller or larger cookies. Smaller cookies will bake quicker, larger cookies will take longer.
The chill time of 1 hour means you can pop your cookies out, roll them into balls and then make them for the perfect result. Remember to preheat your oven within about the last 15 minutes so it lines up beautifully. If you chill them for too short, they'll spread too much. If you overchill them, they won't spread as beautifully. If you have to leave them in for longer than the 1 hour up to 2 hours, take them out and place them on your counter for about 15 minutes to slightly soften up. If you have to leave them in longer to overnight, take them out and place them on your counter for about 20 minutes to slightly soften up. Then roll them up!
Calories: 162kcal, Carbohydrates: 28g, Protein: 2g, Fat: 5g, Saturated Fat: 1g, Polyunsaturated Fat: 2g, Monounsaturated Fat: 2g, Trans Fat: 0.03g, Sodium: 233mg, Potassium: 126mg, Fiber: 2g, Sugar: 13g, Vitamin A: 240IU, Vitamin C: 0.3mg, Calcium: 22mg, Iron: 1mg
Disclaimer: Although jessicainthekitchen.com attempts to provide accurate nutritional information, kindly note that these are only estimates. Nutritional information may be affected based on the product type, the brand that was purchased, and in other unforeseeable ways. Jessicainthekitchen.com will not be held liable for any loss or damage resulting for your reliance on nutritional information. If you need to follow a specific caloric regimen, please consult your doctor first.