Vegan Gingerbread Men
These vegan gingerbread men are the perfect Christmas cookie. They're fun, spicy, and easy to make, and will be a hit at any holiday party.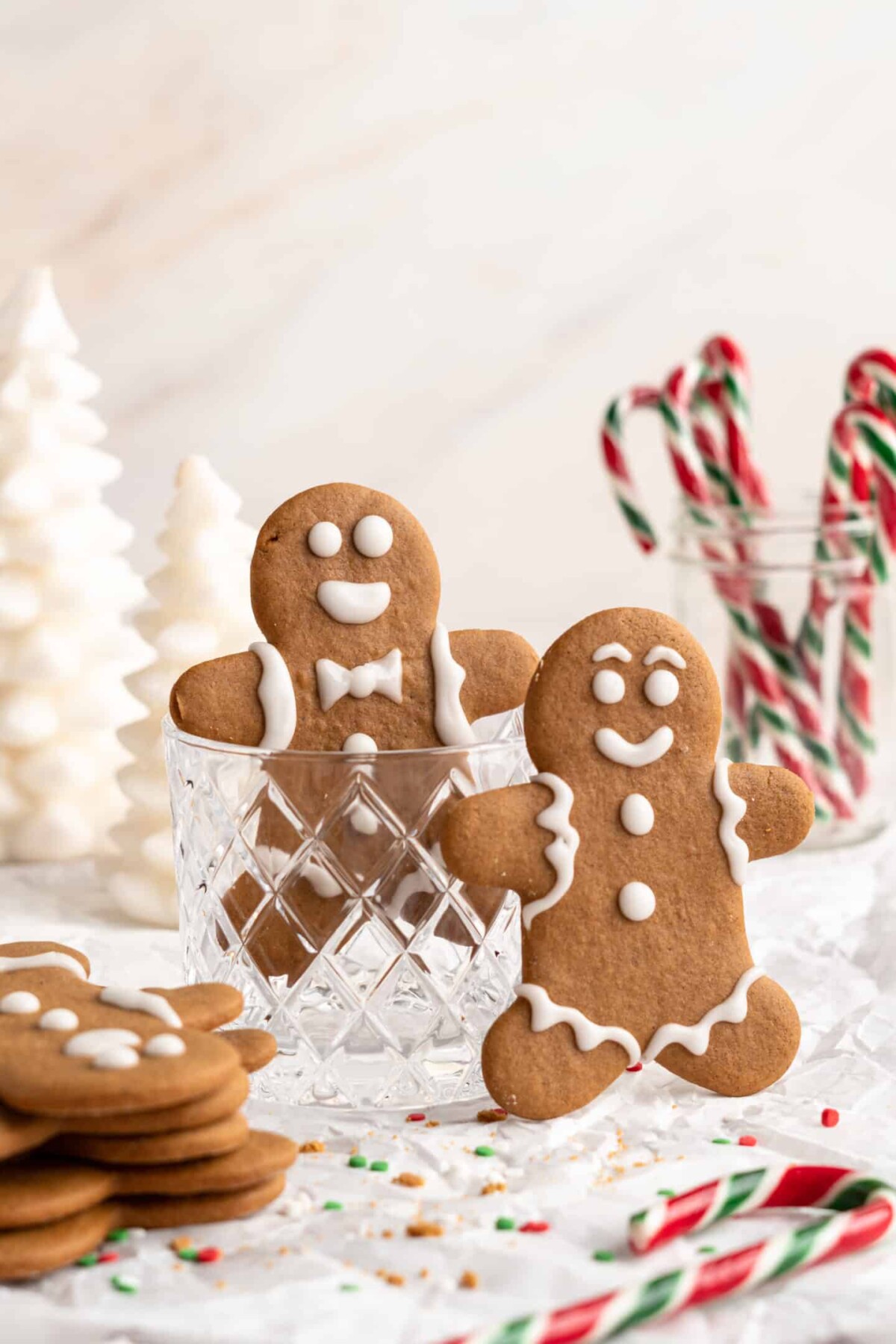 Christmas cookies are one of my favorite things. What better way to get in the mood for the holidays than by throwing on some Christmas carols and baking some cookies? The fun of decorating, the amazing, comforting smell of your home as the cookies bake in the oven, and of course, the best part: eating them. This recipe for vegan gingerbread men is one of my go-tos at Christmas. They're full of spicy flavors from the ginger, cloves, and cinnamon, but have that cozy, nostalgic flavor from the molasses, brown sugar, and nutmeg. They're the ideal holiday cookies and go perfectly with vegan hot chocolate or vegan eggnog.
These gingerbread men are also pretty easy to make, and a lot of fun to decorate. And they're vegan! If you need a cookie to adorn your Christmas dinner table this year, these are the ones for you.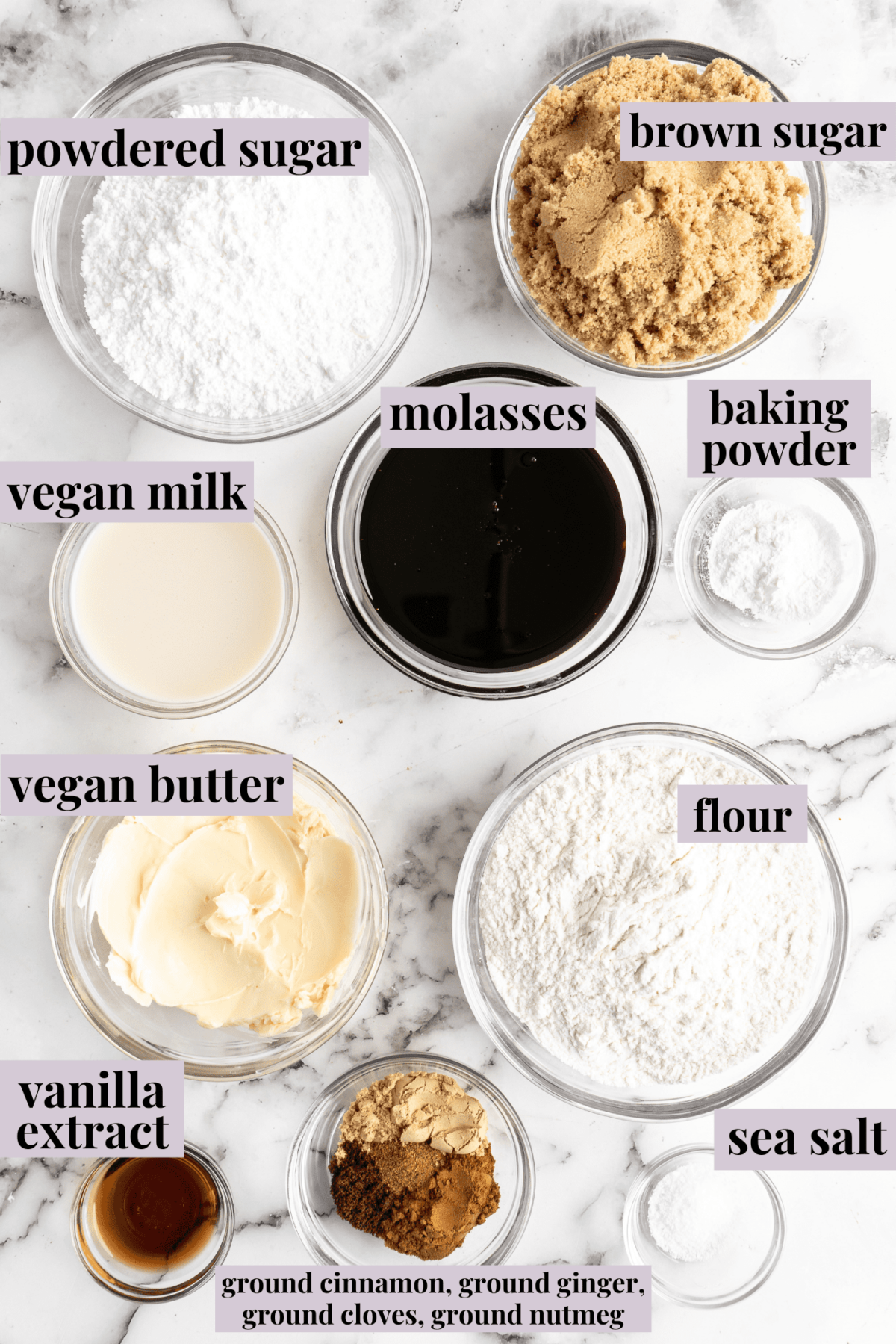 Notes on Ingredients
Here are all the ingredients that you need to make vegan gingerbread men. Make sure to scroll to the recipe card at the bottom of the page to see the exact quantities for each ingredient.
For the Cookies:
All-purpose flour
Baking powder
Ground cinnamon
Ground ginger
Ground cloves
Ground nutmeg – It's best to use fresh nutmeg and grate it yourself.
Kosher salt
Vegan butter – Make sure to use unsalted butter.
Light brown sugar
Molasses
Vanilla extract – Be sure to use 100% pure vanilla extract.
For the Frosting:
Powdered sugar
Vanilla extract
Dairy-free milk – You can use any type of vegan milk that you prefer, just make sure that it's unsweetened and not flavored.
How to Make Gingerbread Men
Here's how to make these fun and easy Christmas cookies.
Mix the dry ingredients. Combine the flour, baking powder, cinnamon, ginger, cloves, nutmeg, and salt in a bowl, and stir until mixed.
Mix the wet ingredients. Place the butter, molasses, vanilla, and brown sugar in a bowl, and beat with an electric mixer until creamy. This should take about a minute.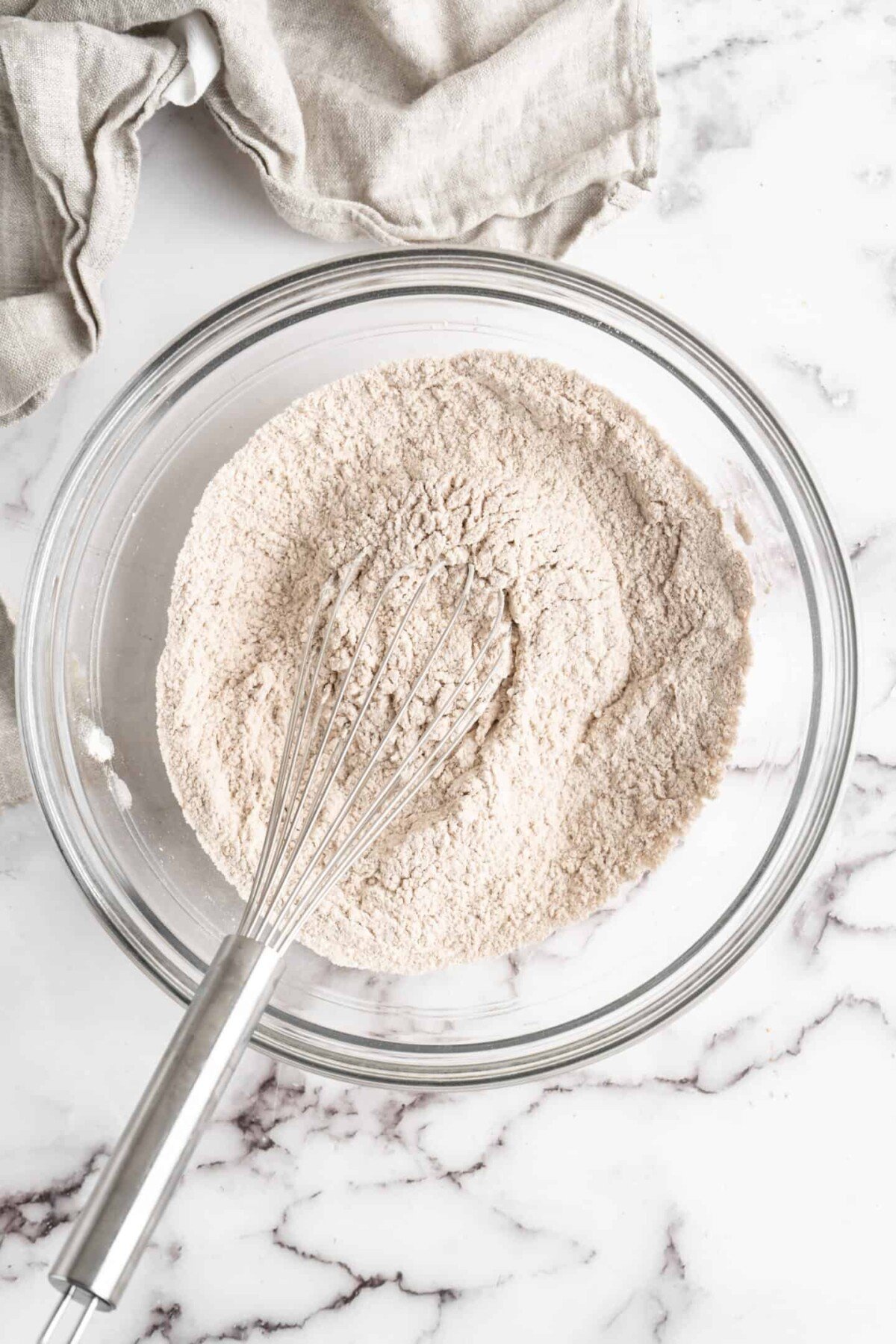 Combine the wet and dry ingredients. Add a third of the dry ingredients to the bowl with the wet ingredients, and beat until well combined. Repeat until all of the dry mixture has been added.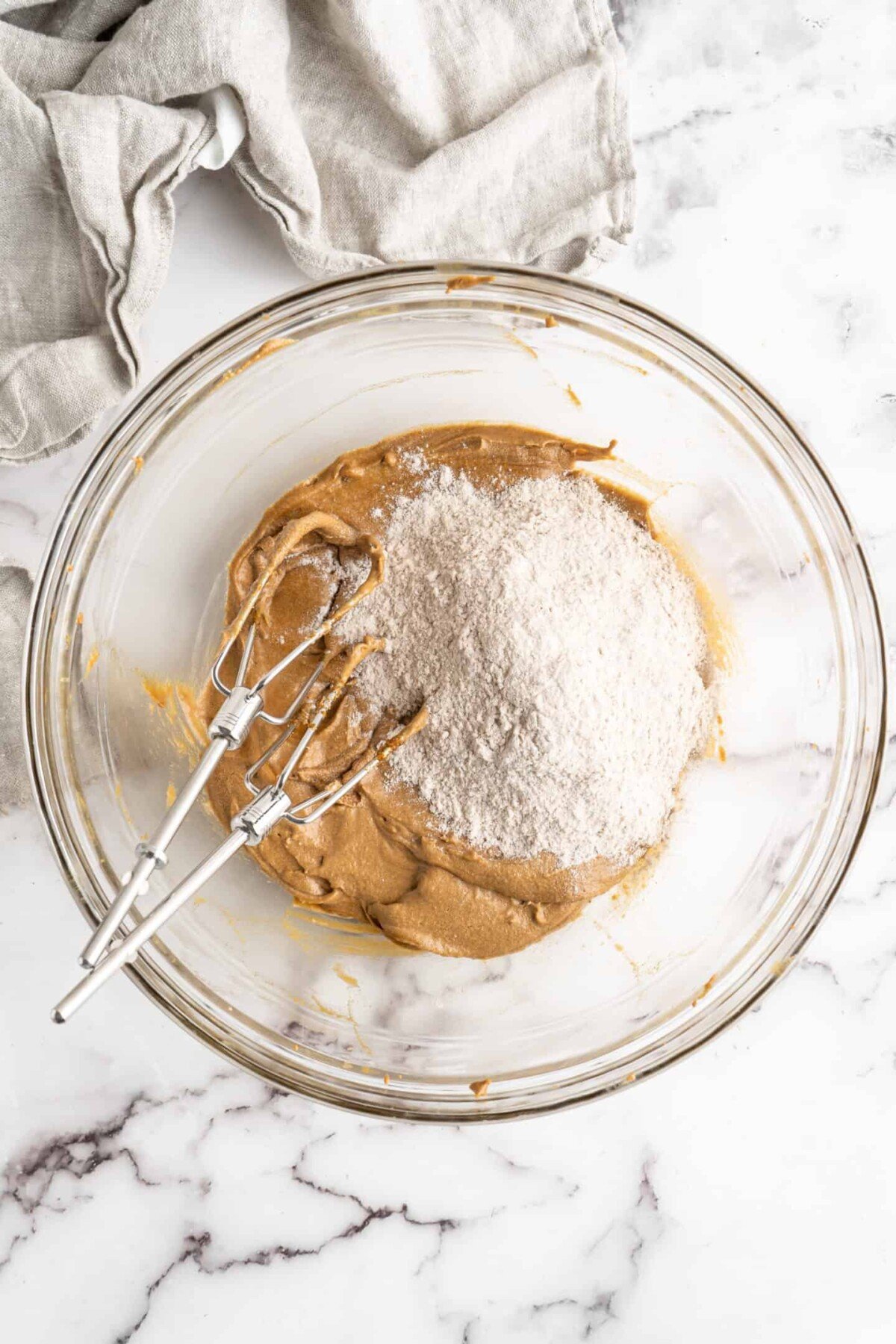 Chill. Divide the dough into two pieces. Shape each piece into a thick disk, cover in plastic wrap, and place in the fridge for at least an hour.
Prep. When you're ready to make the cookies, preheat the oven to 350F and line a baking sheet with parchment paper or a silpat.
Roll the dough. Place one of the disks of dough on a lightly-floured surface, and roll it out until it's about ⅛-inch thick. If you have the space, repeat the process with the other disk.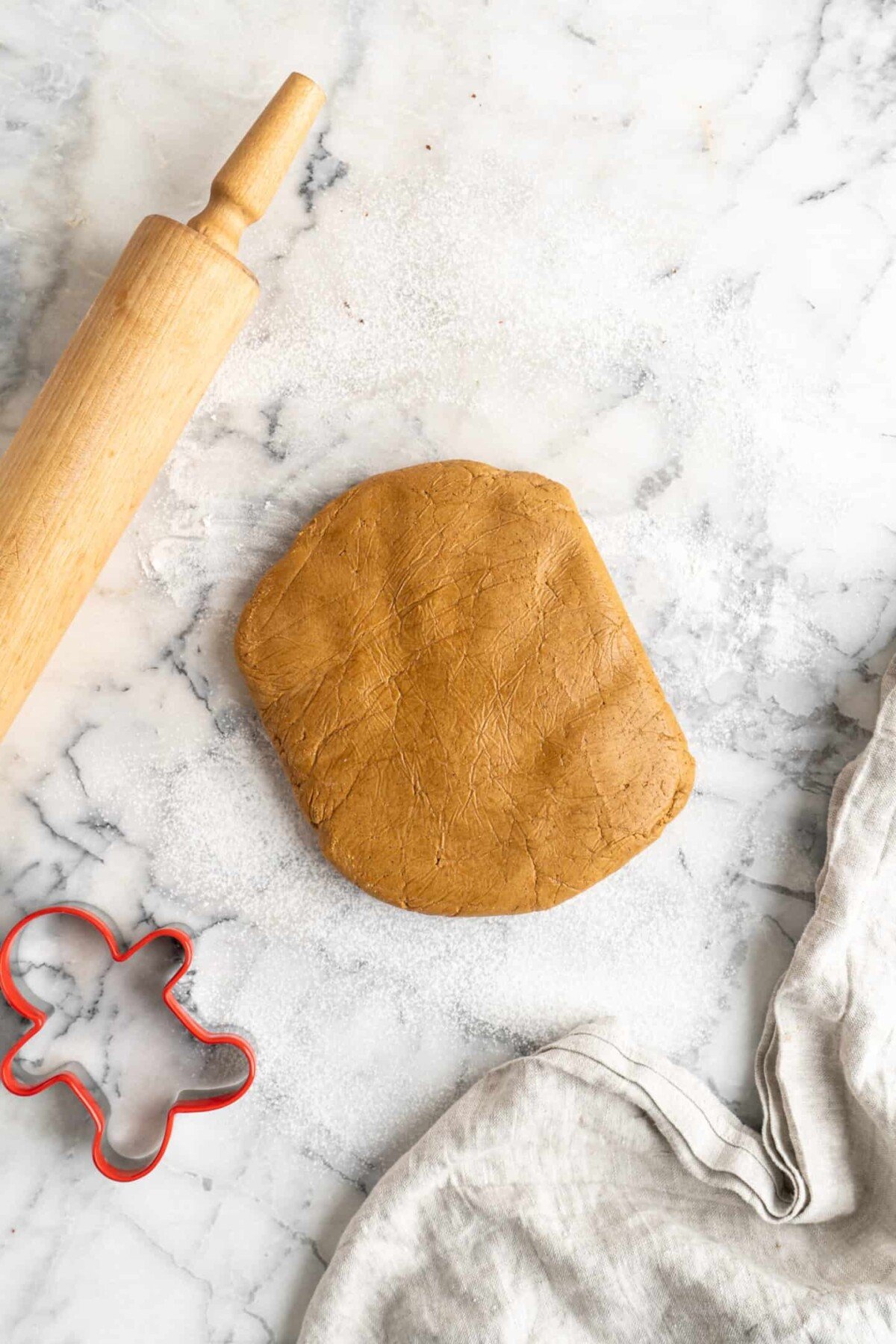 Shape the dough. Use gingerbread men cookie cutters to cut out gingerbread men from the dough. Place them onto the baking sheet, making sure they're not touching.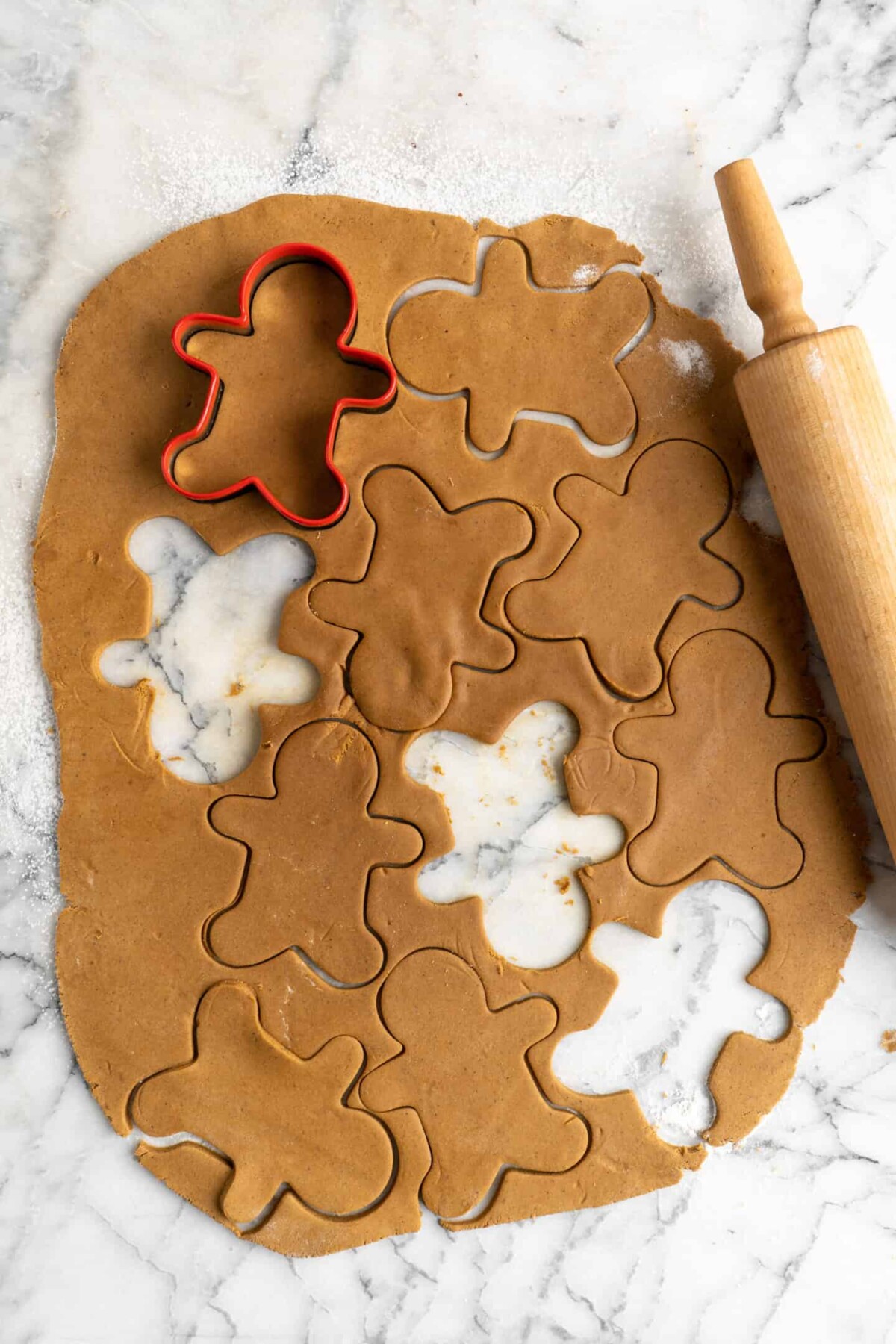 Bake. Put the baking sheet in the oven and bake until the gingerbread men are firm around the edges, which should take 8-10 minutes.
Cool. Let the cookies cool for 5 minutes on the baking sheet, then move them to a cooling rack.
Make the frosting. Add the powdered sugar, vanilla, and some of the milk to a mixing bowl, and beat until smooth. Keep adding milk while beating, until the frosting is the desired consistency.
Decorate. Add the frosting to a piping bag, or use an offset spatula to frost the cookies. Cover with any sprinkles or edible decorations, then let rest a few minutes while the frosting hardens. Then devour!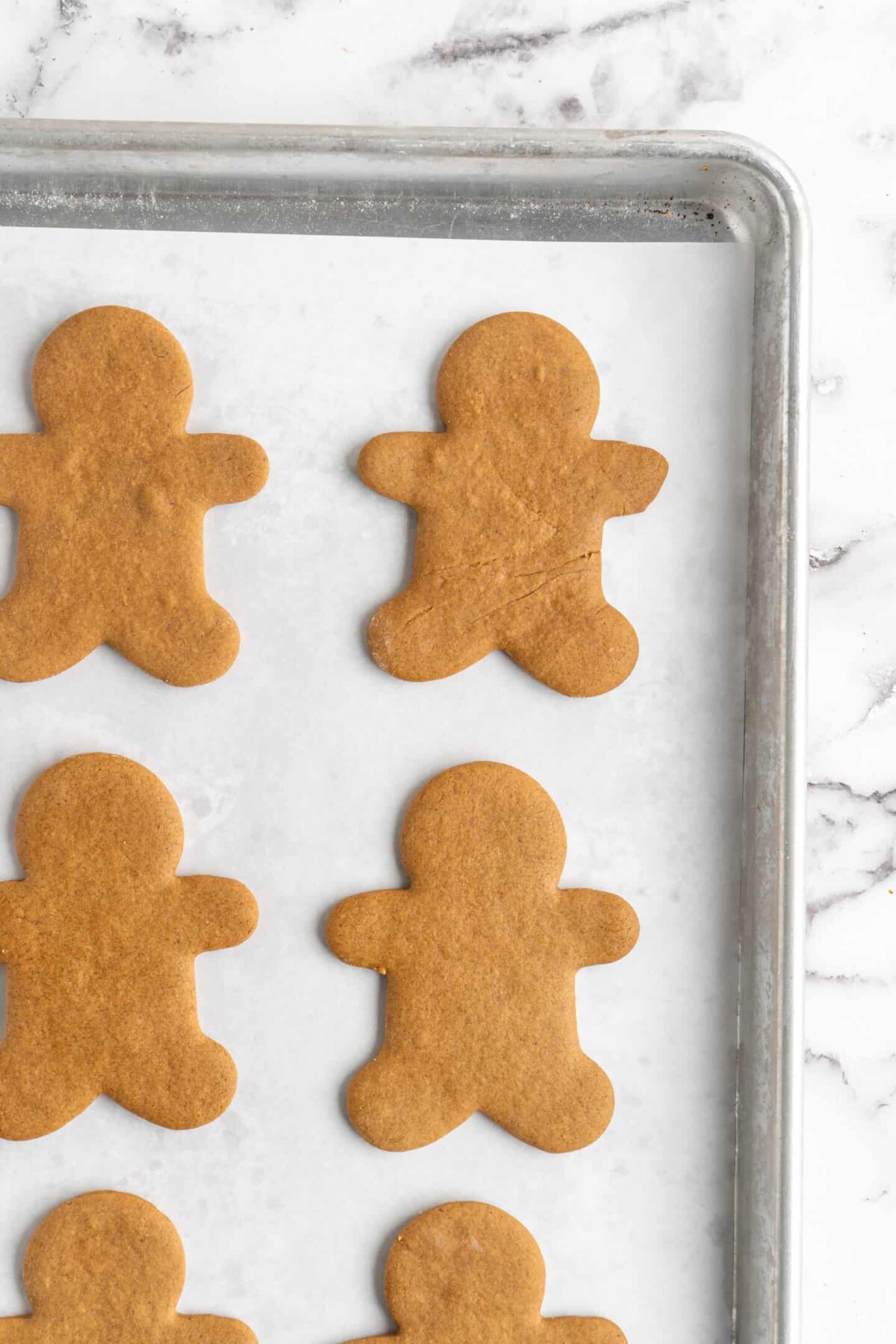 Tips for the Best Gingerbread Men
Here are some tips and tricks for making these festive vegan cookies.
Chill the dough. This recipe calls to chill the dough for at least 1 hour. But you'll get an ever better cookie if you chill the dough longer than that. If you chill the spicy cookie dough for a few hours, or even overnight, the texture of the cookies will get even better, and the flavors will really meld together.
Use softened butter. It's important to use softened dairy-free butter when making this vegan gingerbread men recipe. Butter that's soft will mix well with the rest of the ingredients, and cream more easily. As a result, you'll end up with cookies that are perfectly smooth and soft. Using hard butter or melted butter will alter the texture of the cookies.
Cool the cookies fully. Make sure that your cookies are completely cooled before you start decorating them. If the cookies aren't entirely cooled, they might melt the frosting when you decorate.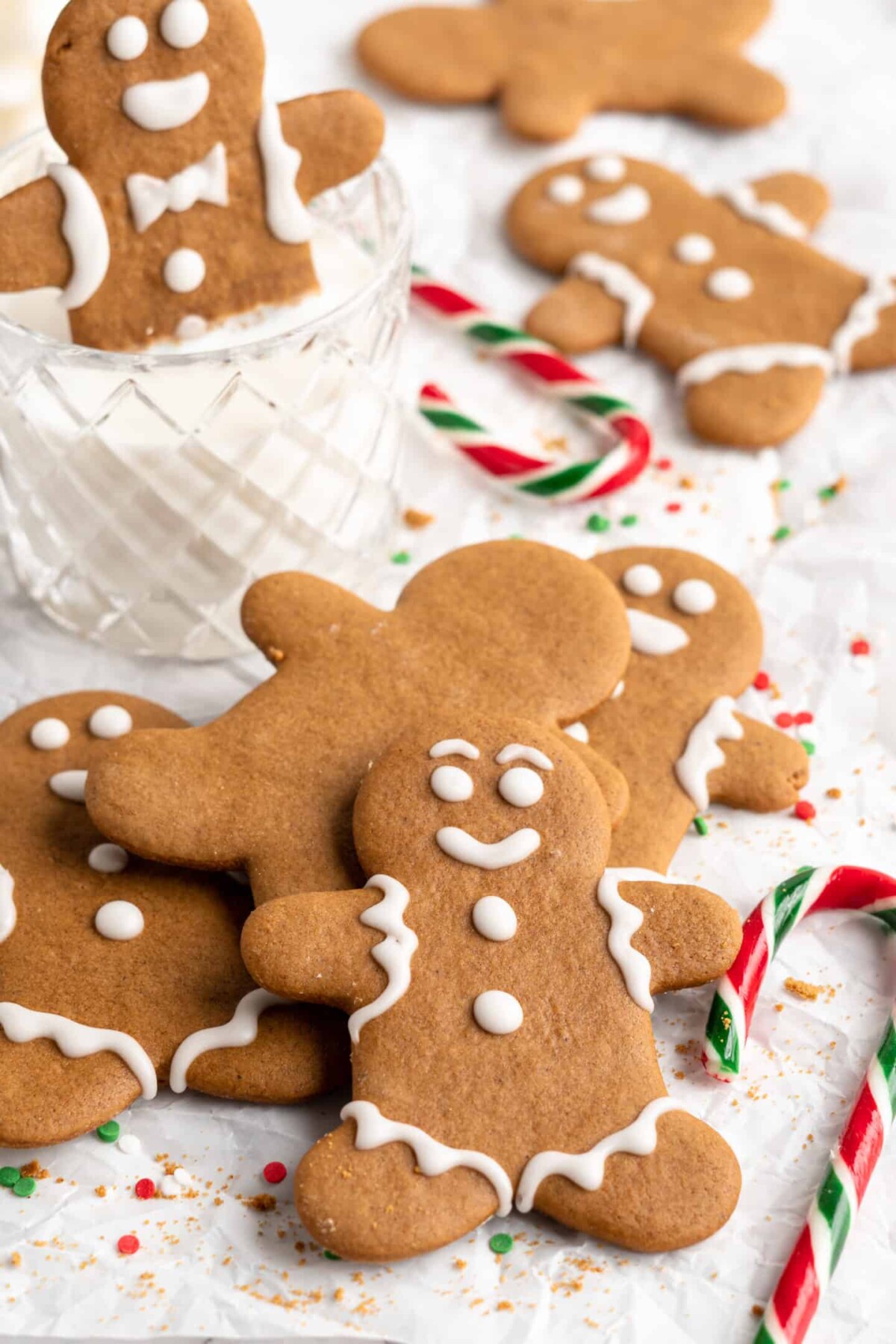 How to Store These Cookies
You can store these vegan gingerbread men in an airtight container or bag. They'll last for 5 days at room temperature, or for 10 days in the fridge.
Can I Freeze Gingerbread Men?
You sure can! Store these cookies in an airtight container or bag in the freezer and they'll last for up to 4 months. Thaw them in the fridge or at room temperature until they're defrosted.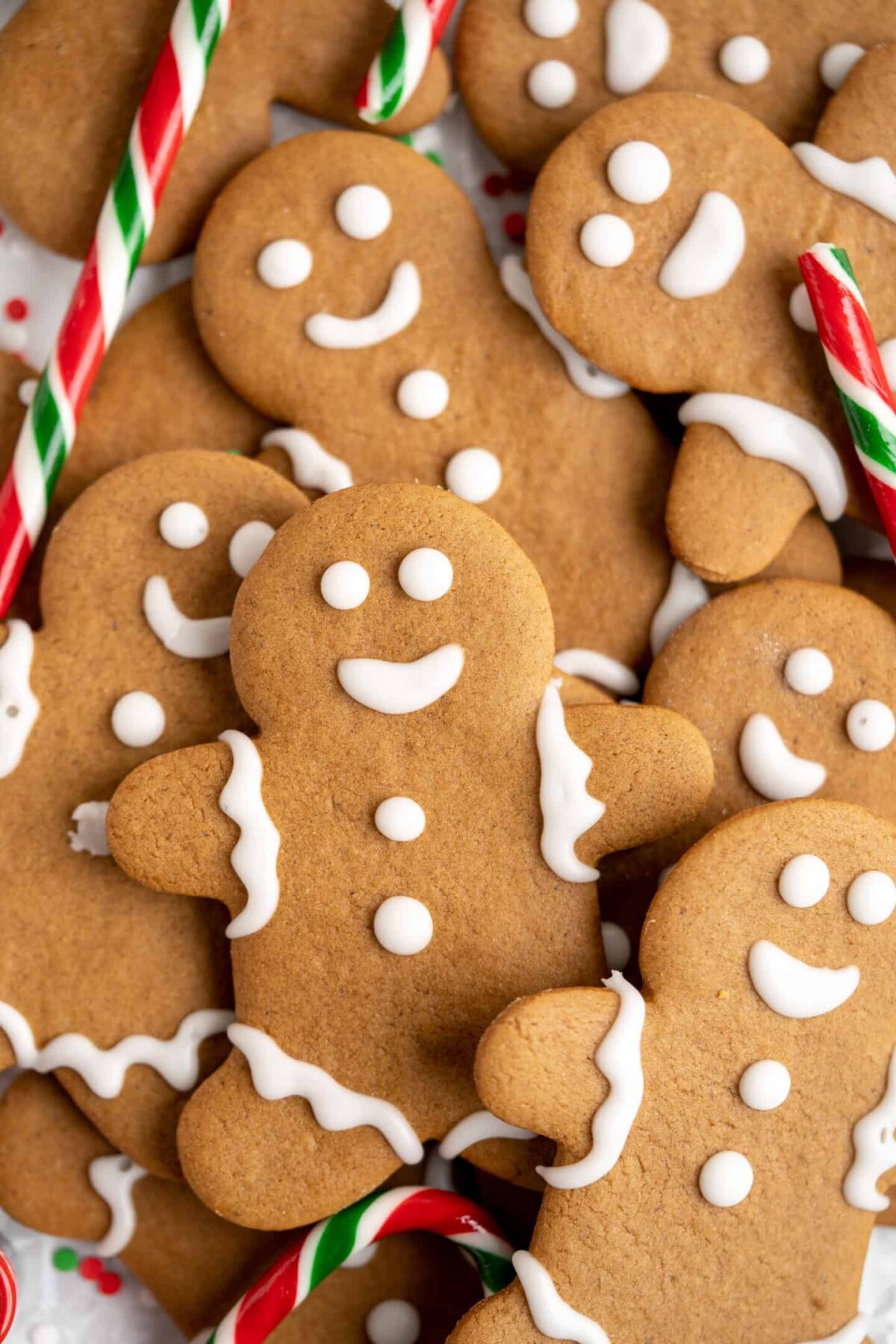 More Holiday Cookies to Make
Christmas is the season for baking cookies, so don't stop here! After you've made these vegan gingerbread men, try some of my other favorite holiday cookie recipes.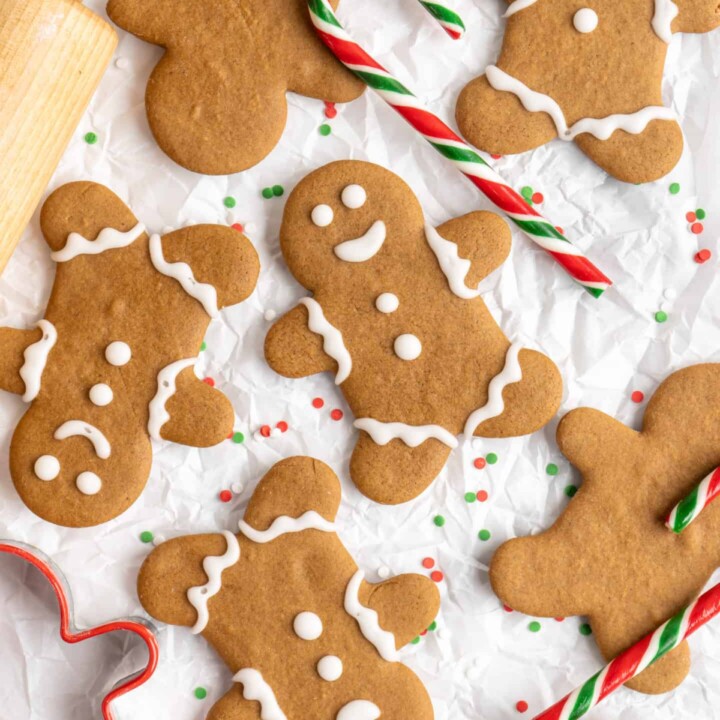 Vegan Gingerbread Men
This vegan gingerbread men recipe is perfect for a Christmas party. The cookies are sweet and spicy, fun to decorate, and super festive.
Ingredients
For the Cookies:
1 ½ cups all-purpose flour
1 tsp baking powder
2 tsp ground cinnamon
2 tsp ground ginger
¼ tsp ground cloves
¼ tsp ground nutmeg
½ tsp kosher salt
6 tbsp vegan butter, softened
1 cup light brown sugar, packed
½ cup molasses
½ tsp vanilla extract
For the Frosting:
1 cup powdered sugar
½ tsp vanilla extract
1-3 tsp dairy-free milk
Instructions
In a mixing bowl, combine the flour, baking powder, cinnamon, ginger, cloves, nutmeg, and salt.

In a separate large mixing bowl, use an electric mixer to beat together the softened butter, brown sugar, molasses, and vanilla until smooth and creamy, about 1 minute.

Add the dry ingredient mixture to the wet ingredient mixture in three increments, mixing well between each addition.

Divide the dough in half and shape each into a thick disk. Wrap each disk in plastic wrap and chill for at least an hour and up to 3 days.

When you're ready to bake, preheat the oven to 350°F and line a baking sheet with parchment paper.

On a lightly-floured work surface, working with one portion of dough at a time, roll the dough into a circle about 1⁄8 inch thick. Use cookie cutters to shape the dough, and transfer to the prepared baking sheet, leaving space between each cookie.

Bake for 8 to 10 minutes, until firm around the edges. Cool for 5 minutes on the baking sheet, then transfer to a cooling rack to cool completely. Repeat with the remaining dough.

To make the frosting, combine the powdered sugar, vanilla, and 1 tablespoon milk in a mixing bowl, and beatwith an electric mixer until stiff and smooth. Add 1-2 tablespoons more milk, 1 tablespoon at a time, until the frosting is a smooth, spreadable texture.

When the cookies are cool, fill a pastry bag with frosting and decorate the cookies, or use a butter knife or offset spatula to spread frosting over the gingerbread men. Let the frosting set up and harden for a few minutes before serving or storing.
Notes
Store in an airtight container at room temperature for up to 5 days, in the fridge for up to 10 days, or in the freezer for up to 4 months. 
Calories: 188kcal, Carbohydrates: 38g, Protein: 1g, Fat: 4g, Saturated Fat: 1g, Polyunsaturated Fat: 1g, Monounsaturated Fat: 1g, Trans Fat: 0.02g, Sodium: 142mg, Potassium: 192mg, Fiber: 1g, Sugar: 29g, Vitamin A: 203IU, Vitamin C: 0.03mg, Calcium: 53mg, Iron: 1mg
Disclaimer: Although jessicainthekitchen.com attempts to provide accurate nutritional information, kindly note that these are only estimates. Nutritional information may be affected based on the product type, the brand that was purchased, and in other unforeseeable ways. Jessicainthekitchen.com will not be held liable for any loss or damage resulting for your reliance on nutritional information. If you need to follow a specific caloric regimen, please consult your doctor first.