Vegan Eggnog (Creamy & Heartwarming)
This Vegan Eggnog tastes so much like traditional eggnog it's unreal! It's creamy, comforting and SO easy to whip up in your blender!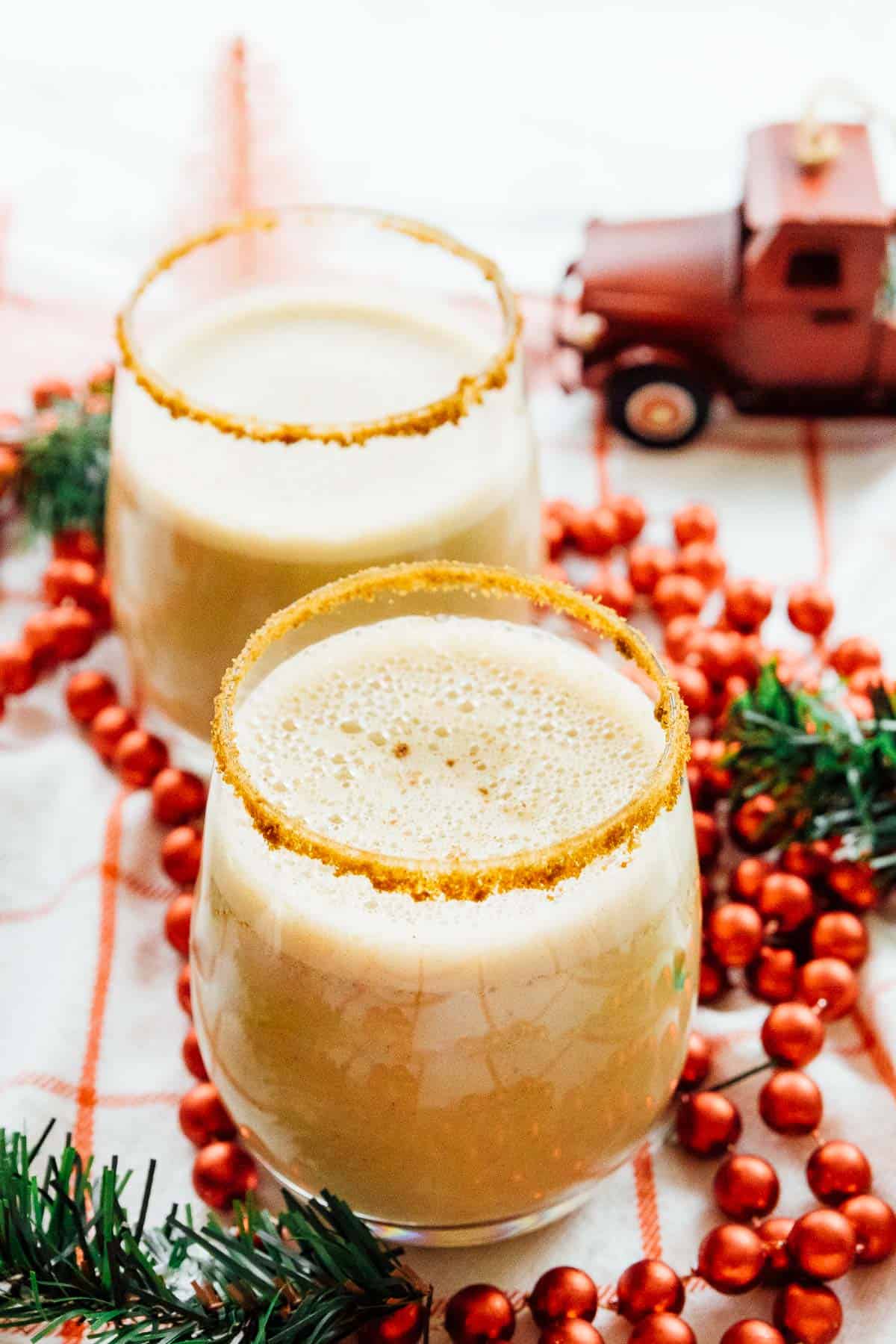 Before we dive into this waaaay too good recipe, I am so excited for Sunday's newsletter!! My designer Norel did such an amazing job so be sure to subscribe to get it! Onwards and upwards :).
I started making vegan eggnog last Christmas and it really blew me away. Rewind – I've had regular eggnog since as long as I can remember. I've made it so many times I was even asked to make it on TVJ's Smile Jamaica (a popular local morning show) several years ago. My dad was the first person I knew who was really into it, and when I started making it from scratch – it was asked for every single year.

Fast forward to now and being vegan, no one wants to ever miss out on the holiday fun, right? I guarantee you won't with this recipe. It is *shocking* how much the combination of cashews, almond milk and the right spices really make this drink taste like real and traditional eggnog. It's thick and creamy, smells like the holidays and so delicious. You can enjoy it cold like I love it, or warm it up in a sauce pan. Also – you can add alcohol to it – cause who doesn't love a boozy eggnog? Amiriteeee.
For me, that just goes to show that amazing food is all about the right ingredients and the taste factor. I know for a fact that I've never once felt like I was missing out. What I love the most is that it's actually way easier to make than regular eggnog. You blitz everything in a blender and that's it! It doesn't matter if you're vegan or not – you're going to love this.
Okay, I could go on forever, but long story short this Vegan Eggnog is:
– Thick & Creamy
– Made with cashews, almond milk, coconut sugar and spices. As simple as that.
– Easier than traditional eggnog
– Great hot or cold
– Smells like Christmas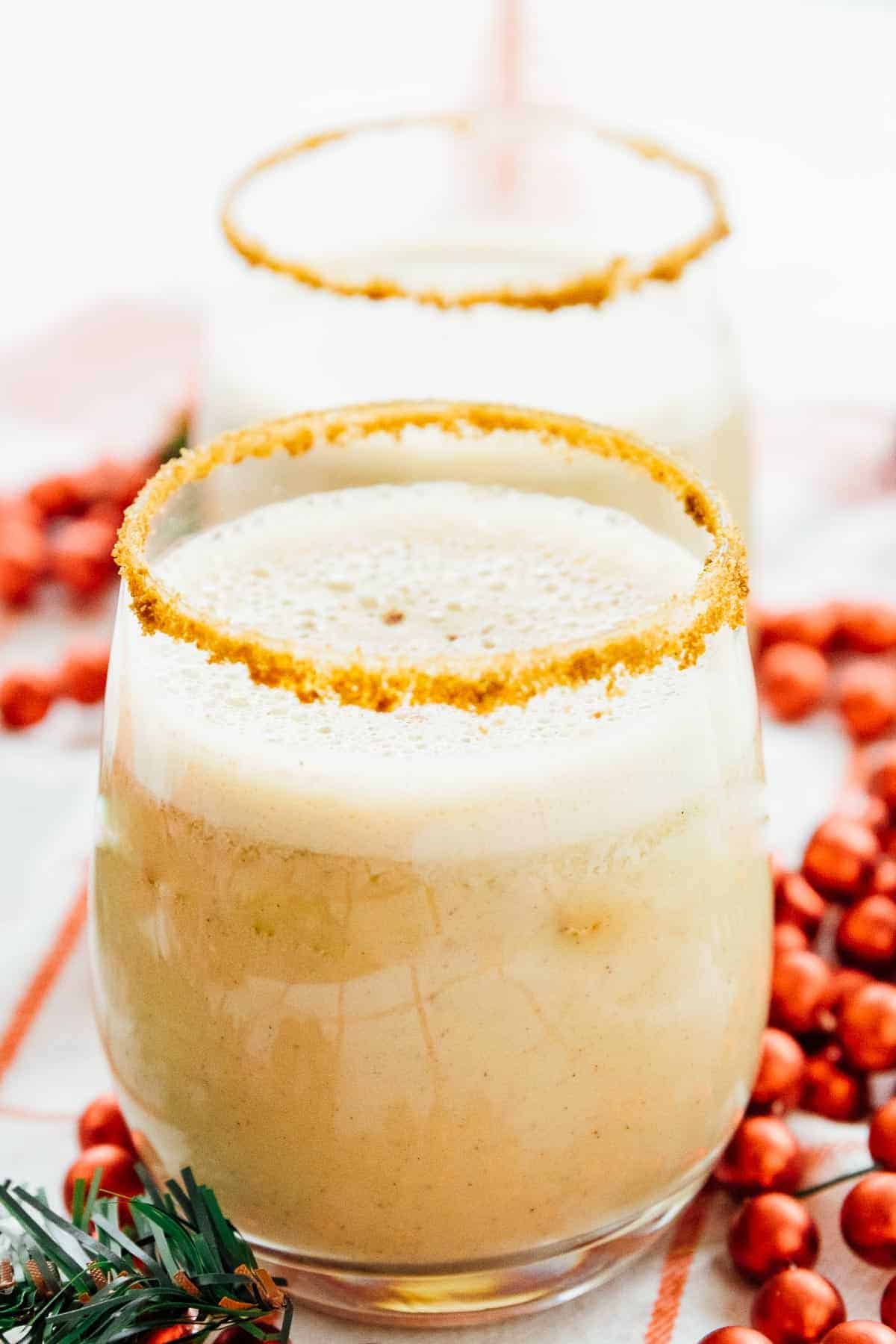 P.S. I've definitely made this Boozy Vegan Eggnog – make it yours! Speaking of which – who's making vegan eggnog ice cream with this?! Enjoy friends!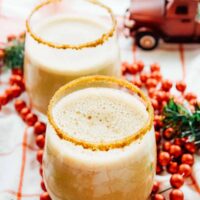 Vegan Eggnog (Creamy & Heartwarming)
This Vegan Eggnog tastes so much like traditional eggnog it's unreal! It's creamy, comforting and SO easy to whip up in your blender!
Ingredients
3 cups almond milk
1/2 cup soaked cashews, soaked overnight, rinsed and drained
1 teaspoon cinnamon
1 to 2 teaspoons pumpkin spice*
1/4 teaspoon sea salt
2/3 cup coconut sugar
1/2 teaspoon vanilla extract, optional
Instructions
Blend all the ingredients in your blender for 3 minutes, until completely blended.

Pour into glasses and enjoy! You can also enjoy this warm by heating is up slowly in a pot on the stove.
Notes
Notes
*I've used 1 teaspoon of pumpkin spice, and 2 teaspoons on a separate occasion – it's up to you how spiced you want it!
If you want your eggnog to be perfectly smooth, be sure to blend it long enough so that all of your spices blend in! Otherwise, you could definitely strain it if you want!
You can definitely add liquor to this if you want!
The pumpkin spice mix is to make life easier for you! You can definitely swap it out for equal parts of cinnamon, nutmeg, ginger, cloves and allspice!
Calories: 207kcal, Carbohydrates: 30g, Protein: 4g, Fat: 9g, Saturated Fat: 1g, Sodium: 444mg, Potassium: 106mg, Fiber: 1g, Sugar: 19g, Calcium: 239mg, Iron: 1mg
Disclaimer: Although jessicainthekitchen.com attempts to provide accurate nutritional information, kindly note that these are only estimates. Nutritional information may be affected based on the product type, the brand that was purchased, and in other unforeseeable ways. Jessicainthekitchen.com will not be held liable for any loss or damage resulting for your reliance on nutritional information. If you need to follow a specific caloric regimen, please consult your doctor first.