Vegan Pumpkin Cheesecake Swirl Brownies
These Vegan Pumpkin Cheesecake Swirl Brownies will amaze your tastebuds and your guests!! They taste fantastic, can be gluten free and are so easy to make!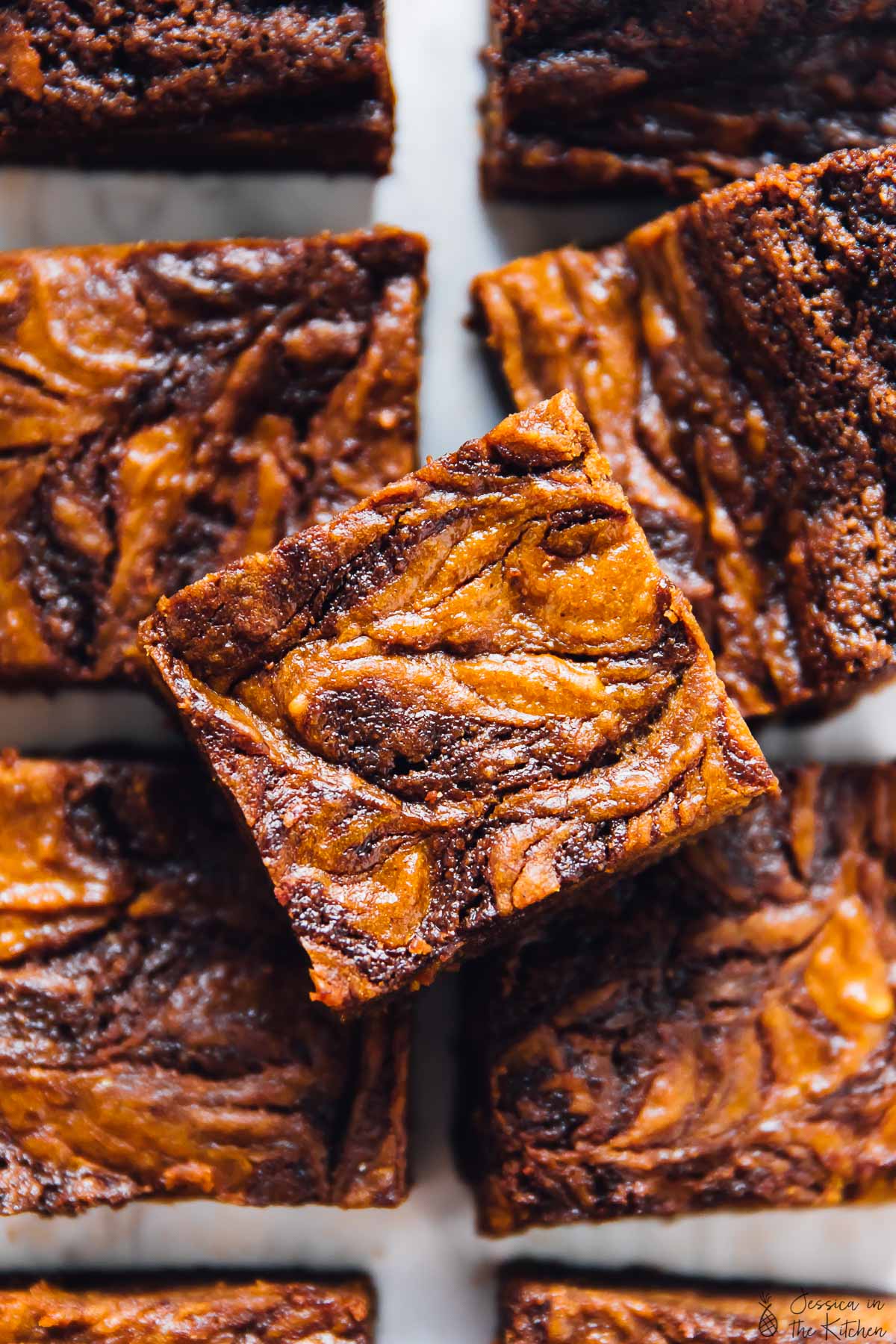 Two things before I dive into these divine brownies. 1) How is September over already?! I feel like it was just yesterday that I said Happy September to you guys and started the fall recipes party. 2) I have to admit – I'm reallyyyy looking to the next few months!! It's about to be dessert heaven every week around here just so I can share amazing recipes with you guys. Lots of recipe testing will be going on.
Oh the sacrifices I make ?! Now, right into these Vegan Pumpkin Cheesecake Swirl Brownies. Originally I was going to make these pumpkin swirl brownies but that just didn't seem right. The word cheesecake simply completed them so I re-did the recipe and it made them 10x better. Get ready for these because they are bomb.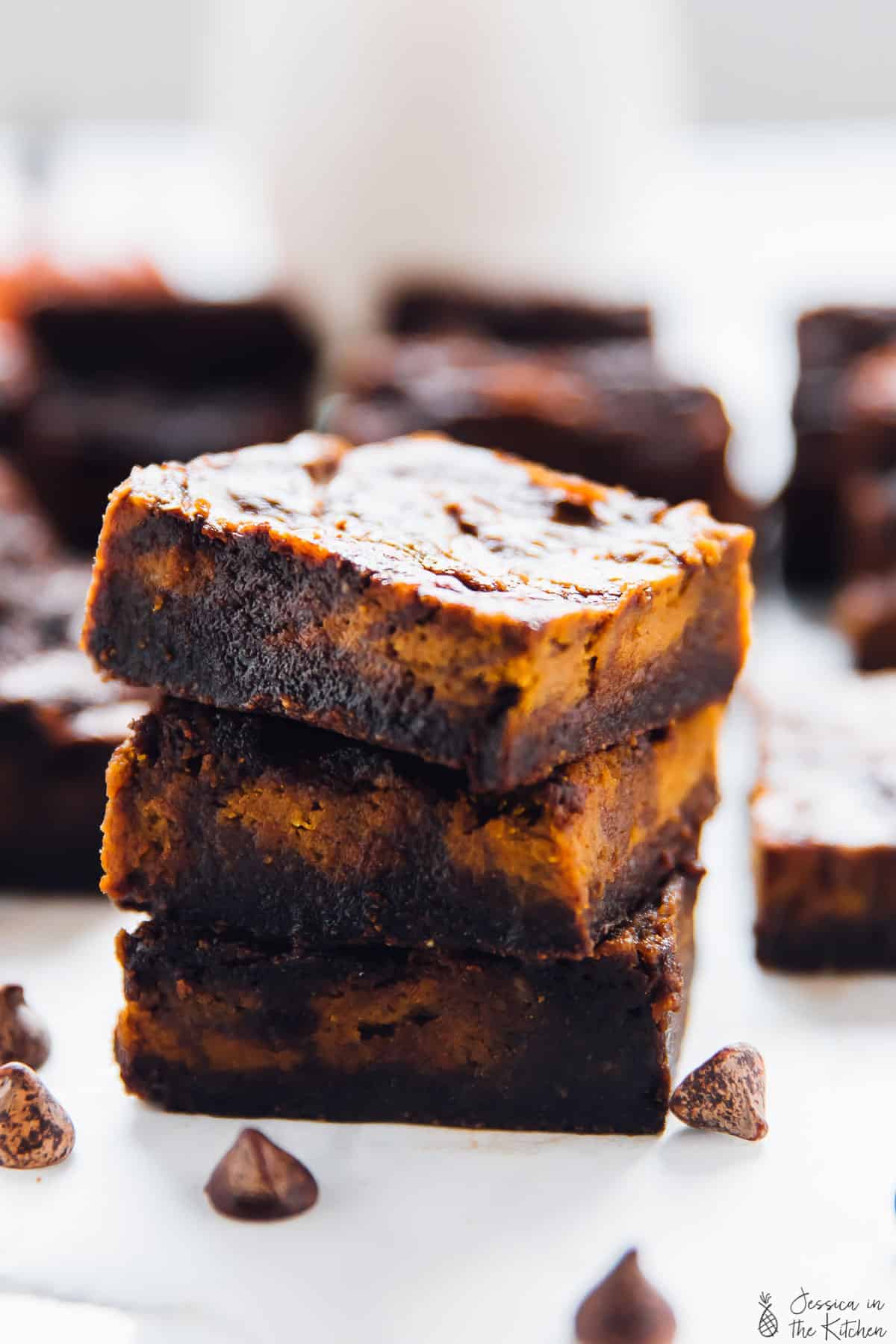 I'm currently swooning over these photos. Looking at them reminds me of mouthwatering these brownies were. Quick story: I love brownies. I'm a classic, chewy, fudgy brownie girl and when I ran my baking business they were always in the house. Since then I've switched things up, and tried vegan brownies , peppermint brownies and of course peanut butter brownies. Naturally, I fell in love all over again.
It's been a while since I've made a new brownie recipe, and knew I just had to make something fall themed. Naturally, pumpkin themed came to mind but I wanted them to be AMAZING. I searched through some of my old recipes and bam! The idea came to me for these pumpkin cheesecake swirl brownies.
I have to warn you: you WILL eat more than one of these.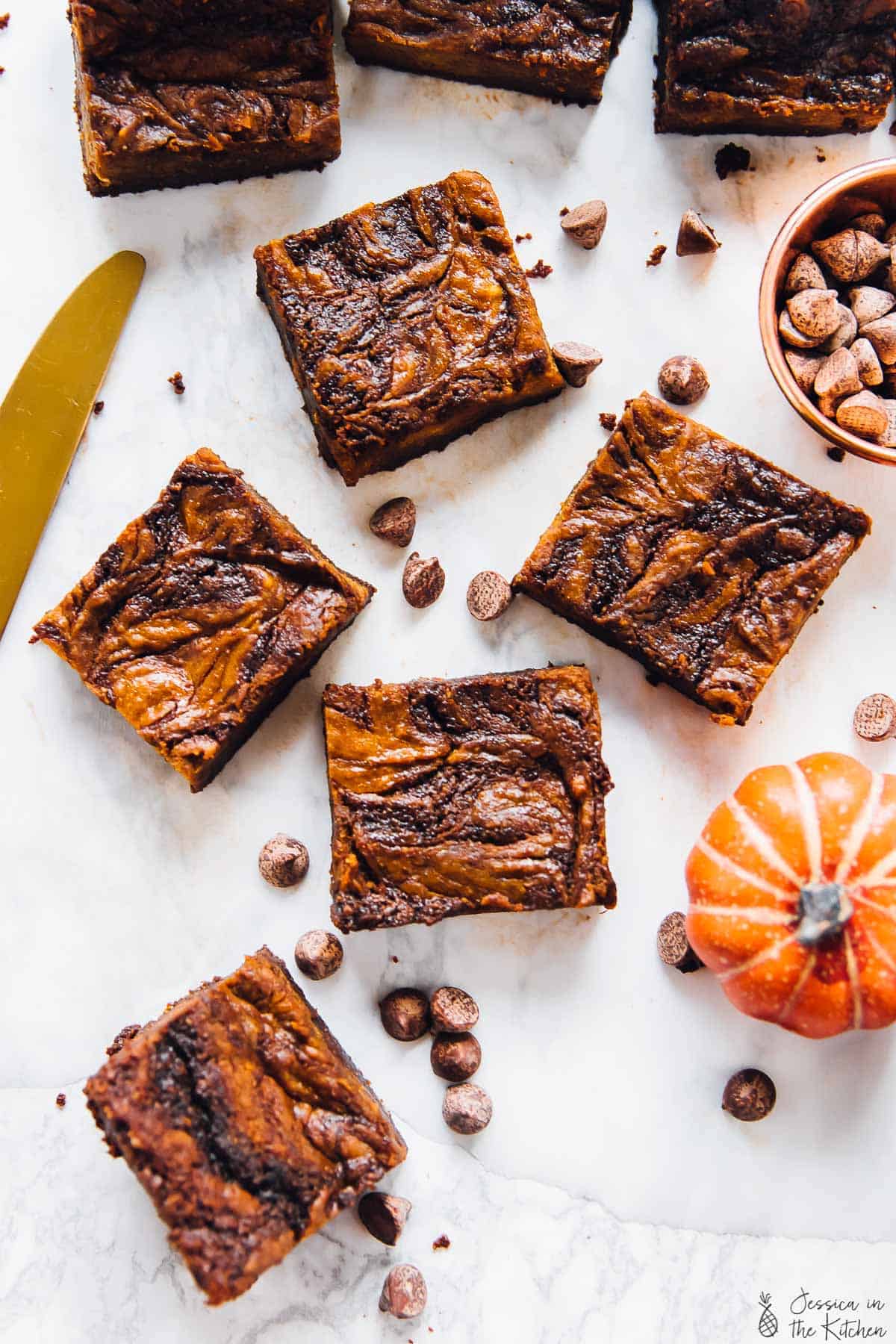 The pumpkin cheesecake swirl throughout these pumpkin cheesecake swirl brownies is magical stuff. I wanted the brownies to be basically half cheesecake half brownies and definitely succeeded with these. Within each bite you get a bit of both, plus that gorgeous colour. The trick with swirling is to not over do it. The first time I made these my swirl was PERFECT and I maybe got excited this time and went crazy with it. No worries because swirls are pretty much always gorgeous, and always, always delicious.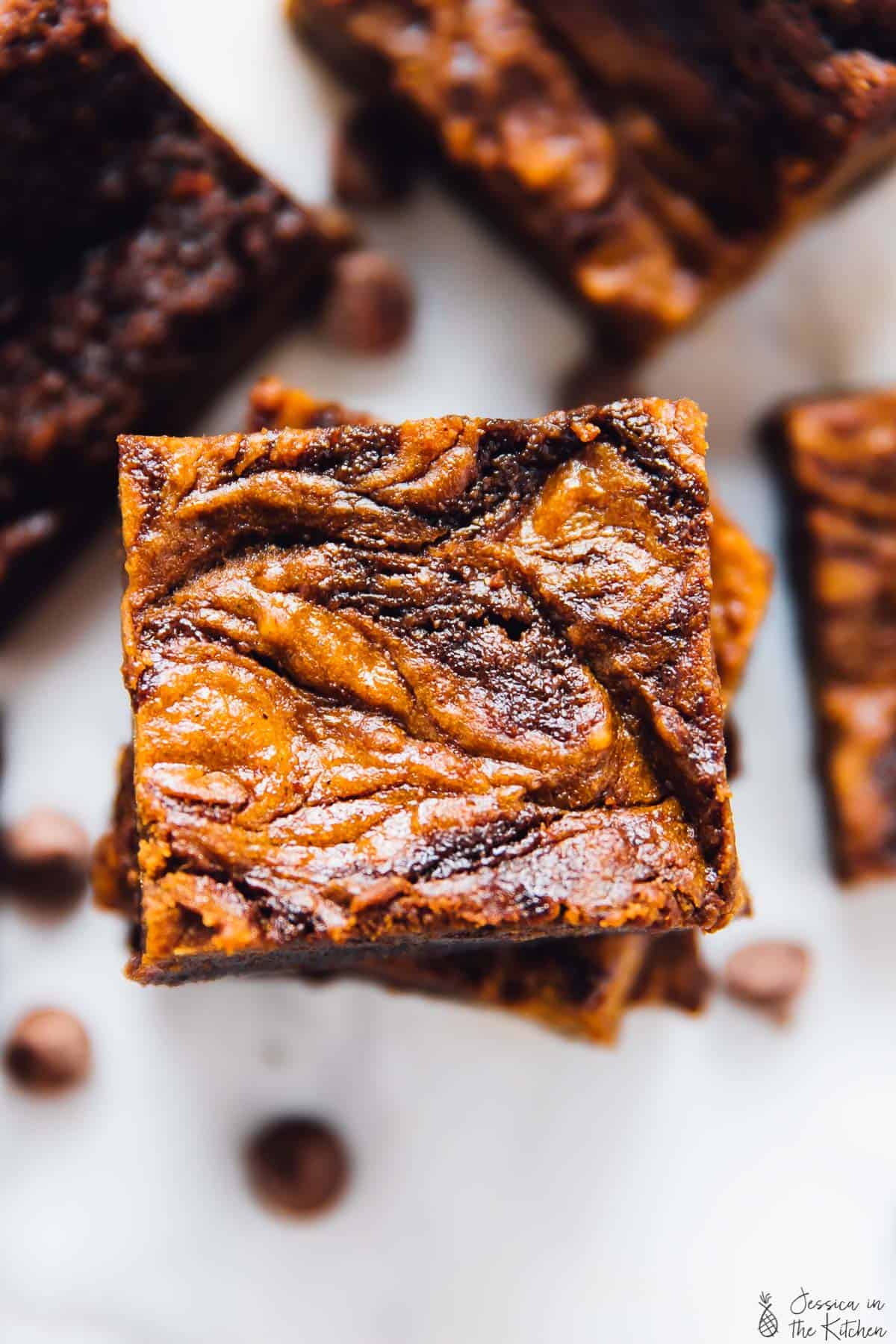 After you bake these pumpkin cheesecake swirl brownies, you let them rest in the fridge until chilled due to the cheesecake factor. I love having mine cold since they still have that melt in your mouth effect, and consequently definitely store mine in the fridge. If you're a warm brownie type of gal or guy, these taste fantastic that way too. Tomato, tomato.
Eat these up and let me know what you think!! Oh, and call your friends before you've tasted one to let them know you're going to share. Otherwise, there's a good choice you won't want to share these little bites of heaven. Just saying.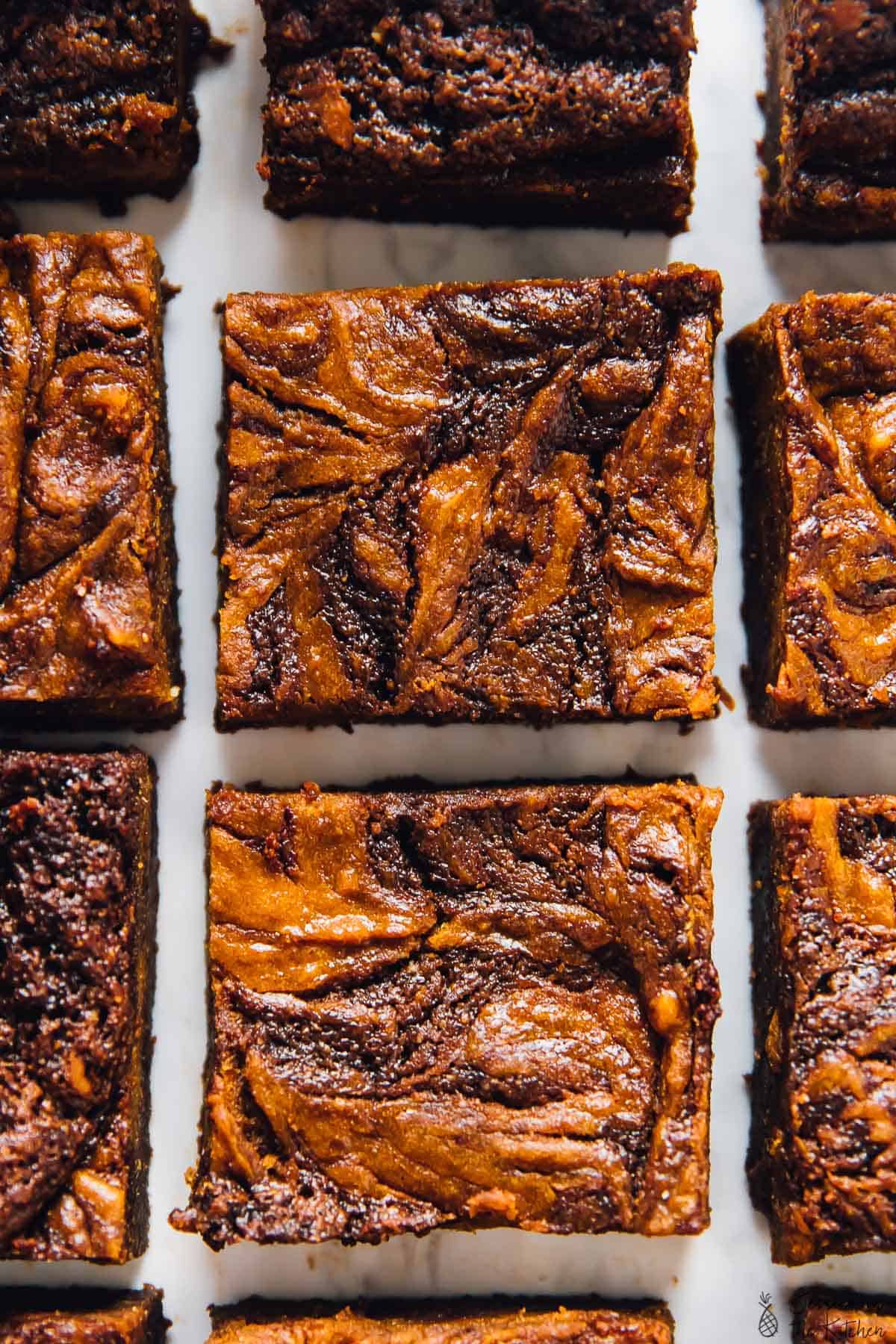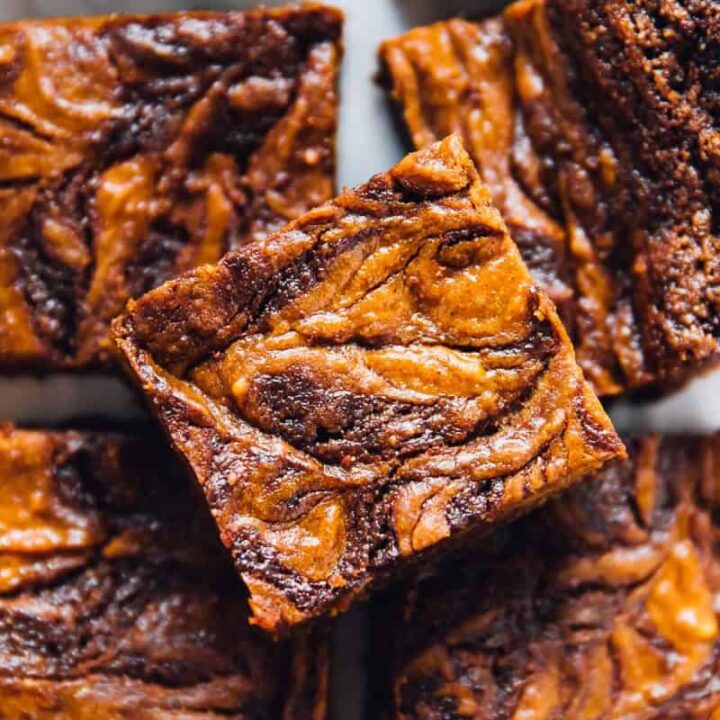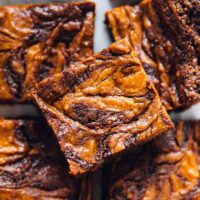 Vegan Pumpkin Cheesecake Swirl Brownies
These Vegan Pumpkin Cheesecake Swirl Brownies will amaze your tastebuds and your guests!! They taste fantastic, can be gluten free and are so easy to make!
Ingredients
Pumpkin Cheesecake Swirl
4 ounces vegan cream cheese, at room temperature
4 ounces pumpkin puree, (1/2 cup) room temperature
3 tablespoons sugar, brown, cane or coconut or any granulated sugar
1 teaspoon pumpkin pie spice
¼ teaspoon pure vanilla extract
1 egg yolk substitute – I use Bob's Red Mill Egg Replacer
Vegan Brownies
1 cup vegan chocolate chips, (188g)
1 cup regular flour, (133.75g) if gluten free, use oat flour or GF flour mix
½ teaspoon sea salt
¼ teaspoon baking soda
2 flax eggs or egg replacement I use Bob's Red Mill Egg Replacer
¾ cup sugar, brown, cane or coconut or any granulated sugar (131.25g)
½ cup oil, (100g) any kind of oil
¼ cup water
1 teaspoon vanilla extract
Instructions
Preheat oven to 325°F/165°C degrees. Grease and prepare the brownie pan and set it aside.

In a bowl, mix the pumpkin cheesecake swirl ingredients together until mixed thoroughly. Set aside.

Melt chocolate chips in microwave for a minute, stirring after to see if chips have melted. If not, microwave in increments of 30 seconds until completely melted. Alternatively, you can melt in over a small pot of boiling water (Not a lot of water in the pot) and put the chocolate chips it in a heat proof and melt proof bowl over the pot and stir until melted.

In a medium bowl, whisk the flour, salt and baking soda until combined. Set aside.

In a separate bowl, add the flax eggs or egg replacement, coconut sugar and coconut oil and mix until combined for about 2 minutes. Add the water and the vanilla extract. Add to the dry mixture to the wet mixture and melted chocolate chips and stir for about 3 minutes until combined.

Pour into a greased, parchment lined, or a greased foil-lined 8×8 square pan.

Dollop the pumpkin cheesecake swirl mixture on top of the brownies. I like to do it in huge circles that don't touch all over the batter, then slowly using a knife, swirl left to right from top to bottom through the batter, up and down from right to left to get the swirl through the whole batter. Don't over do it or you'll just get a muddle.

Bake for 45 minutes. The centre might still be a bit wobbly. When finished, remove from oven carefully and allow to cool completely until room temperature, then place into fridge for at least two hours. It's also easier to cut once cold.

Slice, serve and enjoy! Store these brownies in the fridge because of the cheesecake part.
Notes
NOTES
It's up to you what type of chocolate chips you would want to use, but do not use baking chocolate (which is without sugar). You can use semi-sweet or dark chocolate based on the brownie you would like to achieve. I recommend semi-sweet since it's the best of both worlds. If you'd like a mix use semi-sweet for the base, and either milk or dark for the chips in the brownies. I love Lily's vegan chocolate, or Enjoy Life chocolate chips.
The pan size makes a huge difference! If you do not use an 8×8 pan for eg if you use smaller, your brownies will not be ready in the right amount of time.
PLEASE allow your brownies to cool completely! This can take about 2 hours. This is crucial for delicious, set and finished brownies. You can slice them about halfway through cooling with a plastic knife.
Ensure your oven is properly calibrated, and remember your brownies will not be properly set until they are cooled down.
Calories: 220kcal, Potassium: 50mg
Disclaimer: Although jessicainthekitchen.com attempts to provide accurate nutritional information, kindly note that these are only estimates. Nutritional information may be affected based on the product type, the brand that was purchased, and in other unforeseeable ways. Jessicainthekitchen.com will not be held liable for any loss or damage resulting for your reliance on nutritional information. If you need to follow a specific caloric regimen, please consult your doctor first.