Vegan Eggnog (Creamy & Heartwarming)
This vegan eggnog recipe is just as rich and creamy as traditional eggnog. It's fun and festive, and only takes a few minutes to make.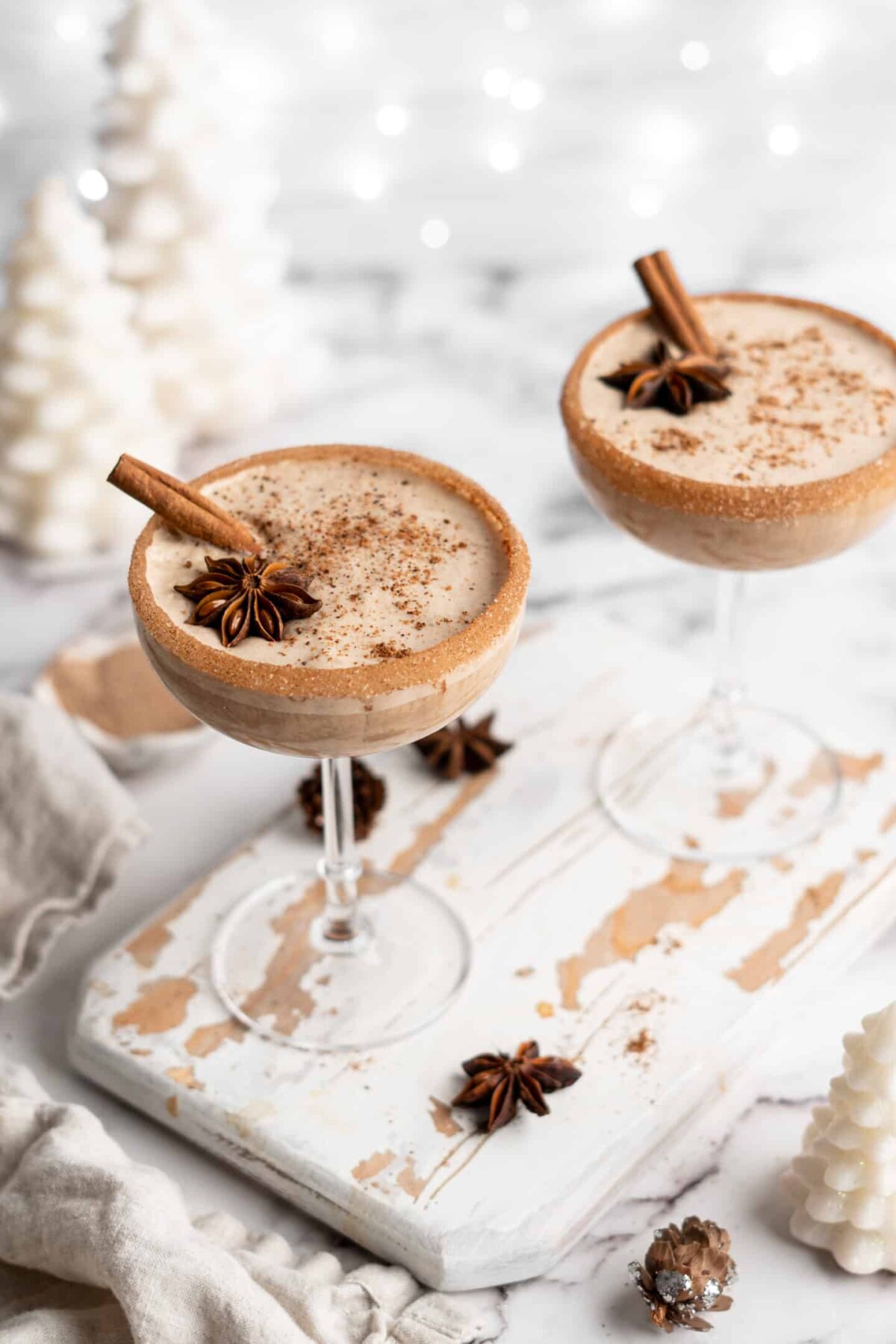 One of my favorite parts about the holidays is making cozy drinks. Hot chocolate, pumpkin spice lattes, peppermint tea … it's all festive and cozy! And no drink is more traditional when Christmas rolls around than eggnog. I love eggnog, but the traditional recipe is full of cream and, as the name suggests, eggs! So I came up with this vegan eggnog recipe in hopes of filling my holiday mug with a dairy-free, egg-free drink that tastes just as good as the original.
Success! This recipe is every bit as rich, creamy, and flavorful as the standard eggnog that you buy in the store. A combination of almond milk and raw cashews take the place of cream and eggs, resulting in a wintry drink that's comforting, flavorful, and a lot healthier than traditional eggnog. If you've been looking for a way to enjoy eggnog without consuming dairy and eggs, then this is the recipe for you.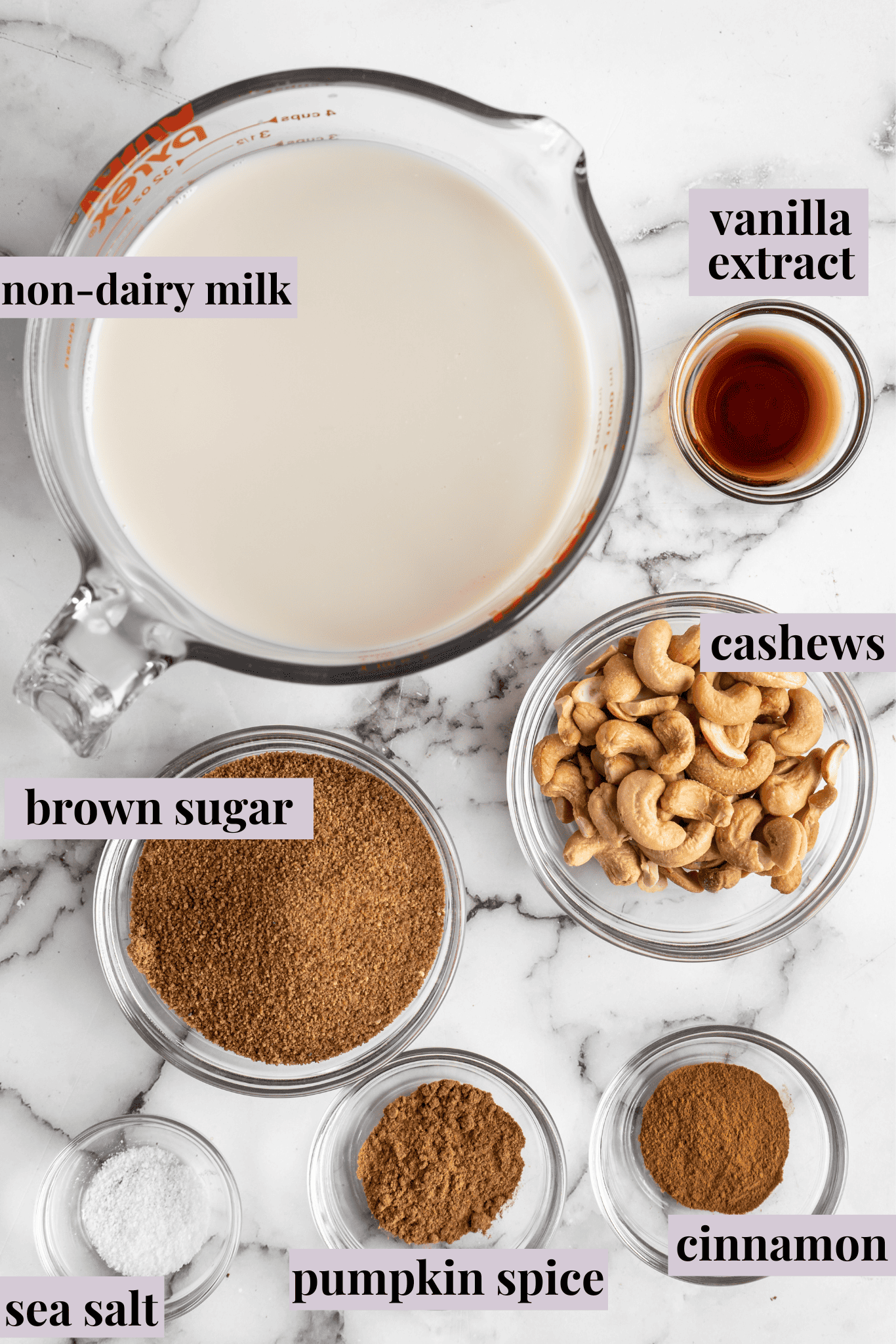 Notes on Ingredients
Here are all the ingredients you need for vegan eggnog. Be sure to scroll to the recipe card at the bottom of the page to see the exact amounts of each of the ingredients.
Non-dairy milk – You can use your favourite but I recommend soy milk, cashew milk, oat milk or almond milk. Make sure that you use unsweetened non-dairy milk. 
Cashews – You want to use raw, unsalted cashews for this recipe. Soak them overnight, then rinse them before making the eggnog.
Cinnamon
Pumpkin spice
Sea salt
Brown sugar – or coconut sugar, cane sugar or any other granulated sugar.
Vanilla extract – This is an optional ingredient but I highly recommend it, as it makes the drink taste very wintry. Just make sure that you buy pure vanilla extract.
What's in Pumpkin Spice?
Pumpkin spice is a common spice blend that you can find in any grocery store or spice shop. Every spice company has their own recipe, but it usually contains five ingredients: cinnamon, nutmeg, cloves, allspice, and ginger. If you don't have pumpkin spice blend, you can make your own blend by using equal amounts of all five ingredients.
How to Make Vegan Eggnog
Here's how to make this super easy, creamy vegan eggnog recipe.
Add the ingredients to a blender. Put all of the ingredients into a blender.
Blend. Turn the blender on and let the mixture blend for 3 minutes, until fully blended.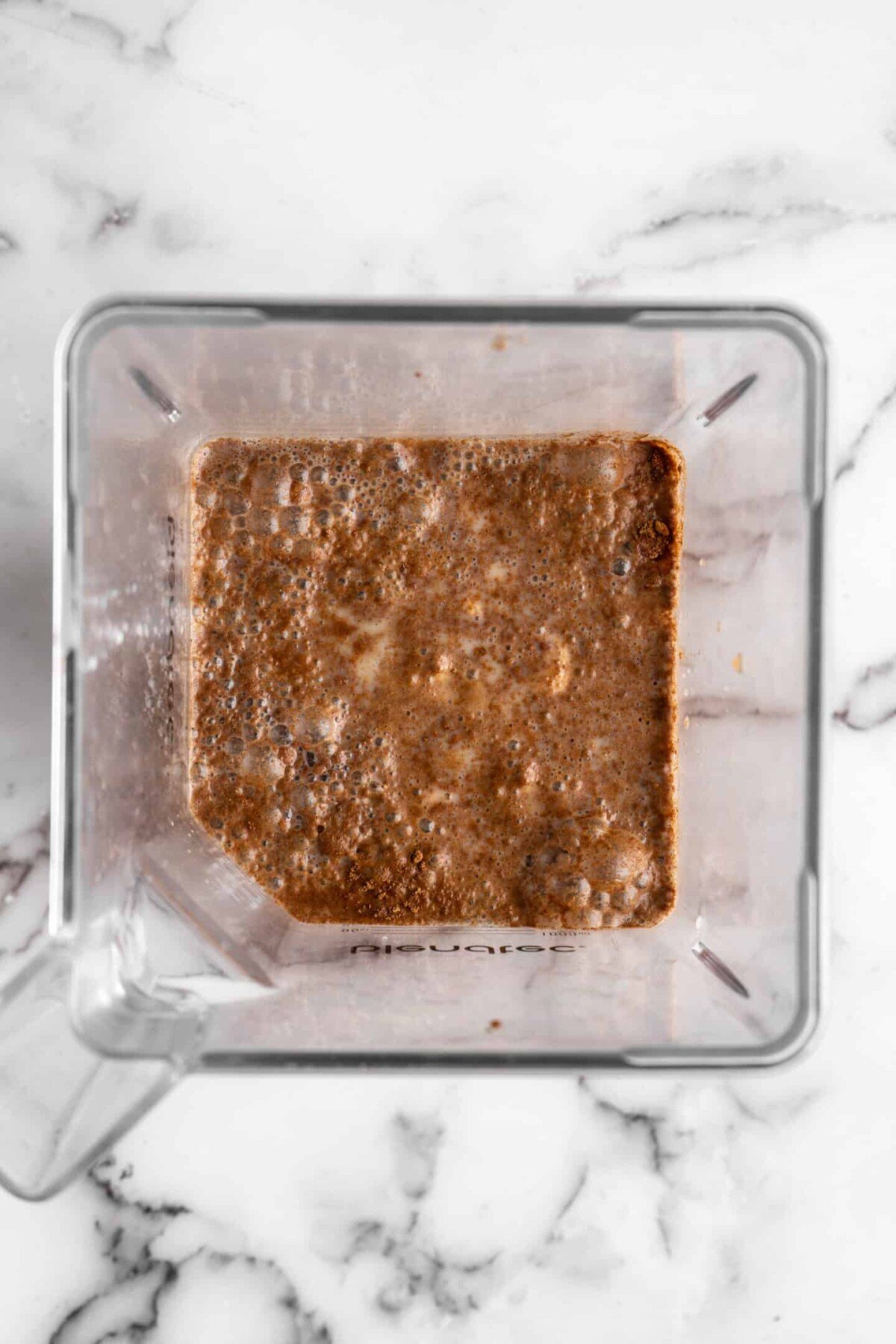 Serve. Pour the vegan eggnog and you're ready to go! You can drink it cold, or warm it up on the stove over a low heat.
Tips for Success
Here are a few tricks and tips for making the best possible vegan eggnog.
Adjust the flavor. Some people like their eggnog to be super spicy, while others prefer just a mellow, background flavor. Adjust the amount of pumpkin spice based on how you like your eggnog. Or, if you like certain flavors in pumpkin spice more than others, add those in addition to the pumpkin spice blend.
Add fun rims and garnishes. You can really play with this vegan eggnog when serving it. One fun way to take the drink to a new level is to add a flavored rim … I like cinnamon and sugar! Garnishes are also fun, such as ground cinnamon, whole cinnamon sticks, ground nutmeg, or whole star anise.
Make sure it's smooth. Blending the vegan eggnog for 3 minutes should ensure that it's a smooth mixture, but depending on your blender it might still have small bits of cashew. To make sure that the drink is perfectly smooth, pour it through a sieve (or, for the smoothest possible drink, through a cheesecloth-lined sieve).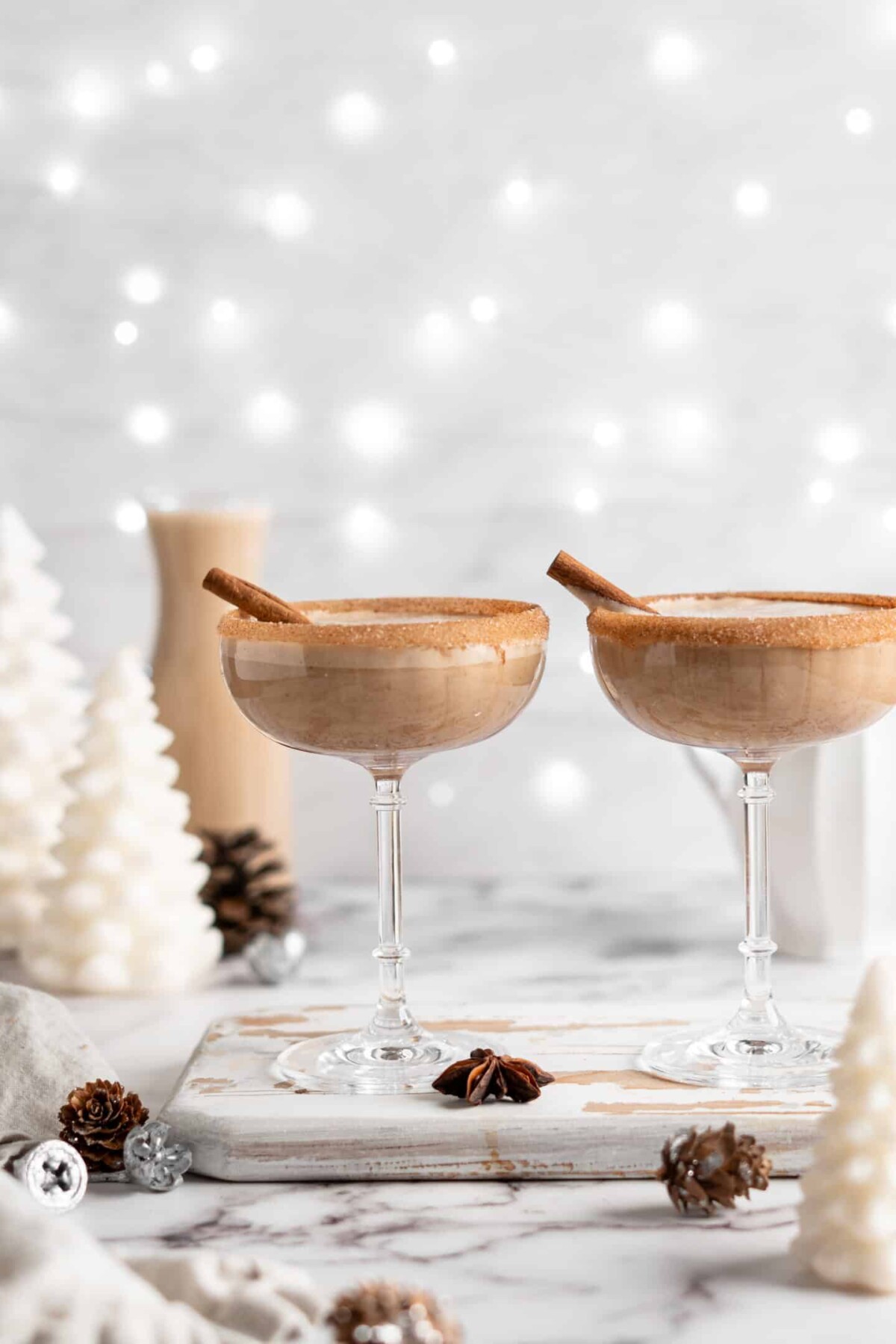 Serving Suggestions
I'll be honest, my favorite way to serve vegan eggnog is with booze! It tastes so good if you add brandy, whiskey, or rum to this recipe. To keep it classic, I like to serve my vegan eggnog alongside some Christmas sweets. Here are a few of my favorite things to serve with it.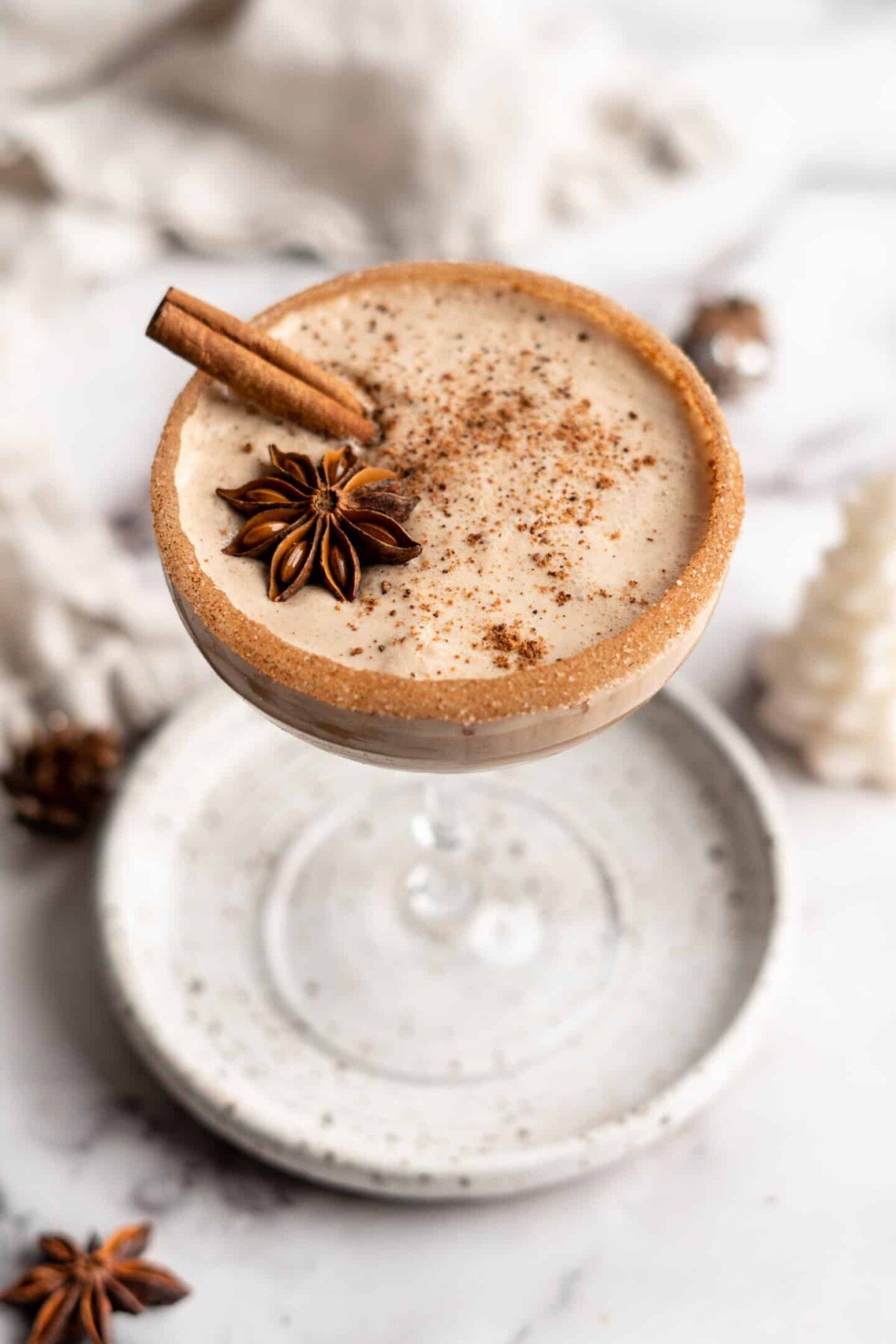 How to Store Vegan Eggnog
You can keep this vegan eggnog in an airtight container in your fridge for up to 5 days. Shake before serving, and then serve cold or heated up on the stove over low heat.
Can I Freeze This?
You can absolutely freeze vegan eggnog. However, it might separate a little bit when it thaws, so you might have to throw it back in the blender. Store the drink in an airtight container in the freezer for up to 2 months.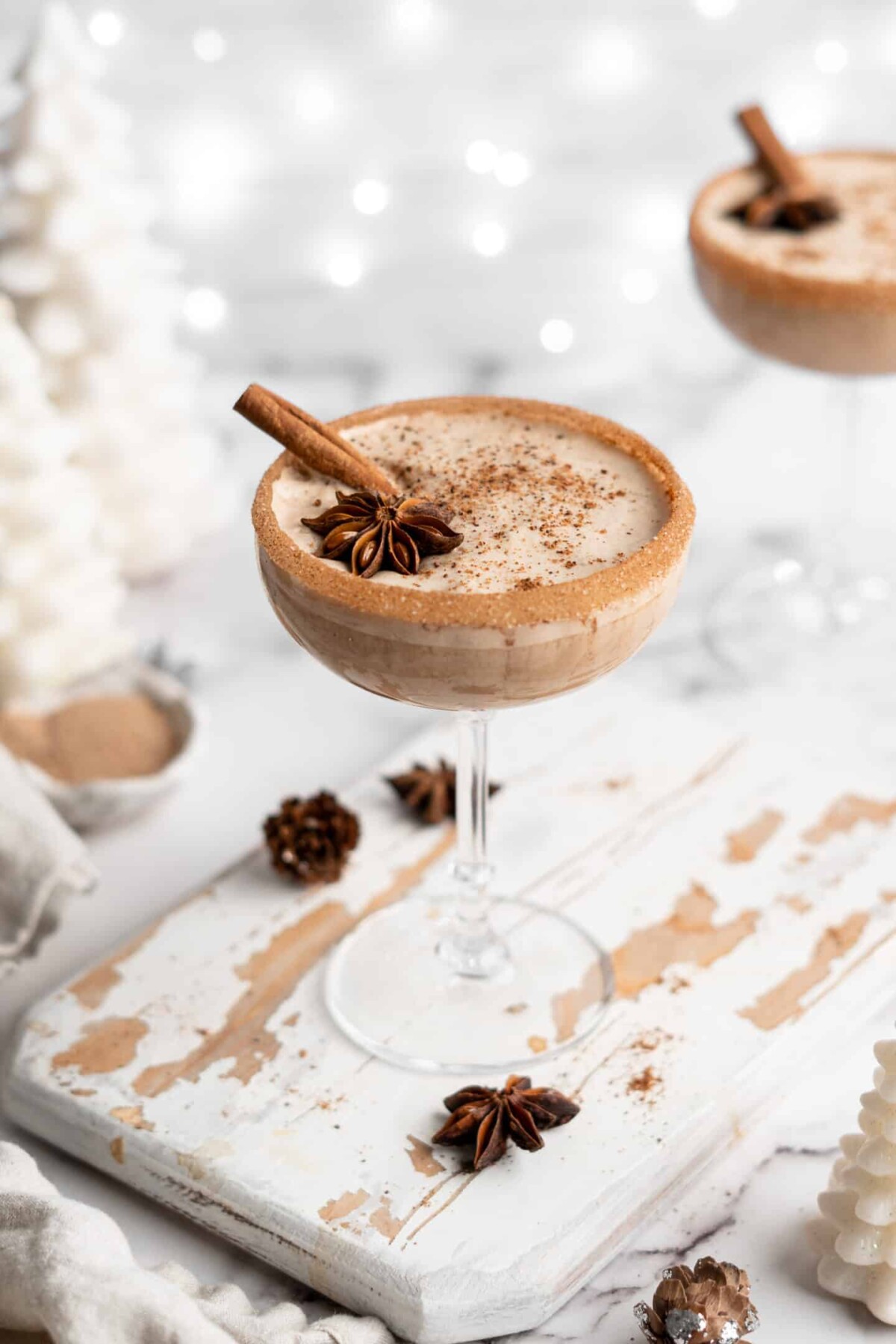 More Winter Drinks to Make
Here are a few of my other favorite drinks to make during the winter.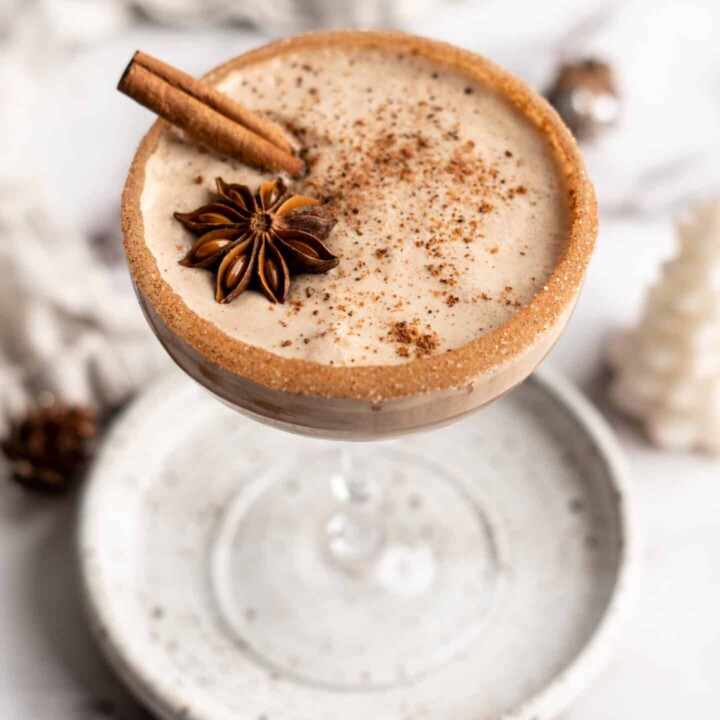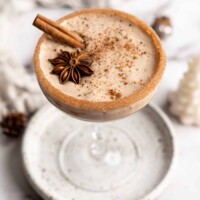 Vegan Eggnog (Creamy & Heartwarming)
This vegan eggnog is rich and creamy, just like the traditional version. It's a perfect holiday treat that you can drink hot, cold, or spiked with booze!
Ingredients
3 cups non-dairy milk, such as soy milk, oat milk, cashew milk, or almond milk
1/2 cup soaked cashews, soaked overnight, rinsed and drained
1 teaspoon cinnamon
1 to 2 teaspoons pumpkin spice*
1/4 teaspoon sea salt
2/3 cup brown sugar, or cane sugar, coconut sugar, or any other granulated sugar
1/2 teaspoon vanilla extract, optional
Instructions
Blend all the ingredients in your blender for 3 minutes, until completely blended.

Pour into glasses and enjoy! You can also enjoy this warm by heating is up slowly in a pot on the stove.
Notes
Notes
*I've used 1 teaspoon of pumpkin spice, and 2 teaspoons on a separate occasion – it's up to you how spiced you want it!
If you want your eggnog to be perfectly smooth, be sure to blend it long enough so that all of your spices blend in! Otherwise, you could definitely strain it if you want!
You can definitely add liquor to this if you want!
The pumpkin spice mix is to make life easier for you! You can definitely swap it out for equal parts of cinnamon, nutmeg, ginger, cloves and allspice!
Calories: 313kcal, Carbohydrates: 48g, Protein: 8g, Fat: 11g, Saturated Fat: 2g, Polyunsaturated Fat: 3g, Monounsaturated Fat: 5g, Sodium: 246mg, Potassium: 411mg, Fiber: 2g, Sugar: 41g, Vitamin A: 698IU, Vitamin C: 13mg, Calcium: 293mg, Iron: 2mg
Disclaimer: Although jessicainthekitchen.com attempts to provide accurate nutritional information, kindly note that these are only estimates. Nutritional information may be affected based on the product type, the brand that was purchased, and in other unforeseeable ways. Jessicainthekitchen.com will not be held liable for any loss or damage resulting for your reliance on nutritional information. If you need to follow a specific caloric regimen, please consult your doctor first.