Loaded Vegan Nachos
These loaded vegan nachos are sure to satisfy your cravings. They're rich, gooey, meaty, and cheesy, but entirely vegan!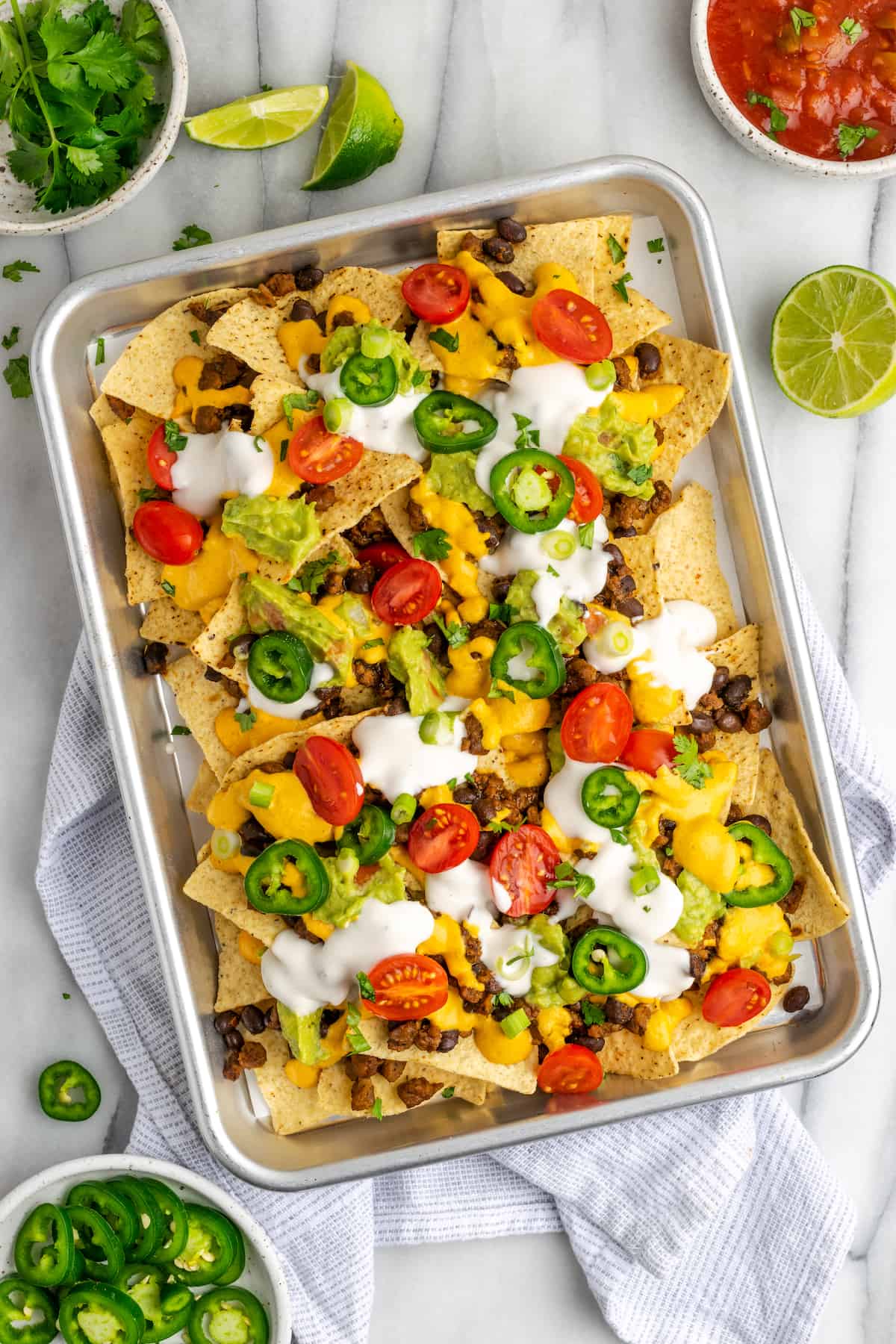 I love nachos. Who doesn't? Nachos are a perfect food, whether they're a midday snack, a party dish, or a meal all by themselves. These loaded vegan nachos have all the components that I want in a plate of nachos. There are meaty vegan crumbles and rich beans. There's lots of spice, and of course, gooey cheese that's sure to get all over your fingers.
These loaded nachos are fun and healthy. Make them for dinner or as a snack on game day … they're perfect either way.
Why You'll Love These Vegan Nachos
These loaded nachos are one of my go-to dishes. Here are four things that I love about them.
They don't taste vegan. These nachos use plant-based cheese and meat, but you really wouldn't know if you weren't making them. The taco seasoning helps make the meat really taste meaty, while the vegan cheese sauce is a rich and creamy cheese substitute. Even a carnivore would agree that these loaded nachos have got it going on!
They're easy. Nachos might be one of my favorite foods, but they're not one that I want to spend all day in the kitchen laboring over. This meal comes together in about 20 minutes.
They're healthy. Nachos taste indulgent, but this recipe is actually fairly healthy. The beans and the vegan cheese sauce are packed with protein and nutrients, and it goes without saying that vegan crumbles are much healthier than red meat. These loaded nachos will scratch your itch for an unhealthy meal … without actually being unhealthy!
They're customizable. This recipe is pretty simple, because it's all about the toppings. You can make this recipe any day of the week, and then add whatever toppings you're feeling like to the party. The loaded nachos will be different each time!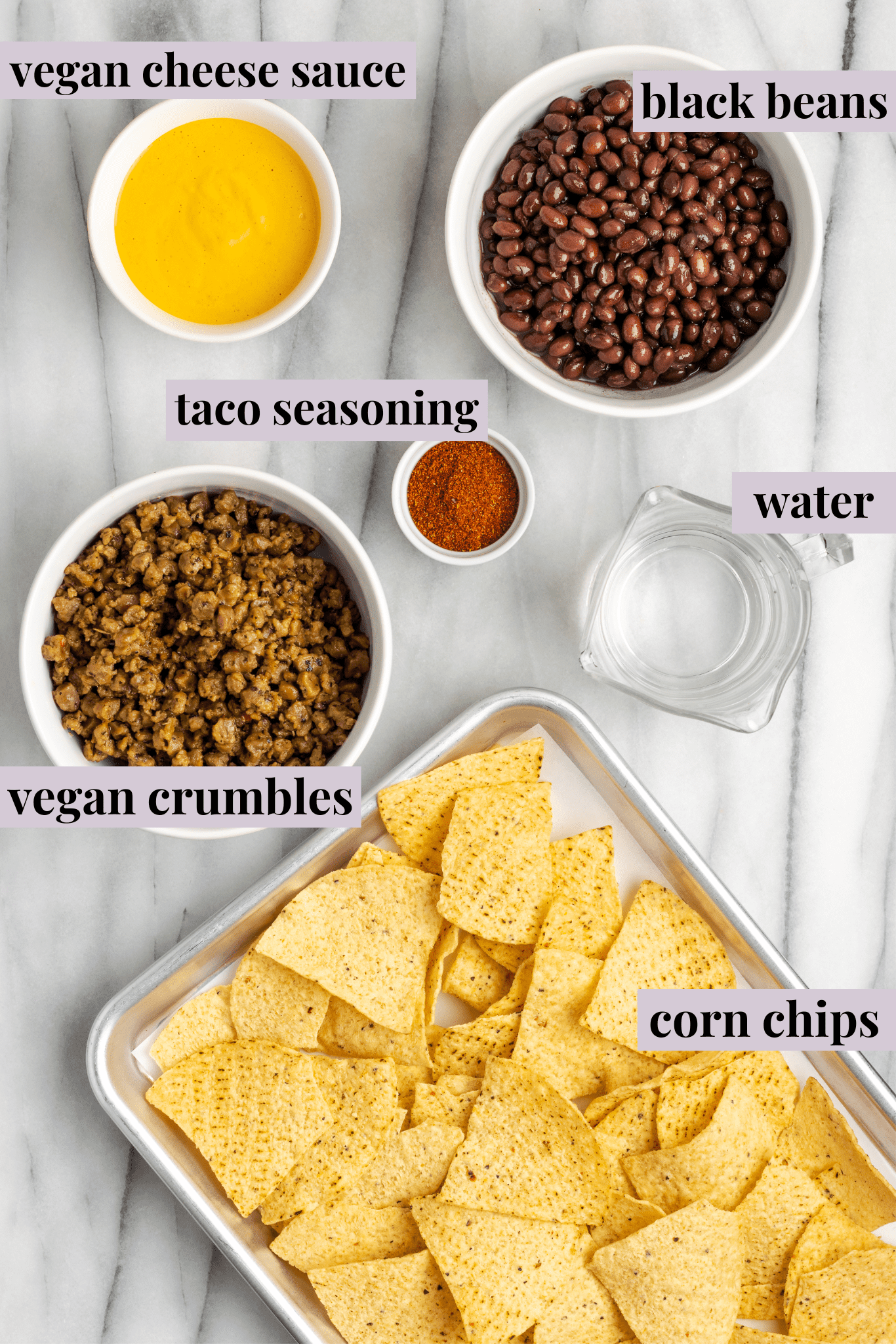 Notes on Ingredients
Here's everything you need to make these vegan loaded nachos. Scroll to the recipe card at the bottom of the page to see the exact amounts for each ingredient.
Corn chips – You can use white, yellow, or blue corn chips.
Vegan crumbles – Whatever brand you prefer will work just fine. They should be cooked before you start making these nachos.
Black beans – Make sure you buy plain black beans, rather than seasoned ones. They should be drained and rinsed for this recipe.
Water
Taco seasoning
Vegan cheese sauce – This is my go-to recipe.
What is Taco Seasoning?
Taco seasoning is a spice blend that usually includes onion, garlic, chili, paprika, and oregano. It often has cumin in it as well, and sometimes some other spices. You can find taco seasoning in the grocery store, but if you're in a pinch, you can make some by combining those ingredients.
How to Make Loaded Vegan Nachos
Here's how to make this super quick and easy recipe.
Prep. Preheat the oven to 350F and line a baking sheet with aluminum foil or parchment paper.
Season the vegan crumbles. Add the cooked vegan crumbles to a skillet over medium-low heat. Add taco seasoning and water and cook until the water has evaporated. Make sure to occasionally stir the mixture.
Add the beans. Pour the beans into the skillet and cook for 5 minutes, stirring occasionally.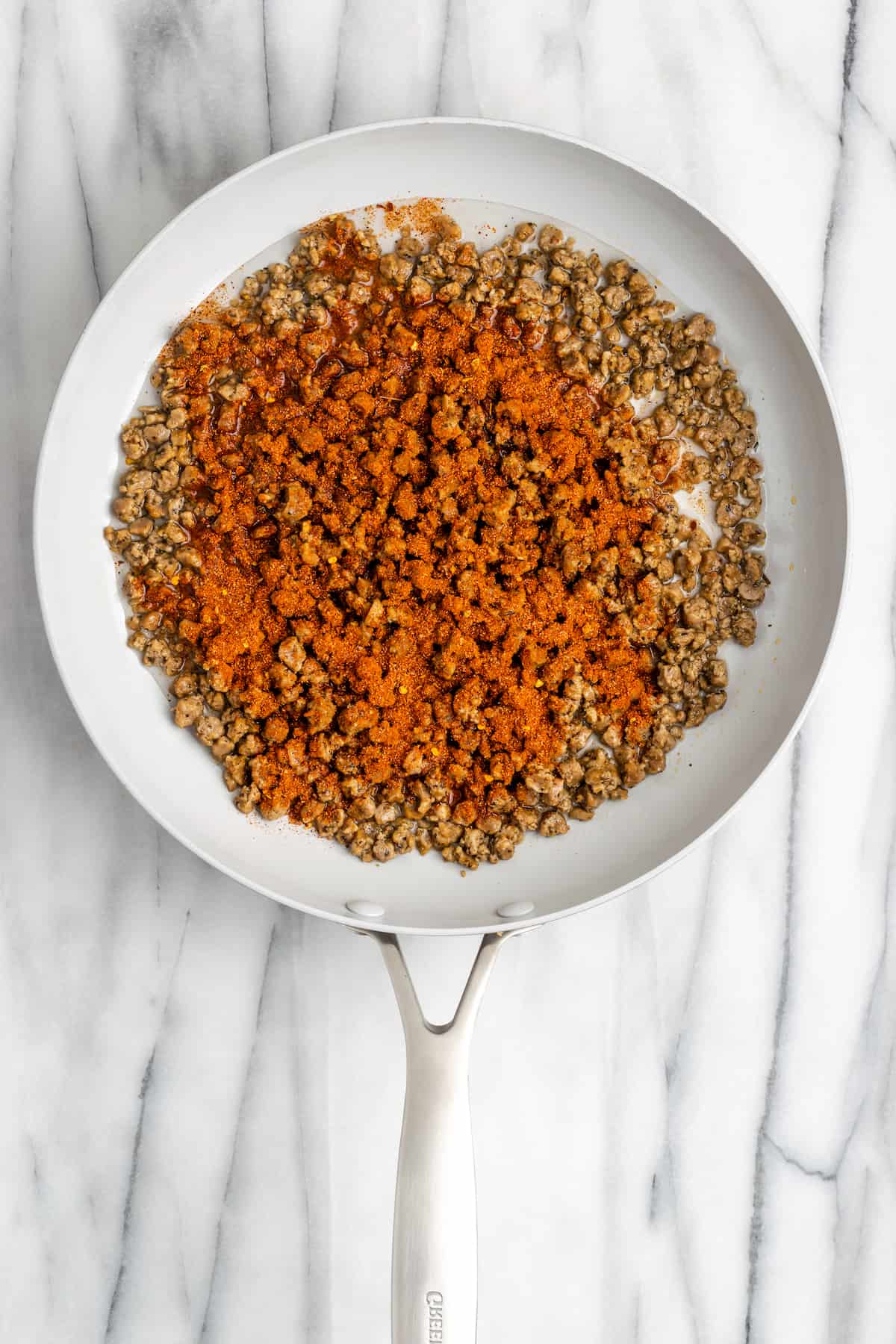 Assemble the nachos. Lay down a layer of chips on the baking sheet, and top with the vegan crumble and black bean mixture, then pour the vegan cheese sauce on top. Repeat the process to build a second layer.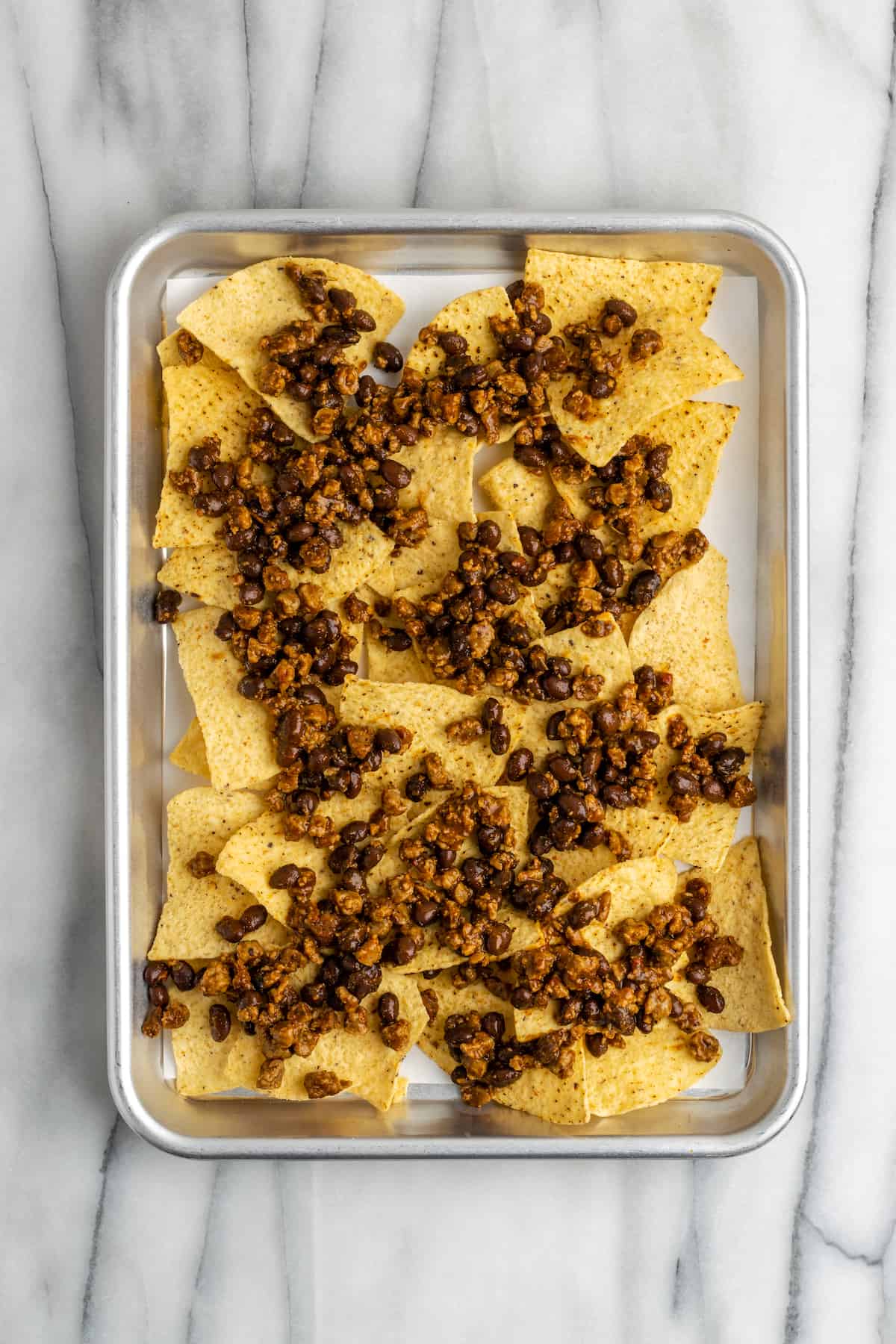 Bake. Place the baking sheet in the oven, and cook for 5-6 minutes. Since everything is already cooked, you're just trying to warm up the chips at this point.
Serve. Remove from the oven, add your favorite toppings, and eat up!
Tips for Success
Here are some tricks and tips to make sure that your loaded vegan nachos hit the spot.
Adjust the seasoning. After you've cooked the beans, taste the bean and vegan crumble mixture to see how the seasoning is. Add more taco seasoning if the mixture is tasting too bland or mild.
Don't overcrowd the chips. Nothing's worse than a plate of nachos that has the wrong ratio. We've all experienced that situation, when you've eaten all the toppings but there are still 30 naked chips left on the plate. To keep that from happening, lay just a single layer of chips on the baking sheet when you start assembling the nachos. Don't crowd the chips too much, or some of them won't get any flavoring.
Keep an eye on the oven. Once you place the nachos in the oven, keep a close eye on them. You want to warm up the chips, but you want to be careful not to burn them. If you notice that the chips are changing color, take the nachos out of the oven.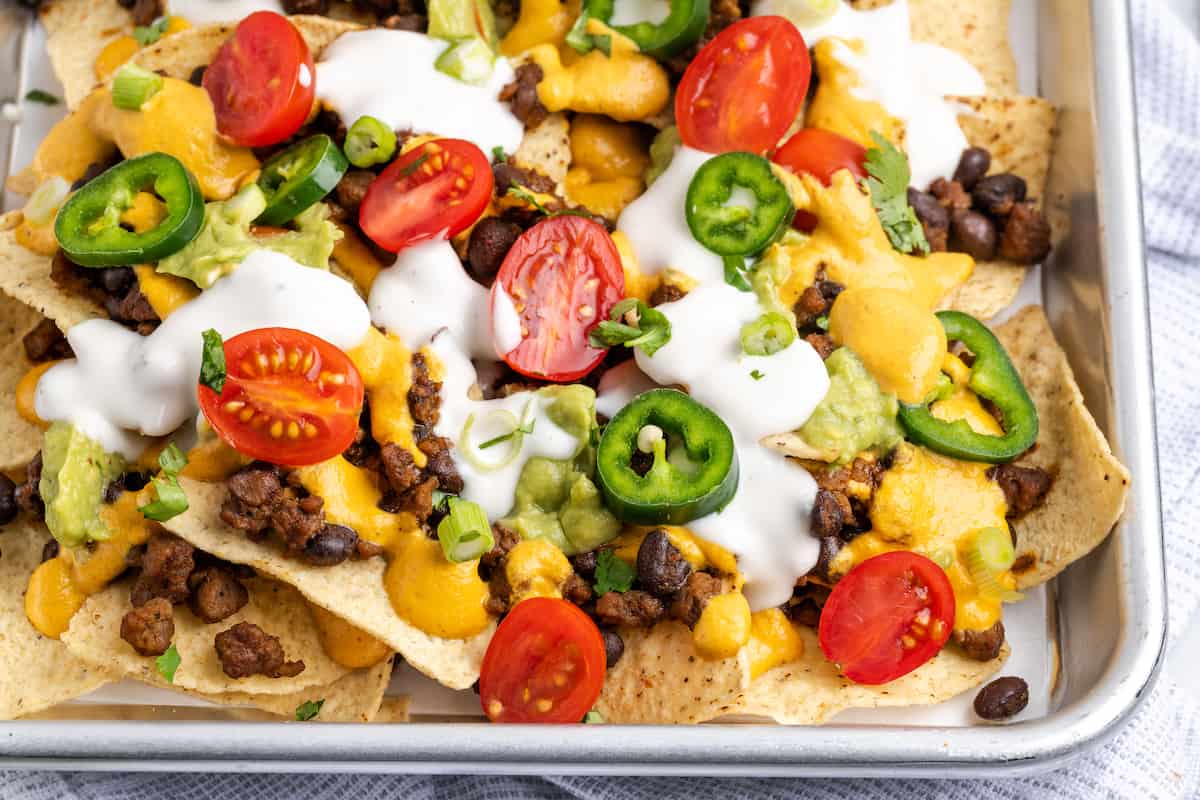 Topping Ideas
There's no shortage of toppings that you can put on these loaded vegan nachos. Here are some of my favorites.
Tomatoes. Chopped up tomatoes add a fresh element that helps cut through the richness of the nachos.
Pico de gallo. Just like the chopped tomatoes, pico de gallo is fresh and light, which helps balance the beans, meat, and cheese.
Salsa. Salsa and nachos is a match made in heaven!
Vegan sour cream. I love to put vegan sour cream on my nachos whenever I have spicy ingredients. The vegan sour cream helps calm down your mouth when it's on fire. Speaking of which …
Jalapeños. If you want a kick for your loaded nachos, you can add fresh or pickled jalapeño slices.
Olives. Black olives are a common addition to loaded nachos, and add a nice hit of salt, and some good texture.
Guacamole. Who doesn't love chips and guacamole?
Sliced avocado. Guacamole isn't the only way to get your avocado fix. Some slices on top of the loaded nachos add richness and creaminess to the dish.
Cilantro. A classic that adds a lot of freshness to the dish.
Green onion. I'm a huge fan of green onions on loaded nachos. They add a fresh element, and also a little bit of a kick.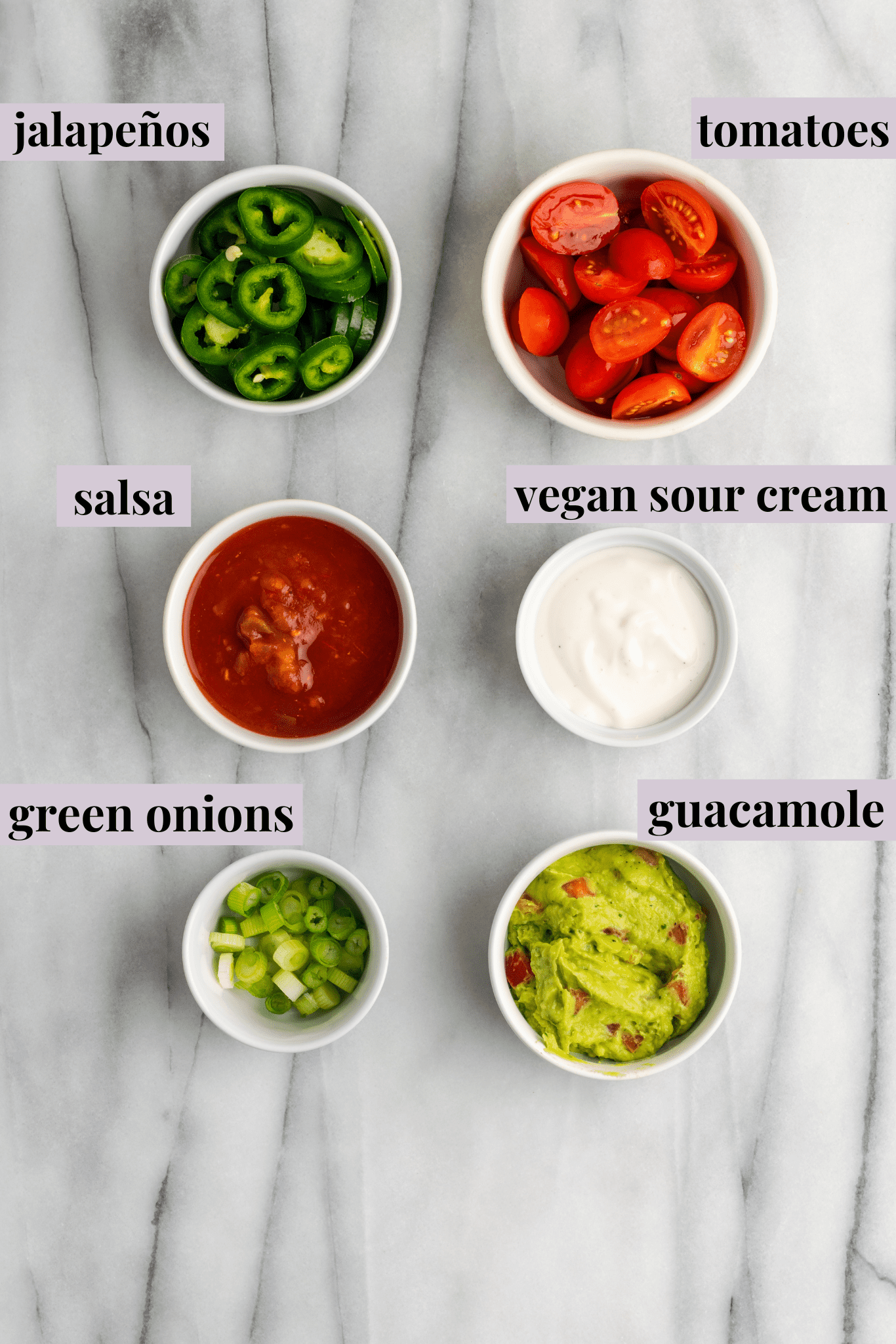 How to Store Vegan Nachos
You can store these vegan nachos in an airtight container in the fridge for up to 3 days. However, the chips will start to get soggy, so the nachos won't be quite as good served as leftovers. To reheat them, place them on a baking sheet in a 325F oven until warm, about 5 minutes.
Can I Freeze This Recipe?
I don't recommend freezing this recipe. Chips don't freeze particularly well, and the texture of frozen and defrosted nachos would be pretty unfortunate. However, you can freeze the meat and bean mixture in an airtight container for up to 3 months, and then it will be easier to make loaded vegan nachos the next time.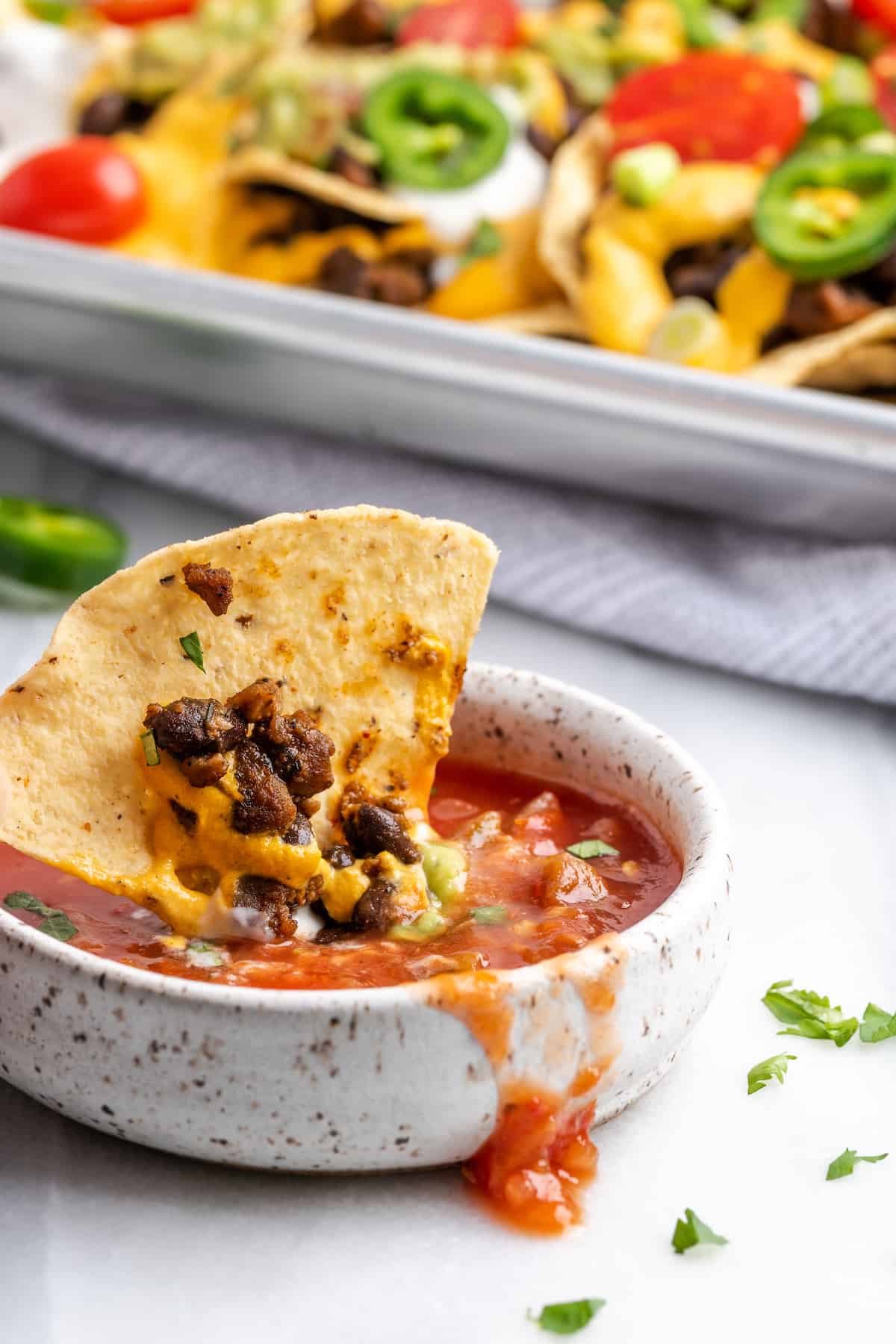 Other Vegan Mexican Recipes to Try
Here are a few of my other go-to Mexican recipes. If you enjoyed these loaded vegan nachos, then you'll love these recipes, too.
Enjoy friends! If you make these loaded vegan nachos, please snap a photo and tag #jessicainthekitchen on Instagram! We'd also love it if you would leave a comment below, and give the recipe a rating! Thanks so much!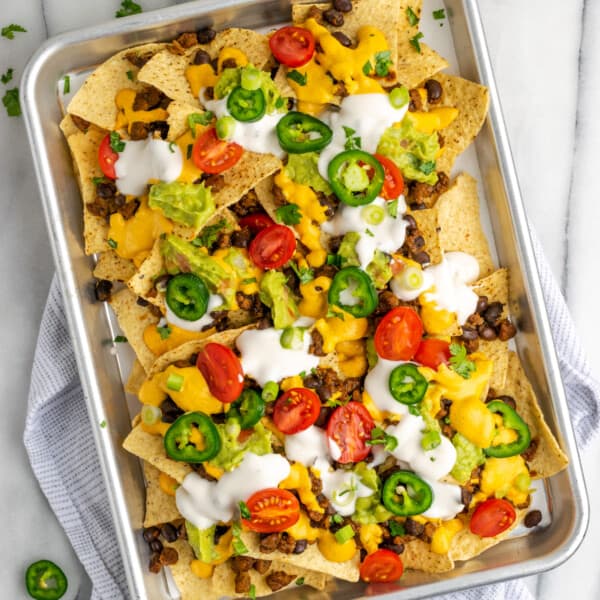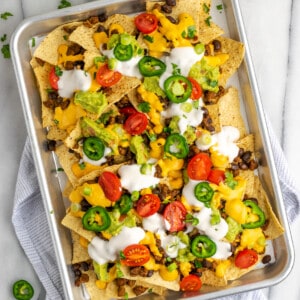 Loaded Vegan Nachos
These loaded vegan nachos have vegan meat, black beans, and vegan cheese sauce. They take 20 minutes to make, and you can add all your favorite toppings to them.
Ingredients
For the Nachos:
1 bag corn chips
10 ounces vegan crumbles, cooked according to package
1 15-ounce can black beans, drained and rinsed
1/2 cup water
2 tablespoons taco seasoning
1 cup vegan cheese sauce
Optional Toppings:
Tomatoes
Pico de gallo
Salsa
Vegan sour cream
Jalapeños
Olives
Guacamole
Avocado
Cilantro
Green onion
Instructions
Preheat the oven to 350 degrees and line a baking sheet with parchment or aluminumfoil.

Add the cooked vegan crumbles, water and taco seasoning to a large skillet. Cook over medium-low heat, stirring occasionally, until the water has cooked away.

Add the black beans to the taco crumbles and stir. Cook for another 5 minutes to heat the beans.

Put a layer of corn chips on the prepared baking sheet. Top with the crumble/bean mixture. Then top with a little vegan cheese sauce. Add another layer of chips, followed by the crumble/bean mixture, and vegan cheese.

Place the baking sheet in the oven and bake for 5-6 minutes, just to warm the chips.

Remove from the oven and top with your favorite toppings.
Notes
For the cheese sauce, I use this recipe. 
Adjust the taco seasoning after cooking the vegan meat crumble and beans.
Don't overcrowd the chips in the baking sheet. 
Keep an eye on the oven to make sure the chips don't burn.
The nachos are best served fresh, but you can store them in an airtight container in the fridge for up to 3 days, and reheat in a 325F oven for 5 minutes. 
Calories: 306kcal, Carbohydrates: 28g, Protein: 11g, Fat: 17g, Saturated Fat: 3g, Polyunsaturated Fat: 7g, Monounsaturated Fat: 3g, Trans Fat: 0.2g, Sodium: 626mg, Potassium: 137mg, Fiber: 4g, Sugar: 1g, Vitamin A: 78IU, Vitamin C: 0.4mg, Calcium: 60mg, Iron: 3mg
Disclaimer: Although jessicainthekitchen.com attempts to provide accurate nutritional information, kindly note that these are only estimates. Nutritional information may be affected based on the product type, the brand that was purchased, and in other unforeseeable ways. Jessicainthekitchen.com will not be held liable for any loss or damage resulting for your reliance on nutritional information. If you need to follow a specific caloric regimen, please consult your doctor first.