Vegan Pumpkin Cheesecake with Salted Caramel Topping
This Vegan Pumpkin Cheesecake with Salted Caramel Topping is a complete showstopper dessert! It's incredibly creamy, smooth thick and has such a delicious flavour! I've already had DOZENS of rave reviews – you need to make this!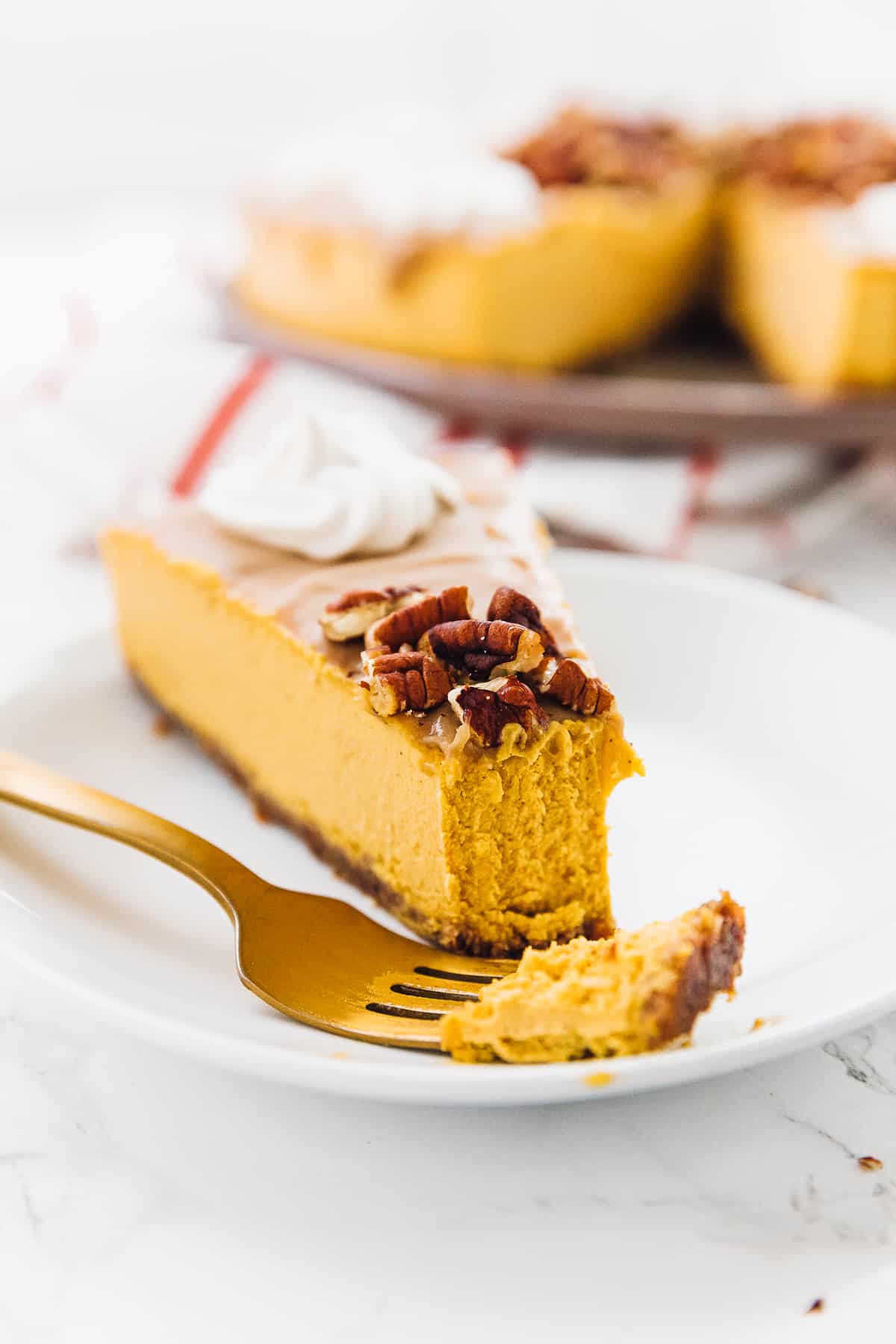 This post is sponsored by the Calphalon brand. All opinions and text are 100% mine. Thank you for supporting the brands that support Jessica in the Kitchen!
So here's my deal – I love vegan desserts. Muffins, cakes, mousses – love them all. Then there's vegan cheesecake. Sometimes I love them, but sometimes I'm ashamed they are even called cheesecakes in the first place. To me cheesecake means thick, creamy, and doesn't melt in ten minutes. In fact – it shouldn't melt in 30 minutes or even 45 minutes! I set to making this my mission and FRIENDS – it's here.
This Vegan Pumpkin Cheesecake with Caramel Topping is THE fall cheesecake. We tested this several times and it stayed thick for up to an HOUR. Oh, and it also tastes so divine that you'll be begging friends to make it for you. Let's get into it.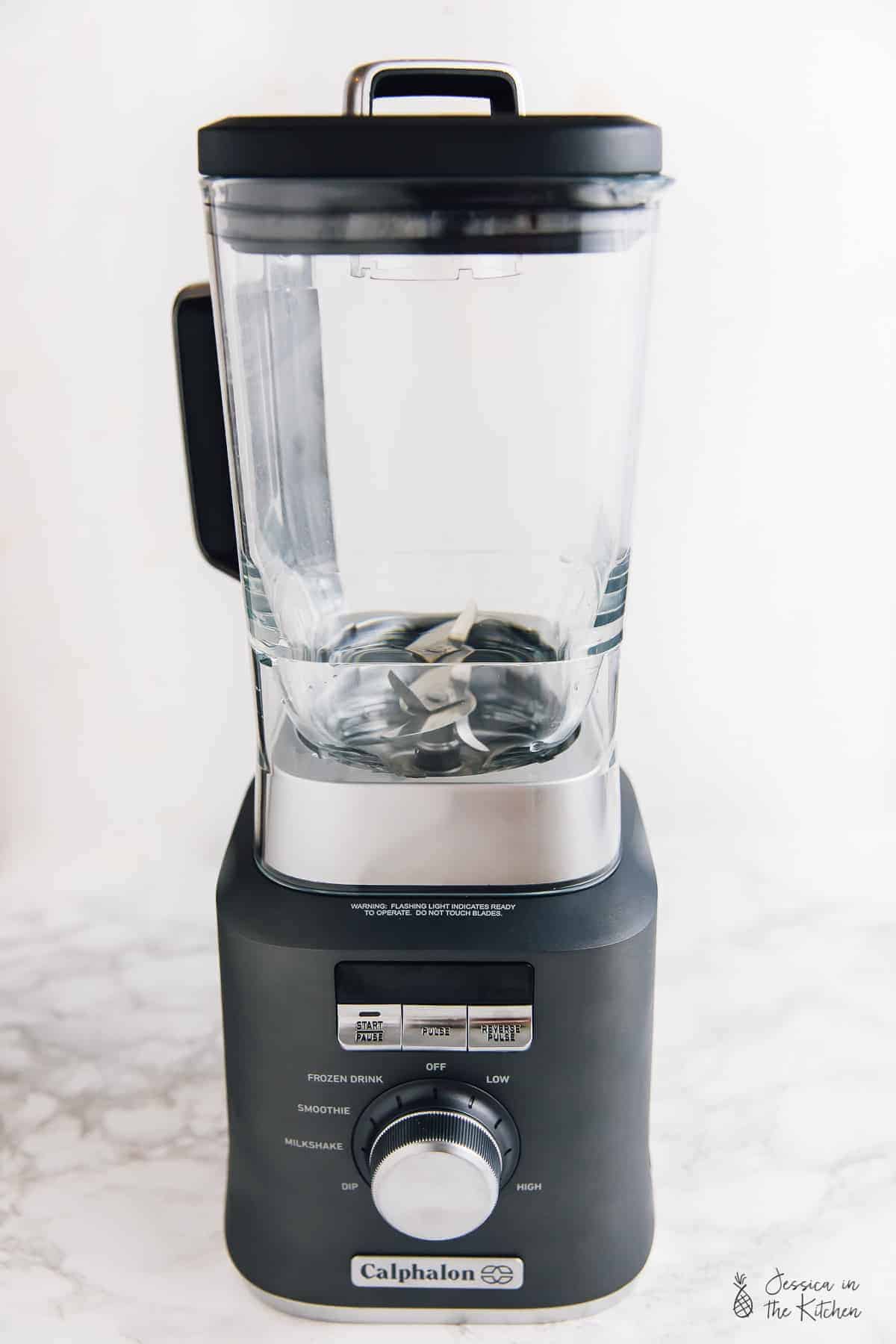 First things first, you need an amazing machine to make your vegan cheesecake. One that powerfully blends your cashews, pumpkin and all the in betweens so beautifully together. There's an app(liance) for that! Yes, I've been waiting to use that line.
I used Calphalon's brand new Auto-Speed Blender to make this beauty! If you watched my Instagram stories then you saw just how beautifully it blended the filling for my cheesecake together. It's quieter than most high speed blenders which I love, and SO easy to clean.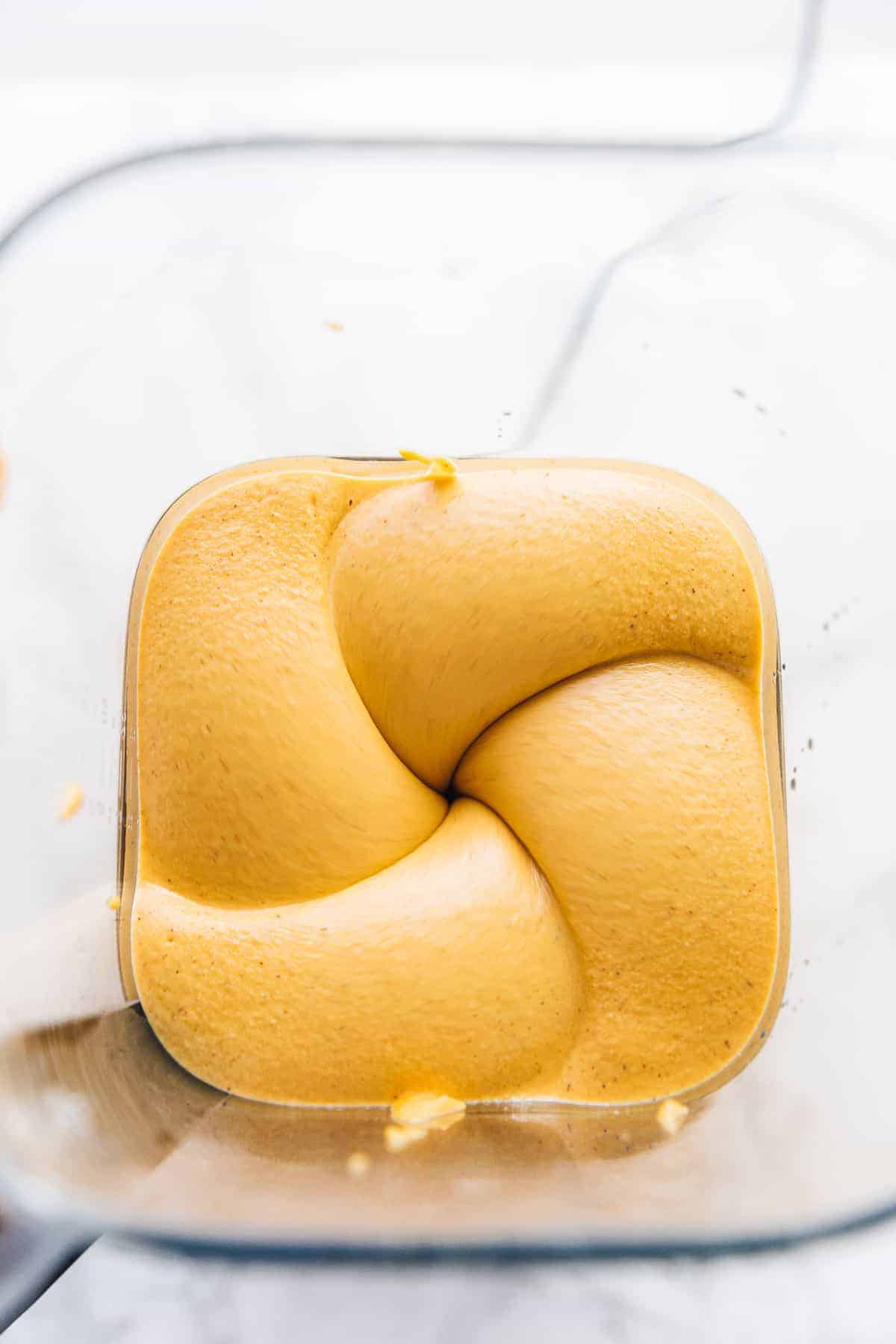 Honestly, Calphalon definitely went out of their way to create easy to clean products for their new Appliances line. No crevices or difficult materials. It's a food blogger's dream come true! I would highly recommend this for the holidays and beyond, and definitely also as a gift because they're so beautiful and functional! Speaking of new Calphalon products, the brand just released a full line of kitchen appliances.
This beautiful collection includes the Calphalon Quartz Heat Countertop Oven, the Calphalon Special Brew Coffee Maker, the Calphalon Even Sear Multi-Grill, the Calphalon Digital Sauté Slow Cooker, the Calphalon Intellicrisp™ Waffle Maker and the Calphalon Auto-Speed Blender.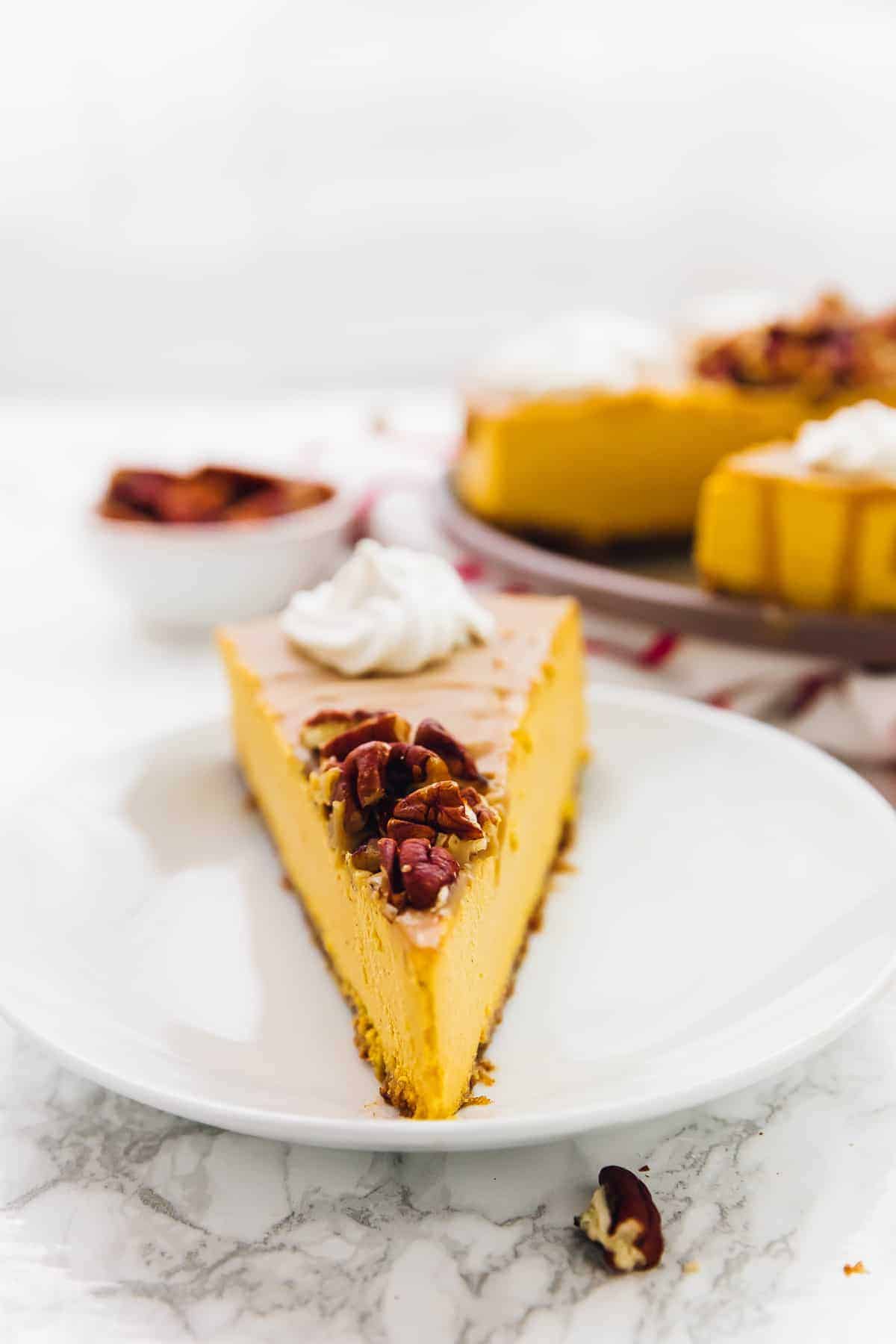 Thanks to the ease of the Auto-Speed Blender, this vegan pumpkin cheesecake comes together in under 30 minutes, which is insane.
Then you let the freezer do the rest. I recommend freezing it overnight. That really sets it up beautifully. Then just let it thaw for like 15-20 minutes before diving in. You'll be met with a pumpkin cheesecake flavor you'll definitely what to make again and again. The filling goes so well and smooth against the base layer of dates and nuts, and is suitable for someone who is gluten free too!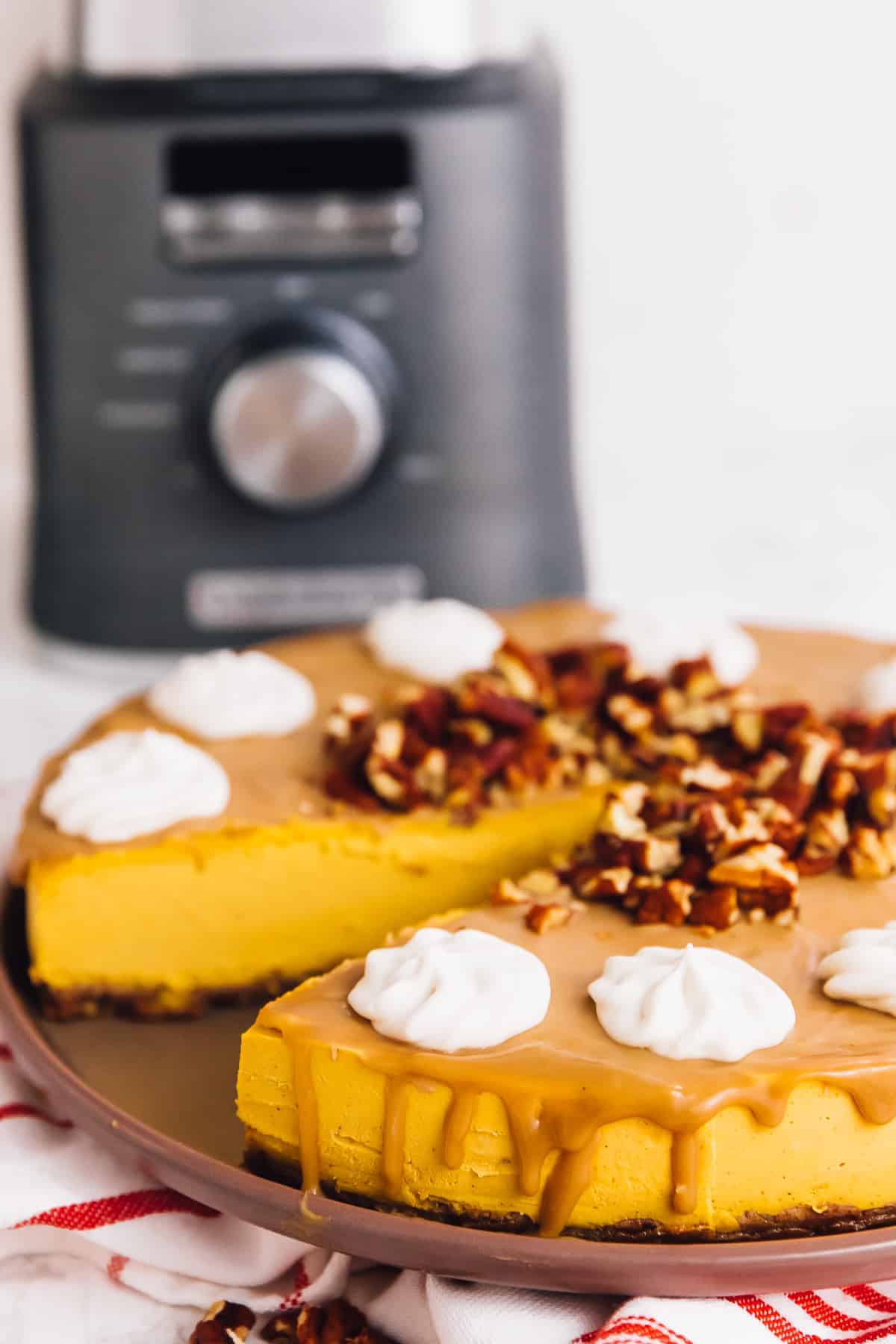 P.S. I topped this Vegan Pumpkin Cheesecake with my Salted Caramel Sauce link here and coconut whipped cream!
Dig in and enjoy friends! I know this will make it to your Thanksgiving table! UPDATE: This cheesecake has since been shared with dozens of people who have absolutely raved about the flavours!! I guarantee, vegan or not, you'll love this!!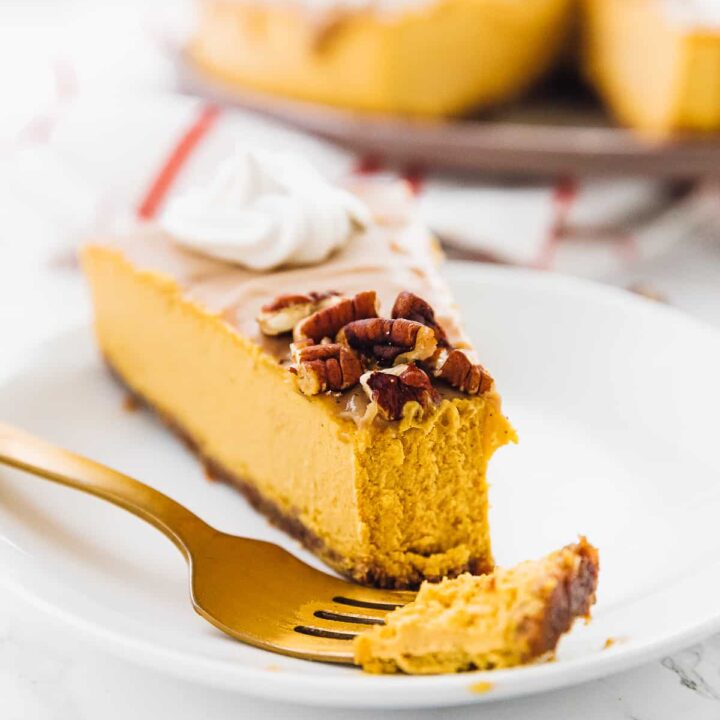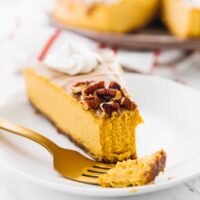 Vegan Pumpkin Cheesecake
This easy vegan pumpkin cheesecake recipe is rich, creamy, smooth, and full of your favorite fall flavors. It's gluten-free, packed with pumpkin, and doesn't melt easily.
Ingredients
For the Crust:
1 cup pitted dates, soaked in hot water for 10 minutes, then drained
1 cup raw pecans or walnuts, you can substitute with almonds or macadamia nuts
Pumpkin Cheesecake
4 cups raw cashews, soaked overnight or in hot water for one hour, then drained
¼ cup lemon juice
1 cup pumpkin puree
⅔ + ¼ cup coconut oil, solidified
1 ¼ cups coconut cream
1 cup maple syrup
2 teaspoons vanilla extract
½ teaspoon sea salt
2 teaspoons pumpkin pie spice
Instructions
Put the pecans or walnuts in a blender, and blend until they turn into a mealy consistency.

Add the warm dates to the blender and pulse until the nuts and dates are blended together. Use a spatula to scrape down the sides of the blender. The mixture should be slightly sticky.

Press the mixture into the bottom of a 10-inch cheesecake pan that's lined with parchment paper. Place in the freezer while you make the filling.

Put all of the cheesecake filling ingredients into the blender, and blend until entirely smooth and creamy. This should take about 4 minutes.

Use a rubber spatula to scrape down the sides of the blender, and blend again for 1 minute. The mixture should not be grainy at all.

Pour the cheesecake mixture over the crust in the cheesecake pan, and smooth the top.

Place the pumpkin cheesecake in the freezer overnight.

Remove the cheesecake from the freezer 15-20 minutes before you plan on eating it.
Notes
Store leftovers in the freezer for up to 4 months. Remove from the freezer 15-20 minutes before serving.
If you don't have a 10-inch pan, you can use an 8 or 9-inch pan. If you only have pans smaller than that, you can cut the recipe in half, or make the cheesecake in individual ramekins.
You can make coconut cream out of coconut milk by placing the milk in the fridge overnight. Empty the cans into a bowl, and use the solids for the recipe. The liquid is coconut water, so you can drink it or use it in a different recipe.
If your coconut oil is not solidified, place it in the fridge for 15 minutes before using it. 
Calories: 561kcal, Carbohydrates: 56g, Protein: 8g, Fat: 36g, Saturated Fat: 16g, Polyunsaturated Fat: 7g, Monounsaturated Fat: 10g, Sodium: 104mg, Potassium: 444mg, Fiber: 4g, Sugar: 41g, Vitamin A: 2727IU, Vitamin C: 3mg, Calcium: 58mg, Iron: 3mg
Disclaimer: Although jessicainthekitchen.com attempts to provide accurate nutritional information, kindly note that these are only estimates. Nutritional information may be affected based on the product type, the brand that was purchased, and in other unforeseeable ways. Jessicainthekitchen.com will not be held liable for any loss or damage resulting for your reliance on nutritional information. If you need to follow a specific caloric regimen, please consult your doctor first.