Korean Strawberry Milk
This vegan version of Korean strawberry milk is made with just 4 ingredients and it's full of fresh berry flavour. A cafe-style treat you can easily make at home!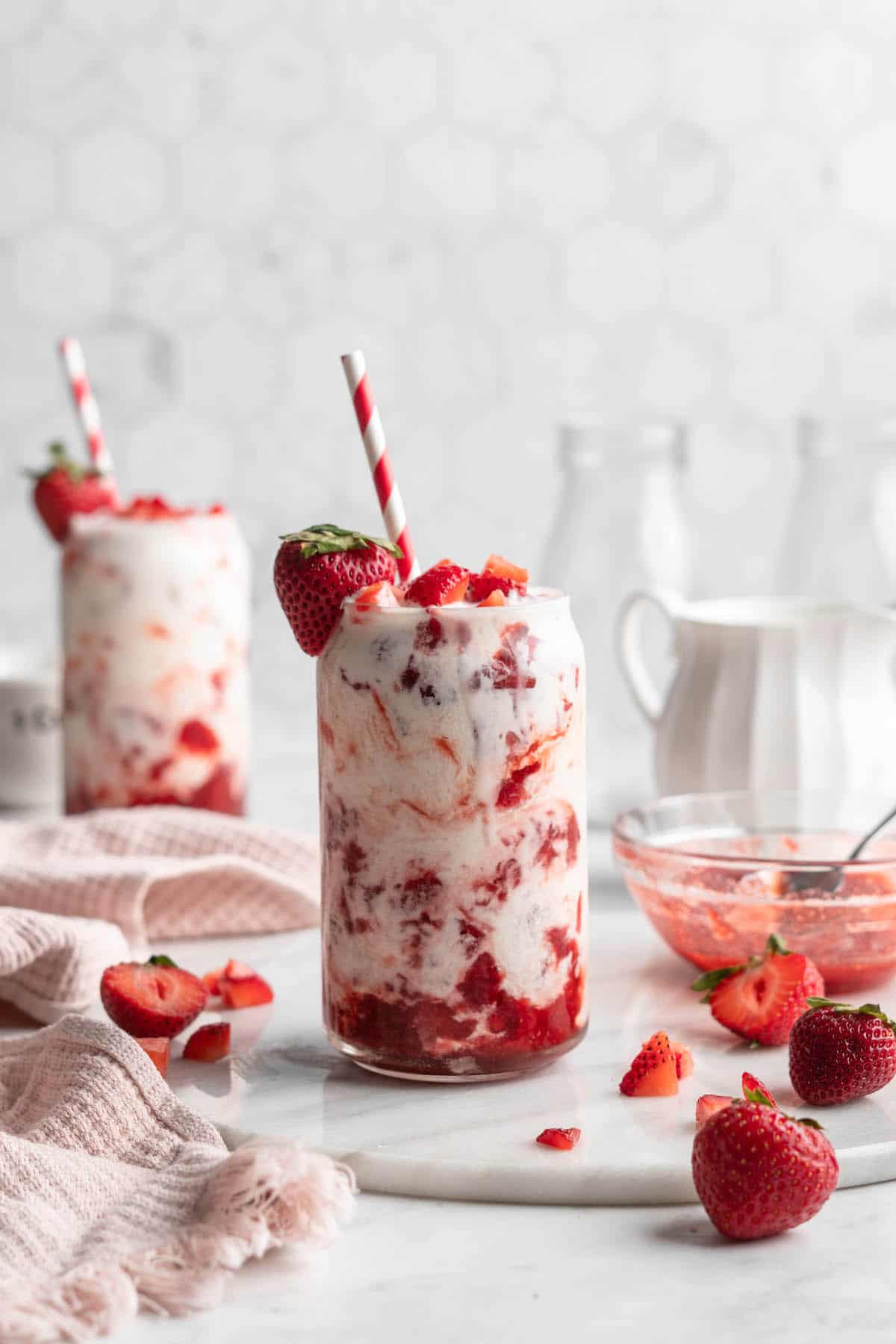 Nope, this is not the strawberry milk made with artificially flavored powder or syrup! Korean strawberry milk is made with real strawberries and it's an absolute treat. A staple in Korean cafes, strawberry milk has become a popular drink around the world because it's refreshing, delicious, and oh-so-easy to whip up.
What Is Korean Strawberry Milk?
Aside from the fact that it's made with fresh strawberries, Korean strawberry milk is different from the kind you probably grew up drinking because it has bits of macerated strawberry in the milk, rather than being completely smooth. You'll need a big boba-style straw to get all that deliciousness out of the bottom of the glass—or simply use a spoon!
The basic recipe is sugar, strawberries, and milk, but I like to add a squeeze of lemon juice when I'm making my vegan Korean strawberry milk because a little bit of acid helps balance all the sweetness.
(If you love fresh strawberries, be sure to try my Strawberry Coconut Overnight Oats, Strawberry Banana Bread, and Gluten-Free Vegan Strawberry Pancakes too!)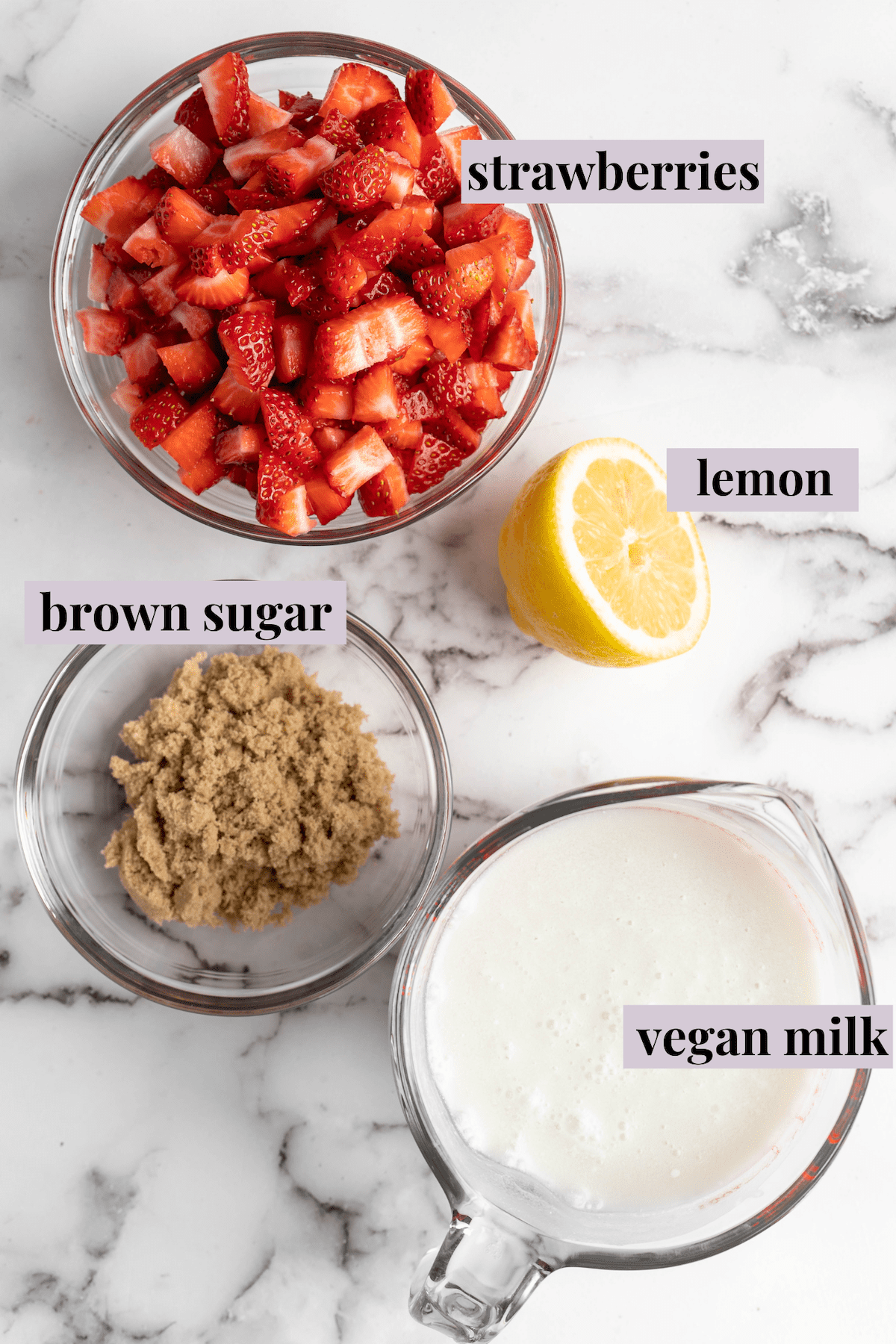 Notes on Ingredients
Please note that this is important information on the ingredients and instructions and the FULL recipe with amounts and details can be found DOWN BELOW (scroll to it) in the recipe card.
Strawberries – Use fresh strawberries when they're in season, and frozen strawberries when they're not. Both work!
Sugar – You can use either cane sugar or brown sugar for this recipe. If you decide to use brown sugar, I recommend light brown rather than dark.
Lemon juice
Unsweetened non-dairy milk – Any kind you like or have on hand. Homemade cashew milk is especially delicious for Korean strawberry milk, but almond milk, soy milk, and oat milk all work too.
How Do You Prepare and Cut Strawberries?
Instead of lopping off the tops of the strawberries and then dicing them, I suggest hulling them, which ensures that you don't waste any tasty fruit! To do this, pull off the stem and leaves, then insert a pairing knife into the top of the strawberry at a 45º angle and rotate it to remove the hull.
How to Make Vegan Korean Strawberry Milk
You can prepare the syrup and macerated strawberries a day ahead of time so your ingredients are all ready to go! Here's what you'll need to do.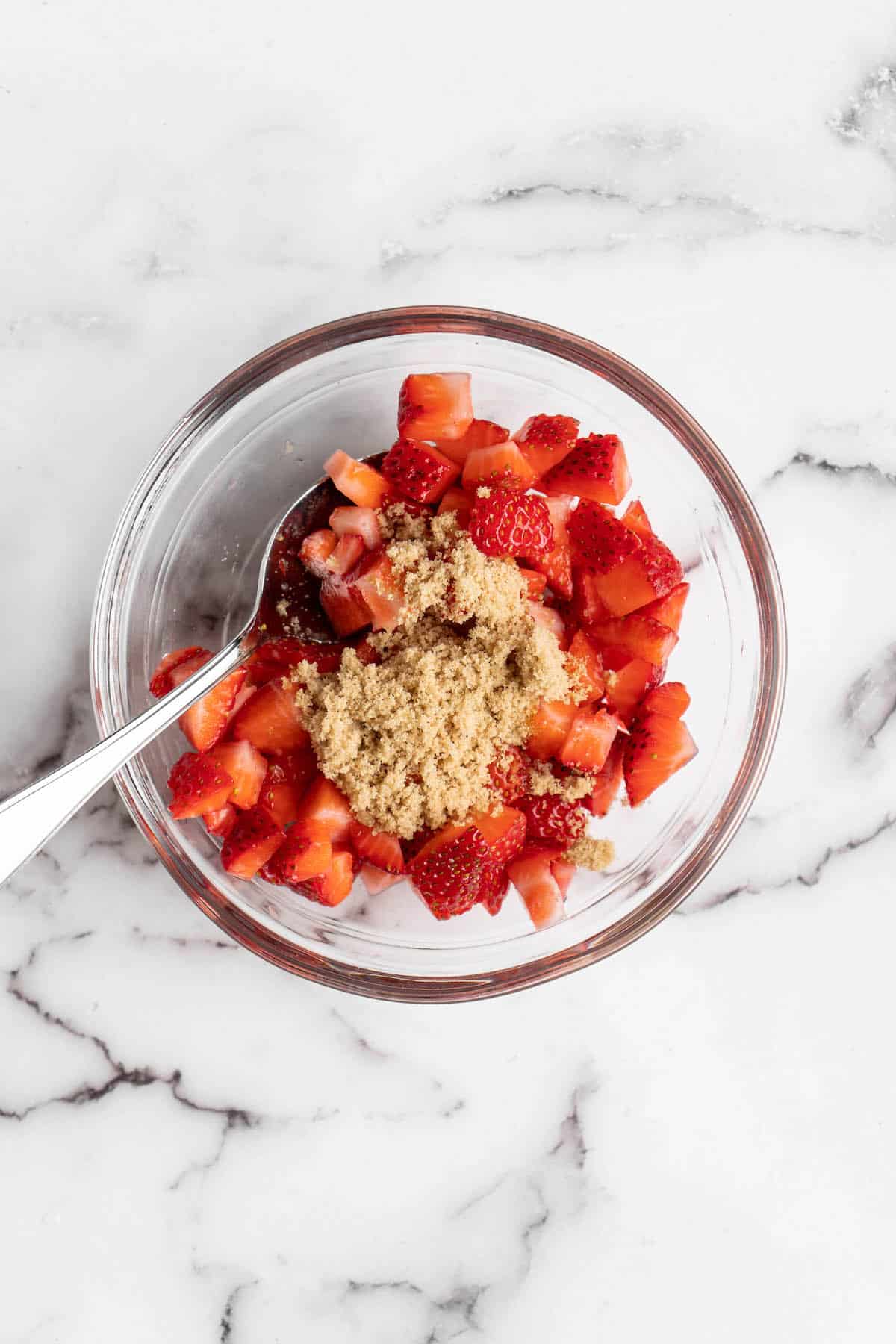 Macerate the strawberries. Place 3/4 cup of diced strawberries in a bowl. Add a tablespoon of sugar and stir. Set this aside to macerate.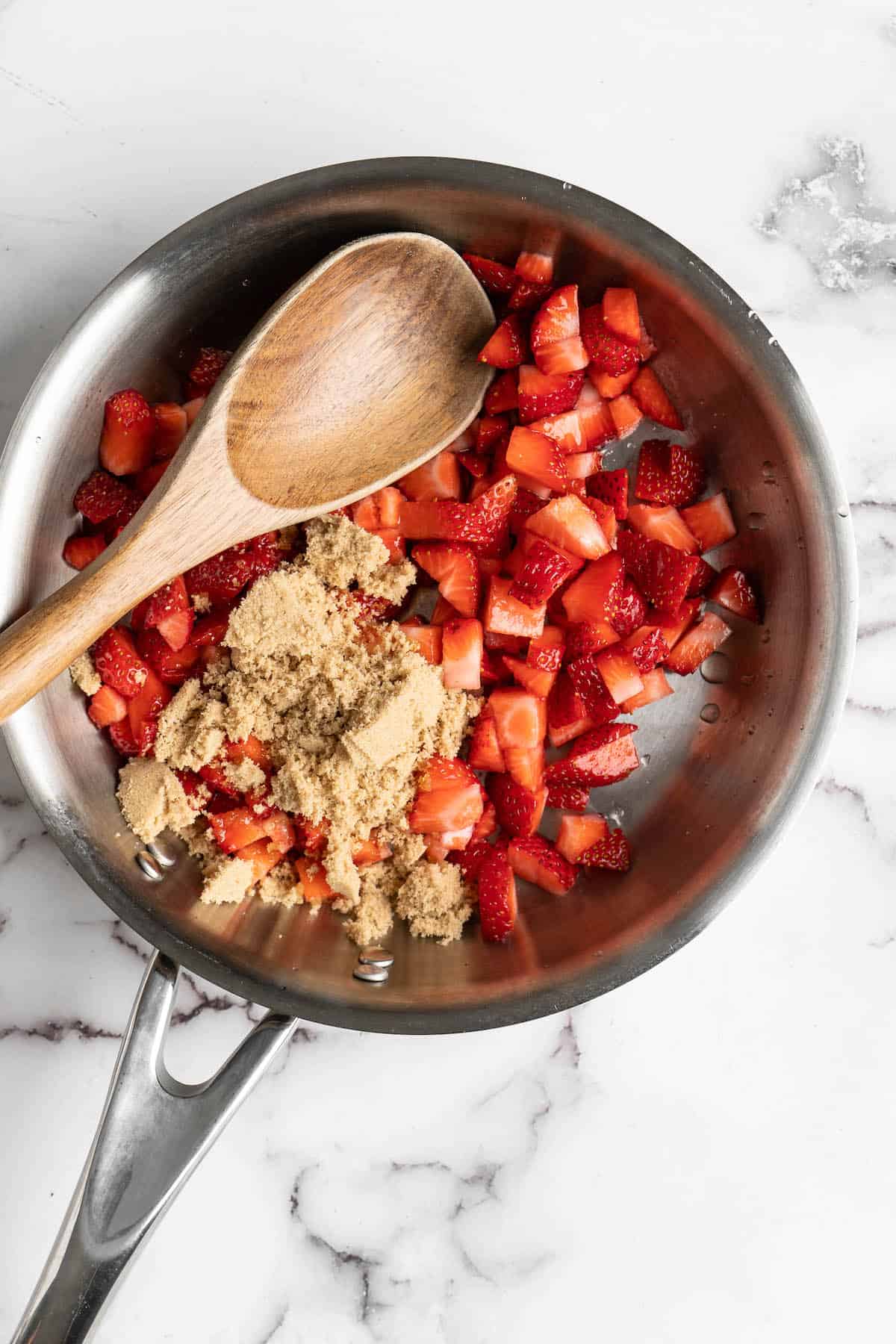 Make the syrup. Add the remaining strawberries to a saucepan, along with the rest of the sugar and a squeeze of lemon juice. Bring the mixture to a boil, then reduce to just above a simmer and cook for about 10 minutes, stirring frequently, or until the berries are broken down and syrupy. Chill the syrup in the refrigerator.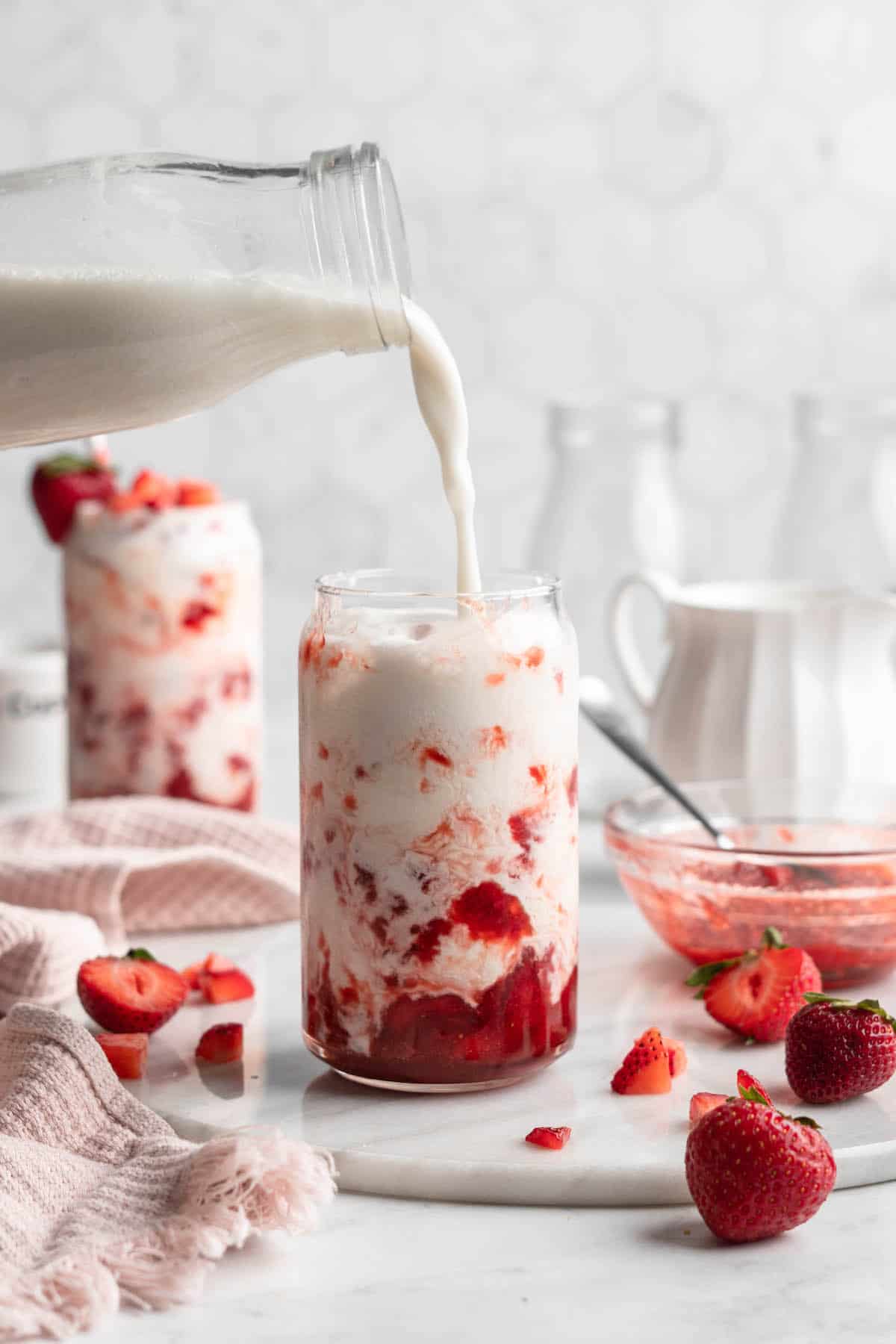 Assemble. For each glass of strawberry milk, use 2 to 3 tablespoons of syrup, 3/4 cup of milk, a small handful of ice cubes, and a tablespoon of macerated strawberries. Stir to combine.
Tips for Success
Here are some hints and tips for perfect Korean strawberry milk.
Using frozen strawberries. If you're using frozen strawberries, you'll need to thaw them first. If you're in a rush, you can place them in a colander and run hot water over them to defrost them quickly.
Chill the syrup before you use it. The refrigerator time isn't just for making the syrup cold! The flavors will develop as the syrup cools.
Adjust as needed. You can use more or less syrup or strawberries; the recipe above is really just a template, so feel free to switch things up with different proportions.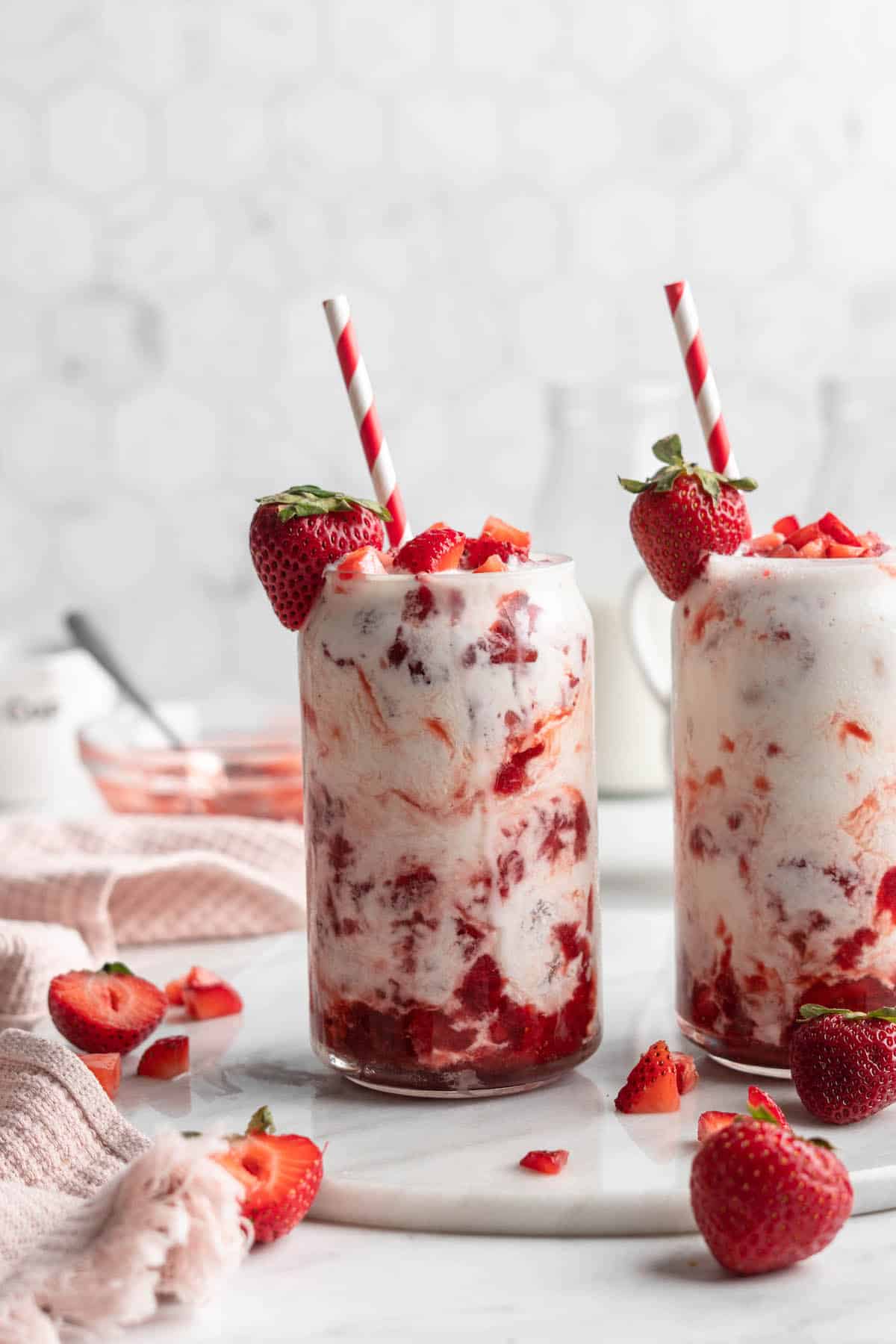 Variations
I love the simplicity of this Korean strawberry milk recipe, but here are some ways to fancy it up if you'd like.
Use vanilla plant-based milk instead of unsweetened, or add a splash of vanilla extract to the syrup.
Add a dollop of coconut whipped cream to the top for a more decadent treat.
Swap the milk for matcha latte for a boost of caffeine.
How to Store Leftovers
The strawberry milk itself will last in the fridge for 2 to 3 days once you've mixed it up. The strawberry syrup will last for about 4 days, while the macerated strawberries should be used within 2 to 3 days.
Can I Freeze This Recipe?
You can freeze both the syrup and the strawberries if you want to take advantage of fresh, local strawberry season and keep Korean strawberry milk ingredients on hand for future use. Store them in freezer bags for up to 3 months and thaw them in the refrigerator before using them.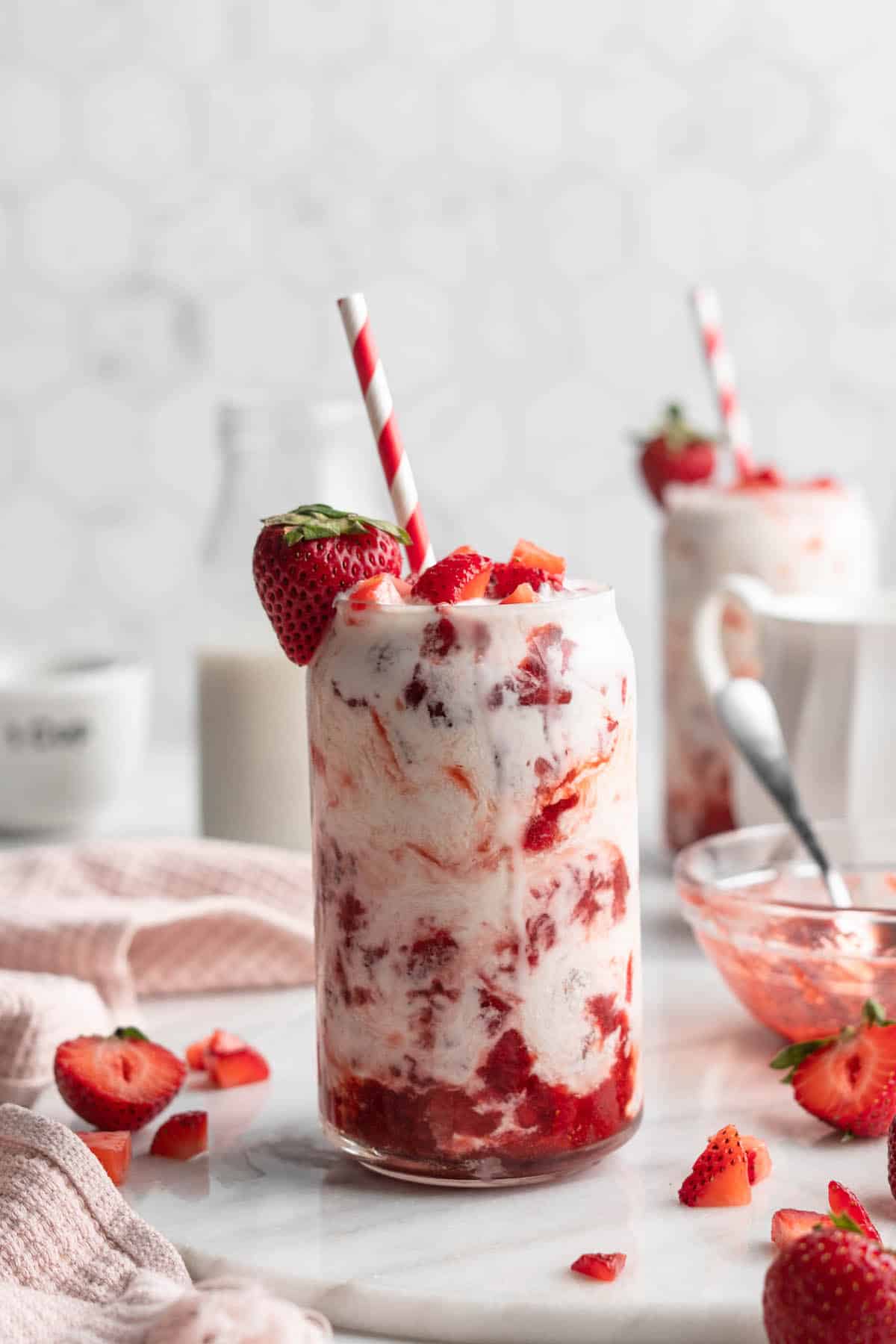 Enjoy friends! If you make this vegan Korean strawberry milk recipe, please snap a photo and tag #jessicainthekitchen on Instagram! We'd also love it if you would leave a comment below, and give the recipe a rating! Thanks so much!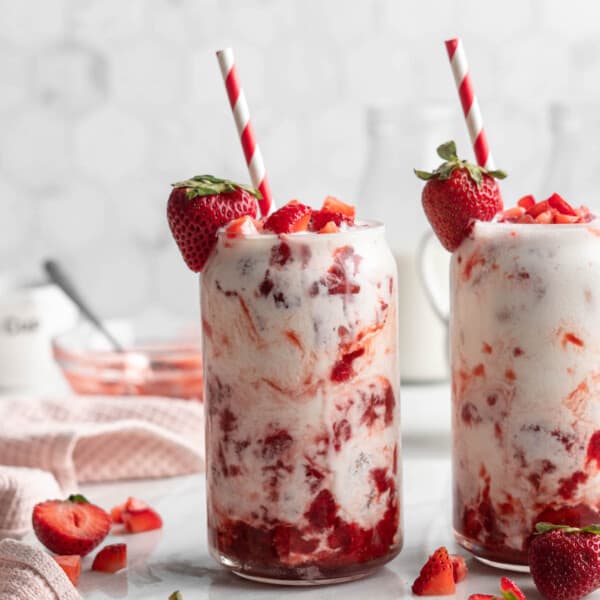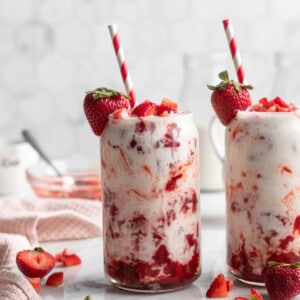 Korean Strawberry Milk
Here's how to make cafe-style vegan Korean strawberry milk! This easy recipe is made with just 4 simple ingredients and each glass is full of sweet, fresh strawberries. So delicious!
Ingredients
1 lb strawberries, finely diced (2 ¾ cups) – Divided into 2 cups and ¾ cup
¼ cup cane/brown sugar
Squeeze of lemon juice
2-3 cups unsweetened non dairy milk
Instructions
With the ¾ cup of diced strawberries – add 1 tbsp sugar to it and stir to macerate (draw out the juices basically). Let it sit aside.

With the 2 cups of diced strawberries – add to a pan with 3 tbsp sugar large squeeze of lemon juice or lime. Bring to a boil then just above a simmer for 10 minutes (stir frequently) until broken down and syrup-y

Set the syrup in the fridge to cool until cold.

In a glass, add like 2-3 tbsp of syrup, ¾ cup of your milk (I used unsweetened soy), ice, then top with like 1 tbsp of the macerated strawberries. Stir to combine. Feel free to add more syrup or more strawberries. Enjoy! Store the rest of the syrup and macerated strawberries in the fridge.
Notes
The strawberry milk itself will last in the fridge for 2 to 3 days once you've mixed it up. The strawberry syrup will last for about 4 days, while the macerated strawberries should be used within 2 to 3 days.
Calories: 135kcal, Carbohydrates: 30g, Protein: 1g, Fat: 2g, Saturated Fat: 0.02g, Polyunsaturated Fat: 0.2g, Monounsaturated Fat: 1g, Sodium: 114mg, Potassium: 256mg, Fiber: 3g, Sugar: 25g, Vitamin A: 18IU, Vitamin C: 89mg, Calcium: 39mg, Iron: 1mg
Disclaimer: Although jessicainthekitchen.com attempts to provide accurate nutritional information, kindly note that these are only estimates. Nutritional information may be affected based on the product type, the brand that was purchased, and in other unforeseeable ways. Jessicainthekitchen.com will not be held liable for any loss or damage resulting for your reliance on nutritional information. If you need to follow a specific caloric regimen, please consult your doctor first.