Pumpkin Spice Matcha Latte (Vegan)
This Pumpkin Spice Matcha Latte is very seasonal and also gives you a delightful boost of energy! It's easy to make and so frothy since it's made in a blender!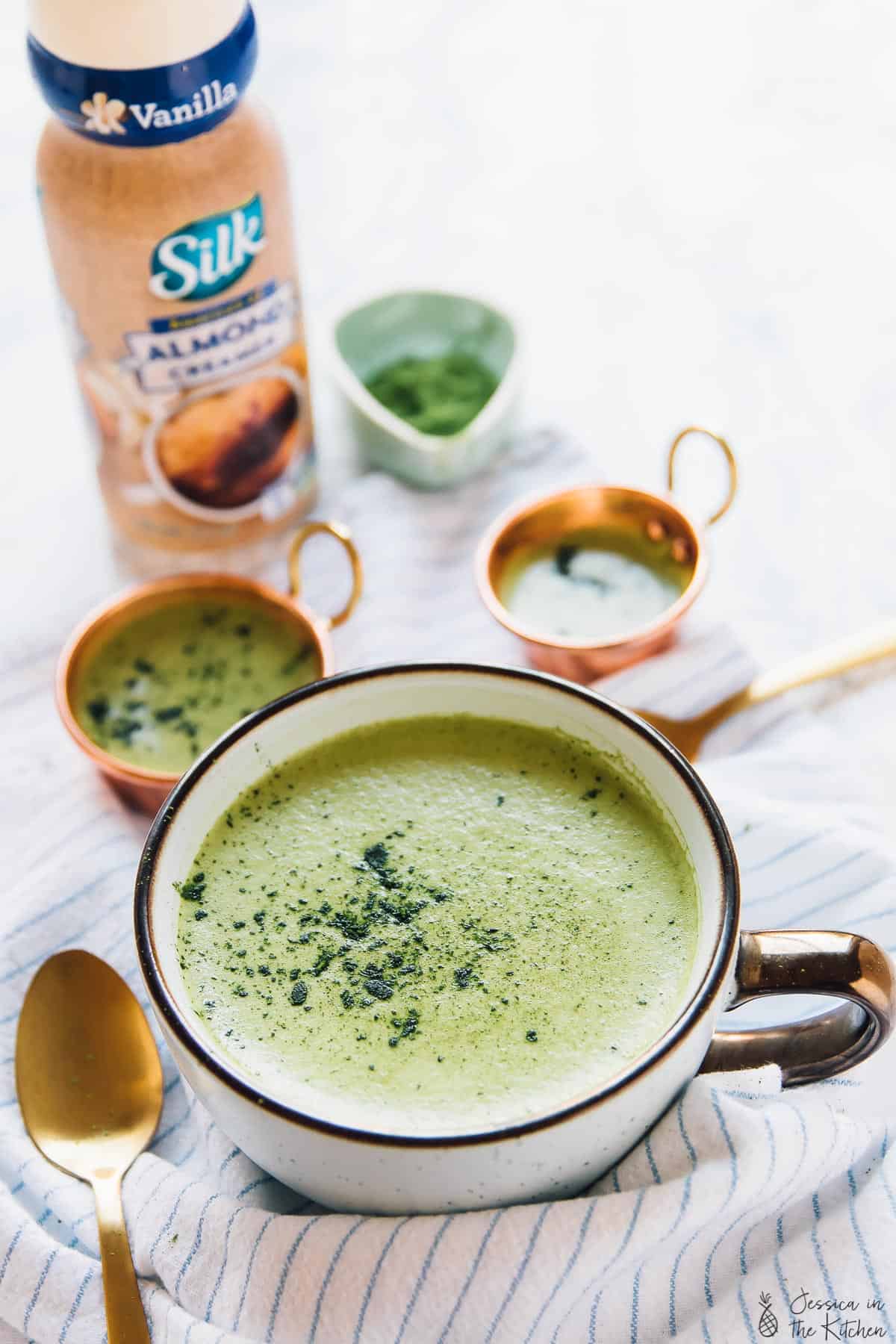 Fun fact: I just joined the matcha train. I've heard about its amazing benefits for years, and awed at that gorgeous colour friend. Was everyone having stunning green lattes daily without me? I finally tried matcha recently, and I have had a matcha latte every single day since I first tried it. Since it's fall, I wanted to give it a signature fall taste by adding pumpkin spice to it, just like my Pumpkin Spice Turmeric Milk. Spoiler alert – it makes it even better.
This Pumpkin Spice Matcha Latte tastes and feels just like a store bought latte drink. It's foamy, so smooth and energises you! Oh P.S. – you make it in your blender, then pour into your mug. Easy Street.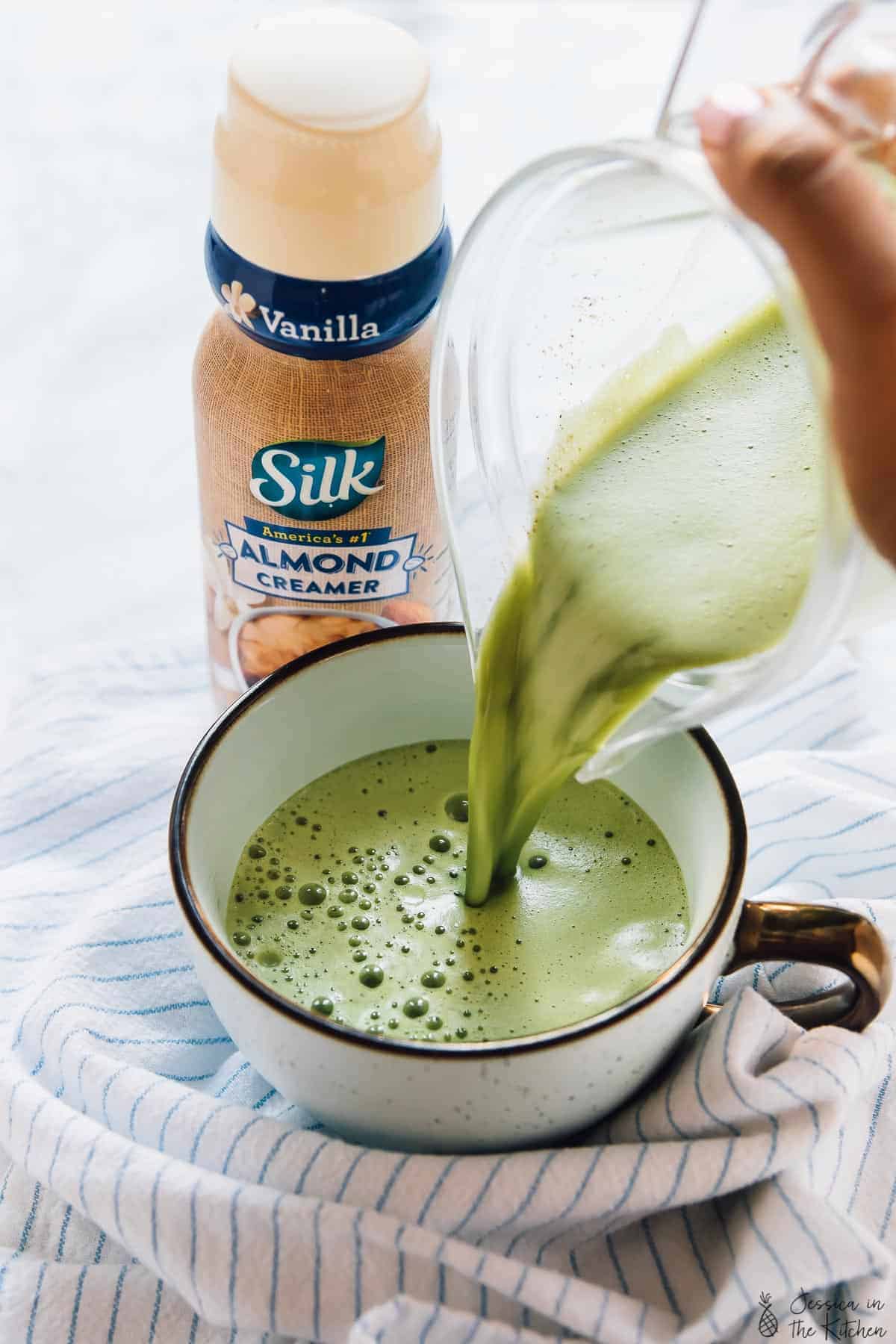 So, what's matcha? Matcha powder is actually made from finely ground green tea leaves. I've been drinking green tea several times a week for almost a year and when I actually looked up what matcha was made from and all its benefits, I KNEW I needed to try it. Matcha is packed with so many nutrients – plus it's high in antioxidants, leaves you feeling calm and probably my favourite amongst the list is that it gives you a great, long lasting energy boost. It's the kind of drink that calms you in the morning at breakfast while keeping you going all day long.
Win, win.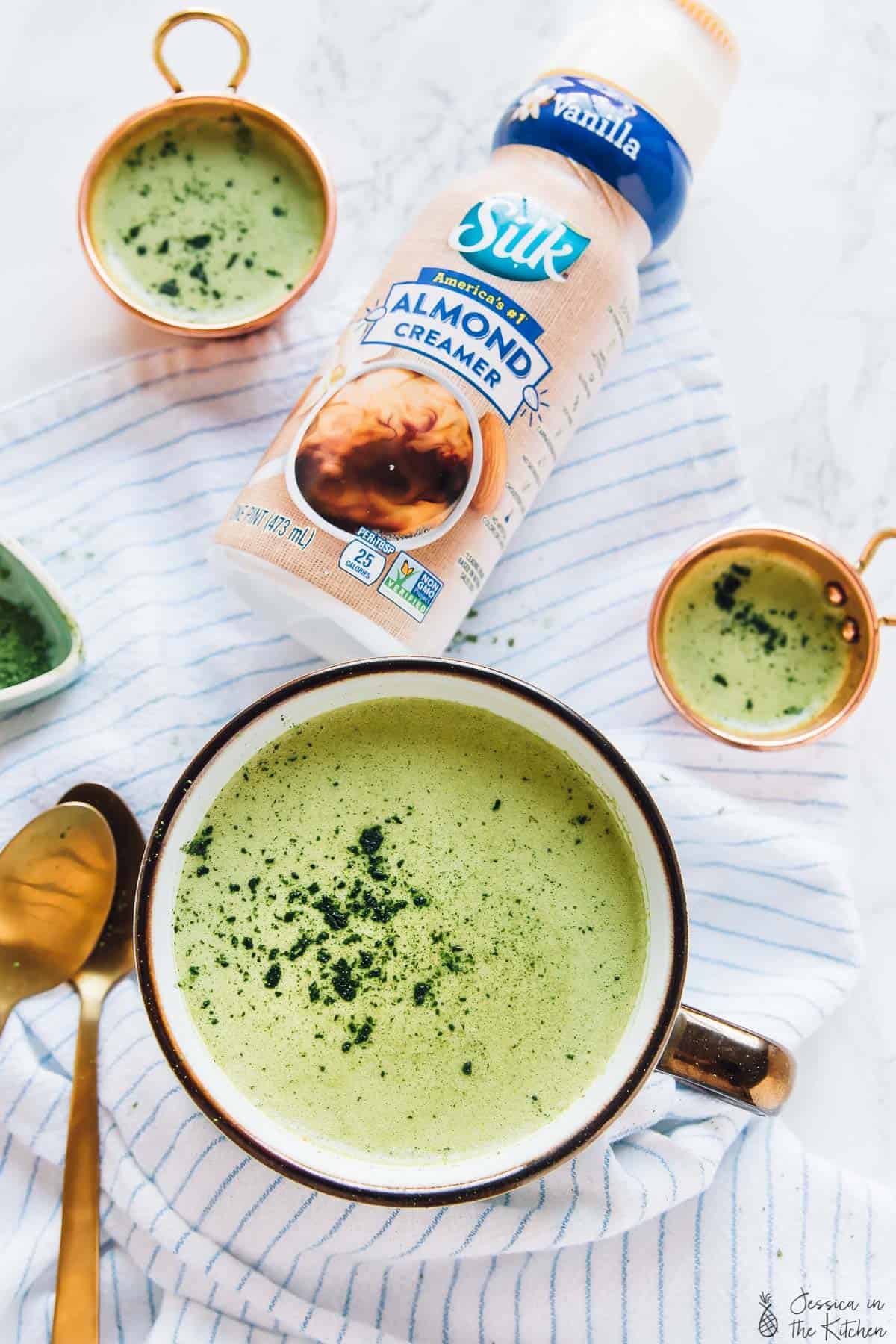 I wanted to create a recipe that was extremely easy for you to recreate, while being delicious at the same time of course. This one is only 6 ingredients and for my sweetener, I used Silk Vanilla Almond Creamer. Fun fact (I am just full of those today, right?!) Silk Vanilla Almond Creamer is dairy-free, smooth and adds a really nice note of nuttiness and vanilla to the Pumpkin Spice Matcha Latte. As with everything I share, you know there are no artificial colours, flavours or any of that stuff. I want this Matcha Latte to give you only 100% great benefits, and friends, that it does.
One sip, and I was convinced. Every morning that I've had this, I turn off the tv/podcast/anything and just allow myself to sit there for a bit and enjoy it. It's like a little bit of paradise each morning to get my day going. I love that the Silk Vanilla Almond Creamer goes such a long way – two tablespoons is enough for two servings, and of course you can add a bit more if you want more sweetness. It was the perfect amount for me and complimented the other ingredients perfectly.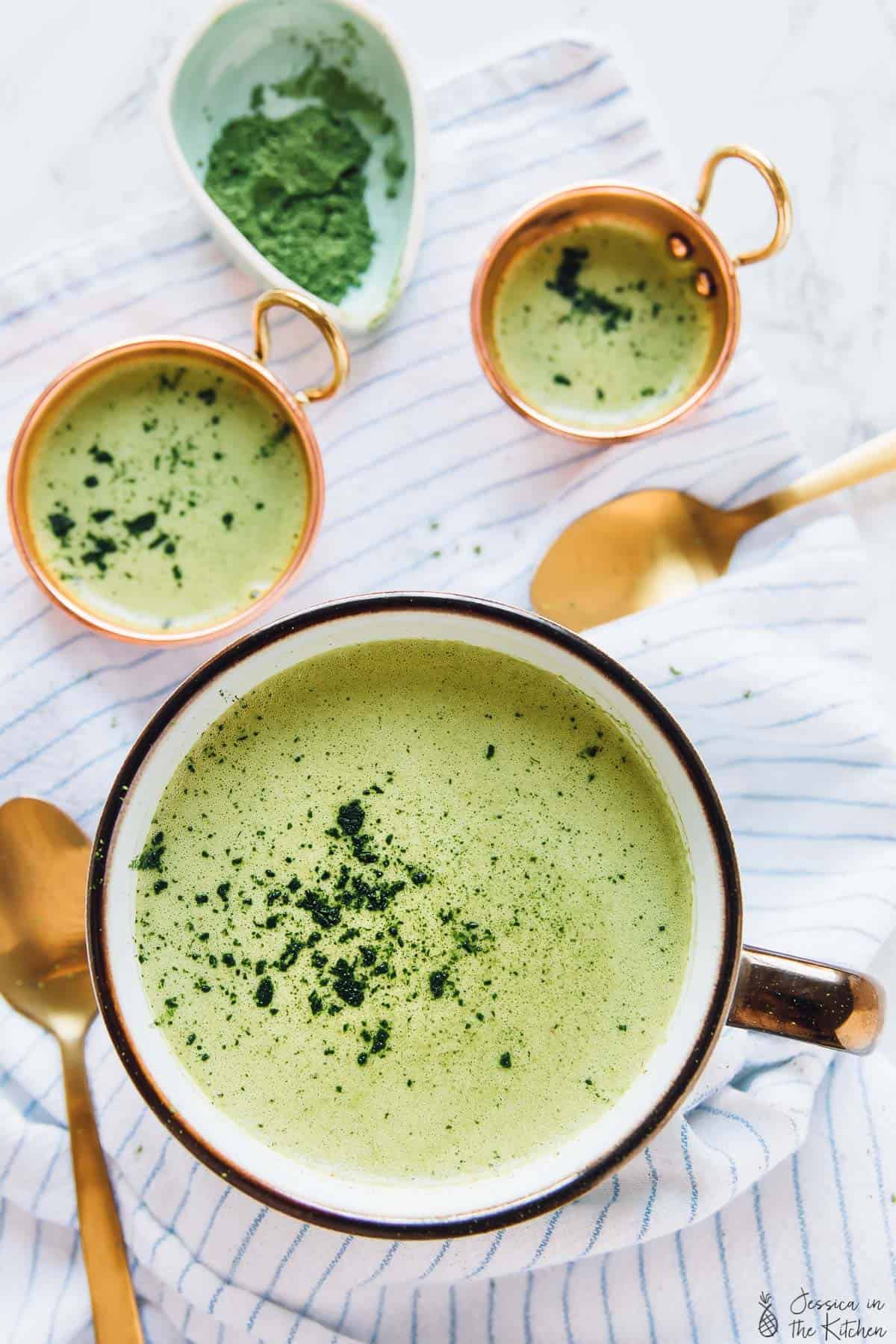 Oh! Did I forget the best part? You get that store-bought froth on top too! Thanks to the MCT oils in coconut oil, and the help of the blender, you're your own personal barista, friend. You add all the ingredients to your blender, blend, and you've got yourself a Matcha Latte, on the house.
If you're looking for the ultimate, daily moment of peace, then you need to try this Pumpkin Spice Matcha Latte. I know you'll love it and I LOVE that it'll start your day off right. Isn't that what we all need for your busy and important lives? Enjoy, friends!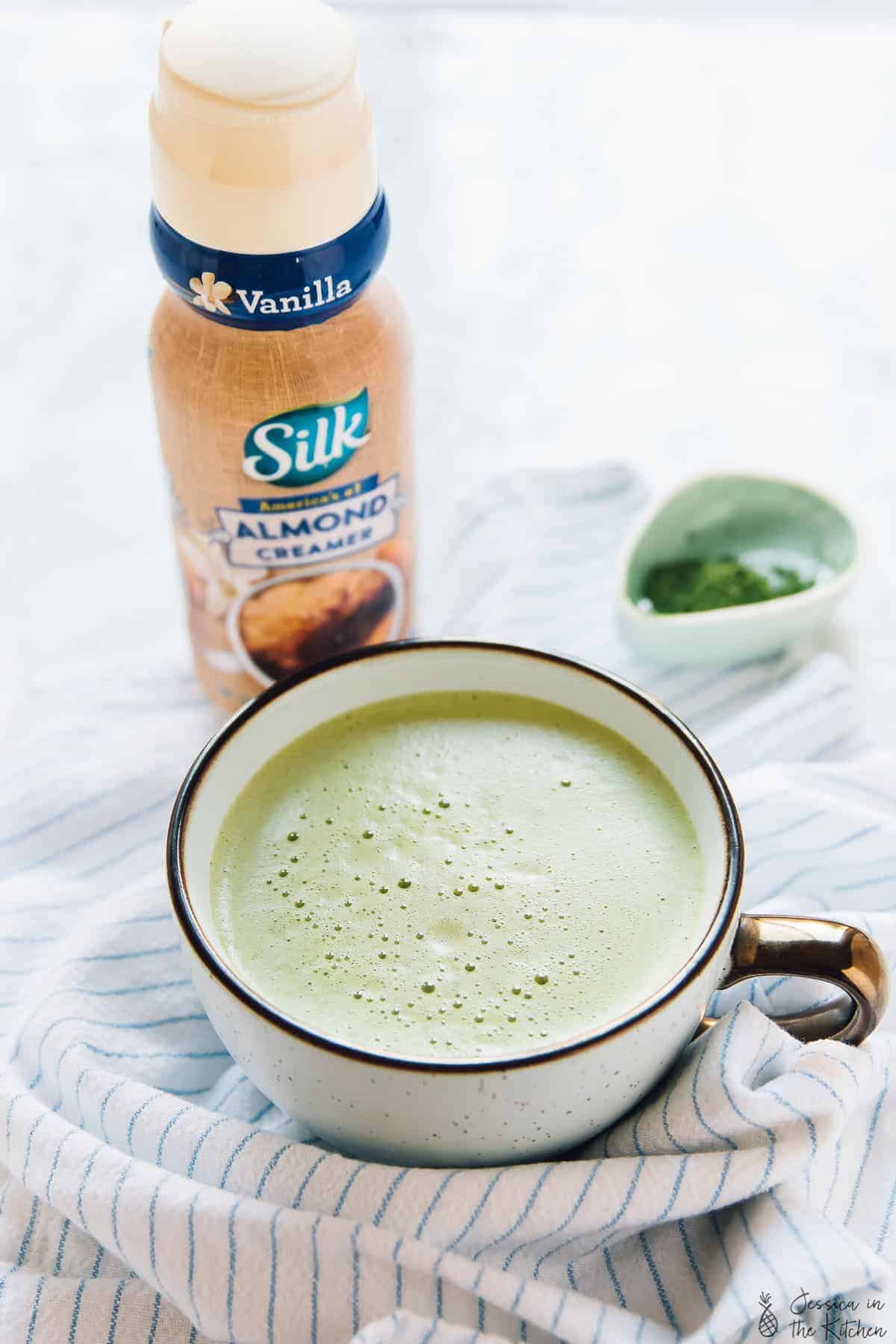 This is a sponsored conversation written by me on behalf of Silk. The opinions and text are all mine. Thanks so much for supporting brands that support Jessica in the Kitchen!
P.S. – sign up for Silk's emails to get a free coupon!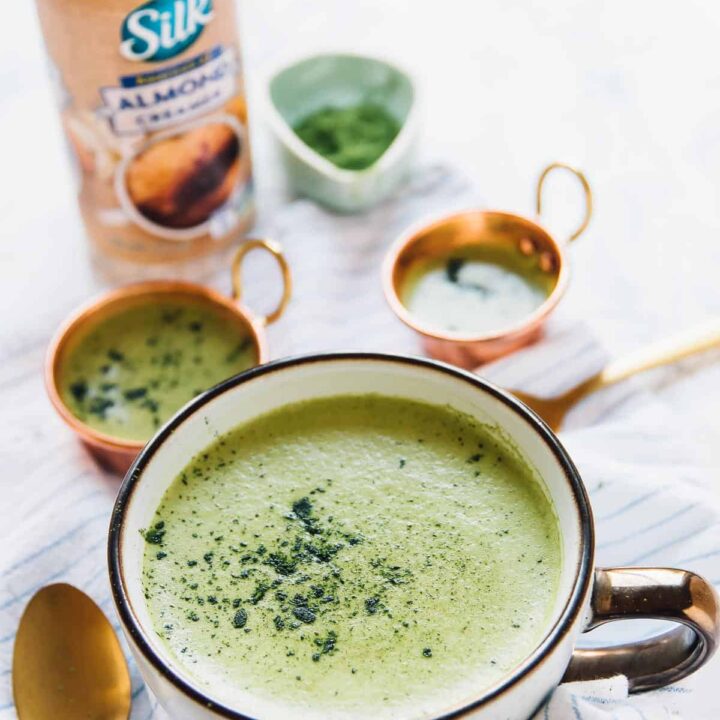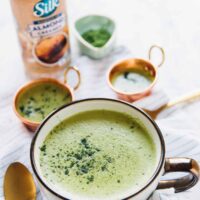 Pumpkin Spice Matcha Latte (Vegan)
This Pumpkin Spice Matcha Latte is very seasonal and also gives you a delightful boost of energy! It's easy to make and so frothy since it's made in a blender!
Ingredients
2 teaspoons matcha powder
1 teaspoon pumpkin pie spice
1 cup boiling water
2 tablespoons Silk® Vanilla Almond Creamer
1 cup almond milk
2 teaspoons MCT oil or unrefined virgin coconut oil
Instructions
In a blender, add all the ingredients together and blend for 45 seconds to a minute. I like to strain the matcha and pumpkin spice through a mini strainer to get a deliciously clean matcha latte.
Top with extra matcha or extra pumpkin spice and enjoy!!
Notes

If you try this Pumpkin Spice Matcha Latte (Vegan) please let me know in the comment section below, or tag me on instagram with the hashtag #jessicainthekitchen! For more exclusive recipes follow me on Instagram AND on Snapchat: jessinkitchen.
NOTES:
If your matcha latte cools down in the blender, you can always add more boiling water on top of it if you'd like it very hot.
Calories: 70kcal, Carbohydrates: 1g, Protein: 3g, Fat: 6g, Saturated Fat: 4g, Sodium: 188mg, Fiber: 1g, Sugar: 1g, Vitamin A: 200IU, Calcium: 175mg, Iron: 1mg
Disclaimer: Although jessicainthekitchen.com attempts to provide accurate nutritional information, kindly note that these are only estimates. Nutritional information may be affected based on the product type, the brand that was purchased, and in other unforeseeable ways. Jessicainthekitchen.com will not be held liable for any loss or damage resulting for your reliance on nutritional information. If you need to follow a specific caloric regimen, please consult your doctor first.