Pumpkin Waffles
Rich, fluffy, and full of your favorite fall flavors, these vegan pumpkin waffles are the perfect breakfast for a cozy day. They're soft and moist on the inside, crispy on the outside, and packed with so much hearty pumpkin flavor.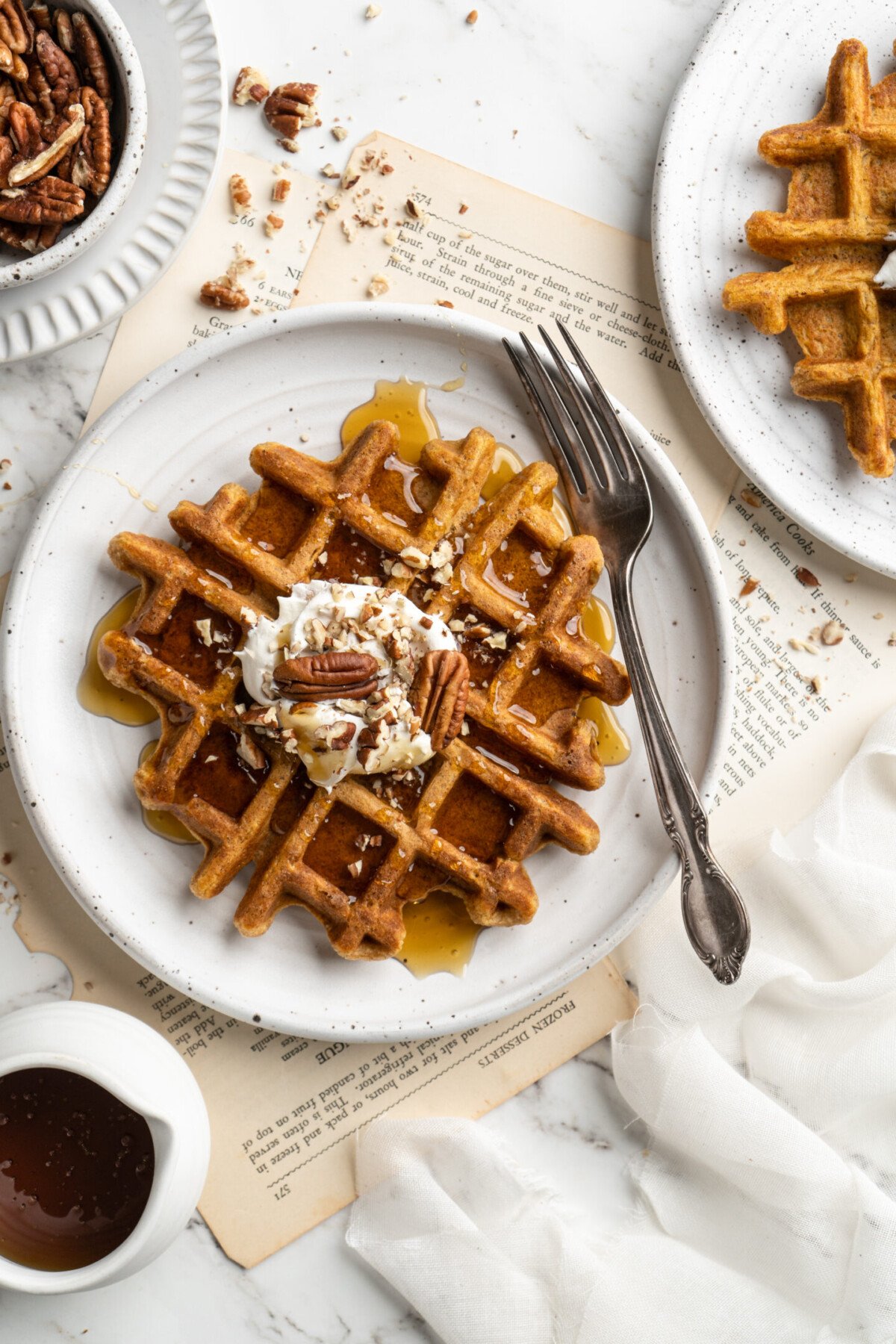 Lately I've been on a serious waffle kick. Waffles are such an easy and luxurious breakfast, and you can top them with whatever goodies you're craving. Unfortunately, a lot of vegan waffle recipes are dense and chewy. So I decided to try and make waffles that were light, fluffy, and moist. After perfecting my traditional Vegan Waffles, I realized it was time to move on to my favorite fall breakfast: pumpkin waffles.
These vegan waffles are loaded with the rich and complex flavor of pumpkins, and packed with traditional fall and winter spices. They taste as if Thanksgiving dessert was a breakfast, and their texture is soft and pillowy. Plus, they only take 15 minutes of work, they're completely vegan, and you can easily make them gluten-free. You've got to give them a try!
Why You'll Love These Vegan Pumpkin Waffles
Once the weather starts to turn, I'm making this easy pumpkin waffle recipe at least once a week. Here's why I know you'll love it just as much as I do.
So easy. Even though these rich pumpkin waffles taste like something you'd order at your favorite weekend brunch spot, they're really easy to make. The entire recipe only requires 15 minutes of work, and the instructions are super simple to follow.
A healthier option. Waffles are an indulgent breakfast treat, but this recipe is a lot healthier than most waffles. There's no dairy, and the vegan pumpkin waffles use agave or maple syrup instead of granulated sugar. Pumpkin and banana give the waffles some nutritional value, and you can easily make them gluten-free.
Fall flavors. I love fall. The sweater weather, the leaves changing color, the holidays, and most importantly, the food! These waffles have so many rich, sweet, and spicy fall flavors, with pumpkin puree, fresh banana, maple syrup, and pumpkin spice seasoning.
What You'll Need
Here are all the ingredients you'll need to make these pumpkin puree waffles for breakfast. Make sure to head to the recipe card at the bottom of the page for the exact amounts of each ingredient.
Flour – You can use all-purpose flour, oat flour, or ground oats.
Baking powder
Baking soda
Salt
Banana – Make sure the banana is extremely ripe and mashed.
Pumpkin puree – Be sure to use unsweetened and unseasoned puree.
Maple syrup or agave nectar
Non-dairy milk – Use whatever type of unsweetened and unflavored non-dairy milk that you prefer.
Coconut oil – Vegan butter works as a substitute.
Pumpkin spice
How to Make Pumpkin Waffles
These moist and rich vegan pumpkin waffles are so easy to make. Here's how to do it.
Mix the dry ingredients. Add the flour, baking powder, baking soda, salt, and pumpkin spice to a bowl, and mix together.
Mix the wet ingredients. Place the pumpkin puree, mashed banana, non-dairy milk, coconut oil, and sweetener in a mixing bowl, and mix until combined.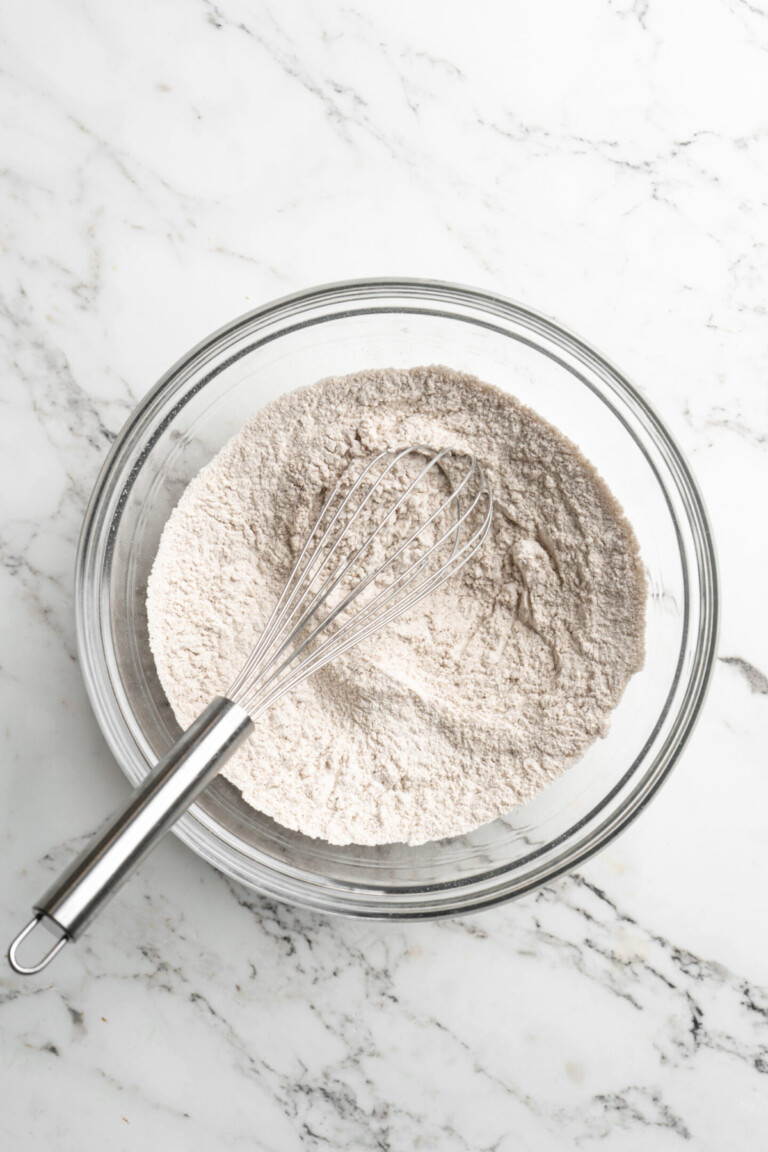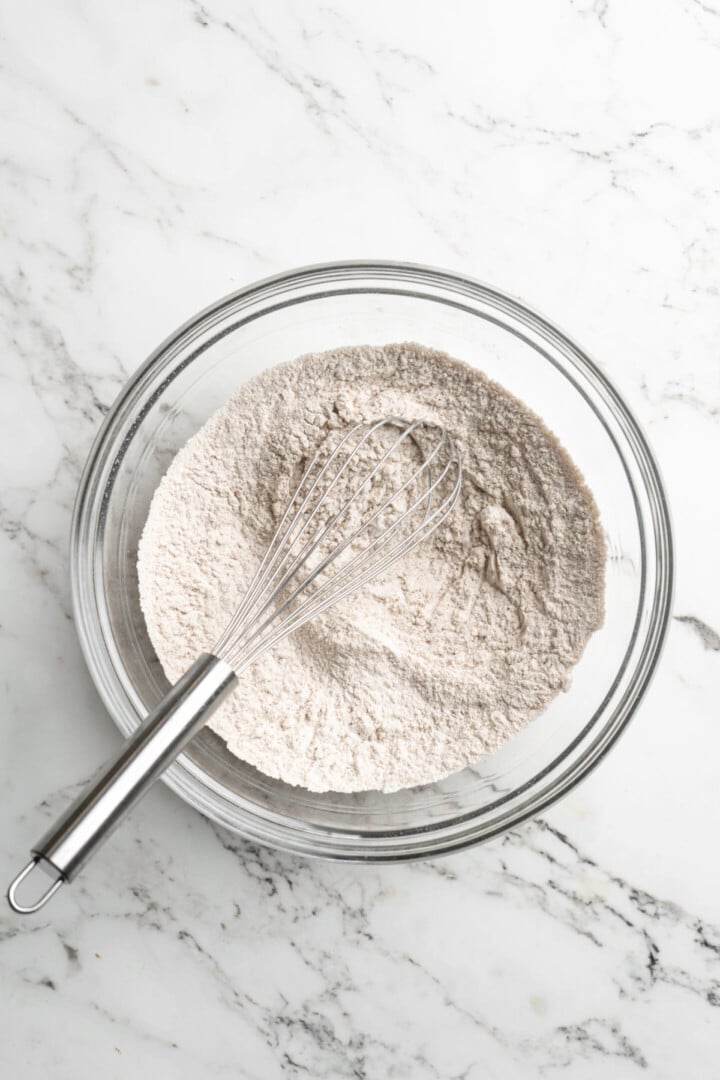 Make the batter. Combine the wet ingredients and the dry ingredients in a bowl, and mix until fully incorporated.
Rest. Let the batter sit for 15 minutes. If you're in a rush, you can skip this step, but it really makes a big difference.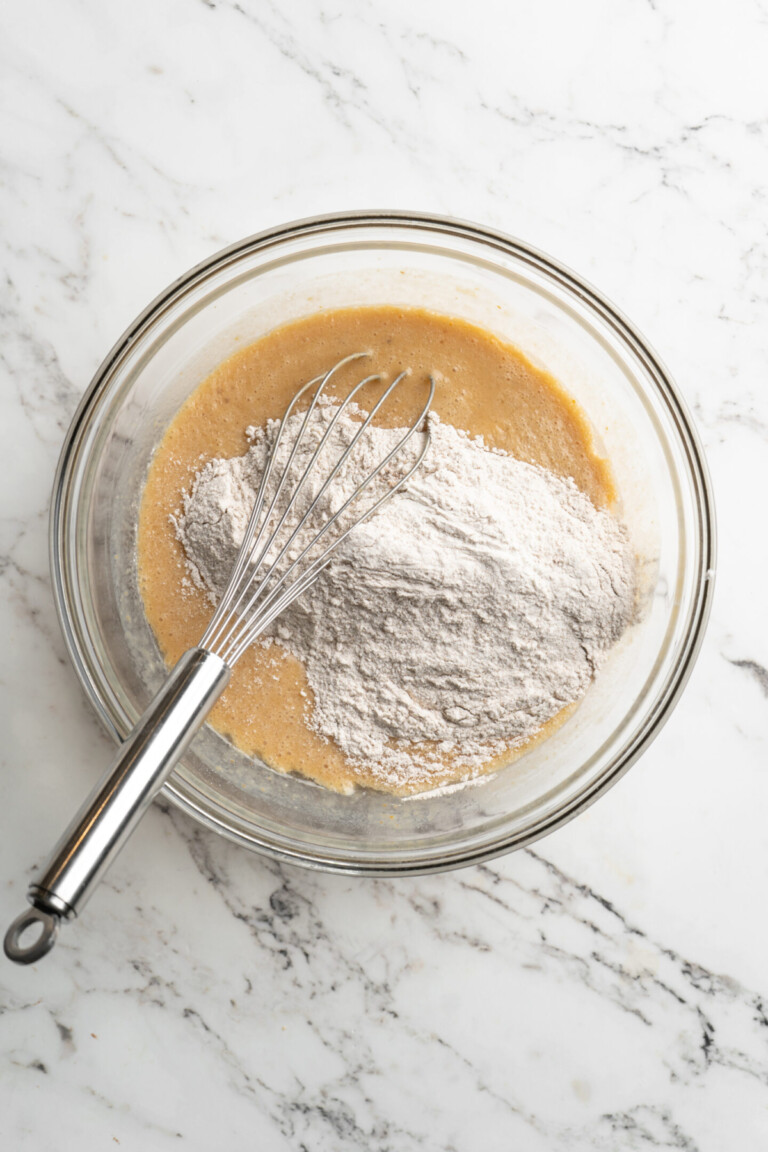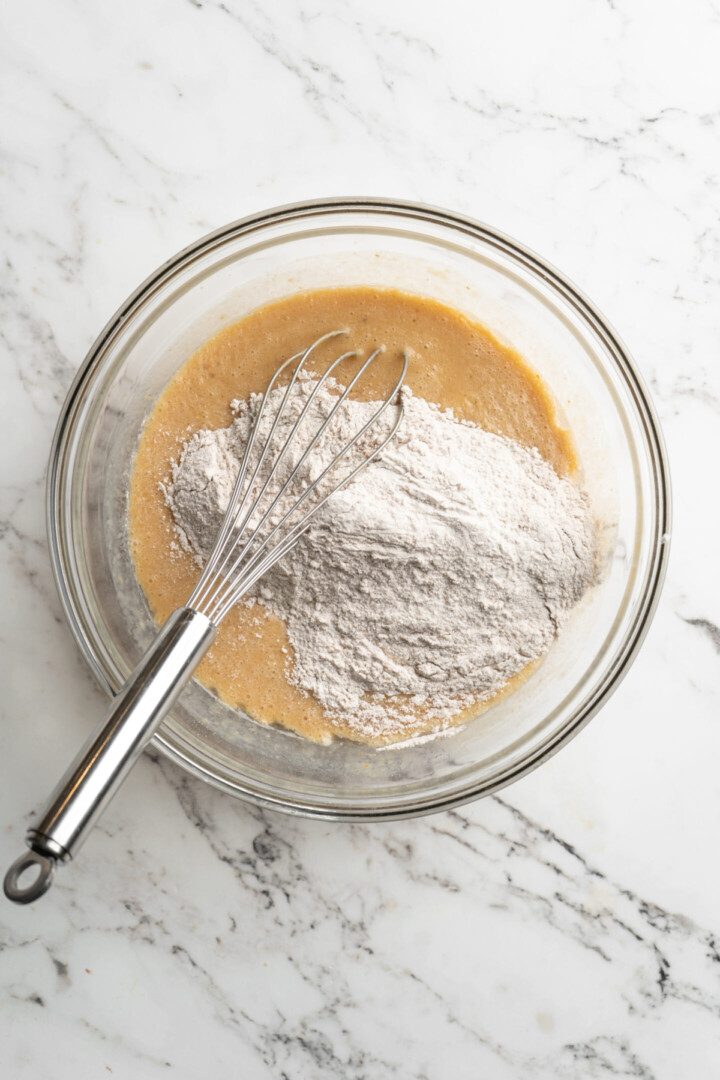 Preheat. While the batter rests, turn your waffle maker on to your desired setting.
Add the batter. Scoop about 1/2 a cup of the waffle batter into your waffle maker.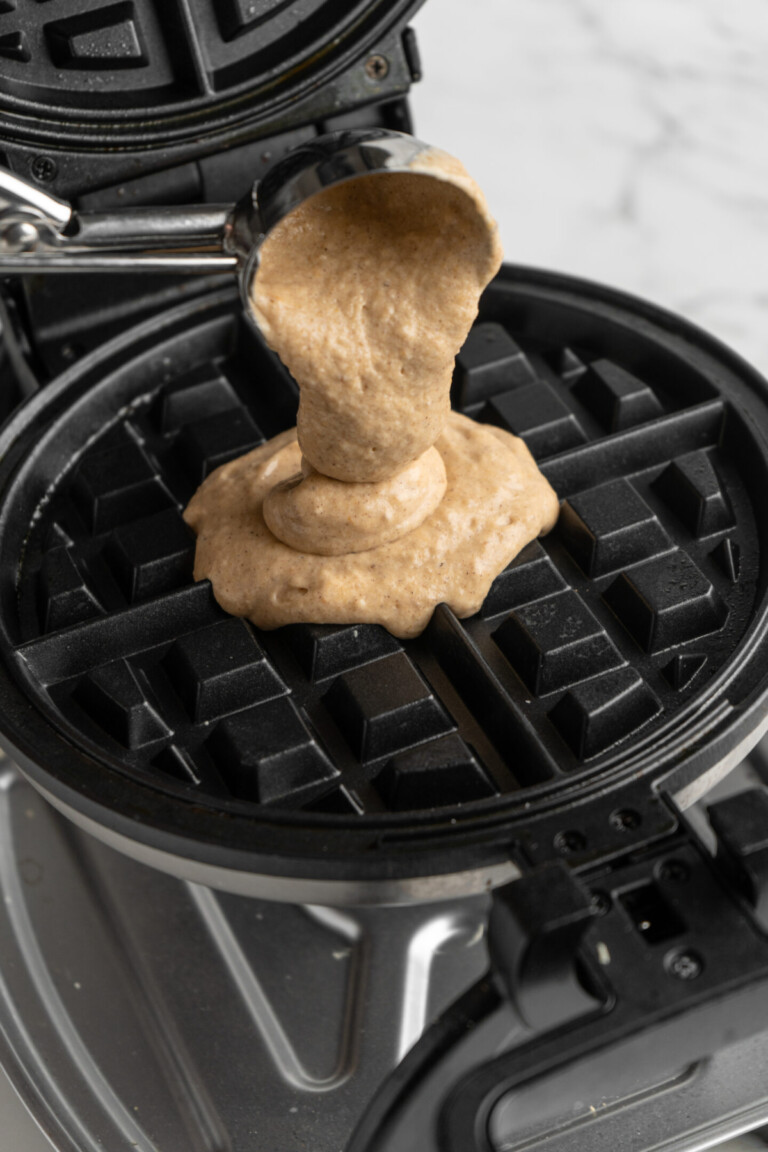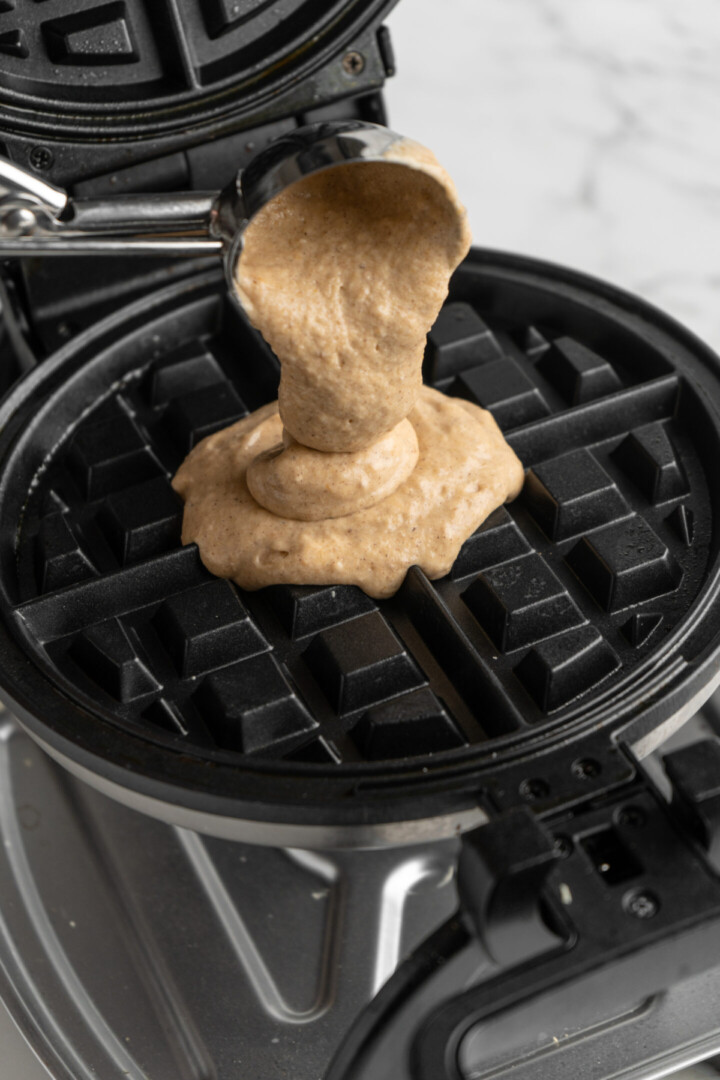 Cook. Cook until the waffle is done and the steam has stopped coming out of the machine. Remove the waffle and place it on a wire rack, and repeat with the rest of the batter.
Serve. Serve the pumpkin waffles hot with your favorite toppings.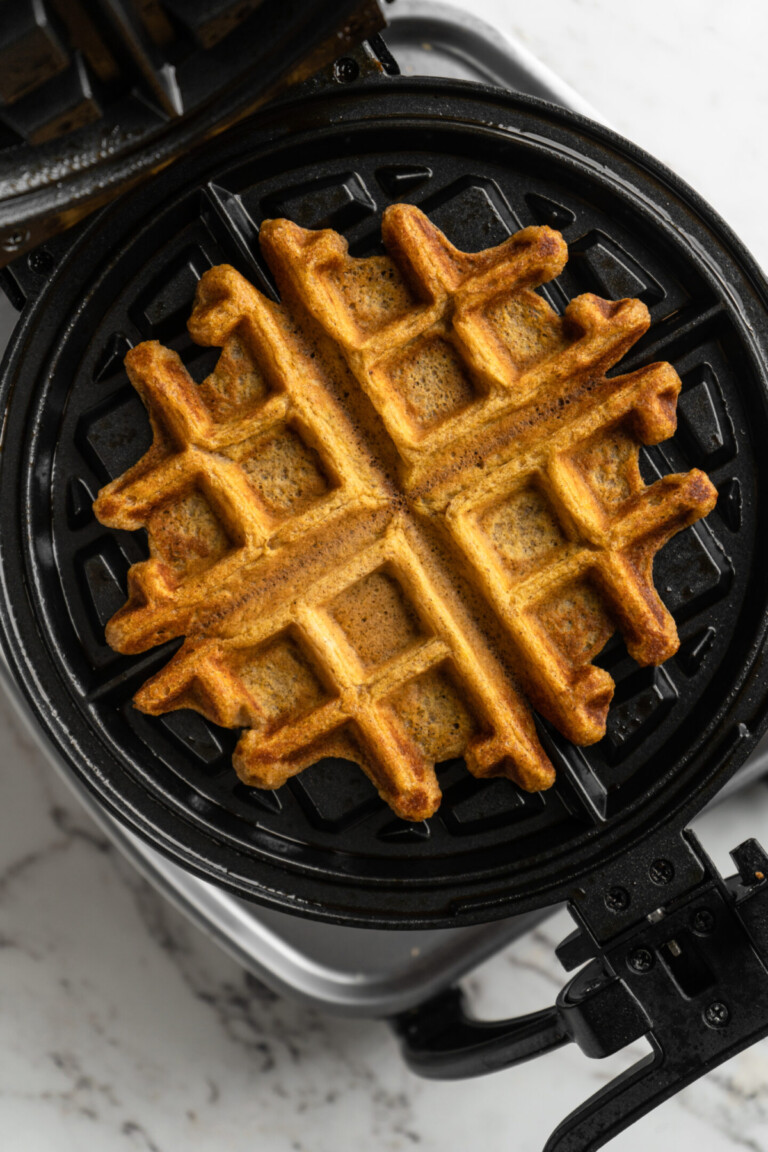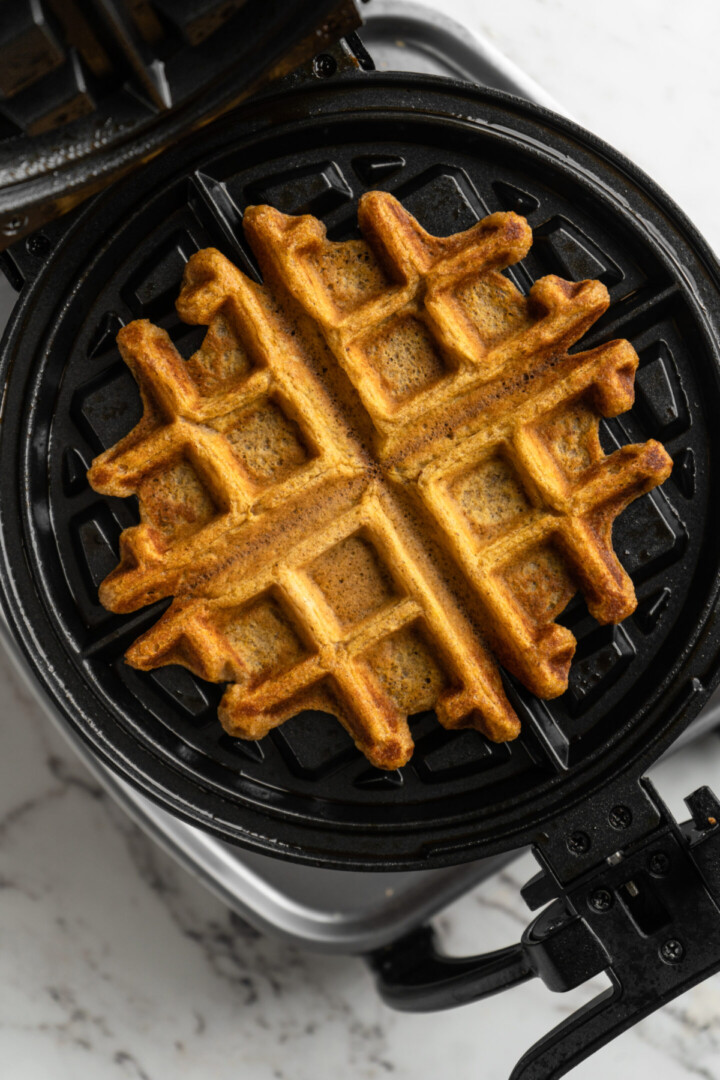 Tips for Success
Here are some of my favorite tricks to use when making this autumnal waffle recipe.
Make your own puree. You can definitely make this recipe with store-bought pumpkin puree, but it will taste so much better if you make your own. Homemade Pumpkin Puree is super easy to make, and it results in a puree that has a stronger, richer, and sweeter pumpkin flavor.
Wait for the steam to stop. When cooking the waffles, I've found that it's best to wait until steam stops emerging from the waffle maker before taking the waffles out. Sometimes the light will come on telling you the waffles are done even though steam is still pouring out of the machine. If you remove the waffles then, they won't be as airy and fluffy on the inside, or as crisp and caramelized on the outside. Instead, keep cooking the waffles until they stop steaming.
Adjust as necessary. For best results, make simple adjustments based on your waffle machine, and the kind of waffles you like. I use ½ cup of batter per waffle, which I've found is perfect for a standard-size waffle maker. If your waffle maker is bigger or smaller, you'll have to adjust. You'll also need to adjust the settings based on how done you like your waffles, and how hot the waffle iron is getting. And while you shouldn't need to add baking spray to the waffle maker, make sure to add some if your waffles are sticking.
Keep warm but don't steam. After the waffles are done cooking, place them on a single layer on a wire rack. Don't stack the waffles or put them on a plate, or else they'll steam and become soggy. If you're making a lot of waffles, keep the rack in the oven on the lowest setting, so the waffles will stay warm while the next batch cooks.
What to Serve With This Pumpkin Waffle Recipe
I always eat these fluffy vegan pumpkin waffles with a mug of hot coffee or a glass of Whipped Coffee. Then I pile my favorite toppings on the waffles, such as Coconut Whipped Cream, Stovetop Candied Pecans, Vegan Caramel Sauce, and fresh fruit.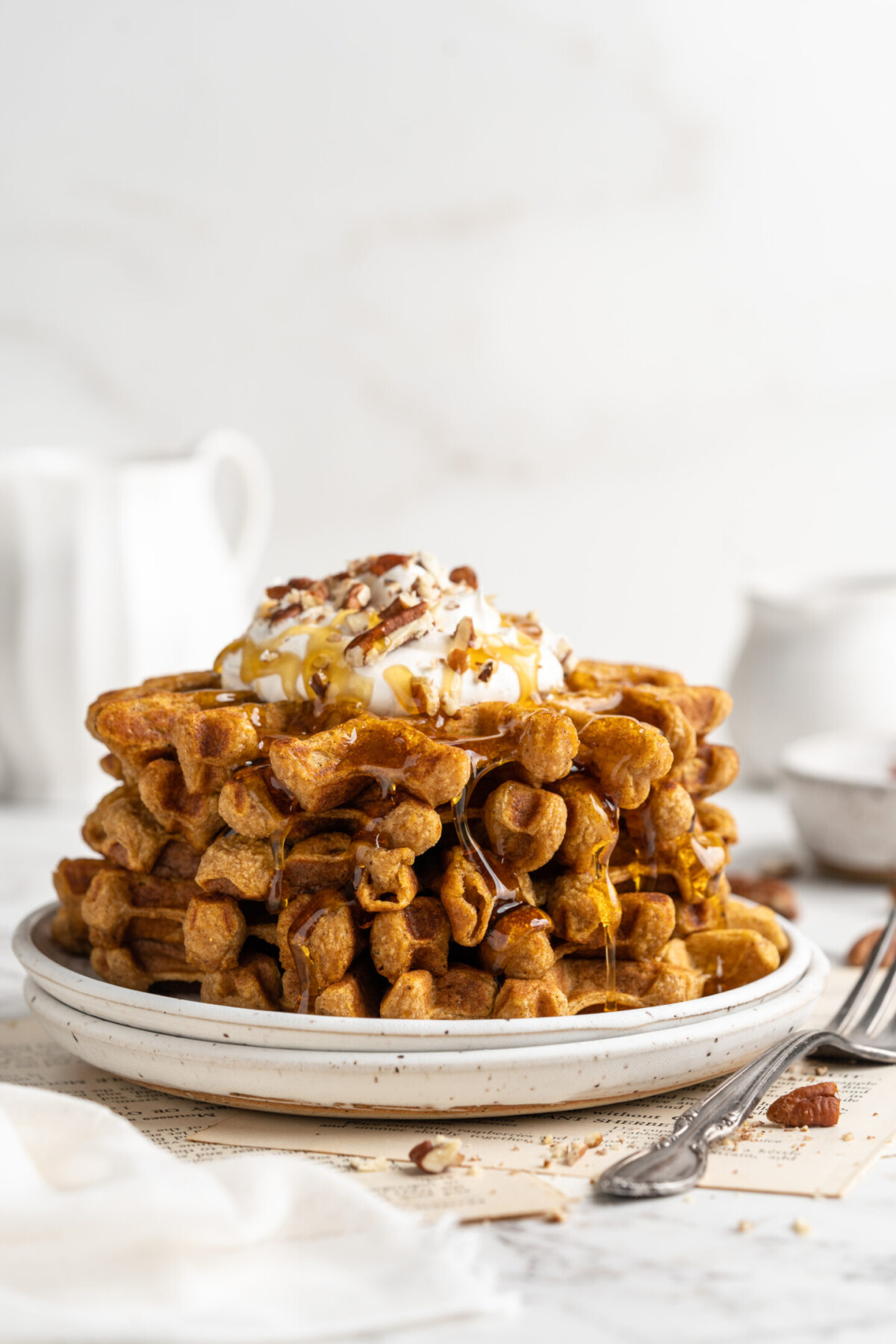 Proper Storage
To store leftover pumpkin waffles, first let them cool completely. Then place them in an airtight plastic bag, with each waffle separated by parchment paper. They'll last in the fridge for 3 days and can be reheated in the toaster.
Can I Freeze Pumpkin Waffles?
Yes, you can absolutely freeze pumpkin waffles! Store them just as you would in the fridge, and they'll last in the freezer for up to 6 months. You can even reheat them in the toaster straight from the freezer.
More Fall Breakfast Ideas
One of my favorite things about fall is the amazing breakfasts. Here are a few of my favorite autumnal recipes to make in the mornings.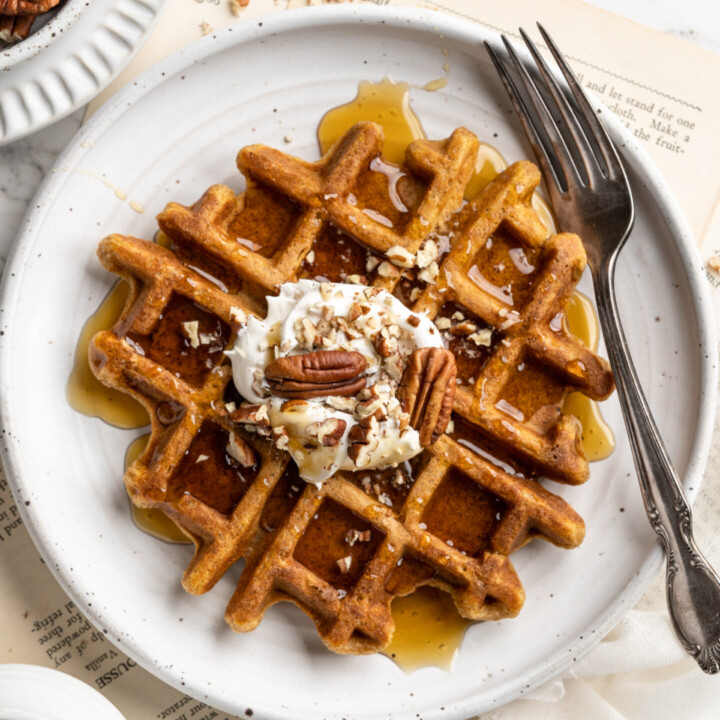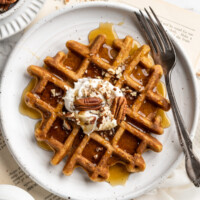 Pumpkin Waffles
These vegan pumpkin waffles are light and fluffy with a crispy exterior, and packed with all your favorite fall flavors. They're easy to make, can be made gluten-free, and are the perfect breakfast treat.
Ingredients
1 ¼ cups oat flour or all-purpose flour, you can also use oats that you grind in a food processor or coffee grinder
2 teaspoons baking powder
½ teaspoon baking soda
½ teaspoon salt
1 small very ripe banana, mashed (about 1/3 cup)
½ cup pumpkin puree
1 tablespoon agave nectar or maple syrup
1 cup non-dairy milk
2 tablespoons coconut oil, or vegan butter
2 teaspoons pumpkin spice
Instructions
Mix all of the dry ingredients together in a bowl, then mix all of the wet ingredients together in a separate bowl.

Add the dry ingredients to the wet ingredients and mix together until fully incorporated.

Let batter sit for 15 minutes. While the batter rests, preheat your waffle iron according to the manufacturer's instructions. I set mine two dials before max because I like my waffles crisp but also very fluffy.

Scoop out about ½ cup of batter and pour it into the waffle maker. Close the lid and let the waffles cook until the steam has completely finished to rise from the waffle maker. Remove each waffle and place on a wire rack until finished with the entire batter.

Serve while hot with maple syrup, coconut cream, candied pecans, or any other toppings.
Notes
Store the leftovers in an airtight plastic bag, separated by parchment paper. They'll last in the fridge for 3 days or in the freezer for 6 months, and can be reheated in the toaster. 
Adjust the amount of batter that you use, and the heat of the waffle iron based on your iron and your preferences. 
After cooking, place the waffles in a single layer on a wire rack to keep them from steaming and getting soggy. Keep them warm in an oven on the lowest setting if you're making a few batches. 

If you try this Gluten Free Vegan Pumpkin Waffles please let me know in the comment section below, or tag me on instagram with the hashtag #jessicainthekitchen! For more exclusive recipes follow me on Instagram AND on Snapchat: jessinkitchen.
Calories: 230kcal, Carbohydrates: 32g, Protein: 6g, Fat: 9g, Saturated Fat: 5g, Polyunsaturated Fat: 2g, Monounsaturated Fat: 1g, Sodium: 543mg, Potassium: 315mg, Fiber: 3g, Sugar: 7g, Vitamin A: 4013IU, Vitamin C: 6mg, Calcium: 194mg, Iron: 2mg
Disclaimer: Although jessicainthekitchen.com attempts to provide accurate nutritional information, kindly note that these are only estimates. Nutritional information may be affected based on the product type, the brand that was purchased, and in other unforeseeable ways. Jessicainthekitchen.com will not be held liable for any loss or damage resulting for your reliance on nutritional information. If you need to follow a specific caloric regimen, please consult your doctor first.