Vegan Pumpkin Waffles
These Vegan Pumpkin Waffles are a tried and true waffle recipe. They're loaded with delicious pumpkin flavour, are freezer-friendly and are so easy to make!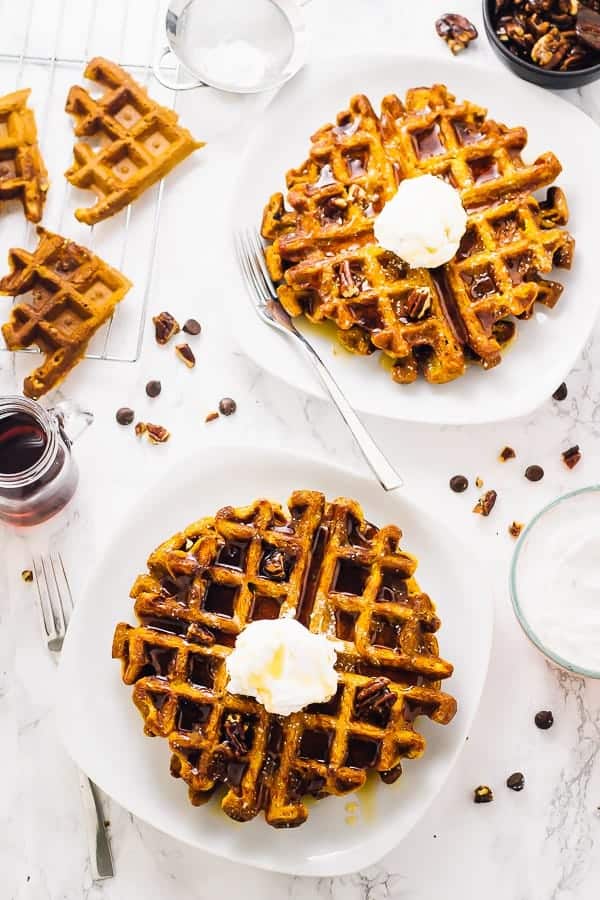 I made these vegan pumpkin waffles three times in one week. THREE times. That was partially recipe testing, but mainly because I didn't want to have a moment go by where I couldn't be biting into one of these babies. I'm pretty sure I've only shared waffles once on my blog, but after spending some solid time on this recipe, that's all about to change.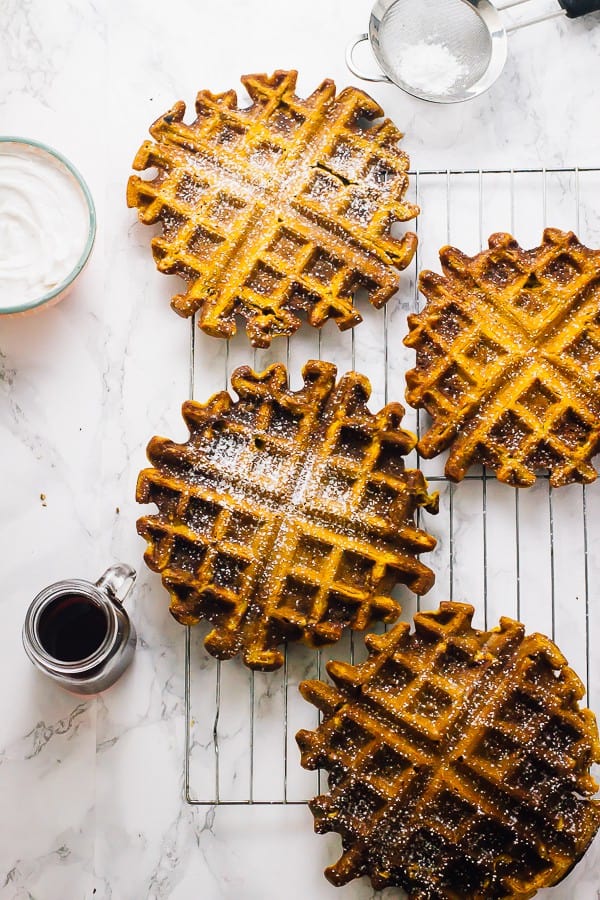 Growing up, the older of my younger brothers was obsessed with waffles. I actually remember him going on a "waffle diet" where he had decided that he wasn't going to eat anything except waffles. Sounds very similar to my grilled cheese sandwich diet, except I haven't seemed to come off of that one yet.
I digress.
This story is relevant apart from purposes of slight embarrassment, I promise. Not that a waffle diet is anything to be embarrassed about since the taco diet is a real and serious thing right now. I DIGRESS. It's relevant because I kind of want to adapt a waffle diet right now thanks to these vegan pumpkin waffles.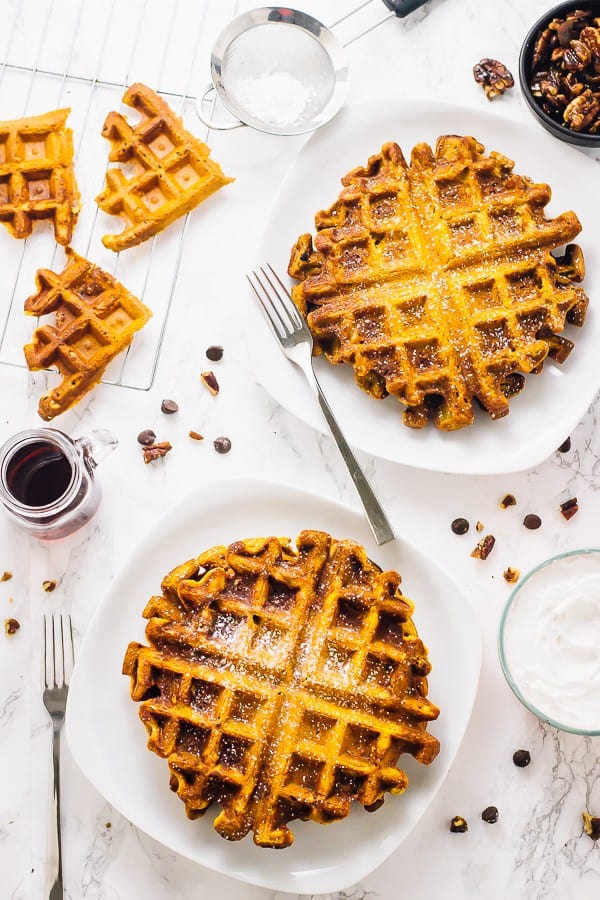 Friends, I can't stop eating them.

It's not easy finding a waffle that's vegan, gluten free and delicious with the fluffiness and crispiness on the outside of a regular waffle, but I guarantee that this one ticks all of those boxes. I love that on top of being delicious, it's amped up with nutrition thanks to the oats, pumpkin and the banana. Hello protein, vitamin A and fibre!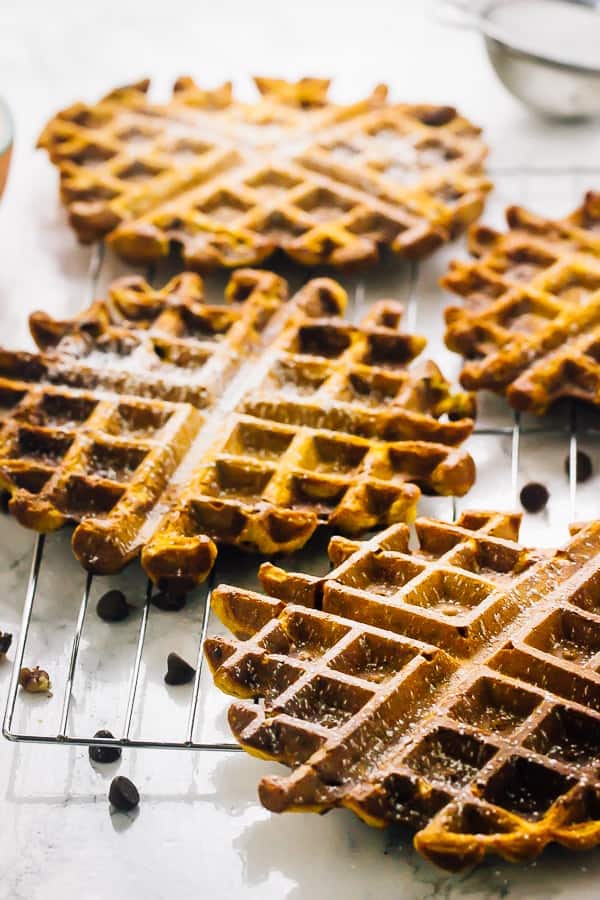 Expert Tips to make the best Pumpkin Waffles
During the recipe development of these waffles, I learned a lot about waffle tips. They can be a bit intimidating, but once you get the hang of it it really makes a difference. My top 5 tips:
I let this batter sit for at least 15 minutes. This happened by accident, since we had a spontaneous power cut, and I was forced to wait. But the batch that I made in between the waiting was phenomenally different, and I think it really allows the batter to rest.
Every waffle maker is different, so if you find that your waffles are sticking, maybe add another tablespoon of coconut oil. The non-stick of a waffle is really in the waffle itself. My waffle iron is about 5+ years old and these worked fine so a newer one should work fine.
Speaking of sticking, PRO tip: don't take your waffles out before the steam stops. I read this on several waffle machine manufacturer's sites and it's so true. It's a lot more accurate than your waffle maker's timer, and will guarantee great waffles.
Don't stack your waffles when they come out, lay them separately on a sheet like I did and eat them immediately. If you stack them they'll wilt.
Know how much batter will give you size and density waffles you desire. A ½ cup seems to be perfect for my waffle maker but this may change based on the size and make of yours.
Last but not least, these freeze SO well. I reheat them in the toasted and eat them nice and crispy and fluffy as if they were just made. Definitely the perfect fall weekend breakfast/brunch dish!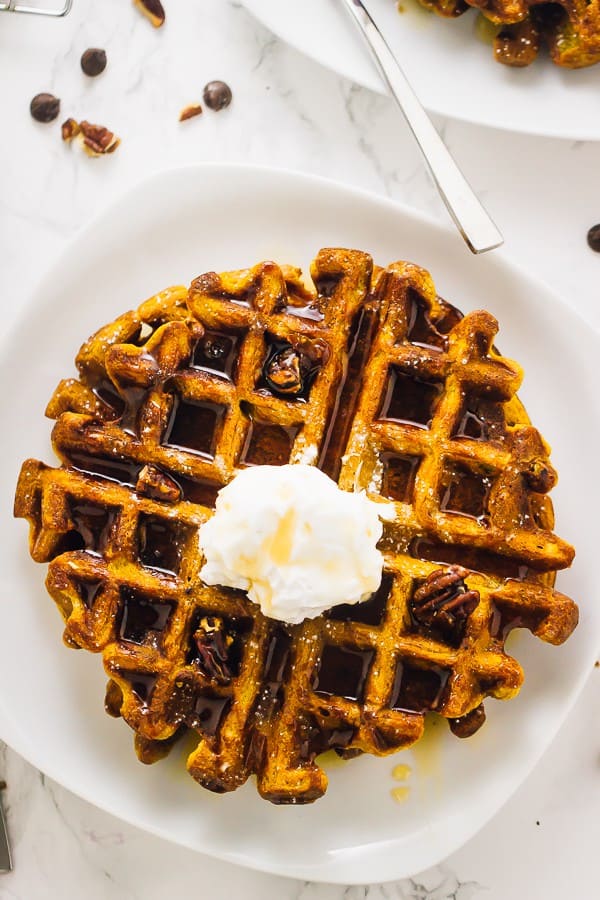 P.S. Here are some of the items I used to make this recipe if you'd like to use them too:
| WHAT YOU'LL NEED // SHOP MY FAVORITE INGREDIENTS & PREP PRODUCTS |

MORE PUMPKIN BREAKFAST RECIPES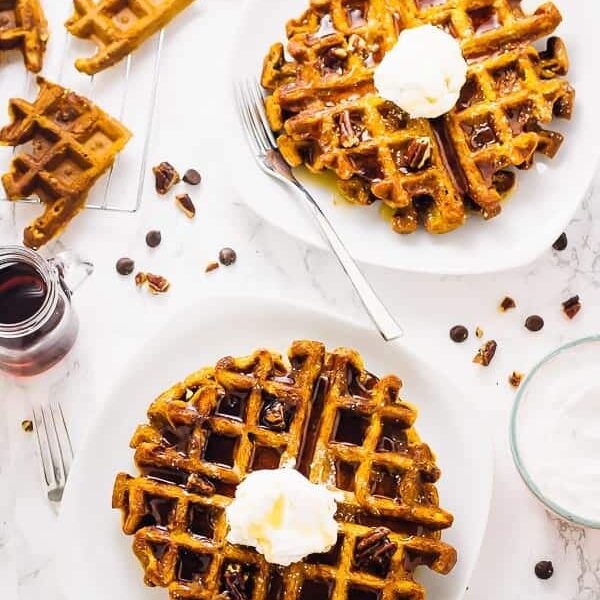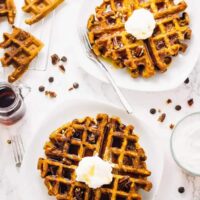 Vegan Pumpkin Waffles
These Vegan Pumpkin Waffles are a tried and true waffle recipe. They're loaded with delicious pumpkin flavour, are freezer-friendly and are so easy to make!
Ingredients
1 1/4 cups oat flour or regular flour, or oats ground in a food processor or in a coffee grinder
2 teaspoons baking powder
1/2 teaspoon baking soda
1/2 teaspoon salt
1 small very ripe banana, mashed (about 1/3 cup)
1/2 cup pumpkin puree, learn how to make fresh pumpkin puree
1 tablespoon agave nectar or maple syrup
1 cup almond milk
2 tablespoons coconut oil, or vegan butter
2 teaspoons pumpkin spice
Instructions
Mix all the dry ingredients together.

Add the wet ingredients and mix with a wooden spoon until incorporated together.

Let batter sit for 15 minutes. Preheat your waffle iron in the meantime and grease according to manufacturer's settings. I set mine two dials before max because I like mine crisp but also very fluffy.

Using about ½ cup measuring cup, scoop out some batter and pour into the waffle maker. Close and let cook until the steam has completely finished to rise from the waffle maker. Remove each waffle and place on a wire rack until finished with the entire batter.

Serve immediately or store in a freezer safe bag separate by wax paper to reheat and eat later.

Serve with maple syrup and coconut cream and candied pecans. Enjoy!
Notes
This recipe is vegan and gluten free.
JESSICA'S PRO TIP
I've provided waffle tips in the post that will come in very handy with making these waffles Make sure you read them so that you can enjoy delicious waffles. Also, ensure to follow your waffle maker's manufacturer settings, since every waffle maker is different.
HOW TO STORE
You can freeze these waffles in a freezer safe zipped bag separated with wax paper and laid flat to freeze. Afterwards you can store them upright in a fridge bin and label them with the date you made these waffles. You can reheat them in your toaster or toasted oven so that they are as crisp as when you made them.

If you try this Gluten Free Vegan Pumpkin Waffles please let me know in the comment section below, or tag me on instagram with the hashtag #jessicainthekitchen! For more exclusive recipes follow me on Instagram AND on Snapchat: jessinkitchen.
Calories: 220kcal, Carbohydrates: 31g, Protein: 5g, Fat: 9g, Saturated Fat: 5g, Sodium: 585mg, Potassium: 255mg, Fiber: 4g, Sugar: 6g, Vitamin A: 3828IU, Vitamin C: 3mg, Calcium: 187mg, Iron: 2mg
Disclaimer: Although jessicainthekitchen.com attempts to provide accurate nutritional information, kindly note that these are only estimates. Nutritional information may be affected based on the product type, the brand that was purchased, and in other unforeseeable ways. Jessicainthekitchen.com will not be held liable for any loss or damage resulting for your reliance on nutritional information. If you need to follow a specific caloric regimen, please consult your doctor first.