Vegan Creamy Pumpkin Soup (Mom's Recipe)
This vegan creamy pumpkin soup is delicious, smooth, and will allow you to taste the flavours of fall in every spoonful.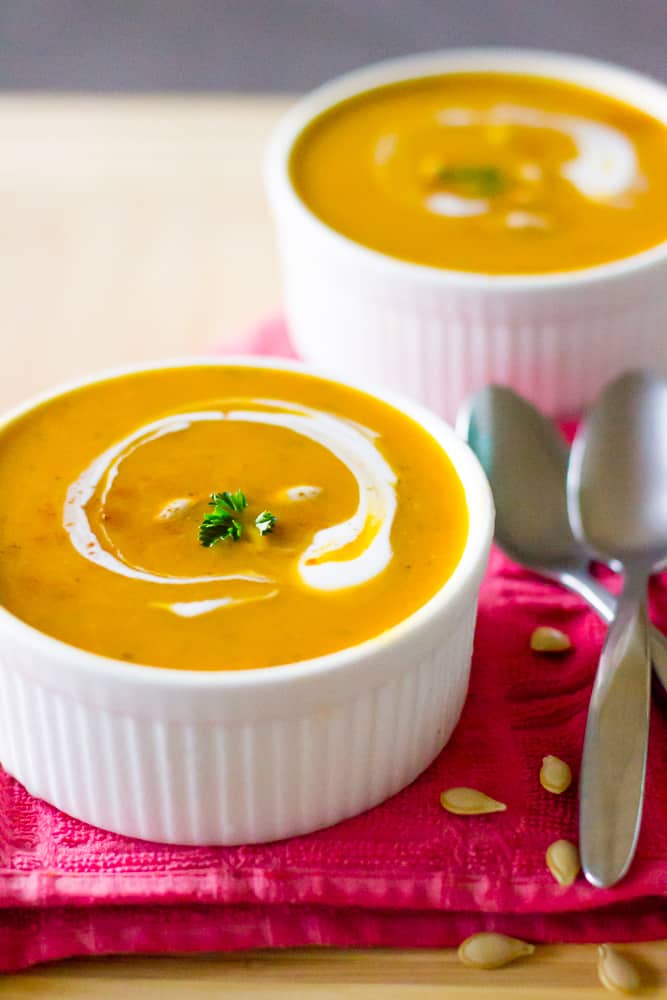 This vegan creamy pumpkin soup is my favourite vegan pumpkin soup of all time: my mother's recipe. I've been having it for years on end, and at no time did I realise it was a vegan soup. This, my friends, is another perfect example of accidental vegan that you'll be delighted with.
My mother has never made this soup with a recipe. Her cooking knowledge came just from cooking from she was a child for her family, which I've found is always the purest and most natural way of cooking. I asked her for a recipe from her recipe-less soup and she graciously made it over and over until she got measurements from the soup so that could I share them with you. Here's to mom!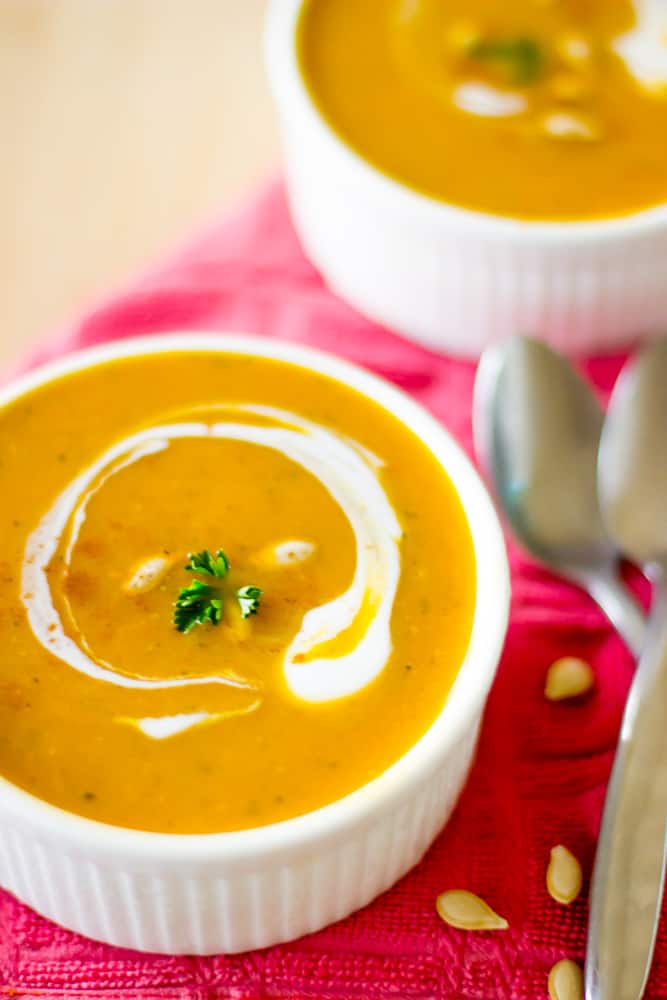 As I watched her make it, I noticed that the all the ingredients put in are really to complement the pumpkin. She kept its pure flavour by adding a little heat (which I reduced majorly since I've heard ahem, we Jamaicans may enjoy way more heat than most countries!), complementary produce and the coconut milk at the end that lends a smooth touch to the soup.
She made the original with a whole scotch bonnet pepper, so if you're up to it and can find it in your market, go ahead! Just please be aware that it is hot, and while we have all gotten used to that heat it can be surprising for a new comer! I subbed in red pepper flakes which as it will be blended down will give you the heat you can adjust for your preference. This soup is incredibly creamy, almost to the point of a bisque, but lest I get chastised by the bisque-aficionados we will go with a creamy soup.
I do hope you not only try this vegan creamy pumpkin soup but enjoy it incredibly. It was made with love and I'm so excited to share one of my mom's recipes! I can attest to the taste and am always disappointed when there aren't any leftovers or someone else has gotten to it before I have. This is the perfect fall soup for those rainy days, which have become every day here, sitting with family or friends and enjoying the weather. P.S. I've added my mom's notes in the recipe!
Happy Friday y'all!
P.S. Here are some of the items I used to make this recipe if you'd like to use them too:
| WHAT YOU'LL NEED // SHOP MY FAVORITE INGREDIENTS & PREP PRODUCTS |

MORE VEGAN FALL SOUPS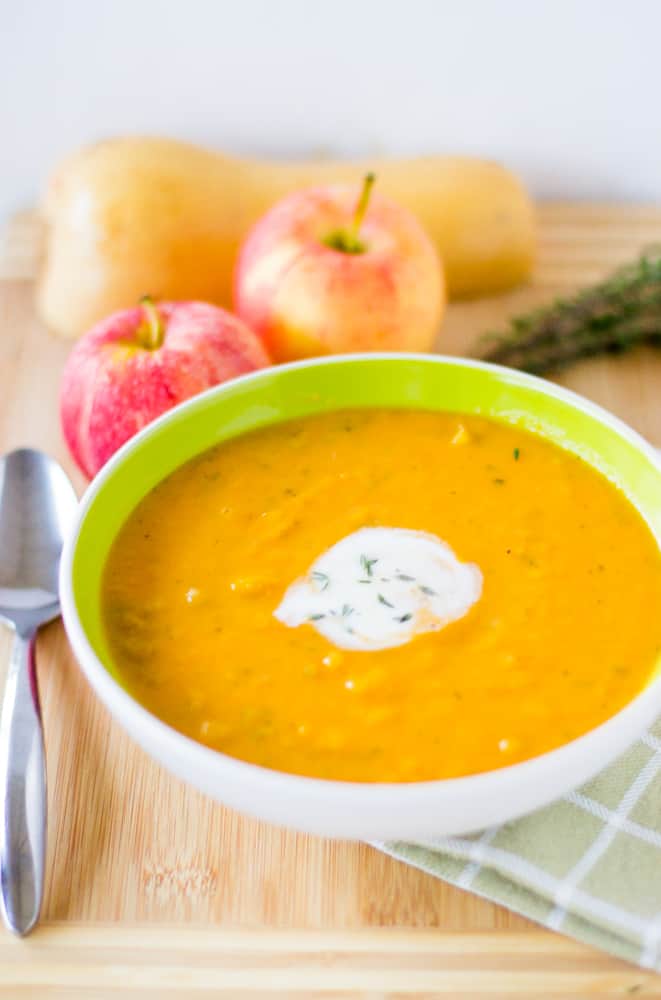 Vegan Butternut Squash and Apple Soup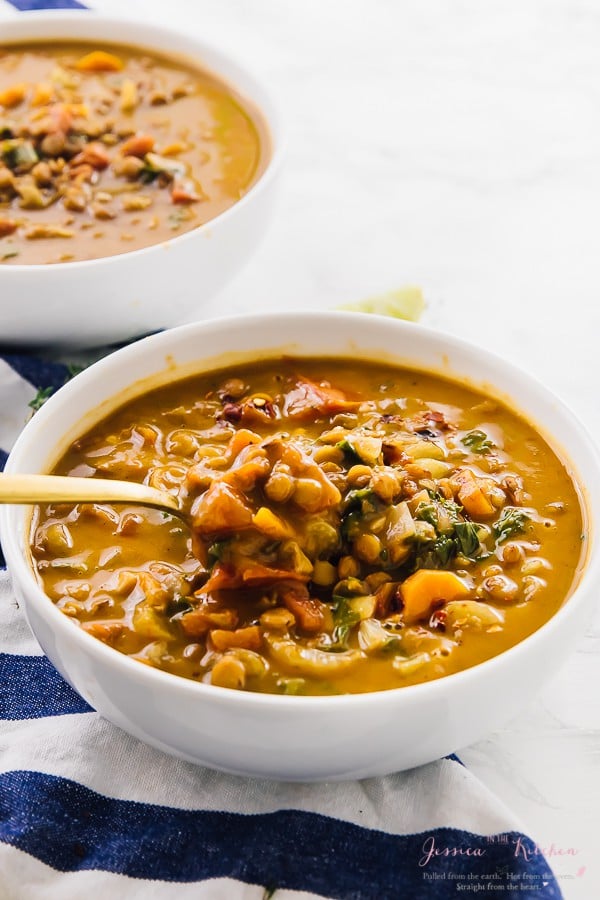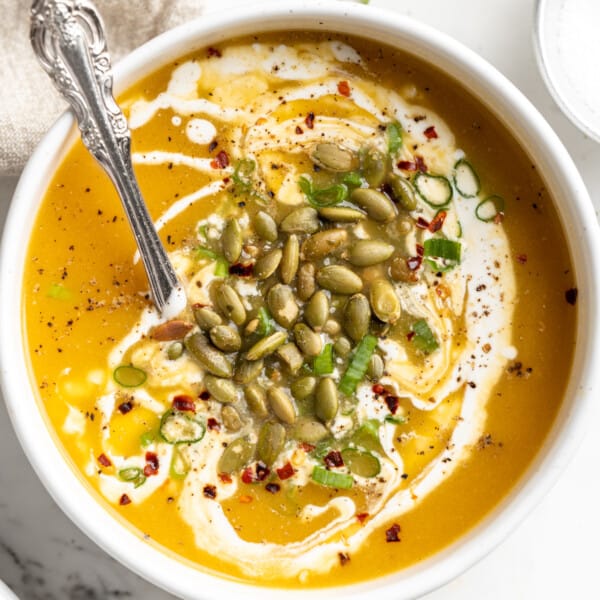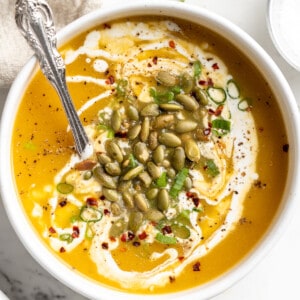 Creamy Pumpkin Soup
Creamy pumpkin soup is the perfect way to welcome fall. It's smooth, rich, and flavourful—and perfect for adding your favourite toppings!
Ingredients
2.5 lbs pumpkin, after seeds are removed, peeled and chopped into cubes
10 cups vegetable broth, or water
salt to taste
2 sprigs escallion/green onions
1/4 teaspoon red pepper flakes
1 small plummy tomato, chopped
4 cloves garlic, minced
1/4 tsp Mrs. Dash herbs and lemon seasoning, or any herbs seasoning
1/4 cup coconut milk
Instructions
Pour water in a very large pot (so you don't get splashed when blending) and bring to a boil.


Place the pumpkin into the pot with salt, reduce the heat the medium, and add all the other ingredients except the Mrs. Dash and coconut milk. Cover the pot and cook for about 20 minutes or until the pumpkin is fork soft. Remove from heat and use your immersion blender and blend all ingredients together.

Return to stove on low heat and stir the coconut milk and Mrs. Dash in and simmer uncovered for 5 minutes. This helps to thicken up the soup.


Remove from heat and serve alone or with toasted croutons if desired.
Notes
Mom's notes: you can add carrots if you'd like also! This soup is a great way to sneak extra vegetables into your kids meals if they won't eat them but will drink them.
To store: Leftover vegan creamy pumpkin soup can be refrigerated in an airtight container for up to 4 days. To reheat, warm the soup on the stovetop or in the microwave until heated through.
To freeze: Place the pumpkin soup in an airtight container or freezer bag and freeze for up to 3 months. When ready to eat, thaw overnight in the refrigerator, then reheat according to the instructions above.
Calories: 91kcal, Carbohydrates: 17g, Protein: 3g, Fat: 3g, Saturated Fat: 2g, Sodium: 90mg, Potassium: 877mg, Fiber: 2g, Sugar: 7g, Vitamin A: 19590IU, Vitamin C: 25mg, Calcium: 74mg, Iron: 2mg
Disclaimer: Although jessicainthekitchen.com attempts to provide accurate nutritional information, kindly note that these are only estimates. Nutritional information may be affected based on the product type, the brand that was purchased, and in other unforeseeable ways. Jessicainthekitchen.com will not be held liable for any loss or damage resulting for your reliance on nutritional information. If you need to follow a specific caloric regimen, please consult your doctor first.