Vegan Pumpkin Chili
This Vegan Pumpkin Chili is warm, comforting and needs only 10 minutes of prep then right into the slow cooker! It results in a thick, filling and delicious chili!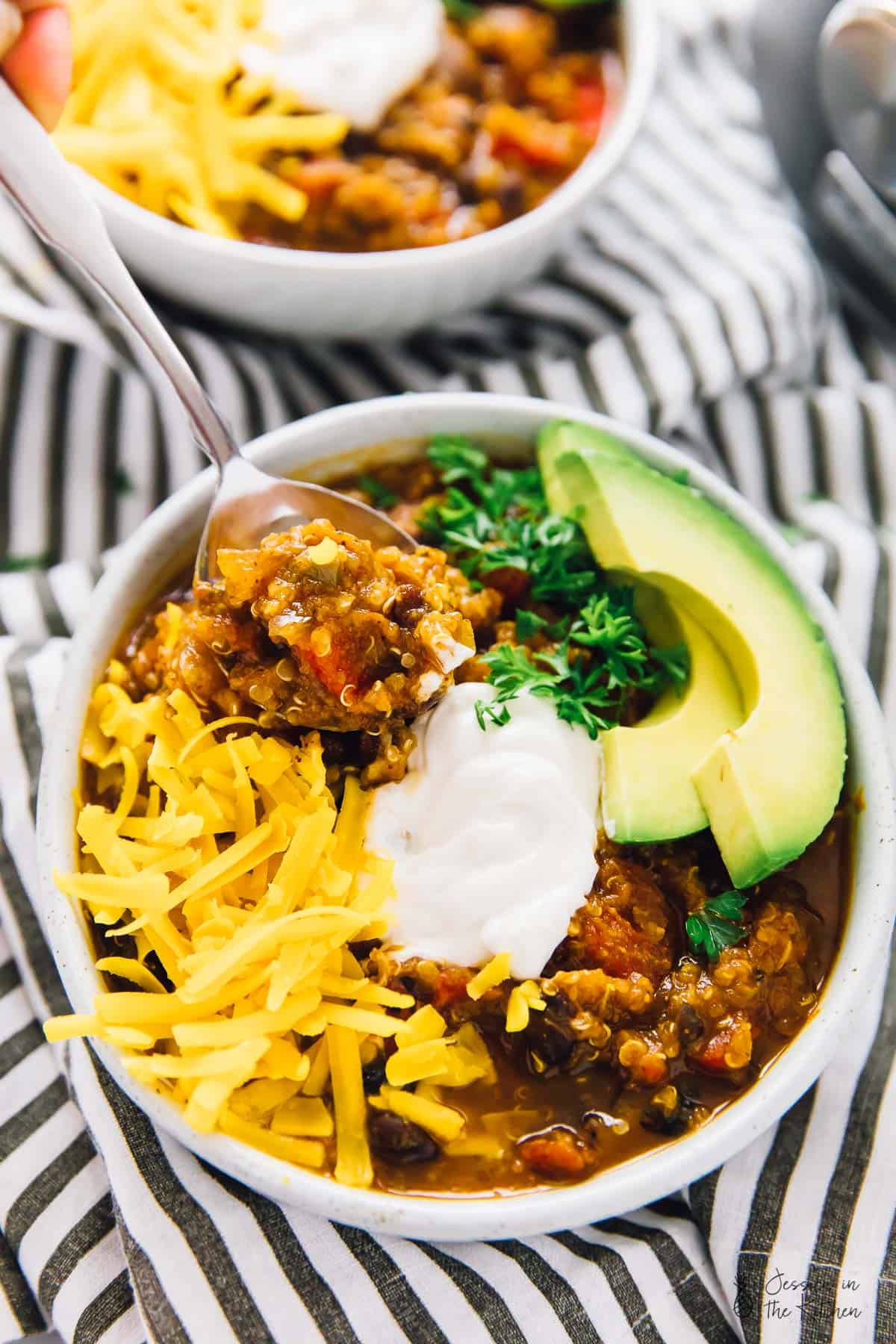 This post is sponsored by the Calphalon brand. All opinions and text are 100% mine. Thank you for supporting the brands that support Jessica in the Kitchen!
Three things in specific get me really excited about fall: pumpkins, wearing cool light jackets, and warming/comforting foods. Who else is with me? I love pumpkins all year round, I feel super stylish in light seasonal jackets, and warming and comforting foods make me feel so cozy. Lucky for me (and us), this recipe knocks off two of those in one. Plus I could eat this wearing some fashionable clothing, so I'd already say that it's a complete win. Welcome to your new favourite chili of the season: Vegan Pumpkin Chili.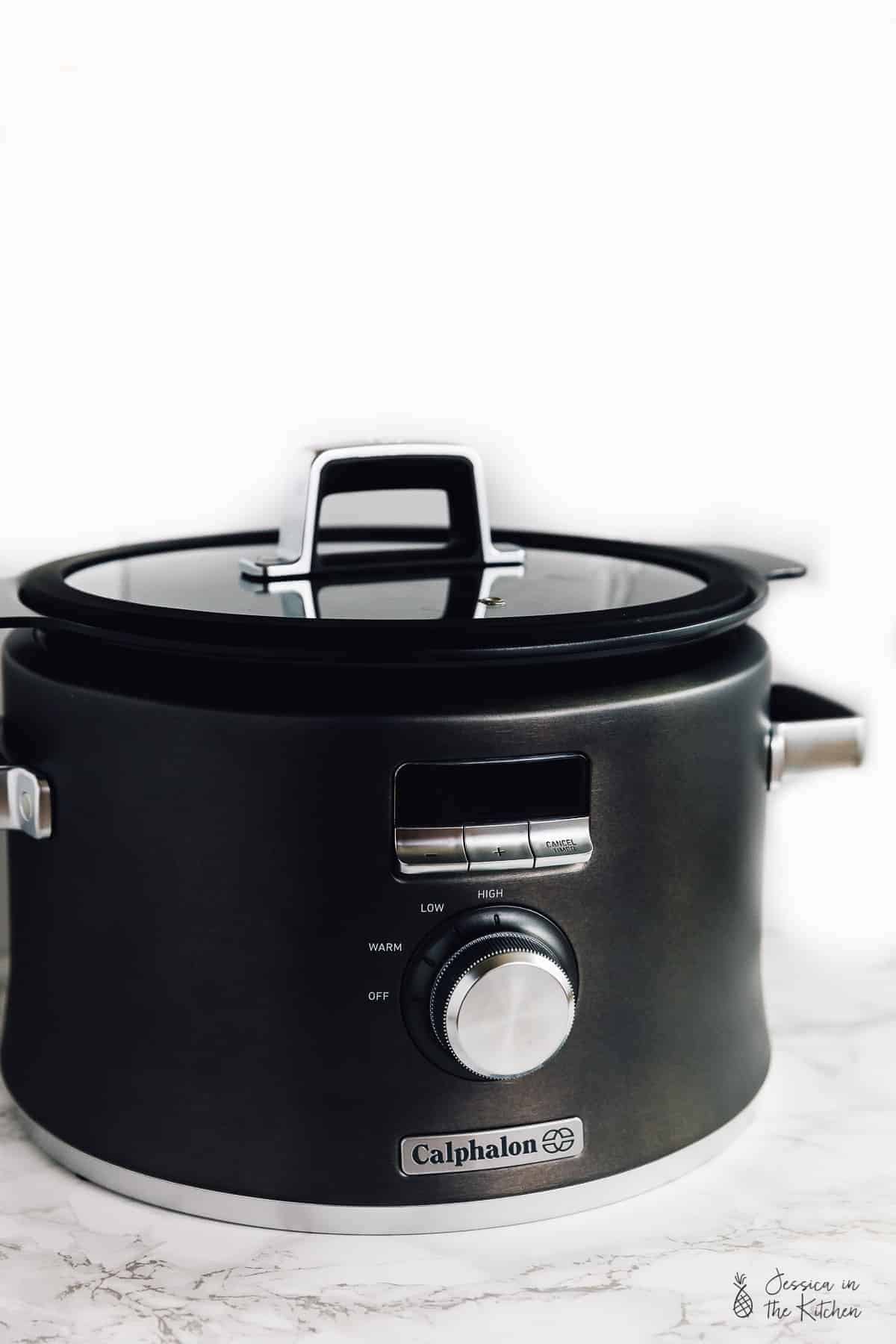 It's been a while since I've made chili, and every year when I ask "what recipes do you want to see this fall?" I get "chili!" as a resounding response from you guys. After making already half a dozen pumpkin recipes for the season already, it hit me: a pumpkin chili. No, a pumpkin quinoa chili. A dish that is out of this world comforting, warming to the core, super seasonal, and of course, very filling. I'll admit that at first the idea felt a little out there, then I remembered that pumpkin works just as beautifully in sweet recipes as it does in savoury.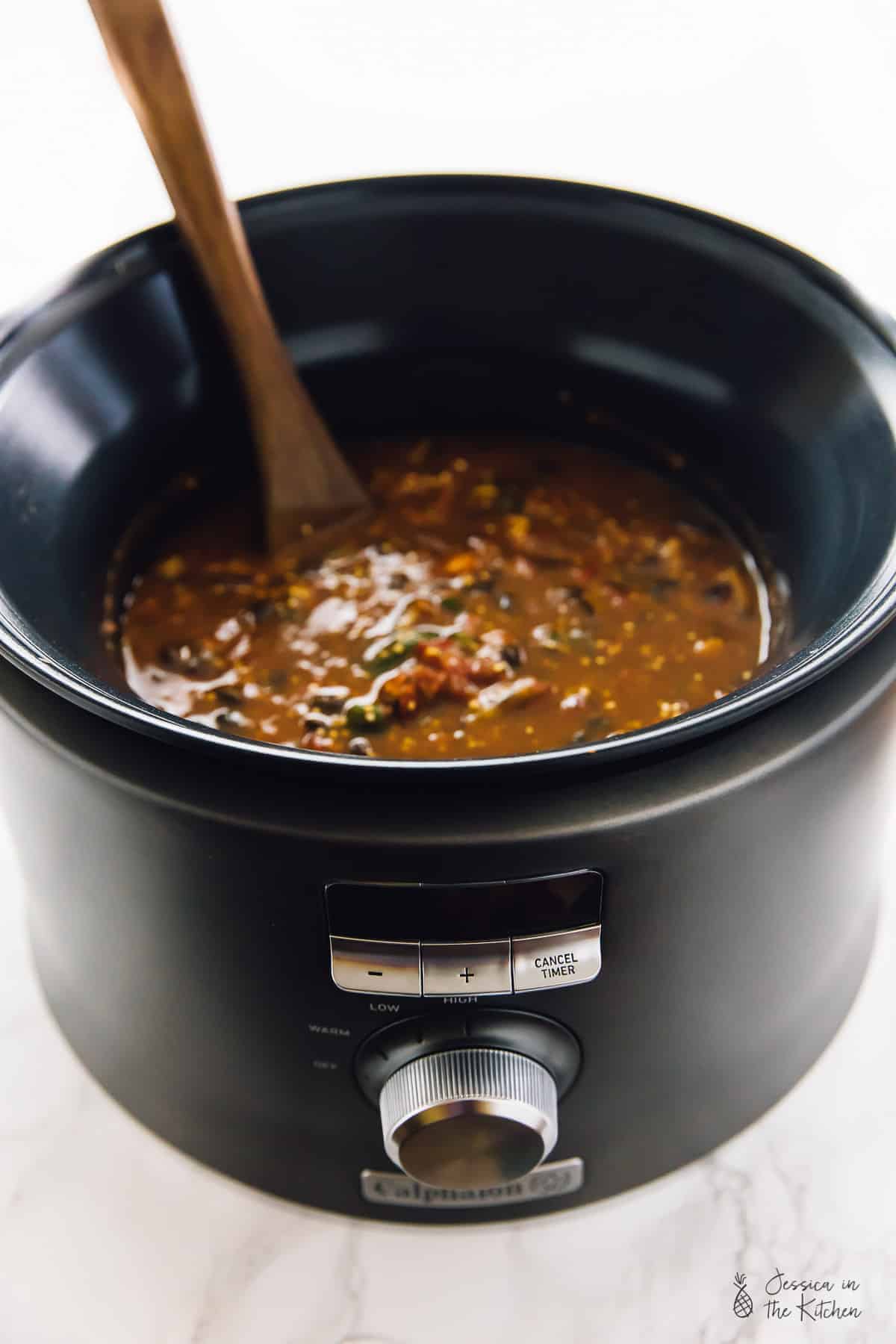 I'm happy to report that this Vegan Pumpkin Chili is a knockout success. The pumpkin not only adds delicious fibre, but thickens up this vegan chili so well. Not only was this chili prepped in 10 minutes, the cooking process was top notch since I made it in the new Calphalon Digital Sauté Slow Cooker. Calphalon just came out with a new set of kitchen appliances that makes me want to dance because my kitchen looks 100% more modern now. They are the Calphalon Quartz Heat Countertop Oven, the Calphalon Special Brew 10-Cup Coffee Maker, the Calphalon Even Sear Multi-Grill, the Calphalon Digital Sauté Slow Cooker, the Calphalon Intellicrisp™ Waffle Maker and the Calphalon Auto-Speed 2-Liter Blender with Blend-N-Go Smoothie Cup.
These new, premium appliances were designed to help you achieve chef-like quality at home, and let me tell you – I'm proof that it's the truth. I have so many exciting things to say about this new Slow Cooker.
Firstly, I was thrilled to test it out after seeing the sleek photos on Calphalon's website. I mean, like a kid on Christmas morning thrilled.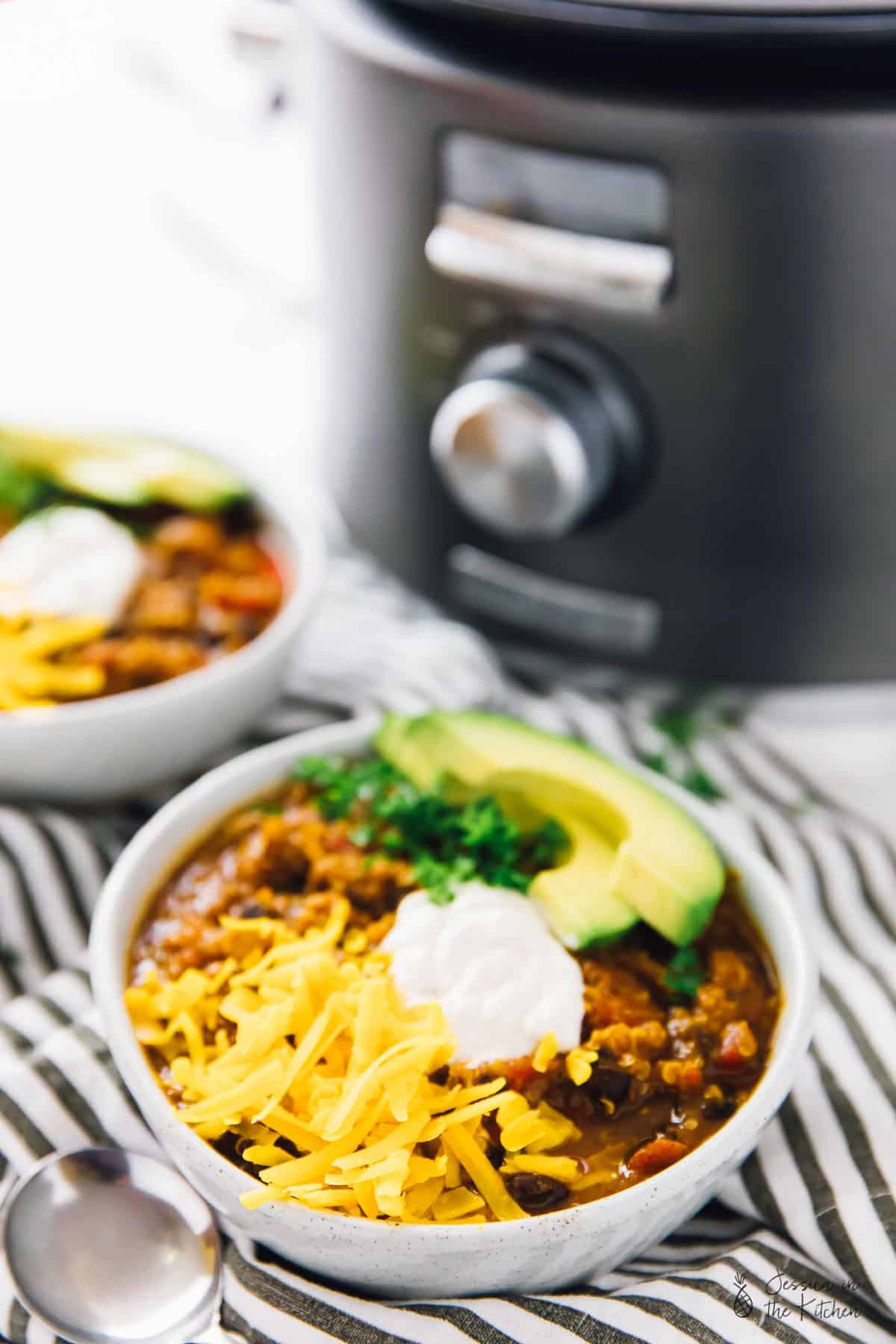 The first thing I noticed upon taking it out of the box is its gorgeous dark stainless steel look. Like, it just looks so good on your counter, friends. Then, was that the actual cook pot for the Calphalon Digital Sauté Slow Cooker was made of a nonstick ceramic coating. This made such a difference with this chili that Gavin and I gathered around in awe after it was made. Usually, my chili sticks to the slow cooker and I have to kind of pry the dried quinoa off the edges. This time in the Calphalon Digital Sauté Slow Cooker nothing stuck and everything was perfectly cooked. It was an actual dream come true. Long story short this slow cooker is built for long-lasting durability and you can see it in the make of it. Here are some of my favourite features:
Incredibly sleek design
The buttons and dials are straight forward and easy to use
It beeps loudly when it's finished (I was far away and heard it clearly)
It switches to warm when the timer is done so your food won't burn or overcook
It's pretty lightweight
It holds 5.3 quarts but is more vertical than horizontal, so it is perfect for storing away and taking up little space
It was incredibly easy to clean (ALWAYS a win in my book)
The handle is lined with silicone, so you don't get burned lifting it up
Although I didn't use this feature, the cooking pot can be removed and placed on a cooking top to sear, brown and sauté. So instead of grabbing your cast iron (and dirtying that up) you can sauté in this on the stove, then put it in your slow cooker to finish up the low and slow job. This without a doubt would give you maximum flavour. I can definitely see me using that feature in the near future. It's  true one pot cooking. I can see this being crazy useful for Thanksgiving or any major holiday or event. Or just a beautiful, well cooked dinner, like this Vegan Pumpkin Chili.
I hope you get to try and devour this chili, and check out this amazing slow cooker! I'm honestly blown away by it, and I know you will be too. Enjoy friends!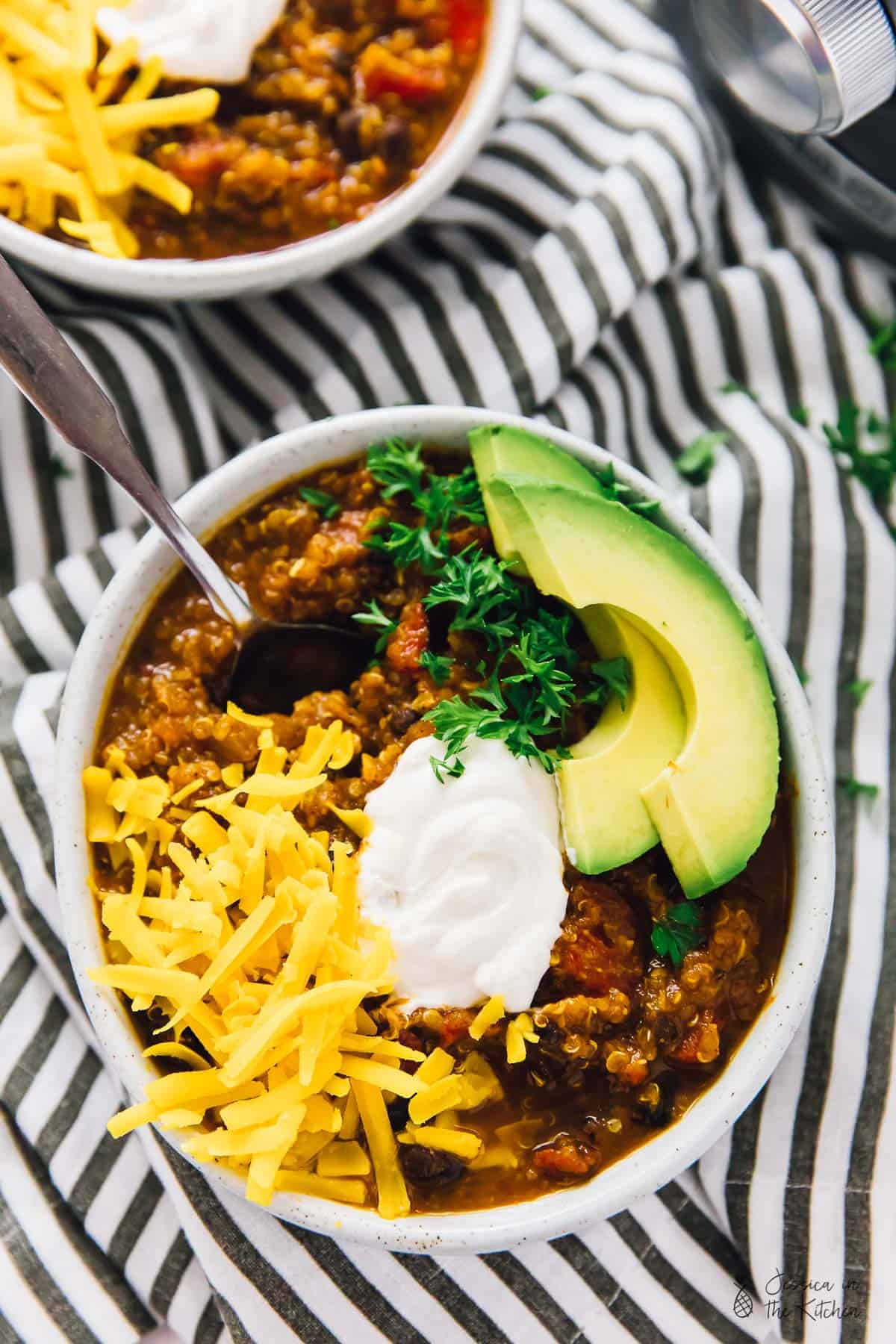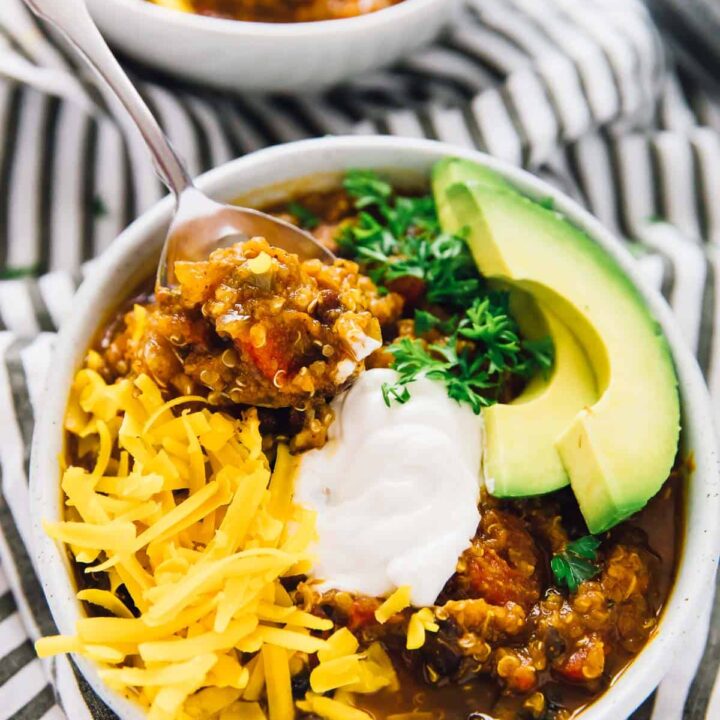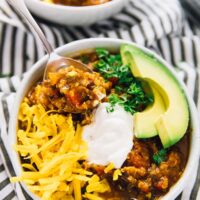 Vegan Pumpkin Chili
This Vegan Pumpkin Chili is warm, comforting and needs only 10 minutes of prep then right into the slow cooker! It results in a thick, filling and delicious chili! 
Ingredients
3 1/4 cups vegetable broth
1/2 cup uncooked quinoa
15 oz can black beans, drained and rinsed
14 oz diced tomatoes or can of fire roasted tomatoes
1 15 ounce can pumpkin puree
1/4 cup chopped red bell pepper
1/4 cup chopped green bell pepper
1 shredded carrot
1/2 onion, chopped
2 cloves garlic, chopped
1/2 small chili pepper
1 tablespoon chili powder
1/4 teaspoon cayenne pepper
1 1/2 teaspoons sea salt
1 teaspoon ground black pepper
1 teaspoon ground cumin
1 teaspoon oregano
Instructions
Turn your Calphalon Digital Sauté Slow Cooker to warm. Add in the broth, quinoa, black beans, tomatoes and pumpkin puree to the slow cooker. Stir to combine.

Next add the peppers, carrot, onion and garlic, and stir, then add the rest of the ingredients and seasonings and stir a few times to combine.

Set the slow cooker to high for 2 ½ to 3 hours or on low for 5-6 hours (for high, monitor the last 30 minutes and for low, monitor the last hour). If you like your chili thick but with more liquid, do the 2 ½ on high, and 5 on low. If you like it thicker with just a little bit it liquid, go with the higher number for each option.

Remove chili and stir to combine. Taste and add more salt if needed. Serve in bowls and top with avocado, cheese, vegan sour cream and parsley. Enjoy!
Calories: 192kcal, Carbohydrates: 34.3g, Protein: 10.4g, Fat: 2.6g, Saturated Fat: 0.5g, Fiber: 8.3g, Sugar: 6.3g
Disclaimer: Although jessicainthekitchen.com attempts to provide accurate nutritional information, kindly note that these are only estimates. Nutritional information may be affected based on the product type, the brand that was purchased, and in other unforeseeable ways. Jessicainthekitchen.com will not be held liable for any loss or damage resulting for your reliance on nutritional information. If you need to follow a specific caloric regimen, please consult your doctor first.