Vegan Chili Cornbread Casserole
This Vegan Chili Cornbread Casserole is one of the BEST casseroles I've ever made! Sweet, crispy cornbread is baked on top of warm, comforting & hearty chili, making it a fantastic two in one kind of meal! This is bound to be a crowd favourite and perfect for any dinner!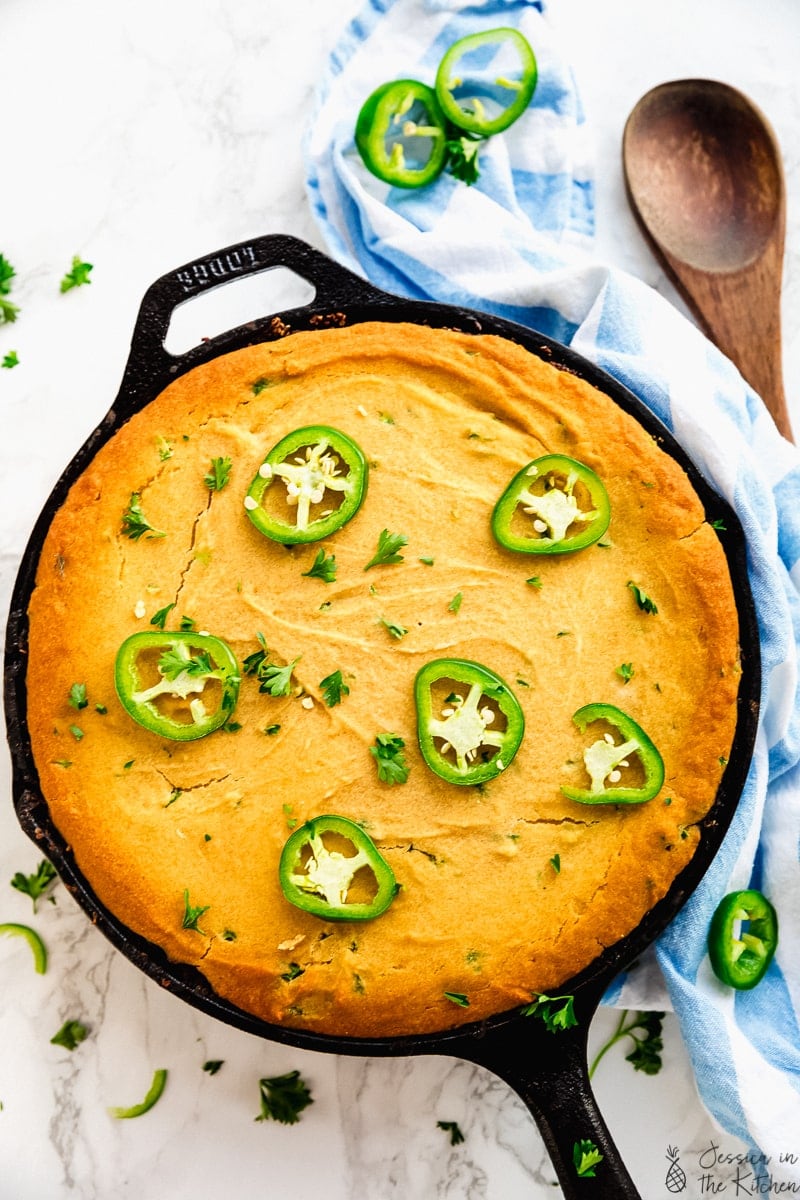 This blog post is sponsored post by Bob's Red Mill. Thanks so much for supporting the brands who support Jessica in the Kitchen! All texts and opinions are my own.
One of my favourite dishes, especially around this time of year, is chili. I love love chili. I love it's comforting nature. The complex flavours developed from such simple ingredients. How warm and hearty it is, while still being healthy. Most of all, I love how it's an idea meal prep dish that serves so many other dishes. You can't go wrong with chili.
One of my favourite ways to serve chili is with cornbread. Man, cornbread! What a treat. It soaks up the chili and complements it so well. I just whipped up a brand new simple basics cornbread recipe for the blog and thought: wait, why have I never chili cornbread casserole?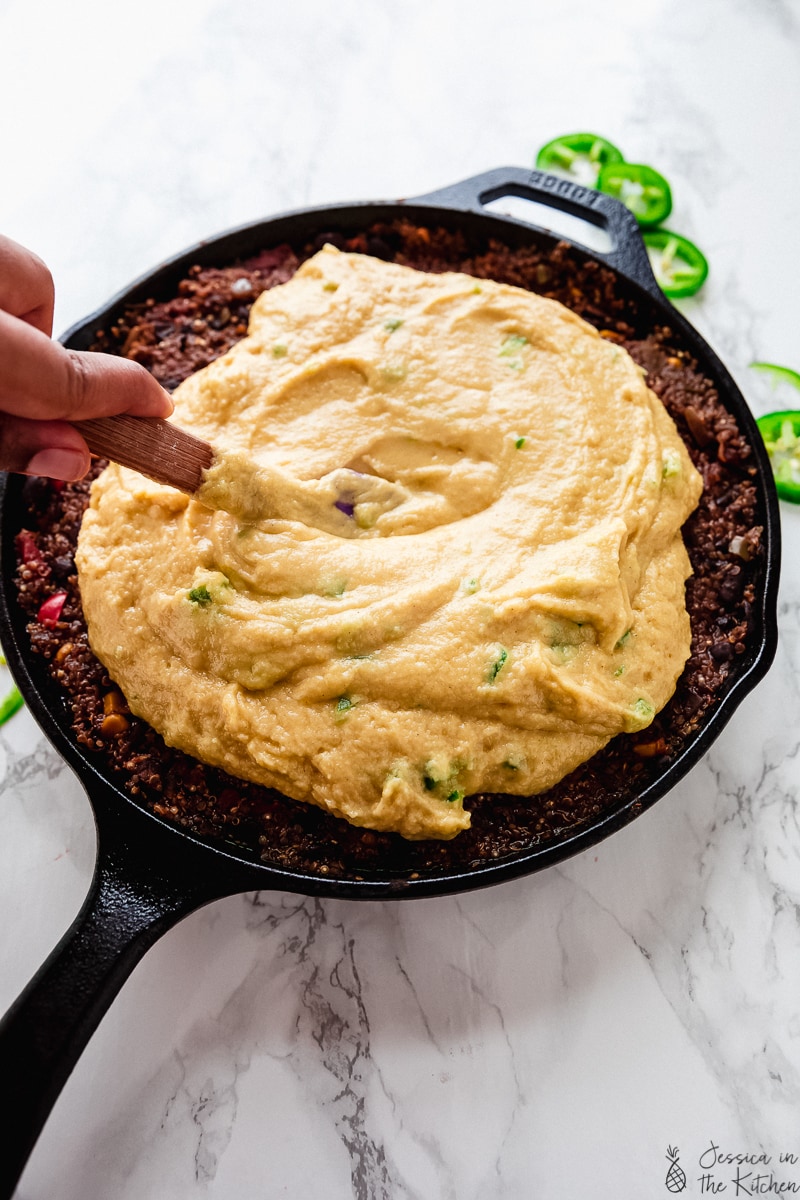 What is Chili Cornbread Casserole
It's exactly what it sounds like. Chili Cornbread Casserole takes the best of two worlds and combines them. Instead of serving your cornbread alongside your chili, you make it together. You might be wondering, okay, what's the flavour difference? Friends, it's a phenomenal flavour difference. The cornbread on top ends up soaking up some of the chili liquid, making it even more packed with flavour. It's even better than I could've possibly thought.
How to Make Chili Cornbread Casserole
Making this chili cornbread casserole is so simple. First, you make your chili. I opted for using one of my favourite slow cooker chilis and turning it into a stovetop version. The only difference I made was adding 1/4 cup more quinoa to this recipe. You do not have to do this, btw. I was just looking for an all-round hearty dish.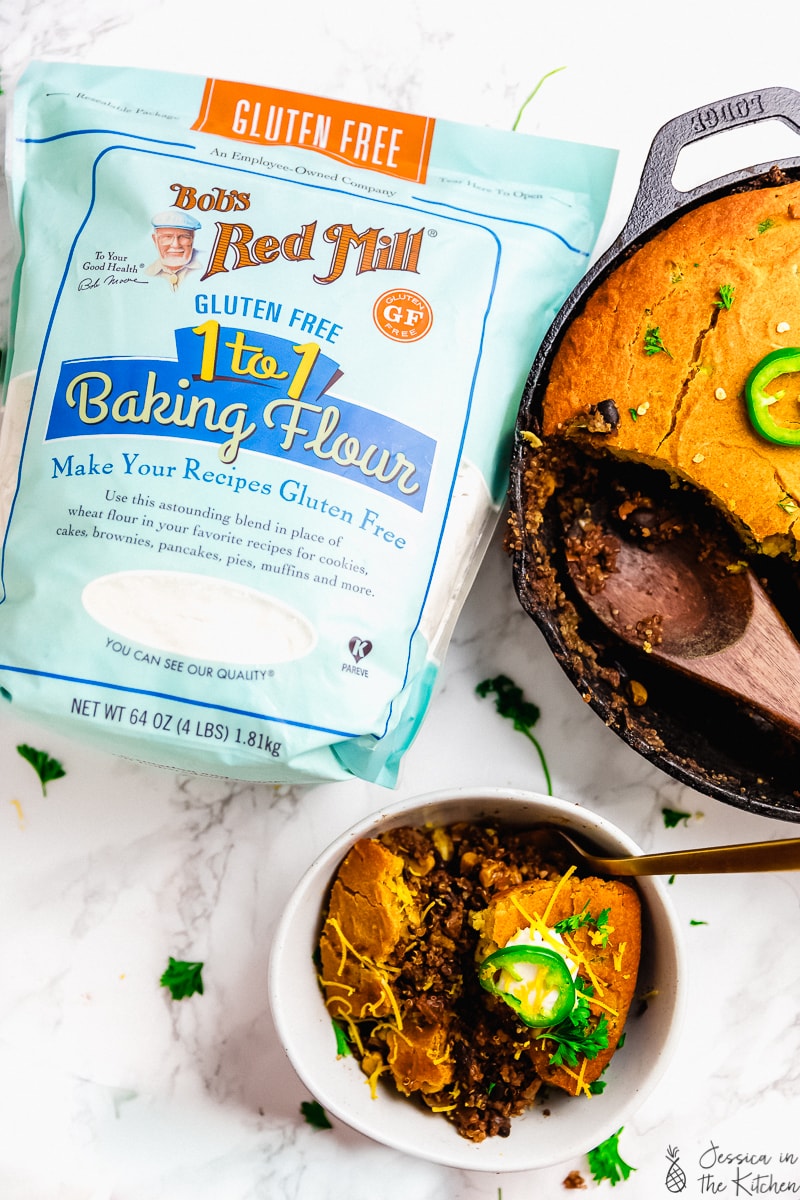 Then, you make the cornbread batter and spoon it on top. I opted for my all time favourite gluten free flour to make this – Bob's Red Mill Gluten Free 1-to-1 Baking Flour. If you're a regular here, you know how much I love Bob's! It's always amazing seeing how many of you have also fallen in love with Bob's Red Mill products (including my family) because I talk about them SO much!! It's what I used to make my Best Vegan Cornbread, and my go to for all my baked goods. It works so well here and lends a nice and tender side to the cornbread.
I highly recommending grabbing a bag (or two) this holiday season, especially since you'll probably be baking a lot like me! I always have at least two bags of Bob's Red Mill Gluten Free 1-to-1 Baking Flour on hand, too. It's smooth, affordable, lasts for many recipes (and will go to good use so no waste), and works every single time for my recipes. It pairs perfectly with the cornmeal in this recipe and makes such an incredible topping.
After that, you bake! This makes a fair amount of cornbread topping, so I bake mine for about 25-30 minutes to get it cooked all the way through. Please know that you could easily half the cornbread topping if you only want a little bit on top, then just wait your topping for when it's baked through.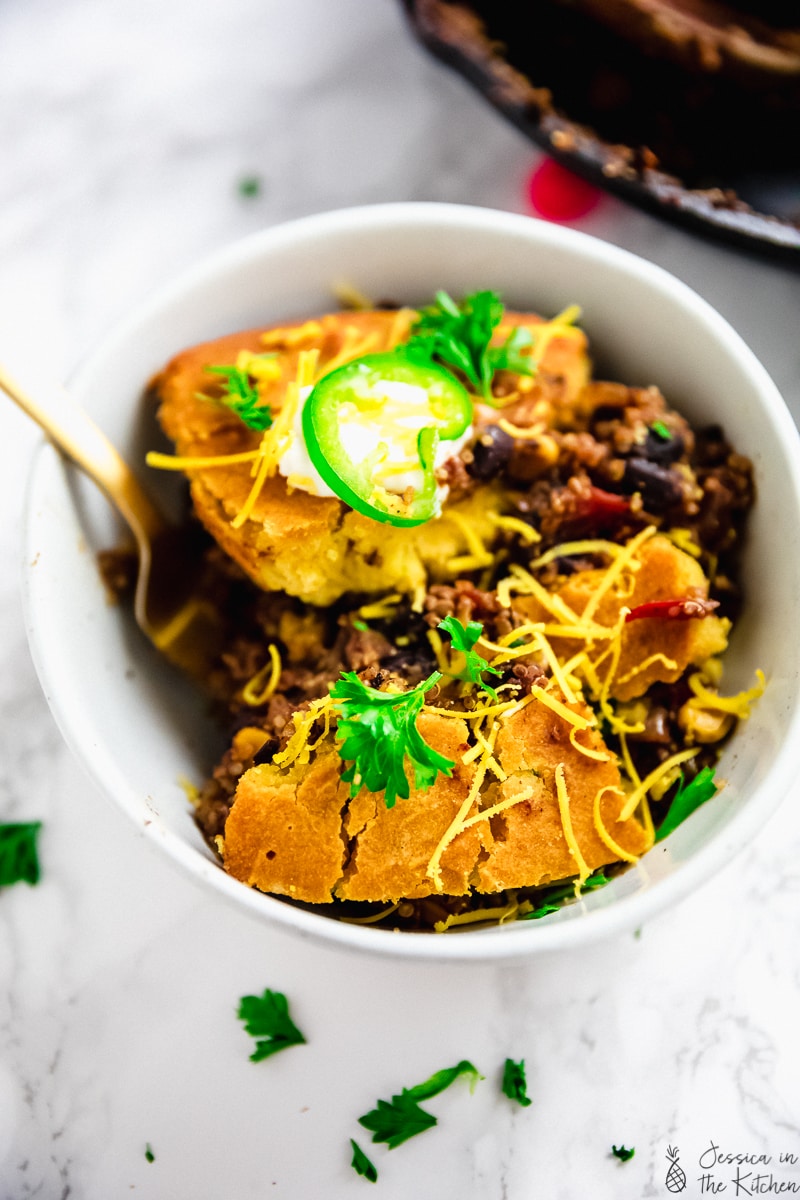 Long story short, this Chili Cornbread Casserole completely exceeded my expectations. I wasn't joking when I said it's my favourite thing I've made all season! I loved topping mine with some vegan sour cream (recipe coming soon!), vegan cheese and some hot sauce.
How to Store & Reheat this Casserole
Since I know it's a big batch, I found my favourite way to reheat this was in like a toaster oven, on about 45o degrees F for about 5 to 10 minutes. Or, in the microwave for about 2 minutes. The cornbread actually doesn't get soggy or dry in the microwave, I just prefer the oven method more! To store it, I just cut it into large squares to fit our meal prep containers perfectly, and stored it in the fridge.
I hope you dig into this treat and enjoy it so much friends!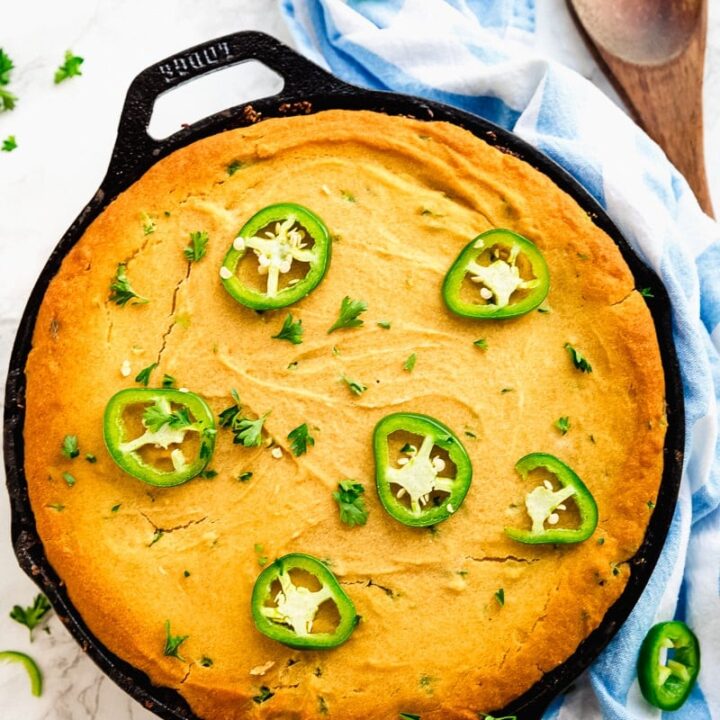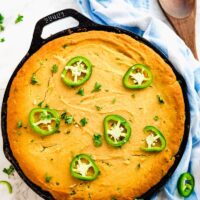 Vegan Chili Cornbread Casserole
This Chili Cornbread Casserole is one of the BEST casseroles I've ever made! Sweet, crispy cornbread is baked on top of warm, comforting & hearty chili, making it a fantastic two in one kind of meal! This is bound to be a crowd favourite and perfect for any dinner!
Ingredients
Chili
2 ¼ cups vegetable broth
½ cup to ¾ cup uncooked quinoa*
15 ounce can of black beans, drained and rinsed
14 oz diced tomatoes, do not drain
¼ cup diced red bell pepper
¼ cup diced green bell pepper
1/2 red onion, diced
3 cloves garlic, minced
1 tablespoon chili powder
¼ teaspoon cayenne pepper
1 ½ teaspoons sea salt
1 teaspoon ground black pepper
1 teaspoon ground cumin
1 teaspoon dried oregano
Cornbread
1 ¼ cups vegan milk
2 teaspoons apple cider vinegar, or white vinegar
1 ¼ cups fine grain cornmeal, (150g)
1 cup Bob's Red Mill Gluten Free 1-to-1 Baking Flour, (148g)
½ teaspoon baking soda
2 teaspoons baking powder
¾ teaspoon sea salt
1 egg replacer, I use Bob's Red Mill
¼ cup vegan butter, (44g) or olive oil
3 tablespoons sugar, cane sugar or coconut sugar or organic brown sugar
3 tablespoons maple syrup, (69g)
1 jalapeño, de-seeded and finely diced, plus slices for the tops
vegan sour cream and vegan cheese, for toppings (optional)
Instructions
Chili
In a skillet/pan over medium high heat, add in all the ingredients and stir completely to combine.

Bring to a boil, and then lower to a simmer. Cover slightly, and let the chili cook down for 20-25 minutes. Stir every now and then. See my note in the notes section about the quinoa.

Remove from heat. Stir again, ensuring the quinoa is fully cooked through. Spread the chili into a flat layer and proceed to the cornbread topping.
Cornbread
Preheat oven to 400°F/200°C.

Mix the vegan milk and apple cider vinegar together. Let sit for at least 3 minutes to create a vegan buttermilk.

In the same container as the vegan milk mixture (just to avoid using extra containers), mix all the wet ingredients (egg replacer, vegan butter, sugar and maple syrup) together slowly to incorporate, then a bit quicker to mix together properly. Pour the wet ingredients into the dry and mix until fully combined & smooth. The batter should be thick but pourable.

Stir in the diced jalapeño.

Pour the batter over the chili in the skillet/casserole dish and using a spatula, smooth down the top into an even layer. Or if you want you can dollop it into like biscuits.
Putting it All Together
Put the dish into the oven and bake for 30-35 minutes, until a toothpick comes out clean all the way and the batter is fully cooked through.

Move the pan to a wire rack and allow to cool for at least 10 minutes, preferably until cool. Slice into 8-9 servings, spoon out and enjoy! Serve with some vegan sour cream, vegan cheese and some more heat if desired, such as hot sauce or jalapeño slices!
Notes
**If you want a more liquid-y chili, minus 1/4 cup uncooked quinoa from the chili. I wanted mine very hearty and thick, so that's why I added an extra 1/4 cup quinoa. The prep time is so "short" because you can prep the cornbread topping while the chili is being made!
Calories: 361kcal, Carbohydrates: 60g, Protein: 10g, Fat: 10g, Saturated Fat: 1g, Cholesterol: 1mg, Sodium: 1375mg, Potassium: 476mg, Fiber: 10g, Sugar: 12g, Vitamin A: 703IU, Vitamin C: 19mg, Calcium: 181mg, Iron: 4mg
Disclaimer: Although jessicainthekitchen.com attempts to provide accurate nutritional information, kindly note that these are only estimates. Nutritional information may be affected based on the product type, the brand that was purchased, and in other unforeseeable ways. Jessicainthekitchen.com will not be held liable for any loss or damage resulting for your reliance on nutritional information. If you need to follow a specific caloric regimen, please consult your doctor first.