One Pot Red Lentil Chili (Vegan & Gluten Free, Stovetop)
This One Pot Red Lentil Chili takes only ten minutes of prep! It makes an absolutely delicious vegan chili and it incredibly easy to whip up for you and your family!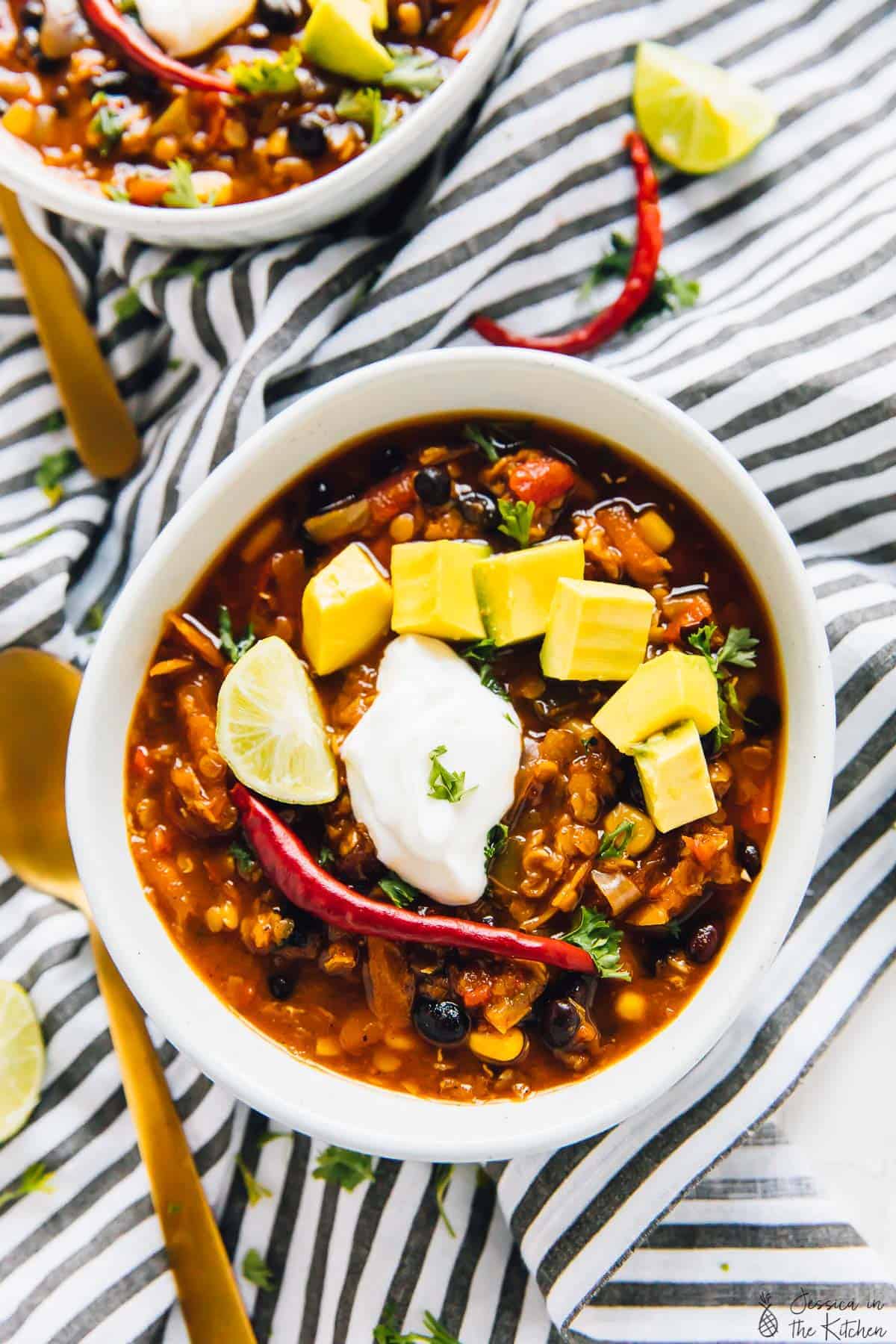 This post was originally published on January 22, 2018.
Thank you so much to everyone for your incredibly kind comments, emails, texts and messages about my last post! I've been prepping for the trip by making lots of recipes in advice so that I can keep sharing them throughout the time I'm away with you guys, in case I can't make recipes for the blog while I'm there. Needless to say – this was a very delicious process, and one of the recipes I made that I couldn't get enough of was this One Pot Red Lentil Chili. Oh my gosh. WHAT a chili!
Chili on the Stovetop
Whether you're prepping for Thanksgiving, it's cold by you or you're a chili fan like me, you are really going to love this chili. This Red Lentil Chili was inspired by my Vegan Crockpot Chili and by you! Several of you asked me for a stovetop chili. It was the first "short time" chili that I made and I am honestly so glad I did.
I'm happy to present that this is one of the last satisfying meals I've had in a long time. The flavours are so incredibly developed in just half an hour of being on the stove, but I feel like they taste even better the next day. Not only that, but it takes such a short time to make! I honestly didn't know that the flavours could develop so richly and so deeply but the low and slow simmer really does help that.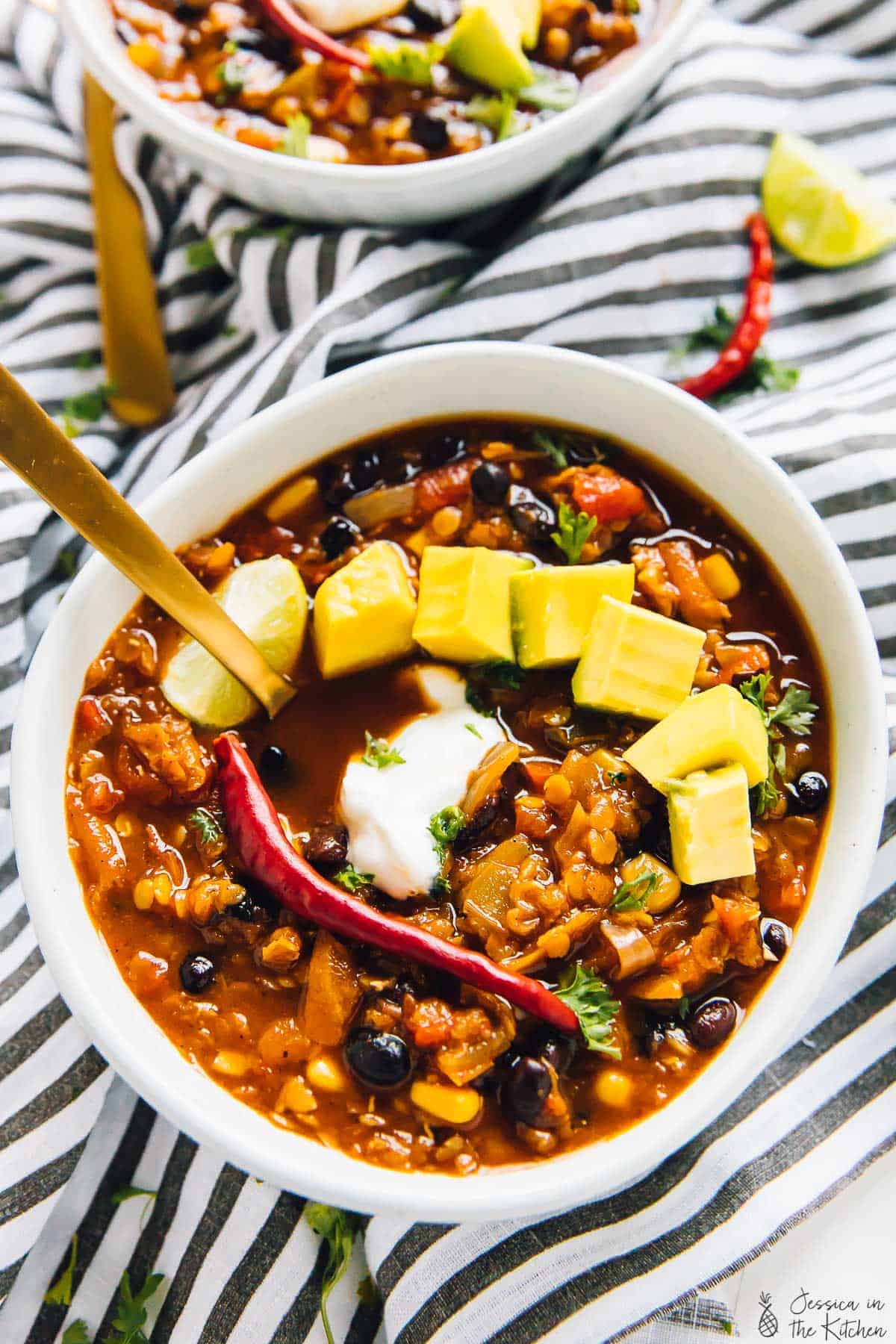 Red Lentil Chili benefits
You end up with a Chili that filling thanks to the protein and black beans, so complex in flavour and absolutely beautiful too. Oh, and if you're thinking of skipping the toppings, trust me don't! Some avocado on top of this makes an UNBELIEVABLE difference. So if we're counting off top features:
Meal preppable
One Pot
Freezer friendly
Filled with protein
Lots of fibre
Insanely delicious
Great for Super Bowl parties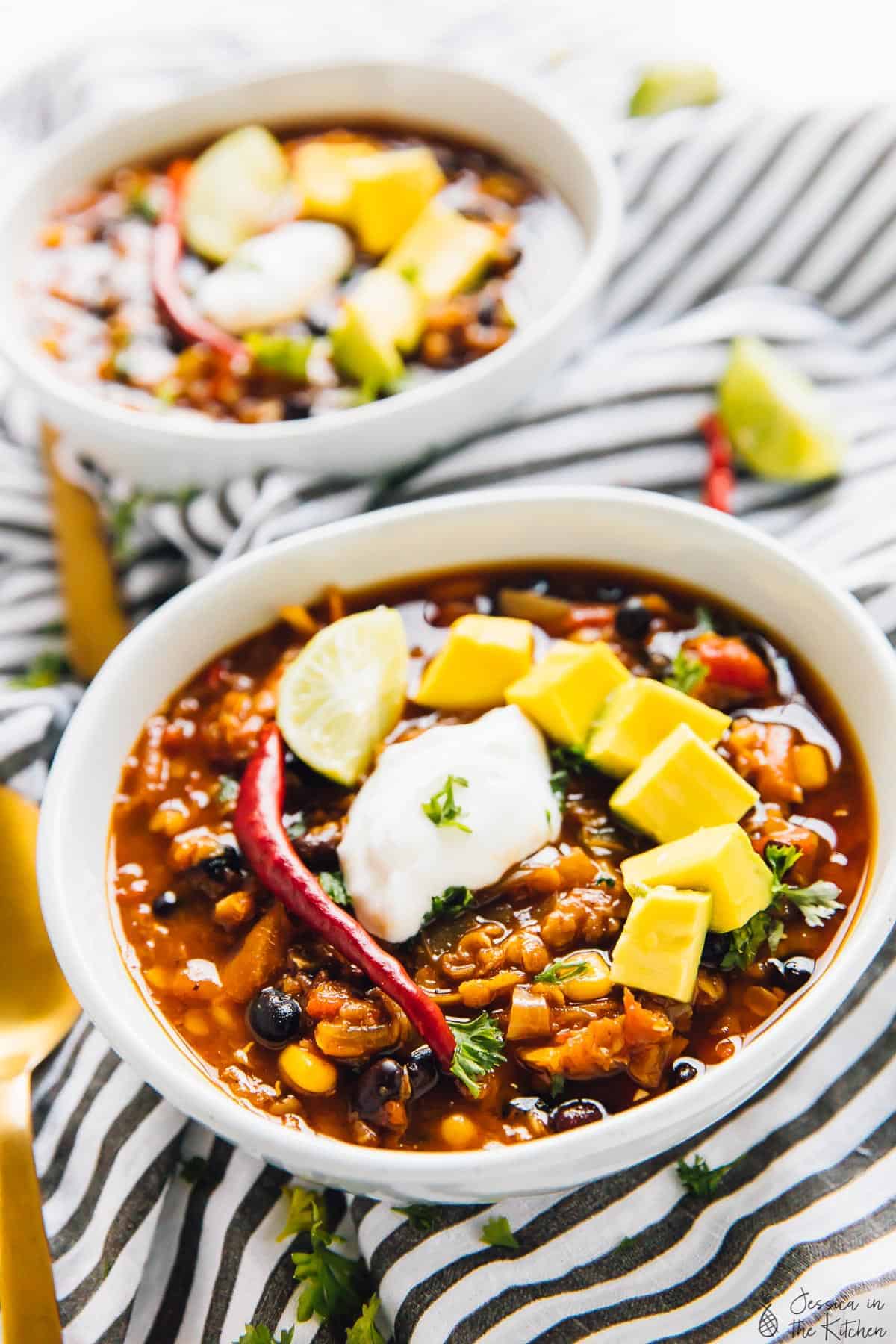 Enjoy, friends!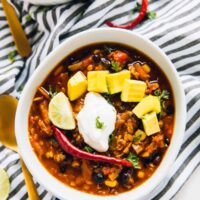 Stovetop Red Lentil Chili (Vegan & Gluten Free) 10 Min Prep
This One Pot Red Lentil Chili takes only ten minutes of prep! It makes an absolutely delicious vegan chili and it incredibly easy to whip up for you and your family!
Ingredients
1 cup dry lentils
840 ml 3 ½ cups vegetable broth
400 g 14 ounces tomatoes, diced (if using canned, do not drain)
1 red onion
15 oz. can black beans
¼ cup chopped red bell pepper, about ½ bell pepper
¼ cup chopped green bell pepper, about ½ bell pepper
123 g ½ cup corn
½ small chili pepper*, finely diced
1 tablespoon chili powder
¼ teaspoon cayenne pepper
1 ½ teaspoons sea salt
1 teaspoon freshly ground black pepper
1 teaspoon dried oregano
3 cloves garlic, minced
1 shredded carrot, 101.49g
juice of 1 lime
For Garnish
For garnish: vegan cheese, vegan greek yogurt, parsley,
Instructions
In the large stockpot over medium high heat, add in all the ingredients and stir completely to combine.

Bring to a boil, and then lower to a simmer. Cover slightly, and let the chili cook down for 25-30 minutes. Stir every now and then to ensure that the lentil don't stick to the bottom. Allow to cook until the red lentils are cooked completely and begins to thicken.

Remove from the stove, and squeeze in the juice of lime, stirring to thoroughly combine. Let it cool slightly before serving. Top with your favourite garnishes, and enjoy! I love adding some avocado on top!
Notes
Notes
This chili lasts in the fridge up to 10 days. You can also easily freeze it in a Tupperware container and thaw it in the fridge overnight when needed.
You can also make a cashew sour cream recipe to go on top.
*The chili pepper makes it spicy! If you want it less spicy, de-seed the pepper)
Calories: 177kcal, Carbohydrates: 34g, Protein: 11g, Fat: 1g, Saturated Fat: 1g, Sodium: 1156mg, Potassium: 610mg, Fiber: 13g, Sugar: 5g, Vitamin A: 2117IU, Vitamin C: 26mg, Calcium: 64mg, Iron: 4mg
Disclaimer: Although jessicainthekitchen.com attempts to provide accurate nutritional information, kindly note that these are only estimates. Nutritional information may be affected based on the product type, the brand that was purchased, and in other unforeseeable ways. Jessicainthekitchen.com will not be held liable for any loss or damage resulting for your reliance on nutritional information. If you need to follow a specific caloric regimen, please consult your doctor first.