Salted Chocolate Chip Tahini Cookies
These Salted Chocolate Chip Tahini Cookies will totally blow you away! They're soft, chewy and have a nutty, subtle tahini flavour that's so addictive!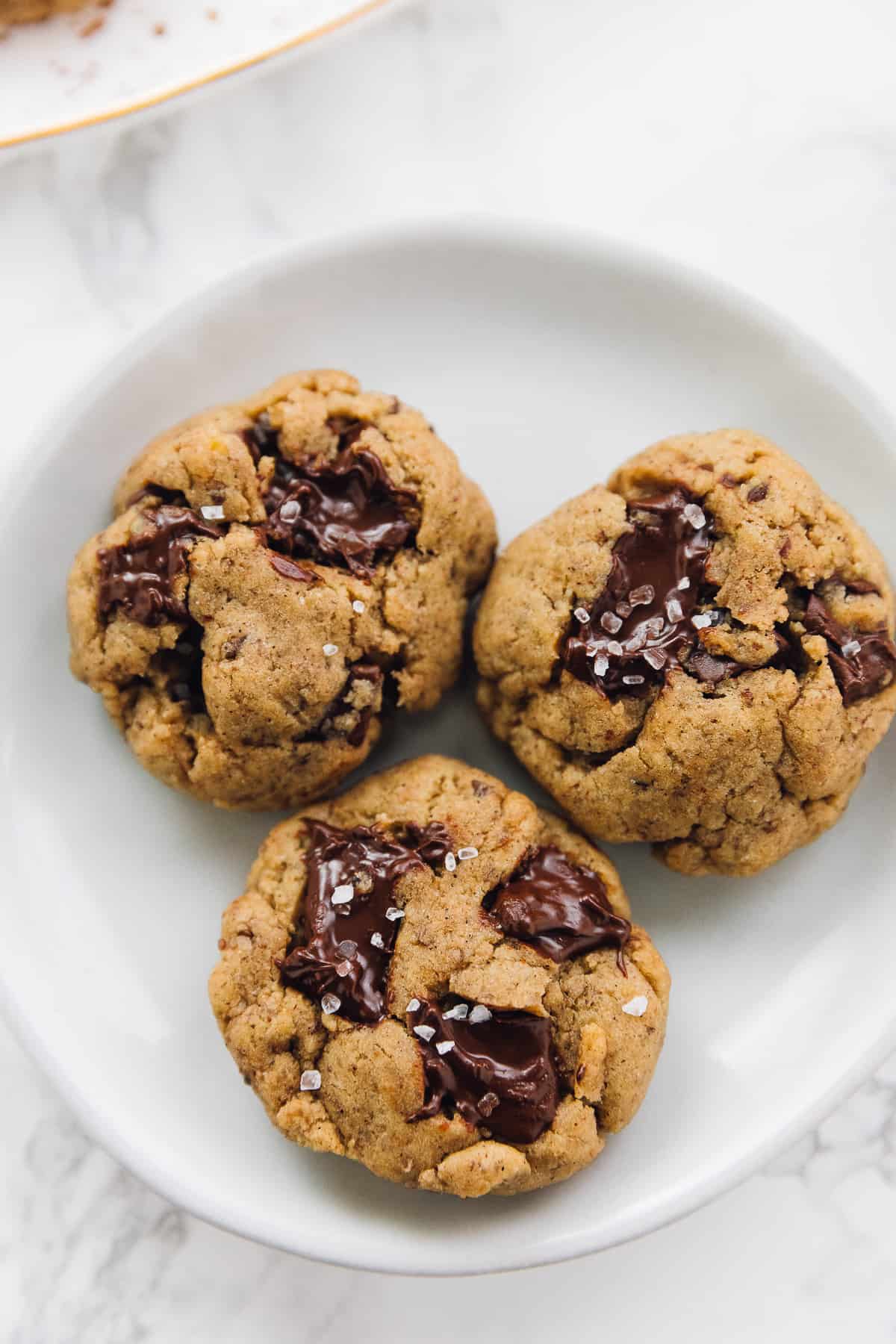 This post is sponsored by Bob's Red Mill! All texts and opinions are 100% mine. Thanks for supporting the brands that support Jessica in the Kitchen!
I know, this is an unexpected surprise. One day back from Israel and I have a Tahini inspired recipe for you! You see that's the thing – that's how much I knew you needed these Salted Chocolate Chip Tahini Cookies. I wanted to get them to you ASAP.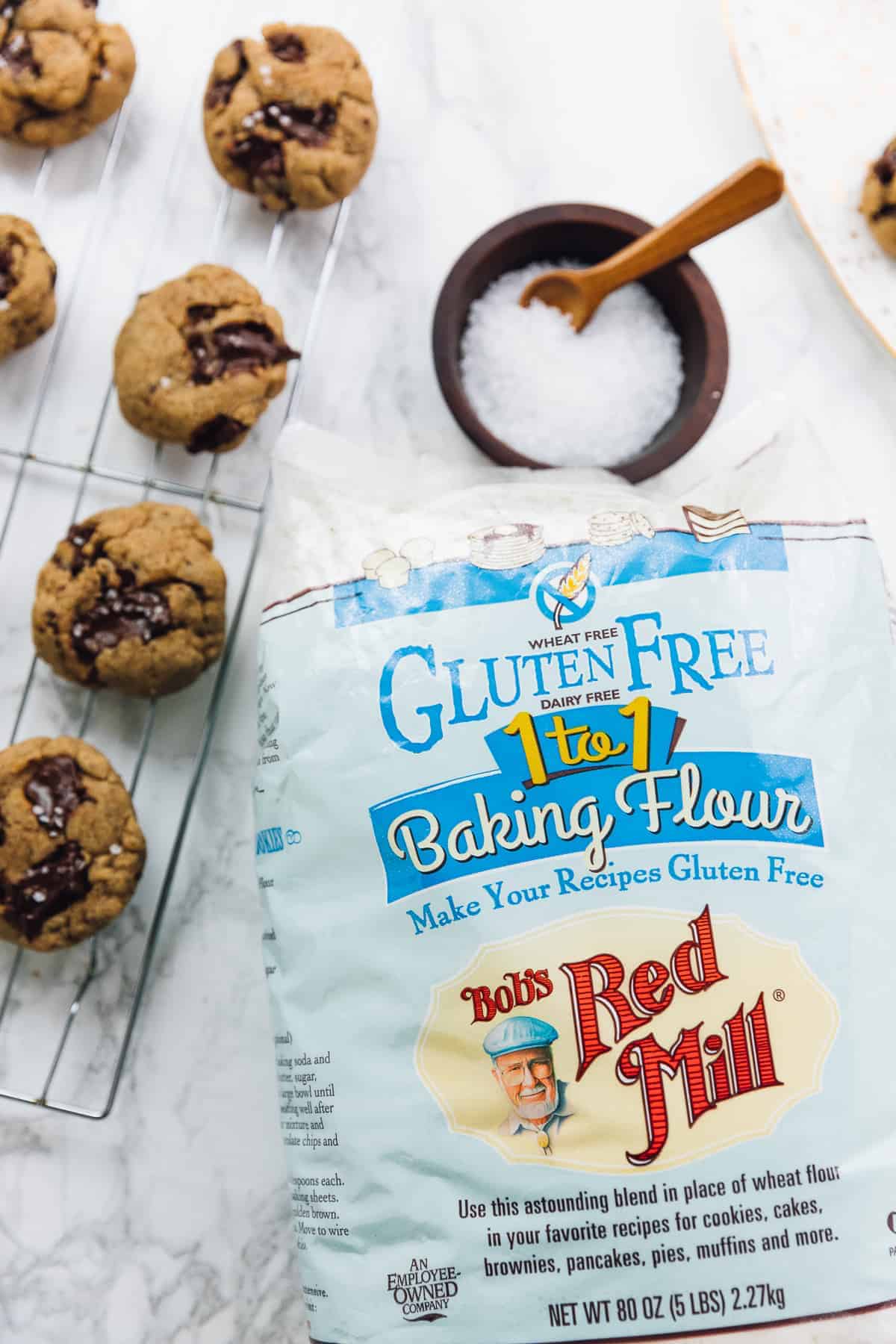 You guys always say that you never know that my recipes are gluten free so let's start there – these Salted Chocolate Chip Tahini Cookies are vegan and gluten free and delishhhh. So you can spread them on a table and anyone can dive right in! To make them gluten free, I of course ran (okay, my pantry's not that far away) to my endless supply of Bob's Red Mill Gluten Free 1-to-1 Baking Flour. I love them in cookies and basically all baked goods because they perfectly absorb all of the flavours and act as a beautiful vessel. Like a star player, essentially. The mix is so smooth and just blends beautifully here. Plus of course, it means they are safe to serve to anyone! It's the season of sharing – so let's share!!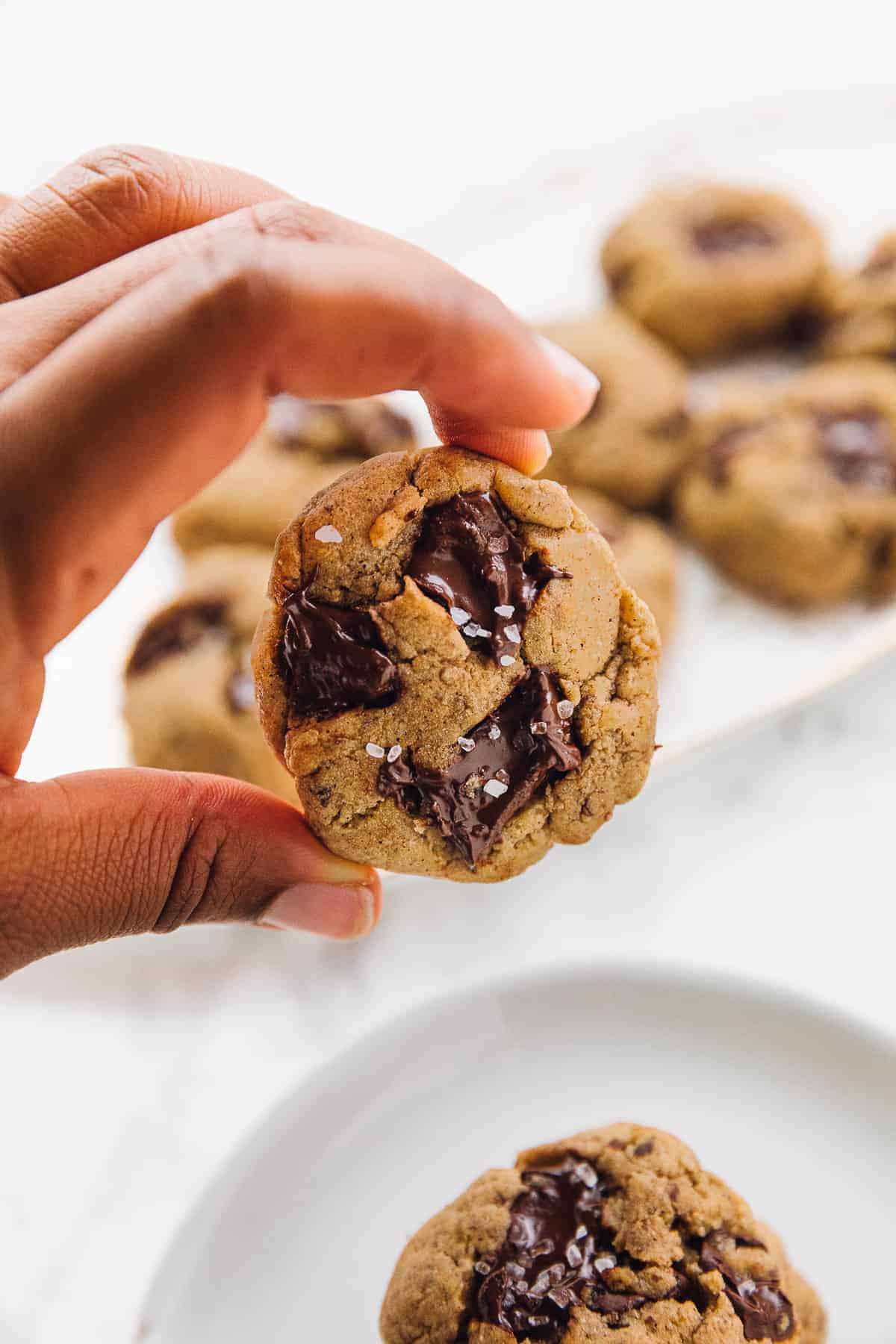 Now the cookies! Salted. Chocolate Chip. Tahini Cookies. These are all wonderful things by themselves and combined make a super cookie whose dough might not even make it to the oven. The salted happens at the end, and really adds a burst of flavour to the cookies, plus looks gorgeous. The chocolate Chip part – well, let's be honest, chocolate chip cookies are the best, aren't they? Little pools of melted chocolate are always accepted in my book. Then my favourite part of the flavour of the cookies – the Tahini.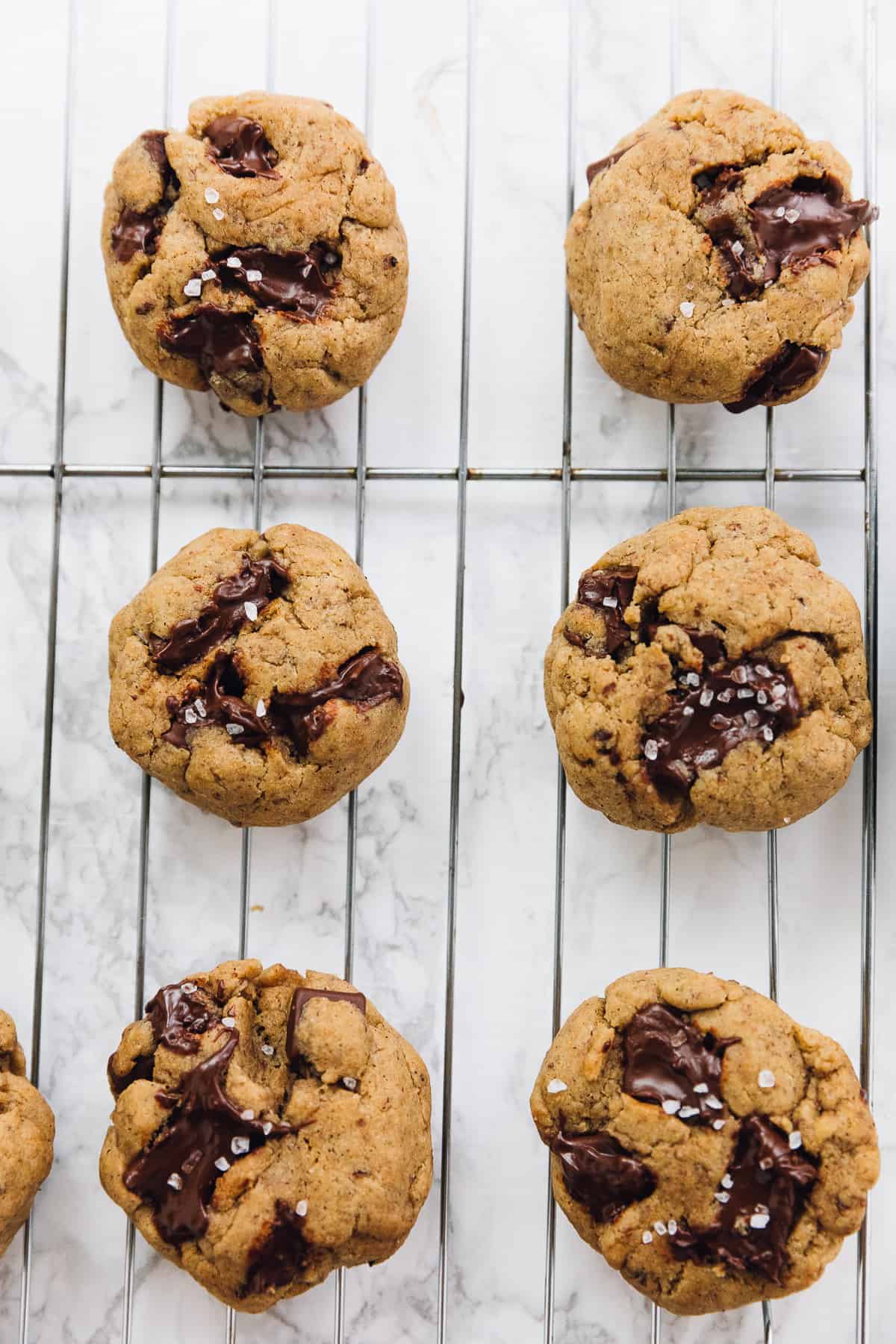 As a quick intro, Tahini also known as Tahina is sesame seed paste, or kind of like a sesame seed butter. If you're like me, maybe you've tasted Tahini outside of the Middle East and kind of made up your face. Bitter. Grainy. Not good. I couldn't understand why this was supposed to make my hummus better! That was all until my most recent trip to Israel. Tahini is supposed to be nutty, buttery and 100% smooth. Imagine my shock and surprise when I tasted real tahini for the first time. Needless to say that by the end of the trip it was crucial for me to lug home a giant jar of it, as I did. I say all of this because the right tahini is what will make the difference in your cookies. Get one that's very runny, smooth, and has a nutty flavour.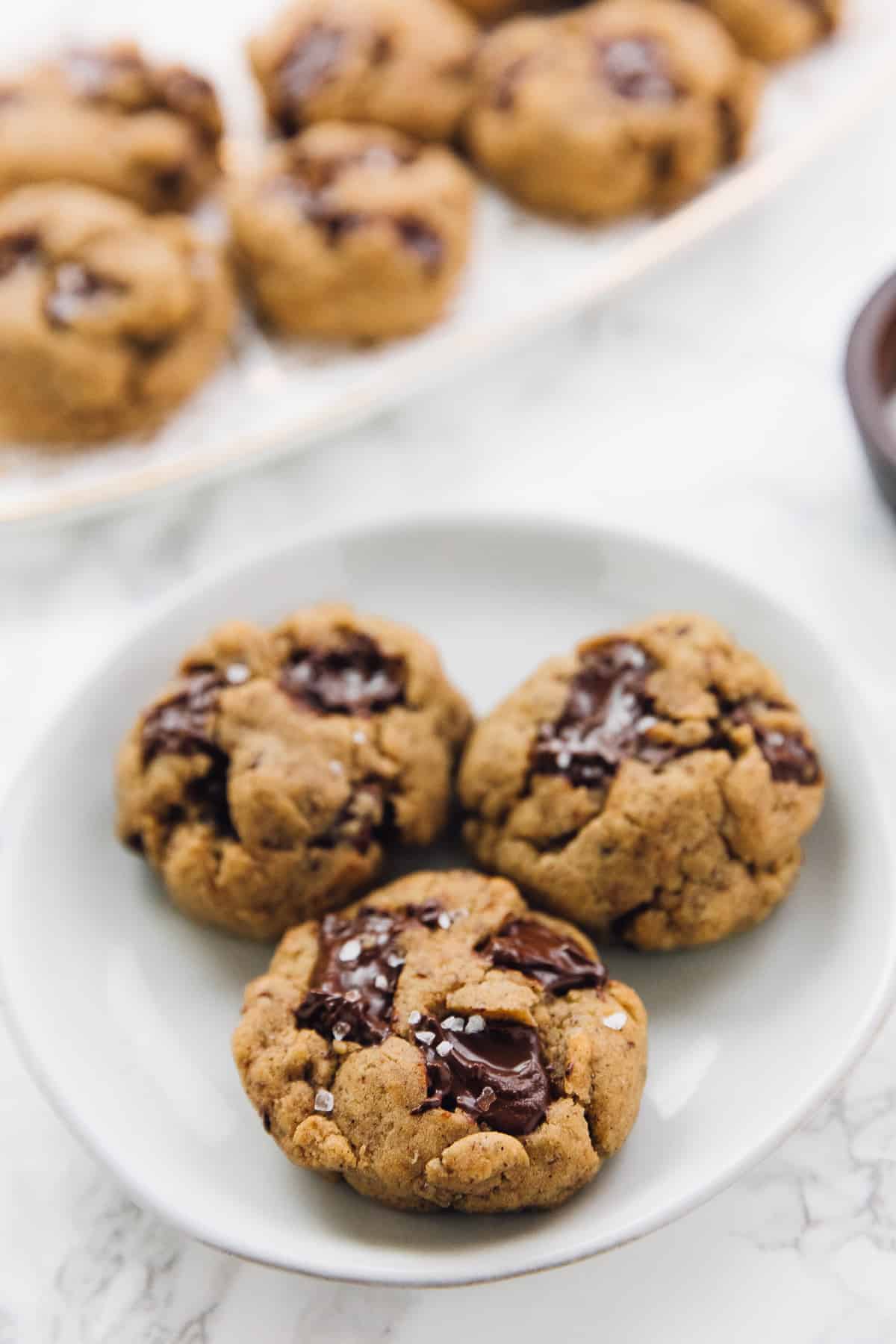 These Salted Chocolate Chip Tahini Cookies will knock your socks off. Like I mentioned above, I highly recommend the Bob's Red Mill Gluten Free 1-to-1 Baking Flour in these cookies for the extra softness, and ability to share with everyone. You guys know I love Bob's Red Mill's flours!! These cookies are best warm out of the oven, cooled for like ten minutes, but of course, are still divine after that. I highly recommend not over baking them since they continue to cook while they cool. Under-baking them means a soft, chewy and divine cookie to dive into. Enjoy friends!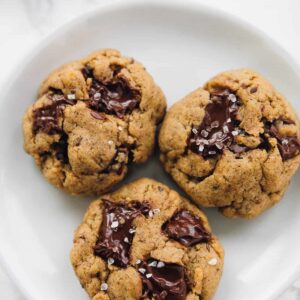 Salted Chocolate Chip Tahini Cookies
These Salted Chocolate Chip Tahini Cookies will totally blow you away! They're soft, chewy and have a nutty, subtle tahini flavour that's so addictive!
Ingredients
1 teaspoon baking powder
¼ teaspoon baking soda
½ teaspoon cinnamon
¼ teaspoon sea salt
1/2 cup 96g organic brown sugar
¼ cup tahini/tahina
1 flax egg*
½ teaspoon vanilla extract
2 tablespoons coconut oil
coarse or flaky sea salt, for sprinkling on top
½ cup chopped vegan dark chocolate, or chocolate chunks/chips
Instructions
In a small bowl, add the Bob's Red Mill Gluten Free 1-to-1 Baking Flour, baking powder and baking soda, cinnamon and sea salt. Whisk together thoroughly. Set aside.

In a large bowl of a stand mixer, add the brown sugar, tahini, flax egg, vanilla extract and the coconut oil. A mixer (stand or by hand) really helps to whip the ingredients, especially the tahini, for that soft and chewy texture. Turn the mixer on and thoroughly incorporated, about 5 minutes, scraping down the sides, until it's nice and fluffy.

Add the dry ingredients to the wet in two batches, and mix with mixer until incorporated. Scrape down the sides to gather all the dough and gently fold in. Fold in the chocolate chunks.

Form dough into a large ball and cover with Saran wrap or a reusable wrap, or even place in a large reusable zipped bag. Place in the fridge for at least 2 hours to chill thoroughly.

Preheat oven to 350 degrees F/175 C. Line two baking sheets with silpat mats or parchment paper. Remove Saran Wrap and scoop 1 tablespoon out of the dough for each cookie. Roll slightly between fingers to form a ball that's about 2 inches in diameter. Add a dough ball, pressing down all around, and leave about an inch of space between each cookie.

Bake for 10 minutes then remove cookie sheets from the oven and onto the counter. It may look slightly underbaked, but will cook as it cools. Remove from the sheets after 10 minutes of cooling, then to a wire rack to finish cooling. I started to eat mine now – they taste so divine when a little warm! Enjoy!
Notes
Notes
*Flax egg recipe – (1 tablespoon flax seeds + 3 tablespoons of water, mixed and in fridge for 15 minutes before)
Prep time doesn't include the 2 hours chill time.
You can easily double this recipe!
Recommended to use – to be extra
I brought my tahini back from Israel, but I highly recommend using a runny and smooth tahini brand. The bitter and lumpy ones just won't do these cookies justice!
A flaky sea salt or a fleur de sel would really take the "salted" element over the top.
Chocolate chunks and chocolate chips are great, but I highly recommend using a high percentage dark chocolate bar, chopped that, and subbing it for chocolate chips. Not only does the dark chocolate pair beautifully with the salt and the tahini, you'll get pools of chocolate instead of unmelted pieces.
Okay, yes the dough is ready in 2 hours. But have you tried overnight?! This dough is simply fantastic and even more holiday table worthy after 24 hours of chilling. Or maybe, make two batches, make one now, and chill the other!
Calories: 161kcal, Carbohydrates: 22g, Protein: 3g, Fat: 8g, Saturated Fat: 4g, Sodium: 135mg, Potassium: 42mg, Fiber: 2g, Sugar: 13g, Vitamin C: 1mg, Calcium: 53mg, Iron: 1mg
Disclaimer: Although jessicainthekitchen.com attempts to provide accurate nutritional information, kindly note that these are only estimates. Nutritional information may be affected based on the product type, the brand that was purchased, and in other unforeseeable ways. Jessicainthekitchen.com will not be held liable for any loss or damage resulting for your reliance on nutritional information. If you need to follow a specific caloric regimen, please consult your doctor first.