Homemade Pita Chips
Learn how to make homemade pita chips in just a few steps! They're crispy, perfectly seasoned and so easy to make. Plus they're in less than 15 minutes!
An Easy Pita Chips Recipe
I remember the first time I made pita chips from home successfully. I felt like I had cracked the homemade chip code, with such little work.
Homemade pita chips are one of the easiest snacks to make at home, and one of the best because they actually stay crispy up to a week after you make them!
While I love a bag of storebought pita chips, I love making these at home because I can add extra seasoning to them and control just how crispy I want them. Total win-win.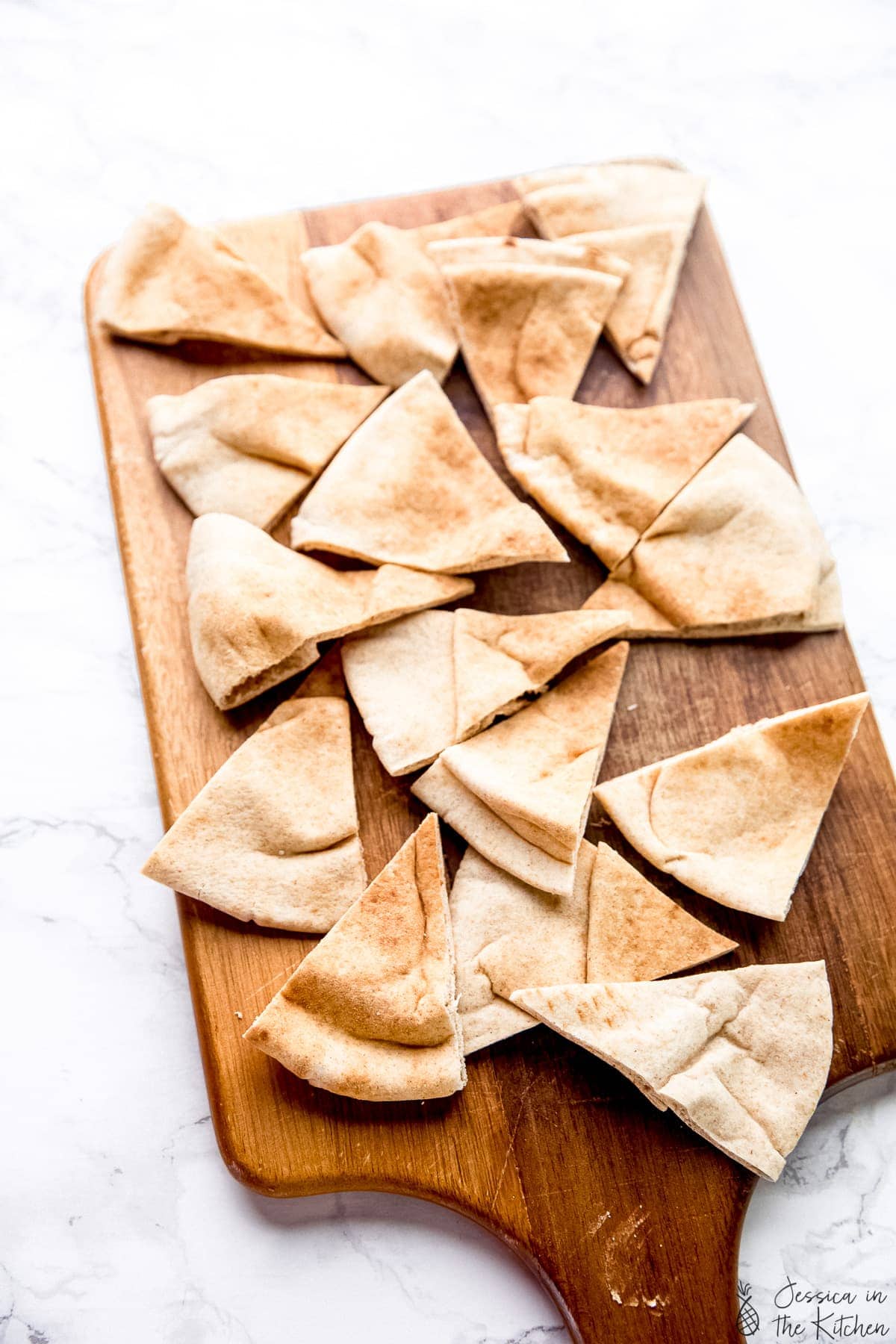 What Do You Need to Make Pita Chips?
You only need a few ingredients to make crunchy pita chips at home. Here's a quick overview. Be sure to scroll down to the recipe card for specific amounts.
Pita Bread – You will need 2 pita breads. I make my pita chips from pita bread, whether that's bakery bought or storebought. I've tried the fluffy ones, low carb ones, white and whole wheat ones, and they all taste incredible.
Garlic powder
Onion powder
Ground black pepper
Paprika – Smoked paprika works too!
Sea salt
Olive oil – Or any kind of oil.
How to Make Pita Chips
Prep the pita bread. First, I cut each bread into 8 triangles (like in the photos) by cutting each pita in half, then into quarters, then each quarter in half. 
Combine the seasonings. In a small bowl, mix up the garlic powder, onion powder, pepper, paprika and sea salt. You can definitely customise the seasonings, but I love this combination. You could even try a lemon pepper combo!
Brush the triangles with olive oil and a mix of seasonings. You can use a pastry brush or your fingertips to add the oil. Then sprinkle the seasoning on top. (Dry your hands first if you used them to add the oil, otherwise the seasoning mix will stick to them.)
Bake the chips, and bam, you're done! It all comes together in less than 15 minutes, and you can easily half it or double it.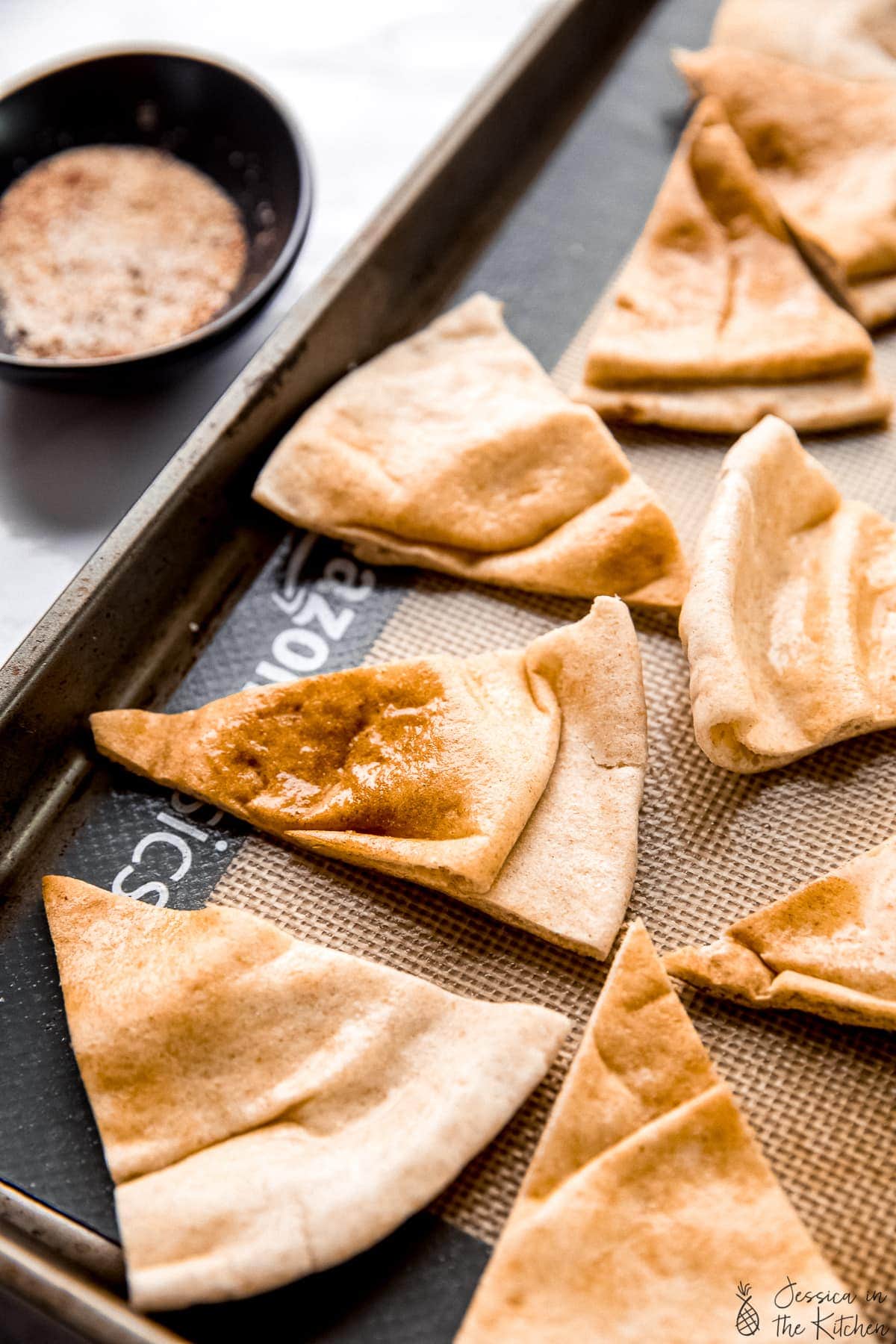 How to Eat Pita Chips
Fact: Pita chips taste incredible by themself. Bigger fact: Pita chips taste even better with a dip. I love serving pita chips with:
Storage Instructions
These chips are like magic. Store them in an airtight tupperware container and they will stay crispy for up to a week! You can store them on the counter or in the fridge.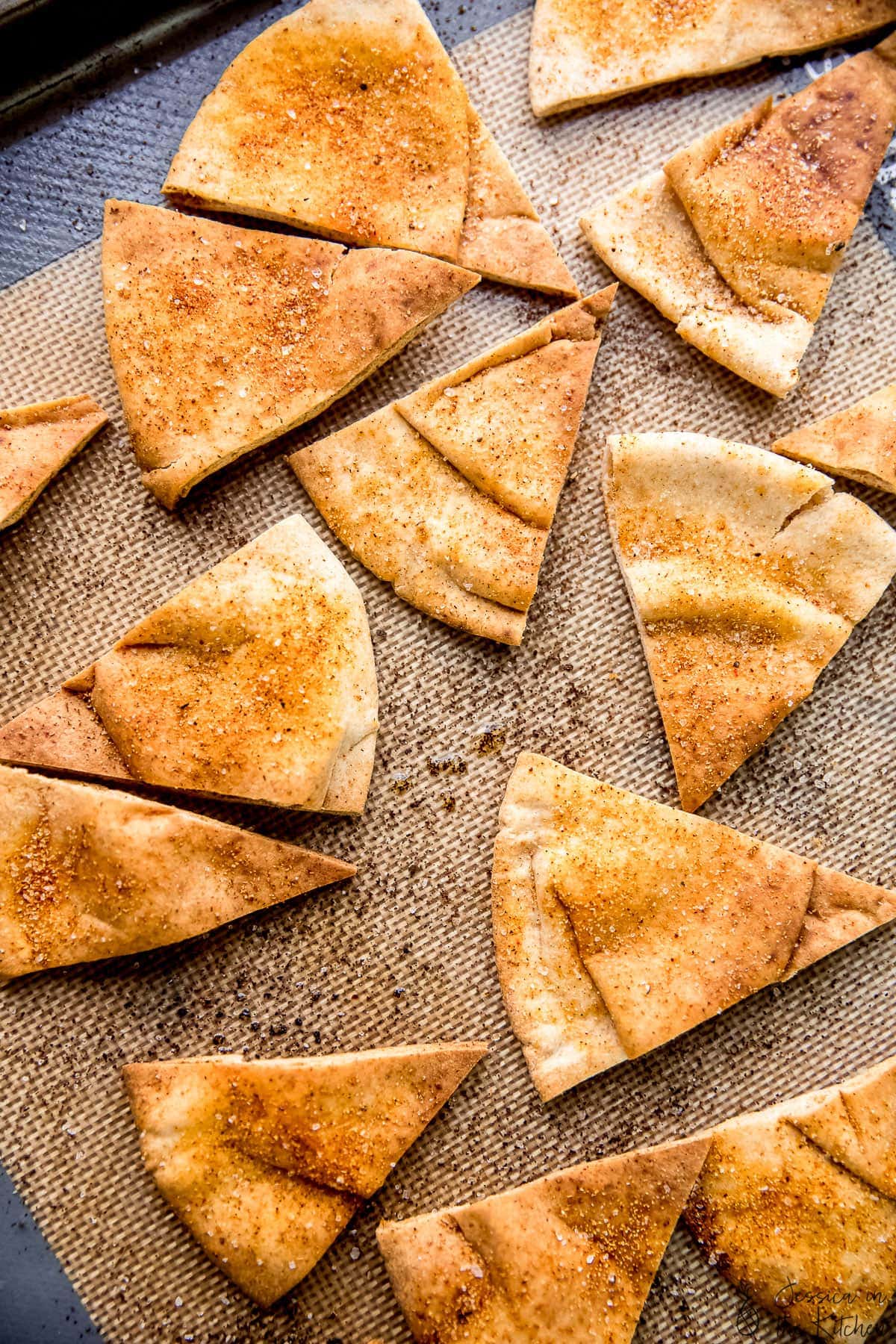 Enjoy friends! If you make these Homemade Pita Chips, please snap a photo and tag #jessicainthekitchen on Instagram! We'd also love it if you would leave a comment below, and give the recipe a rating! Thanks so much!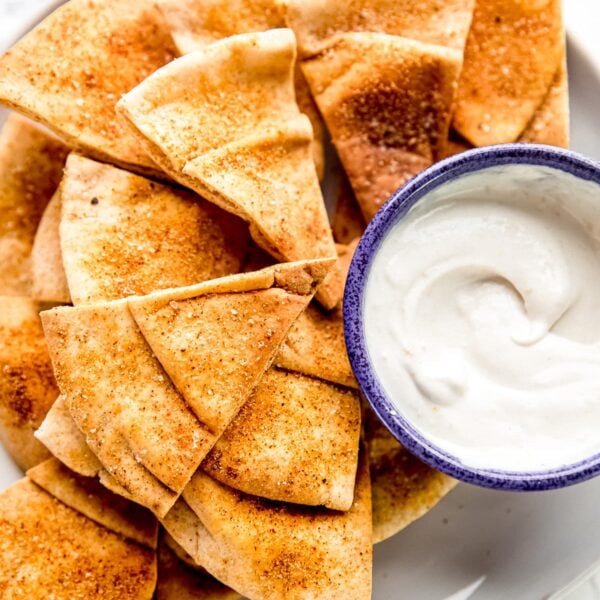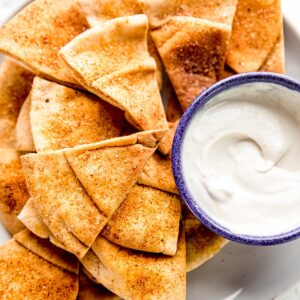 Homemade Pita Chips
Learn how to make homemade pita chips in just a few steps! They're crispy, seasoned and so easy to make and are done in less than 15 minutes!
Ingredients
2 pita breads
1/2 teaspoon garlic powder
1/4 teaspoon onion powder
1/2 teaspoon ground black pepper
pinch of paprika
1/2 teaspoon sea salt
1 tablespoon olive oil or any oil
Instructions
Preheat the oven to 400ºF/200ºC. Line a baking sheet with a silicone mat or with a prepared parchment paper or greased foil.

Slice each pita bread into 8 triangles. Line the baking sheet with the pita chips, spreading them so they don't touch.

Combine the garlic powder, black pepper, paprika and sea salt in a small bowl. Spray or brush chips with oil, then sprinkle with the combination of half the seasonings. Flip the chips over, brush or spray with more oil, and sprinkle the remaining seasonings over.

Bake for 8 minutes, until golden and crispy. Remove and allow to cool completely.

Enjoy! You can store pita chips in an air tight tupperware container for up to a week (they will keep crispy).
Notes
I used low carb pita bread but you can use any pita bread and it'll work either way!
Calories: 118kcal, Carbohydrates: 12g, Protein: 6g, Fat: 6g, Saturated Fat: 1g, Sodium: 415mg, Potassium: 48mg, Fiber: 5g, Sugar: 1g, Calcium: 4mg, Iron: 1mg
Disclaimer: Although jessicainthekitchen.com attempts to provide accurate nutritional information, kindly note that these are only estimates. Nutritional information may be affected based on the product type, the brand that was purchased, and in other unforeseeable ways. Jessicainthekitchen.com will not be held liable for any loss or damage resulting for your reliance on nutritional information. If you need to follow a specific caloric regimen, please consult your doctor first.