Cinnamon Apple Chips (Baked)
These Cinnamon Apple Chips are the perfect crispy and crunchy fall snack! They're easy to make, budget friendly and satisfy your sweet tooth!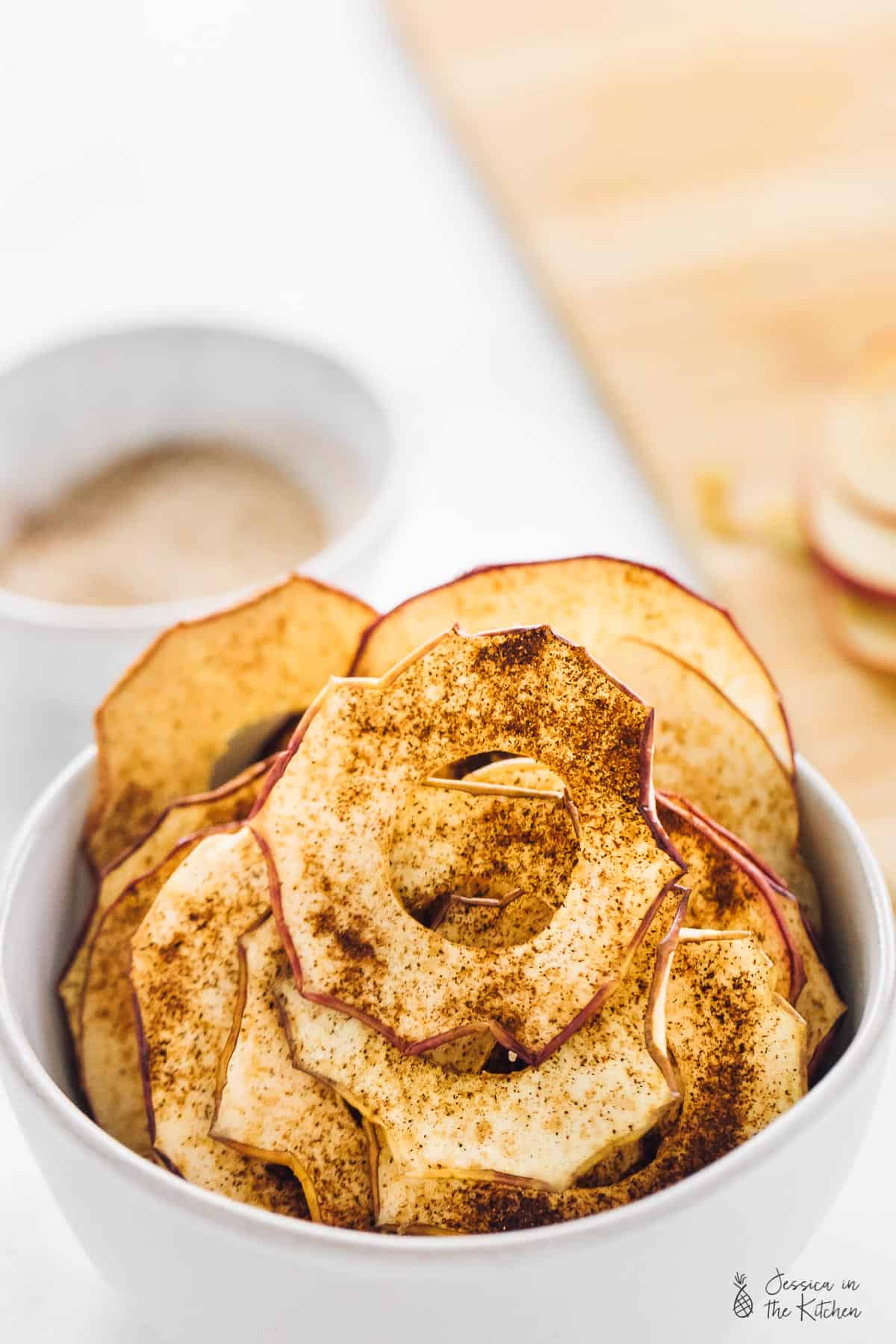 As I just announced on my Instagram stories, I'm going away on another trip soon that I'm SUPER excited about. At this point, I've really gotten used to the travel routine. Gav loves to say that my super power is packing, and I think it's because I've really tried to break everything down to a science. It's also part of my personality to write a million lists and organise things down to the T – not really because I'm worried or scared, but I genuinely enjoy it. It always gets me so much more excited for the trip and helps me to push through the difficult parts of travelling aka the airport.
Speaking of lists, one thing that I'm still attempting to "conquer" is the whole snack packing part! I've definitely gotten way better at always packing a snack, because friends, I get hangry. Honestly, I hate when I get like that but it's as if a whole part of my brain shuts off, aka the logical part. To avoid this, especially travelling while vegan, I always get snacks of some sorts. I love the snacks that they give you on the plane, and I always ask for extra and just stock up on them. Know what I love more though? Homemade snacks.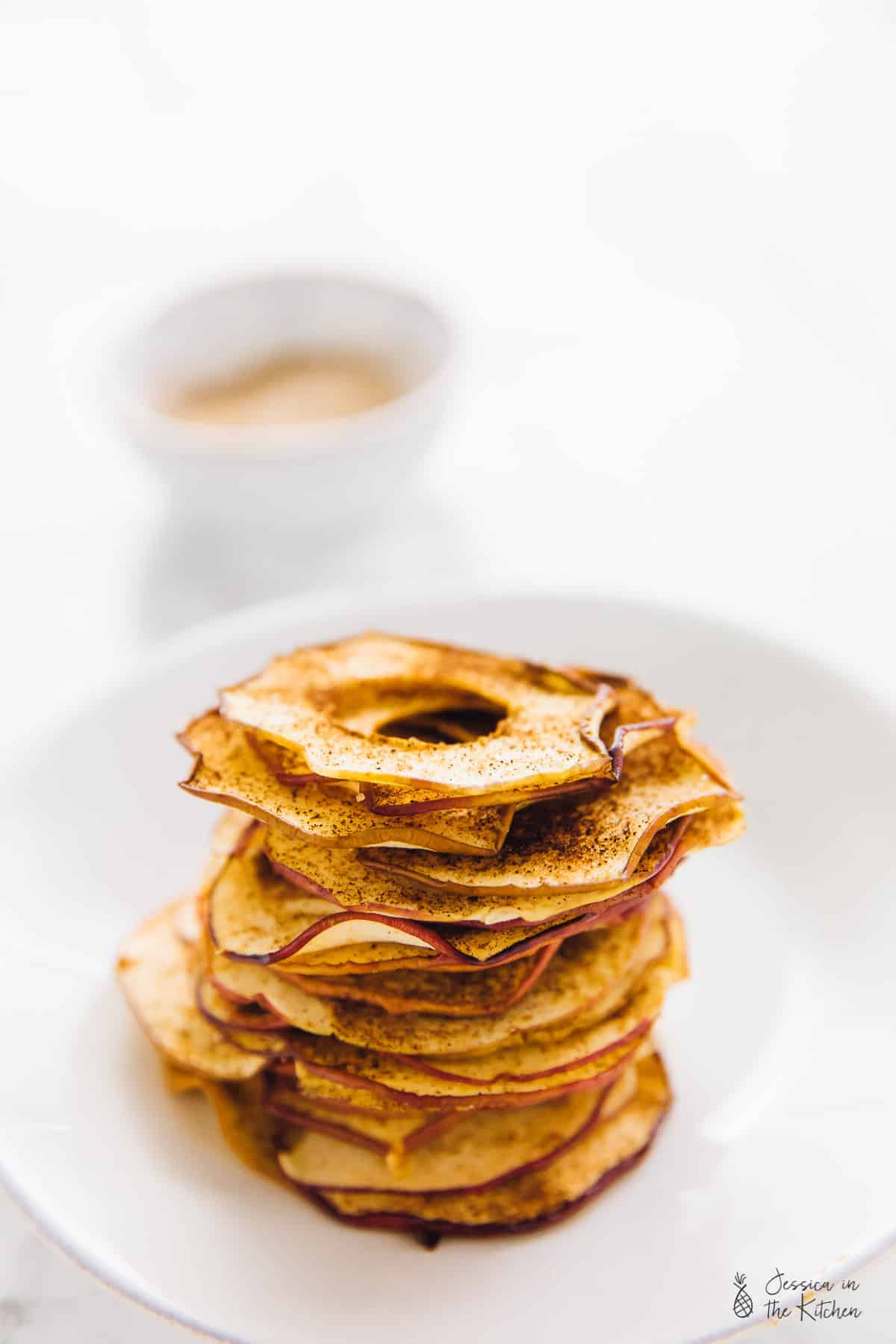 This is where these Cinnamon Apple Chips finally come in! If you're ever had store-bought Apple chips then you know they are absolutely amazing. Crunchy, crispy, a good body to them, and sweet! They are great for curbing any sweet tooth cravings, especially while travelling. Best part is they are soooo easy to make at home!
The process is as simple as slicing and baking. Like, literally. They take 2 ½ hours to bake, but at a low and slow temperature. That ensures that they get nice and crispy. Then, you want to leave them in the oven for another hour to cool. Honestly, this might sound kind of intense, but it really isn't. It's the easiest thing because you just flip the pans midway (optional, but recommended). Then, when they are done, turn the oven off and let it cool for an hour. That makes them really crispy. Truthfully, they still taste delicious either way! The cinnamon sugar sprinkle is optional (more the sugar part), but always a nice treat.
Honestly, I have made this so many times in the past, including in my travel snacks post. I remember how loved these were, so I decided to revamp them for a brand new post, and fix the baking time on this version. I feel like before, the baking time only worked with firm apples, but this time should work with all sorts of apples. They are a great way to use up extra apple chips too! I usually just do several batches in a day, and the low heat doesn't heat up our apartment at all. Easy, ideal, and so tasty! Happy eating friends!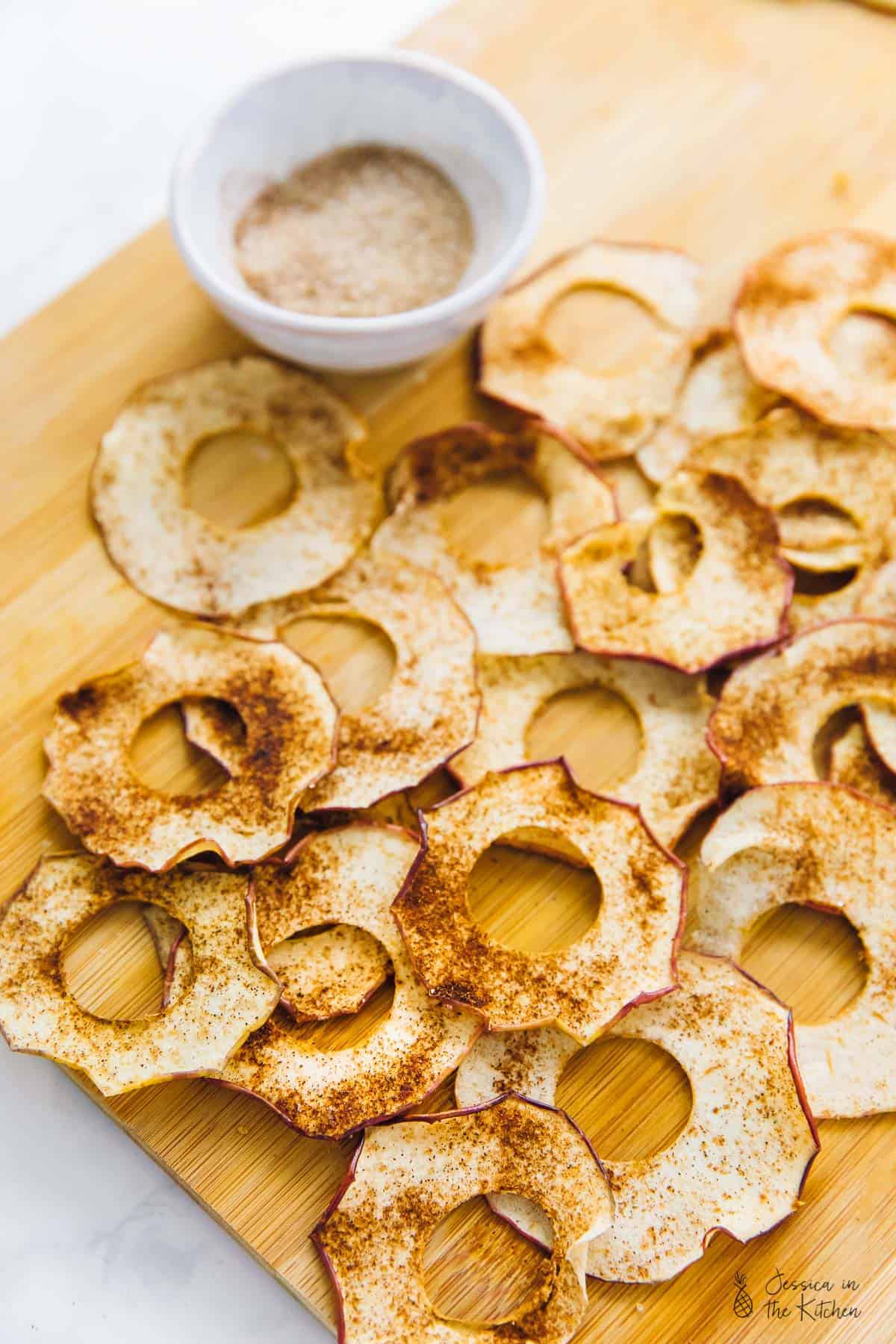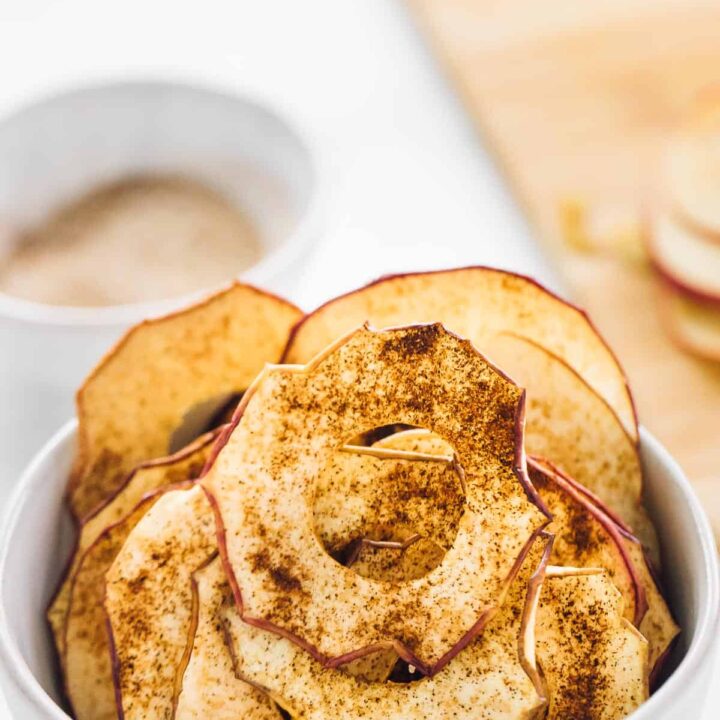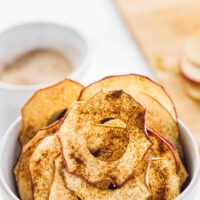 Cinnamon Apple Chips (Baked)
These Cinnamon Apple Chips are the perfect crispy and crunchy fall snack! They're easy to make, budget friendly and satisfy your sweet tooth!
Ingredients
3-5 small apples*, or any quantity
2 teaspoons cinnamon
2 teaspoons any kind of sugar, coconut, cane, brown
Instructions
Preheat oven to 200 degrees fahrenheit.

Thinly slice apples with a mandoline. On a silicone mat lined baking sheet, arrange apple slices so they aren't overlapping. You'll probably need at least two baking sheets.

In small bowl, combine sugar and cinnamon. Sprinkle on top of apple chips. One side alone is fine!

Place the baking sheets on your top rack, and on the middle. Bake for 2 ½ hours, switching the position of the baking sheets. If you're only doing one baking sheet, move the position of that baking sheet.

Turn off the oven, and leave the chips in the oven for another hour to cool. This helps to dry it out even more.

Remove from oven and let them cool completely. Store in a sealed container or reusable zipped bag for up to 3 days to stay crispy. Enjoy!
Notes
*I've done this with larger apples, and let me tell you, it's not that ideal. Smaller apples fit your mandolin easily, take up less space, and bake faster. If you have silicone mats, I highly recommend using them. Otherwise, parchment paper. I've also done this with foil and that works, but it doesn't make the crispiest apple chips.
Calories: 81kcal, Carbohydrates: 22g, Protein: 1g, Fat: 1g, Saturated Fat: 1g, Sodium: 2mg, Potassium: 146mg, Fiber: 4g, Sugar: 16g, Vitamin A: 74IU, Vitamin C: 6mg, Calcium: 18mg, Iron: 1mg
Disclaimer: Although jessicainthekitchen.com attempts to provide accurate nutritional information, kindly note that these are only estimates. Nutritional information may be affected based on the product type, the brand that was purchased, and in other unforeseeable ways. Jessicainthekitchen.com will not be held liable for any loss or damage resulting for your reliance on nutritional information. If you need to follow a specific caloric regimen, please consult your doctor first.