Shaved Brussels Sprouts, Quinoa and Apple Salad with Sweet Orange Vinaigrette
This Shaved Brussels Sprouts, Quinoa and Apple Salad is the perfect winter salad!! It's marinated with a divine sweet orange vinaigrette and is so filling and comforting!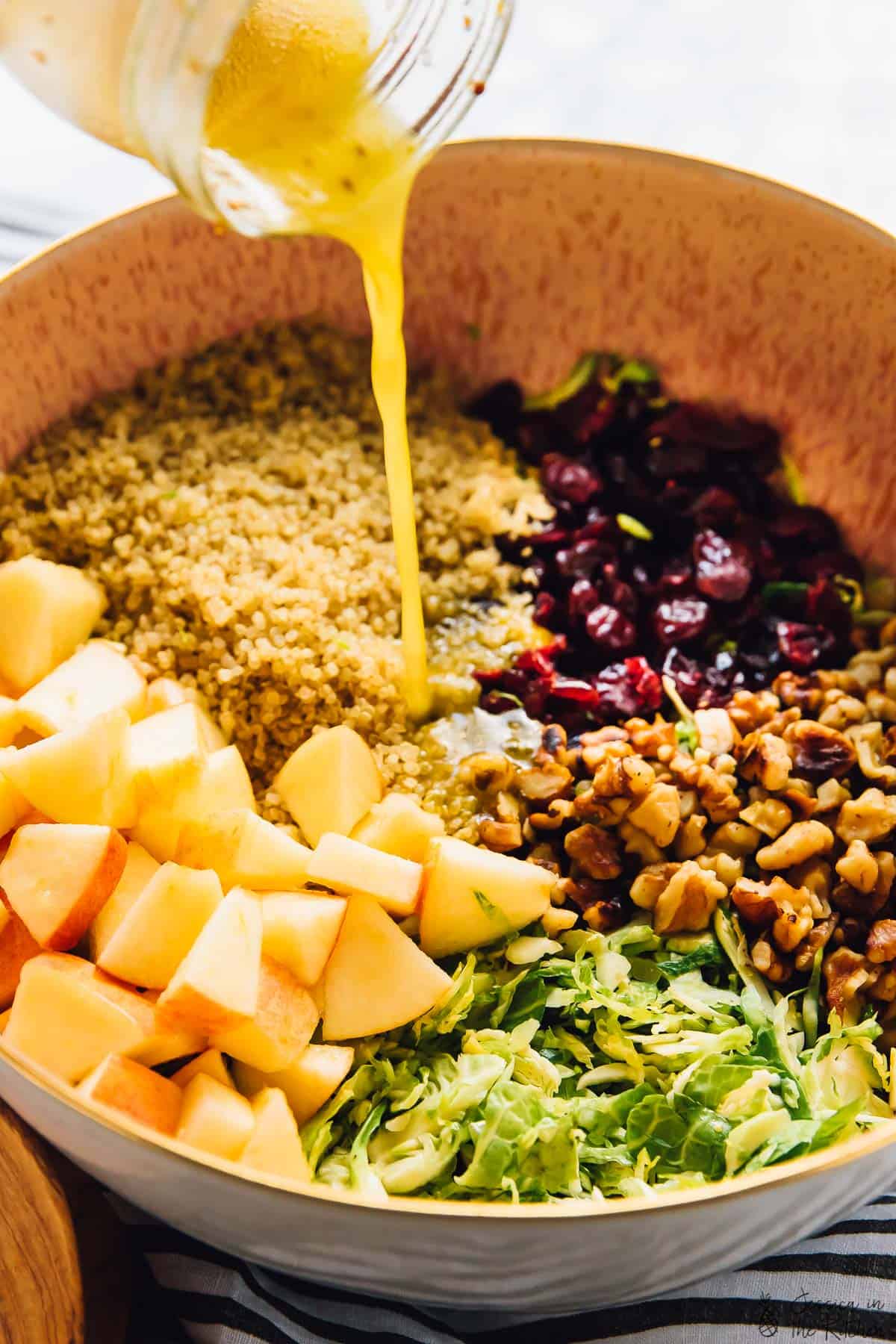 It's been a long time since I've had a delicious winter salad. I'm talking the kind that is still healthy and nutritious, but equally filling an absolutely comforting. I wanted to solve this for me and for you, because who says salads are just for spring and summer?! This winter salad is loaded with so many divine fall and winter flavours that are combined into one glorious dish. Let me tell you – I never thought that I would eat Brussels sprouts raw until this salad. Also? The Mr. DEVOURED this. Husband approved – check.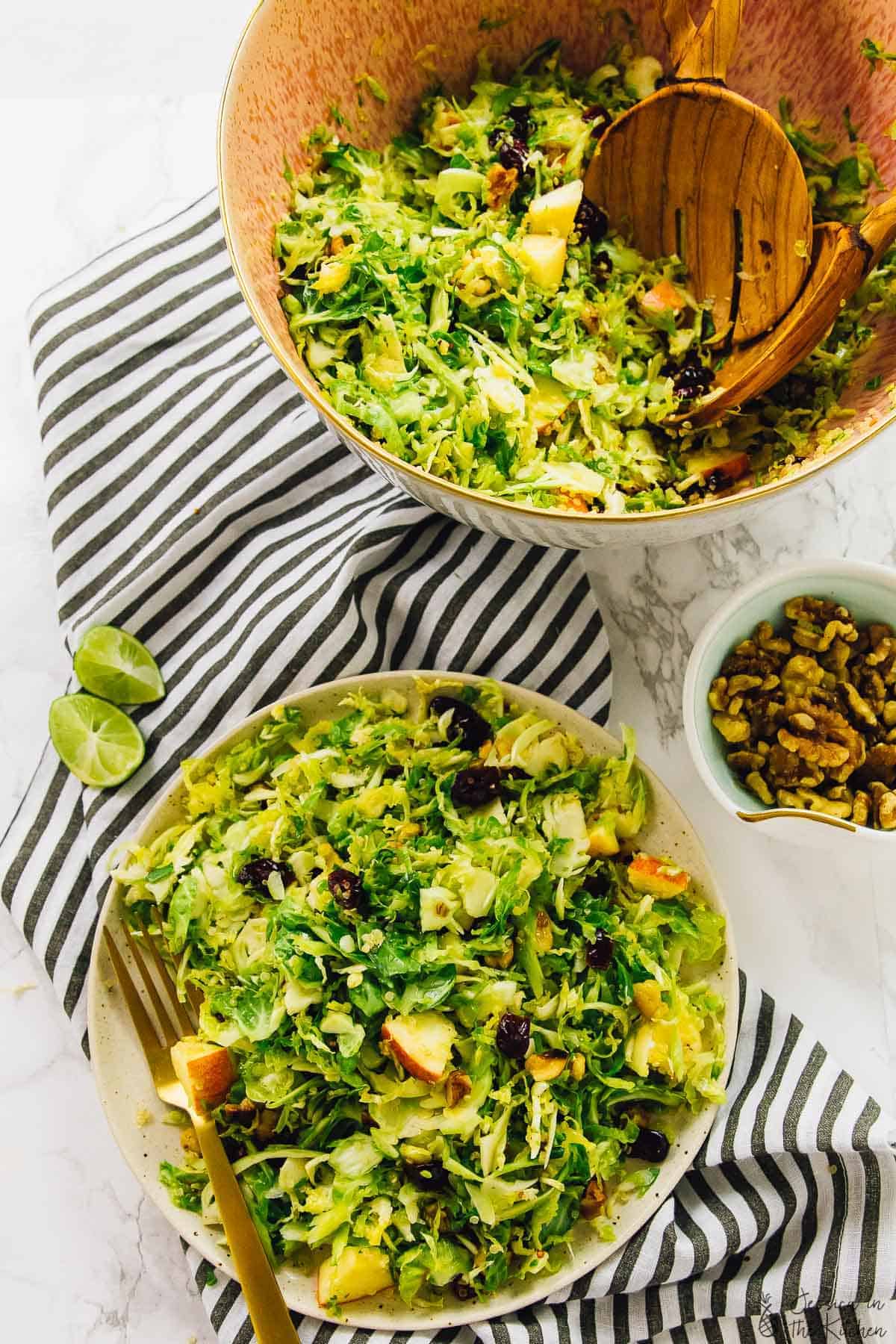 Ever since I made my Maple Roasted Brussels Sprouts, Onions and Apples dish, we've loved Brussels sprouts over here. They are so good sautéed, and roasted, and now I know, even raw. I've been craving Brussels sprouts for a while and I wanted to try something new. After seeing all of these shaved and shredded Brussels sprouts bags in Trader Joe's and Whole Foods, I decided that a salad would be a great idea. I did mine by hand, but feel free to get that helping hand.
I'm happy to say, this salad worked out perfectly and was so divine. This salad has:
Quinoa
Apples
Brussels Sprouts
Walnuts
Dried Cranberries
A sweet orange vinaigrette that I want to put on every thing from now on.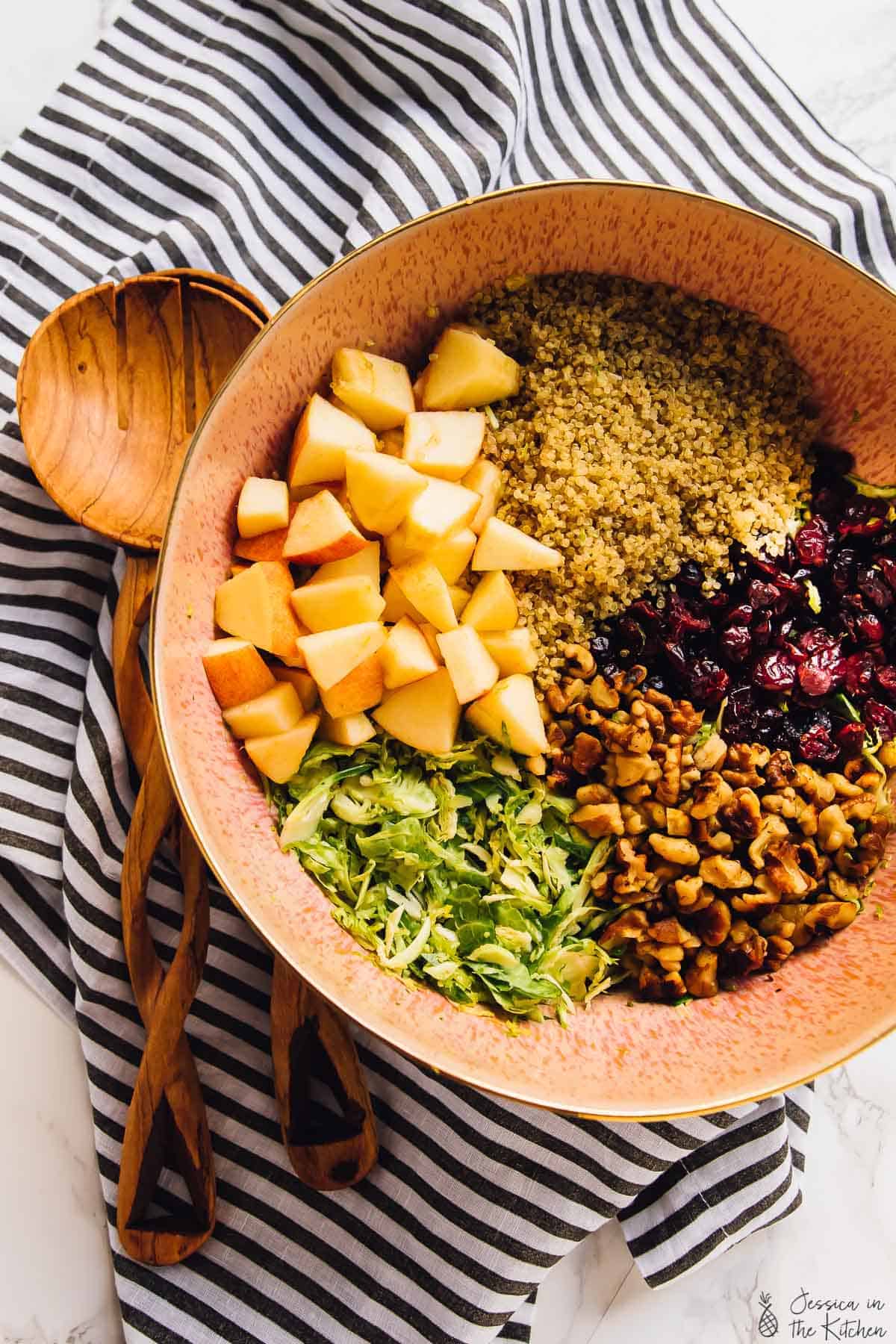 Since the shaved Brussels Sprouts remind me of my kale cabbage slaw, I treated it like a slaw. Raw unrefined sugar and apple cider vinegar add a beautiful and pleasant brine, so I sweetened that up with the orange juice and my usual vinaigrette ingredients. I would recommend making it at least an hour ahead of time so that the vinaigrette marinates the salad perfectly.
On top of that of course, the other ingredients provided a sweet & tangy flavour combination that was filled with lots of complementary textures. Not only is this an easy and filling salad, but it's also a powerhouse flavour-wise. We ate this for five days straight! My husband devoured it and I ate it straight out of the Tupperware with a fork. I'm pretty that is a testimony.
P.S. It would go great as a slaw with veggie burgers and cauliflower tacos! This lasts for days, and great as a salad for the Christmas dinner table. Enjoy, friends!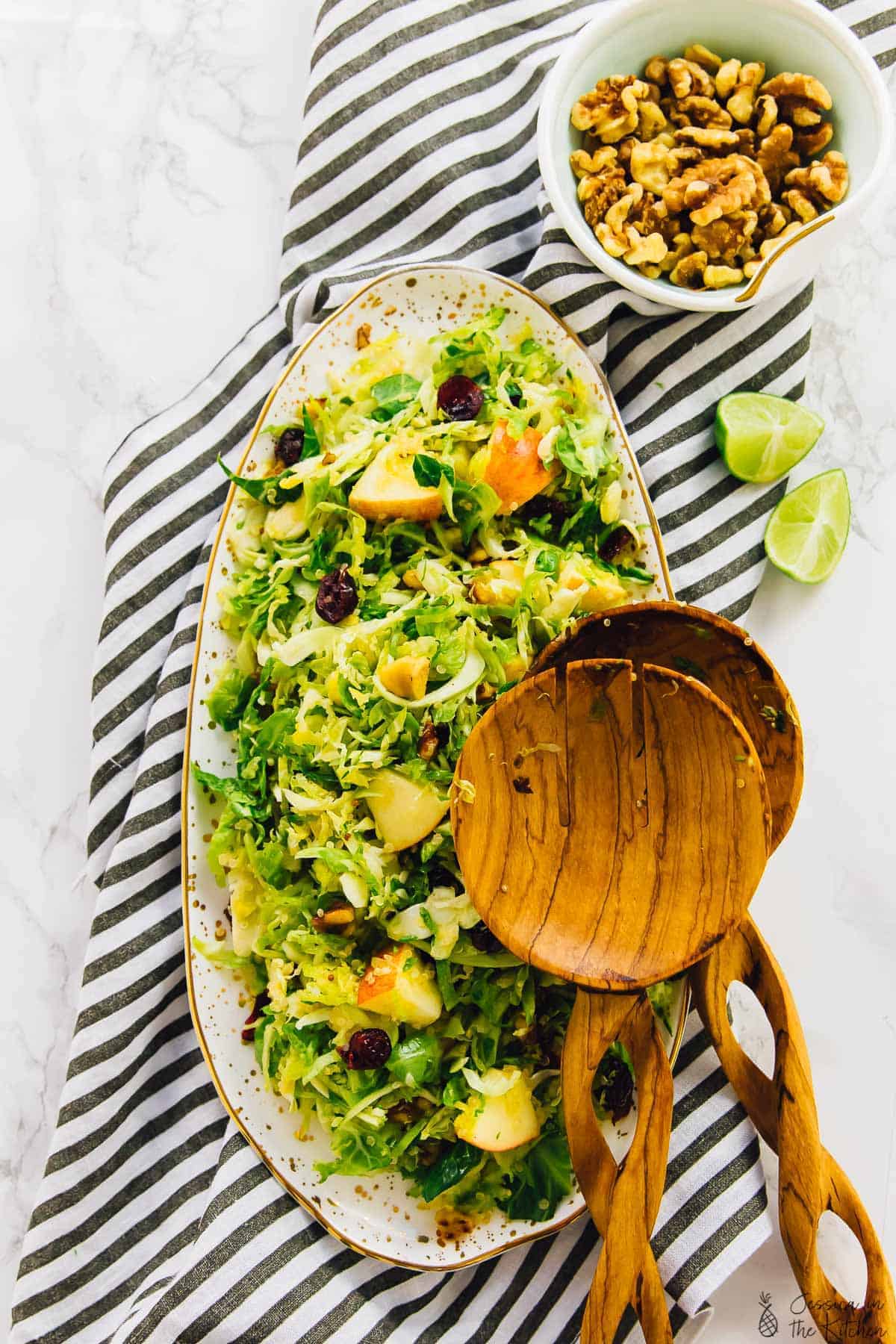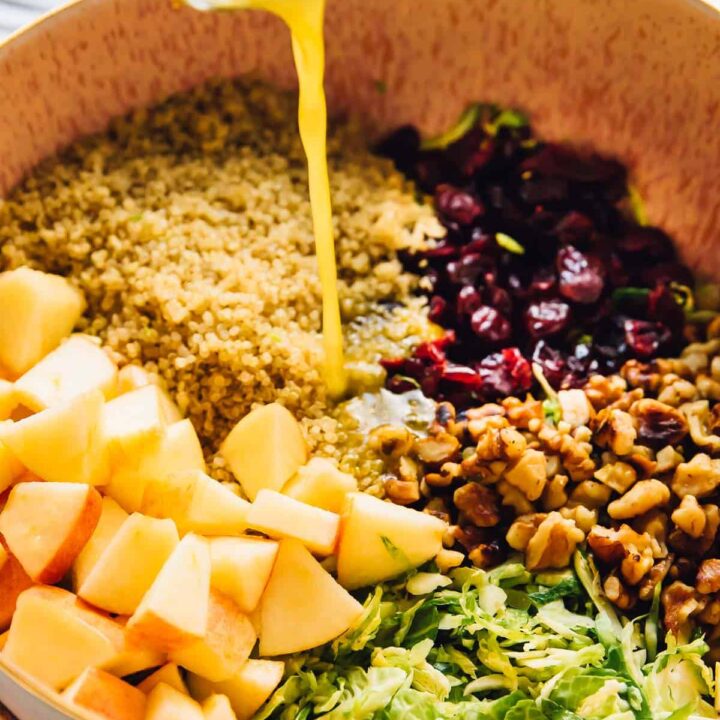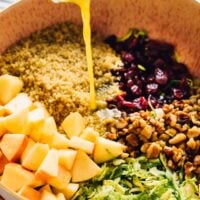 Shaved Brussels Sprouts, Quinoa and Apple Salad with Maple Orange Vinaigrette
This Shaved Brussels Sprouts, Quinoa and Apple Salad is the perfect winter salad!! It's marinated with a divine sweet orange vinaigrette and is so filling and comforting!
Ingredients
Sweet Orange Vinaigrette
2 tablespoons apple cider vinegar
3 tablespoons freshly squeezed orange juice
½ tablespoon orange zest, optional
½ teaspoon sea salt
½ teaspoon ground black pepper
2 ½ tablespoons extra virgin olive oil
1 teaspoon dijon mustard
1 tablespoon raw cane sugar or coconut sugar
Shaved Brussels Sprouts Salad
16 oz brussels sprouts, shaved , 453.5g (about 6-7 cups)
1 Gala apple, cored and chopped
1 cup cooked quinoa
⅓ cup dried cranberries
⅓ cup chopped walnuts, toasted if preferred
salt & pepper to taste, don't skip this!!
Instructions
Sweet Orange Vinaigrette
Add all the ingredients to a mason jar or any jar fitted with a top. Shake vigorously until combined thoroughly. Set aside until ready to use. Feel free to double the dressing if desired.
Shaved Brussels Sprouts Salad
To prepare the Brussels sprouts, wash thoroughly and dry. Remove the shrivelled outer leaves (if any) and cut the tough ends off of the Brussels sprouts. Using a mandoline, or a food processor fitted with a shredded top, shred the Brussels sprouts. Use a mandoline glove to protect your hands!

Pour half the salad dressing onto the Brussels sprouts and mix to combine. Let it sit on the salad while you prepare the other ingredients (about 5 minutes, or 8 minutes if toasting the walnuts).

Add all the other ingredients to the salad. Season with salt and Pepper (this really pulls out the flavours) and add the rest of the vinaigrette. Toss to combine.

You can eat it immediately, but I highly recommend waiting at least 30 minutes while the salad marinates in the fridge. It tastes even better after a day in the fridge! Enjoy!
Calories: 640kcal, Carbohydrates: 81g, Protein: 15g, Fat: 33g, Saturated Fat: 4g, Sodium: 834mg, Potassium: 1276mg, Fiber: 16g, Sugar: 35g, Vitamin A: 1810IU, Vitamin C: 212mg, Calcium: 136mg, Iron: 5mg
Disclaimer: Although jessicainthekitchen.com attempts to provide accurate nutritional information, kindly note that these are only estimates. Nutritional information may be affected based on the product type, the brand that was purchased, and in other unforeseeable ways. Jessicainthekitchen.com will not be held liable for any loss or damage resulting for your reliance on nutritional information. If you need to follow a specific caloric regimen, please consult your doctor first.