Healthy Kale Cabbage Slaw – 5 Ingredients, No Mayo
This is the best Kale Cabbage Slaw you'll ever try! It's healthy, just 5 minutes of prep and goes well with everything!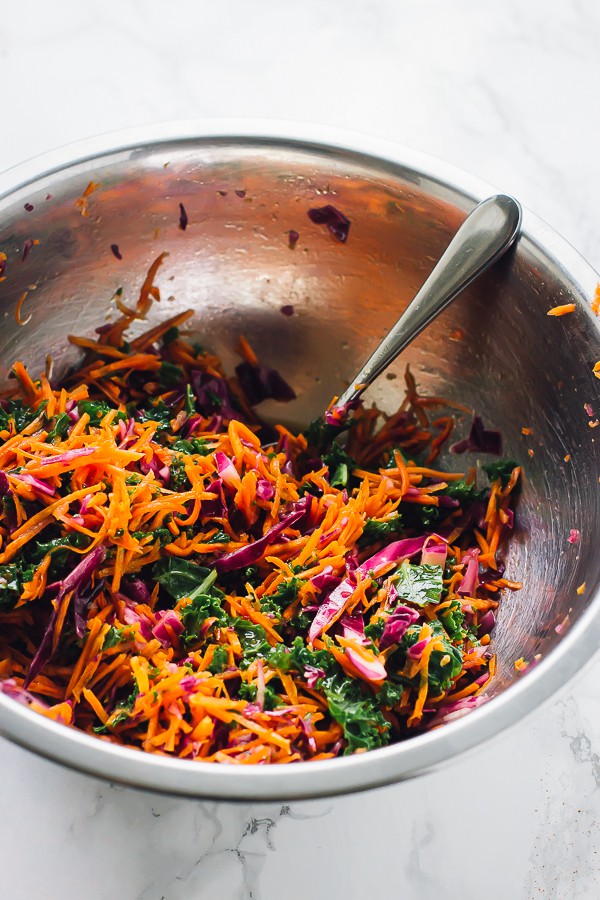 This Healthy Kale Cabbage Slaw is THAT slaw. The slaw that goes well with everything: your Crispy Cauliflower Tacos, your Quinoa Cauliflower Burgers, your spring rolls, and even with your enchiladas. I've made this so many times and I'm actually resisting the temptation to make it again right now since the ingredients are in my fridge and it takes just 5 minutes. Best part? NO mayo, no unrefined ingredients, no complicated process. You have to make this.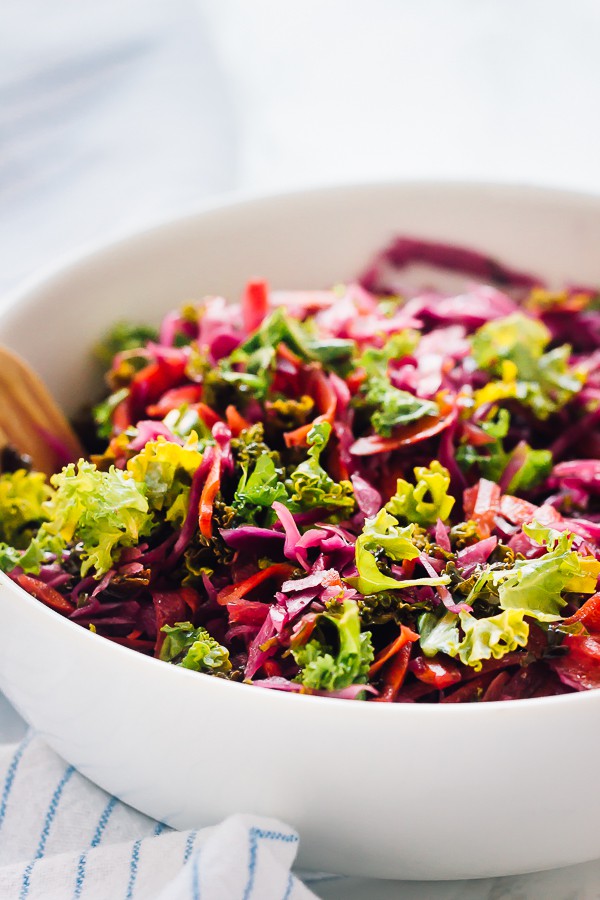 I've never really been a huge coleslaw fan. It's too creamy, too clawing, and I just feel like every bite is a million calories. Not the worth-it calories like amazing brownies, but the kind that you're regretting with each bite. So, I've kind of avoided it, until now. I first made this healthy kale cabbage slaw when I made my Crispy Cauliflower Tacos (please go make this tonight) and the Mr. and I knew that it would continue to be a staple in our household.
I had kale, purple cabbage and carrots in my fridge (so many carrots) and chose them mainly because of the gorgeous bright colours. What I didn't know is how delicious it would taste. It's the perfect amount of tang balanced with the little bit of cane sugar. The right amount of crunch and depth of flavour and has no mayo, unlike your regular slaw. Personally, I love this way more than regular coleslaw, especially the vinaigrette-ness of it.
Put it on ALL the things, then EAT all the things.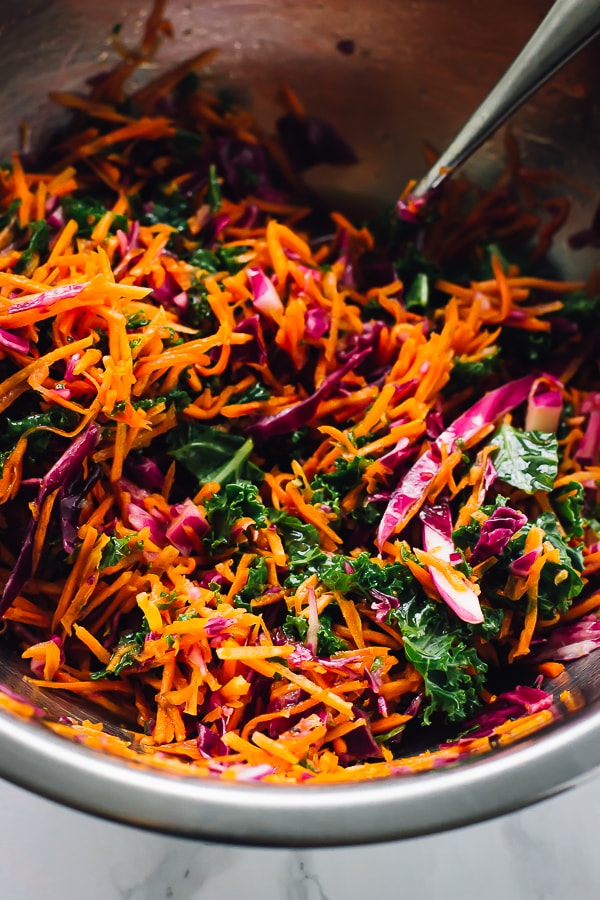 Fun nutritional facts?
Lots of beta carotene from the carrots, incredible amounts of Vitamin A and K from the kale, and endless amounts of benefit from the apple cider vinegar (heart healthy, weight loss promoting, blood sugar levels stabilizing). You can enjoy all your favourite slaw meals in a new, healthy way without losing ANY of the flavours. Win, win.
Your Questions Answered
Q: I'm making this kale cabbage slaw for a party. Can I make it ahead of time?
A: This slaw tastes amazing on day one, and takes only 5 minutes to prep. I would recommend making it the same day of your party.
P.S. Here are some of the items I used to make this recipe if you'd like to use them too:
| WHAT YOU'LL NEED // SHOP MY FAVORITE INGREDIENTS & PREP PRODUCTS |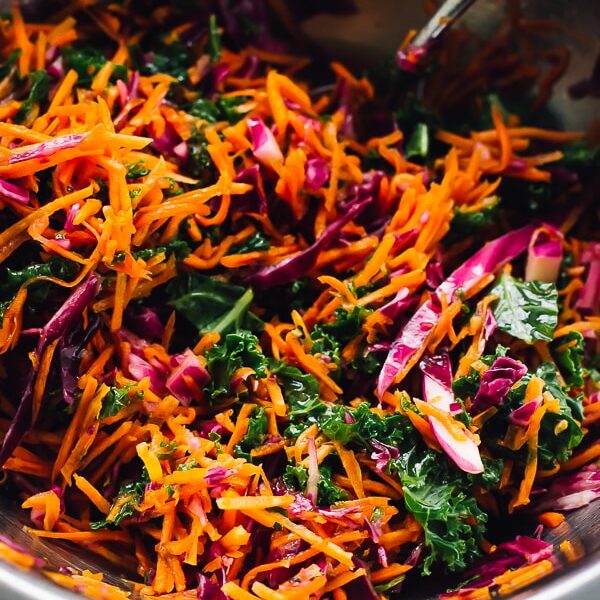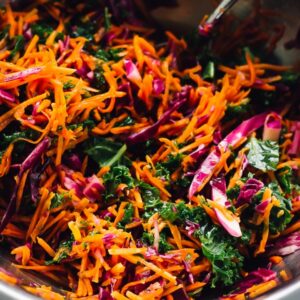 The Best Kale Cabbage Slaw
This is the best Kale Cabbage Slaw you'll ever try! It's healthy, just 5 minutes of prep and goes well with everything!
Ingredients
2 cups shredded kale
2 cups shredded carrots
2 cups shredded purple/red cabbage
1/4 cup apple cider vinegar
1 tablespoon raw cane sugar
sea salt and ground black pepper to season
2 tablespoon extra virgin olive oil
Instructions
Mix all the ingredients for the slaw together. Use immediately, or ideally place in fridge or on counter up to an hour so all the flavours can marry together.
Notes
This recipe is vegan and gluten free.
You can store this slaw in an airtight tupperware container in the fridge.

If you try this Kale Cabbage Slaw please let me know in the comment section below, or tag me on instagram with the hashtag #jessicainthekitchen! For more exclusive recipes follow me on Instagram AND on Snapchat: jessinkitchen.
RELATED RECIPES YOU CAN USE THIS KALE CABBAGE SLAW IN
Crispy Cauliflower Tacos with Chipotle Crema 
Vegan Quinoa Cauliflower Burgers 
Fresh Spring Rolls with Peanut Ginger Sauce
Calories: 89kcal, Carbohydrates: 10g, Protein: 2g, Fat: 5g, Saturated Fat: 1g, Sodium: 95mg, Potassium: 326mg, Fiber: 2g, Sugar: 5g, Vitamin A: 9690IU, Vitamin C: 46mg, Calcium: 61mg, Iron: 1mg
Disclaimer: Although jessicainthekitchen.com attempts to provide accurate nutritional information, kindly note that these are only estimates. Nutritional information may be affected based on the product type, the brand that was purchased, and in other unforeseeable ways. Jessicainthekitchen.com will not be held liable for any loss or damage resulting for your reliance on nutritional information. If you need to follow a specific caloric regimen, please consult your doctor first.