Healthy Coleslaw
This healthy coleslaw recipe is light, loaded with nutrients, and it's full of fresh flavour and crunch. If you're looking for a no-mayo coleslaw recipe that won't let you down, this is it!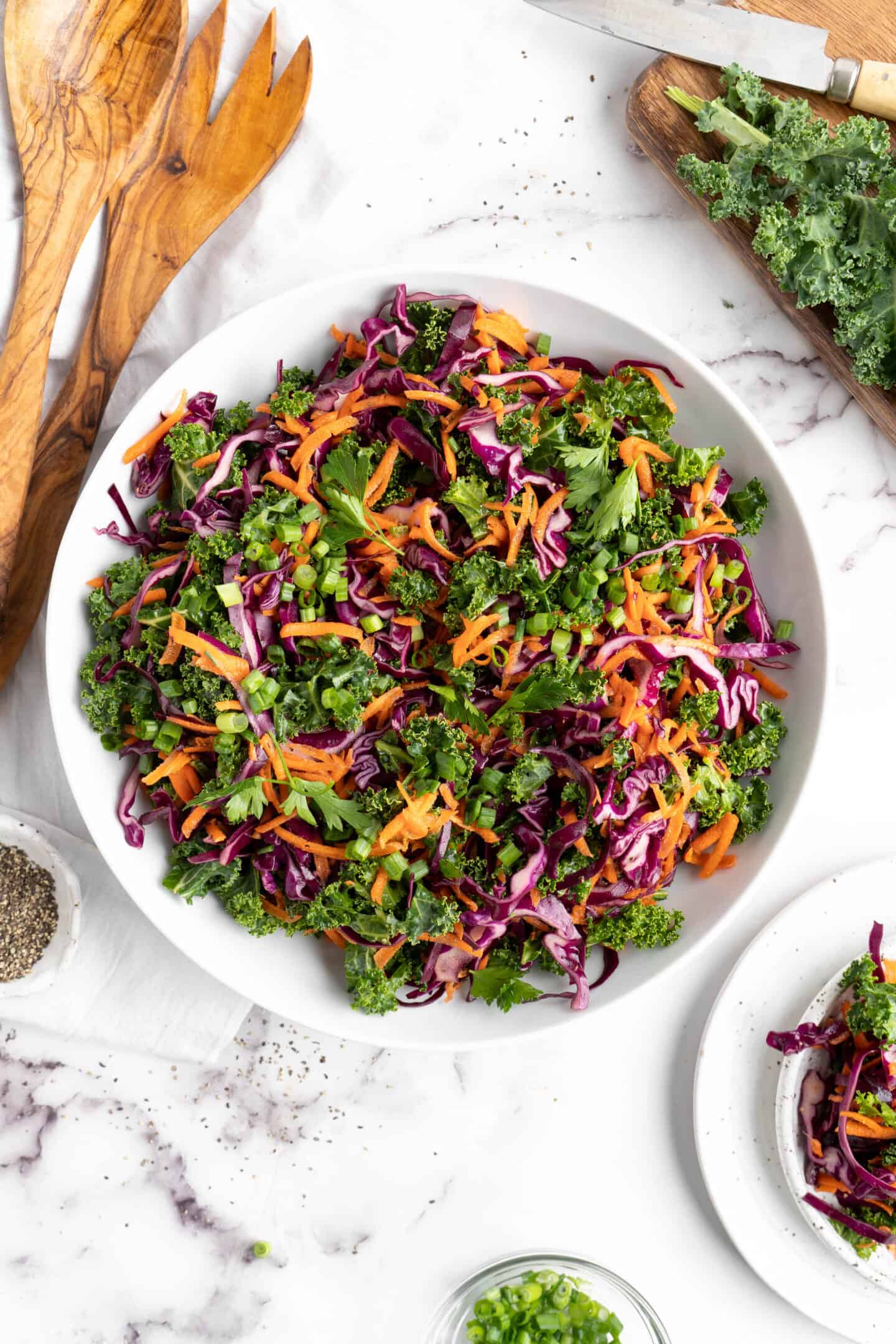 I've never really been a huge coleslaw fan. It's too creamy, too cloying, and I just feel like every bite is a million calories thanks to all that mayo. Not the worth-it calories like an amazing brownie, but the kind that you're regretting with each bite.
This healthy coleslaw is a different story, though. It's a no-mayo coleslaw tossed in a sweet-and-tangy dressing that brings out the best in all of the veggie ingredients.
And let's talk about those veggies! I had kale, purple cabbage, and carrots in my fridge, so that's what I used and it turned out fabulous. I mean, just look at the colors! These three vegetables bring lots of crunch and fresh flavour to the mix too, along with loads of vitamins, fibre, and antioxidants.
This healthy coleslaw recipe is that slaw. The slaw that goes well with everything. I've made this so many times and I'm actually resisting the temptation to make it again right now since the ingredients are in my fridge and it takes just 5 minutes.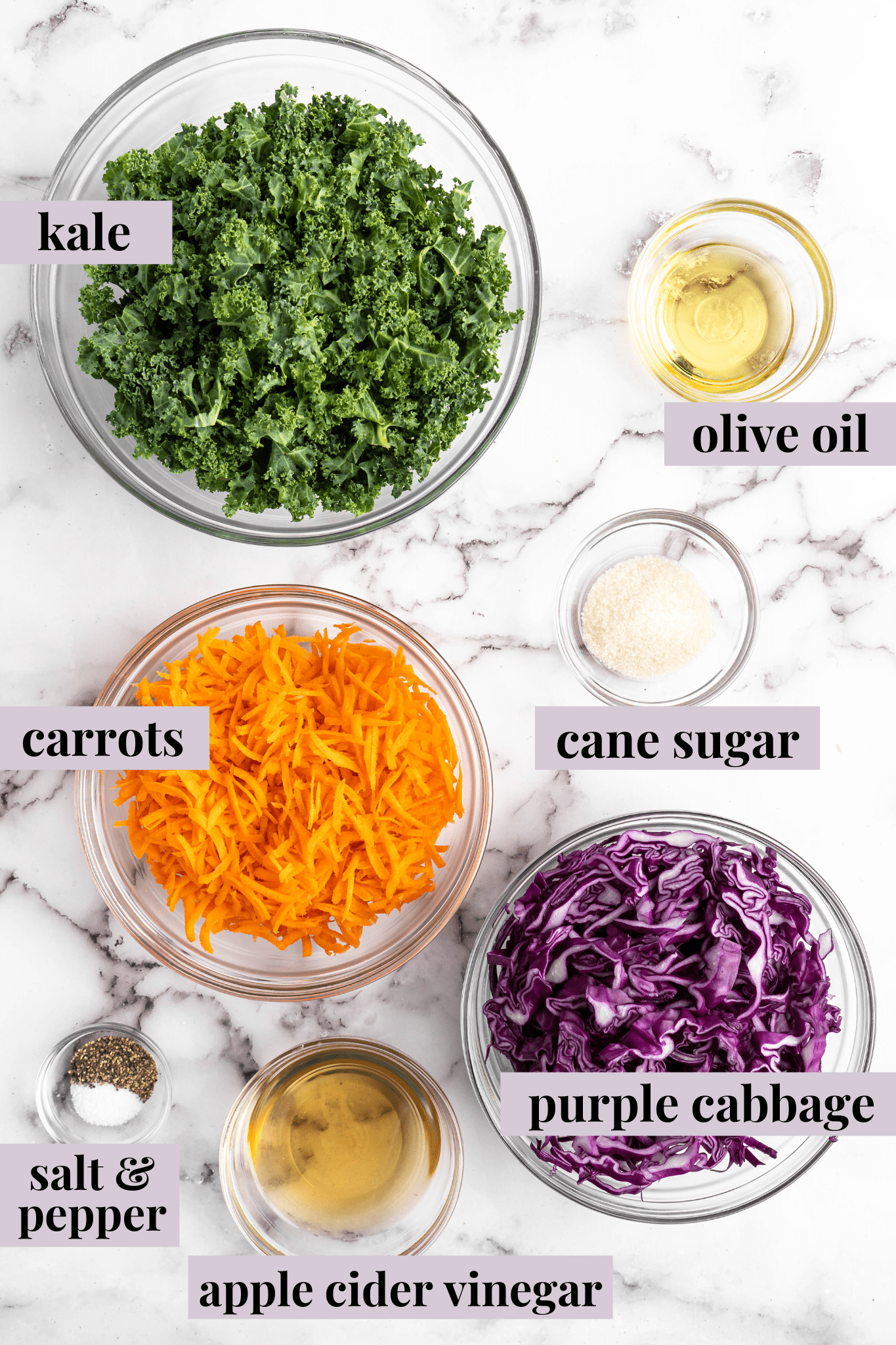 Notes on Ingredients
Please note that this is important information on the ingredients and instructions and the FULL recipe with amounts and details can be found DOWN BELOW (scroll to it) in the recipe card.
Kale – You can use curly kale or lacinato.
Shredded carrots – Save yourself some prep time and buy them pre-shredded, or save some money and shred your own. It's up to you!
Shredded purple/red cabbage
Apple cider vinegar
Raw cane sugar – You can also substitute coconut sugar or simply use granulated sugar.
Sea salt and ground black pepper
Extra-virgin olive oil
How to Make Healthy Coleslaw
This healthy coleslaw takes just a few minutes to make if you use pre-shredded cabbage and carrots. Here's what you'll need to do.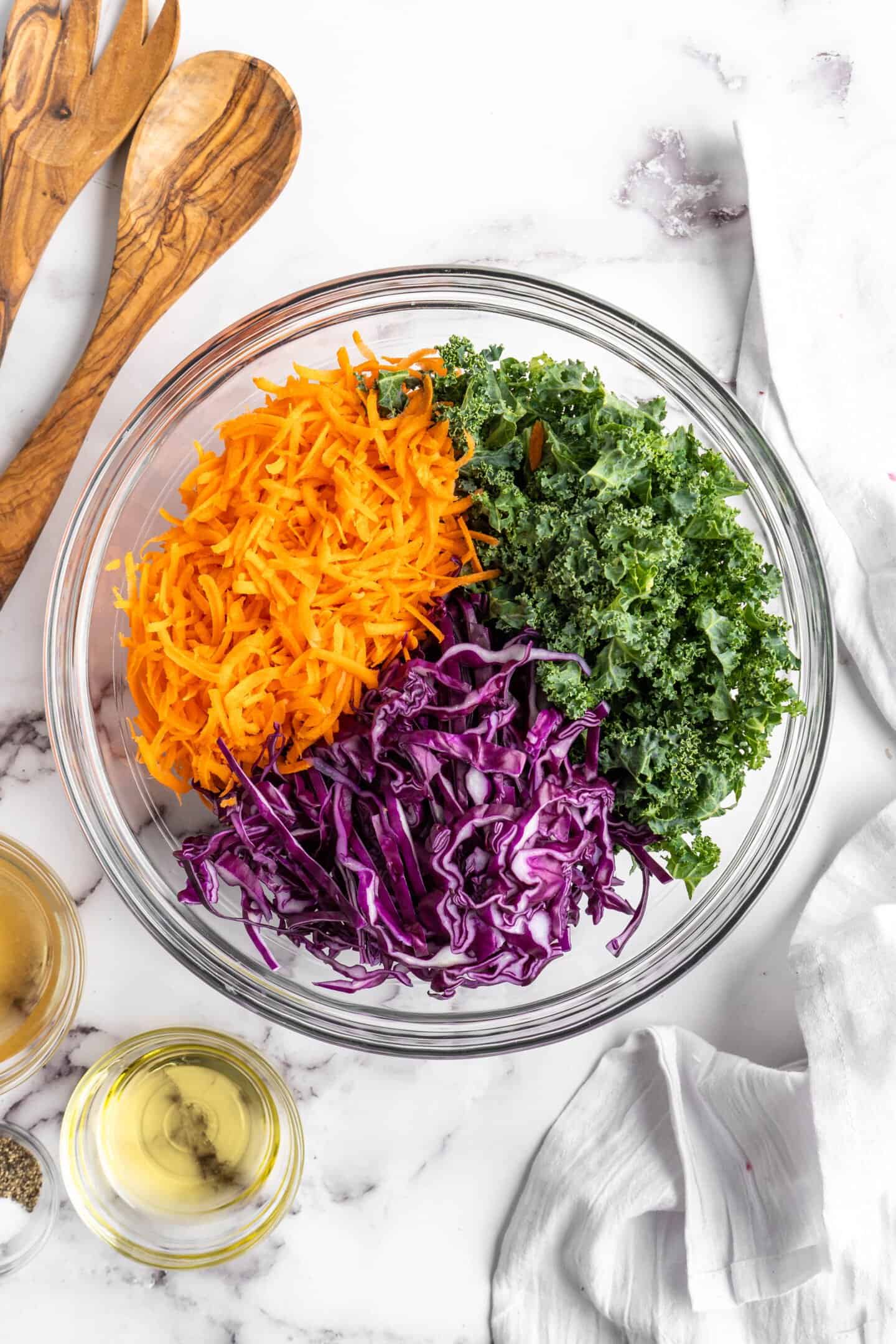 Prepare. Rinse, dry, and shred all of the vegetables.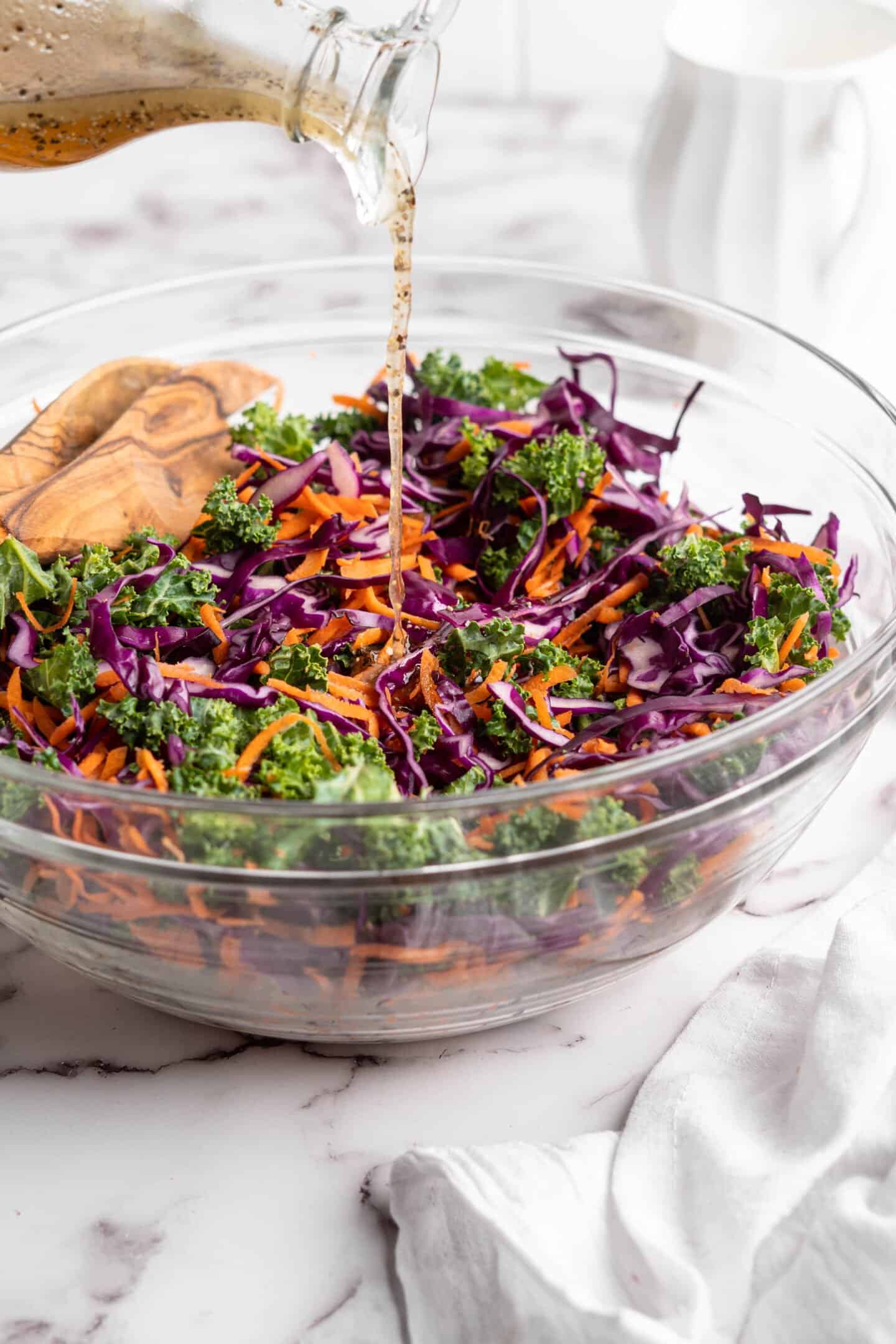 Combine. Add the veggies to a large mixing bowl, along with the remaining ingredients. Toss to coat, then season to taste.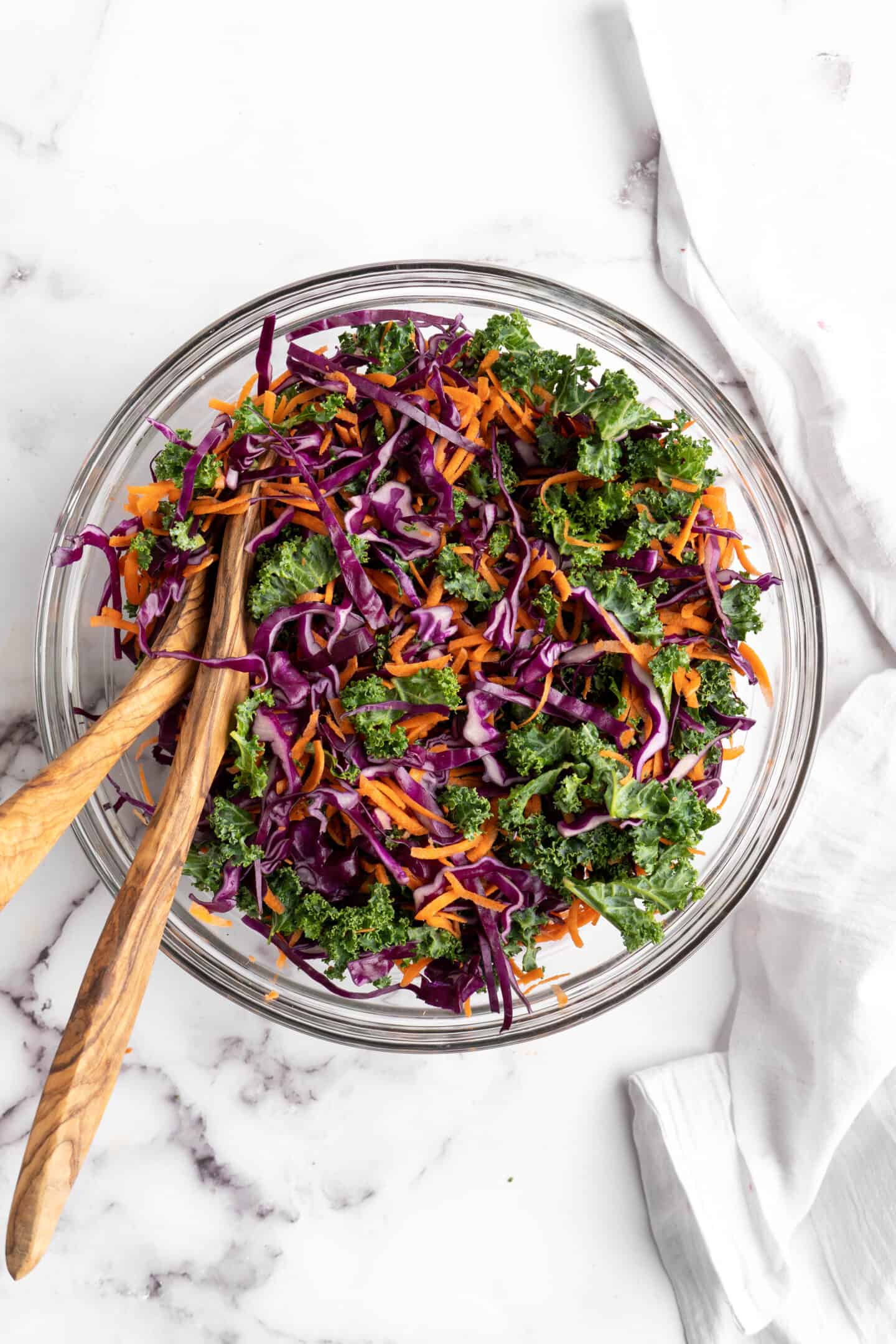 Rest. If you have the time, let the your coleslaw sit on the counter or in the fridge for up to an hour. This lets all of the flavours meld!
Tips for Success
Making healthy coleslaw with no mayo is easy, but these simple tips will help you make sure it turns out perfect:
Clean the kale well. Kale—especially the curly kind—can hide some grit in its leaves, so make sure you rinse it thoroughly.
Dry the vegetables. If water is still clinging to the veggies when you combine them, your dressing will be watered down and your coleslaw will be soggy.
Getting ahead on prep. Making this slaw for a party? I recommend preparing the veggies in advance (if you didn't already buy them pre-shredded) and then making the coleslaw an hour before you plan on eating.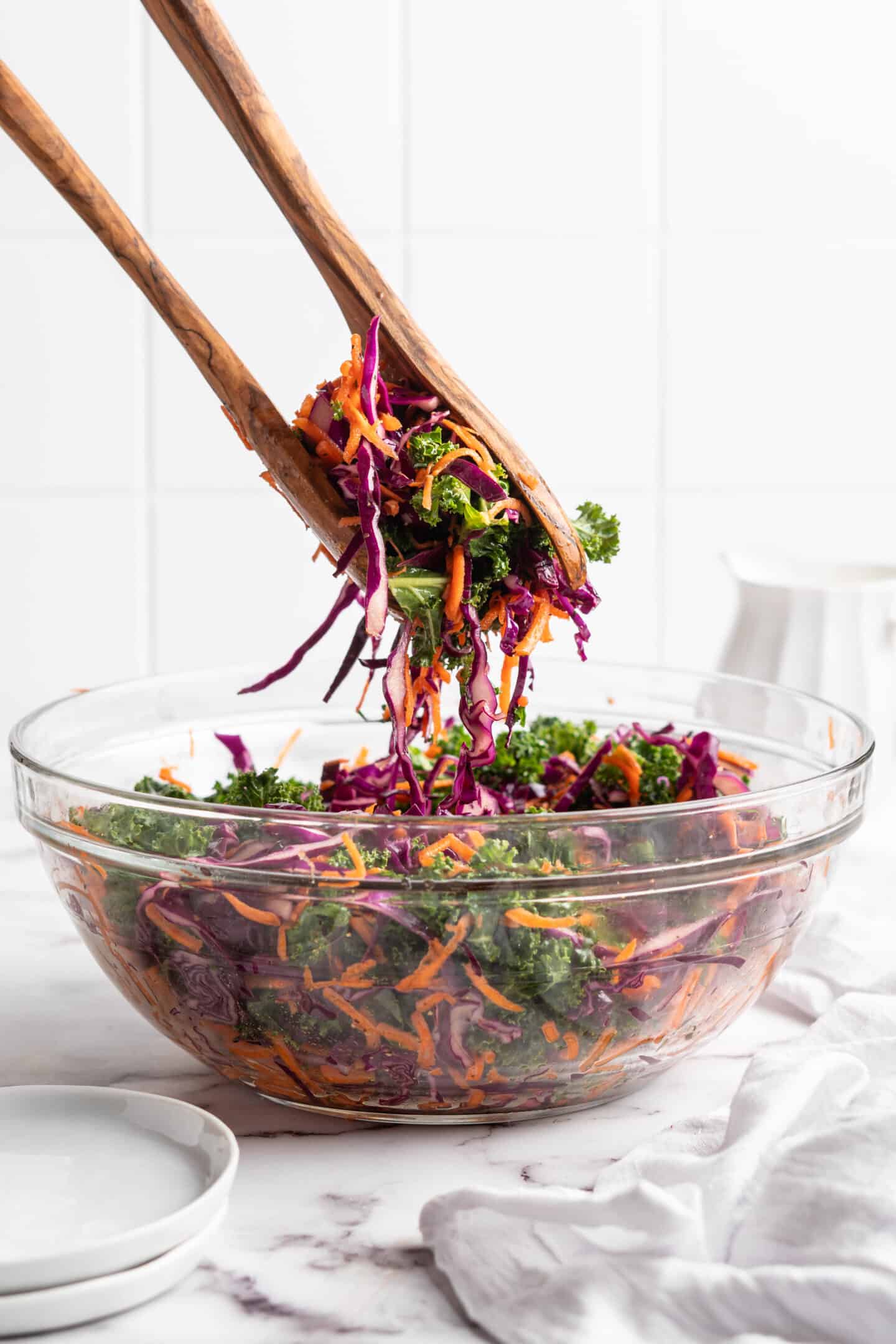 Variations
There are so many ways to make this healthy coleslaw recipe your own. Here are some ideas:
Swap the apple cider vinegar for rice vinegar and add a splash of toasted sesame oil for a little Asian-inspired flair.
Add slivered almonds for some crunch.
Toss in some green onions for a more pungent flavour.
Switch up the veggies and try adding radishes, julienned broccoli stems, or shredded golden beets.
Add another texture—and some sweetness—by tossing in dried cranberries or raisins.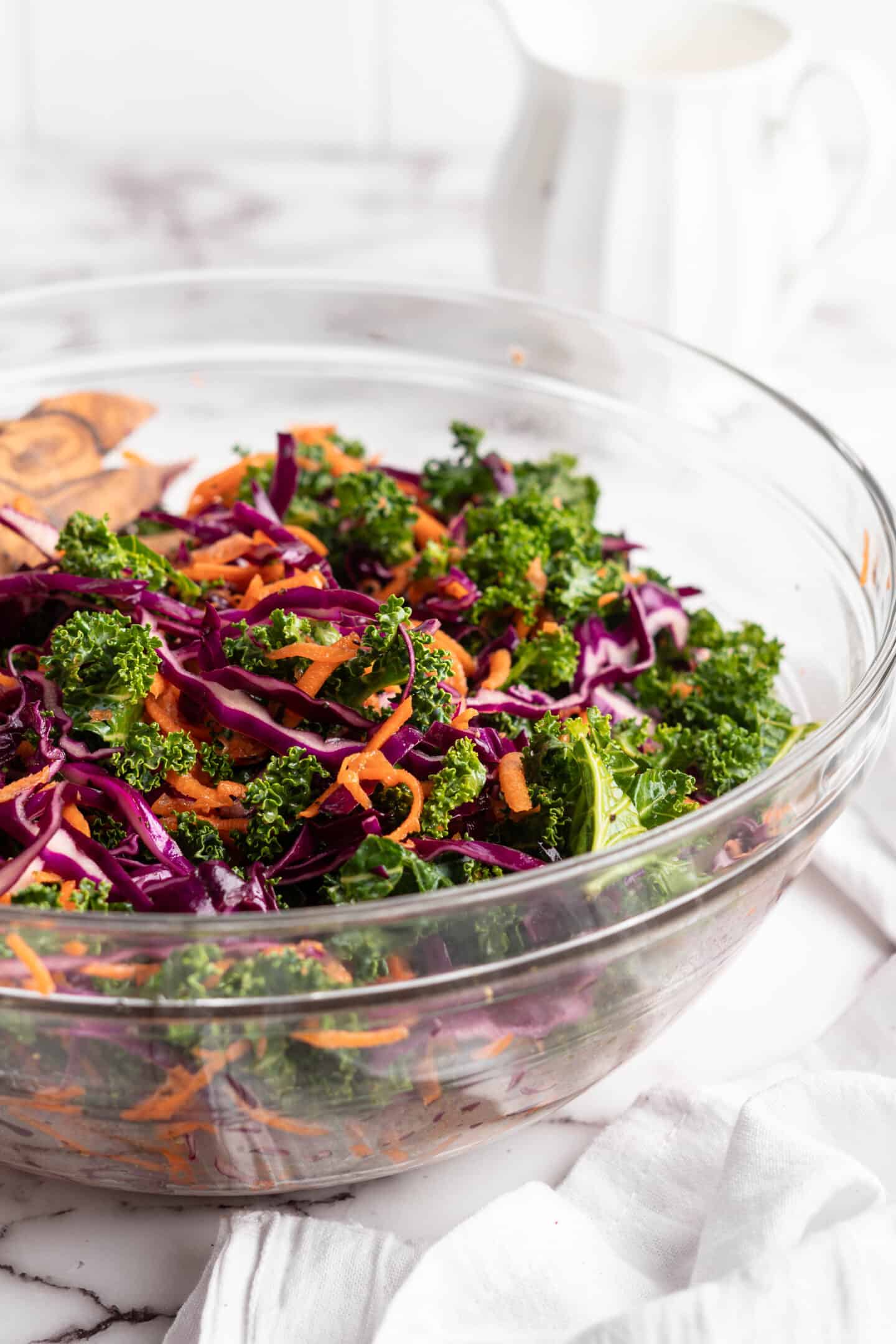 Serving Suggestions
What I love most about this healthy coleslaw is how versatile it is. It goes from Tex-Mex to Asian dishes easy-peasy. Try it with Crispy Cauliflower Tacos, Quinoa Cauliflower Burgers, spring rolls, and even with enchiladas.
How to Store Leftovers
Store leftover coleslaw in an airtight container in the refrigerator for up to 3 days.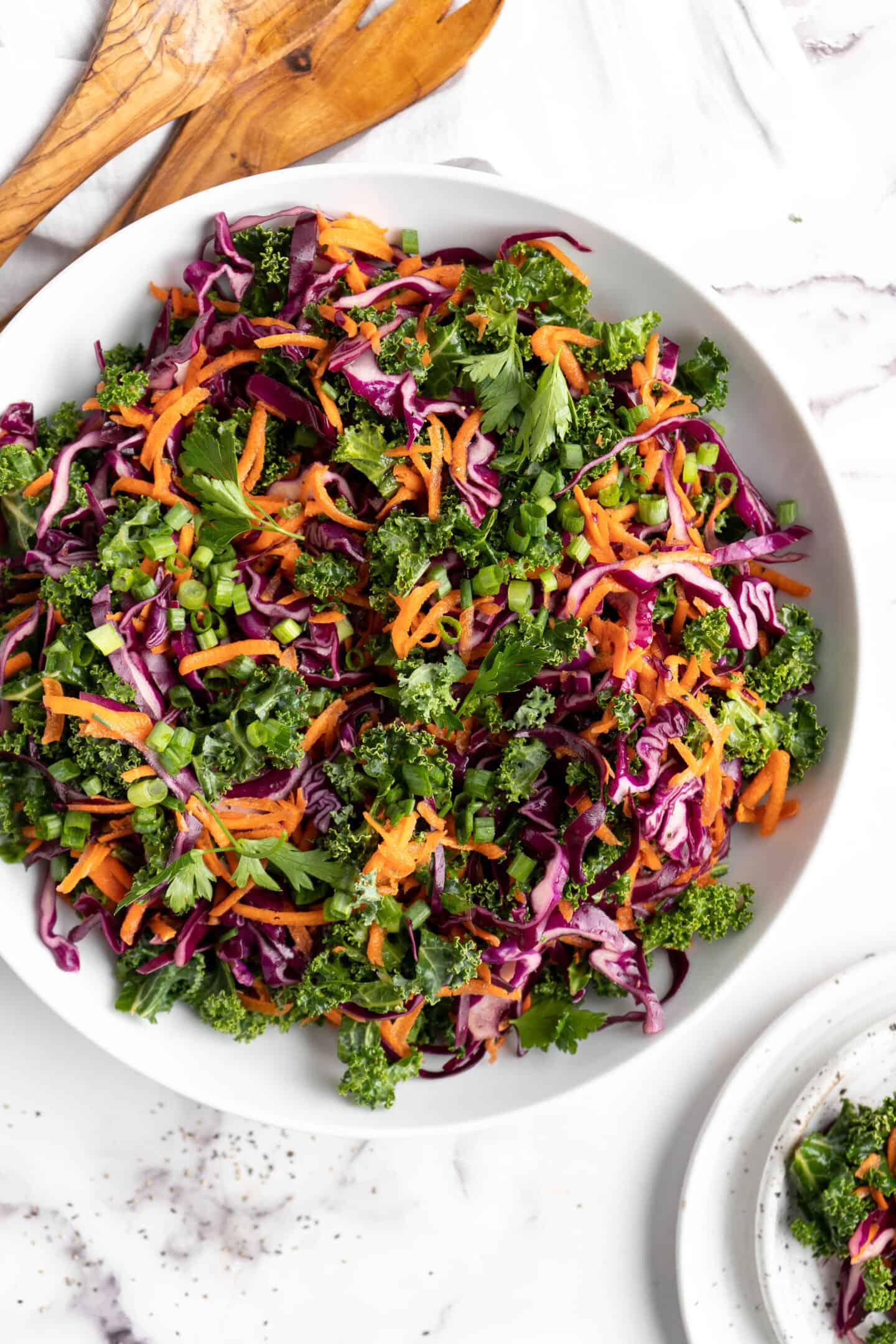 P.S. Here are some of the items I used to make this recipe if you'd like to use them too:
| WHAT YOU'LL NEED // SHOP MY FAVORITE INGREDIENTS & PREP PRODUCTS |

Enjoy friends! If you make this healthy coleslaw recipe, please snap a photo and tag #jessicainthekitchen on Instagram! We'd also love it if you would leave a comment below, and give the recipe a rating! Thanks so much!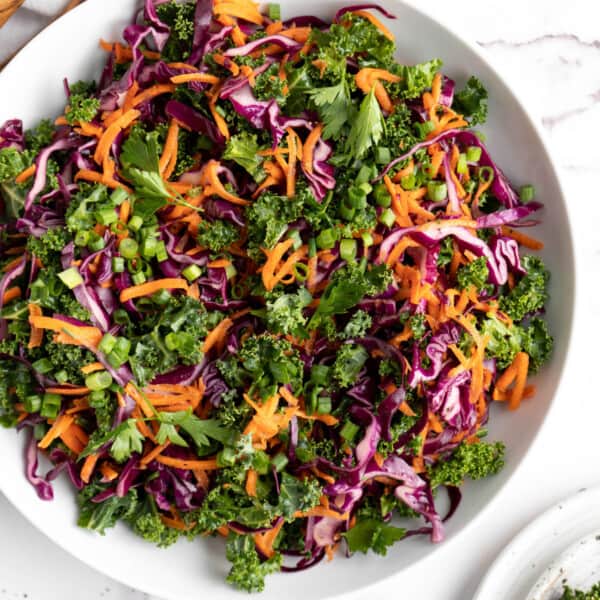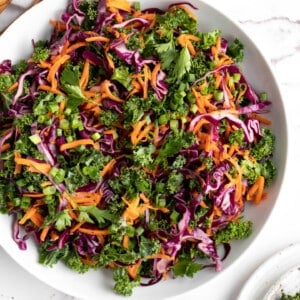 Healthy Coleslaw
This no-mayo coleslaw recipe is crunchy, fresh, and it has an irresistibly tangy dressing—no mayo needed!
Ingredients
2 cups shredded kale
2 cups shredded carrots
2 cups shredded purple/red cabbage
1/4 cup apple cider vinegar
1 tablespoon raw cane sugar
sea salt and ground black pepper to season
2 tablespoon extra virgin olive oil
Instructions
Mix all the ingredients for the slaw together. Use immediately, or ideally place in fridge or on counter up to an hour so all the flavours can marry together.
Notes
Store leftover coleslaw in an airtight container in the refrigerator for up to 3 days.
Calories: 89kcal, Carbohydrates: 10g, Protein: 2g, Fat: 5g, Saturated Fat: 1g, Sodium: 95mg, Potassium: 326mg, Fiber: 2g, Sugar: 5g, Vitamin A: 9690IU, Vitamin C: 46mg, Calcium: 61mg, Iron: 1mg
Disclaimer: Although jessicainthekitchen.com attempts to provide accurate nutritional information, kindly note that these are only estimates. Nutritional information may be affected based on the product type, the brand that was purchased, and in other unforeseeable ways. Jessicainthekitchen.com will not be held liable for any loss or damage resulting for your reliance on nutritional information. If you need to follow a specific caloric regimen, please consult your doctor first.