Vegan Tempeh Gyros
These vegan gyros are made with thin slices of marinated tempeh roasted in the oven, then tucked into pita with your favourite Greek-inspired toppings. They're an easy vegan dinner for a busy weeknight!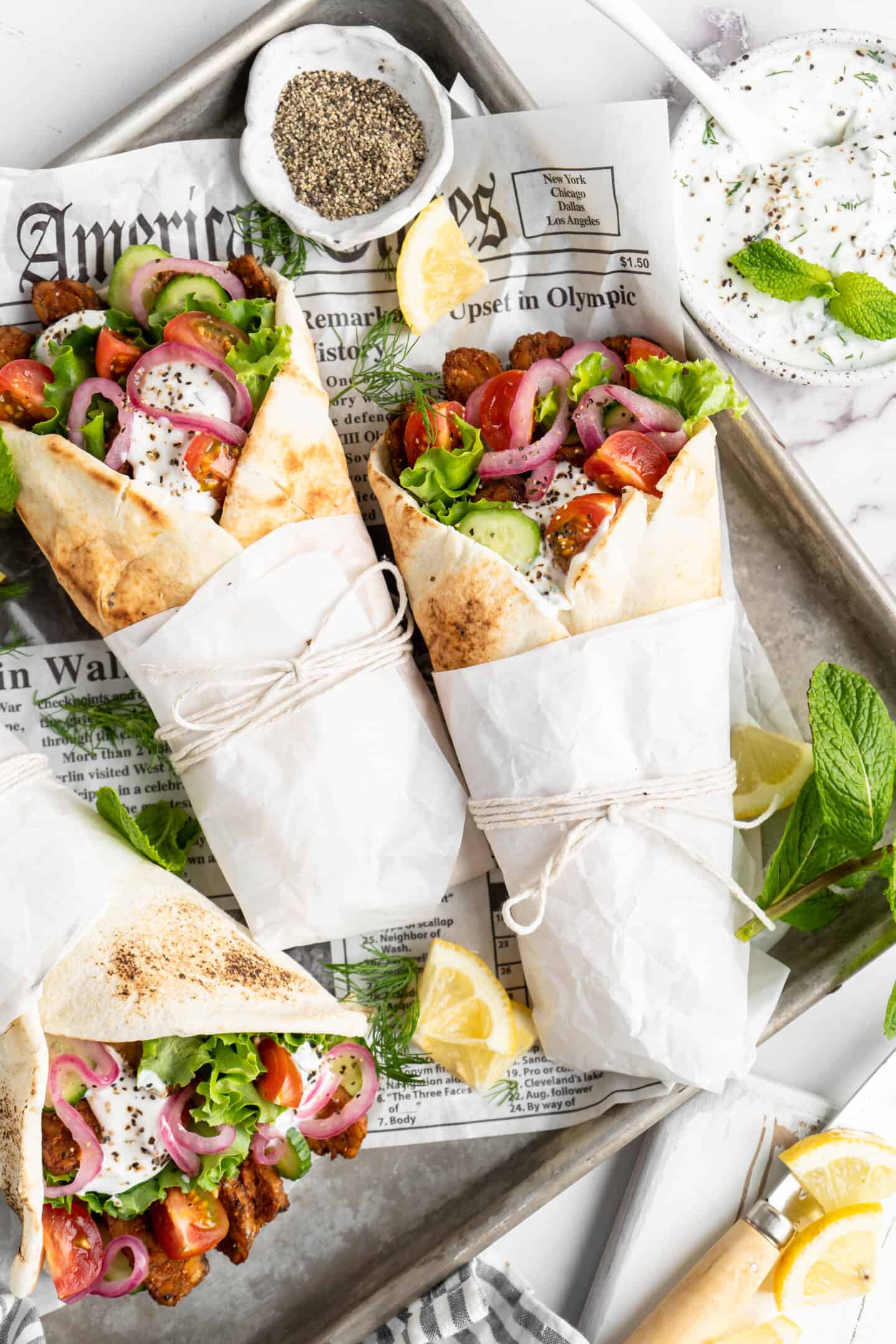 Are they yeer-os or gy-ros? I don't know, but what I do know is that these vegan tempeh gyros are going to rock your world. If you're stuck in a dinner rut and find yourself making the same recipes again and again, vegan gyros will add some excitement back to your meal planning routine.
And they are easy. While the tempeh marinates, you can prepare all the toppings. Once you're done with that, pop the tempeh gyro "meat" in a high-temperature oven until it's caramelized on the edges. Let everyone assemble their gyros, serve with a side of Sweet Potato Fries, and dinner's done.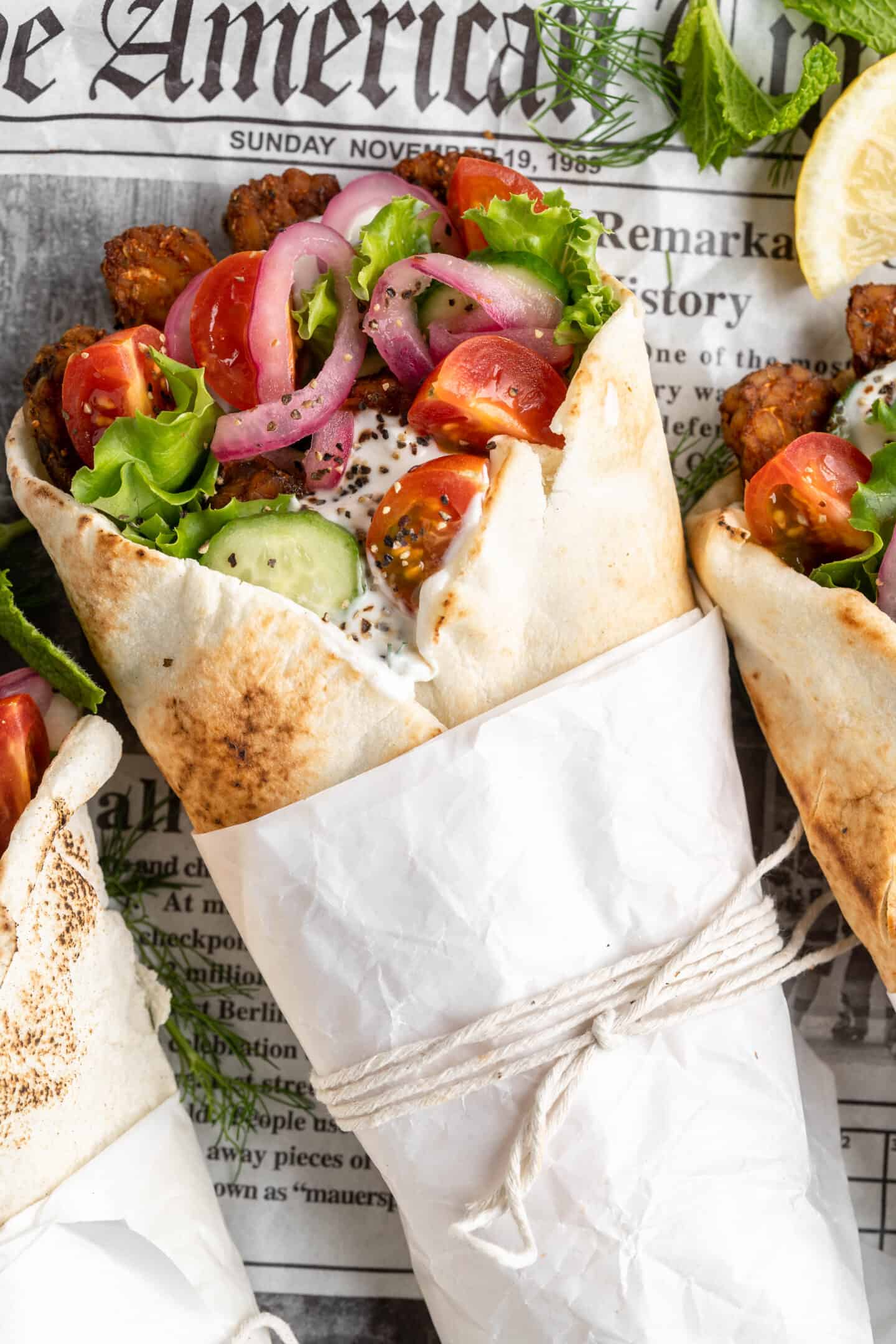 What Are Gyros Made Of?
Traditional gyro meat is made with ground meat that's combined with seasonings, formed into a loaf, and cooked on a spit. Rather than attempting something similar with a vegan meat substitute, I opted to use tempeh.
Using sliced tempeh makes this vegan gyro recipe much less complicated than forming a loaf and slicing it up. Plus, the thinly sliced tempeh does an excellent job absorbing all the flavours you add to it anyway, so there's no need for the extra step!
I steamed the tempeh to mellow its flavour and allow it to absorb the marinade, which is full of the traditional spices used in gyro meat. And, since you probably don't have a spit or rotisserie at home, the tempeh is simply roasted in the oven at a high temperature to get it perfectly browned.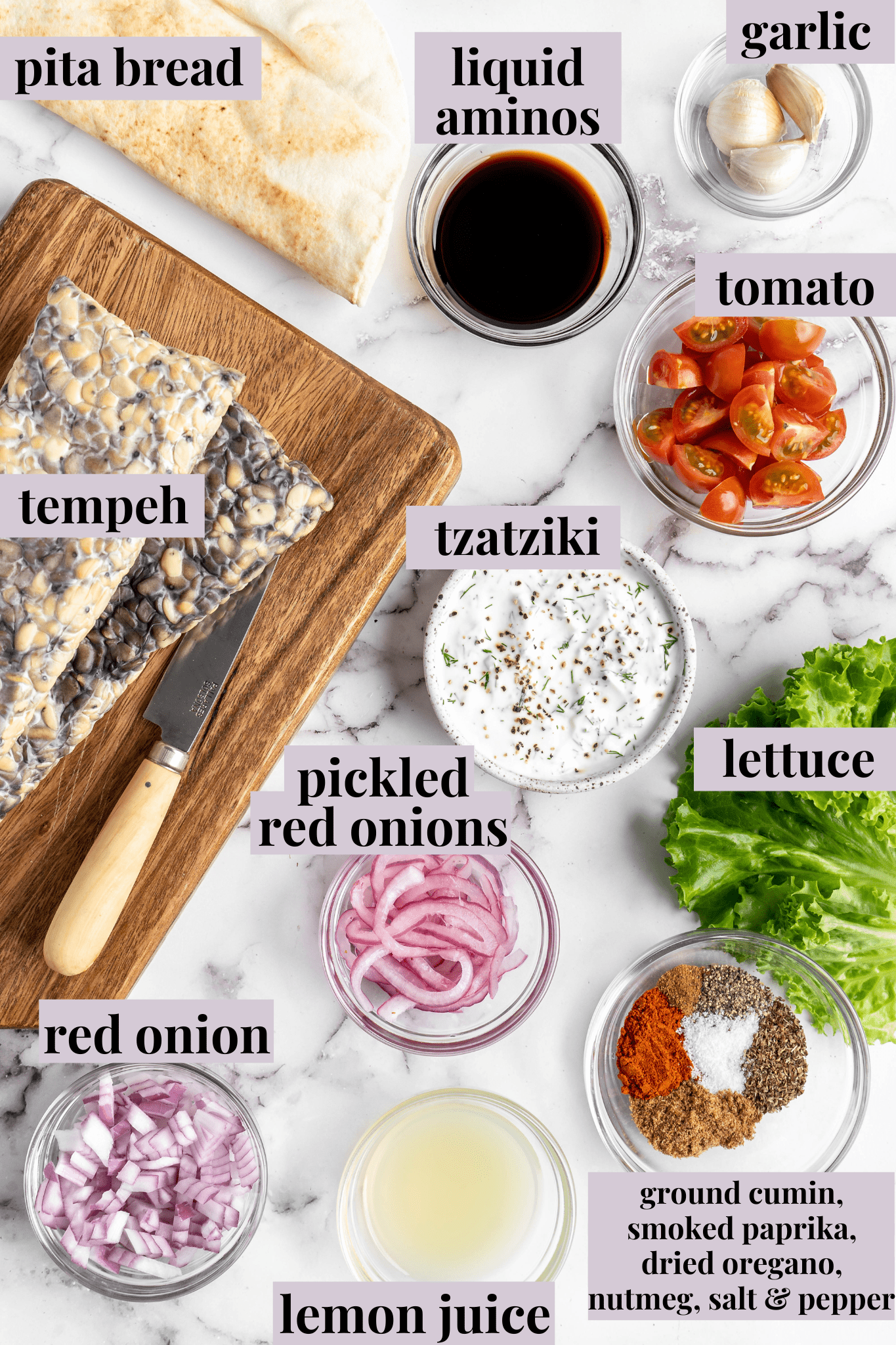 Notes on Ingredients
Please note that this is important information on the ingredients and instructions and the FULL recipe with amounts and details can be found DOWN BELOW (scroll to it) in the recipe card.
For the vegan gyro "meat":
Tempeh – I recommend using a soy tempeh, not the kind made with rice or flax, as the bits of grains or seeds will come loose when you slice it. Learn more: How to Cook Tempeh
Lemon juice – Use freshly squeezed, not the kind that comes in a bottle.
Liquid aminos – Coconut aminos, tamari, or soy sauce are fine too.
Red onion
Garlic
Ground cumin
Smoked paprika
Dried oregano
Black pepper
Sea salt – I always use sea salt instead of table salt; I prefer the flavour and it has extra minerals, too.
Nutmeg
Oil mister or cooking spray
For serving:
Pita bread – Vegan naan would work, too!
Lettuce
Diced or sliced tomato
Sliced red onion or quick-pickled onion
Vegan tzatziki sauce or tahini dressing – Tahini dressing isn't an authentic topping, but it's delicious here!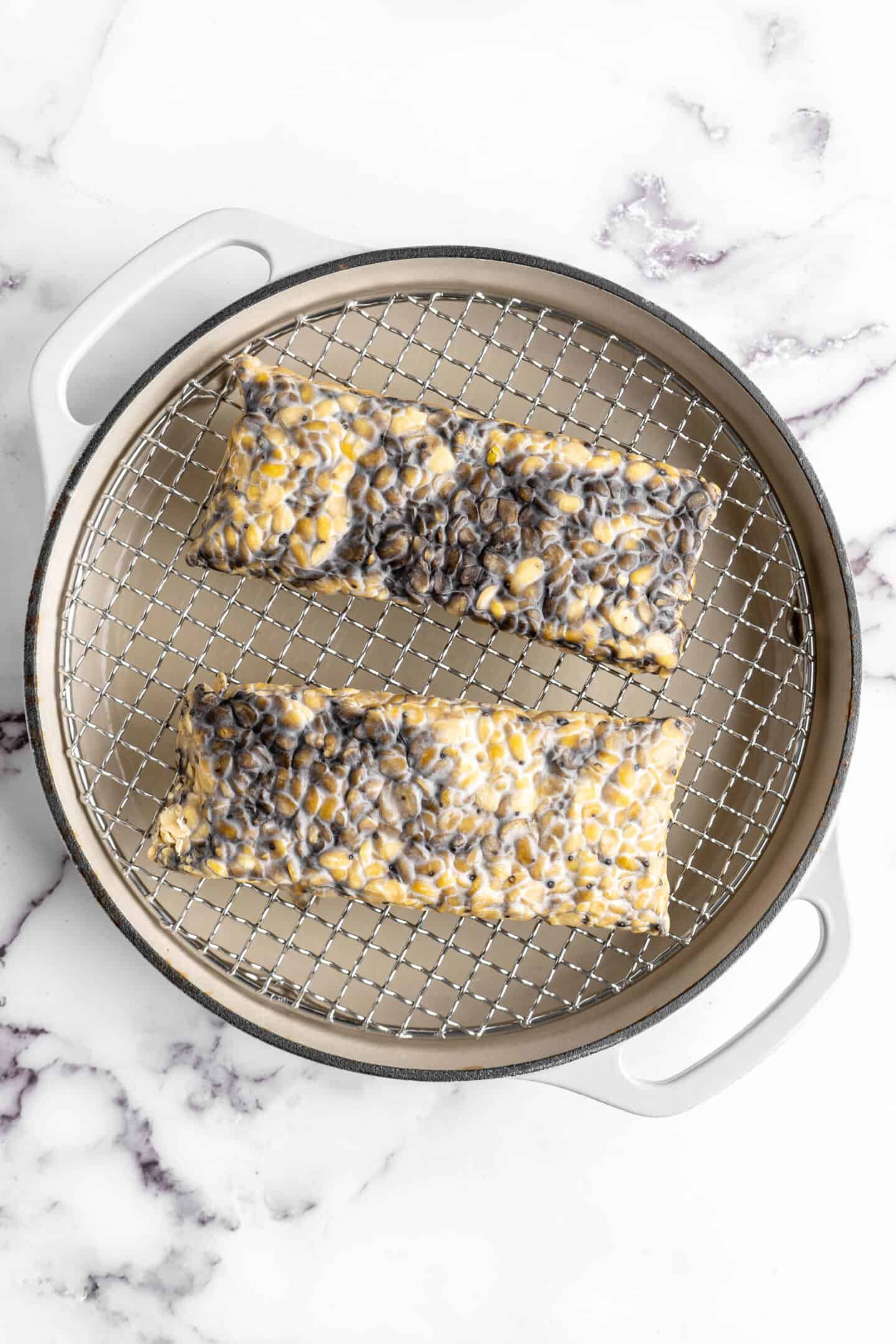 How Do You Steam Tempeh?
Cut the tempeh into slabs that will fit into your steamer basket. Set the steamer basket over a pot of boiling water; the water shouldn't touch the basket.
Place the tempeh into the steamer basket, cover it, and let it steam for 20 minutes.
How to Make Vegan Gyros With Tempeh
The tempeh only needs a few minutes to marinate, so this isn't the kind of recipe you'll need to plan far in advance. If you'd like, you can steam the tempeh the day before, though.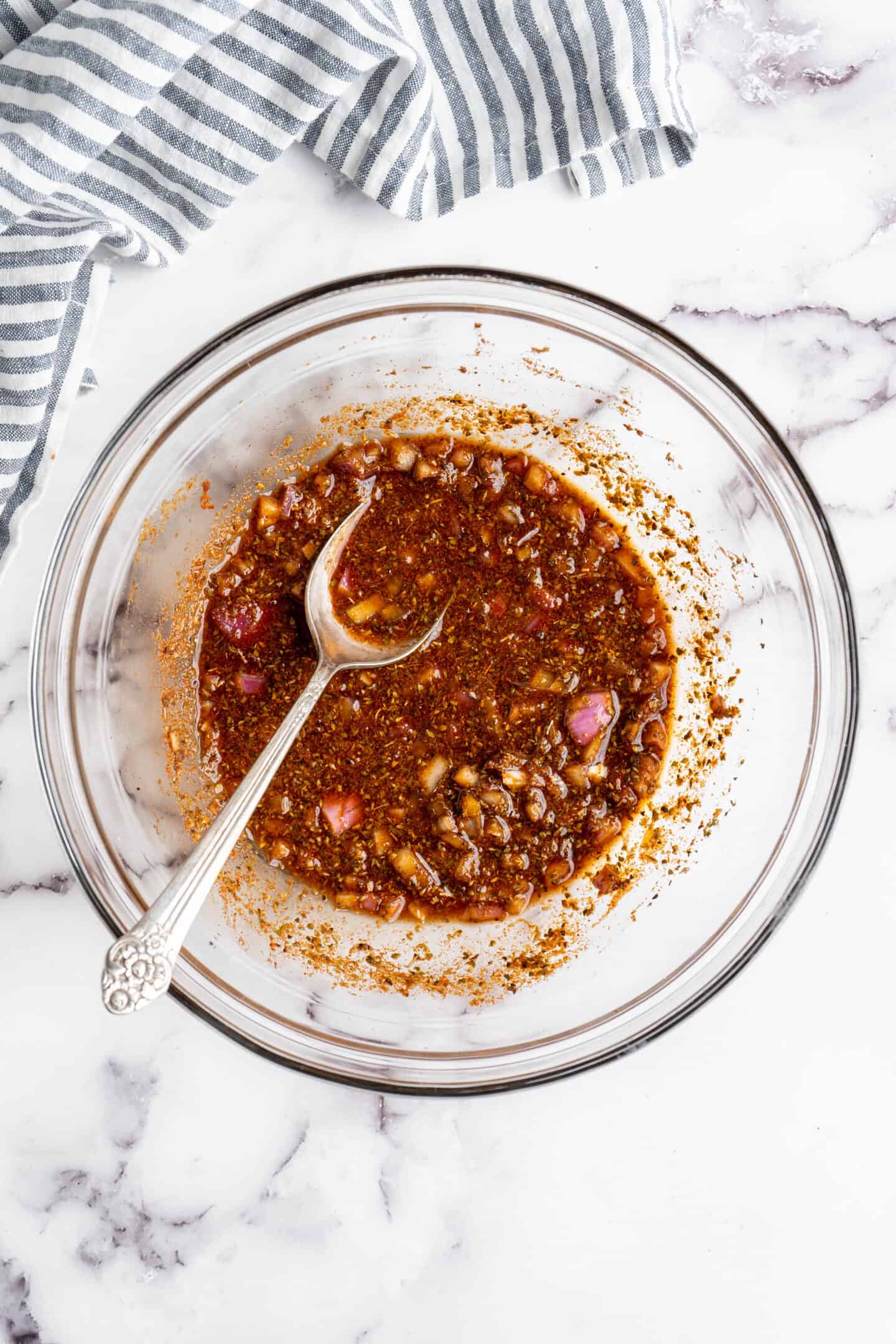 Make the marinade. Whisk all of the gyro ingredients except the tempeh and oil or cooking spray in a large resealable container or a zip-top bag.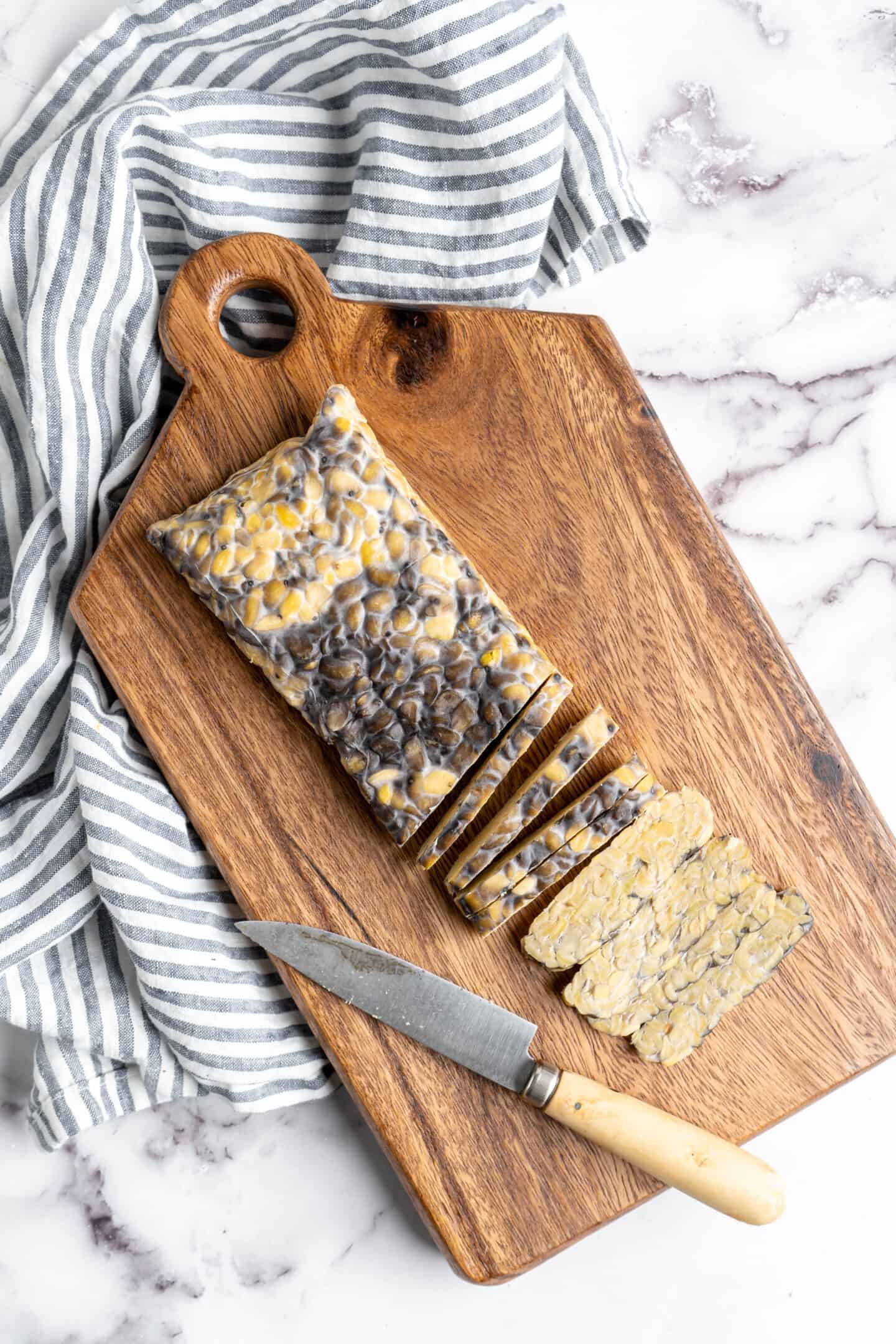 Slice the tempeh. Once the tempeh is cool, slice it into thin strips.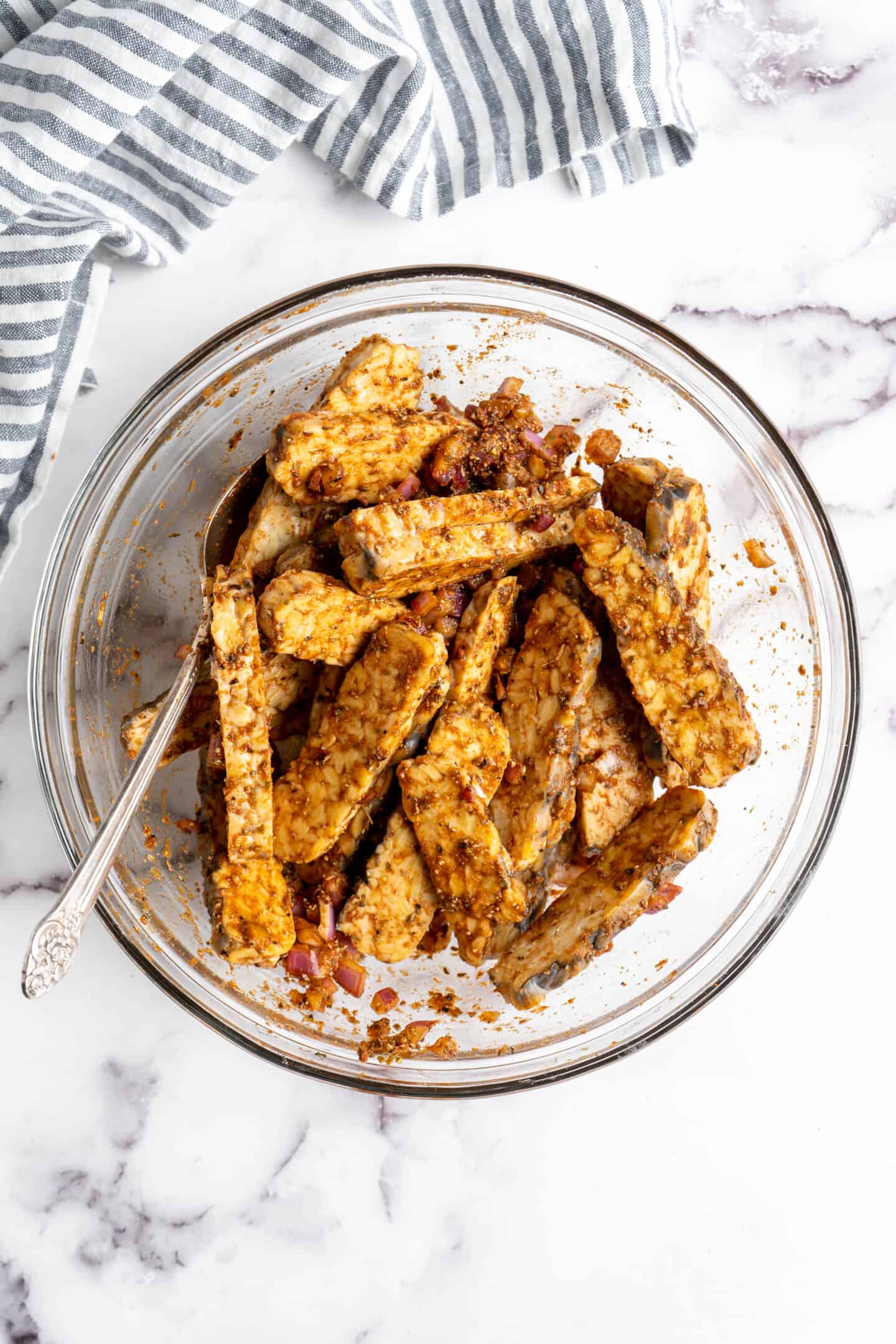 Marinate the tempeh. Place the tempeh slices in the marinade; cover the container or seal the bag, then gently turn or shake to make sure the tempeh is coated. Let the tempeh marinate for 10 to 15 minutes, or until the liquid is mostly absorbed.
Prepare. Preheat your oven to 475ºF, then line a baking sheet with foil and spray it with oil or cooking spray.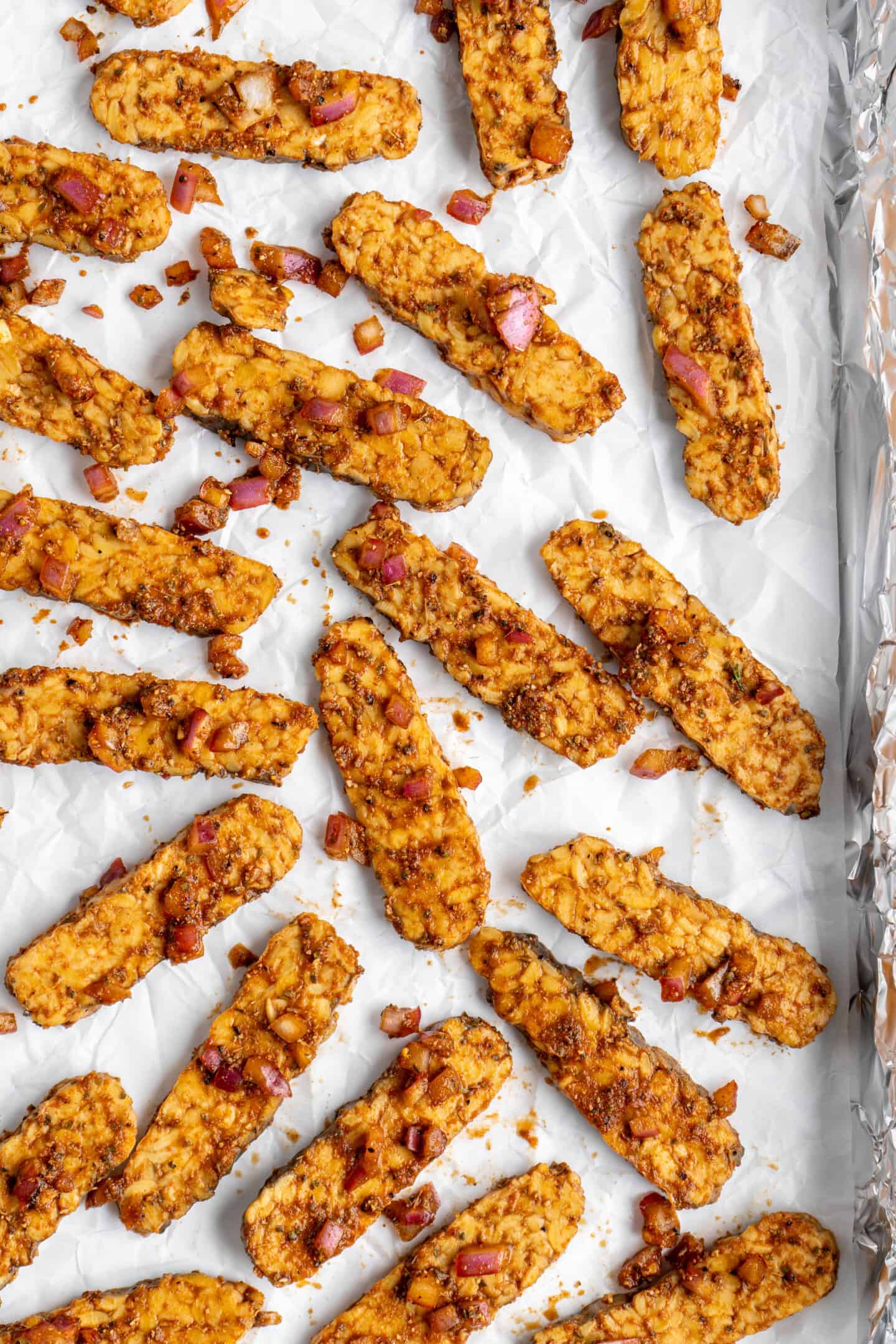 Bake. Arrange the tempeh on the prepared baking sheet and spoon the onions and remaining marinade over the top. Roast for 10 to 15 minutes, or until the edges are nicely caramelized.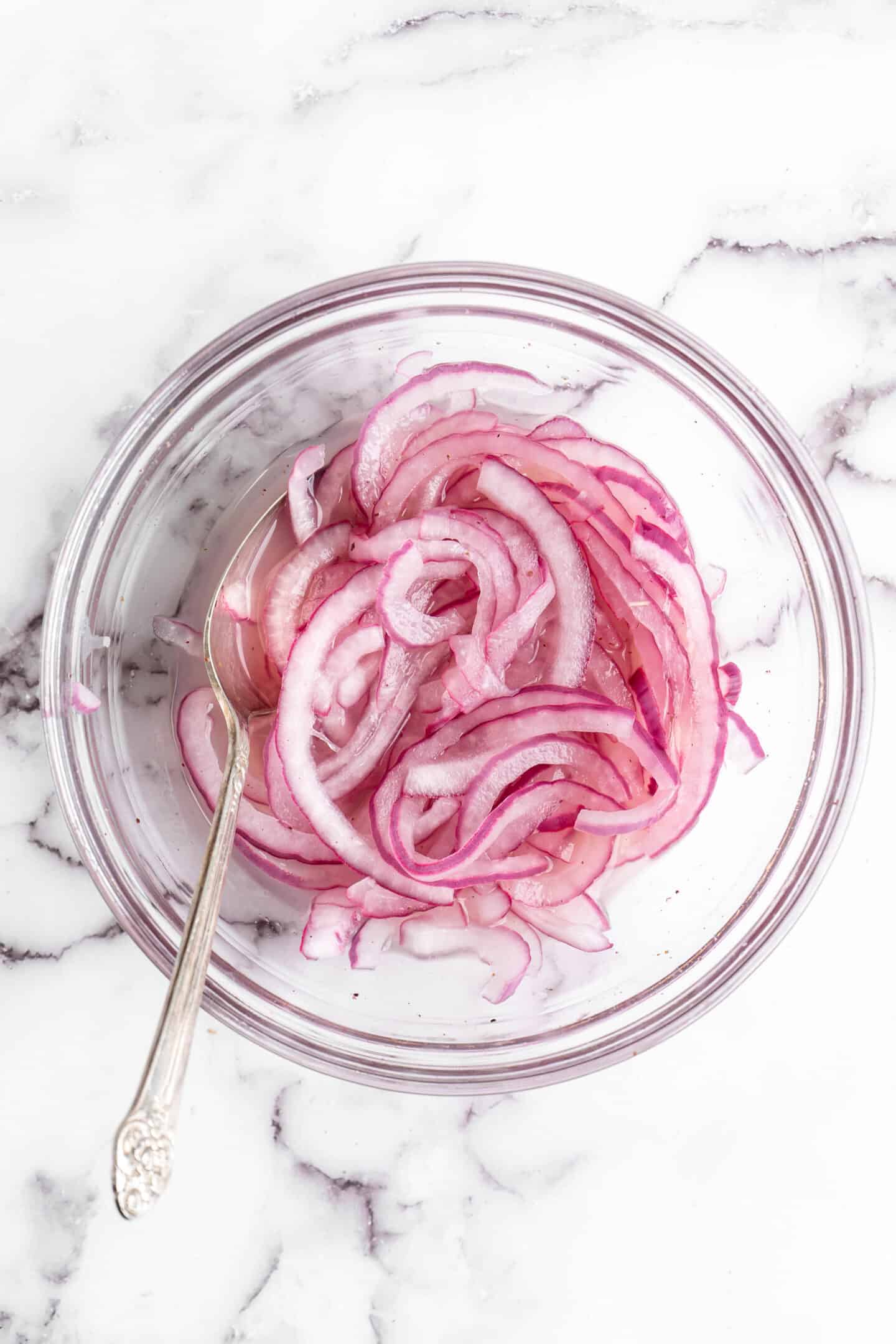 Serve. Serve the tempeh gyros with pita bread, quick-pickled red onions, lettuce, tomatoes, and your other favourite toppings.
Tips for Success
These simple tips and hints will help you make perfect tempeh vegan gyros:
Slice the tempeh thin, but not too thin. You don't want the tempeh strips too thin or they'll crumble, but if they're too thick, they won't fully absorb the marinade. Between 1/4- and 1/2-inch is perfect.
Stick with the marinade recipe. You might wonder if there's enough liquid in the marinade. I get it! I tried this recipe with double the liquid, and the flavour ended up less intense, as the spices weren't as concentrated.
Switch things up. In addition to using the tempeh gyros in pita wraps, you can use them in Buddha bowls, salads, or pair them with cauliflower rice and Balsamic roasted vegetables.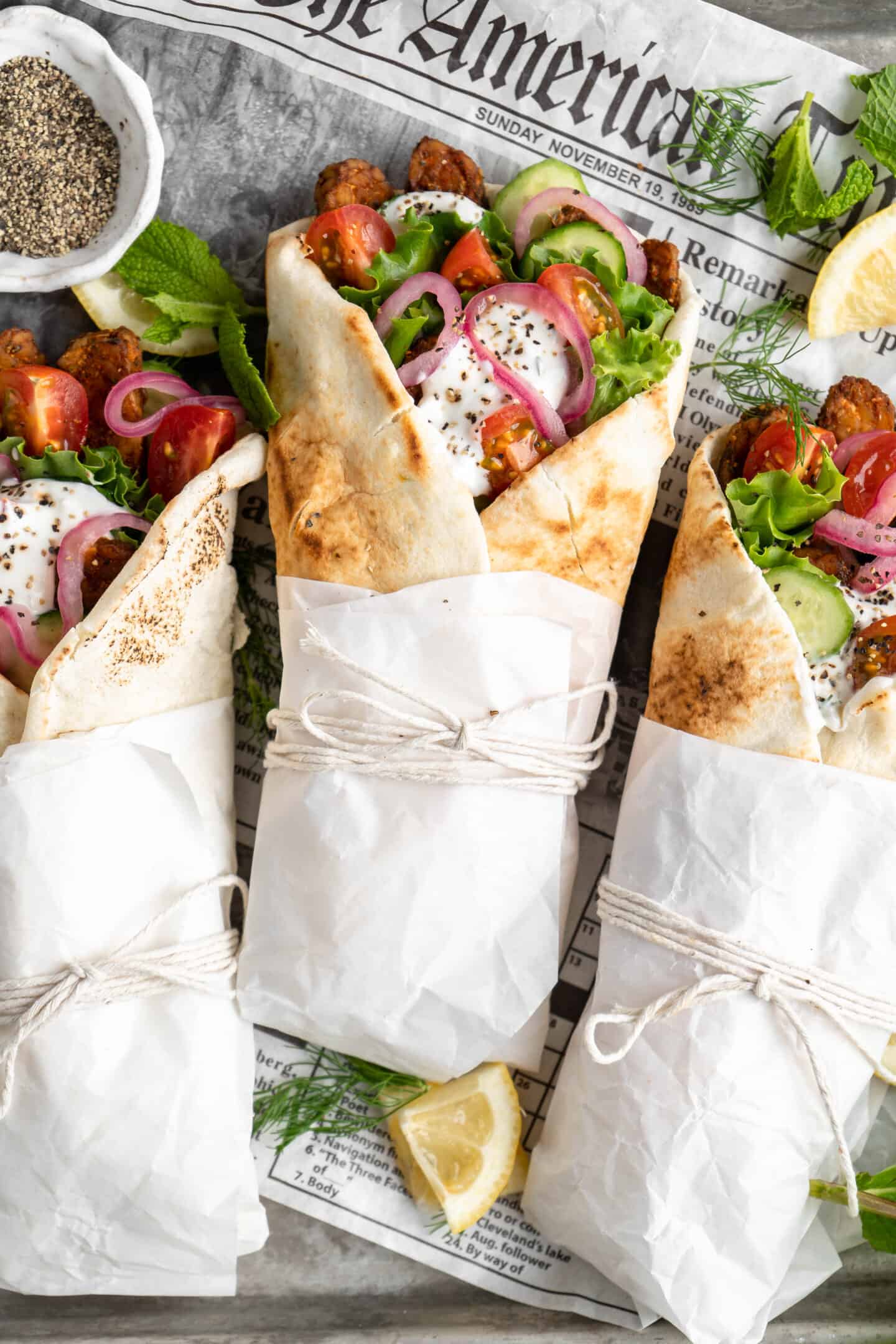 How to Store and Reheat Leftovers
Place leftover tempeh gyros in an airtight storage container and refrigerate for up to 5 days. Reheat in the microwave or a skillet set over medium heat.
Can This Recipe Be Frozen?
You can freeze the vegan gyros strips, but not the assembled wraps. Store the tempeh strips in an airtight container or freezer bag and freeze them for up to 3 months; thaw them in the refrigerator before reheating according to the instructions above.
Enjoy friends! If you make this vegan gyros recipe, please snap a photo and tag #jessicainthekitchen on Instagram! We'd also love it if you would leave a comment below, and give the recipe a rating! Thanks so much!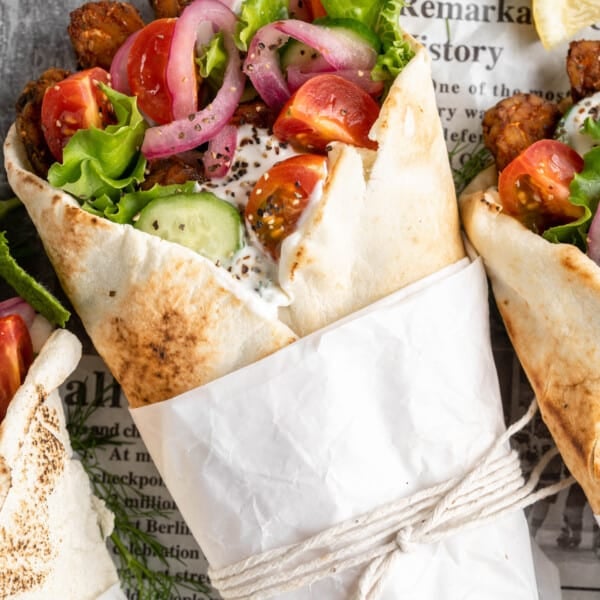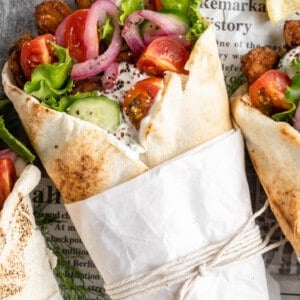 Tempeh Gyros
This tempeh gyros recipe is an easy weeknight dinner that's loaded with protein and Greek-inspired flavours!
Ingredients
2 8-ounce packages tempeh, cut in half to fit into a steamer basket
2 tablespoons lemon juice
2 tablespoons liquid aminos
1/4 cup minced red onion
3 cloves garlic, minced
1 1/2 teaspoons ground cumin
1 teaspoon smoked paprika
1 teaspoon dried oregano
1/2 teaspoon black pepper
1/4 teaspoon sea salt, add more to taste Dash of nutmeg
Oil mister or cooking spray
For serving:
Pita bread
Lettuce
Diced or sliced tomato
Thinly sliced red onion, or quick-pickled onion; see below
Vegan tzatziki sauce or tahini, tahini is less authentic, but super good with this
Instructions
Set the tempeh in a steamer basket set over simmering water; steam for 20 minutes.

While the tempeh is steaming, whisk together all of the remaining gyro ingredients except the oil or cooking spray in a large resealable container (like Tupperware) or a gallon-size zip-top bag.

When the tempeh is done steaming, remove it from the steamer basket and let it cool for a few minutes, until you can safely handle it. Transfer it to a cutting board and cut it into thin strips (somewhere between 1⁄4- and 1⁄2-inch is good here; too thin and they'll crumble!).

Place the cut tempeh in the marinade; cover the container or seal the bag and turn it over a few times to make sure all of the tempeh is coated. Let sit at room temperature for 10 to 15 minutes or until all or most of the liquid has been absorbed, gently shaking halfway through the marinating time.

While the tempeh marinates, begin preheating your oven to 475ºF.

Line a baking sheet with foil, then spray the foil with oil or cooking spray. Place the tempeh strips on the baking sheet and spoon the onions and remaining marinade (if any) over the top. Bake for 10 to 15 minutes, or until the edges are nicely browned.

Serve with pita bread and your desired toppings.
Notes
Lemony Quick Pickled Red Onions (no need for precise amounts of ingredients; this is more of a no-recipe-recipe!)
Sliced red onion
Lemon juice
Salt
Sumac (optional)
Place the onion slices in a bowl and squeeze lemon juice over the top. The onions don't need to be submerged, but there should be enough juice in the bowl that it pools at the bottom. Season with salt and add a pinch or two of sumac; toss to coat. Return to the bowl every 5 to 10 minutes to stir the onions while you work on the rest of the recipe.
Note: The nutritional information doesn't include the pita bread or toppings, as these can vary depending on the brands and amounts you use.
Calories: 239kcal, Carbohydrates: 14g, Protein: 23g, Fat: 13g, Saturated Fat: 3g, Polyunsaturated Fat: 4g, Monounsaturated Fat: 4g, Sodium: 638mg, Potassium: 533mg, Fiber: 1g, Sugar: 1g, Vitamin A: 267IU, Vitamin C: 4mg, Calcium: 150mg, Iron: 4mg
Disclaimer: Although jessicainthekitchen.com attempts to provide accurate nutritional information, kindly note that these are only estimates. Nutritional information may be affected based on the product type, the brand that was purchased, and in other unforeseeable ways. Jessicainthekitchen.com will not be held liable for any loss or damage resulting for your reliance on nutritional information. If you need to follow a specific caloric regimen, please consult your doctor first.