Sweet Potato Fries
Sweet and Spicy Sweet Potato Fries make for a delicious and healthy snack! An easy trick guarantees that they are crispy, so you can focus on eating them!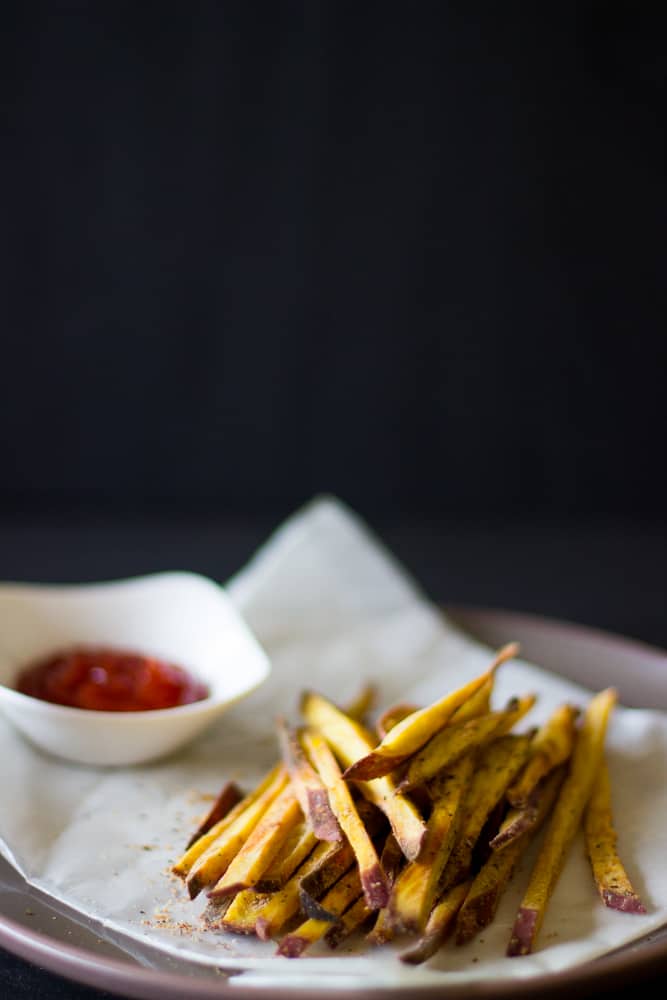 When I was younger, Disney was a big thing in my family. Summer holidays meant trips either back to Jamaica (I didn't grow up here) or trips to Disney, and as a Disney fanatic, this was a very big deal to me. I can remember being young with my brother meeting Aladdin and Chip & Dale for the first time, and being unable to contain my excitement, while also meeting Jafar and coming close to running out of there because why would I want to associate with this bad guy??
In case you're wondering, yes, Toy Story has caused me to STILL believe that stuffed animals are real. And at 23 years old, I am still very much of that belief. Just kidding.
Kinda.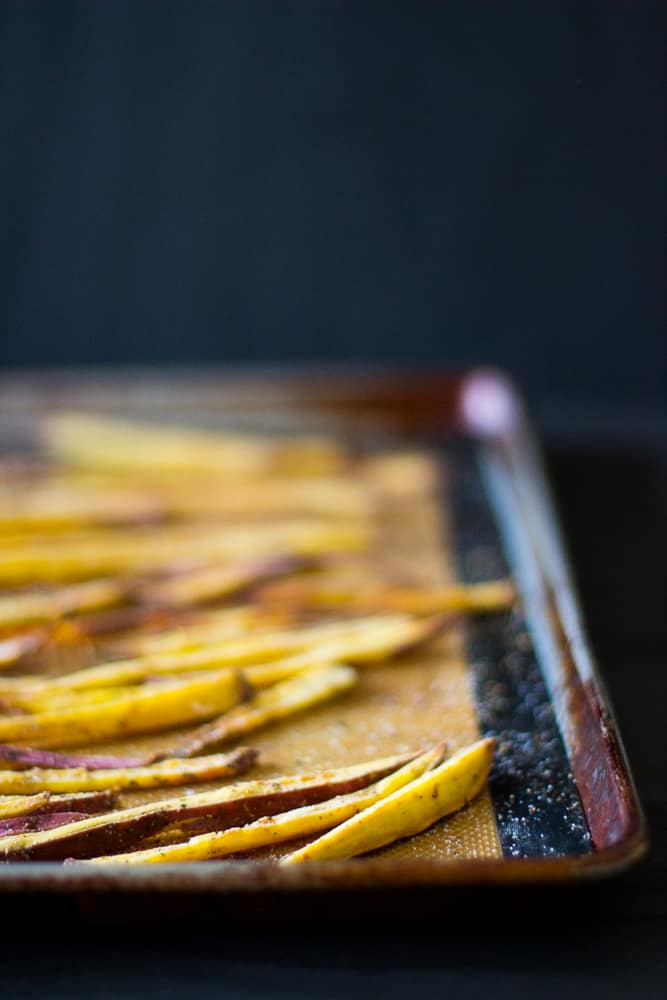 I think Disney not only reflected all my favourite characters, princesses (Ariel is basically the coolest princess ever in my eyes), and crazy fun summer and Christmas vacations, but an opportunity for happiness, hope and a bit of magic, things are still essential in my life today. I still have my hopes, my dreams, my Prince Charming and my happiness.
Mr. Jessiker Bakes and I went to Disney for our first anniversary (PRINCE Charming!) and to say I had a blast would be an understatement. Even if it's just for a week, or a weekend, it's a chance to break out of the normal order of life and have a lot of magic in your life. And perhaps these things are not an excuse for me belting Frozen songs at the top of my voice, but I would love to pretend it is. I mean, isn't that a part of my dreams, dreaming and hoping that one day my singing voice won't be mistaken for someone croaking?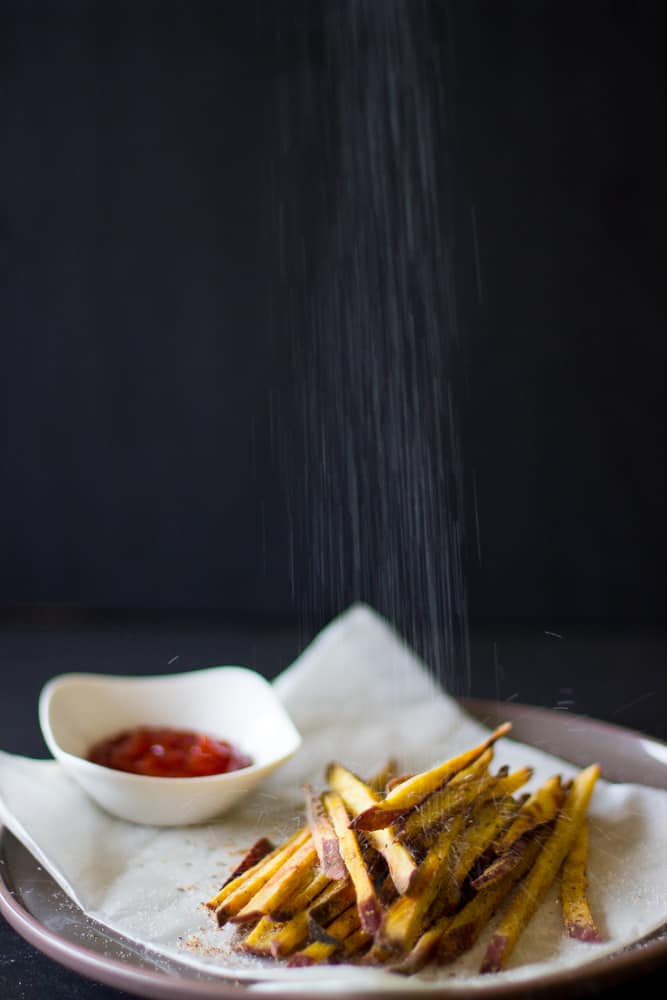 Anyway, time to tie this trip down memory lane to these sweet potato fries. Sweet potato fries have a lot of magic in them, allowing you to enjoy everyone's favourite side order in a much healthier way, both with the potato used and the method of baking them, and without any loss of taste or flavour. When I say these fries are loaded with flavour, I mean it. You can add any seasonings that you want to these naturally delicious and sweet fries and they would compliment it perfectly. I've also found the trick to making these beauties crisp. There's no going back now.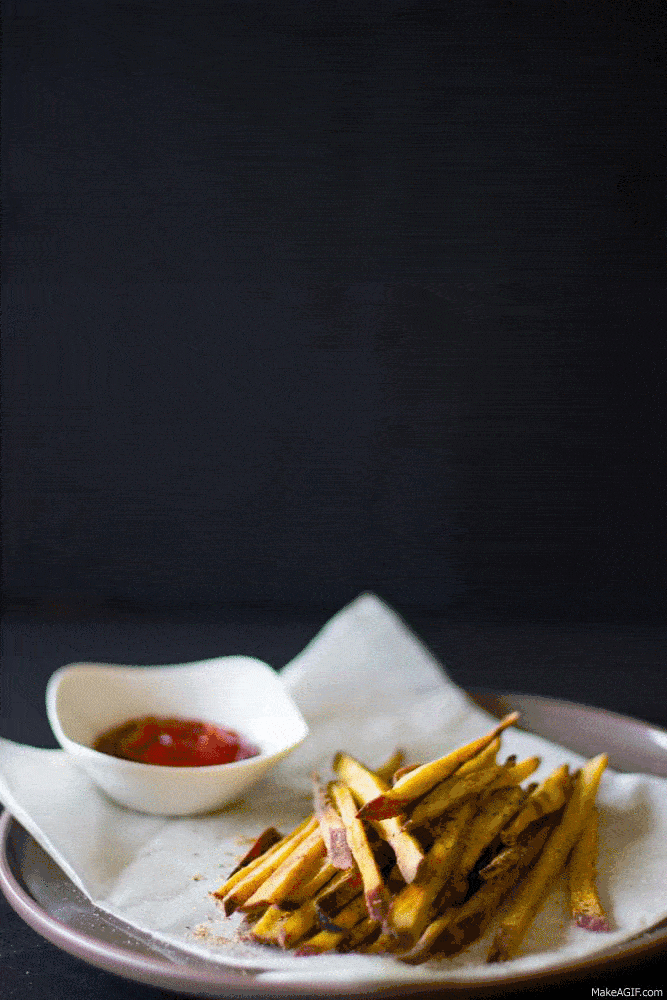 Cornstarch. Now, here me out. You are adding less than 40 calories for the entire two servings of fries that will change the entire game. Instead of soggy fries, or fries dried up beyond belief for leaving them in longer in an attempt of them crisping up, you get perfect, crisp-but-soft-on-the-inside and evenly cooked sweet potato fries. I could not stop eating these, and perhaps ate half of someone's share because they are that addictive. The crunch factor alone will mean you won't be able to get your hands off of these.
Didn't I tell you everyday life is filled with a bit of Disney magic?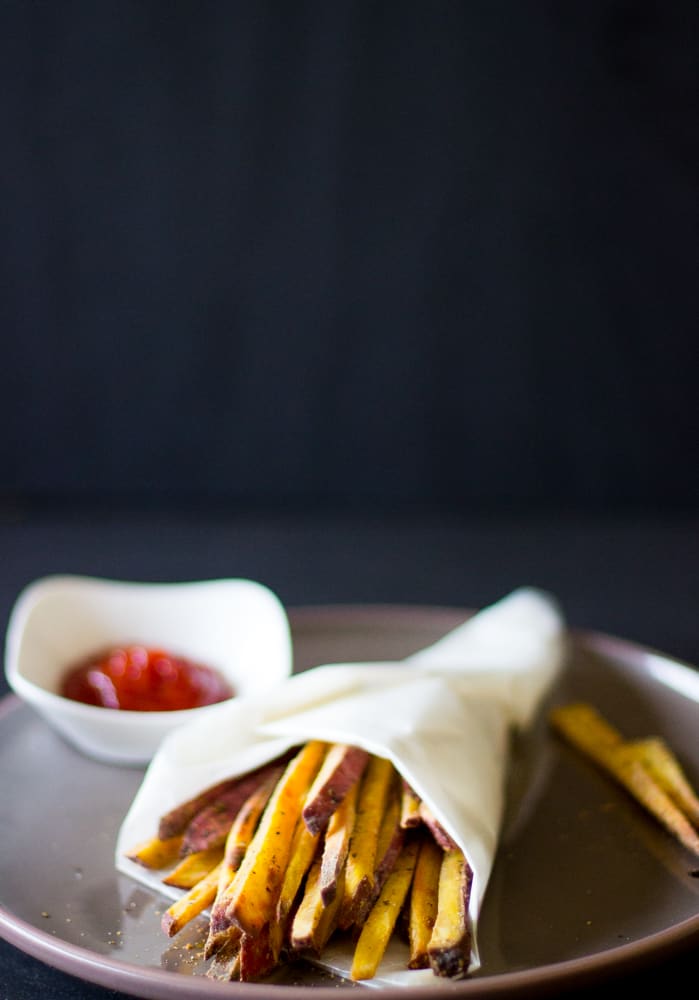 If you enjoyed these sweet potato fries, you'll also enjoy these Sweet Potato Chips!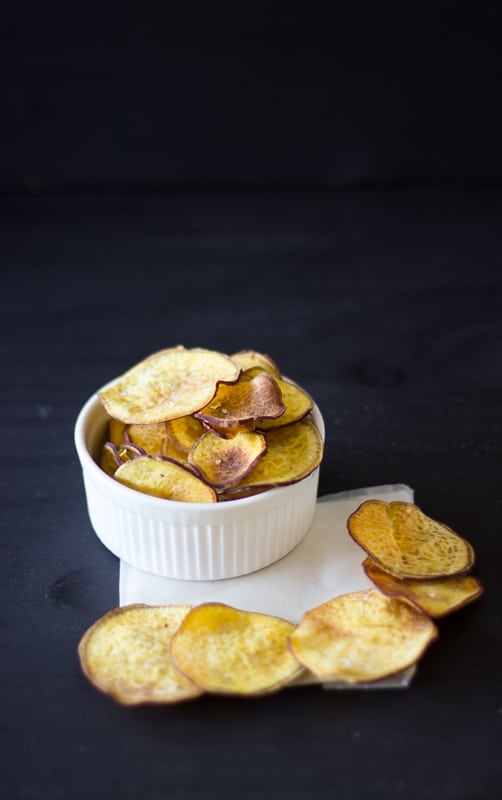 If you like these chips, you may also enjoy these Warm Cinnamon Apple Chips.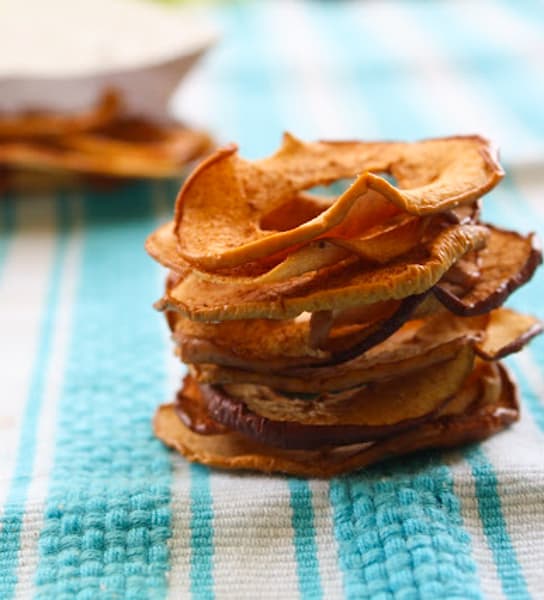 Or these Kale Chips, Three Different Ways!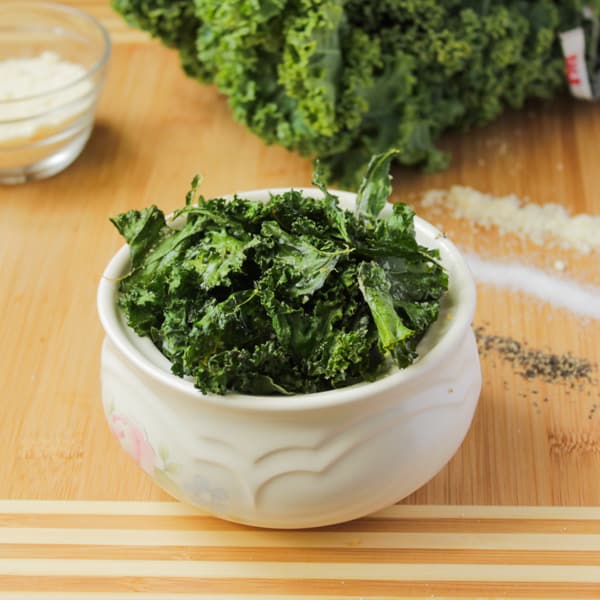 Check out all my side dish recipes!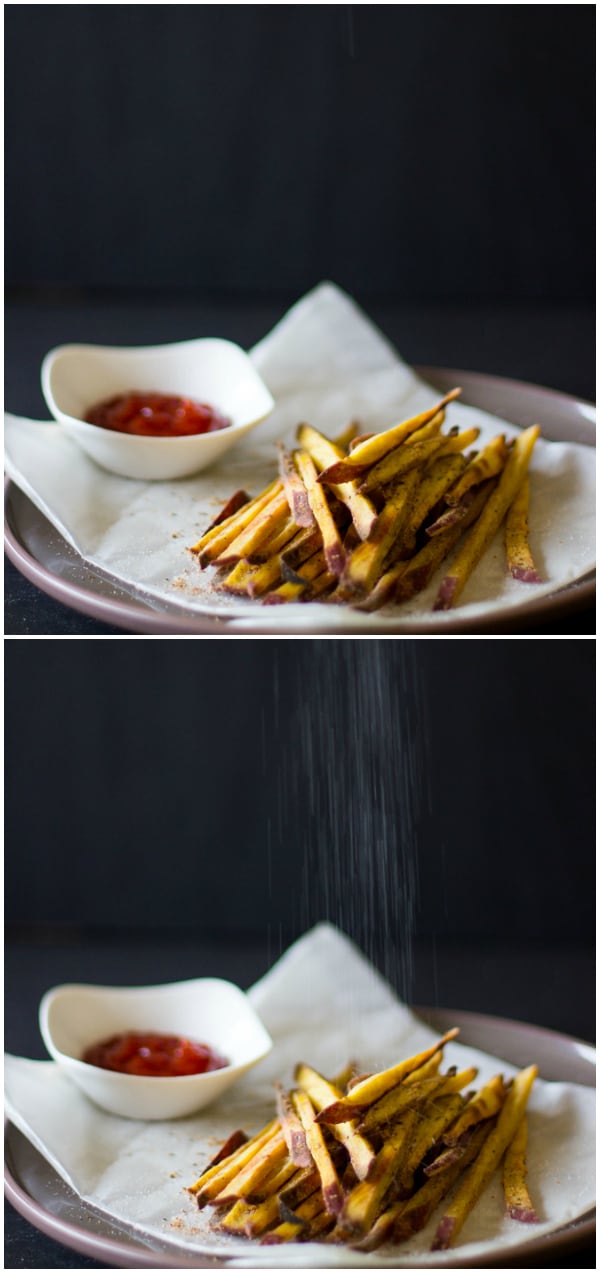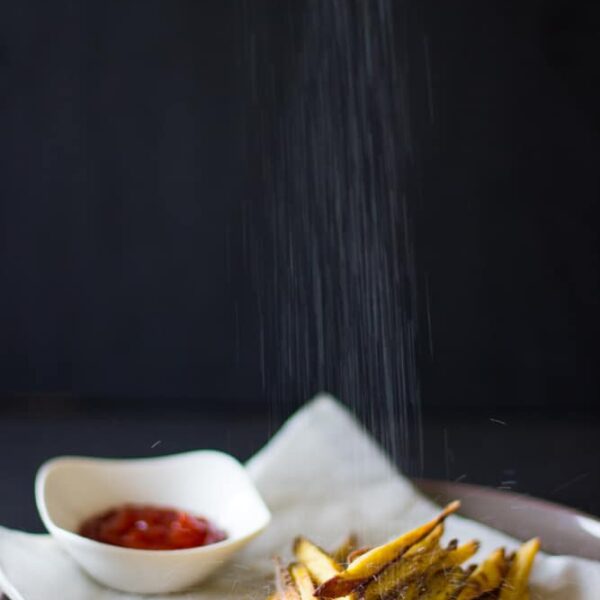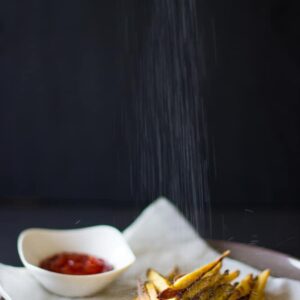 Sweet Potato Fries
Sweet and Spicy Sweet Potato Fries make for a delicious and healthy snack! An easy trick guarantees that they are crispy, so you can focus on eating them!
Ingredients
1 large sweet potato, washed, scrubbed and dried
4 tablespoons coconut oil
3/4 tablespoon cornstarch
2 teaspoons salt
2 teaspoons pepper
2 teaspoons garlic
1 teaspoon cinnamon
Instructions
Preheat the oven to 400 degrees Fahrenheit. Line two cookie sheets with a silicone baking mat (such as SILPAT) or foil, lightly sprayed.

Cut the sweet potato into half, then into quarters, then cut into even fries (not too thin). In a plastic ziplock bag, add the fries and the cornstarch and shake until all the fries are coated, for about 1 minute.

Add the oil to the bag and shake again, coating all of the fries. Add all the seasonings in a ramekin, and then add the bag and shake again to coat fries.

Pour the fries onto the baking sheets so that they are NOT crowded (very important or they will just steam each other and not crisp) and slightly spread out.

Bake for 23-25 minutes, watching them after 20 minutes so they don't burn. Remove from oven once done and serve hot with mayo and ketchup. Enjoy!
Calories: 362kcal, Carbohydrates: 29g, Protein: 2g, Fat: 28g, Saturated Fat: 24g, Sodium: 2389mg, Potassium: 407mg, Fiber: 4g, Sugar: 5g, Vitamin A: 16031IU, Vitamin C: 4mg, Calcium: 58mg, Iron: 1mg
Disclaimer: Although jessicainthekitchen.com attempts to provide accurate nutritional information, kindly note that these are only estimates. Nutritional information may be affected based on the product type, the brand that was purchased, and in other unforeseeable ways. Jessicainthekitchen.com will not be held liable for any loss or damage resulting for your reliance on nutritional information. If you need to follow a specific caloric regimen, please consult your doctor first.