Baked Carrot Fries with Harissa Tahini Dip
These Crispy Baked Carrot Fries taste just like sweet potato fries, are done in 20 minutes and are dipped in a dreamy Harissa Tahini Dip!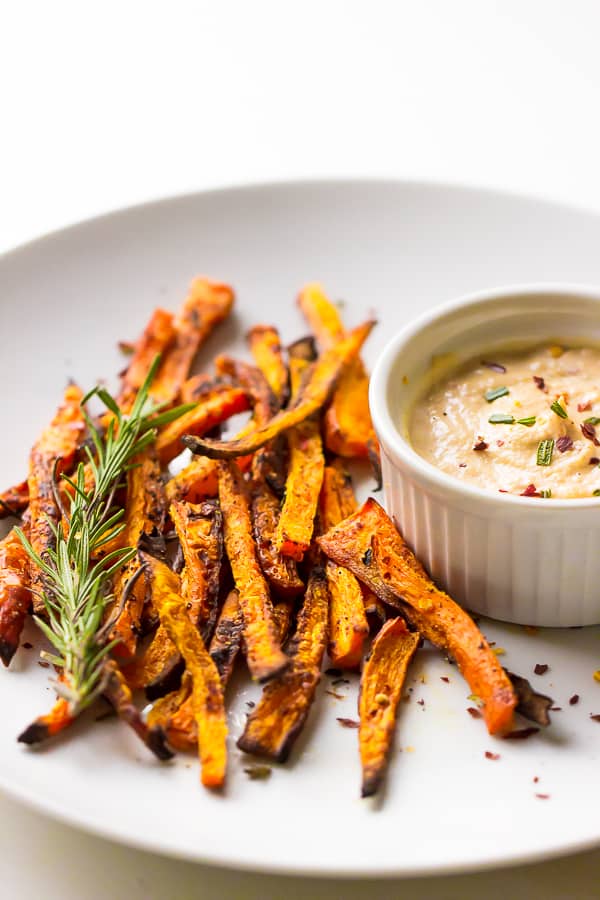 The best ideas seem to strike seconds after I've cleaned the entire house and my brain seems to want to make it a complete mess again. Last week I made some epic black bean burgers after one of these sessions and while they were baking realised that I wanted something alongside them…other than french fries. A quick scan of my post-apocalyptic bare fridge presented nothing except beautiful fresh farmer's market carrots. The idea for carrot fries struck. I wasn't crazy right? 20 minutes later eating these piping hot off the baking sheet proved that I probably was crazy – in the best kind of mad genius way. Hello to my new fries addiction!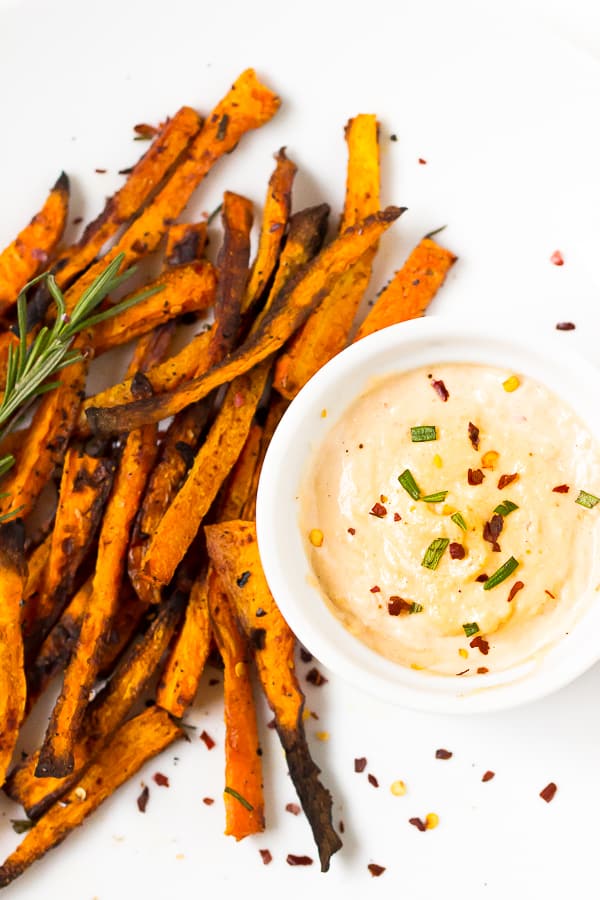 These carrot fries went with my burgers perfectly. The sweetness complimented the smokiness of the burgers and also provided a nice and light crunchy bite in contrast. The shoestring cut is my fav (more crunch) but you could definitely cut them thicker and bake them for maybe 5 more minutes. They are so similar to sweet potatoes fries except (dare I say it?) could be better since they are done in 15 minutes!! Whaaaaat. I'm used to pacing in front of my oven for 30-40 painful minutes waiting on sweet potato fries and in the space of time it would take me to make the dipping sauce and "taste test" it about a billion times these babies were done.
Speaking of the harissa tahini dip…FRIENDS. I have made this over and over since finishing it. I am smothering it on everything. My fries. My burgers. Homemade molasses bread. Eating it with a SPOON. It's smooth, it's spicy, and it has an intense smokiness that just seems to be great with everything. Could this be the new coconut oil for me? Pro-ba-bly.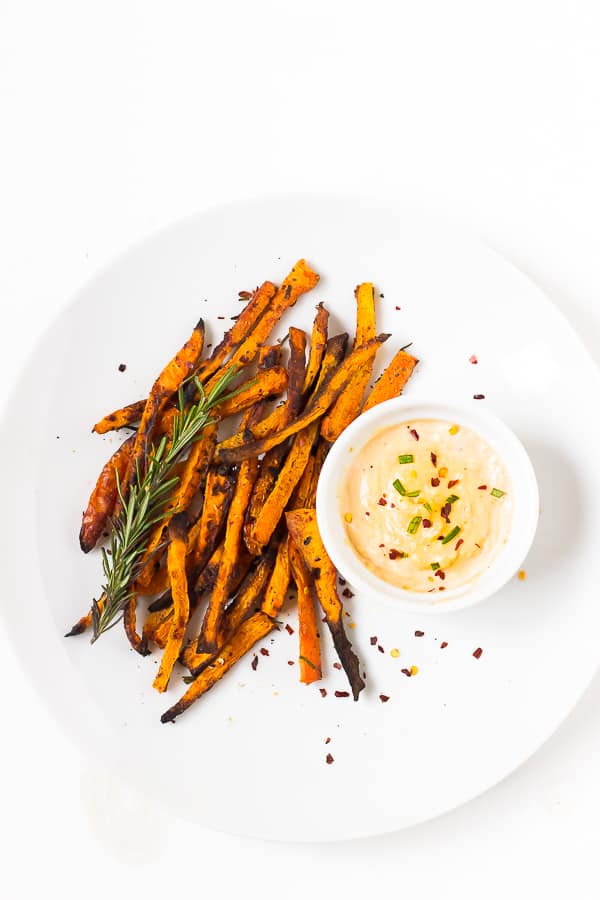 The truth is, anything smothered in delicious fragrant coconut oil, garlic and rosemary will probably taste amazing. Roasted root vegetables are amazing full stop. Yet these carrot fries still managed to take it over the top. If you are a sweet potato fanatic like myself you'll totally fall in love with these. They are sweet like sweet potatoes, crazy beautiful in colour and similarly disappear from your plate in 10 seconds flat. I want to tell you to share these but I may have had great difficulty doing so.
OK, I did not share them. I did let the Mr. taste about 5 pieces. Then made up some excuse about being the only vegetarian in the household, woe is me, please let me have the rest of the carrot fries.
I know, BUT CARROT FRIES. When you make them, you'll understand. #teammine.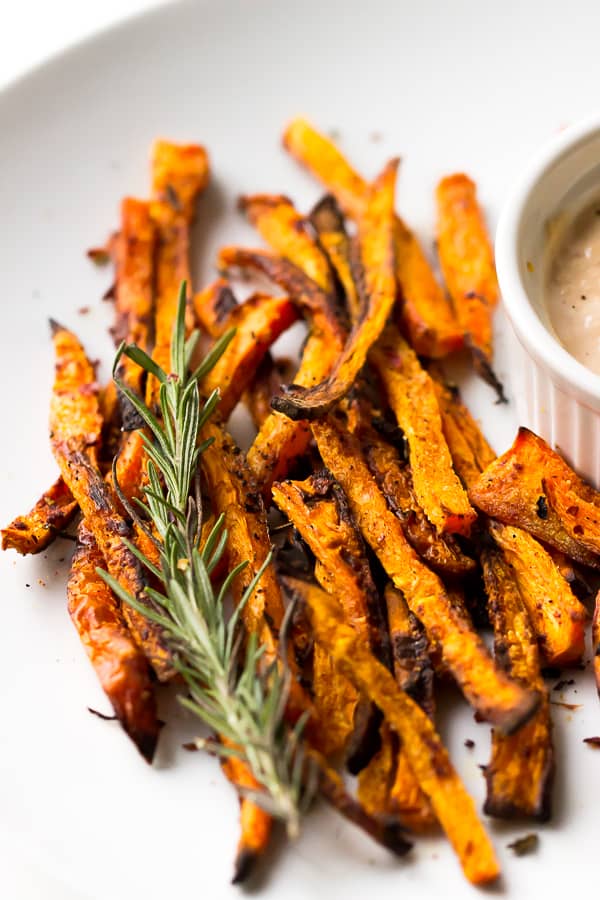 If you try these Baked Carrot Fries with Harissa Tahini Dip please let me know in the comment section below, or tag me on instagram with the hashtag #jessicainthekitchen!
RELATED RECIPES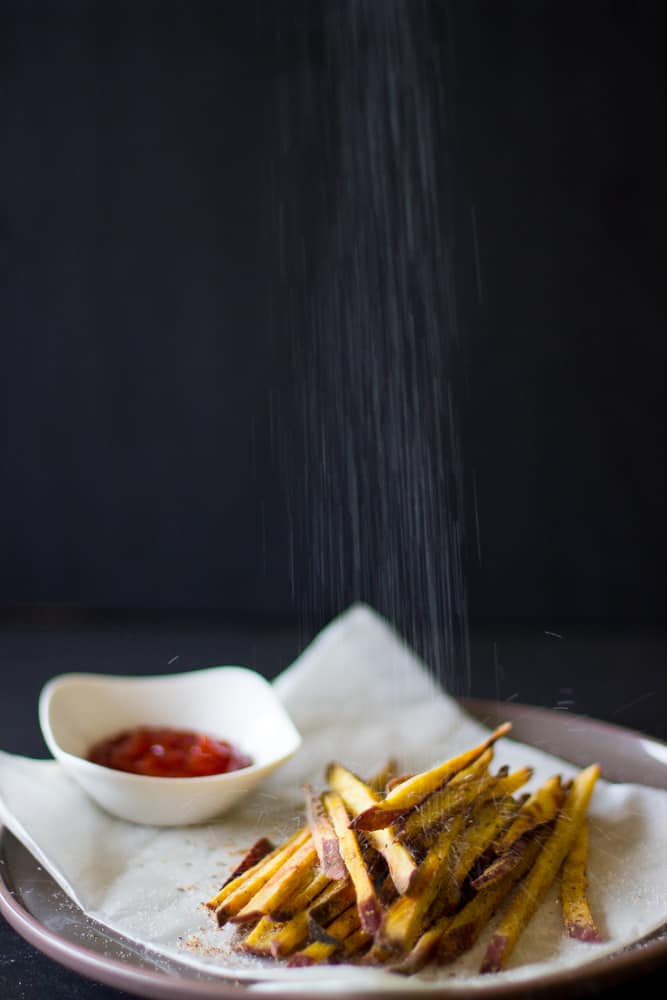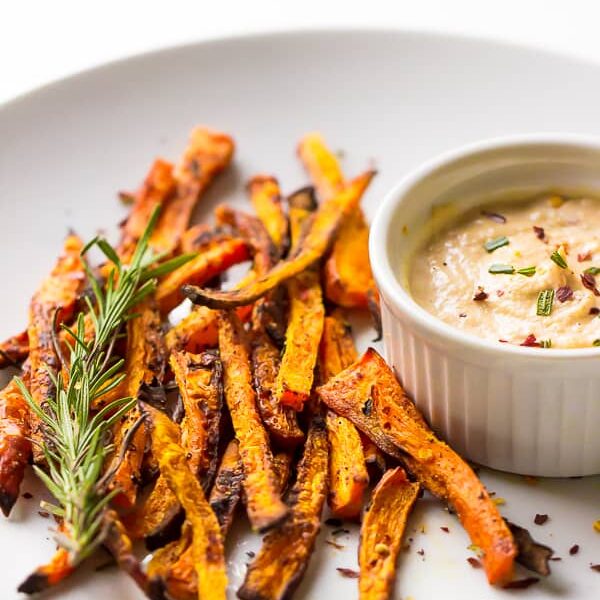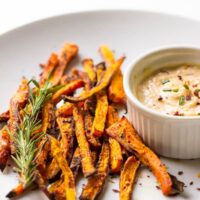 Carrot Fries with Harissa Tahini Dip
These Crispy Baked Carrot Fries taste just like sweet potato fries, are done in 20 minutes and are dipped in a dreamy Harissa Tahini Dip!
Ingredients
Harissa Tahini Dip:
1/4 cup tahini
1/4 teaspoon salt
1/4 teaspoon ground black pepper
1 teaspoon harissa paste
2 tablespoons water
2 tablespoons lime juice
3 cloves garlic, chopped
Carrot Fries:
1 pound carrots
2 tablespoons coconut oil
a sprig rosemary, chopped
salt & pepper
1/4 teaspoon red pepper flakes
1/2 teaspoon garlic powder
Instructions
Harissa Tahini Dip
Mix all the ingredients together in a blender or food processor. Spoon into a bowl and set aside until ready.
Carrot Fries
Preheat your oven to 425 degrees F. Line a baking sheet with a silicone mat or greased foil.

Peel and slice carrots into matchsticks "fries".

Add the carrot fries to baking sheet. Mix the coconut oil, rosemary, salt, pepper, red pepper flakes and garlic powder into the fries by massaging into fries with your hands.

Bake for 20 minutes until fries are crispy. Add more salt and pepper to taste.

Serve with Harissa Tahini Dip and enjoy!
Calories: 225kcal, Carbohydrates: 20.3g, Protein: 4.8g, Fat: 15.4g, Sodium: 6.1mg, Fiber: 4.6g
Disclaimer: Although jessicainthekitchen.com attempts to provide accurate nutritional information, kindly note that these are only estimates. Nutritional information may be affected based on the product type, the brand that was purchased, and in other unforeseeable ways. Jessicainthekitchen.com will not be held liable for any loss or damage resulting for your reliance on nutritional information. If you need to follow a specific caloric regimen, please consult your doctor first.