Air Fryer Potato Wedges
Air fryer potato wedges have all the crispiness and flavor of oven-baked wedges, but they're much quicker to make. Coated in lots of seasonings, these will become a staple in your kitchen.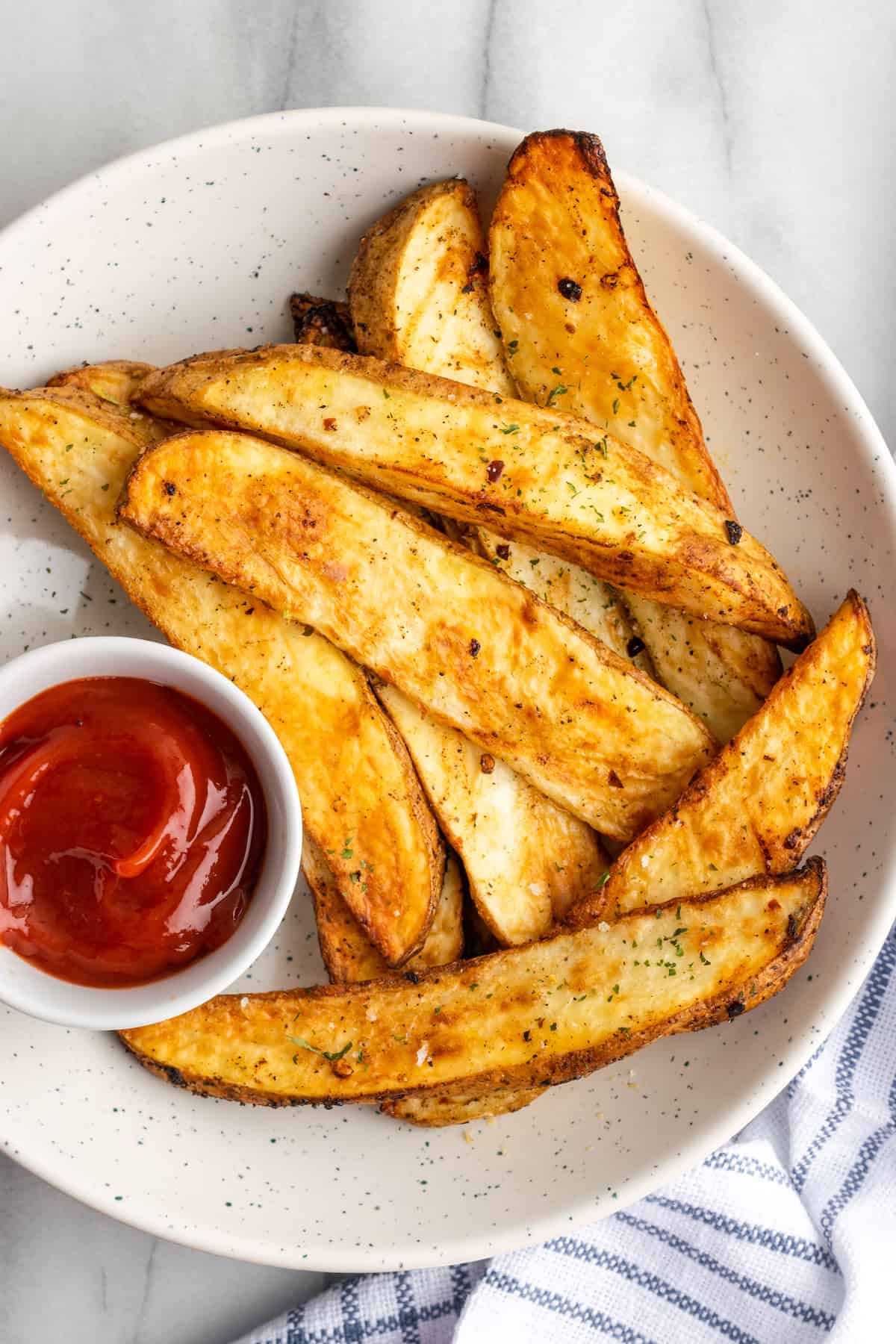 Good potato wedges are magical. They're crispy on the outside, fluffy on the inside, and popping with flavor. Potato wedges work as a midday snack, or as a side with your meal. And there's no way you'll be able to eat just one … or five.
Getting the right texture on a potato wedge is crucial, but it also can be time consuming. Potatos take a long time to cook in the oven, and usually get a little dried out in the process.
That's not the case with these air fryer potato wedges. By cooking them in the air fryer, you can cut down on your cooking time. Plus, you'll end up with potatoes that have a fluffier inside, without sacrificing crunchiness on the outside. What could be better?
(If you're a fan of air fryer cooking, I recommend checking out my Air Fryer Baked Sweet Potatoes, Air Fryer Asparagus, and Air Fryer Roasted Garlic).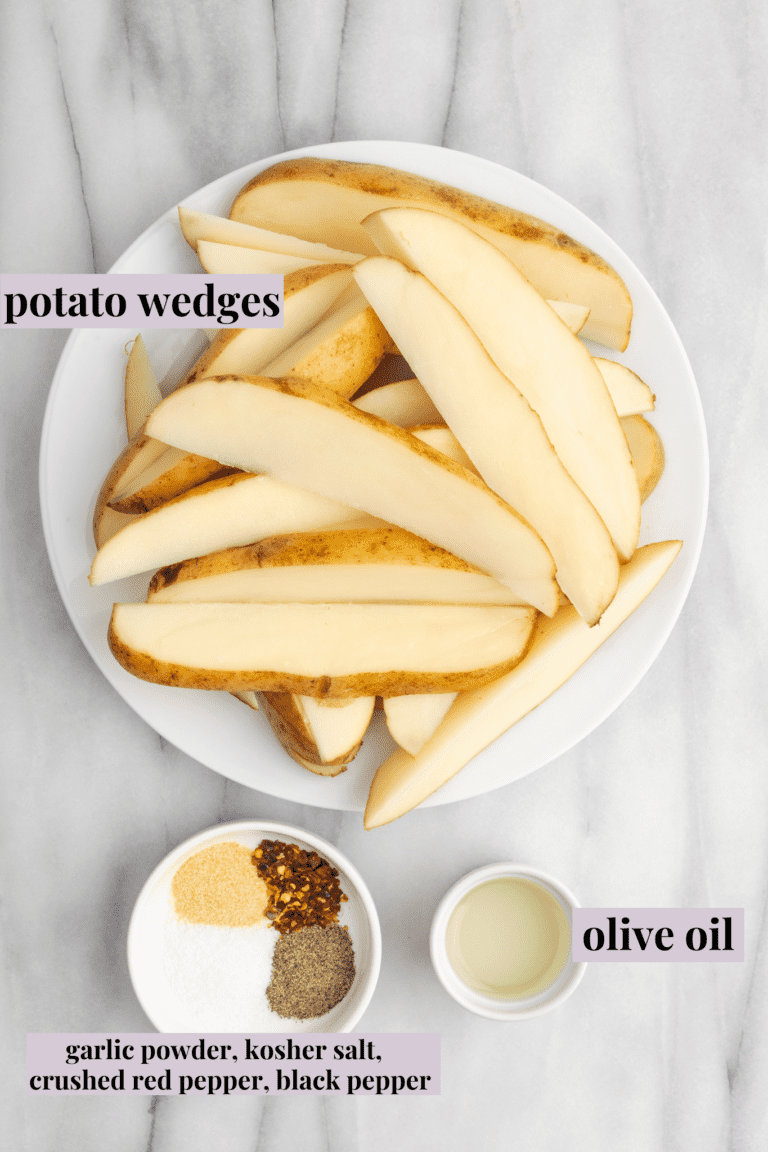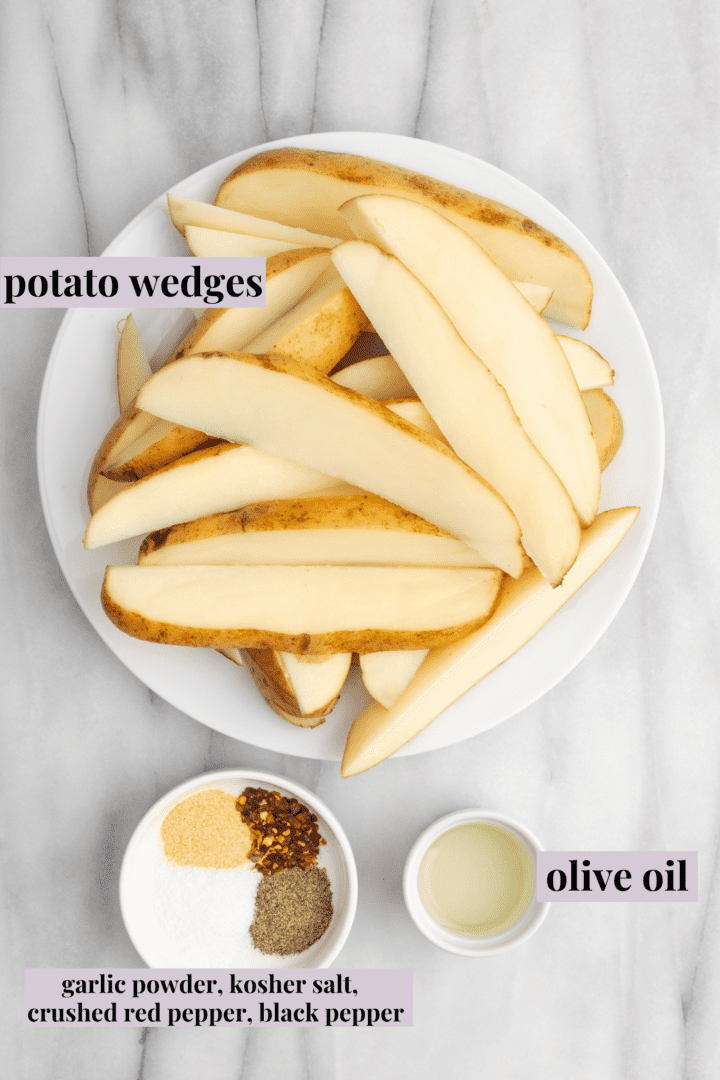 Notes on Ingredients
Make sure to scroll to the bottom of the page to find the recipe card for all the ingredient quantities.
Russet potatoes – You can use other potatoes if you're in a pinch, but russets are the best.
Freshly ground black pepper
Crushed red pepper flakes
Why Are Russet Potatoes Best?
If you order wedges or french fries in a restaurant, they're almost always made with russet potatoes. That's because russets have a high amount of starch, and a low amount of water. That allows the potatoes to become airy and fluffy when cooked, instead of being dense or dry.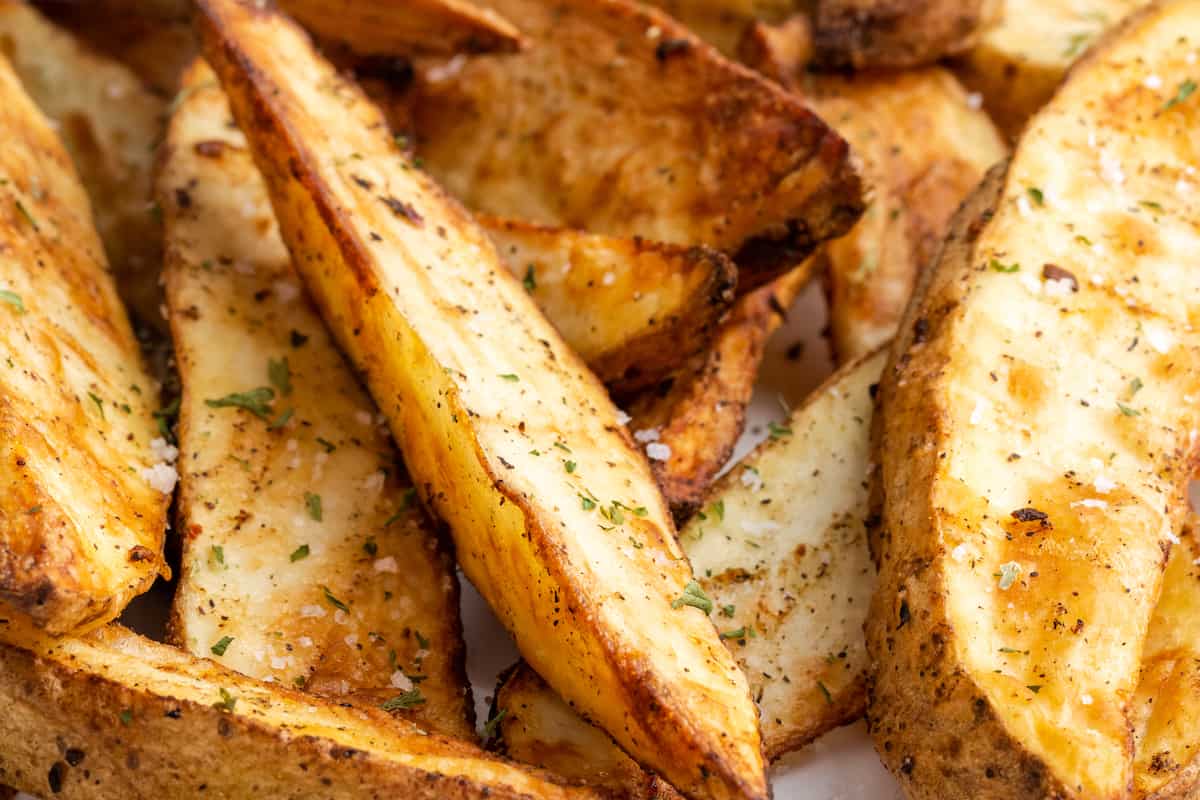 How to Make Air Fryer Potato Wedges
As you're about to see, this is one of the easiest recipes you'll come across. You'll probably find yourself making these potatoes regularly because of how quick it is to throw them together.
Prep the potatoes. Cut the potatoes into ½-inch thick wedges.
Soak the potatoes. Place the potato wedges in cold water for at least 30 minutes. When you remove them from the water, pat them completely dry with a paper towel.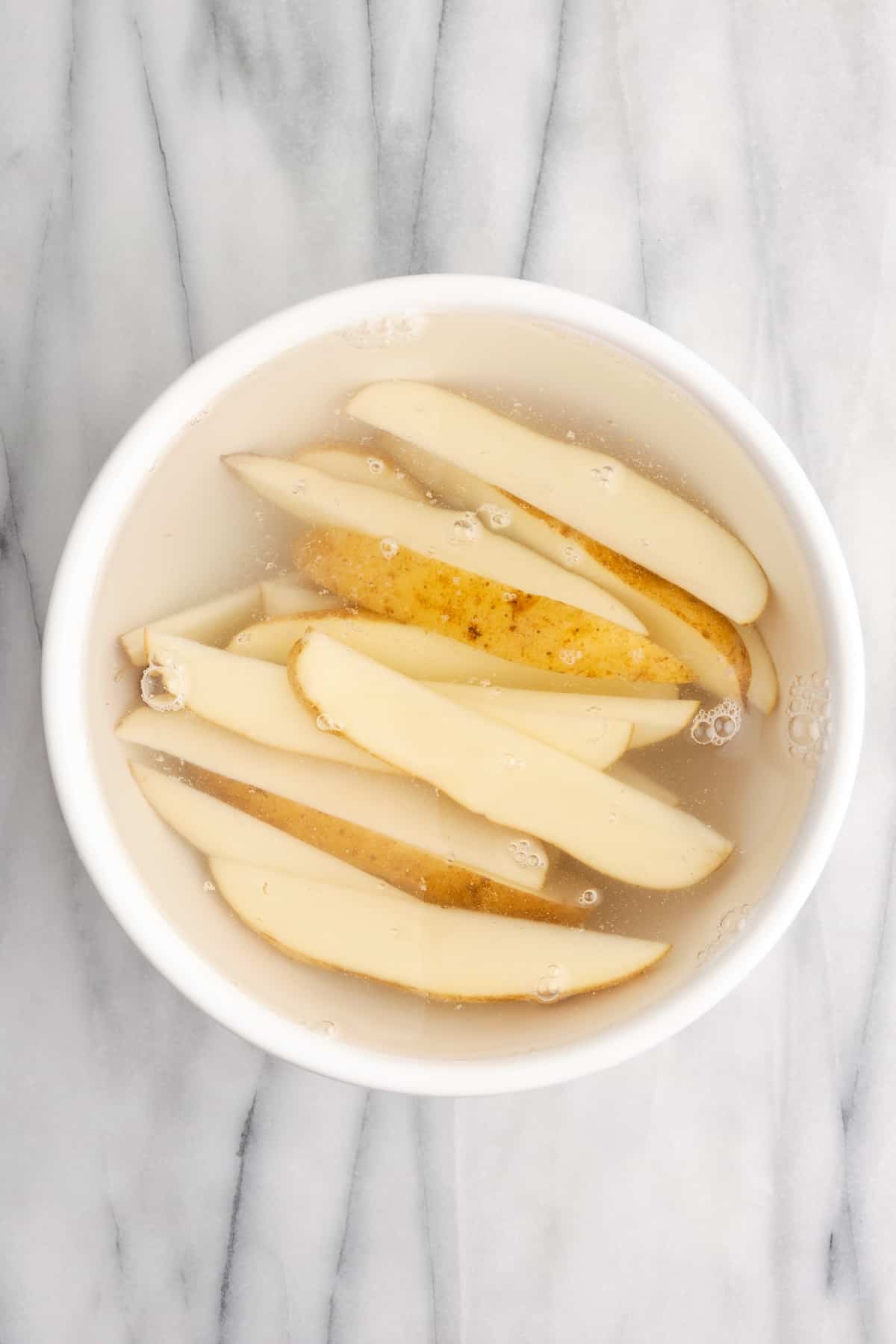 Preheat the air fryer. Set your air fryer to 400F.
Season the potatoes. Coat the wedges with olive oil, salt, pepper, garlic powder, and red pepper flakes.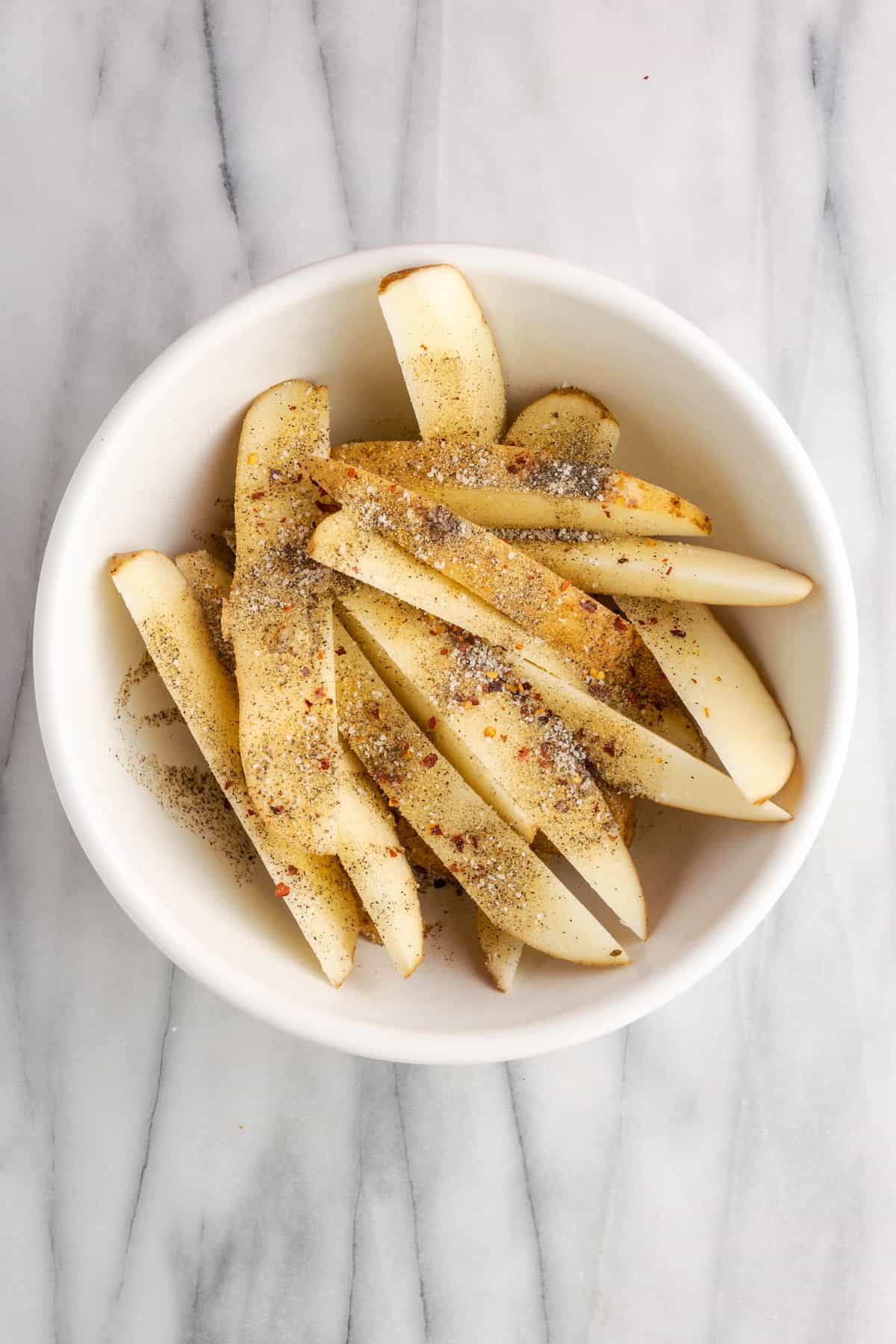 Cook the potatoes. Place the seasoned potato wedges in an air fryer basket and cook them for 15 minutes. Toss them gently halfway through.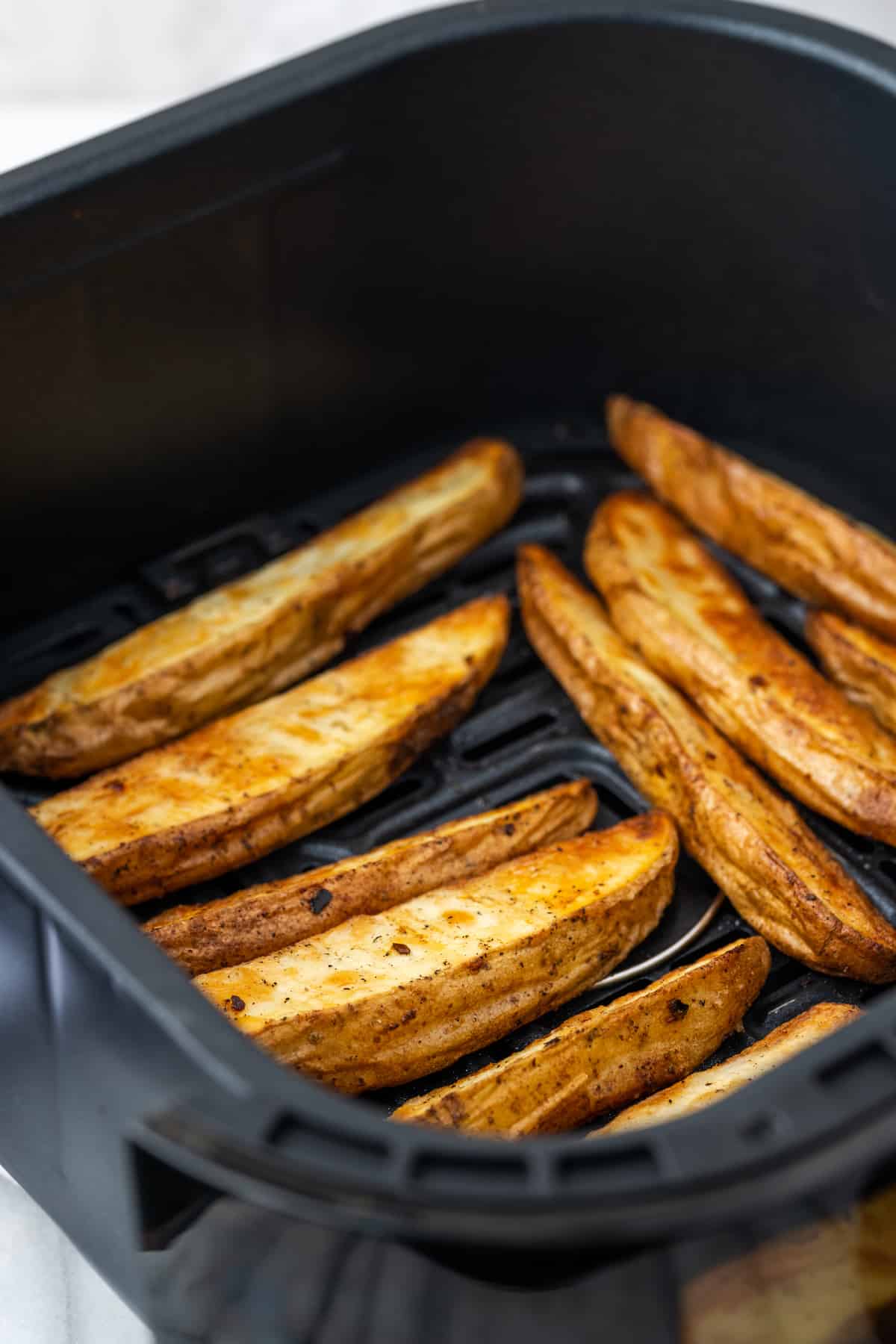 Tips for Success
Here are a few important tips to make sure that these air fryer potato wedges come out perfectly every time you make them.
Use cold water. When soaking the potato wedges, make sure you use very cold water. You can even add ice cubes to keep the water cold. The purpose of the cold water is to draw out extra starch from the potatoes. This helps them crisp up without burning, and makes the fries more rigid. It also keeps them from sticking together.
Cut the potatoes evenly. The more consistent your potato wedges, the better the result. If your wedges are varying in size, then some will likely be overcooked while others will be undercooked. Cut them to the same size to ensure a consistent and perfectly-cooked potato wedge.
Cook in batches. You don't want the wedges to crowd each other in the air fryer basket. If the potatoes are crowding, then they won't be able to crisp up on the edges. Instead, cook the potatoes in multiple batches so that each wedge has enough space to get crispy.
Serving Suggestions
These wedges are the perfect snack, but they're also wonderful as a side. Here are some of my favorite things to serve them with:
And I recommend dipping the wedges in my Roasted Strawberry Barbecue Sauce!
How to Store and Reheat Leftovers
You can keep these potato wedges in an airtight container in the fridge for up to 5 days. I recommend lining the container with a paper towel, which will absorb any excess oil. Reheating the wedges in the air fryer or the oven will give you the best results. However, you can also reheat them in the microwave, they just won't get very crispy.
Can This Recipe Be Frozen?
Absolutely! Freeze leftover potato wedges in an airtight bag, and make sure to squeeze out all the excess air. They'll last in the freezer for 3 months, and you can reheat them in the air fryer, oven, or microwave. The best part about freezing these wedges is you can reheat them directly from the freezer, instead of thawing them first.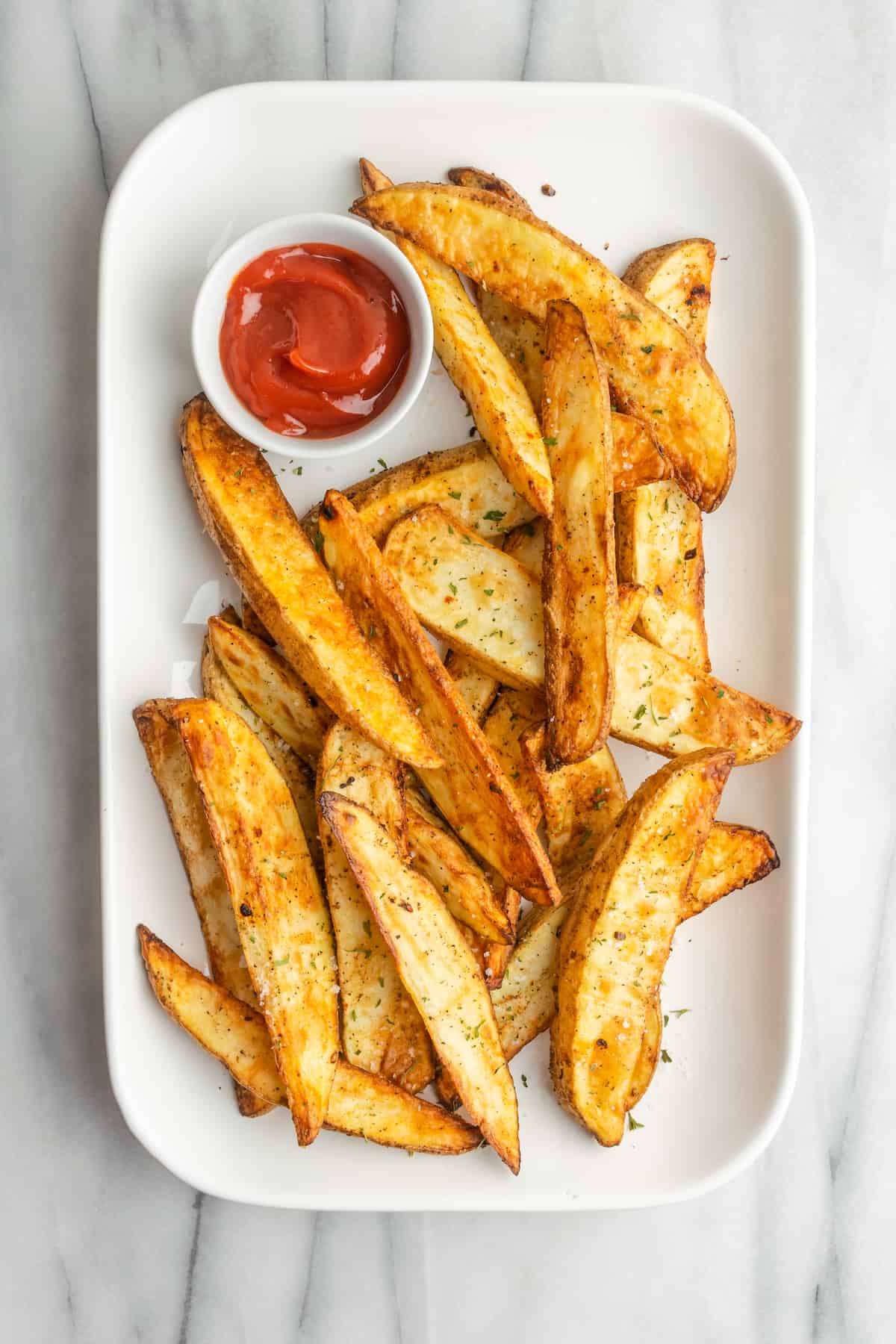 Enjoy friends! If you make this air fryer potato wedge recipe, please snap a photo and tag #jessicainthekitchen on Instagram! We'd also love it if you would leave a comment below, and give the recipe a rating! Thanks so much!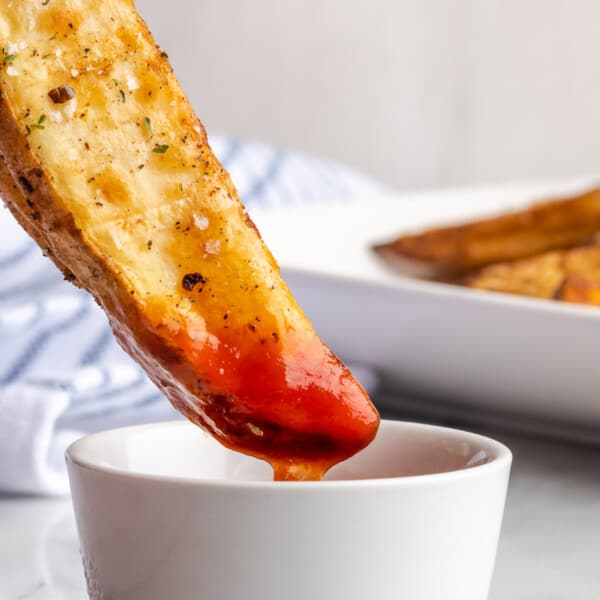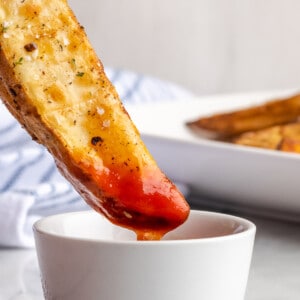 Air Fryer Potato Wedges
These wedges are crispy on the outside, fluffy on the inside, and are quicker to make than in the oven.
Ingredients
2 medium Russet potatoes, cut into 1/2-inch wedges
1 1/2 tablespoons olive oil
1 teaspoon kosher salt
1/2 teaspoon garlic powder
1/2 teaspoon freshly ground black pepper
1/4 teaspoon crushed red pepper flakes, to taste
Instructions
Place potato wedges in a large bowl. Cover with cold water by at least 2 inches. Soak the potatoes for at least half an hour. Drain and pat dry with a clean dish towel.

Preheat the air fryer to 400°F.

Return the potato wedges to the empty, dry bowl. Toss with the oil, salt, garlic powder, black pepper, and crushed red pepper flakes.

Transfer the potatoes to the air fryer basket, working in batches if necessary to avoid crowding the basket. Air fry for 15 minutes, tossing gently halfway through.
Notes
Use cold water when soaking the wedges.
Cut the potatoes into even sizes.
Do not crowd the potatoes.
Calories: 49kcal, Carbohydrates: 0.5g, Protein: 0.1g, Fat: 5g, Saturated Fat: 1g, Polyunsaturated Fat: 1g, Monounsaturated Fat: 4g, Sodium: 584mg, Potassium: 10mg, Fiber: 0.1g, Sugar: 0.02g, Vitamin A: 38IU, Vitamin C: 0.01mg, Calcium: 2mg, Iron: 0.1mg
Disclaimer: Although jessicainthekitchen.com attempts to provide accurate nutritional information, kindly note that these are only estimates. Nutritional information may be affected based on the product type, the brand that was purchased, and in other unforeseeable ways. Jessicainthekitchen.com will not be held liable for any loss or damage resulting for your reliance on nutritional information. If you need to follow a specific caloric regimen, please consult your doctor first.