Peanut Butter Cake
This vegan peanut butter cake is bursting with flavor! Perfect for dessert or as an afternoon snack with a cup of coffee, this cake is moist, fluffy, and utterly irresistible. Plus, it's easy to make!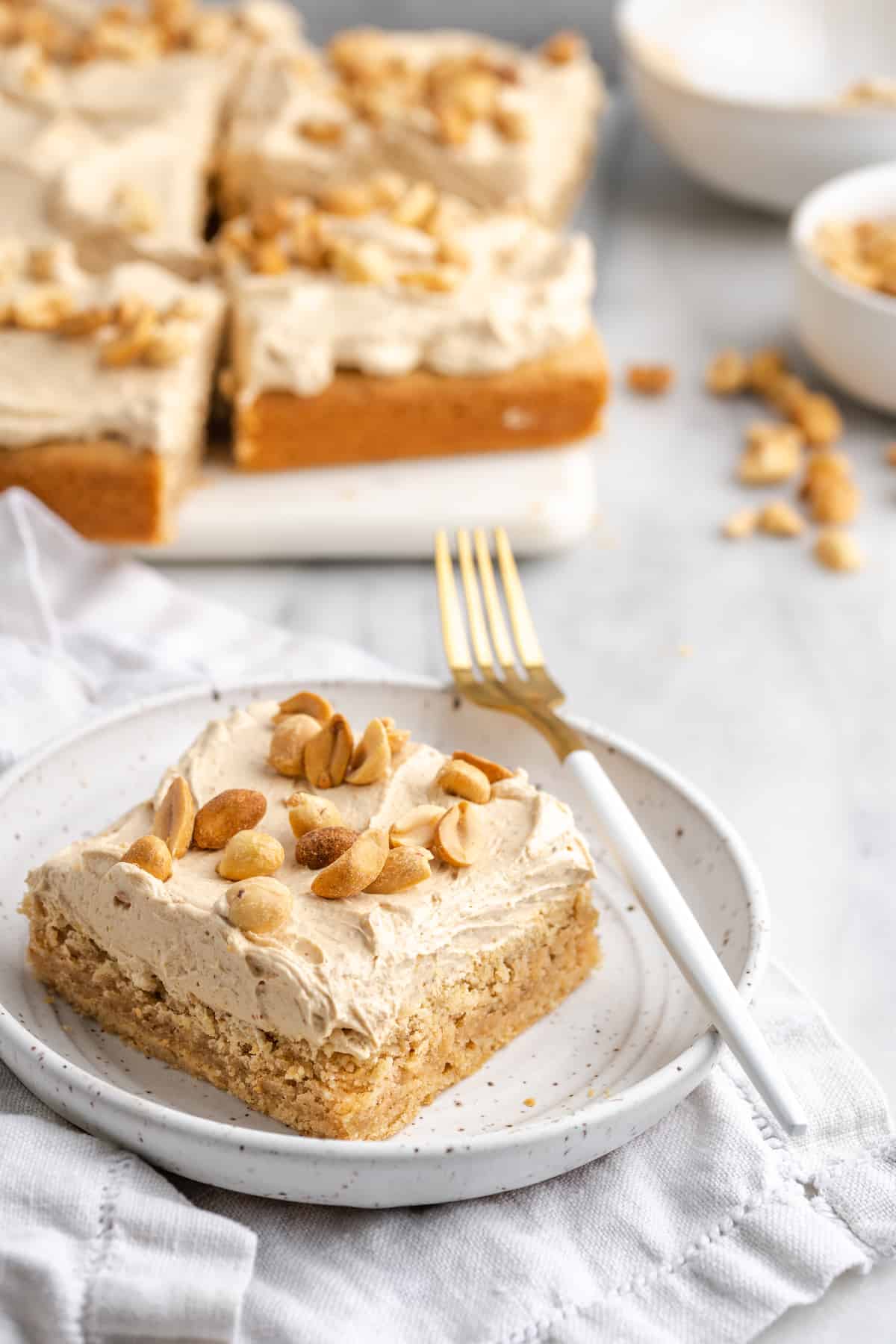 This peanut butter cake is for the people who simply cannot get enough peanut butter. Why? Because not only is the cake itself full of peanut butter flavor, but the frosting is all about the peanut butter as well! If you like to put peanut butter on your peanut butter, well … this recipe has your name on it.
Not only is this cake overflowing with flavor, but it's quick and easy to make. It uses ingredients that you likely already have in your pantry, and it only takes about 10 minutes of prep time to get it in the oven. And once it's in the oven baking, your home will start to smell incredible!
I could eat this moist peanut butter cake at any time of the day. I love it in the morning with my whipped coffee, or in the evening with a big dollop of vanilla ice cream melting on top.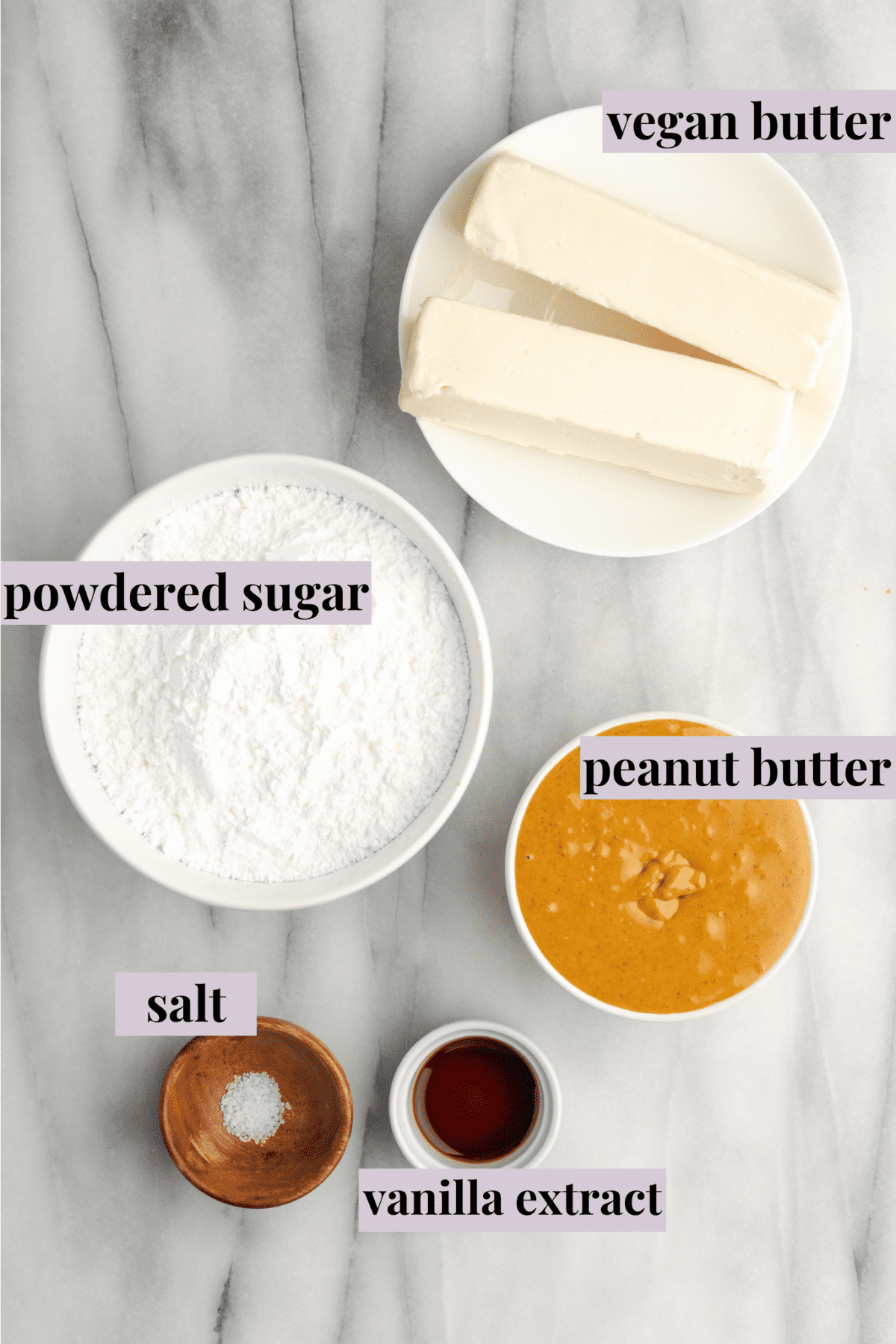 Notes on Ingredients
Make sure you head to the recipe card at the bottom of the page to find the full recipe. It includes the quantities for all the ingredients.
For the cake:
Unsweetened non-dairy milk – I prefer almond milk, but you can use whatever non-dairy milk you like.
Smooth natural peanut butter – If you're allergic to peanuts you can use other nut butters for this recipe. However, it's best with some delicious peanut butter.
For the frosting:
Unsalted vegan butter, softened
Smooth peanut butter – It's important to use smooth peanut butter so that your frosting isn't lumpy.
Confectioners' sugar – Confectioners' sugar is more fine than regular sugar, and will dissolve into the frosting better.
Peanuts for topping – These are optional, but I highly recommend getting a third layer of peanuts on this cake!
How to Make Peanut Butter Cake
As you're about to see, it's very easy to make this cake! Only a few steps are required. Here's how it's done.
Prepare. Preheat your oven to 350F, then grease an 8×13 inch cake pan. Line the pan with parchment paper.
Mix the wet ingredients and the sugar. Whisk together the non-dairy milk, vegan butter, peanut butter, sugar, and vanilla, until the mixture is mostly incorporated.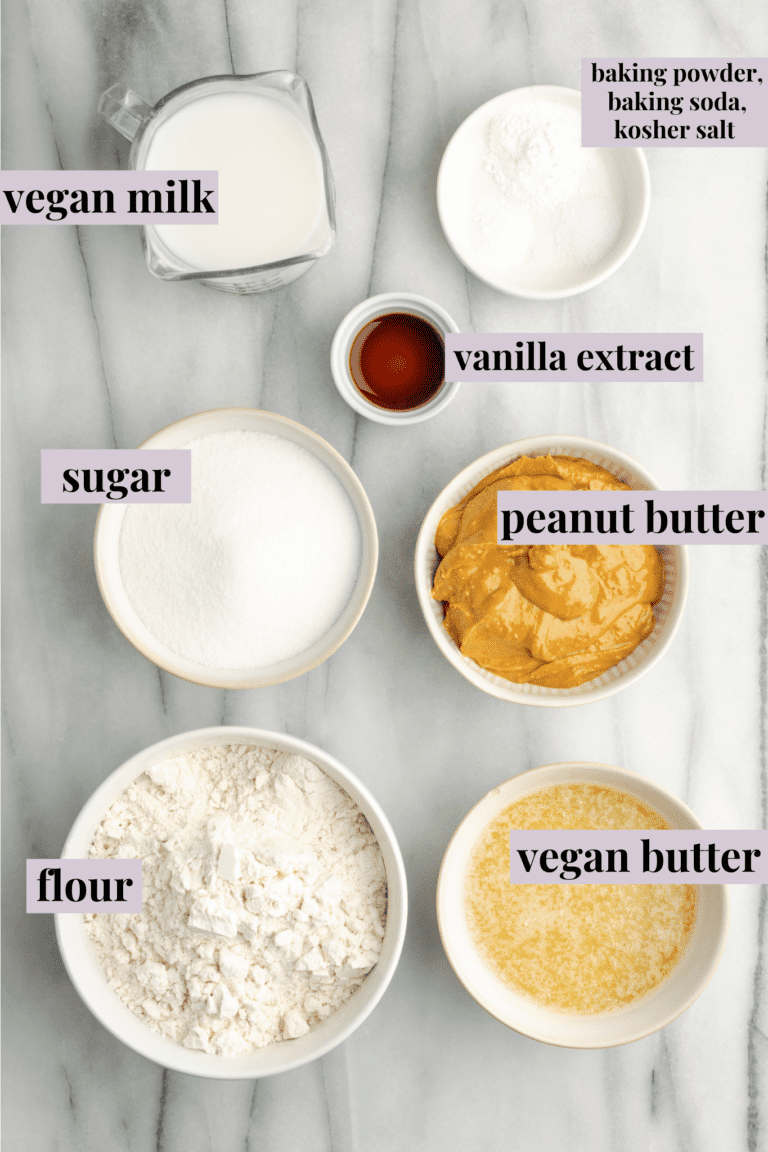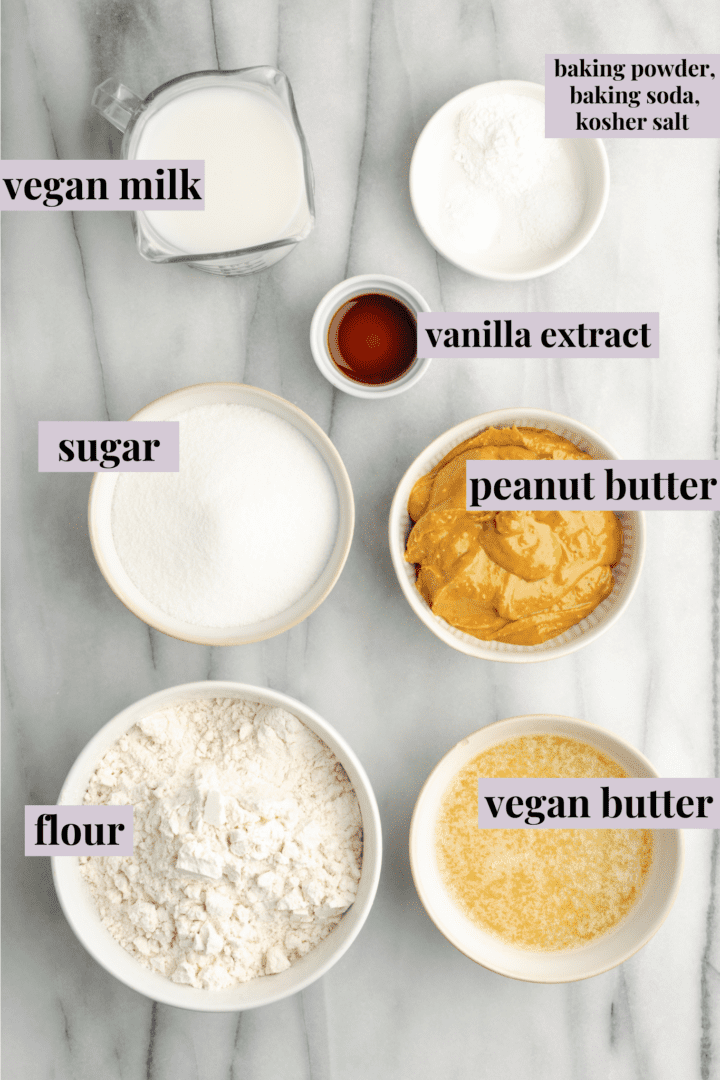 Add the dry ingredients. Add the flour, salt, baking powder, and baking soda to the wet mixture, and stir it until the ingredients are combined.
Pour in the batter. Put the peanut butter cake batter in the prepared cake pan, then rub a spatula over the top to even it out and flatten it.
Bake. Put the cake in the oven and bake it for 30-32 minutes. It's done when a toothpick inserted into the middle of the cake comes out clean.
Cool. You should let the cake cool in the pan for about 10 minutes. Then move it to a wire rack and let it cool for an additional 15 minutes.
Make the frosting. Use a whisk or a beater to mix all of the frosting ingredients together.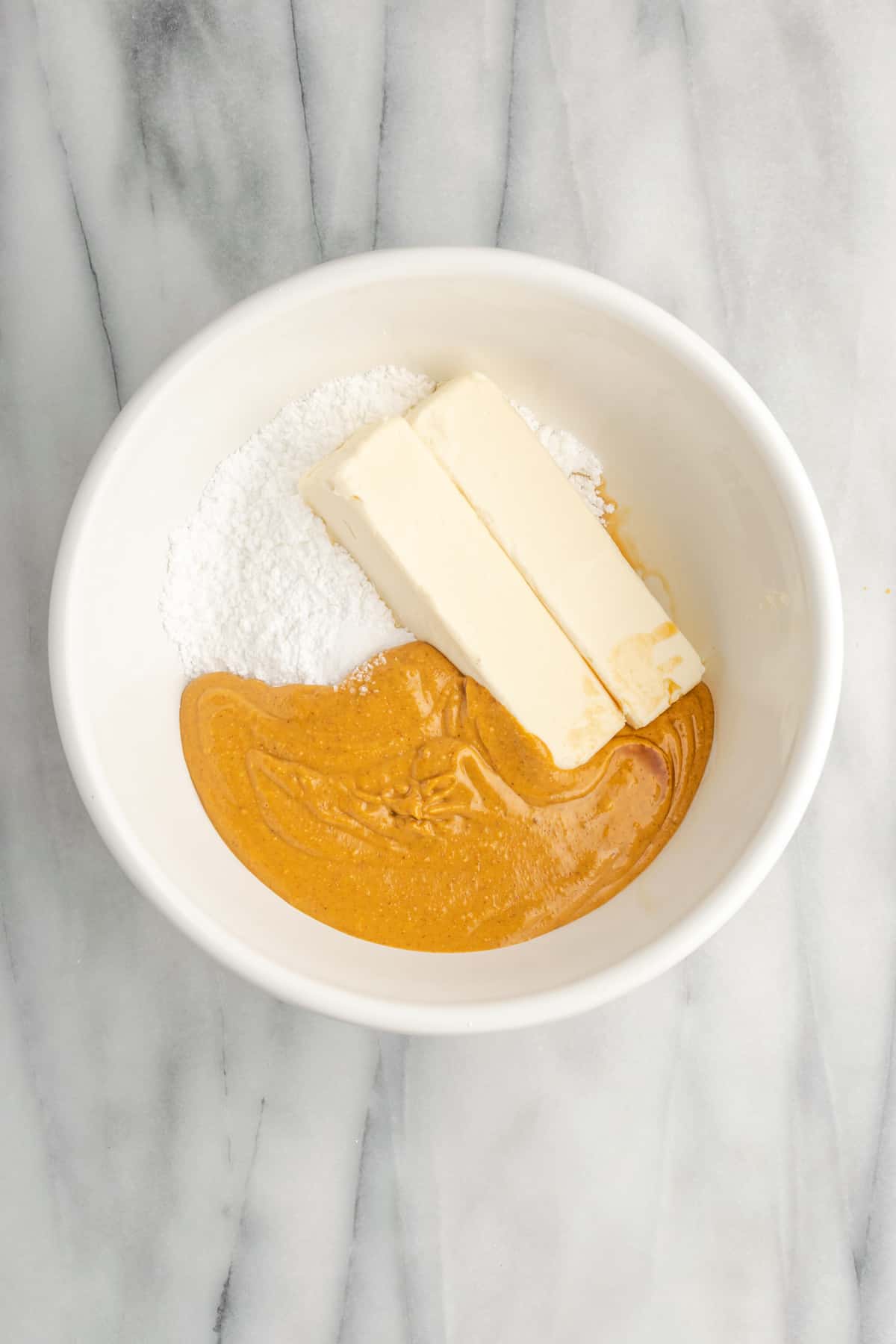 Assemble. Put the frosting on the cake, top with peanuts if you'd like, and serve!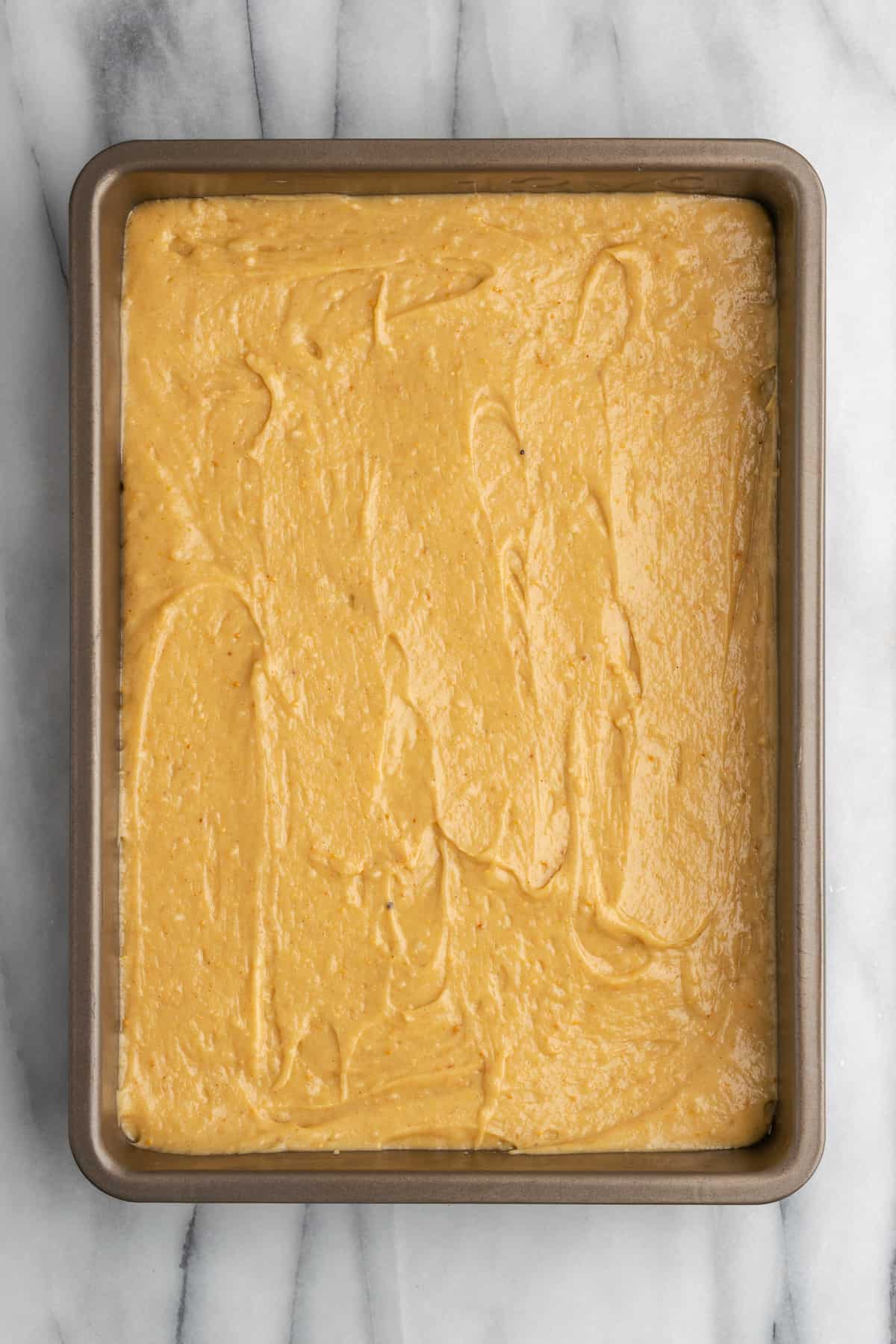 Tips for Success
Use these tips to make sure your peanut butter cake is flawless each and every time.
Don't overmix the cake batter. Be sure to mix the batter enough that all the ingredients blend together, but don't overmix. If you overmix the batter, the cake will come out a little dense and dry.
Let the butter cool. The cake recipe calls for melted vegan butter. After melting the butter, give it time to cool before adding it to the batter. This will keep it from cooking some of the ingredients, and will help the butter mix with the other ingredients more easily.
Pay attention to the browning. If you notice that the cake is browning too quickly in the oven, cover it with aluminum foil so it doesn't burn.
Don't over bake. The residual heat in the cake will keep it cooking even when it comes out of the oven. Trust your toothpick! If it comes out clean, the cake is ready to leave the oven, even if it still looks wet in the center.
Give it time to cool. It can be hard to exercise patience when you smell this cake coming out of the oven. However, you need to give it proper time to cool. Cooling allows the cake to firm up, and also keeps it from melting the frosting.
How to Store Vegan Peanut Butter Cake
I store this cake in the fridge or on the counter, in an airtight container. It will last for a week in the fridge, or 2-3 days at room temperature. And it will be delicious when you eat the leftovers!
Can I Freeze This?
You sure can! Vegan peanut butter cake will last for 1-2 months in the freezer if it's in an airtight container. For best results, wrap the cake in plastic wrap to avoid any freezer burn.
Enjoy friends! If you make this peanut butter cake, please snap a photo and tag #jessicainthekitchen on Instagram! We'd also love it if you would leave a comment below, and give the recipe a rating! Thanks so much!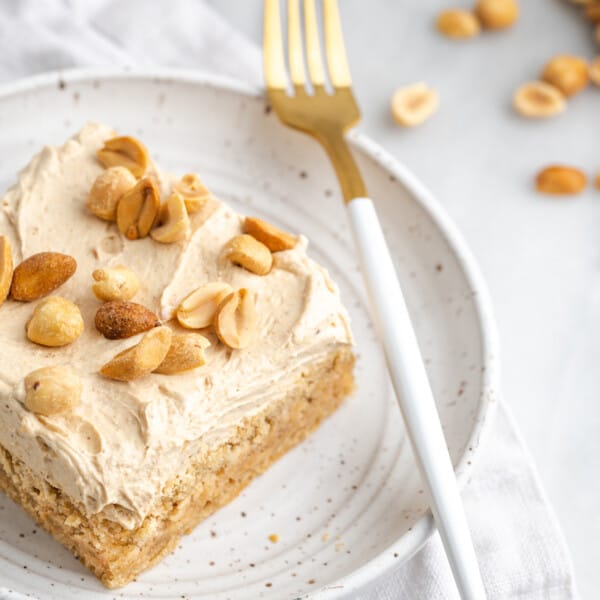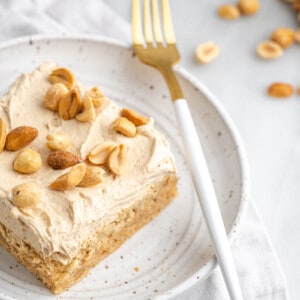 Peanut Butter Cake
This vegan peanut butter cake with peanut butter frosting and peanuts on top is a blast of delicious peanut flavor. It's moist, packed with flavor, and incredibly easy to make!
Ingredients
Cake
1 cup unsweetened non-dairy milk, (I use almond milk)
1 cup sugar
1 1/2 teaspoons pure vanilla extract
3/4 cup smooth natural peanut butter
3/4 cup vegan butter, melted
2 cups all-purpose flour
1/4 teaspoon kosher salt
2 teaspoons baking powder
1/4 teaspoon baking soda
Peanut butter frosting
1 cup unsalted vegan butter, softened
1 cup smooth peanut butter
2 teaspoons vanilla extract
2 cups confectioners' sugar
1/8 teaspoon kosher salt
peanuts for topping, , optional
Instructions
Preheat the oven to 350°F. Grease a 8×13-inch baking dish and line with parchment paper.

In a mixing bowl, whisk together the milk, sugar, vanilla, peanut butter, and butter until mostly smooth.

Add the flour, baking powder, baking soda, and salt and stir until just combined.

Pour the batter into the prepared pan. Spread into an even layer with a spatula.

Bake for 30 to 32 minutes, or until a toothpick in the center comes out clean. If you notice browning too quickly, cover the pan with aluminum foil for the remainder of the baking time.

Cool for 10 minutes in the pan, then remove from the pan and cool on the wire rack for at least 15 minutes.

To make the frosting, beat together all of the ingredients with an electric mixer or whisk until smooth. When the cake is cool, top with the frosting.
Notes
Mix the batter enough to incorporate all the ingredients, but don't overmix it.
Let the vegan butter cool completely before adding it to the batter.
Don't over bake the cake. Take it out when a toothpick is clean when inserted in the middle, even if it looks a little bit wet.
Give it time to cool. This will allow it to finish baking and set. 
Calories: 803kcal, Carbohydrates: 87g, Protein: 11g, Fat: 49g, Saturated Fat: 12g, Polyunsaturated Fat: 13g, Monounsaturated Fat: 21g, Trans Fat: 0.2g, Sodium: 728mg, Potassium: 241mg, Fiber: 2g, Sugar: 58g, Vitamin A: 1889IU, Calcium: 80mg, Iron: 2mg
Disclaimer: Although jessicainthekitchen.com attempts to provide accurate nutritional information, kindly note that these are only estimates. Nutritional information may be affected based on the product type, the brand that was purchased, and in other unforeseeable ways. Jessicainthekitchen.com will not be held liable for any loss or damage resulting for your reliance on nutritional information. If you need to follow a specific caloric regimen, please consult your doctor first.