Biscuits and Gravy
This biscuits and gravy recipe is comforting but still bursting with flavor. It's sure to make your mouth water with it's creaminess, and it's 100% vegan!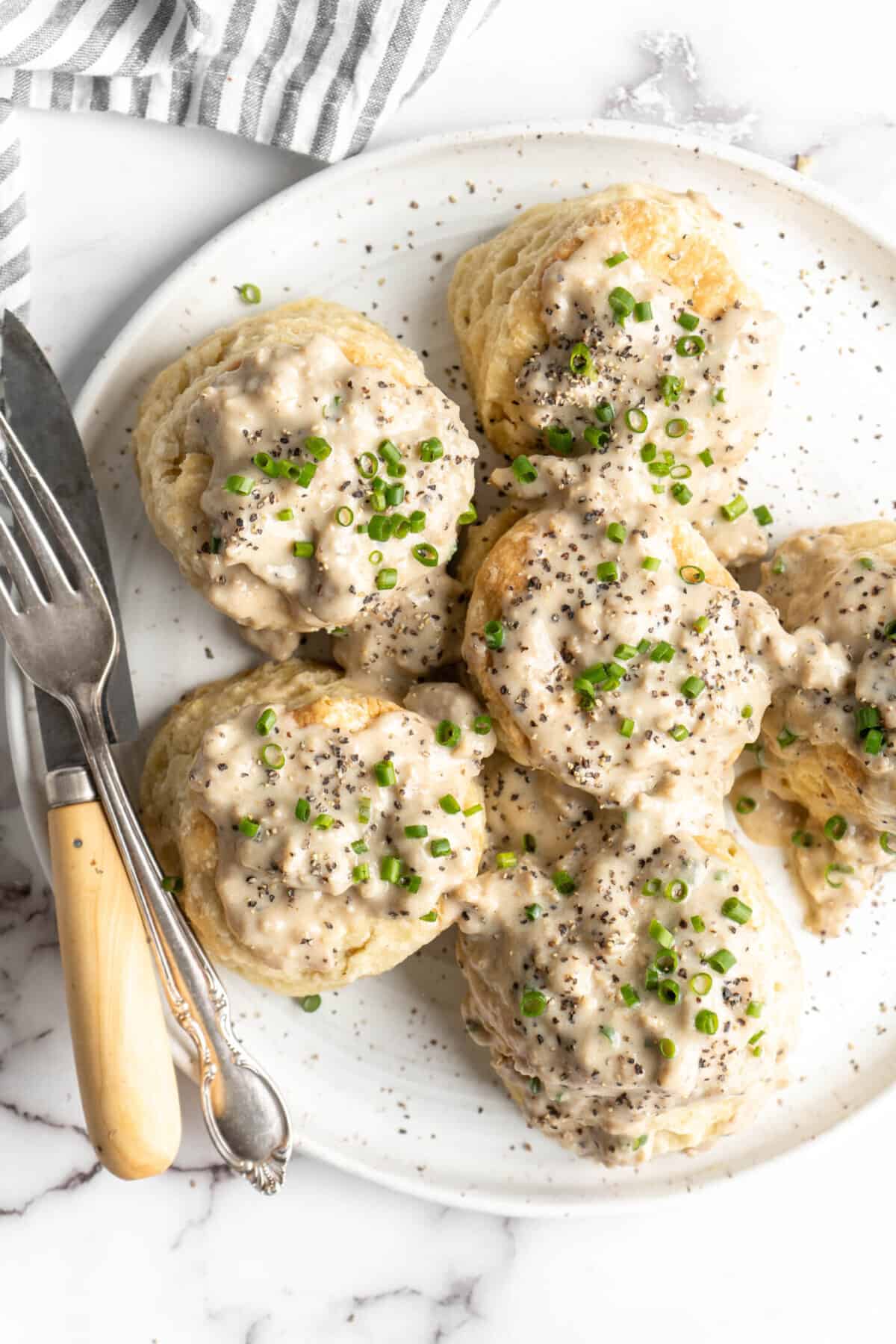 Biscuits and gravy are an all-time great comfort food. They're rich, savory, and tender, with a meaty flavor.
Unfortunately, biscuits and gravy are usually packed full of actual meat. So I came up with this recipe, which is just as delicious as traditional biscuits and gravy, and vegan! But don't worry: nothing is lost in the flavor or the texture by making this recipe vegan. It's still creamy, meaty, juicy, and comforting. 
You can have vegan biscuits and gravy for any meal, but I prefer to have them for breakfast next to some creamy tofu scramble.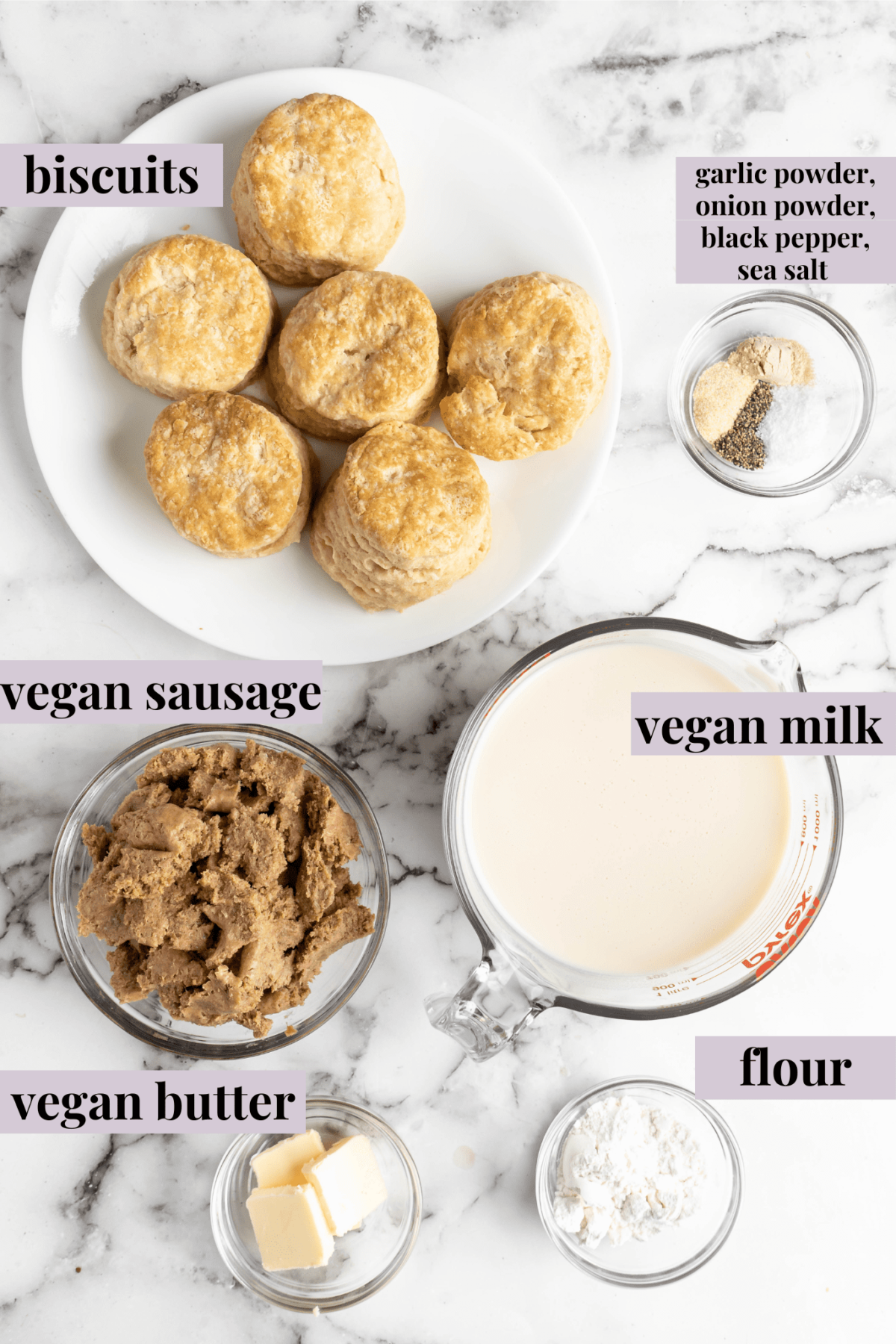 Notes on Ingredients
To see the exact quantities for each ingredient, scroll to the recipe card at the bottom of the page.
Vegan biscuits – Here's my recipe for the biscuits.
Vegan sausage – You can also use vegan ground beef.
Vegan butter
Vegan milk – Make sure the milk is unsweetened.
Flour
Garlic powder
Onion powder
Sea salt
Ground black pepper
How to Make Vegan Biscuits and Gravy
This is a quick and easy recipe to make. Here's how to do it.
Make the biscuits. Before making the gravy, make a batch of my vegan biscuits. These can be made ahead of time and warmed up before serving.
Cook the meat. Heat a pan over medium-high heat, then add the sausage. Sauté the meat until it turns brown, adding butter as necessary.
Add flour. Sprinkle the flour over the meat, and stir to combine.
Add milk. Turn the heat down to medium, and slowly pour in the milk while stirring.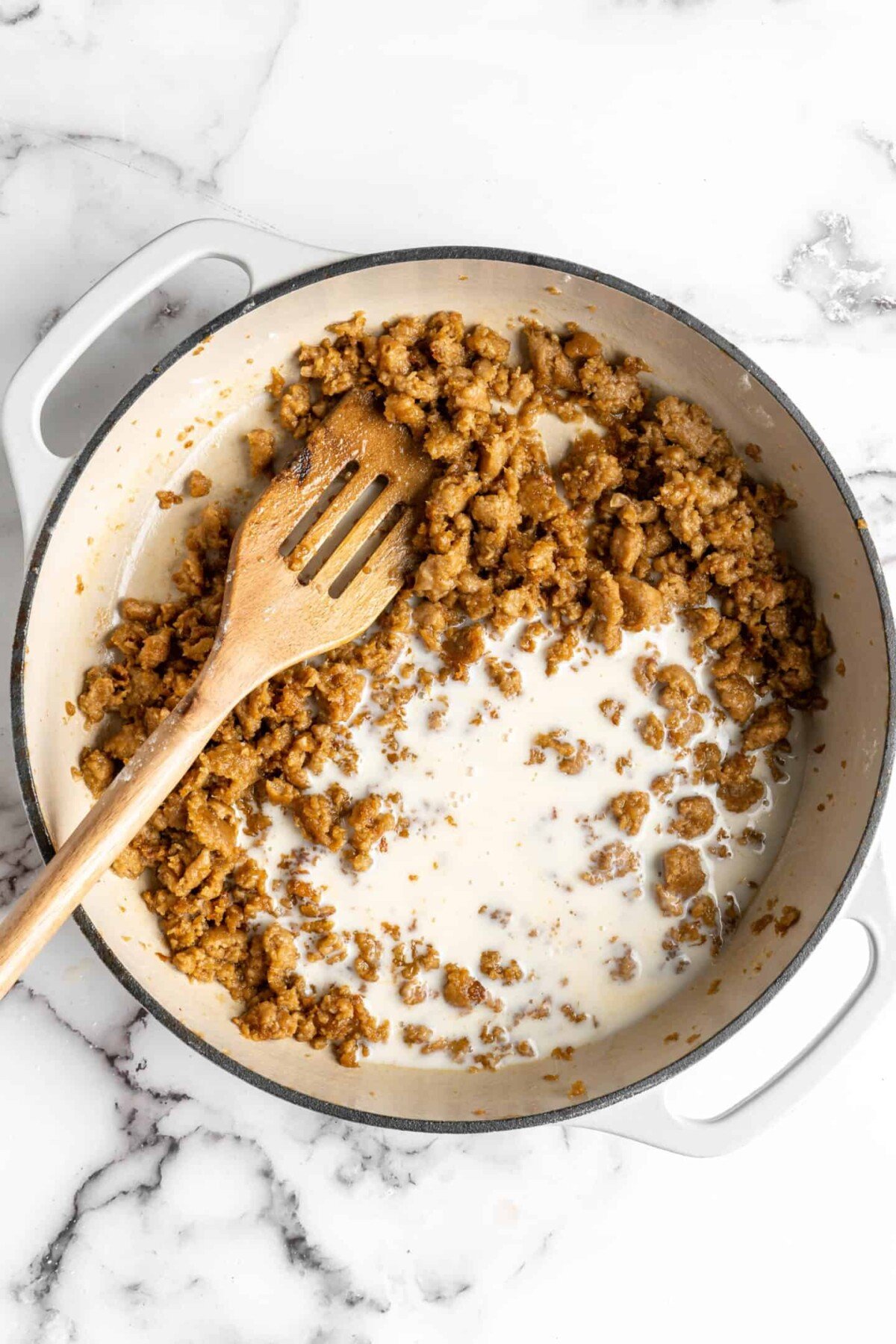 Season. Add the garlic powder, onion powder, salt, and pepper to the pan, and stir until everything is combined.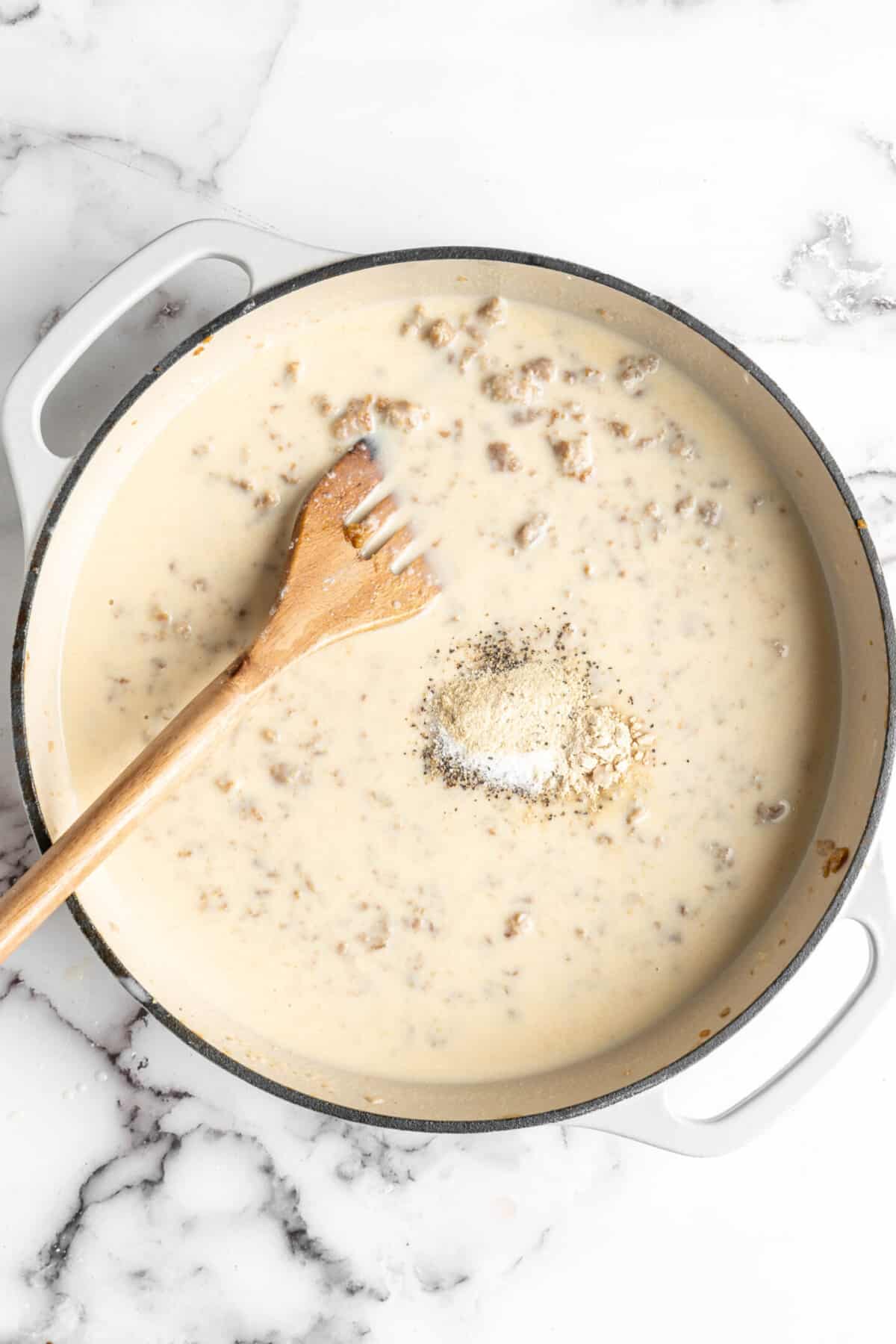 Simmer. Turn the heat down to low, and simmer until the sauce has thickened, while stirring frequently. This should take about 2-3 minutes.
Finish. When the gravy is thickened, remove it from the heat, and serve it on top of the biscuits.
Tips for Success
Here are a few tricks and tips for making the best biscuits and gravy.
Get some color on the meat. You don't want to fully sear the sausage, but try to get a little bit of color on it when sautéing it. This will add another layer of meaty flavor to the gravy.
Add the milk slowly. I can't stress enough how important it is to add the milk slowly. If you add the milk too fast, the gravy might never emulsify. In order to get that creamy thickness to your gravy, add the milk very slowly.
Make it to your liking. Some people like thicker gravies, other people like thinner ones. In the final stage of cooking the gravy, tailor it to your liking. If the gravy is too thin, simmer it for another minute or two. If it's too thick, add a little more milk to thin it out.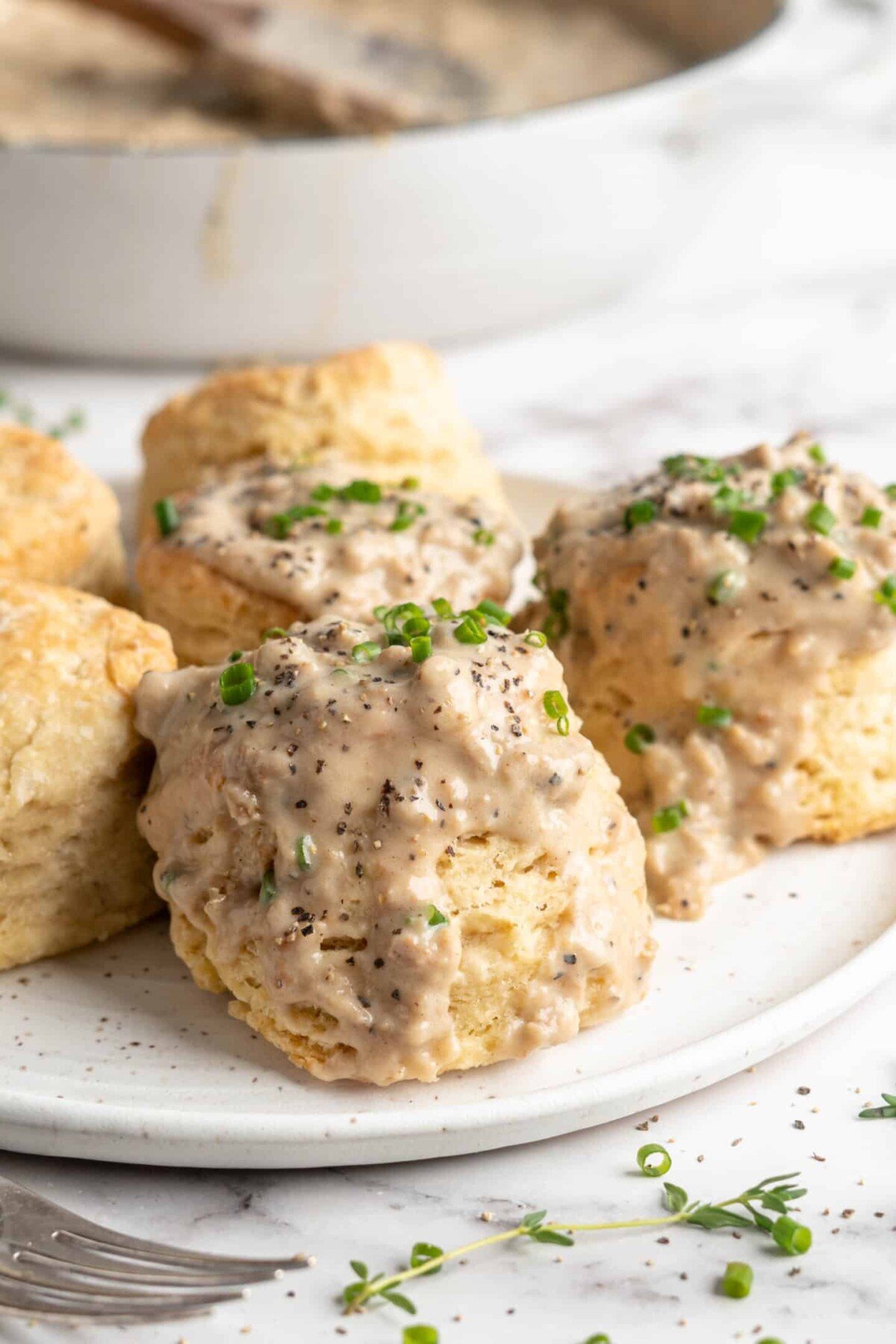 How to Store Leftovers
You can keep the gravy in your fridge in an airtight container for up to 5 days. Reheat in the microwave or on the stovetop. Store the biscuits and gravy separately, not together.
Can I Freeze This Recipe?
Yes! You can freeze the gravy in an airtight container for up to 3 months. Thaw before reheating.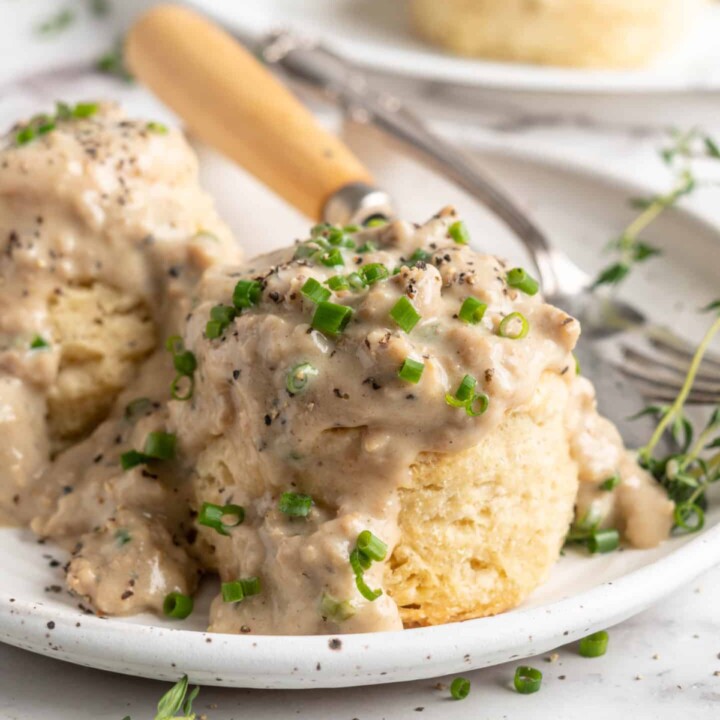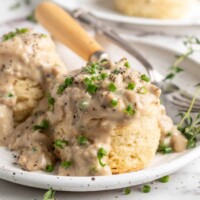 Biscuits and Gravy
This biscuits and gravy recipe is rich, savory, and comforting. Plus, it's vegan!
Ingredients
1 pound vegan sausage , (or even vegan beef like Impossible burger or Beyond burger)
2 tablespoons vegan butter
2 3/4 – 3 cups vegan milk
3 tablespoons flour
1/2 teaspoon garlic powder
1/2 teaspoon onion powder
3/4 teaspoon sea salt
1/2 teaspoon ground black pepper
Instructions
Make a serving of my vegan biscuits. You can make them before the gravy, then pop in the oven as you begin to make the sausage gravy so it's nice and warm once it's done.

In a pan over medium high heat, add the vegan sausage to the pan and sautéed until the colour changes from pink to brown, adding in 2 tablespoons of butter halfway through to help any fond sticking to the pan and to help brown further.

Sprinkle over the flour and stir into the vegan meat, until fully incorporated, for about 1-2 minutes.

Lower heat to medium. Start pouring in the milk slowly while stirring it the vegan meat, about 1⁄2 cup at a time every few seconds, until milk is fully stirred into the sausage flour mix.

Add over the garlic powder, onion powder, sea salt and ground black pepper and stirring vigorously to combine.

Lower heat to simmer. Stirring frequently, and allow to simmer about 2-3 more minutes until sauce has thickened. Feel free to add some more milk by the tablespoon amount and whisk to get to desired consistency.

Remove from heat. Serve with hot sauce and biscuits.
Notes
Store in an airtight container in the fridge for up to 5 days, or in the freezer for up to 3 months. Add milk when reheating. Reheat in the microwave or oven. 
Calories: 76kcal, Carbohydrates: 4g, Protein: 2g, Fat: 6g, Saturated Fat: 1g, Polyunsaturated Fat: 2g, Monounsaturated Fat: 3g, Trans Fat: 0.02g, Sodium: 633mg, Potassium: 12mg, Fiber: 1g, Sugar: 0.3g, Vitamin A: 179IU, Vitamin C: 0.04mg, Calcium: 290mg, Iron: 0.2mg
Disclaimer: Although jessicainthekitchen.com attempts to provide accurate nutritional information, kindly note that these are only estimates. Nutritional information may be affected based on the product type, the brand that was purchased, and in other unforeseeable ways. Jessicainthekitchen.com will not be held liable for any loss or damage resulting for your reliance on nutritional information. If you need to follow a specific caloric regimen, please consult your doctor first.