Vegan Coconut Curry Soup (with Noodles)
This Vegan Coconut Curry Soup is loaded with lots of divine Thai flavours and is so delicious! It takes only about 35 minutes from start to finish!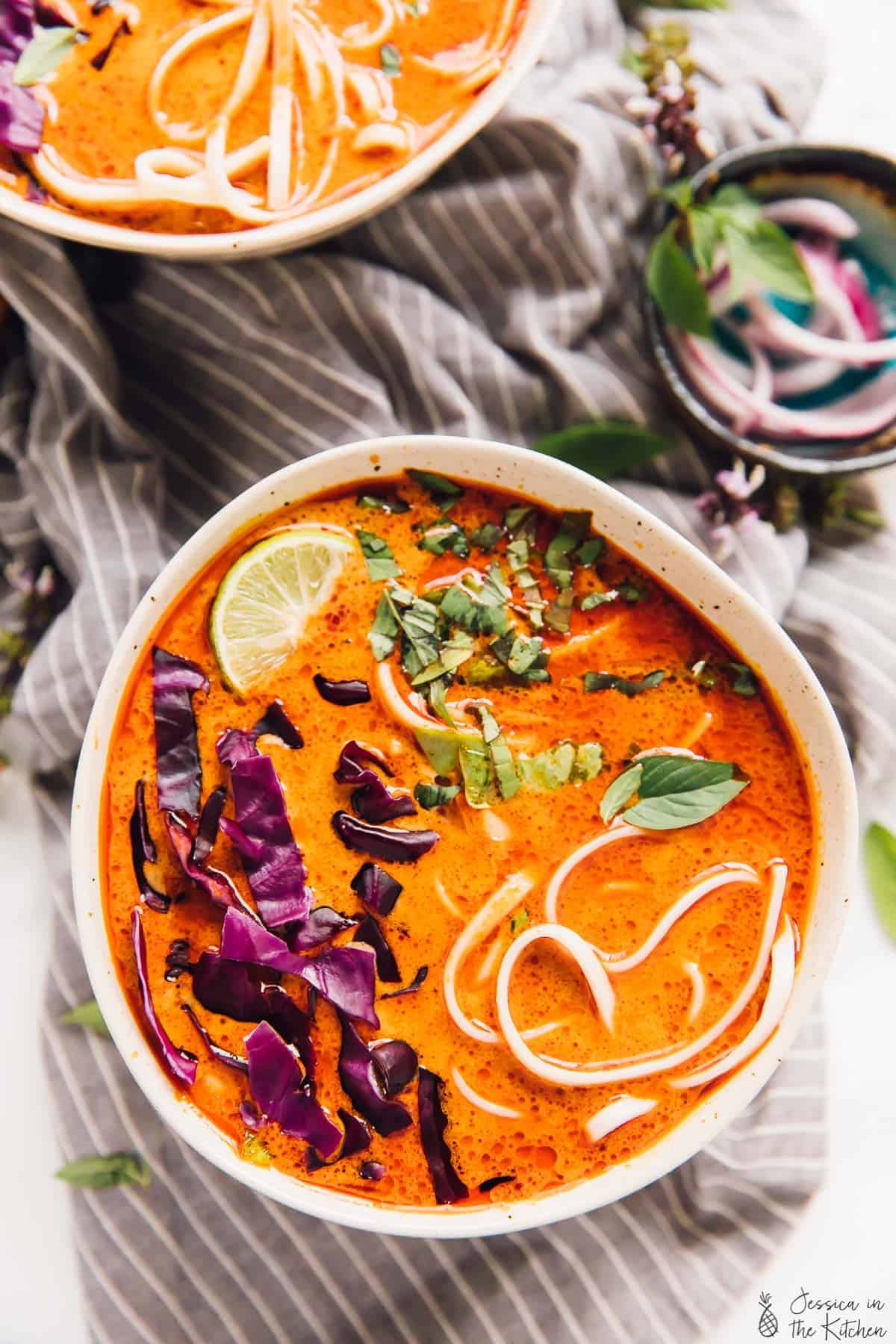 How was your Super Bowl? I spent it catching old with a long time friend, then eating with my parents and the Mr. while watching This is Us and of course, naturally bawling my eyes out. It was such a different feel to the way I usually spend it and I loved it. I love that being on the road didn't mean losing touch with sharing the day with loved ones.
That's one of the reasons I love this Coconut Curry Soup!!! It has that delicious home-y feel while being just as fancy and beautiful as a takeout soup from your favourite restaurant. When I say that this soup HAS the flavours you've been looking for in a Coconut Curry Soup – it's so real!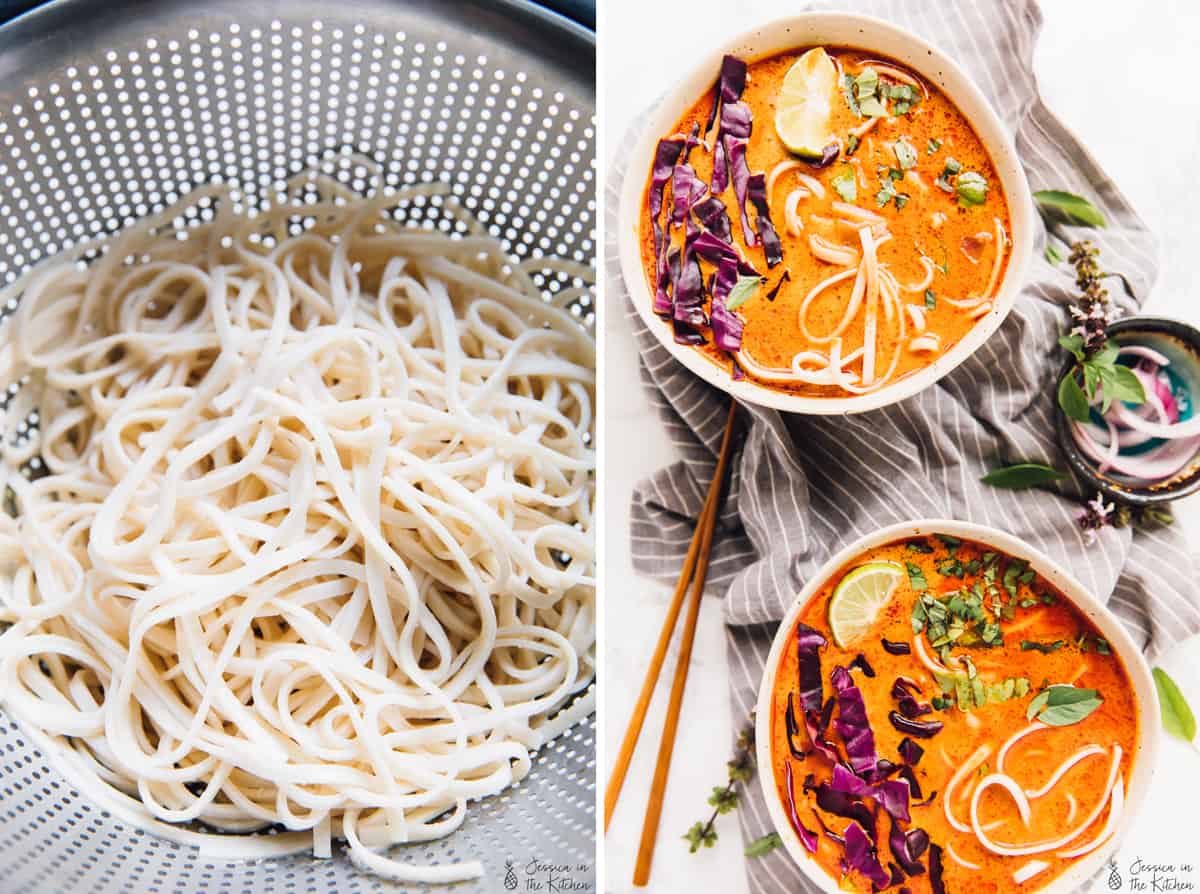 I based this soup loosely on my Thai Green Curry in that it has those signature red Thai flavours, coconut milk, and lots of divine Thai basil. The flavours of this soup also incorporate some sesame flavours alongside those plus the fresh ginger really enhances the flavours. The coconut curry soup itself isn't spicy, so feel free to add some Sriracha on top (make sure it's vegan because some have fish sauce) or what we did which was to add lots of my scotch bonnet pepper sauce into it. The way the carrot flavour of that hot sauce blends into this soup is truly fantastic.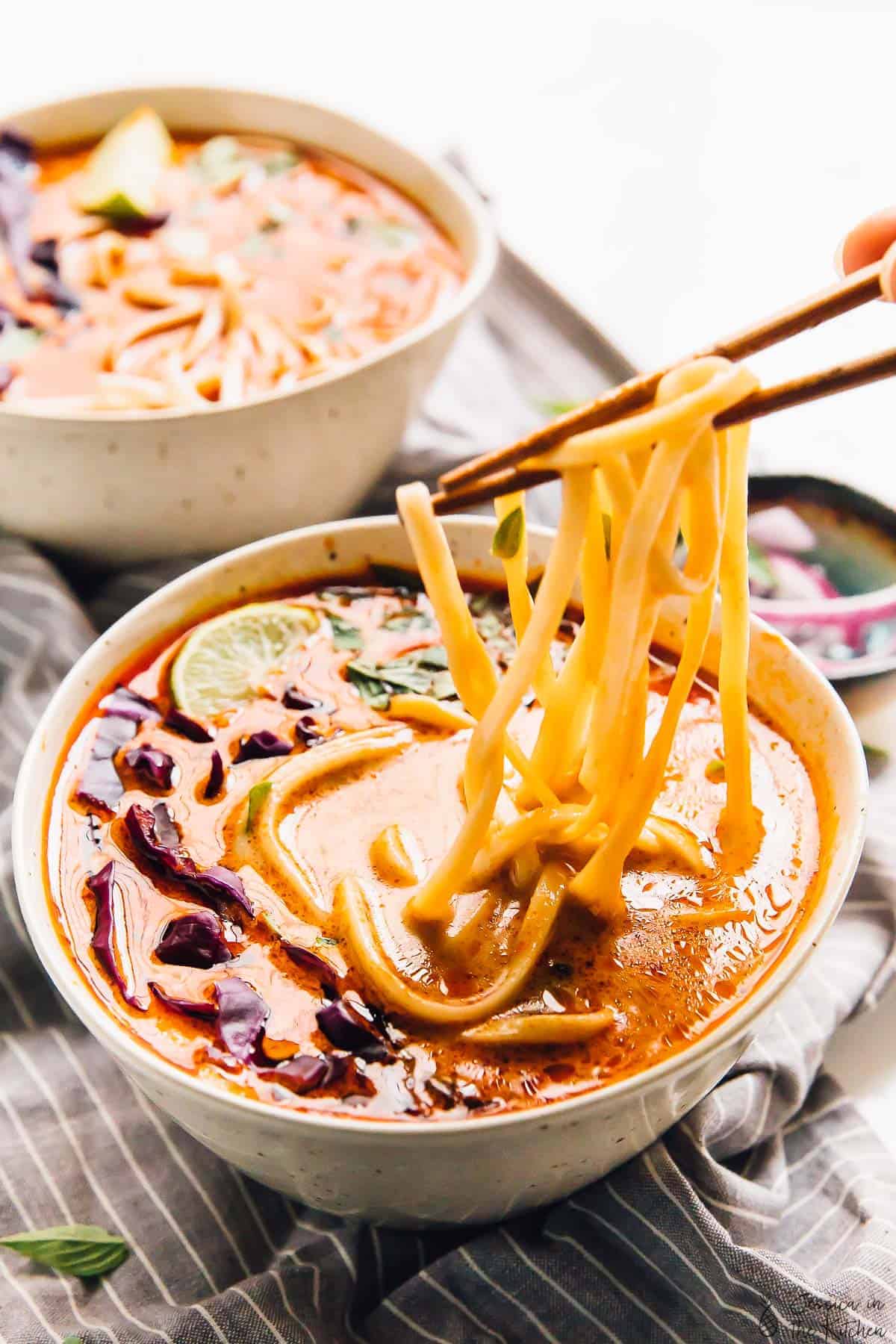 I wanted to go an extra step and add some noodles to the soup. Isn't soup *always* better with noodles?! You could use vermicelli noodles but I had some yummy udon noodles on deck so I used those. This soup also works with soba noodles to keep it gluten free. Quite frankly, so would any of your favourite gluten-free Asian noodles. You guys know I'm not a stickler for *strict* recipes unless I say so, so feel free to even use up what you have!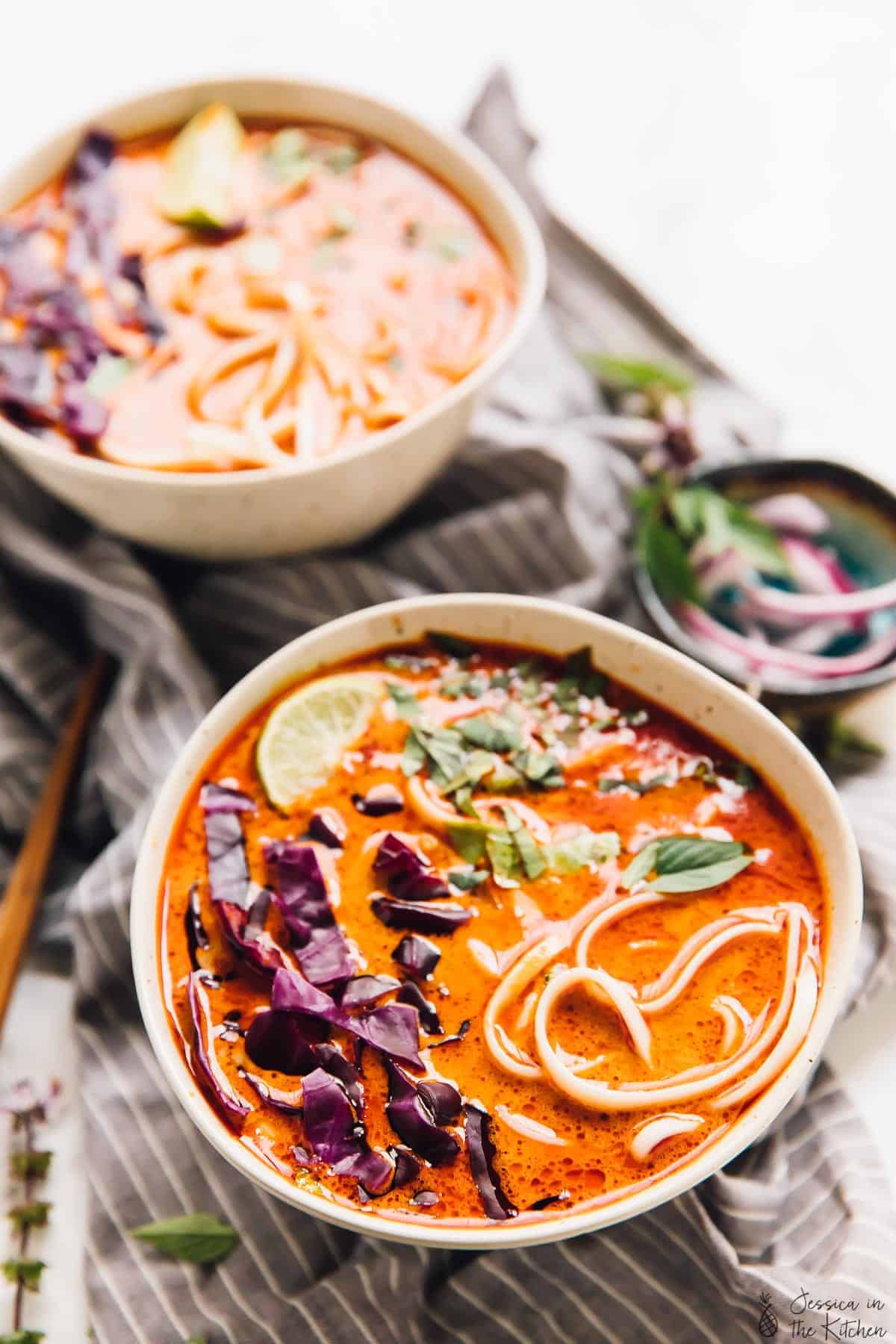 Speaking of which, I used red cabbage not just because it was pretty, but because I had leftovers of it! If you have leftover carrots it would work beautifully here too. The trick is to place those ingredients in the bowl, then pour the really hot soup over them. This does two magical things. It softens them so you can eat them alongside the noodles whilst drinking the soup. It also allows them to soak up the flavours while the soup cools down a bit. Long story short, probably the most flavourful carrots you'll ever have in soup, except for my carrot soup, of course!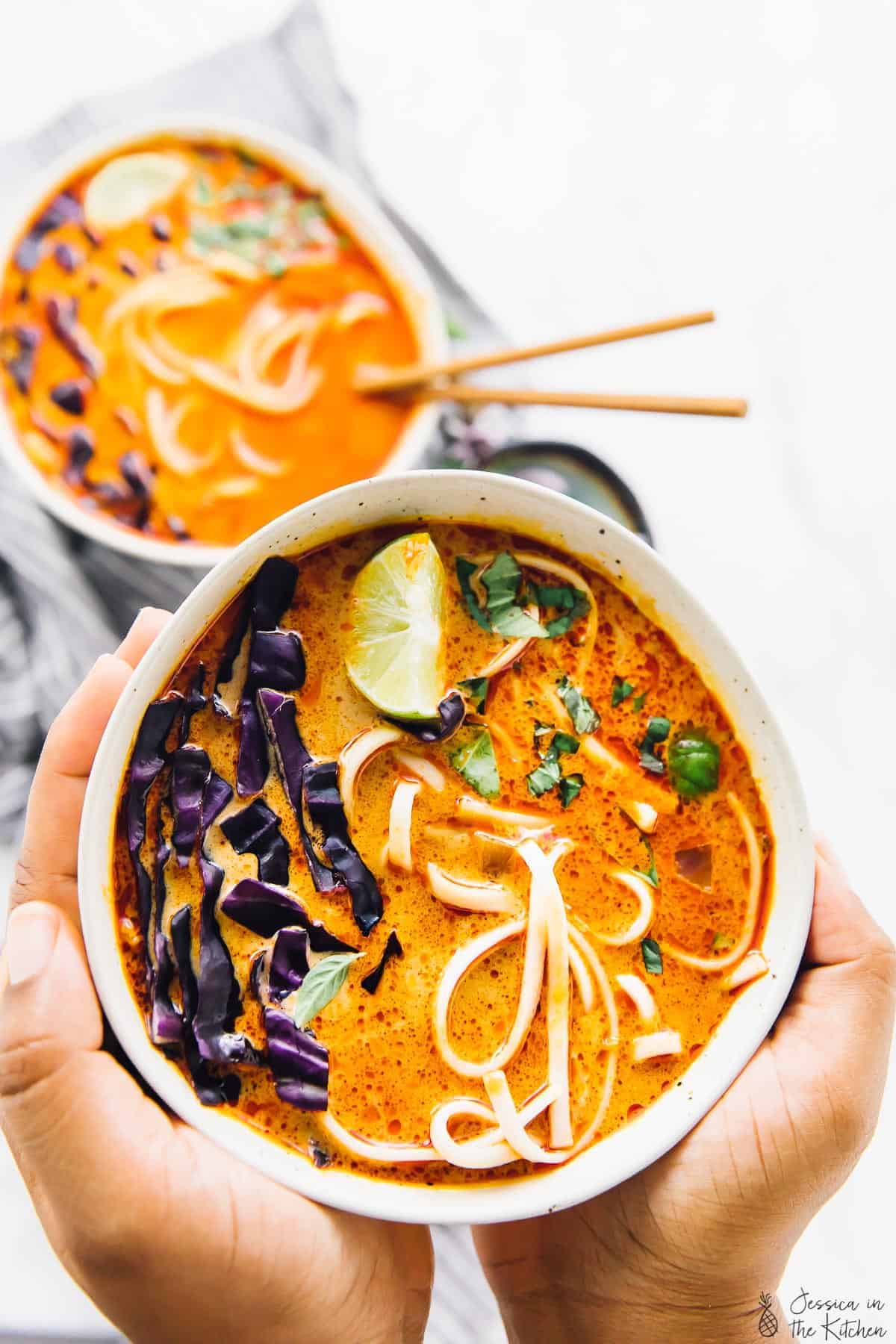 Now, how to store this beauty? Udon noodles stand up pretty strong, so we left ours in the soup and then reheated it with the noodles in there. The noodles had soaked up lots of flavour and tasted even better on day too. Even the cabbage faired well. Alternatively, you can always prep the soup base separately. Then, when you're ready to eat and serve, cook the amount of noodles you'll need and veggies you want to serve it with, place it in the bowl, and pour the hot soup over it. That way you could even have different veggies/noodles per person to leave the soup base "pure".
I hope you enjoy this soup friends! It was really one of my favourites and something I can't wait to make again when we are back home. Happy eating!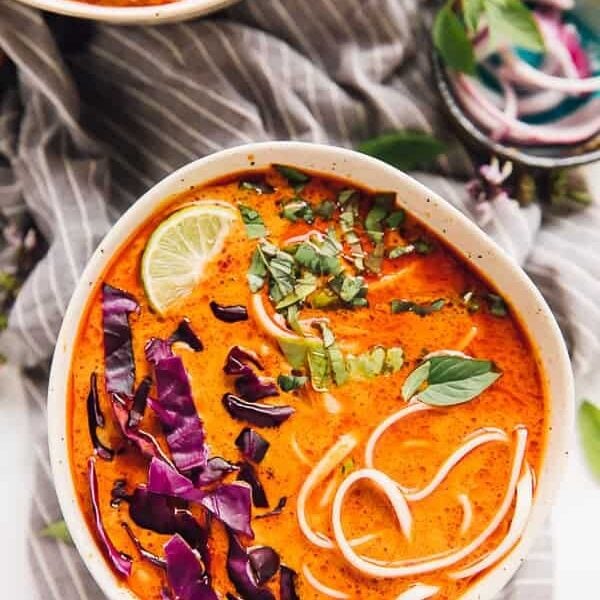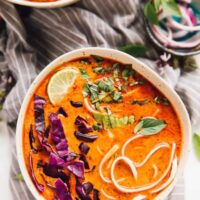 Vegan Coconut Curry Soup (with Noodles)
This Vegan Coconut Curry Soup is loaded with lots of divine Thai flavours and is so delicious! It takes only about 35 minutes from start to finish!
Ingredients
1 tablespoon sesame oil
1 teaspoon freshly grated ginger
2 tablespoons red curry paste - I use this vegan one
½ red onion, (3.5g)
4 cloves garlic, minced
¼ teaspoon sea salt
¼ teaspoon ground black pepper
2 tablespoons coconut sugar, or any sugar
1 tablespoon liquid aminos/gluten free tamari/coconut aminos, or lite soy sauce
1 13.5 ounce can of coconut milk (full fat or lite), (383g)
3 cups vegetable broth
1 lime
½ tablespoon sambal oelek or Sriracha, optional, for heat
handle of Thai basil, finely chopped
handful of spinach, finely chopped
handful purple cabbage, optional, for topping
Instructions
In a pan over medium high heat, heat the sesame oil. Add in the minced ginger and curry paste to fry it, stirring into the oil, for about 1 minute. Add in the chopped onion and the garlic and cook until the onion is slightly translucent, about 5 minutes.

Add the sea salt, black pepper, coconut sugar, and liquid aminos on top and stir everything together. Add in the coconut milk and the veggie broth. Bring the soup to a boil and then lower to a simmer, allowing to simmer for about 10 minutes, stirring the soup. You can let it simmer even more if desired. Squeeze the lime over, stir, and then remove from heat.

While the soup is simmering, prepare your noodles according to package directions.

Add the noodles to the soup bowl. Add in the purple cabbage and any other desired veggies including the spinach. Pour the soup over the noodles and veggies and let sit for about 3 minutes or until cool enough to eat. Add in the thai basil on top, and stir in the sambal oelek (or Sriracha) or

scotch bonnet pepper sauce

if using.

Enjoy!
Notes
Notes You can definitely use coconut oil, I love the flavour the sesame oil gives this. If you don't have Thai basil, you can use a subtle mint, or parsley!
Calories: 136kcal, Carbohydrates: 9.5g, Protein: 3.2g, Fat: 9.4g, Fiber: 0.5g, Sugar: 5.4g
Disclaimer: Although jessicainthekitchen.com attempts to provide accurate nutritional information, kindly note that these are only estimates. Nutritional information may be affected based on the product type, the brand that was purchased, and in other unforeseeable ways. Jessicainthekitchen.com will not be held liable for any loss or damage resulting for your reliance on nutritional information. If you need to follow a specific caloric regimen, please consult your doctor first.