Air Fryer Baked Sweet Potatoes
Air fryer baked sweet potatoes are super sweet, tender, and perfect for topping with all your favourite baked potato fixings. Best of all, they're done in half the time as sweet potatoes baked in the oven!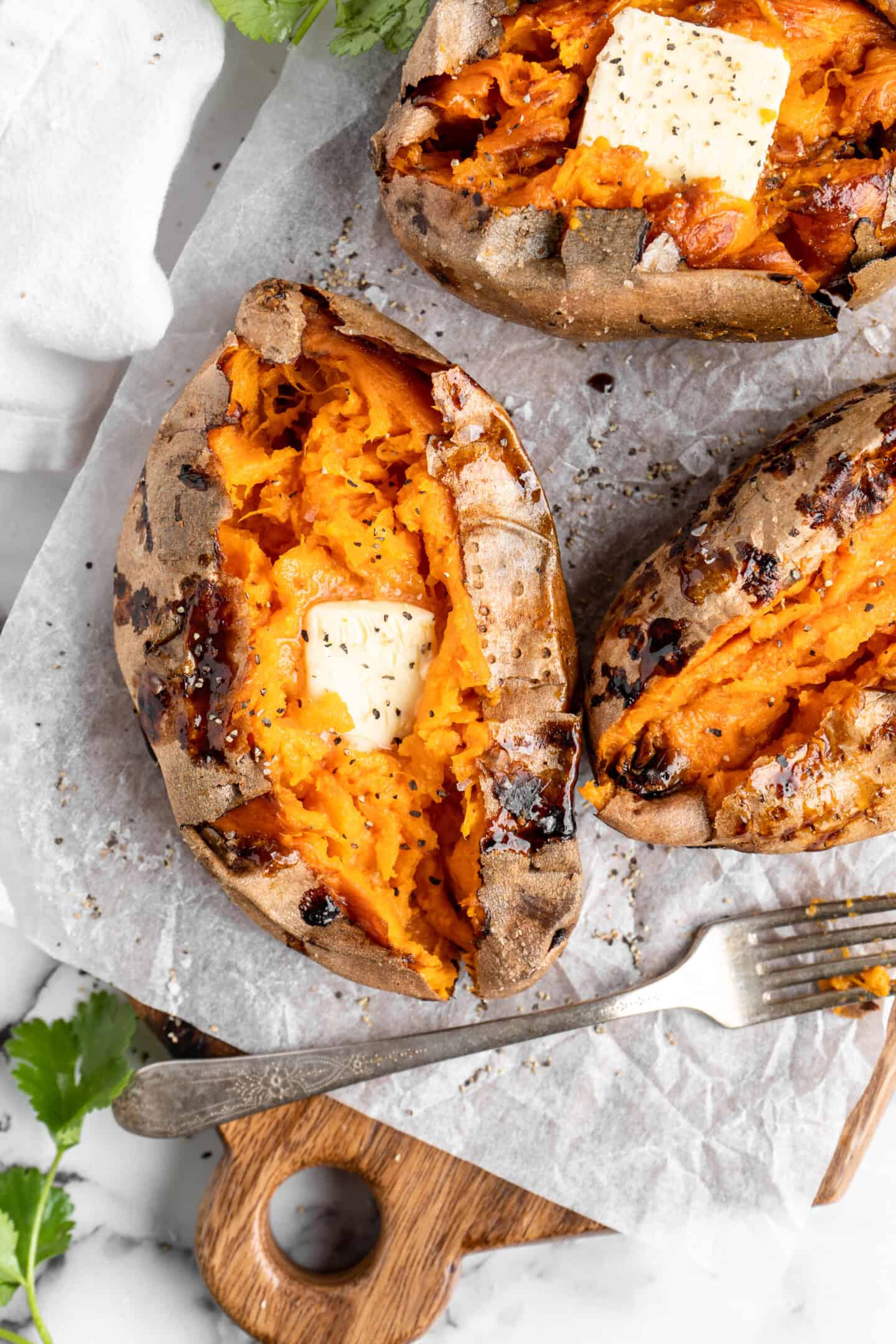 There's something magical about baked sweet potatoes. Somehow, that time in the oven transforms them into a tender, caramelized delight—and you don't even need to add sugar, butter, or anything else to get that deliciousness.
Unfortunately, achieving that perfect texture and flavour takes time. You have to wait and wait and wait some more, and sometimes you run out of patience, take the potato out of the oven, and it's hard and bland. Well, air fryer baked sweet potatoes are the solution to this age-old problem!
Because air fryers cook with convection—and because of their size and design compared to regular convection ovens—you can bake sweet potatoes in them in half the time. They're every bit as sweet, soft, and pillowy as traditional baked sweet potatoes, but without all the waiting.
(Love cooking with your air fryer? Me too! Be sure to check out my Air Fryer Roasted Garlic, Air Fryer Orange Tofu, and Crispy Air Fryer Tofu!)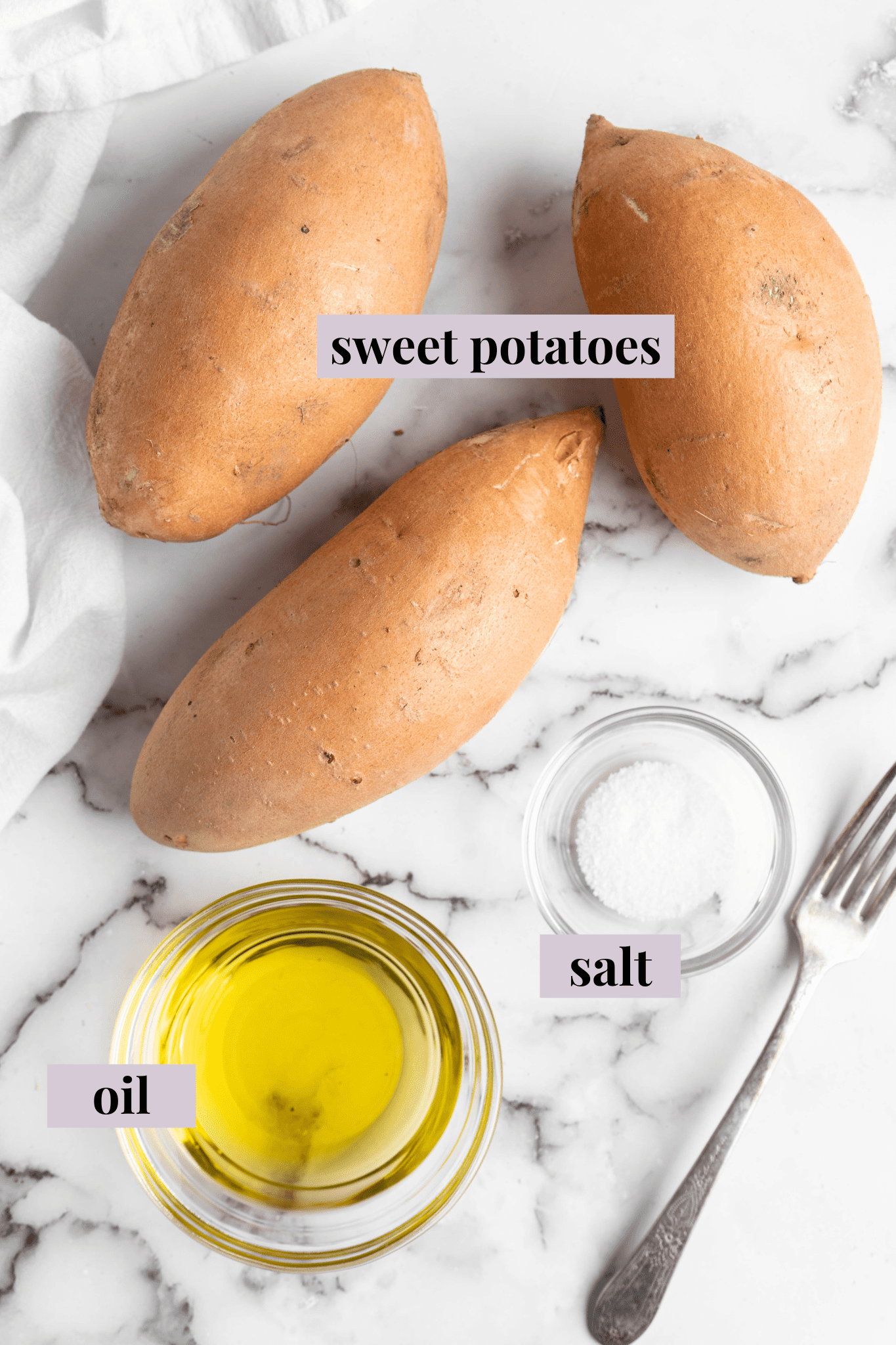 Notes on Ingredients
Please note that this is important information on the ingredients and instructions and the FULL recipe with amounts and details can be found DOWN BELOW (scroll to it) in the recipe card.
Sweet potatoes – I prefer garnet sweet potatoes.
Oil – Whatever you have on hand!
Sea salt – I like using the flaky kind for a little bit of crunch.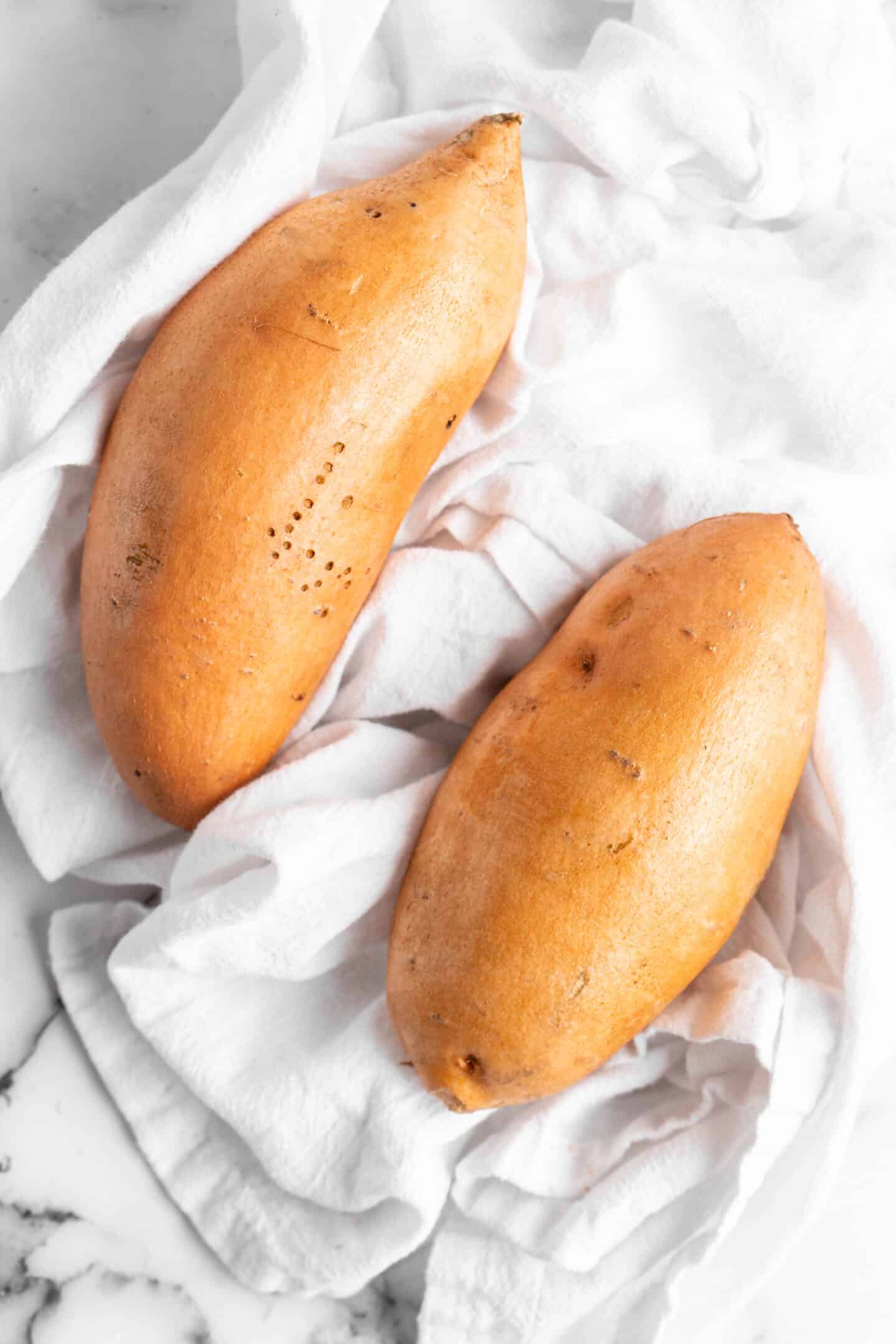 What Kind of Sweet Potato Is Best?
There are two categories of sweet potatoes: moist and dry. Moist sweet potatoes are red or orange on the outside, while dry sweet potatoes are tan or purple (like Japanese sweet potatoes). When it comes to baking, you want a moist sweet potato.
Moist sweet potatoes contain an enzyme that breaks their starches into sugars, which is how you get that supremely sweet, caramelized flavour. In contrast, dry sweet potatoes have a starchier texture and aren't as sweet when cooked.
How to Make Air Fryer Baked Sweet Potatoes
Here's what you'll need to do to make baked sweet potatoes in an air fryer: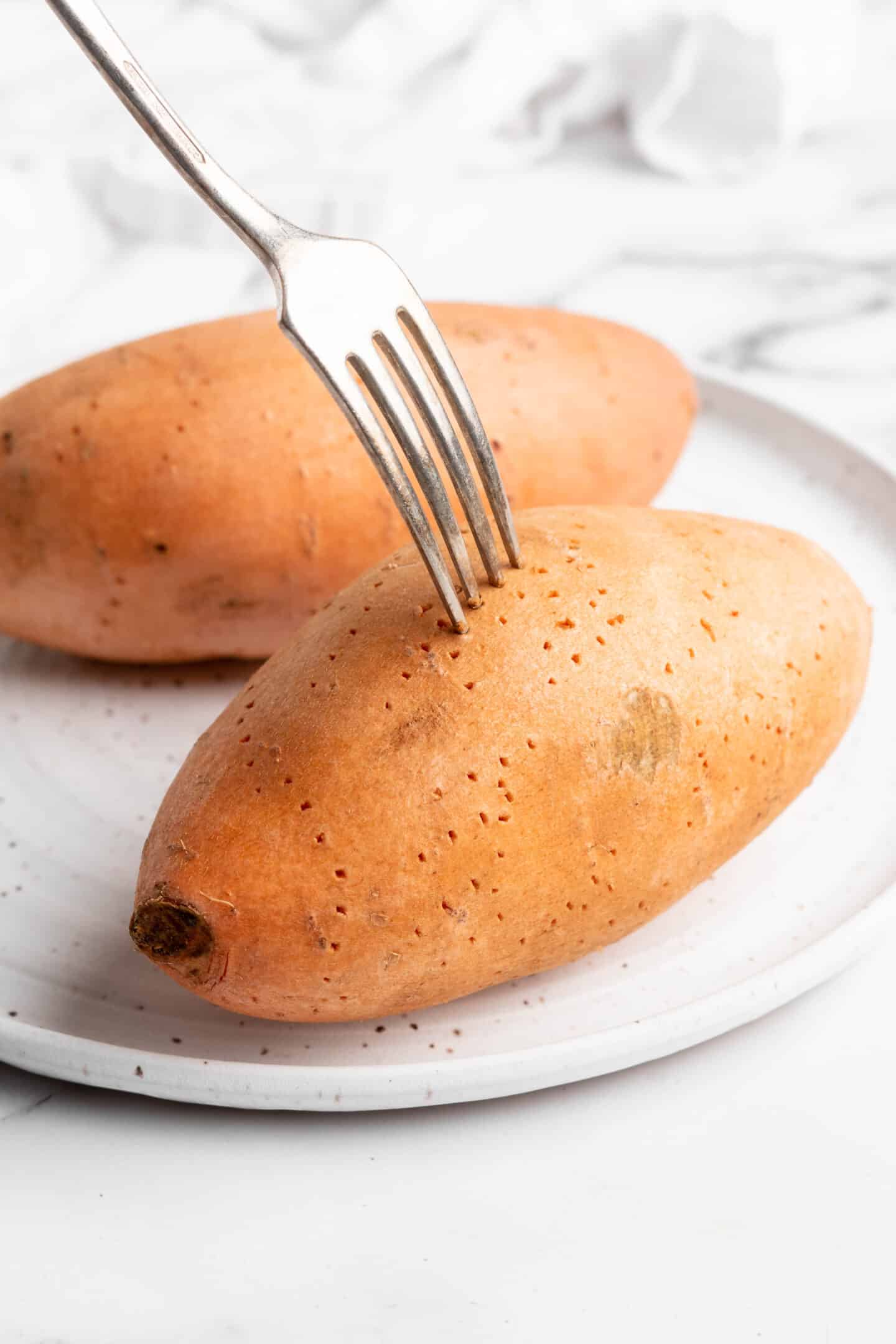 Prepare. Wash and scrub the sweet potatoes well, until the water running off of them is clear. Pat them dry and prick them all over with a fork; this lets the steam escape.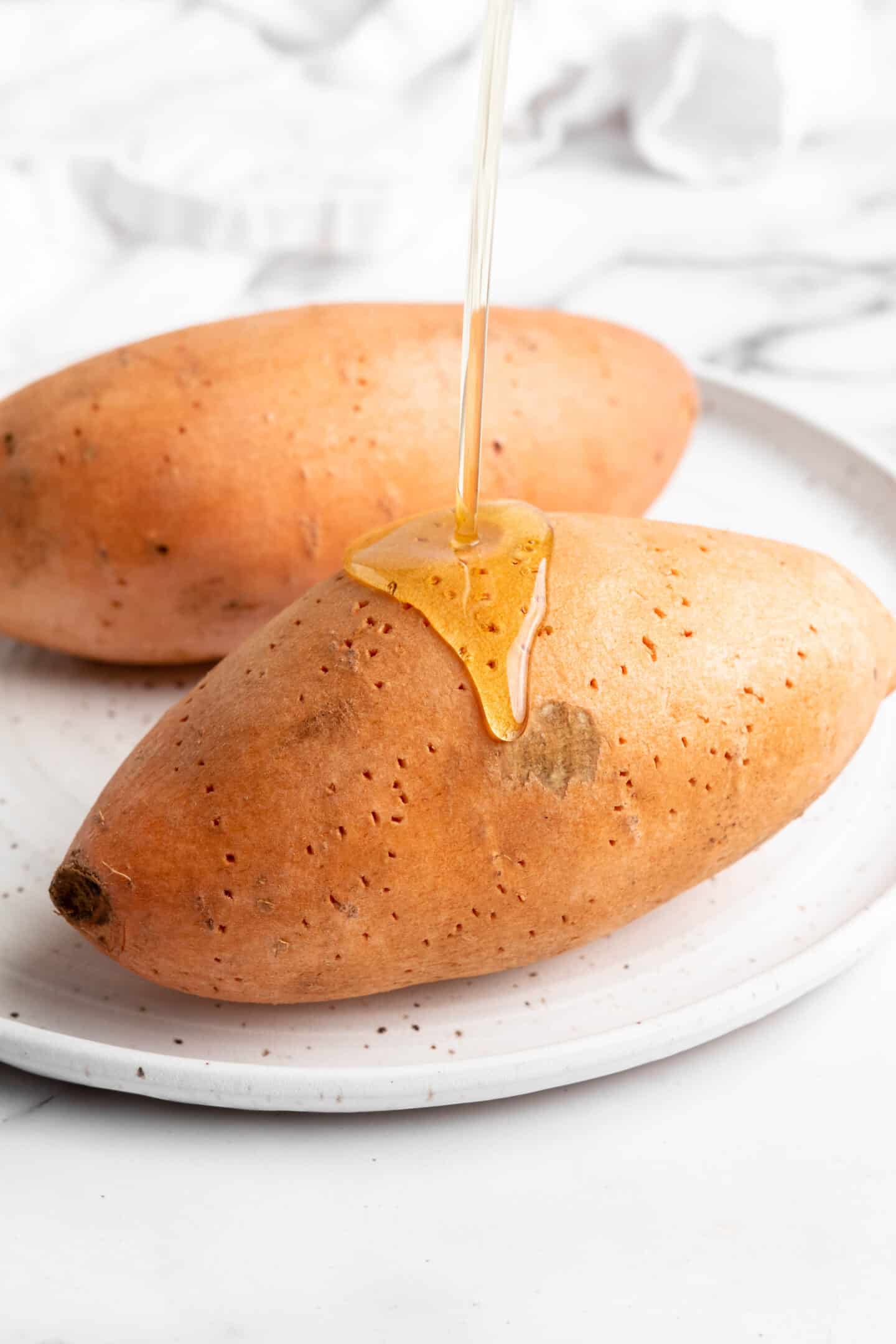 Season. Use your hands or a brush to coat the outsides of the potatoes with oil, then sprinkle them with salt.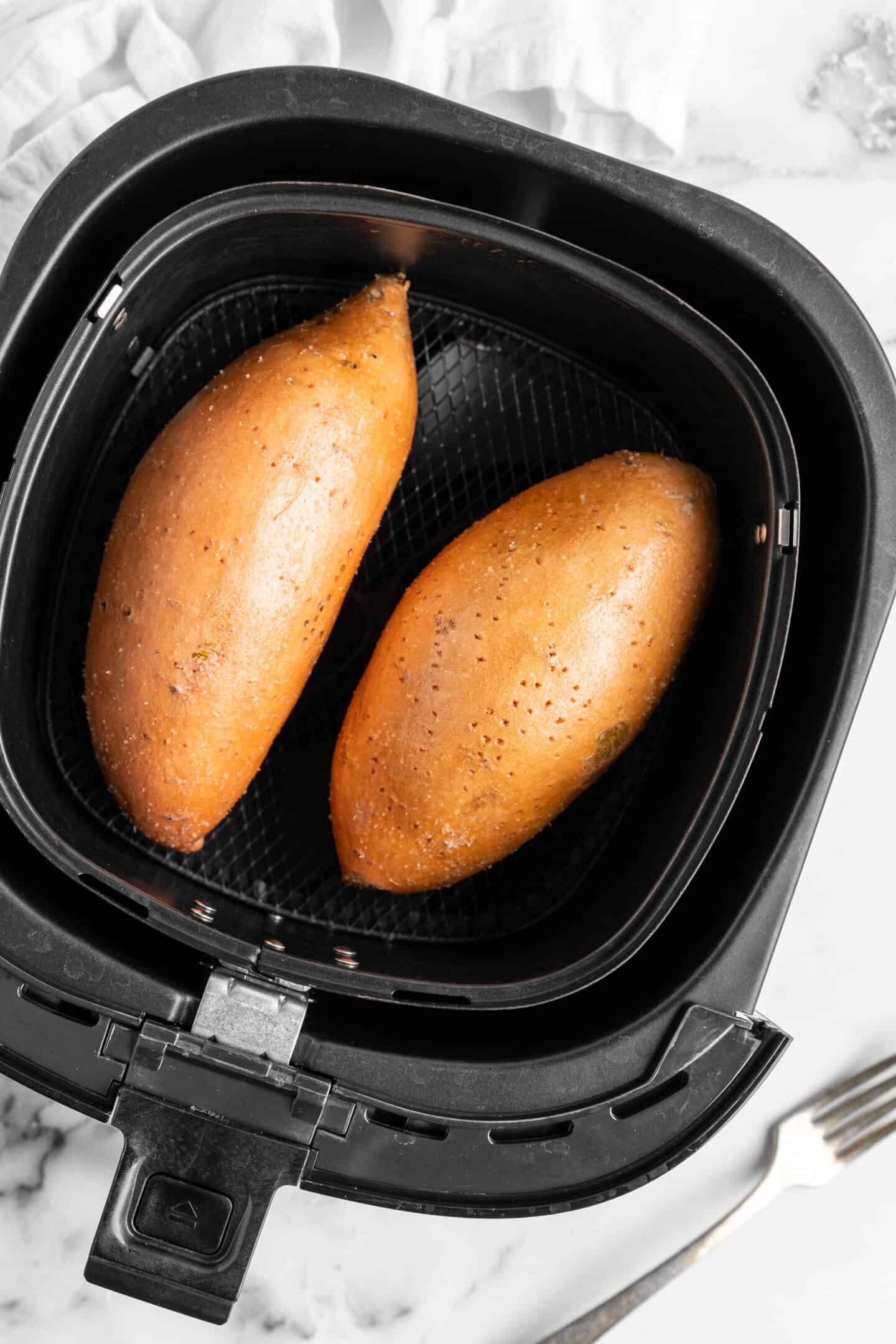 Air fry. Place the potatoes in your air fryer basket, leaving space between them so the air can circulate. Air fry at 390ºF for 30 to 35 minutes.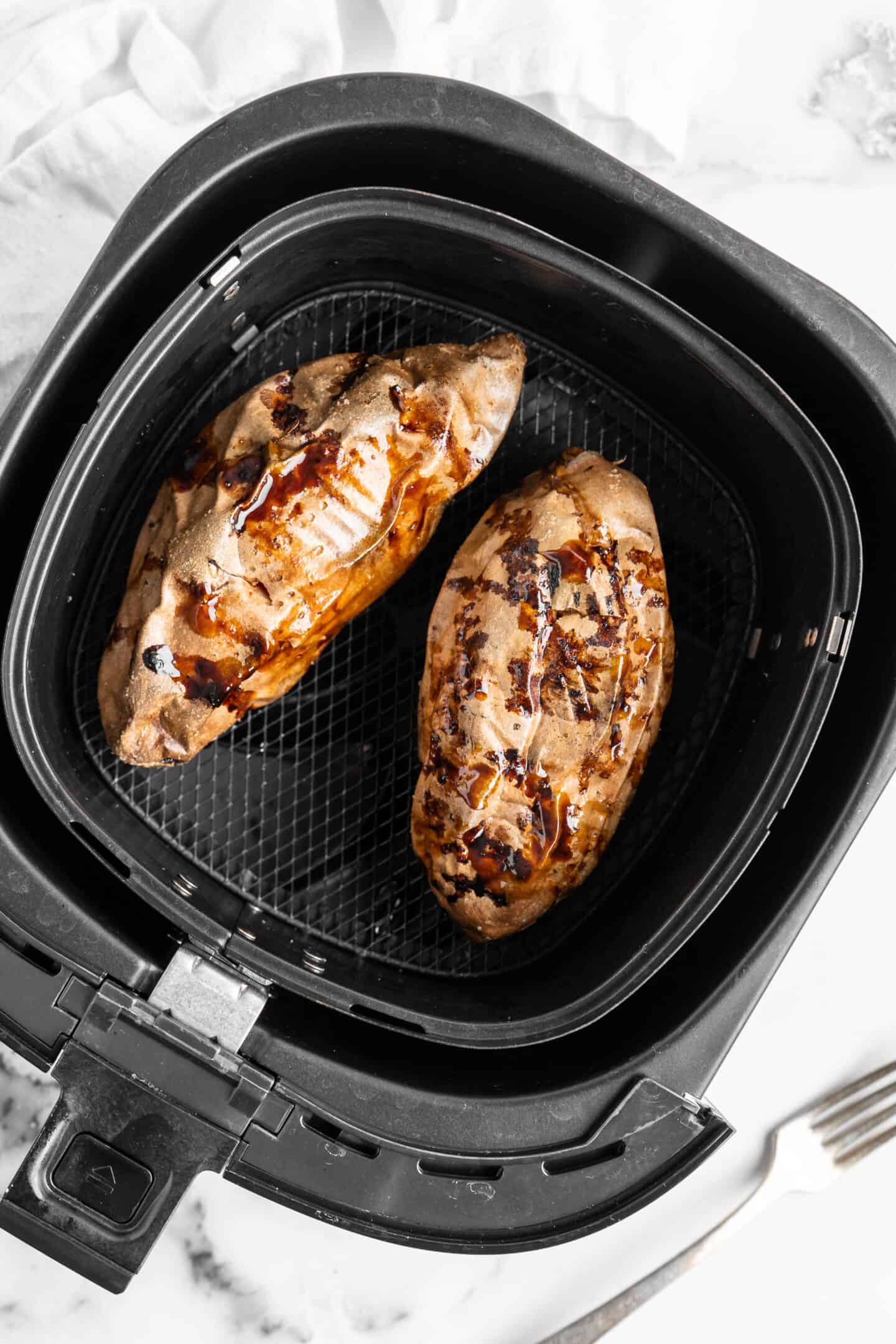 Cool and serve. Open the air fryer and let the potatoes cool until they can be handled comfortably, about 5 minutes. Remove the sweet potatoes from the air fryer basket and slice them open. Fluff the inside with a fork, then add a pat of vegan butter or your favourite toppings.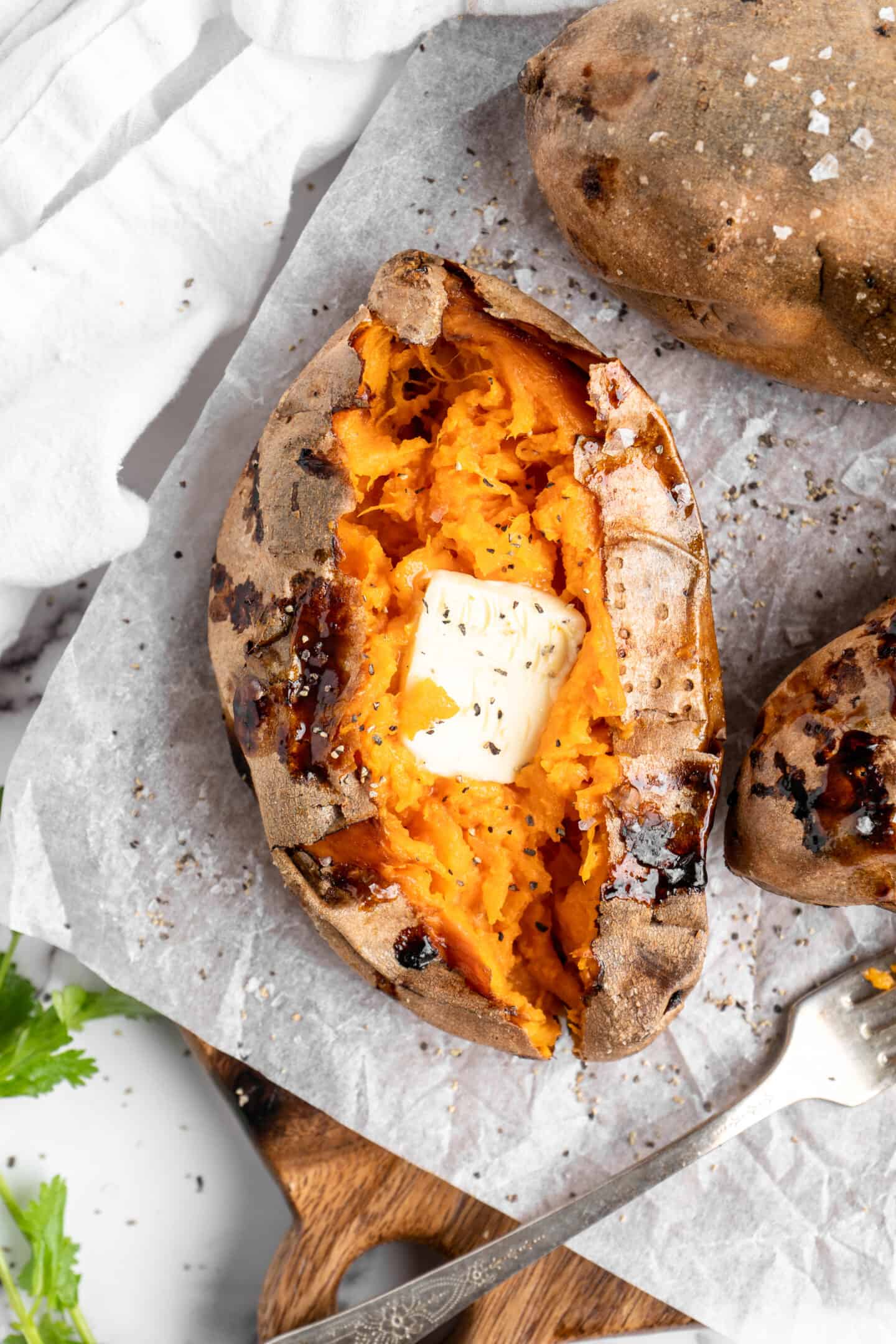 Tips for Success
There's not much to this recipe, but these hints and tips will help you make sure it turns out perfect.
Buy potatoes that are the same size and shape. This will ensure that they're both done baking at the same time.
Adjust the cooking time if needed. Fat sweet potatoes may need more time, while long, thin ones may need less time in the air fryer.
Don't crowd them. If you want to bake more than two sweet potatoes at once and don't have an air fryer large enough, cook them in batches instead of crowding them.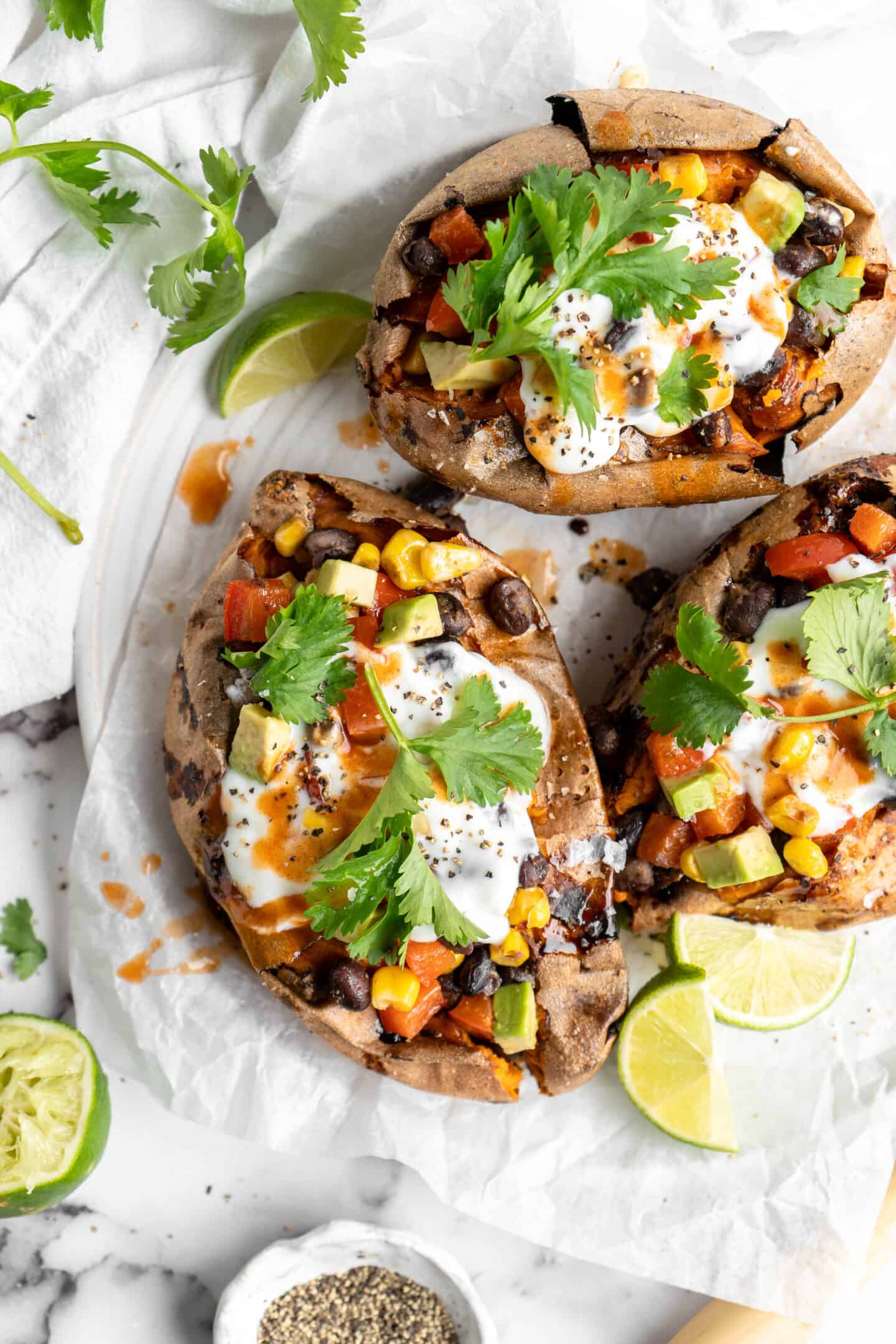 My Favourite Sweet Potato Toppings
In the photos here, you'll see my absolute favourite way to enjoy sweet potatoes. Heat oil in a skillet, then combine black beans, onions, garlic, bell peppers, and salsa with garlic powder, onion powder, cumin, sea salt, and black pepper. Spoon this over the potatoes and top with avocado slices, vegan sour cream and a generous sprinkle of vegan cheese. Drizzle chili crisp over the top.
But I have so many more ideas for you. Here are a few to try: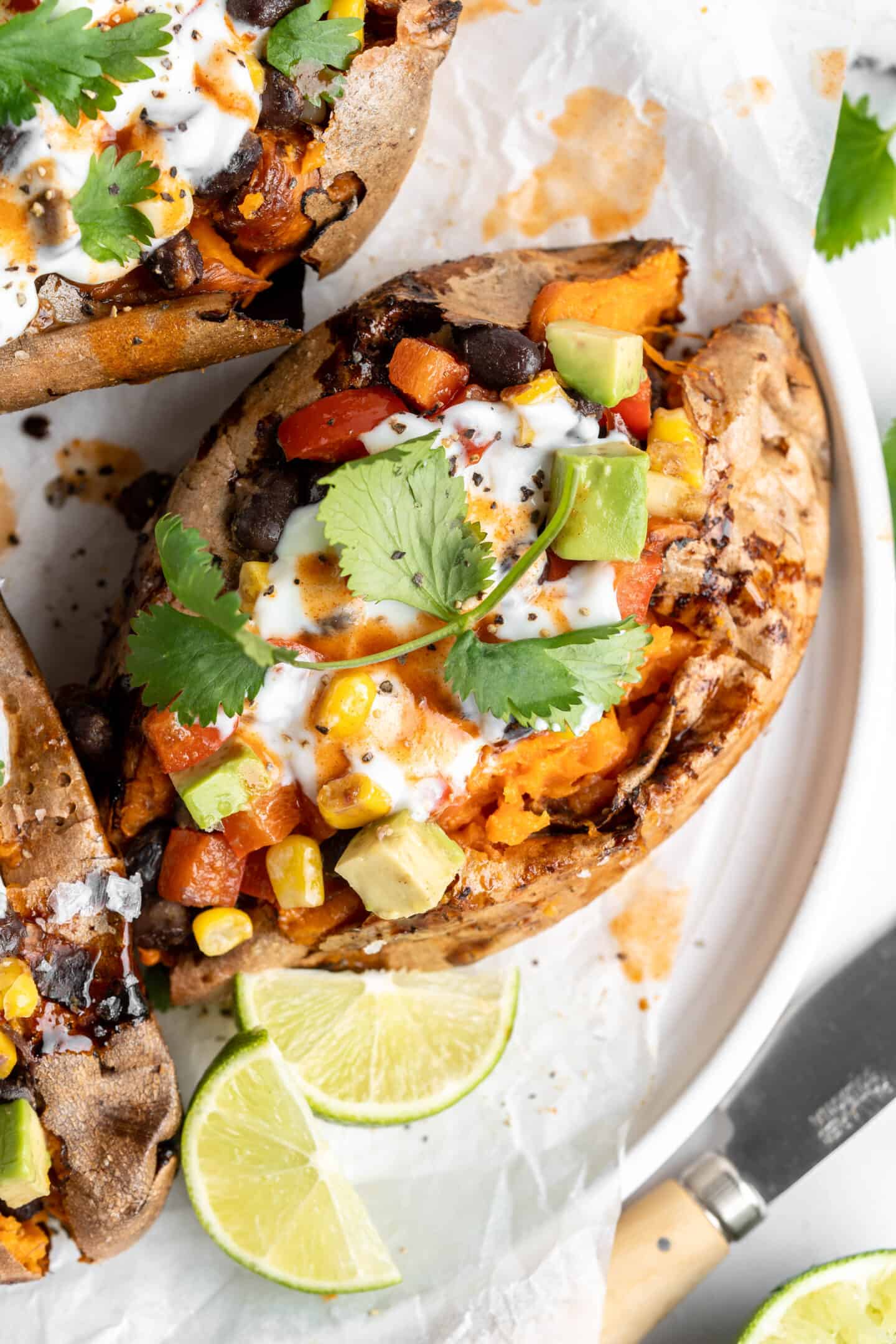 How to Store and Reheat Leftovers
These air fryer baked sweet potatoes will keep in the fridge for 4 to 5 days. You can reheat them in your air fryer or in the microwave.
I also like repurposing leftover baked sweet potatoes for different meals. Use them to make soup, dice them and add them to Thai Red Curry with Tofu, make mashed sweet potatoes, or combine them with black beans for easy tacos.
Can This Recipe Be Frozen?
Yes! Let the baked sweet potatoes cool completely, then store them whole in an airtight container in the freezer for up to 2 months. Thaw them overnight in the fridge and reheat them in the air fryer or microwave.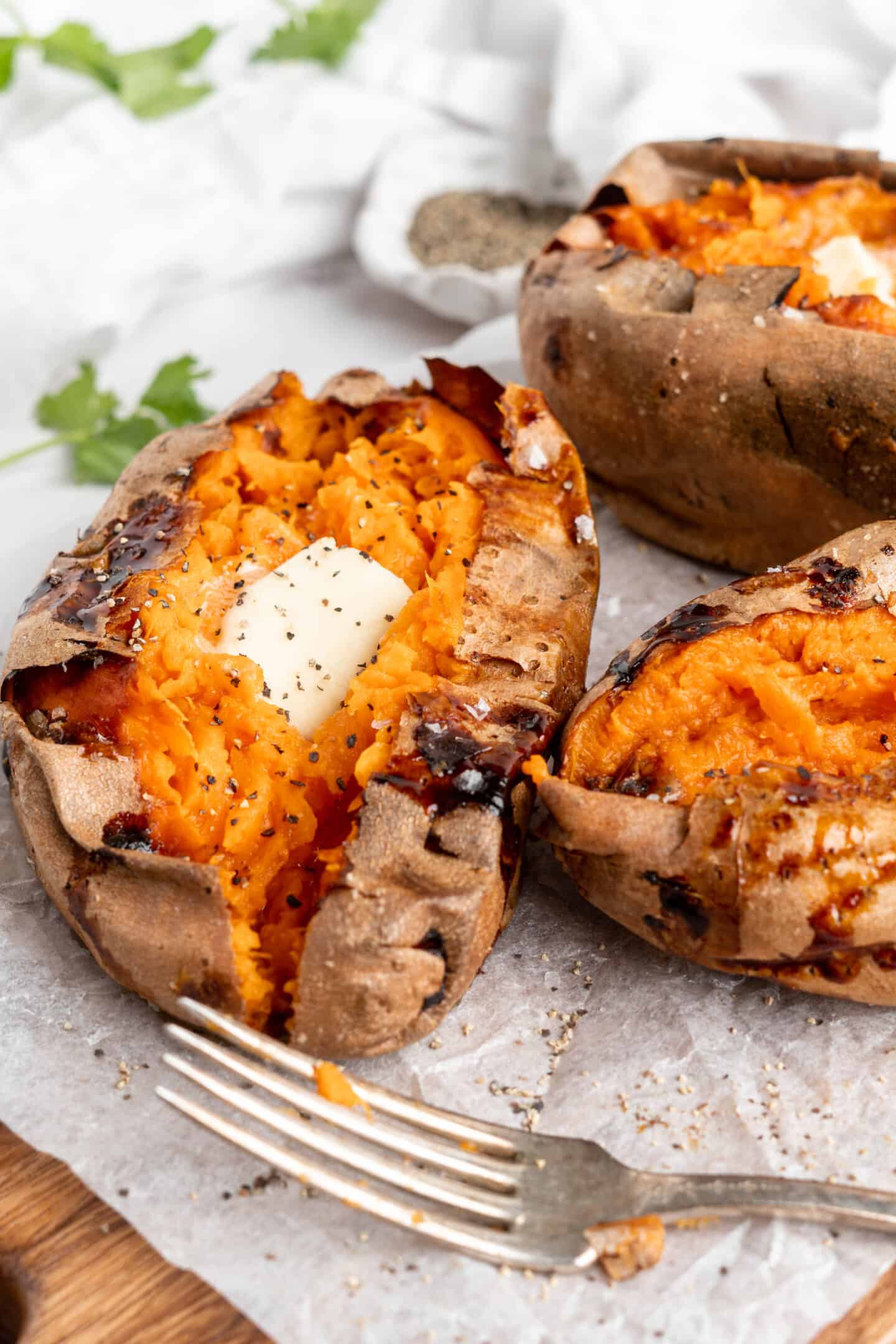 Enjoy friends! If you make this air fryer baked sweet potato recipe, please snap a photo and tag #jessicainthekitchen on Instagram! We'd also love it if you would leave a comment below, and give the recipe a rating! Thanks so much!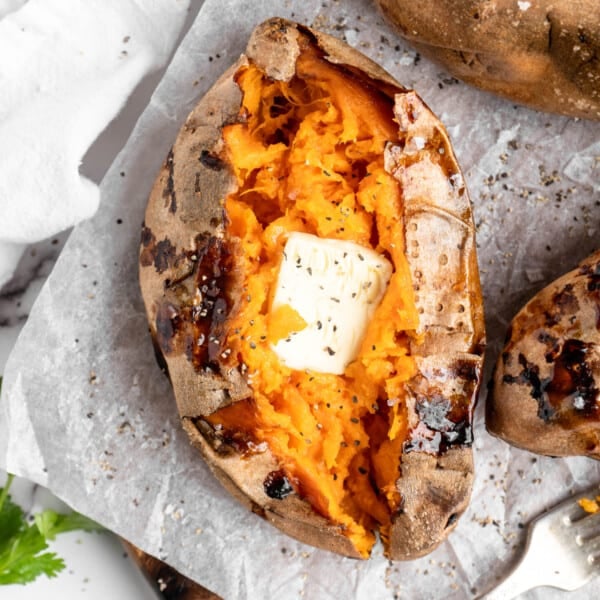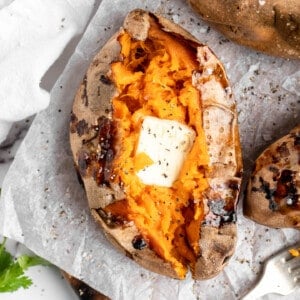 Air Fryer Baked Sweet Potato
These air fryer baked sweet potatoes are tender and caramelized to perfection, but in half the time!
Ingredients
2 sweet potatoes, I prefer garnet sweet potatoes
1-3 teaspoons of oil
Generous sprinkle of sea salt
Instructions
Wash, clean and pat dry your sweet potatoes.

Prick your sweet potatoes all over with a fork.

Using your hands or a silicone brush, rub the oil all over your sweet potatoes, then sprinkle the salt all over.

Place in your air fryer basket. Air fry at 390F for 30-35 minutes.

Once done, open your air fryer and let it cool slightly until it's cool enough to handle without burning yourself, about 5 minutes. Remove from the air fryer basket, and slice open in the centre. Using your fork, fluff the inside a little bit. Add a pat of batter if you'd like, serve and enjoy!
Notes
These air fryer baked sweet potatoes will keep in the fridge for 4 to 5 days. You can reheat them in your air fryer or in the microwave.
Calories: 212kcal, Carbohydrates: 45g, Protein: 4g, Fat: 2g, Saturated Fat: 0.2g, Polyunsaturated Fat: 1g, Monounsaturated Fat: 1g, Trans Fat: 0.01g, Sodium: 124mg, Potassium: 762mg, Fiber: 7g, Sugar: 9g, Vitamin A: 32063IU, Vitamin C: 5mg, Calcium: 68mg, Iron: 1mg
Disclaimer: Although jessicainthekitchen.com attempts to provide accurate nutritional information, kindly note that these are only estimates. Nutritional information may be affected based on the product type, the brand that was purchased, and in other unforeseeable ways. Jessicainthekitchen.com will not be held liable for any loss or damage resulting for your reliance on nutritional information. If you need to follow a specific caloric regimen, please consult your doctor first.