Vegan Condensed Milk
This vegan condensed milk makes it easy to veganize your favourite dessert recipes! It's a measure-for-measure substitute for dairy condensed milk, and it's surprisingly easy to make at home.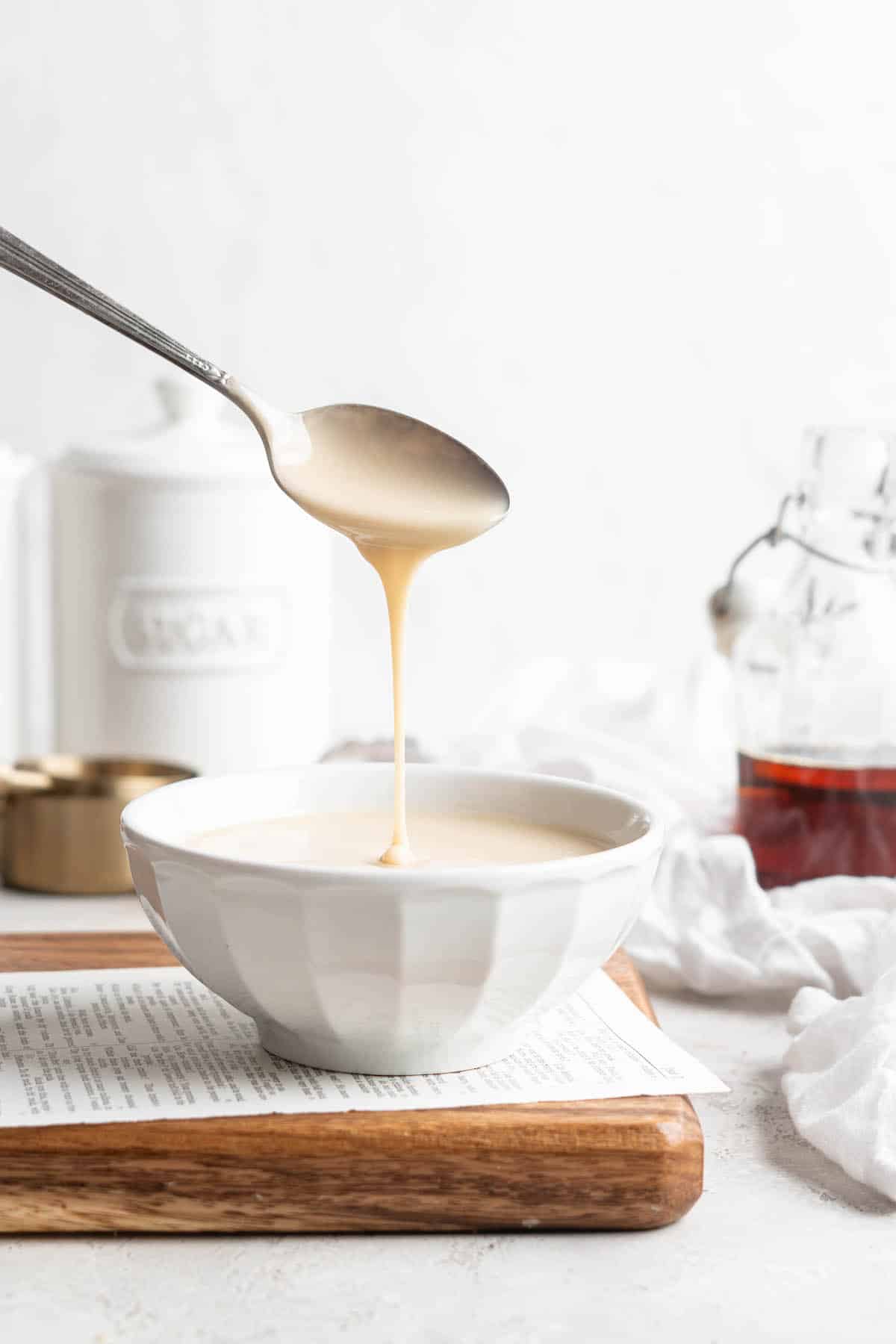 With a variety of plant-based milks, dairy-free butter, and vegan eggs available these days, it's easy to make just about any recipe vegan. But there's one ingredient that's not as readily available in most grocery stores: condensed milk.
Canned vegan condensed milk is a thing, but your average supermarket just doesn't carry it. And when you want to make some homemade fudge stat, you don't have time to wait for it to be shipped to you.
Well, let me introduce you to my latest creation: vegan condensed milk!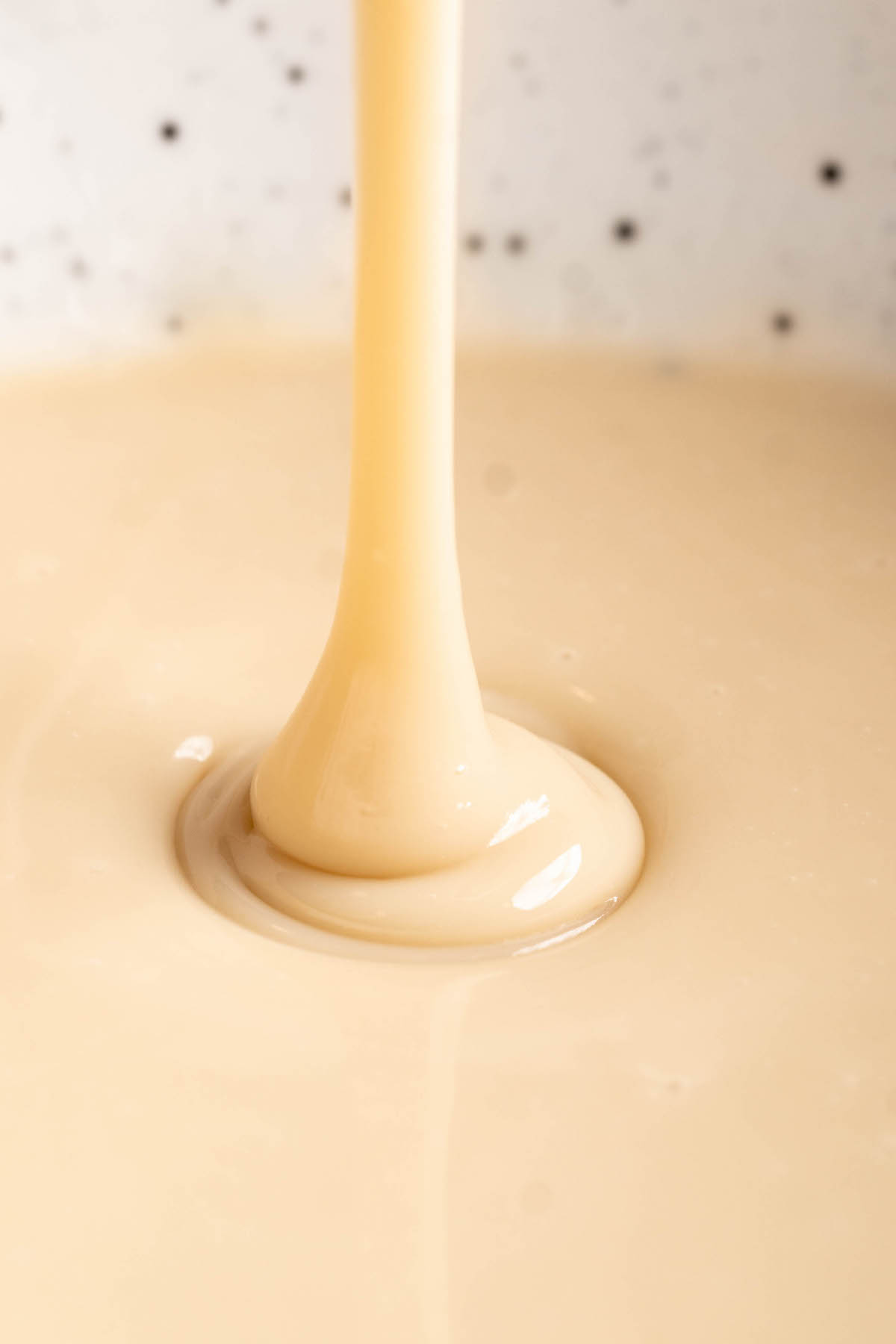 What Is the Purpose of Condensed Milk?
If you've never used condensed milk before, you might be wondering what it is and what it's used for. Condensed milk is basically milk that has been cooked down to remove most of the water content. This creates a thick, creamy, sweetened dairy product.
Sweetened condensed milk is often used in desserts like fudge, candy, frosting, and ice cream. It's also a popular ingredient in beverage recipes like iced coffee.
What Is the Difference Between Condensed and Evaporated Milk?
Evaporated milk is similar to condensed milk, but it's not exactly the same. Both are cooked down milks, but evaporated milk is unsweetened while condensed milk is sweetened.
The main difference between these two products is how they're used in recipes. While both can be used in baking, sweetened condensed milk is typically used in desserts, while evaporated milk is used more for savory dishes.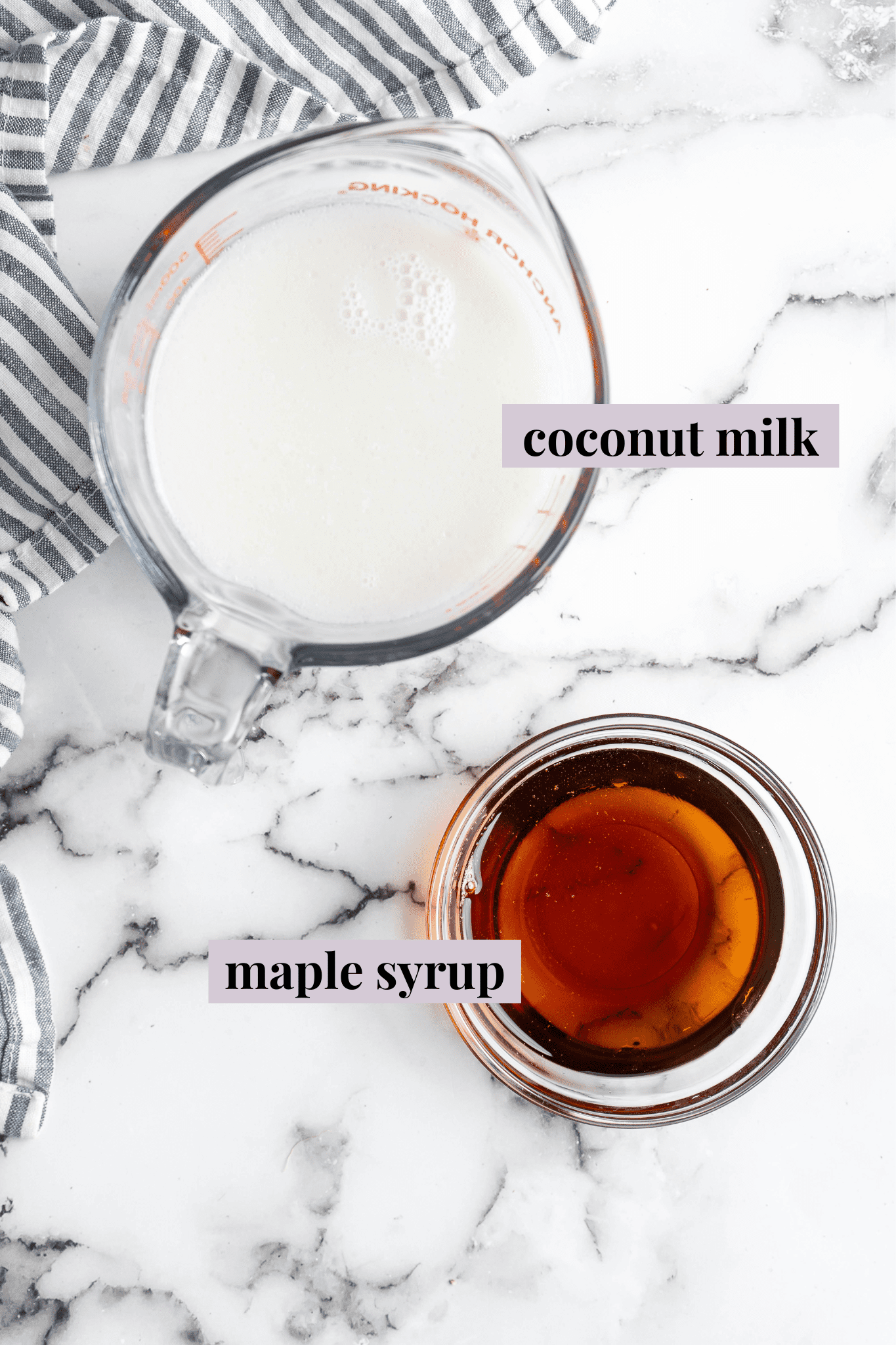 Notes on Ingredients
Please note that this is important information on the ingredients and instructions and the FULL recipe with amounts and details can be found DOWN BELOW (scroll to it) in the recipe card.
Full-fat coconut milk – Make sure you use the canned kind, not the variety that's sold in refrigerated cartons!
Maple syrup – You could use agave nectar instead if you prefer.
How to Make Vegan Condensed Milk
Here's how easy it is to make your own plant-based condensed milk: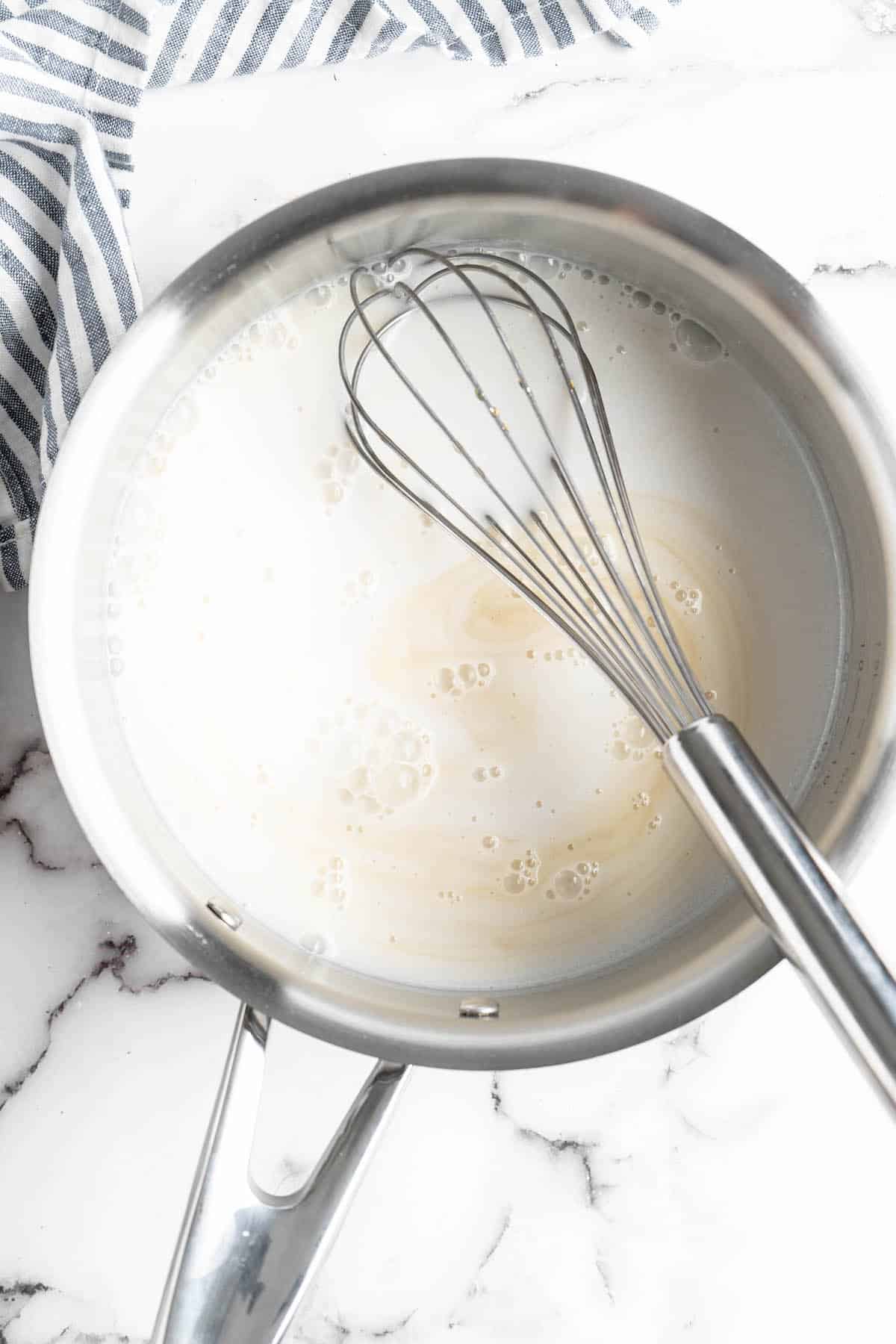 Combine the ingredients. In a small pot set over medium heat, combine the coconut milk and maple syrup. Bring the mixture to a boil.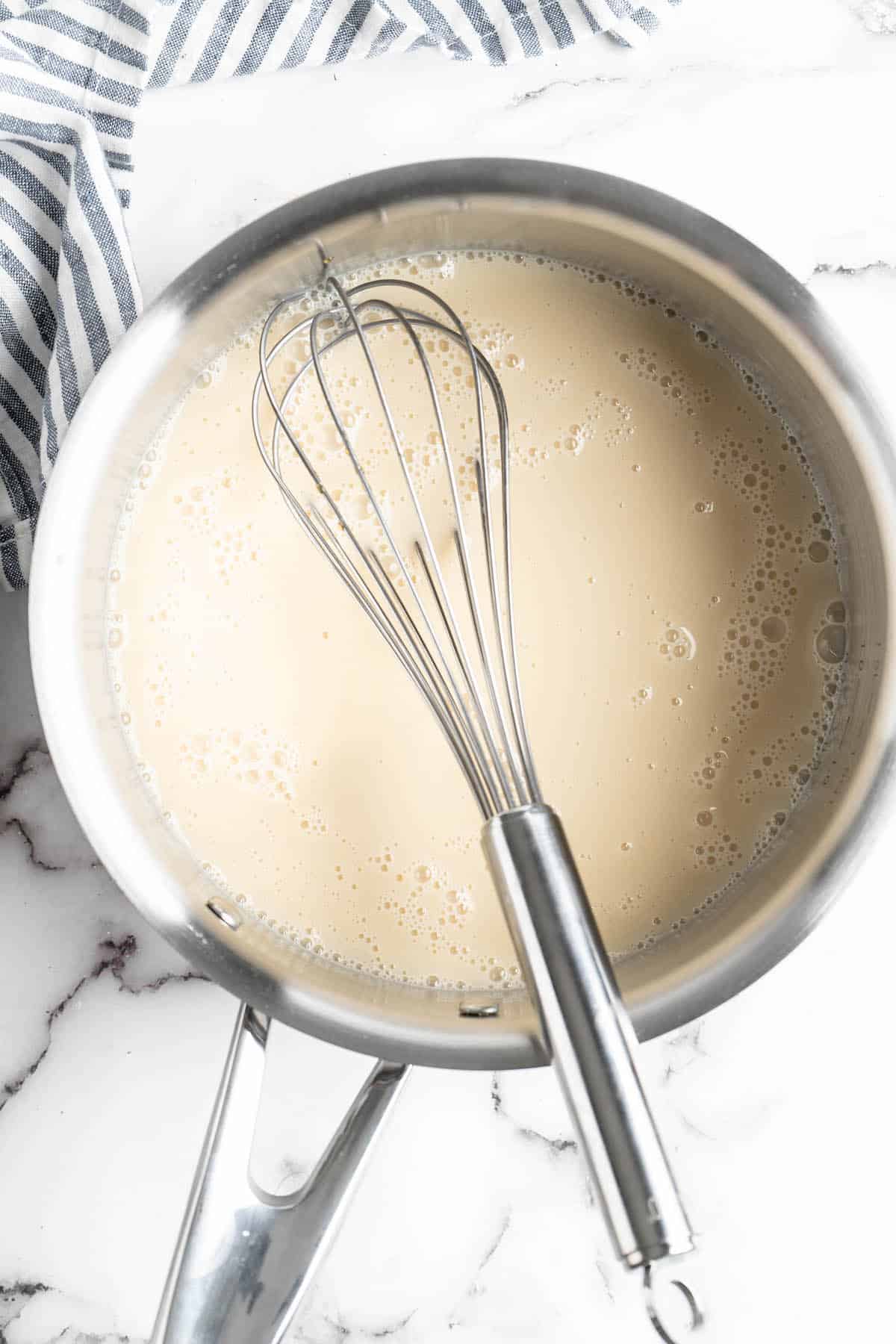 Simmer. Reduce the heat to low and simmer the coconut milk for 45 minutes, or until reduced by half, stirring every 5 to 7 minutes.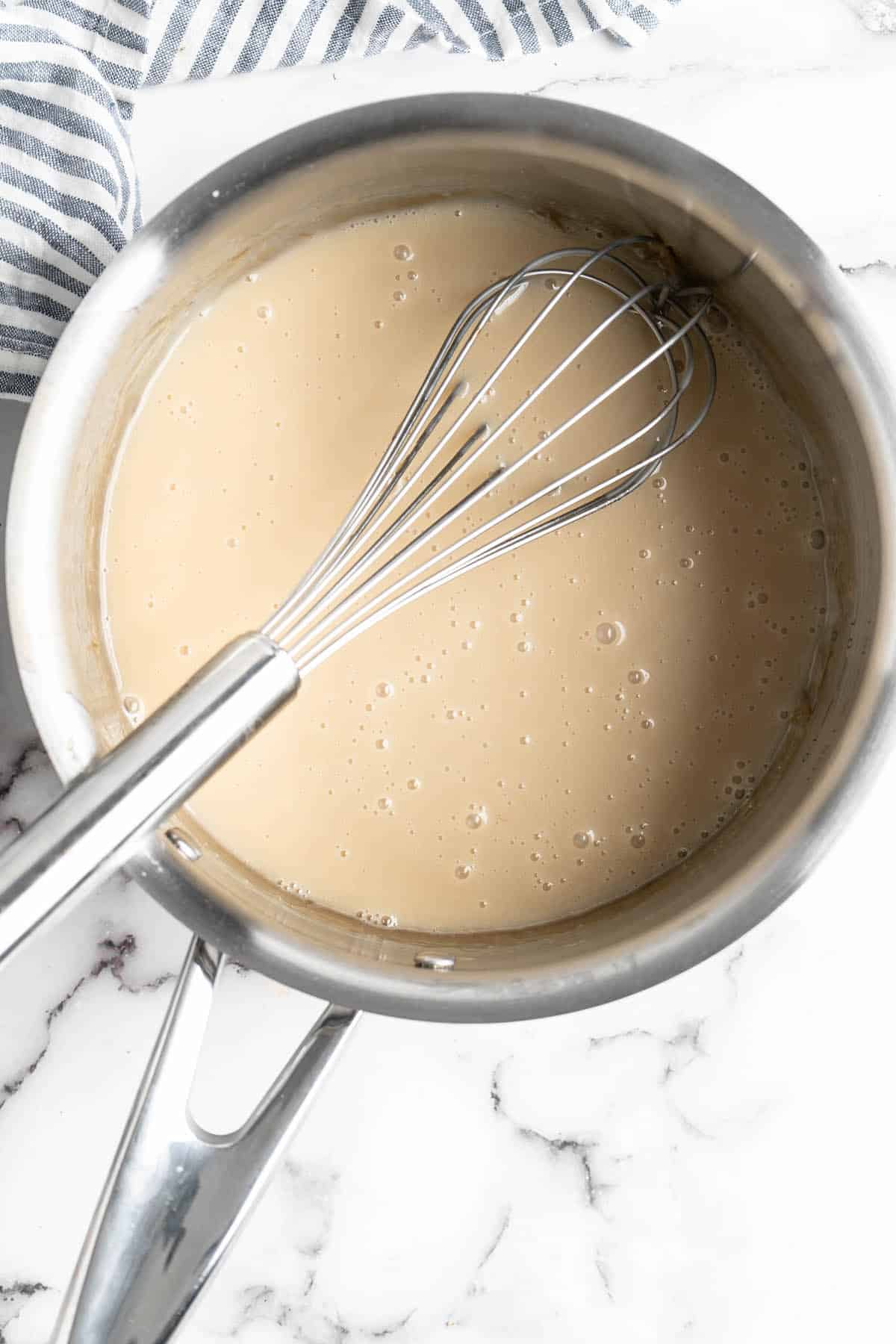 Store. Pour the milk into a glass jar or another container with a lid and let it cool in the fridge.
Ways to Use Vegan Condensed Milk
Now that you have your homemade vegan condensed milk, here's how to use it:
Use it in place of sweetened condensed milk in any recipe.
Add it to coffee or tea, like my Iced Matcha Latte or Pumpkin Spice Matcha Latte. (Condensed milk is what makes Thai coffee and tea creamy!)
Combine it with fruit puree for creamy frozen ice pops.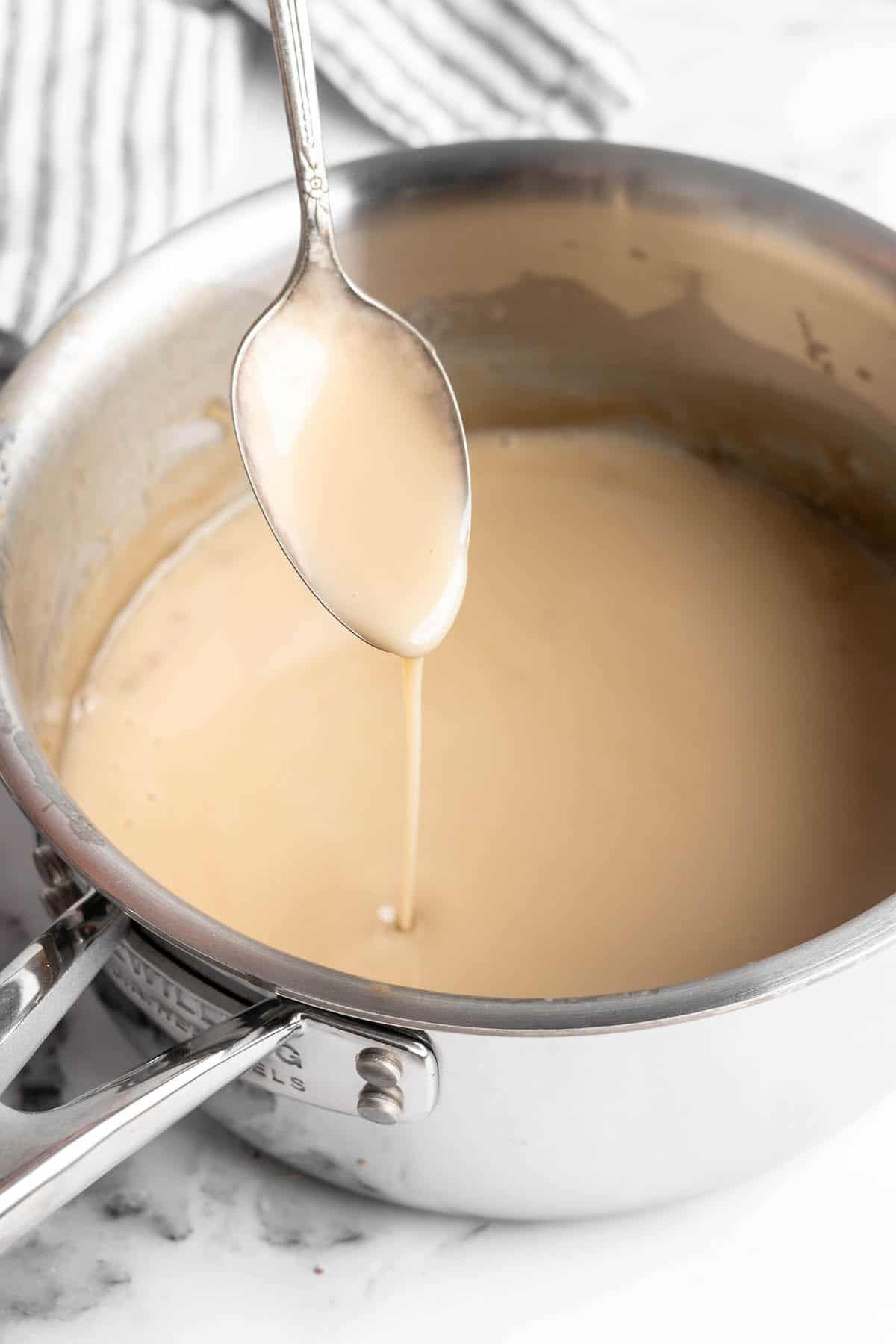 How to Store
This homemade vegan condensed milk will last in the fridge for up to 2 weeks. Store it in a jar or airtight container.
Can I Freeze Vegan Condensed Milk?
If you want your vegan condensed milk to last even longer, you can freeze it for up to 3 months. Thaw it in the fridge overnight before using.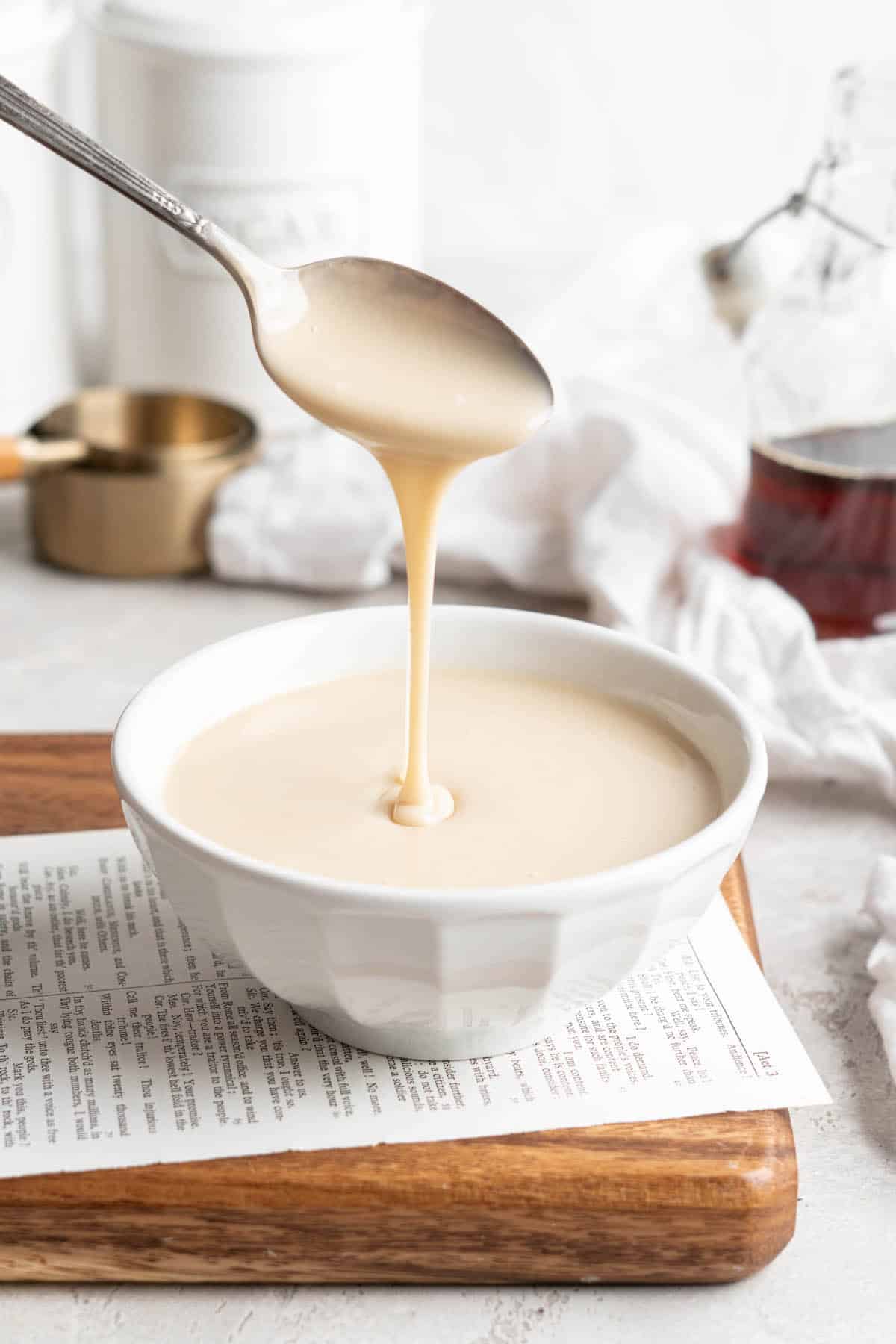 More Vegan Baking Staples
Enjoy friends! If you make this vegan condensed milk recipe, please snap a photo and tag #jessicainthekitchen on Instagram! We'd also love it if you would leave a comment below, and give the recipe a rating! Thanks so much!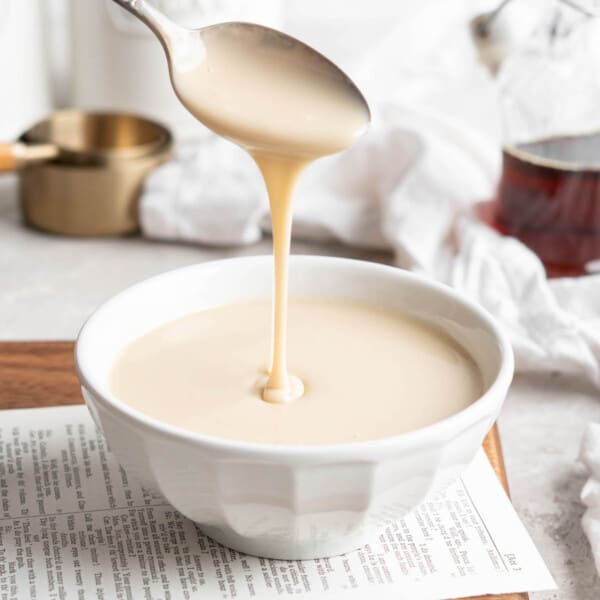 Vegan Condensed Milk
This 2-ingredient vegan condensed milk is a measure-for-measure substitute for traditional sweetened condensed milk. Use it in all of your favourite recipes!
Ingredients
1 15.5 ounce can full-fat coconut milk
⅓ cup maple syrup
Instructions
In a small pot, combine the coconut milk and maple syrup over medium heat. Bring to a boil, then reduce to low to maintain a simmer. Cook for 45 minutes, stirring every 5-7 minutes to prevent burning.

Pour the milk, which will be thickened and reduced by about half, into a glass jar or bowl and cool in the fridge.
Notes
This homemade vegan condensed milk will last in the fridge for up to 2 weeks.  Store it in a jar or airtight container.
Calories: 1615kcal, Carbohydrates: 114g, Protein: 13g, Fat: 133g, Saturated Fat: 118g, Polyunsaturated Fat: 1g, Monounsaturated Fat: 6g, Sodium: 94mg, Potassium: 1694mg, Sugar: 86g, Vitamin C: 6mg, Calcium: 268mg, Iron: 21mg
Disclaimer: Although jessicainthekitchen.com attempts to provide accurate nutritional information, kindly note that these are only estimates. Nutritional information may be affected based on the product type, the brand that was purchased, and in other unforeseeable ways. Jessicainthekitchen.com will not be held liable for any loss or damage resulting for your reliance on nutritional information. If you need to follow a specific caloric regimen, please consult your doctor first.