Vegan Heavy Cream Substitute
This vegan heavy cream substitute is smooth and velvety, perfect for adding a creamy texture to coffee, sauces, soups, and more. Bonus: you only need three ingredients to make it!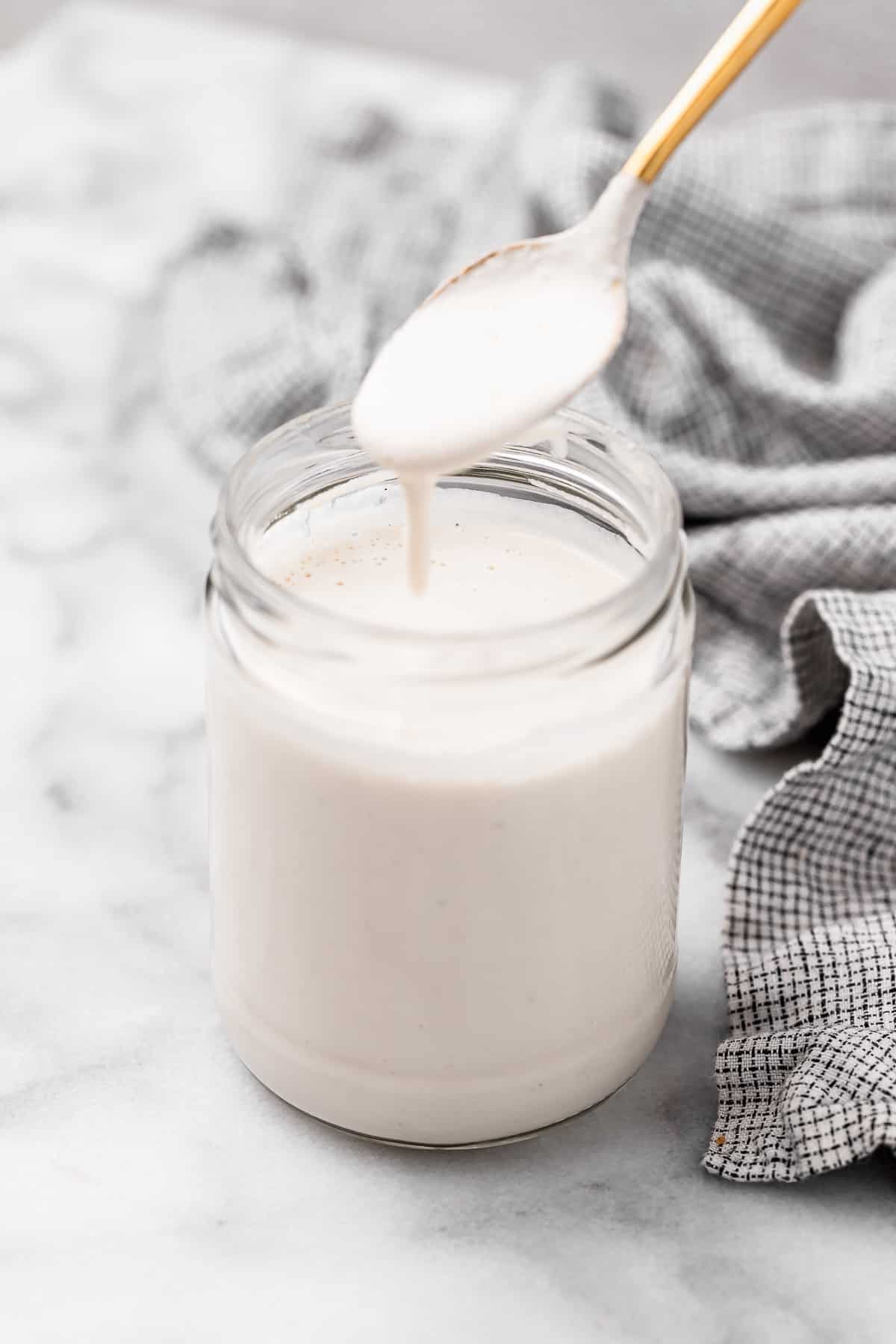 In a world where there are vegan substitutes for everything from ham to eggs and sour cream, it's surprising to me that it's so hard to find a good vegan heavy cream substitute. There's one widely-available brand in stores that I can think of, and if it's not sold at your local grocery store, you're out of luck.
Well, the good news is that it's easy to make vegan heavy cream at home—and it only requires a few basic ingredients!
By combining soaked cashews, filtered water, and a bit of sea salt, then blitzing them in the blender until the mixture is silky smooth, you can create the best plant-based heavy cream right at home, in a matter of minutes. (Yep, add this to the list of amazing things you can do with cashews, right along with Cashew Milk.) Unlike other nuts, cashews will blend completely, which means there's no need to fuss with a nut milk bag or cheesecloth to strain the liquid.
Now, it's important to note that this heavy cream substitute can't do everything that dairy-based heavy cream can do. It's terrific for adding a creamy texture to soups and sauces, for making homemade chocolate truffles, and even for your morning cup of coffee, but you can't beat it into whipped cream for topping desserts. For that, you'll need my vegan whipped cream recipe!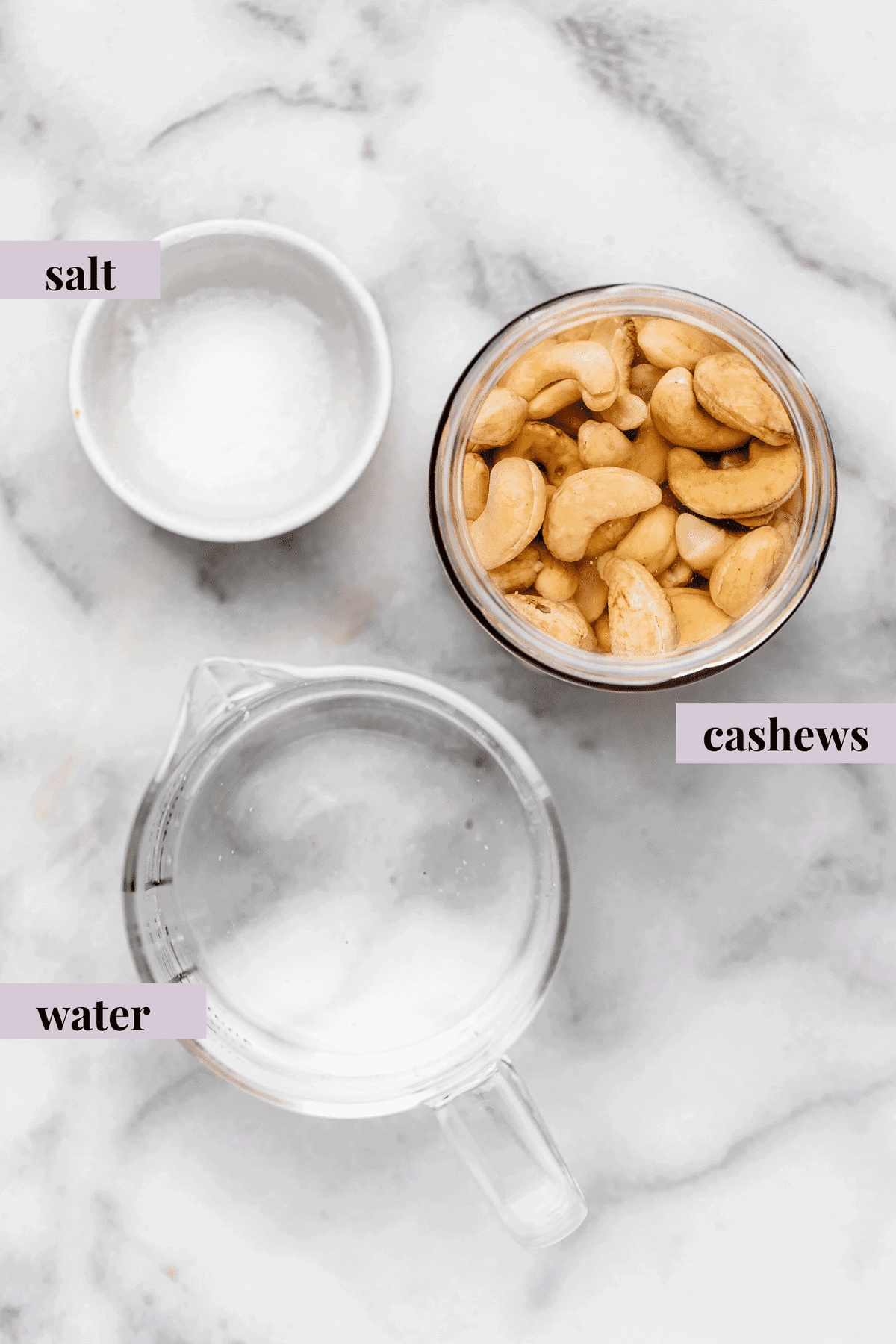 Notes on Ingredients
Please note that this is important information on the ingredients and instructions and the FULL recipe with amounts and details can be found DOWN BELOW (scroll to it) in the recipe card.
Raw cashews – It's important that they're raw, not roasted.
Filtered water – Plant-based milk can be used instead.
Sea salt
How to Soak Cashews
You'll need to soak the cashews for this recipe, which is key to making them blend into a smooth, creamy liquid. The best way to do this is to place the cashews in a jar of water overnight, then drain and rinse them. If you're short on time, you can soak the cashews in boiling water for an hour, or boil the cashews themselves for 5 to 10 minutes.
How to Make Vegan Heavy Cream Substitute
Once you've soaked the cashews, it only takes a few more minutes to make vegan heavy cream!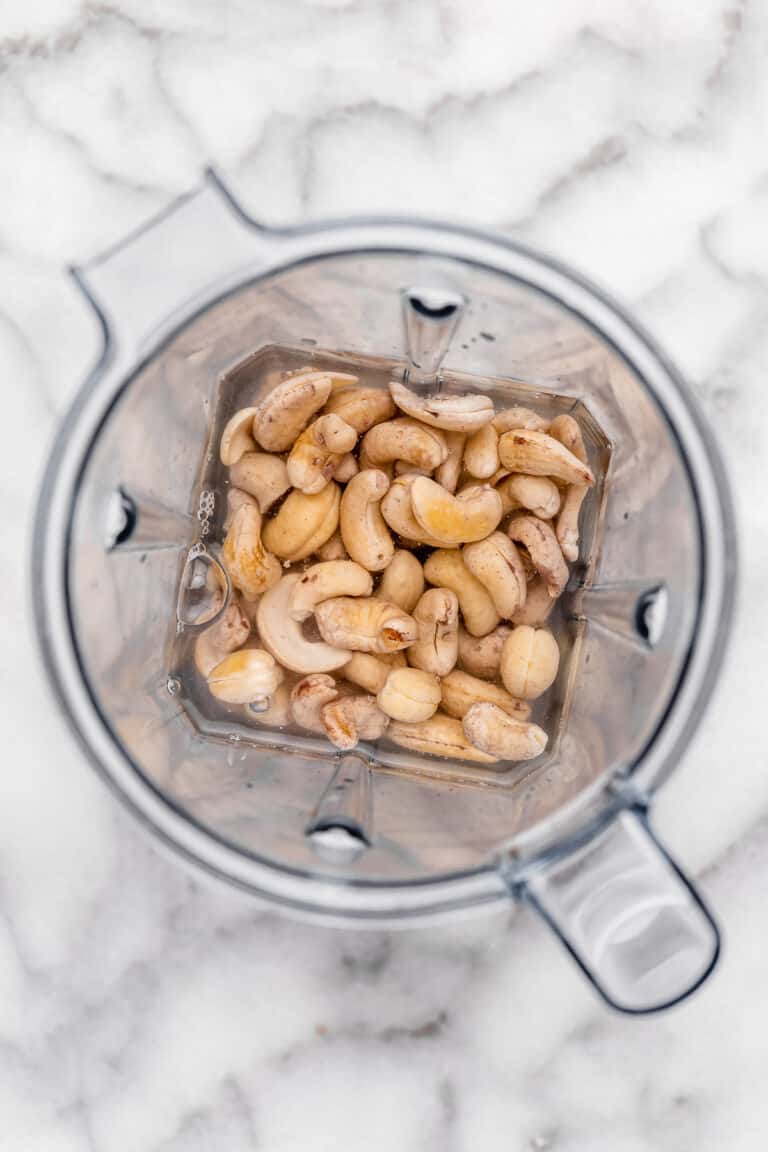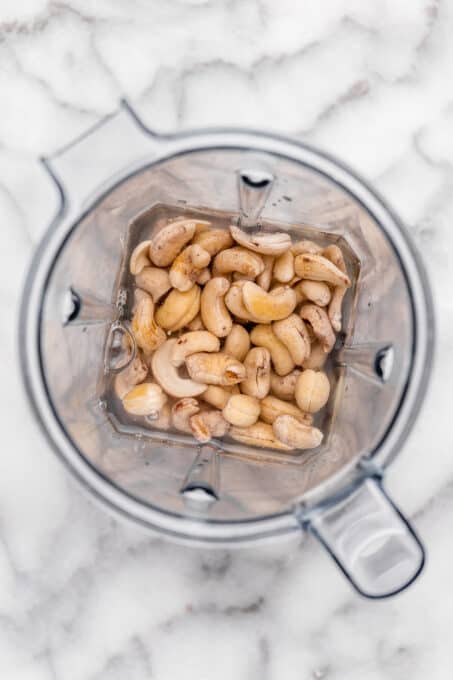 Blend. Place the drained and rinsed cashews, filtered water, and salt in a high speed blender. Blend on high until the mixture is thick and creamy; scrape down the sides of the blender or add more water if needed.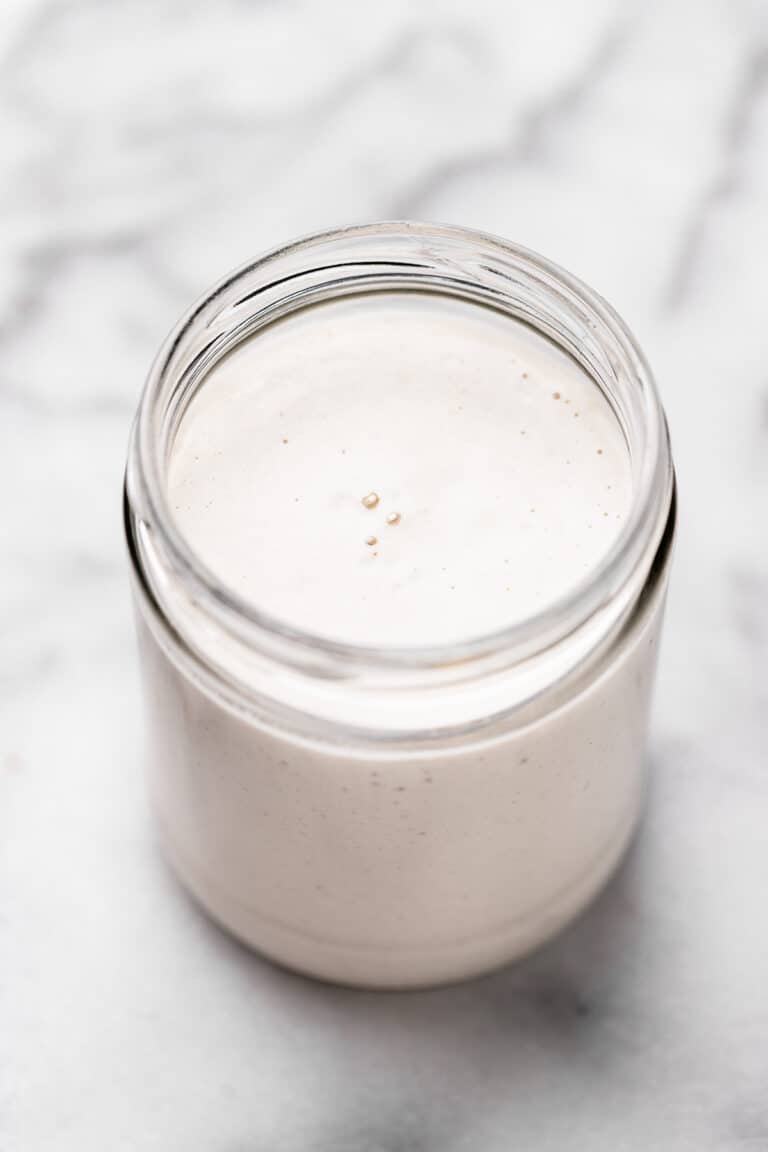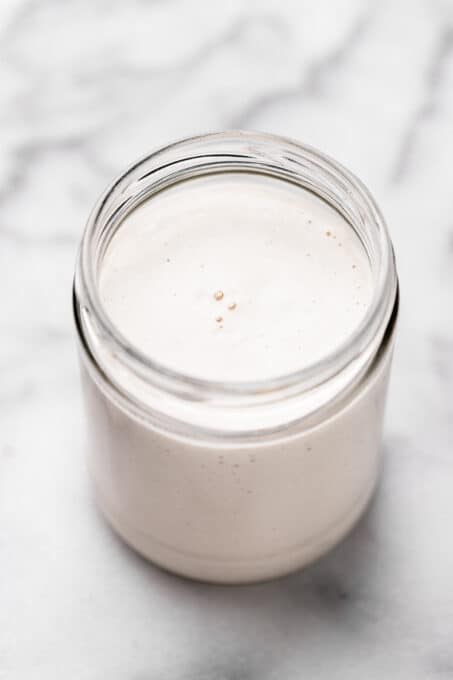 Finish. If you'd like, you can add seasonings and flavourings—for example, if you're using your plant-based heavy cream for coffee, you can add vanilla extract. Pour the heavy cream into a bottle or storage container and refrigerate.
How to Store
Refrigerate your heavy cream in an airtight bottle or container for 3 to 4 days and give it a good shake before you use it.
Can I Freeze This Recipe?
Yes, you can freeze vegan heavy cream for up to 3 months. I recommend freezing it in an ice cube tray, then popping the cubes in a freezer bag. Then you'll have perfectly portioned heavy cream whenever you need it! Warm it a few seconds at a time in the microwave or in a small saucepan on the stovetop.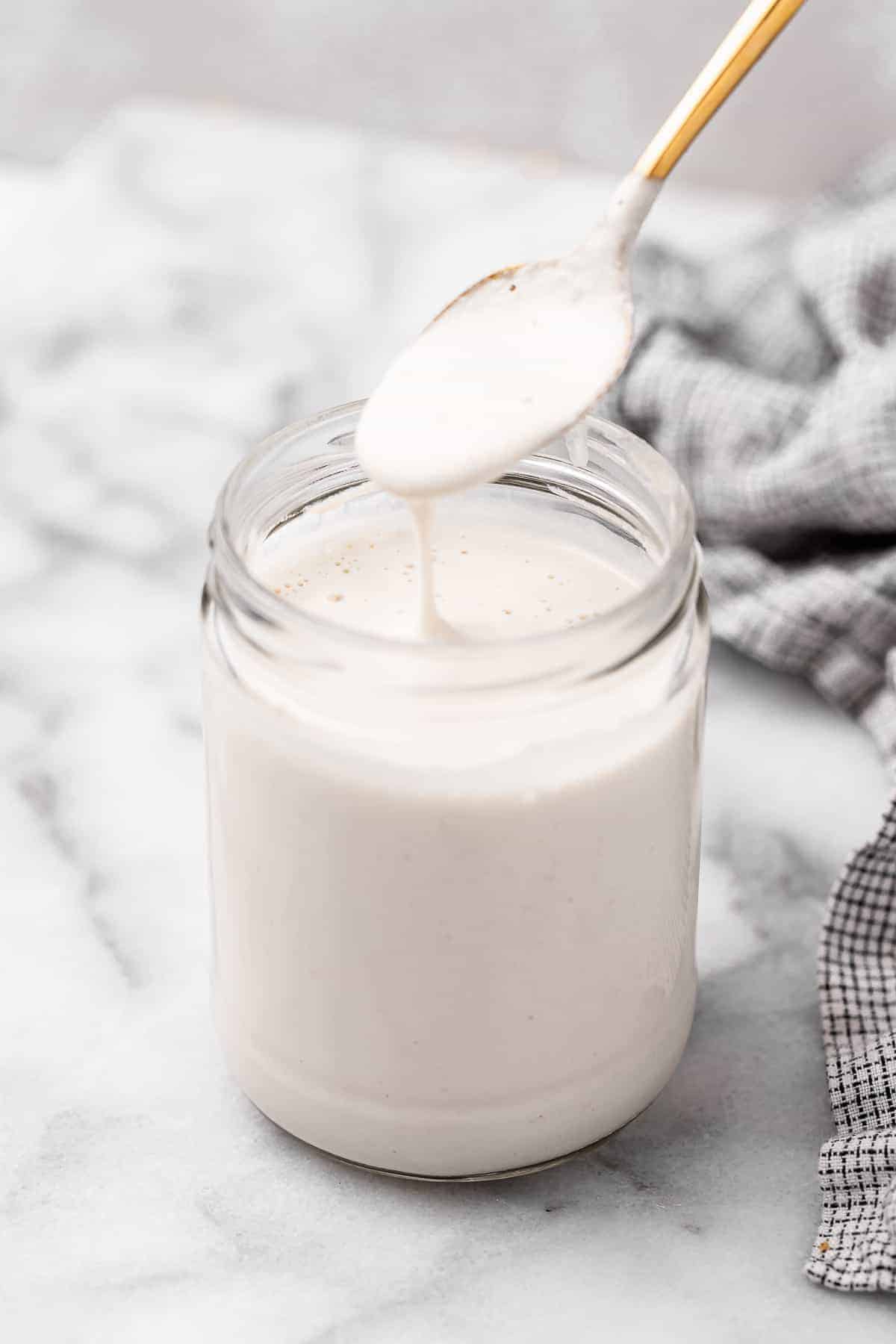 Ideas for Using Vegan Heavy Cream
Here are my favorite ways to use this recipe:
Enjoy friends! If you make this vegan heavy cream substitute recipe, please snap a photo and tag #jessicainthekitchen on Instagram! We'd also love it if you would leave a comment below, and give the recipe a rating! Thanks so much!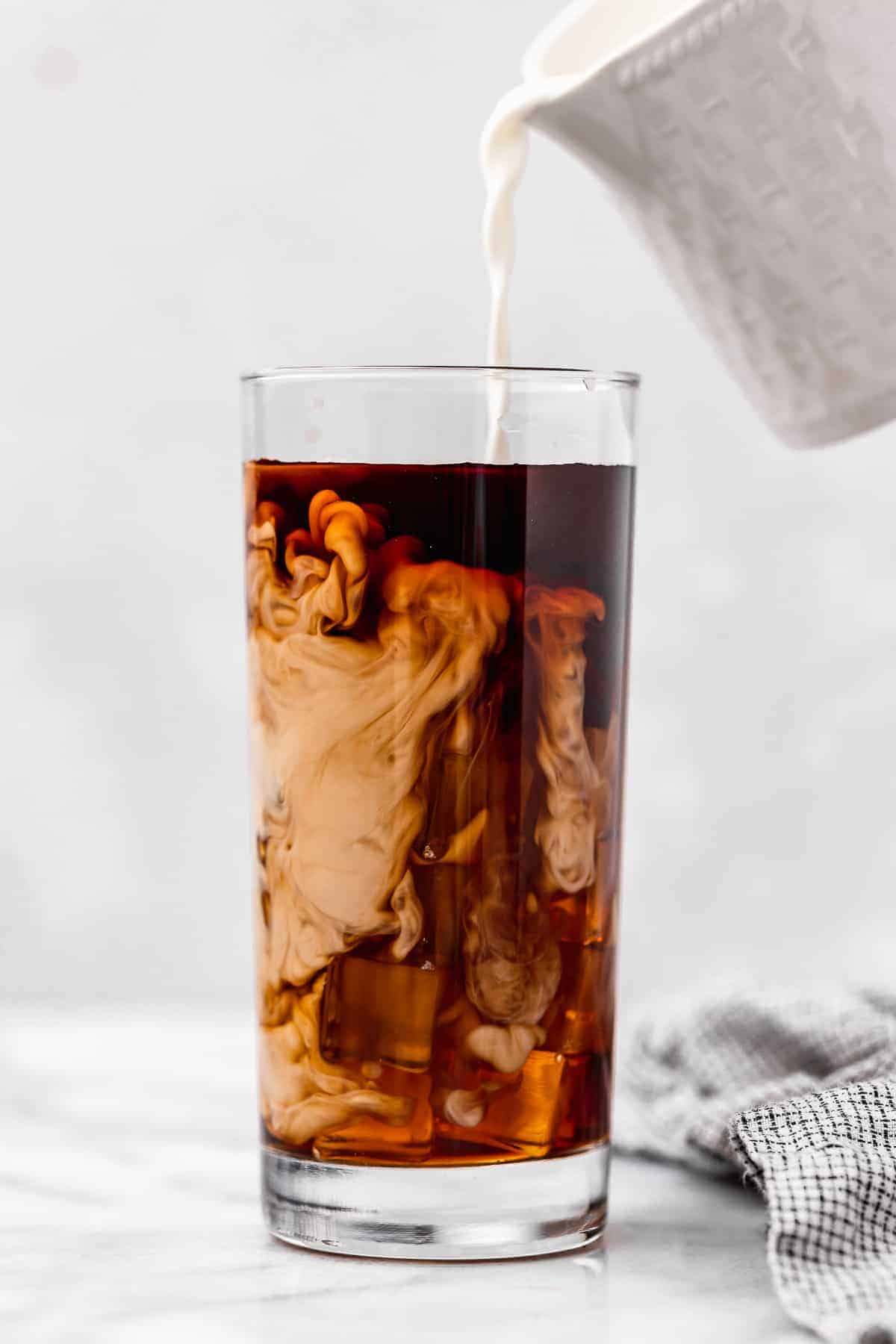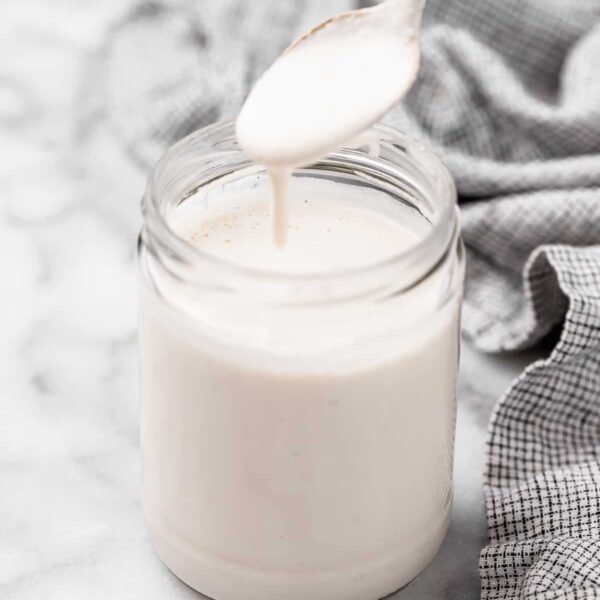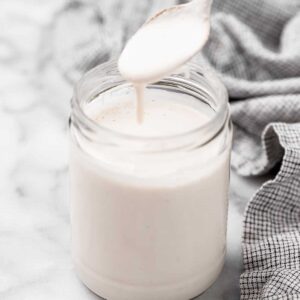 Vegan Heavy Cream Substitute
You're only 3 ingredients away from the best (and easiest!) vegan heavy cream substitute!
Ingredients
1 cup raw cashews soaked overnight in water in a jar, or 5 minutes – see instructions (this results in about 1 ¼ cups puffed cashews) and rinsed
1 ¼ cup filtered water, or plant based milk
¼ teaspoon sea salt
Instructions
If you're low on time (like I always am) you can soak your cashews in boiling hot water for about 1 hour, or boil them for about 5-10 minutes first. This helps your cashews to produce a silky texture and to be totally dissolved. This is crucial because ideally whatever you're replacing you don't want to be tasting cashew pieces!

In a high speed blender, blend all the ingredients together until blended and completely creamy and incorporated. Scrape down the sides if needed, and blend until combined. Be sure to add extra water if needed to reach the desired consistency that you're looking for.

At this point, add in any extra flavourings or seasonings that you have, and blend again or stir together to combine. This is also just a great base recipe to always have on hand! Enjoy!
Notes
Yield: This recipe yields 2 ½ cups of heavy cream, which is also 40 tablespoons. The calories are for a tablespoon each.   How to store: Refrigerate vegan heavy cream substitute in an airtight bottle or container for 3 to 4 days and shake before using. How to freeze: Freeze vegan heavy cream for up to 3 months. I recommend freezing it in an ice cube tray, then storing the cubes in a freezer bag. Warm the cubes a few seconds at a time in the microwave or in a small saucepan on the stovetop.
Calories: 18kcal, Carbohydrates: 1g, Protein: 1g, Fat: 1g, Saturated Fat: 1g, Polyunsaturated Fat: 1g, Monounsaturated Fat: 1g, Sodium: 15mg, Potassium: 21mg, Fiber: 1g, Sugar: 1g, Vitamin C: 1mg, Calcium: 1mg, Iron: 1mg
Disclaimer: Although jessicainthekitchen.com attempts to provide accurate nutritional information, kindly note that these are only estimates. Nutritional information may be affected based on the product type, the brand that was purchased, and in other unforeseeable ways. Jessicainthekitchen.com will not be held liable for any loss or damage resulting for your reliance on nutritional information. If you need to follow a specific caloric regimen, please consult your doctor first.