Roasted Strawberry Barbecue Sauce
This Homemade Roasted Strawberry BBQ Sauce will be the perfect addition to your barbecues. It's full of a rich, smoky, and delicious flavour!
If you're looking for a recipe to use it with, try these BBQ Cauliflower Wings!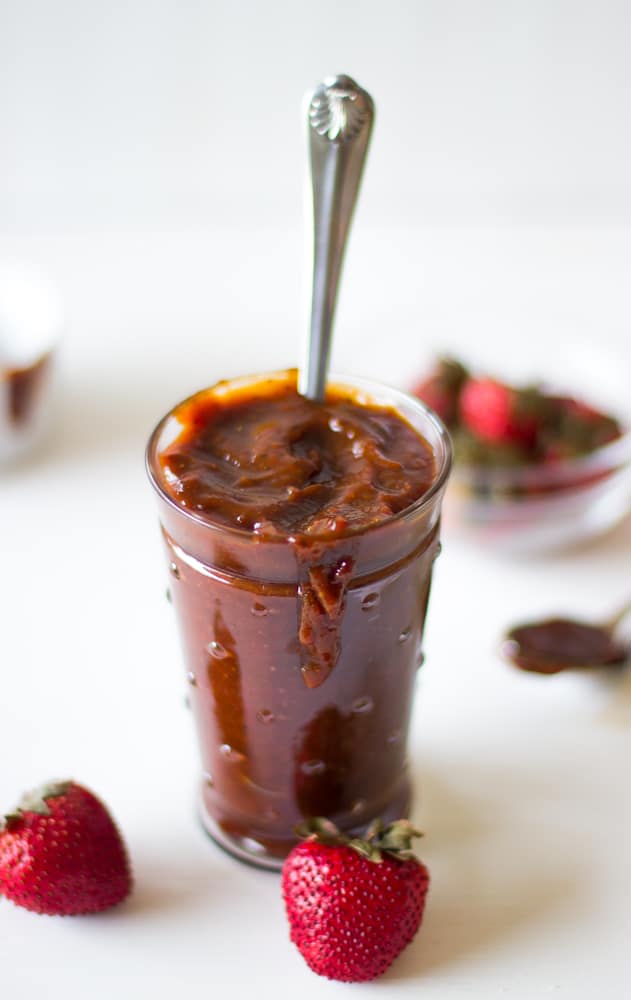 I have a new obsession and its name is Orange is The New Black. I put up a picture of me watching it on Instagram and I got so much support and encouragement from many watchers including a few of my blogger friends (I'm looking at you Joanne and Kayle!) which when you're 20 minutes in a show means you must identify what the hype is about.
It didn't take very long into the first episode to love it, and I have been loving it ever since. This including watching it up until 5 minutes before Game of Thrones last night and sacrificing a good seat in our usual viewing party in the living room.
Real obsession.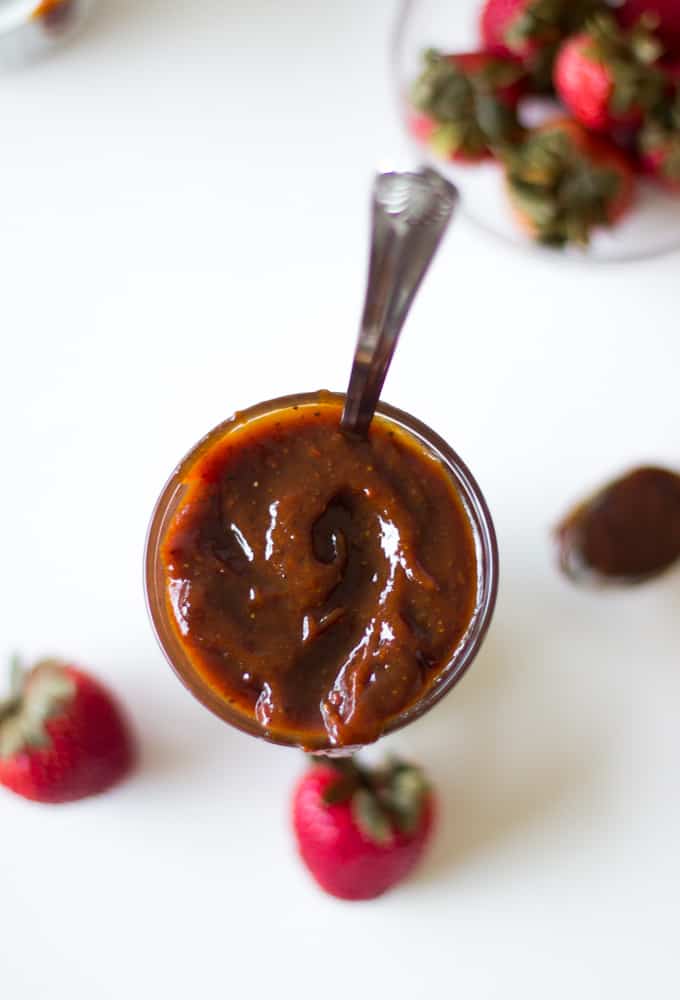 The thing is, I can't exactly binge watch it during the day because Mr Jessiker Bakes is at work and I made a pledge in blood made a promise to not watch ahead of him. This means I have to dedicate myself in the daytime to things I'm actually supposed to be doing.
Yawn.
Easy Strawberry BBQ Sauce Recipe
But enough about me, more about this Roasted Strawberry Barbecue Sauce. There's a local hot wings restaurant that serves strawberry barbecue sauce and I have been really craving it; the sauce, not the wings. And so, roasted strawberry barbecue sauce was born.
I chose to roast the strawberries because it produces a much deeper flavour and immerses much easier into the sauce. When I say that this sauce is delicious I mean BBQ King Mr. Jessiker Bakes gave it a huge thumbs up. It has all the right hints of smokiness, flavour, and spice and the strawberry adds a delicious sweetness to it. It comes together so quickly that you'll be wondering why you ever bought barbecue sauce from the store. This sauce is ready for use on pretty much anything – or you can do like me and just eat it with a spoon.
Seriously.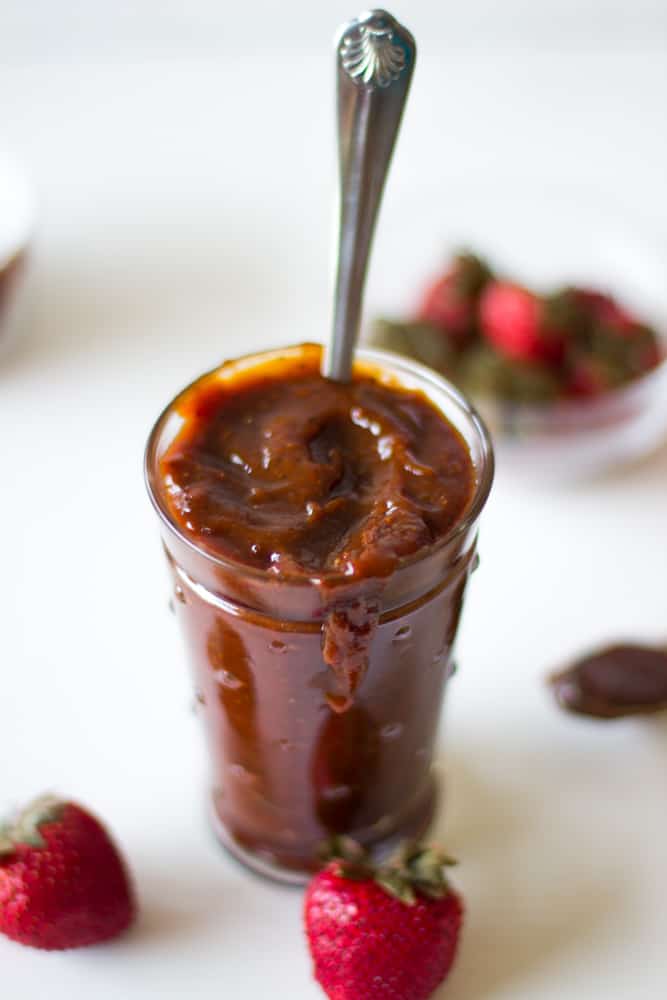 P.S. Here are some of the items I used to make this recipe if you'd like to use them too:
| WHAT YOU'LL NEED // SHOP MY FAVORITE INGREDIENTS & PREP PRODUCTS |


If you try this Roasted Strawberry Barbecue Sauce please let me know in the comment section below, or tag me on instagram with the hashtag #jessicainthekitchen! For more exclusive recipes follow me on Instagram AND on Snapchat: jessinkitchen.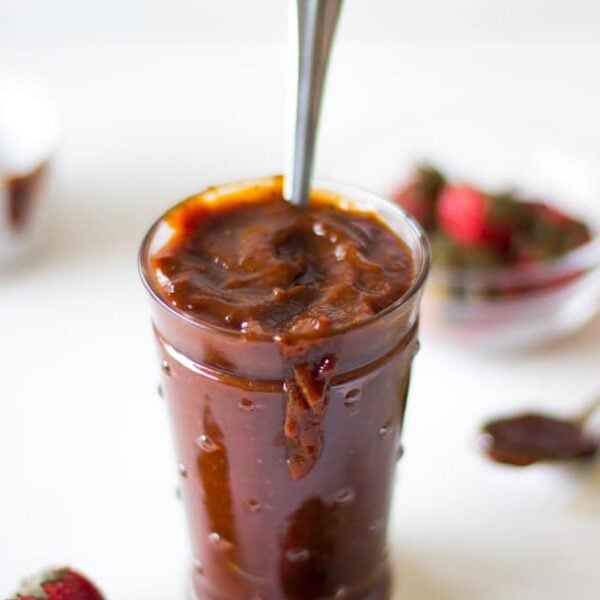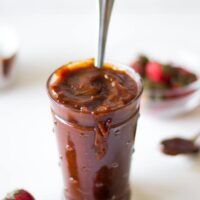 Roasted Strawberry Barbecue Sauce
This rich, smoky roasted strawberry bbq sauce is perfect for your next cookout! Use it on cauliflower wings and more!
Ingredients
Roasted Strawberries:
1 1/2 cups strawberries, cut in half
2 tablespoons coconut sugar
1 teaspoon coconut oil
Magic Dust:
1/2 cup paprika
1/4 cup kosher salt
1/4 cup coconut sugar
2 tablespoons mustard powder
1/4 cup chili powder
1/4 cup ground cumin
2 tablespoons ground black pepper
1/4 cup granulated garlic
2 tablespoons cayenne powder, or less to taste
Barbecue Sauce:
2 cups ketchup
1/4 cup cider vinegar
1/4 cup vegan Worcestershire sauce
1/4 cup firmly packed coconut sugar
2 tablespoons molasses
2 tablespoons prepared yellow mustard
1 tablespoon magic dust
1/2 teaspoon black pepper
Hot sauce, such as Tabasco to taste
Instructions
Roasted Strawberries
Preheat oven to 375 ° F/ 190° C. Line a cookie sheet with foil paper, lightly greased with oil.

Toss the strawberries with sugar in a bowl, then place on the cookie sheet. Roast in the oven for 20 minutes. Remove and let cool.
Barbecue Sauce
Make the magic dust first by combining all of the ingredients in a container than shaking to combine them.

For the barbecue sauce, mix all of the ingredients together (including a tablespoon of magic dust) in a pot over medium high heat and bringing to a boil. Reduce to a simmer for 15 minutes, stirring until sauce is dark and ingredients incorporated. Remove from heat.

Using an immersion blender, add the roasted strawberries and blend until incorporated. Pour into a container to store.
Notes
HOW TO STORE
You can store the rest of the magic dust and use it as a seasoning for your meats or vegetables. The bbq sauce can be stored in your fridge for 7-10 days in a jar or sealed tupperware container.
Calories: 343kcal, Carbohydrates: 71g, Protein: 8g, Fat: 7g, Saturated Fat: 1g, Sodium: 5839mg, Potassium: 1279mg, Fiber: 11g, Sugar: 39g, Vitamin A: 8605IU, Vitamin C: 28mg, Calcium: 221mg, Iron: 13mg
Disclaimer: Although jessicainthekitchen.com attempts to provide accurate nutritional information, kindly note that these are only estimates. Nutritional information may be affected based on the product type, the brand that was purchased, and in other unforeseeable ways. Jessicainthekitchen.com will not be held liable for any loss or damage resulting for your reliance on nutritional information. If you need to follow a specific caloric regimen, please consult your doctor first.