Rosé Sangria
This sweet and summery Rosé Sangria is a great and versatile summer drink for all your summer parties!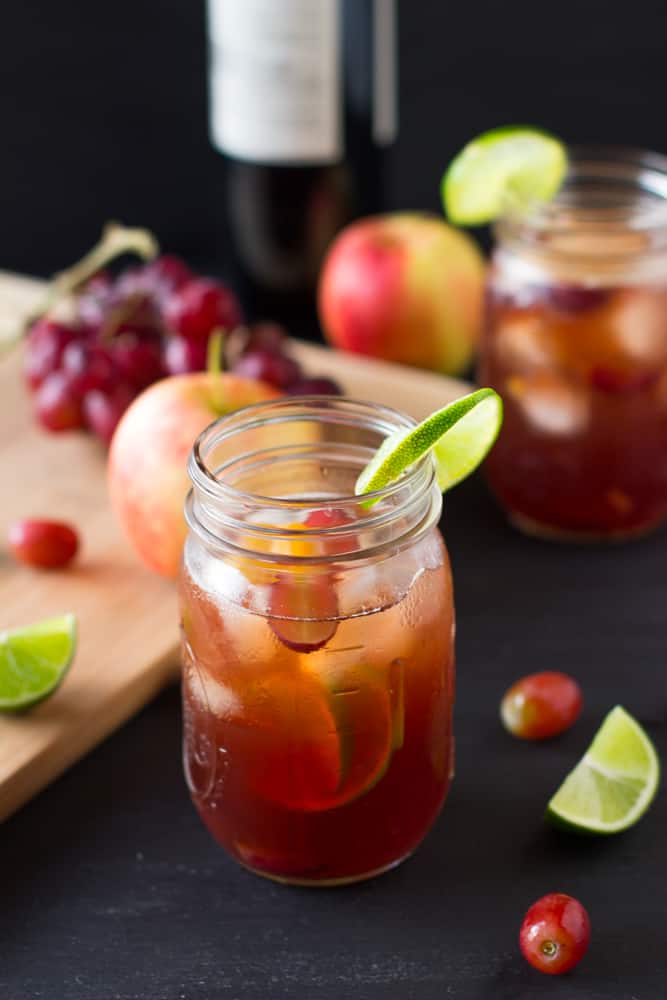 It's Friday! And I have a delicious sangria recipe that you need to try out this summer. 
My love for wine started about two years ago and went from asking for white wine to knowing the specific types of wine I preferred over others, and the types of cheeses to order. Now I'm no expert at it all, but know the type that appeals to you is going to a game changer. I won't drink any alcohol drink other than wine if we spend the evening out now, and I was pretty sure that no matter what I was a white wine only kind of girl.
Then I met Rosé.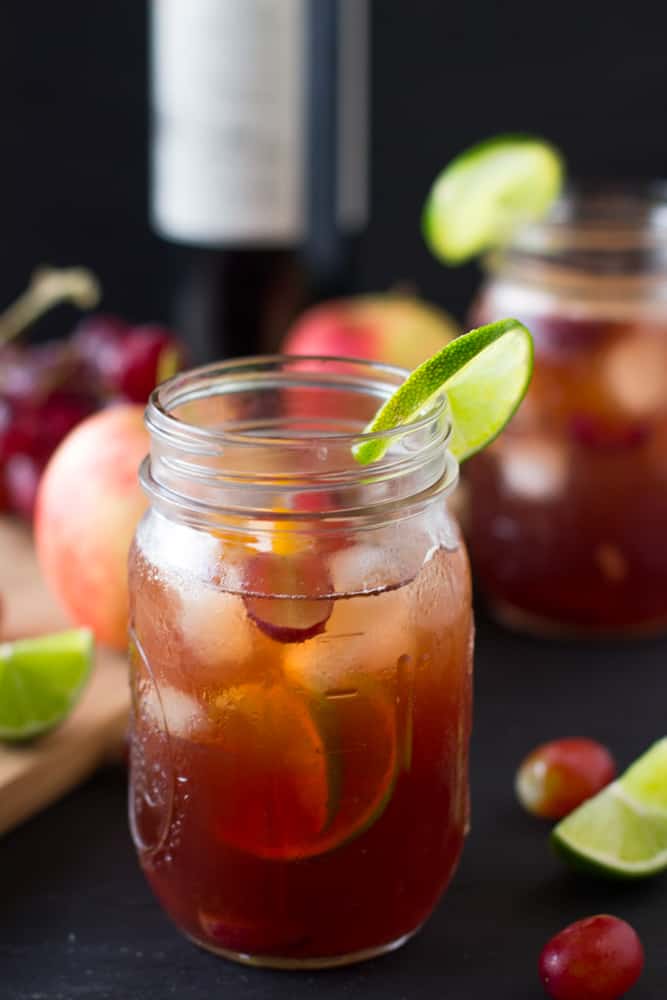 Now, I know technically Rosé doesn't have enough colour to be considered red wine and that's fine with me, I like to think of it as a settling in the middle (wine connoisseurs please don't cringe!). I fell in love with the taste and haven't turned back since after the Mr. made me try it after my very eventful mock trial if you remember. Not only is it an amazing wine, it makes a pretty delicious sangria. We made this sangria with white wine, and it was delicious but nowhere near the taste of using Rosé. I do wish to share a white wine sangria in the future so that you can compare.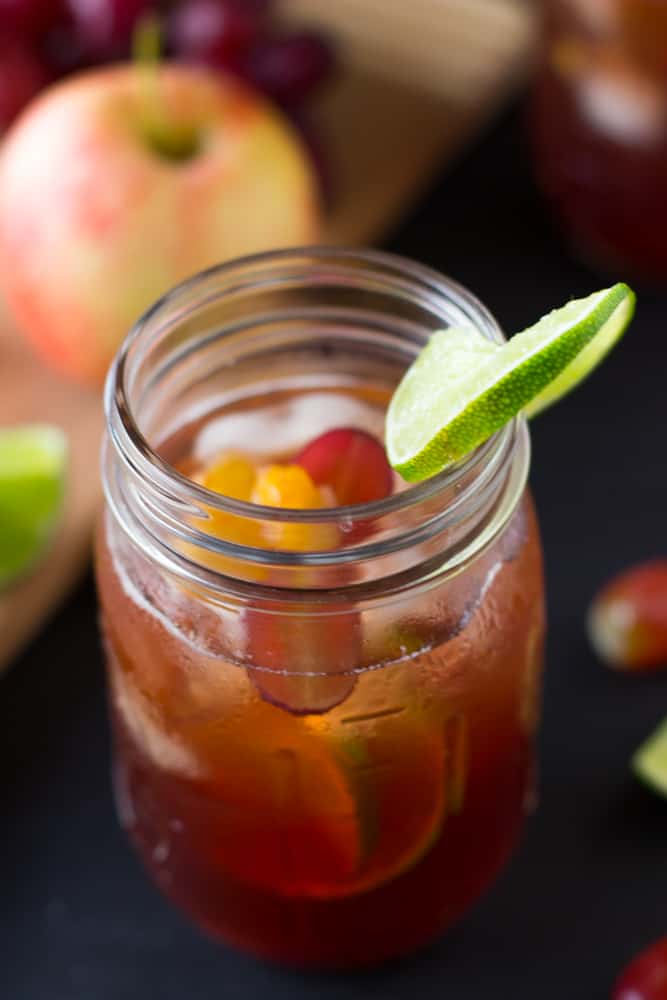 The flavours produced by this sangria were smooth, sweet but not too sweet which I actually think had to do with the amount of simple syrup and not the type of wine, and so fruity. The fruit combination was my favourite of all the sangrias we have made. I've listed the exact fruit combination in the ingredients that we used but you can use pretty much any juicy fruit.
I used blueberry brandy over rum because it produced a much fruiter taste, which I think is perfect for this summer fruit, although rum is totally fine to use. And yes, eating the fruits from your cup is the best part!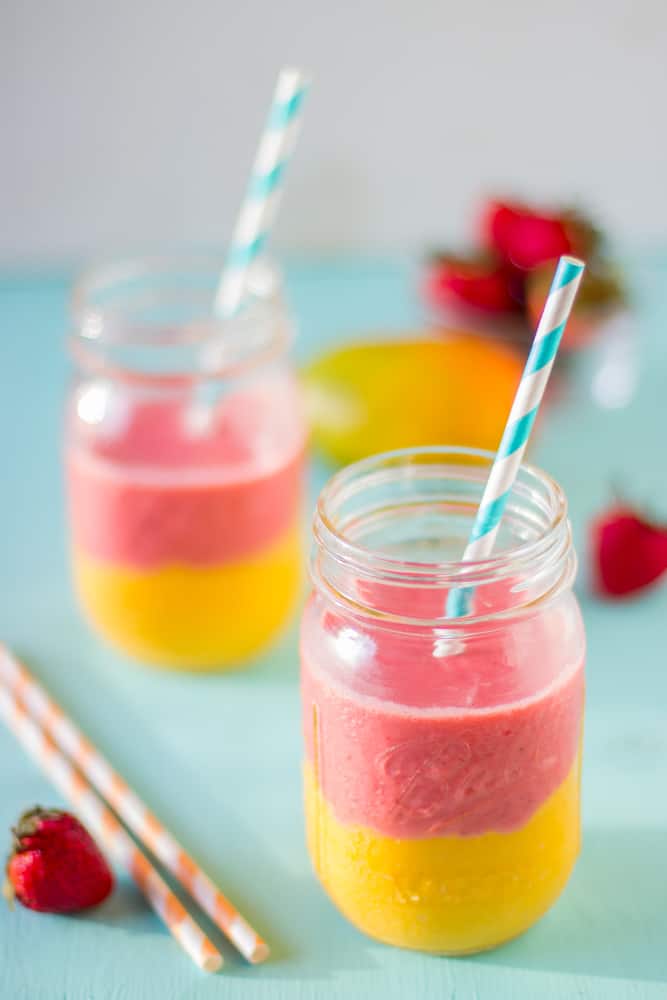 You'll also love this Pineapple Coconut Rum Cocktail!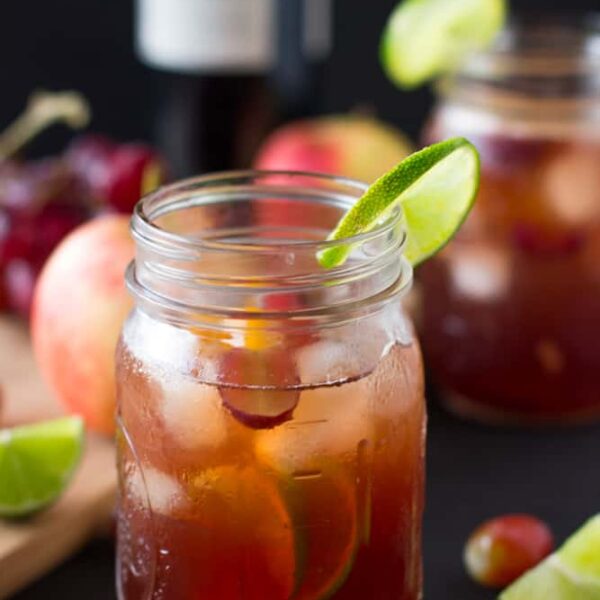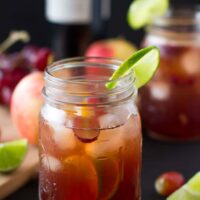 Rosé Sangria
This sweet and summery Rosé Sangria is a great and versatile summer drink for all your summer parties!
Ingredients
2 1/2 cups rose
2 1/2 cups sweet sparkling wine
1/4 cup water
1/4 cup sugar
1/3 cup blueberry brandy/rum
1 1/2 cups assorted fruits of pineapples, apples slices, grapes, and 2 limes sliced
Instructions
In a pot over high heat, stir the water and sugar until it comes to a boil. Boil together until they form a simple syrup for about 1 minute. Remove from heat and set aside to cool.

In a jug, mix the rose, sweet sparkling wine, brandy and fruits. Add the simple syrup and swirl to sweeten the sangria.


You can sneak in a sip now, but refrigerate for 4 hours to overnight for the flavours to meld together properly and be smoother.
Calories: 160kcal, Carbohydrates: 21g, Protein: 1g, Fat: 2g, Saturated Fat: 1g, Sodium: 13mg, Potassium: 227mg, Fiber: 5g, Sugar: 14g, Vitamin A: 337IU, Vitamin C: 26mg, Calcium: 142mg, Iron: 3mg
Disclaimer: Although jessicainthekitchen.com attempts to provide accurate nutritional information, kindly note that these are only estimates. Nutritional information may be affected based on the product type, the brand that was purchased, and in other unforeseeable ways. Jessicainthekitchen.com will not be held liable for any loss or damage resulting for your reliance on nutritional information. If you need to follow a specific caloric regimen, please consult your doctor first.