Pineapple Coconut Rum Cocktail
This Pineapple Coconut Rum Cocktail is only 5 ingredients and the perfect summer drink! So yummy and so refreshing, it's a taste of the Caribbean!
Yesterday a group of my closest friends and myself went on a road trip to Frenchman's Cove in Portland, Jamaica. Needless to say, we had a blast.
From exploring a cave, to taking fake candids, to being tourists and making complete fools of ourselves, yesterday was definitely worth what felt like to all of us an endless journey. The sun was perfect, the water was freezing! But felt amazing compared to the heat here in Kingston!
When we were leaving we went to Boston Jerk Centre/Pitt, ordered some yummy (pork and sausage for my friends) and jerked chicken and festival for myself. The food was delicious but it was actually the surrounding atmosphere that got my attention.
The cooks made the food so simply which as any cook know always ends up tasting the best. A local bar was churning out tunes next door and people were in tune to the music from slight swaying to an old man literally rocking out. I for one was in a different world; away from the constantly moving life for just one day, and I just looked around and saw that everyone had the same expression on their varying faces; peace. It was an expression that this moment of now was now… to enjoy now. Not to worry about which meeting is tomorrow, or which appointment, which order…and on our way home I brought it up.
Would life be so much better if it was simpler?
I'm not talking what people seem to think of when they think of Jamaica. We all have jobs, things to do, we aren't all on the beach all day unfortunately. I'm talking a life where we aren't stumbling over ourselves doing work to earn more money to spend more money! Where I wouldn't have to be writing this whilst looking up at my white board at my to-do list and subconsciously calculating what to do and in what order. No one yesterday at the Jerk Centre was checking the time or tapping their feet waiting for their food so they could rush back to finish their work at home. On the drive home there were even people who were just parked beside the beach just…doing nothing.
Chilling. Talking. Watching the waves.
Who knows how long they were there? I know how gorgeous the beach is in the night so they could've stayed all night. I started to feel a little jealous to be honest as I remembered that the second we got in we needed to catch the supermarket before it closed…the list goes on. Then my friend said,
"You know Jess, I couldn't do it."
P.S. This is a real castle
I joined in agreement almost immediately, which shocked my current on a cloud 9 self. Then I realized it was the truth. I couldn't go from how I am now to that life although the break to do nothing every now and then is such a relief. I think I strive on stress and schedules and slight chaos. It's like adrenaline for me, and it's never done so there's always that adrenaline kick. Of course after a huge project you sleep for 9 hours then go again, but I love the crazy life I live right now.
To celebrate the relaxed lifestyle, I'm sharing a Pineapple Coconut Rum Cocktail with a Caribbean flair I created. I totally love it and I hope you do too; please only indulge when you're taking in the simple life!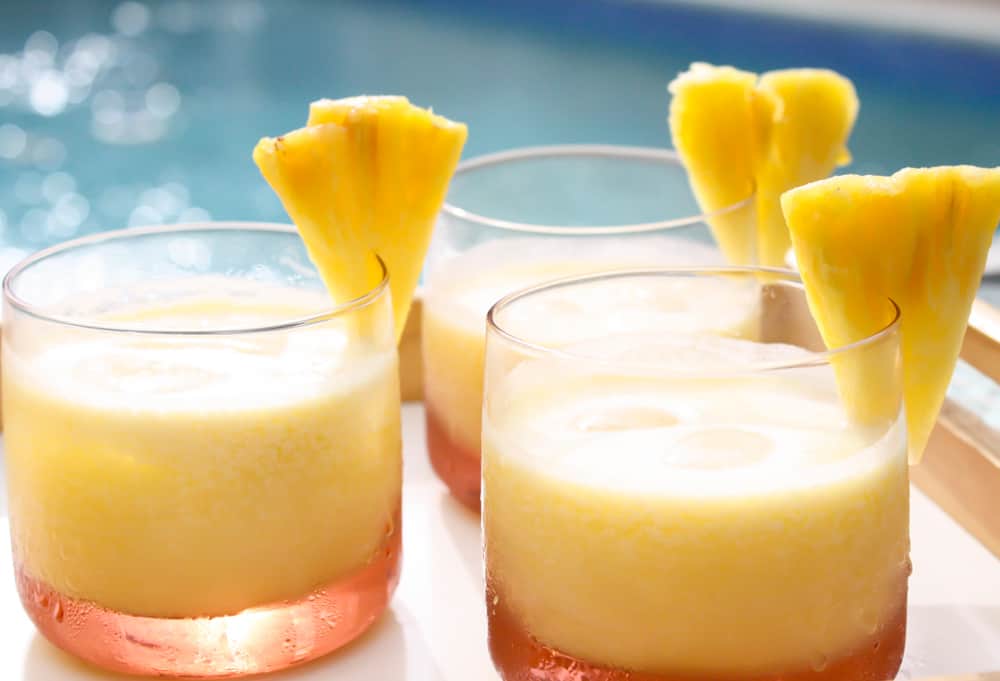 If you try these Pineapple Coconut Rum Cocktail, please let me know in the comment section below, or tag me on instagram with the hashtag #jessicainthekitchen! For more exclusive recipes follow me on Instagram AND on Snapchat: jessinkitchen.
MORE COCKTAIL RECIPES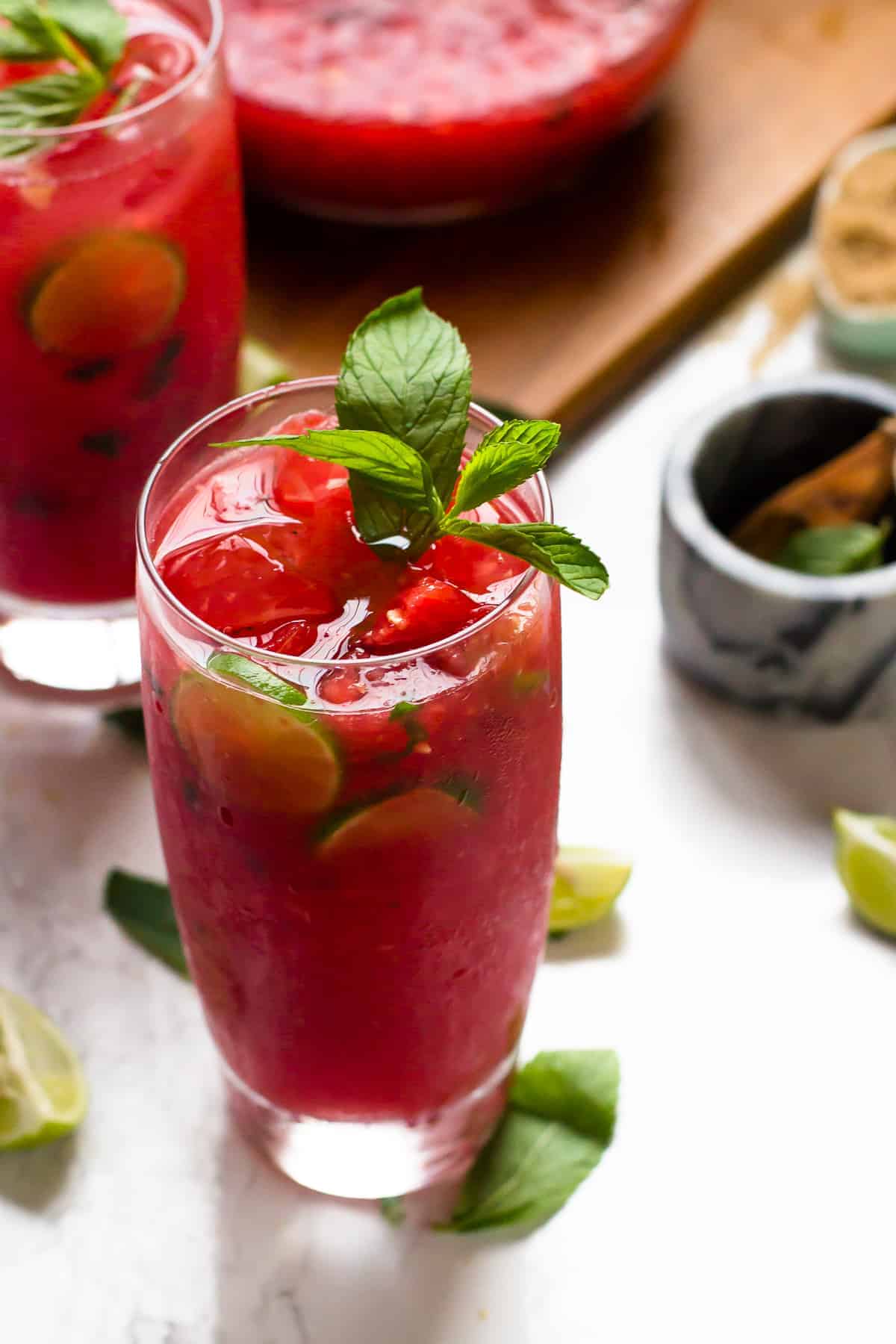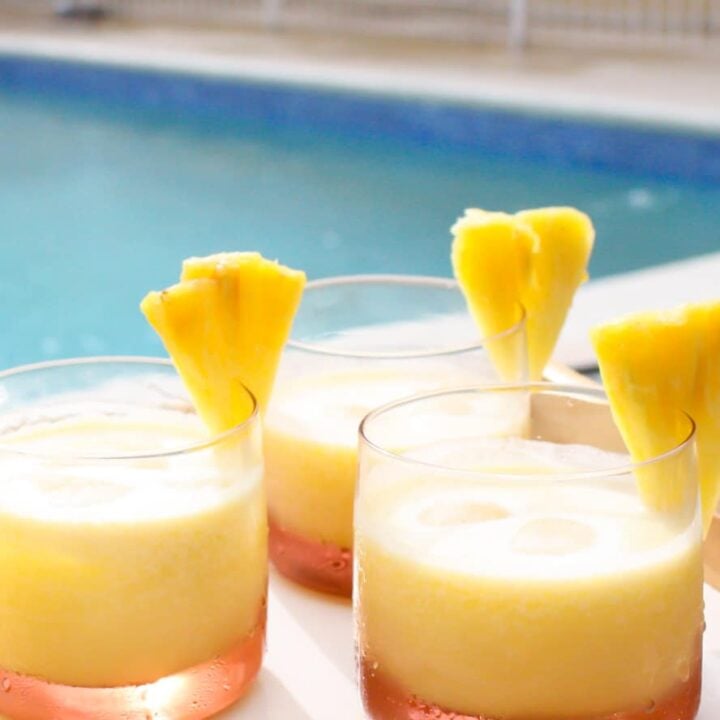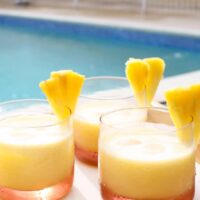 Pineapple Coconut Rum Cocktail
This Pineapple Coconut Rum Cocktail is only 5 ingredients and the perfect summer drink! So yummy and so refreshing, it's a taste of the Caribbean!
Ingredients
At least 1/2 pineapple of pineapple slices
1 14 oz. of coconut milk
1/4 cup rum
1 cup of ice
4 tablespoons of sugar, adjust to your taste
Instructions
Blend the pineapple in a food processor until crushed. Do not strain.


Add sugar, rum and ice.


Add coconut milk by the 1/2 cup depending on how creamy you want it (I added the entire tin).


Pour over ice in a jug and serve immediately.


Substitute: If you want a thinner drink, double the pineapple, strain them and do not add coconut milk.
Notes
A delicious and thick cocktail that's perfect for a hot summer day. I used coconut milk and rum instead of coconut rum to thin out the pineapples since they weren't strained. You can adjust your level of sweetness. Prepare this right before you will serve it.
Calories: 222kcal, Carbohydrates: 20g, Protein: 4g, Fat: 16g, Saturated Fat: 14g, Cholesterol: 6mg, Sodium: 20mg, Potassium: 282mg, Fiber: 1g, Sugar: 15g, Vitamin A: 44IU, Vitamin C: 37mg, Calcium: 31mg, Iron: 3mg
Disclaimer: Although jessicainthekitchen.com attempts to provide accurate nutritional information, kindly note that these are only estimates. Nutritional information may be affected based on the product type, the brand that was purchased, and in other unforeseeable ways. Jessicainthekitchen.com will not be held liable for any loss or damage resulting for your reliance on nutritional information. If you need to follow a specific caloric regimen, please consult your doctor first.