Jamaican Jerk Tofu
This Jamaican jerk tofu recipe is an easy weeknight dinner that's loaded with authentic flavour. It's the real deal made by a Jamaican!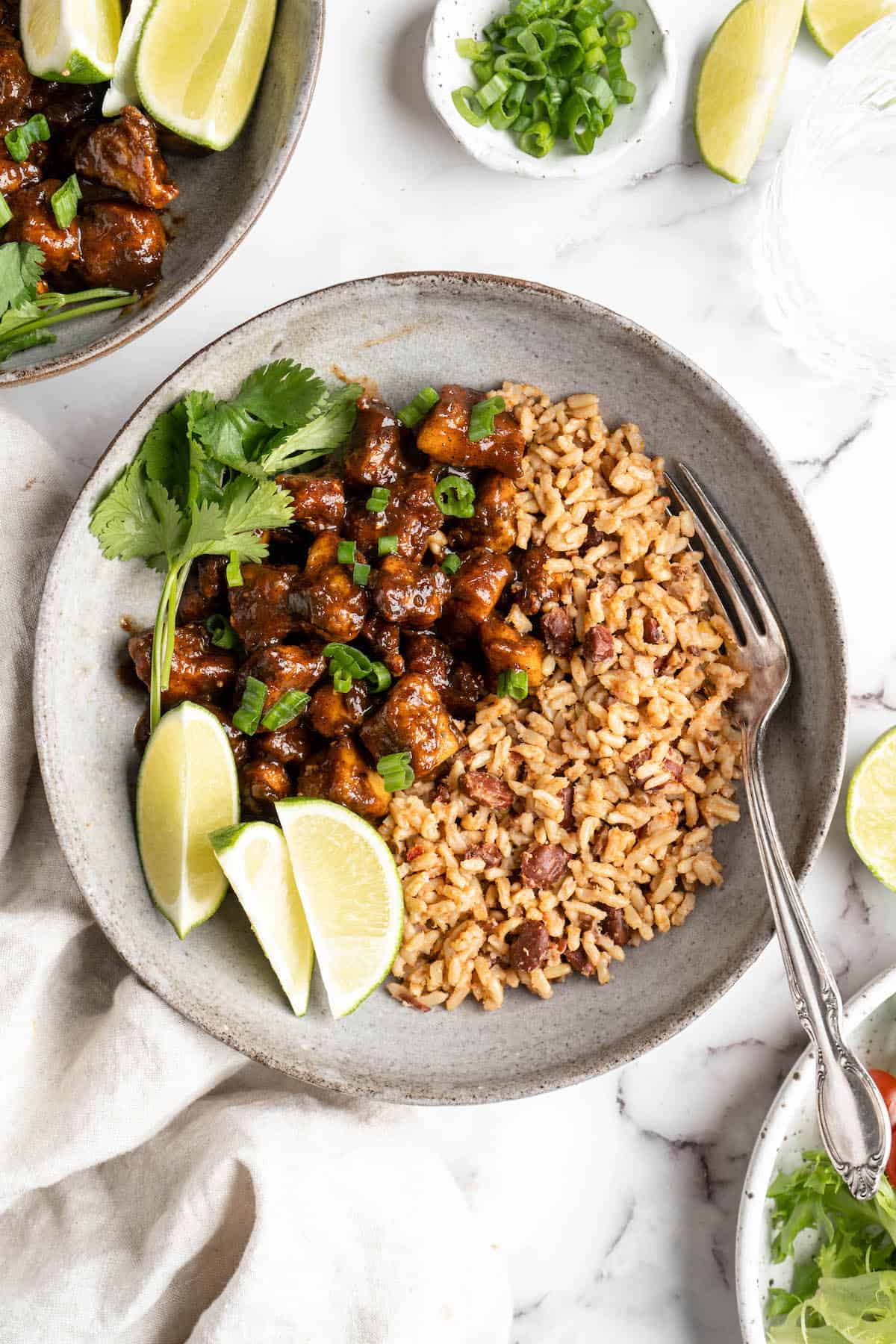 If you've been reading Jessica in the Kitchen for a while, you know I'm Jamaican. And since I'm Jamaican, maybe you've wondered, "Why don't you have a jerk tofu recipe on your website?!"
Well, friends, I've finally gotten around to sharing my Jamaican jerk tofu recipe. And while the internet is full of jerks (er, jerk recipes, I mean), you can feel confident knowing that this recipe is authentic. It's also saucy and spicy; sweet and savory; chewy and crispy.
Basically, it's everything good, all in an easy to make, highly meal prep-able package. That's a win, right?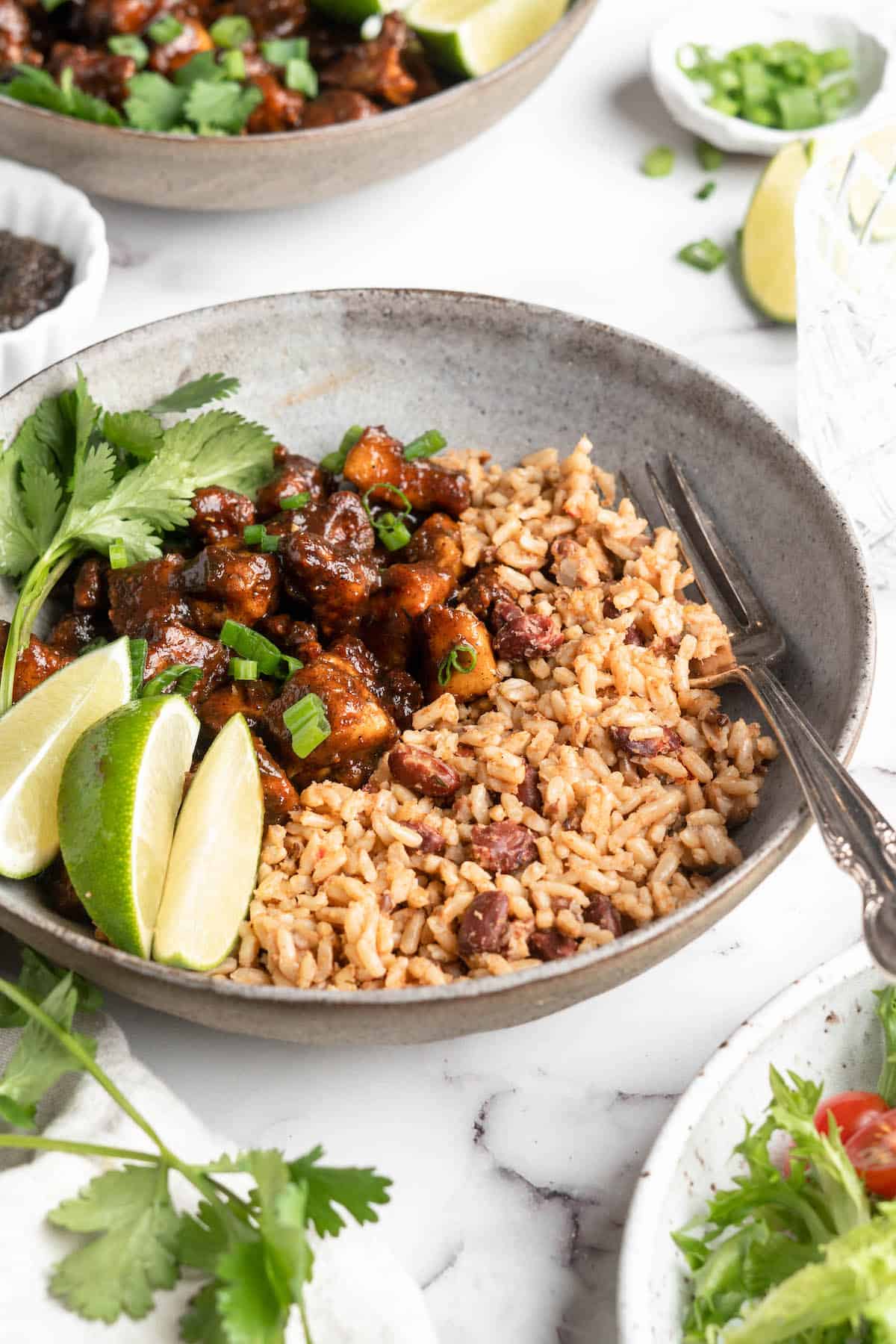 What Is the Best Jamaican Jerk Seasoning?
The secret to perfect jerk tofu is starting with the best Jamaican jerk seasoning. You can definitely make my homemade Jamaica Jerk Sauce which is 100% authentic and absolutely delicious. Or, you can save time and effort by buying it, and my favourite is Walkerswood. It's made in Jamaica, it's vegan, and it's miles better than the dry jerk seasoning blends you can buy in American grocery stores.
You can order Walkerswood jerk seasoning online, but if you need to substitute it with something else, be sure to use a wet jerk seasoning rather than dry.
What Is in Jerk Seasoning?
Jerk seasoning is a Jamaican spice blend that typically includes allspice, thyme, Scotch bonnet peppers, and cloves. Some jerk seasonings also have ginger, nutmeg, cinnamon, and brown sugar. Everyone has their own favourite blend, with slightly different flavours or proportions of ingredients!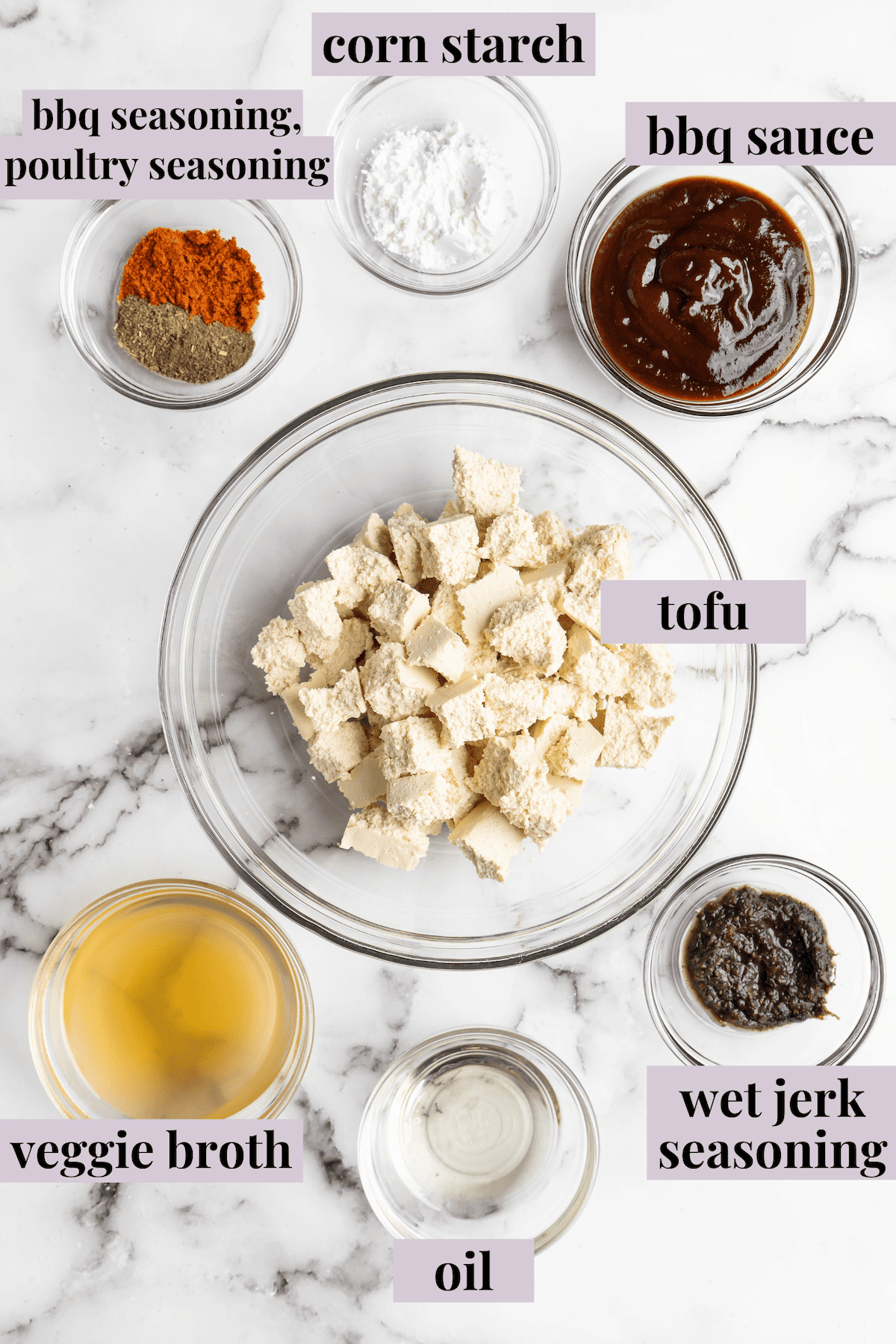 Notes on Ingredients
Please note that this is important information on the ingredients and instructions and the FULL recipe with amounts and details can be found DOWN BELOW (scroll to it) in the recipe card.
Extra-firm tofu – Press the tofu for 30 minutes. (Learn more: How To Cook Tofu 101 + Best Tips on Making the Most Delicious Tofu)
Veggie broth – Use store-bought or homemade vegetable broth.
Poultry seasoning – This is a blend of herbs and spices, so it's almost always naturally vegan.
Cornstarch
BBQ seasoning
BBQ sauce – Why BBQ sauce? Well, you need a little extra sauce to coat the tofu, but adding more jerk seasoning would make this way too spicy. BBQ sauce makes your jerk tofu perfectly saucy, without making it fiery hot.
Oil – Any neutral oil with a high smoke point is fine here.
How to Make Jamaican Jerk Tofu
This jerk tofu requires very little hands-on time, although you'll have to account for the hour of pressing and marinating in your planning.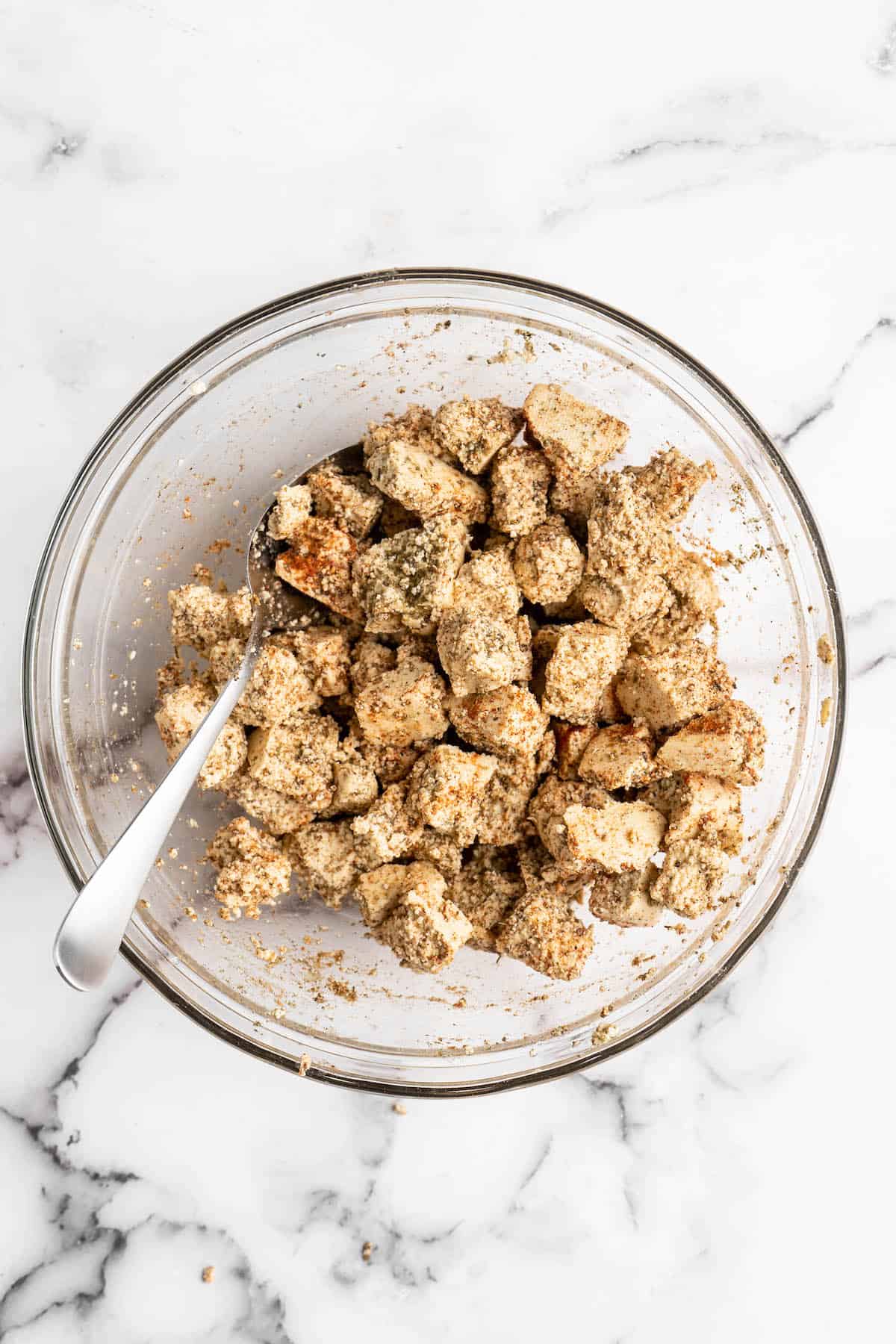 Marinate the tofu. Tear the tofu into uneven pieces and place them in a bowl. Pour the vegetable broth and poultry seasoning over the tofu and stir to coat. Marinate for about 30 minutes, until the liquid is absorbed.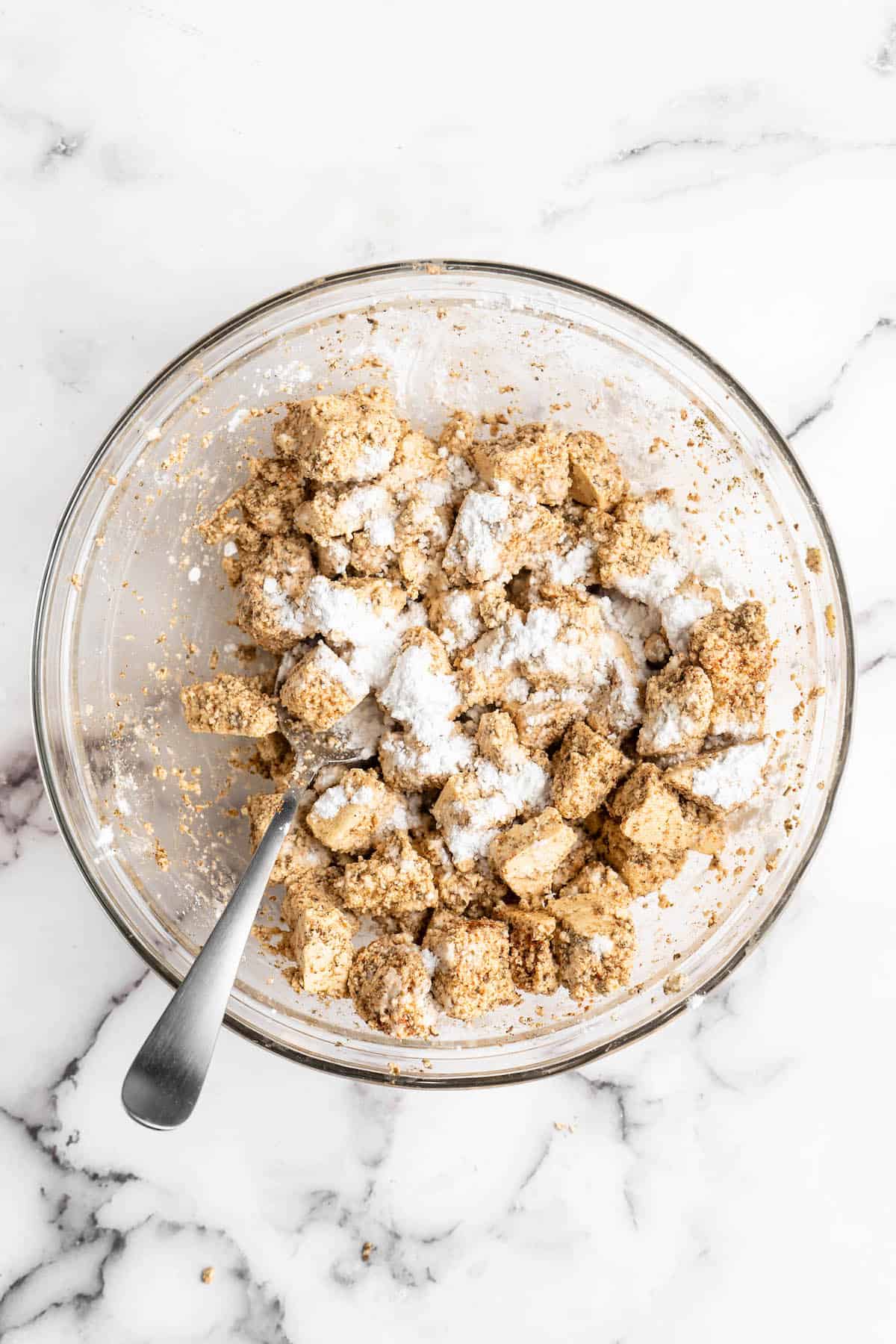 Add the cornstarch. Sprinkle a tablespoon of cornstarch over the top of the tofu, then stir to coat. Add another half tablespoon if needed.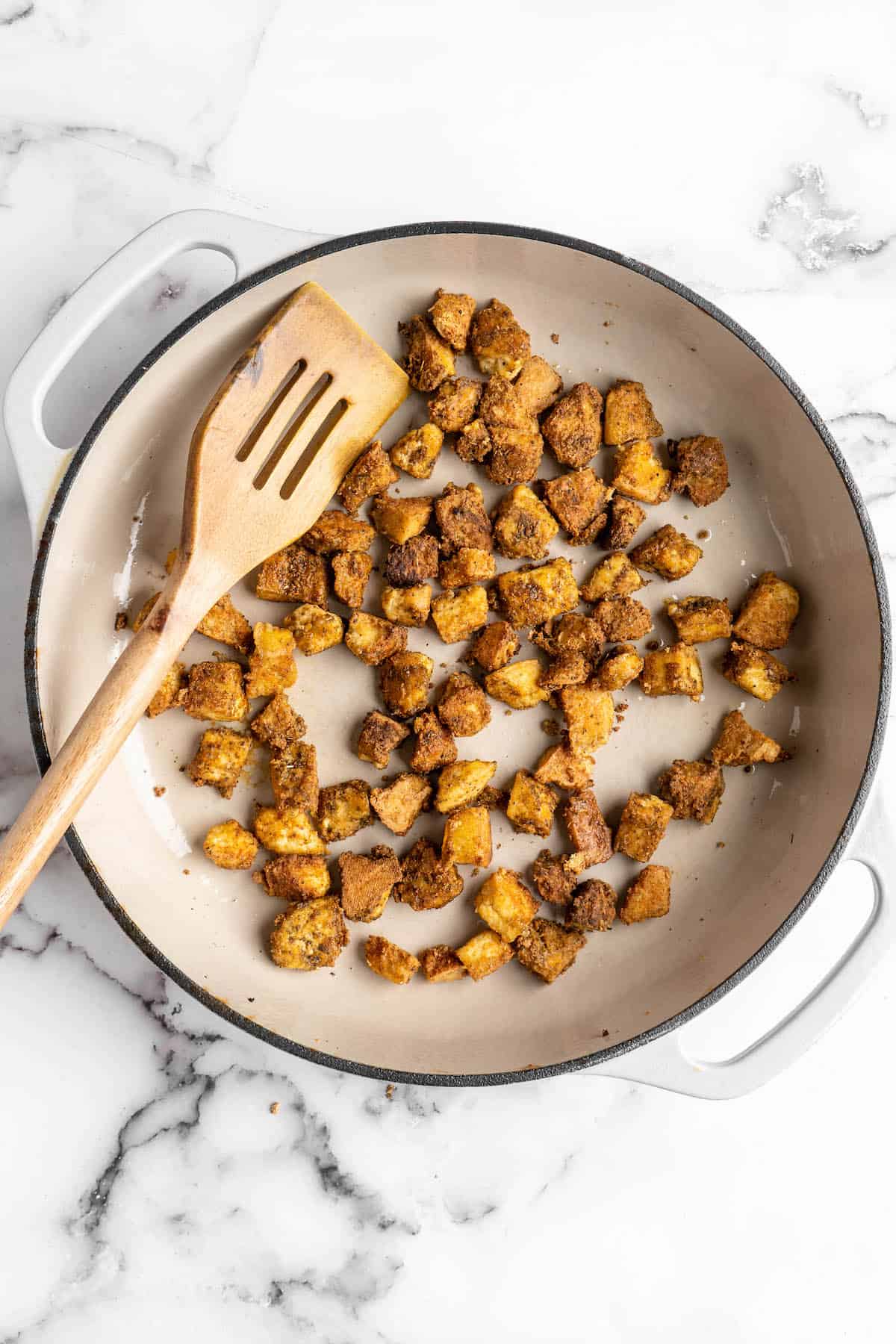 Cook the tofu. Heat 2 teaspoons of oil in a skillet set over medium-high heat. Add the tofu and cook until it's golden brown on each side, about 4 to 8 minutes. Transfer to a bowl.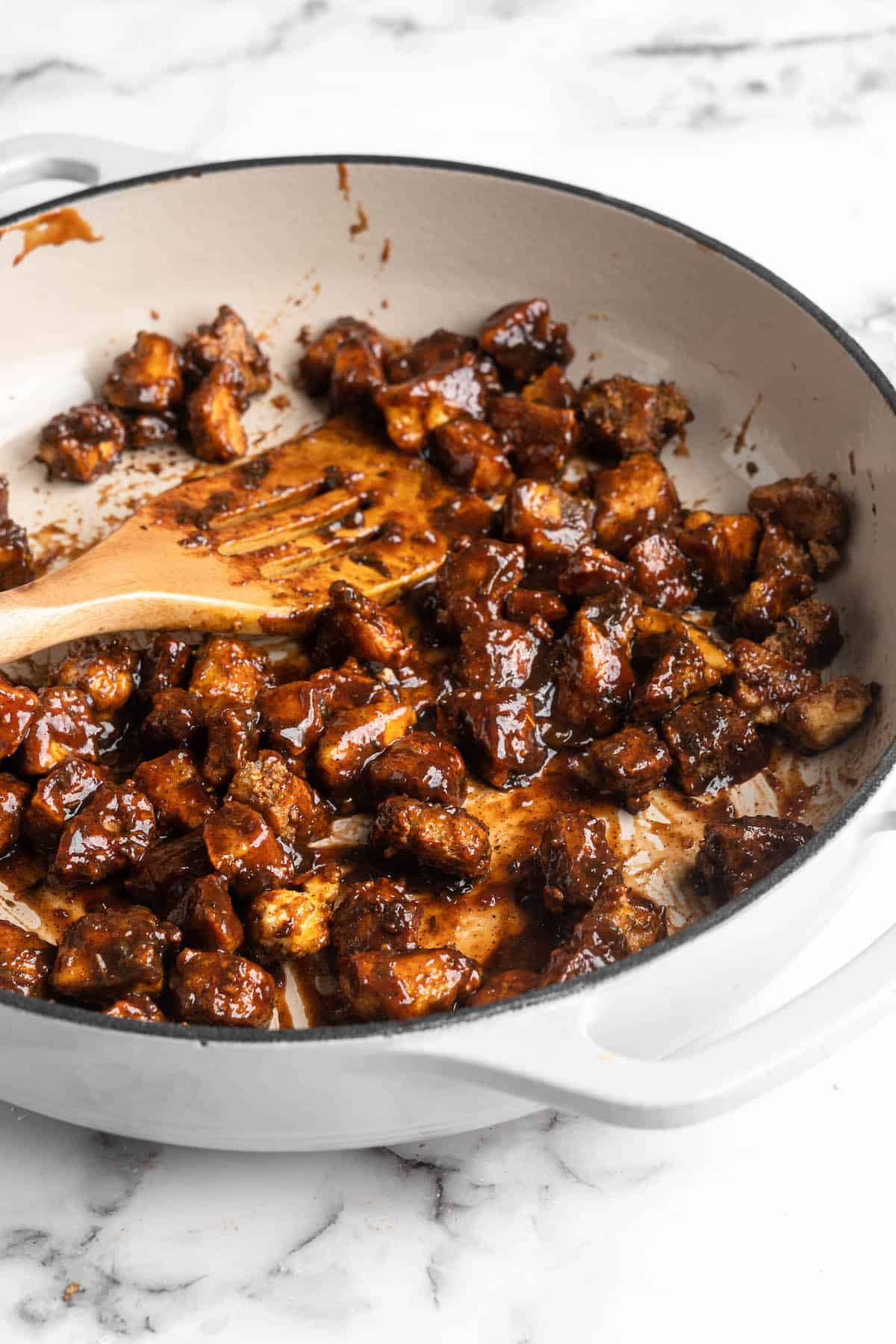 Season. Add the BBQ sauce and jerk seasoning to the tofu. Stir to coat, then let the mixture sit for about 3 minutes before serving.
Tips for Success
Here are some hints and tips for perfect Jamaican jerk tofu:
Don't skip pressing the tofu. It's important to get all the liquid out so the tofu can soak up the flavours you add to it.
Choose your BBQ sauce wisely. You want the jerk seasoning to be the star here, so just go with a basic barbecue sauce rather than something fancy with flavours that will distract from the jerk.
Be careful with the jerk seasoning. It is hot, so add 1 teaspoon at a time and taste between additions. You could also use a mild jerk seasoning if you prefer.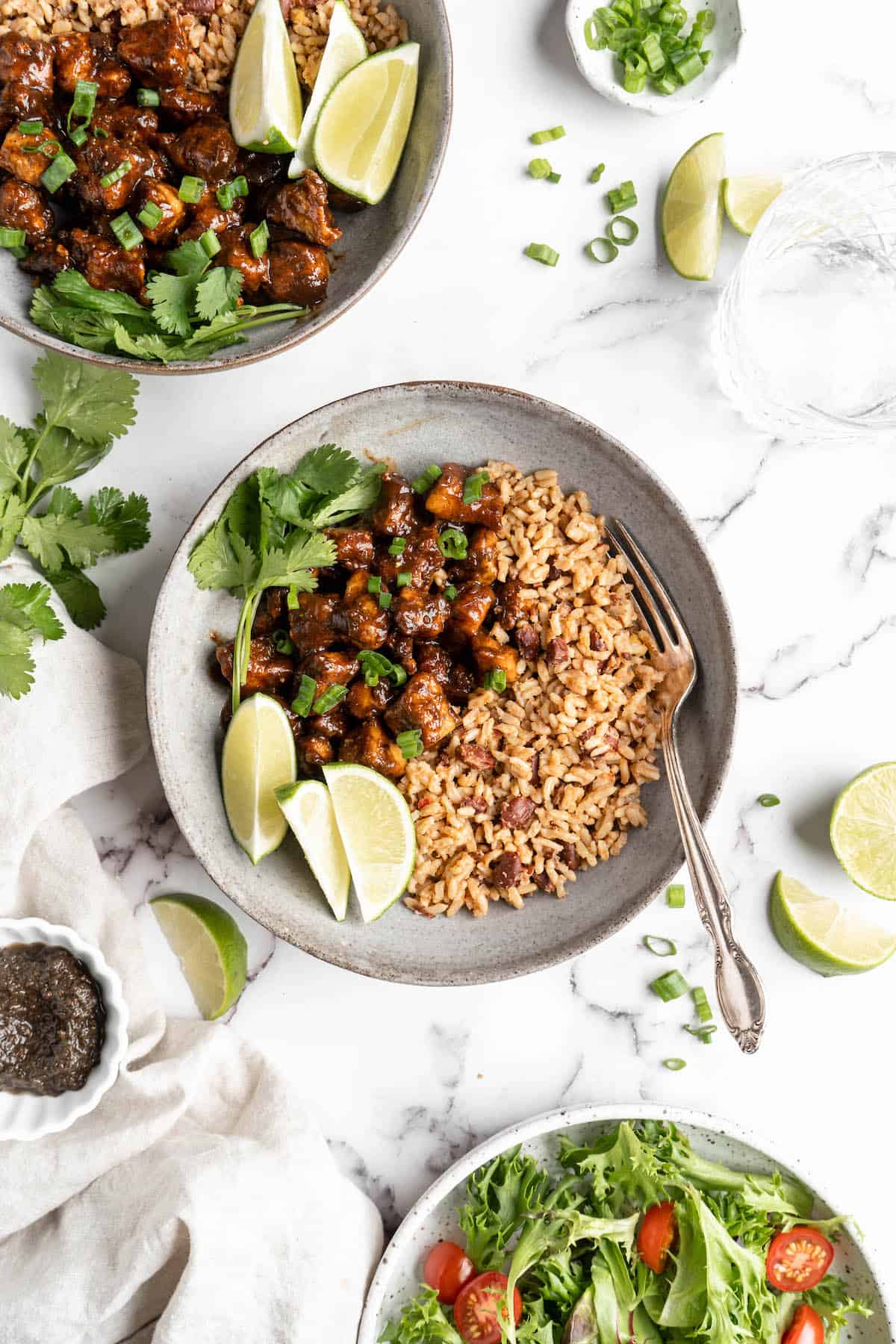 Serving Suggestions
I love using this jerk tofu as a meal prep option with brown rice (or cauliflower rice) and Jamaican Rice and Peas. Round things out with Balsamic Roasted Vegetables, a slab of grilled pineapple, or a simple salad.
You can also fold your Jamaican jerk tofu into warm tortillas for jerk tacos, or pile it onto a bun to make it into a sandwich.
How to Store and Reheat Leftovers
Store leftover jerk tofu in an airtight container in the refrigerator for 4 to 5 days. It can be reheated in the microwave, or on the stovetop over low heat; you may need to add a splash of water or broth to loosen it up a bit.
Can This Recipe Be Frozen?
You can freeze jerk tofu in a freezer bag or airtight container for up to 3 months. Let it thaw in the refrigerator, then reheat it according to the instructions above.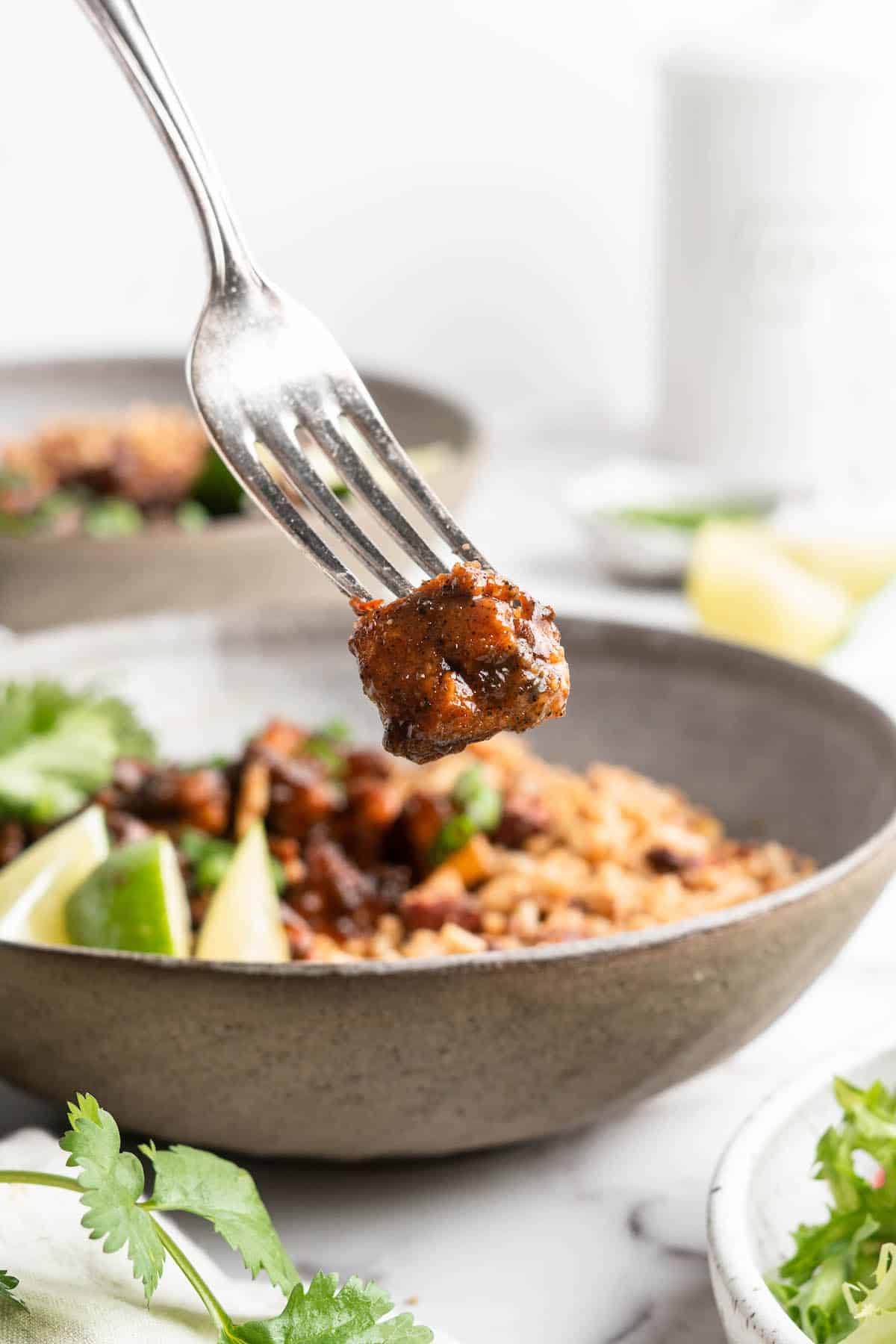 Enjoy friends! If you make this Jamaican jerk tofu recipe, please snap a photo and tag #jessicainthekitchen on Instagram! We'd also love it if you would leave a comment below, and give the recipe a rating! Thanks so much!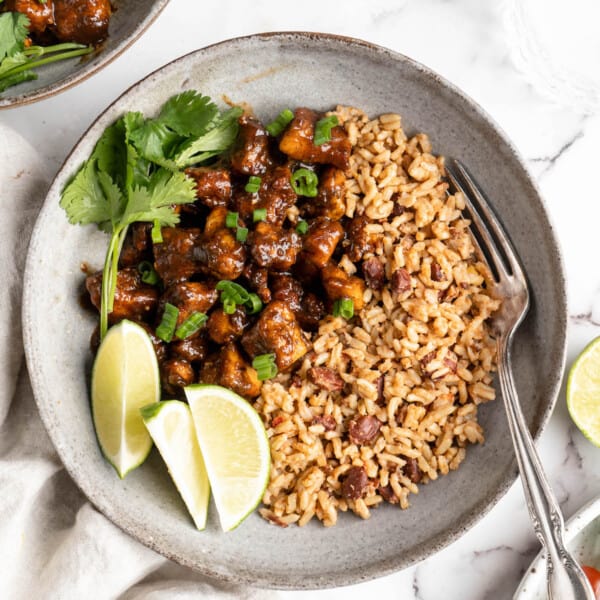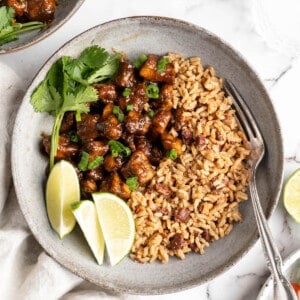 Jamaican Jerk Tofu
This jerk tofu recipe is authentic, easy to make, and packed with big, bold flavors! You'll love it as part of your meal prep routine or as a weeknight dinner.
Ingredients
1 block extra firm tofu
⅓ cup veggie broth
1 teaspoon bbq seasoning
1-2 teaspoon poultry seasoning, pretty much every poultry seasoning is vegan
1 to 1 ½ tablespoons cornstarch
⅓ cup bbq sauce
1 tablespoon wet jerk seasoning, Walkerswood works great or use my homemade own
2 teaspoons of oil
Instructions
Press your tofu for 30 mins. Tear into uneven pieces. Add to a bowl and pour over your vegetable broth, bbq seasoning and your poultry seasoning. Mix everything together and let it marinate for about 30 mins, until everything is soaked up.

Add cornstarch and stir everything together again. Start with 1 tbsp, add the extra ½ if you need more to coat it all!

In a pan over medium high heat, add 2 teaspoons oil. Once hot, add in all your tofu. Crisp it up on each side until golden brown, about 4 to 8 minutes.

Remove and (you can add this directly into the pan too) add to a bowl or leave in your pan (I just rinse out the same one it was marinating in). Add your bbq sauce and your jerk seasoning. Please note that this is hot, add 1 teaspoon at a time to see if you can manage it. Stir everything together and let it sit for like 3 minutes to absorb. Serve with Rice and Peas and enjoy!
Notes
Store leftover jerk tofu in an airtight container in the refrigerator for 4 to 5 days or freeze it for up to 3 months. It can be reheated in the microwave, or on the stovetop over low heat; you may need to add a splash of water or broth to loosen it up a bit.
Calories: 137kcal, Carbohydrates: 17g, Protein: 8g, Fat: 4g, Saturated Fat: 1g, Polyunsaturated Fat: 2g, Monounsaturated Fat: 2g, Trans Fat: 0.01g, Sodium: 420mg, Potassium: 259mg, Fiber: 1g, Sugar: 9g, Vitamin A: 734IU, Vitamin C: 0.4mg, Calcium: 63mg, Iron: 2mg
Disclaimer: Although jessicainthekitchen.com attempts to provide accurate nutritional information, kindly note that these are only estimates. Nutritional information may be affected based on the product type, the brand that was purchased, and in other unforeseeable ways. Jessicainthekitchen.com will not be held liable for any loss or damage resulting for your reliance on nutritional information. If you need to follow a specific caloric regimen, please consult your doctor first.