Vegan Cheez-Its
These Vegan Cheez-Its are everything you love about the classic cheese crackers, minus the cheese! Easy to make, highly snackable, and full of that irresistibly cheesy flavour.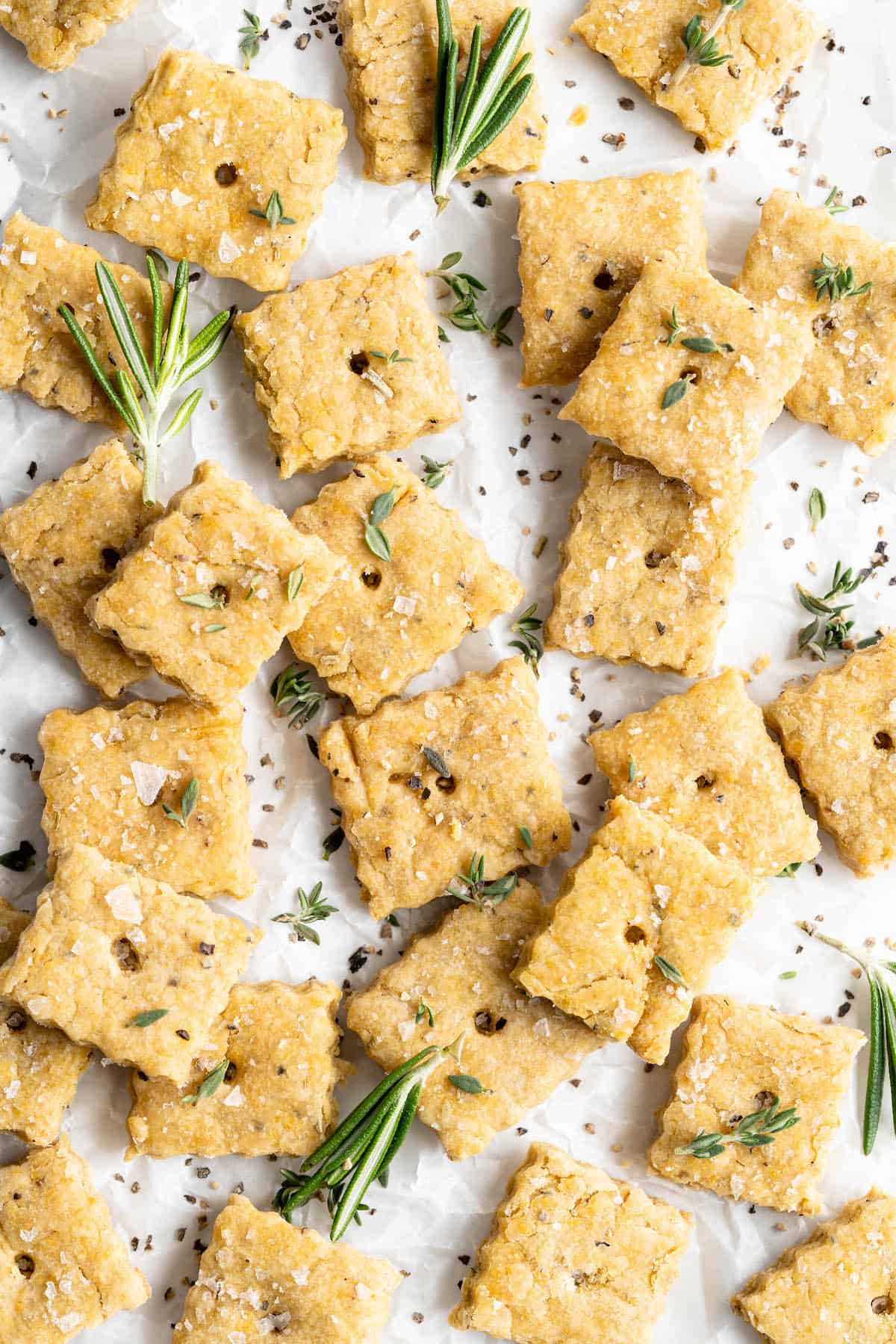 Attention snack lovers! I've got a treat for you today! If you love snacks that are crispy, crunchy, and cheesy, then these Vegan Cheez-Its are going to be your new fave. (Bonus: They won't even turn your fingers orange when you eat them!) You won't believe how much cheesy flavour we pack into these little vegan cheese crackers.
The secret? Nutritional yeast!
Yep, good ol' nooch is the key ingredient here, which means you get loads of cheesiness, with some added nutrition, too.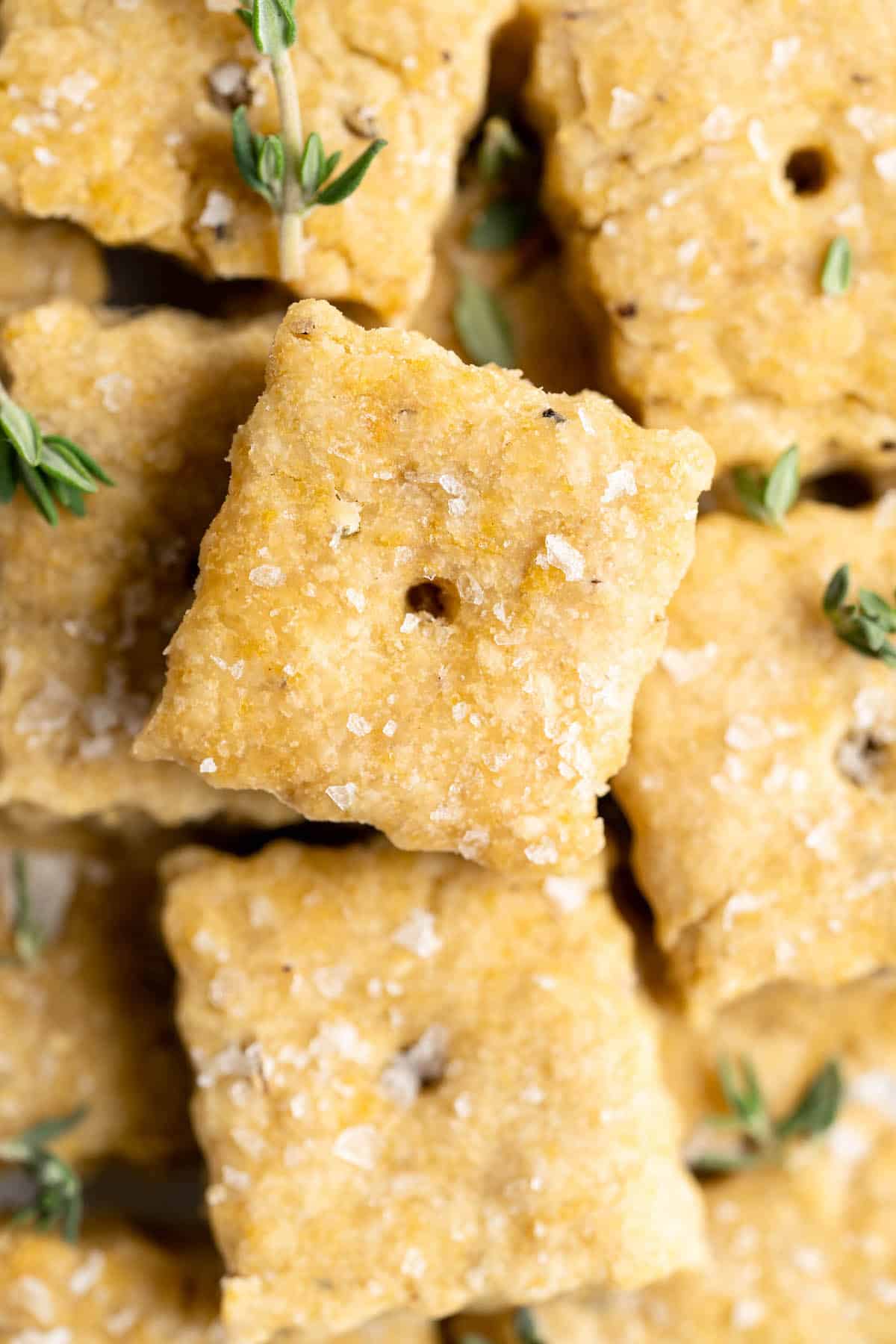 To class things up a bit, I've added rosemary for some herbaceous flavour, but you can definitely skip that if you want the traditional Cheez-It experience here.
If you've never made homemade crackers before, it's easier than you might expect. Just make a dough, roll it out super thin, cut the crackers, then bake them to crispy perfection. I cut basic squares here, but you can use small cookie cutters to create shapes, too—just pat together the scraps, roll them out again, and keep cutting.
(Want some more vegan snack ideas? I've got 'em! Here's Three Ways To Make Kale Chips, my favourite Crispy Roasted Chickpeas, and my picks for The 16 Best Vegan Snacks Ever.)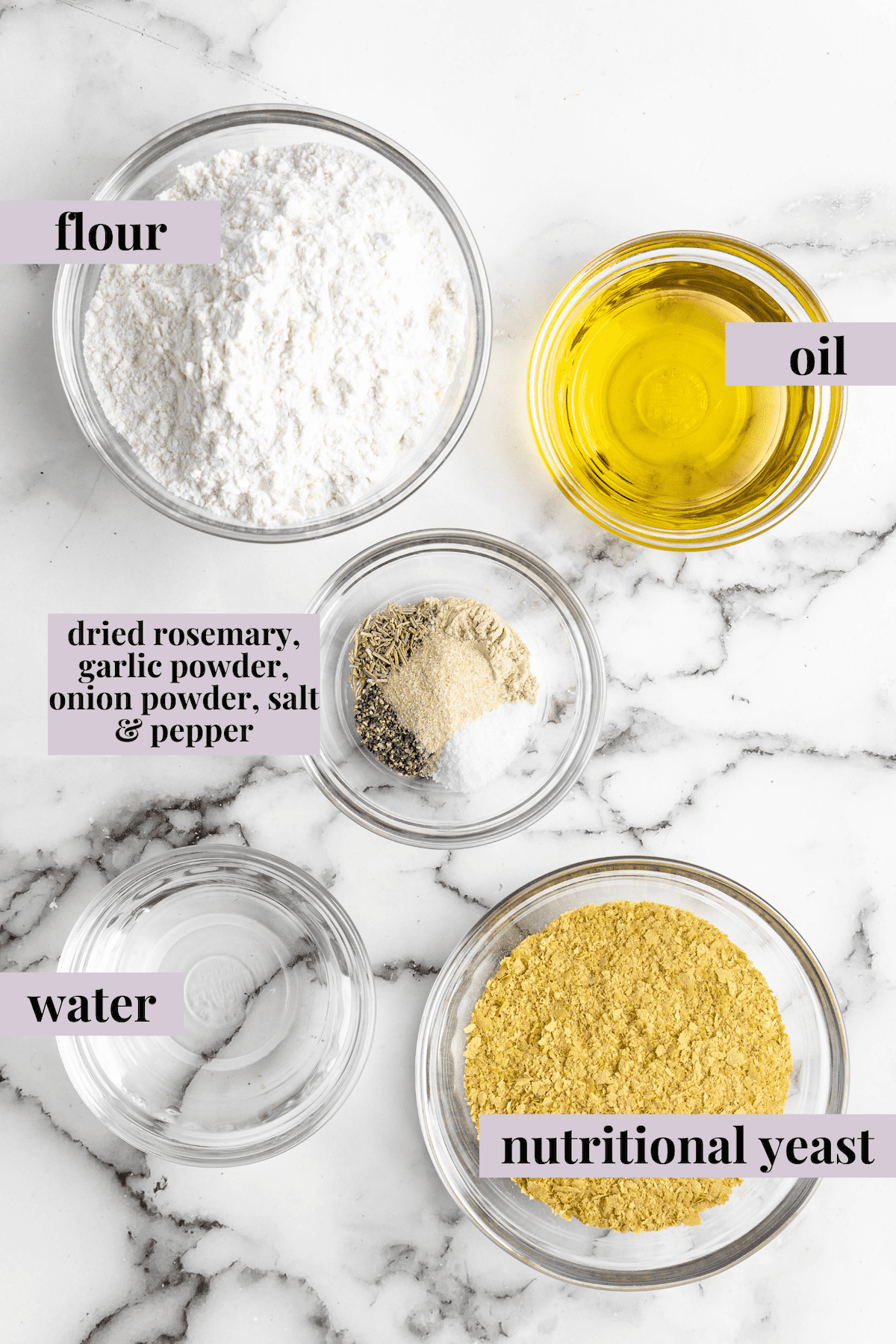 Notes on Ingredients
Please note that this is important information on the ingredients and instructions and the FULL recipe with amounts and details can be found DOWN BELOW (scroll to it) in the recipe card.
Nutritional yeast – You can usually find this with the spices at the grocery store; if yours has a bulk section, you might be able to find it there, too.
All-purpose flour – I used an all-purpose gluten-free baking flour (AKA a measure-for-measure substitute), but if you're not on a gluten-free diet, regular (wheat) all-purpose flour is just fine.
Ground black pepper
Dried rosemary
Sea salt
Garlic powder
Onion powder
Ice cold water – Pour some water into a glass with ice cubes; once the water is chilled, measure out what you need for the recipe and discard the ice.
Olive oil
Does nutritional yeast really taste like cheese?
Yes and no. It's not exactly like cheese, but it does have a cheesy flavour, although it also has a note of nuttiness to it, which reminds me of an aged Parmesan. In fact, I use it to make my favourite vegan Parmesan!
How to Make Vegan Cheez-Its
These vegan cheese crackers take just 30 minutes to make, so you can whip them up whenever you're craving a crispy, cheesy snack. Here's what you'll need to do.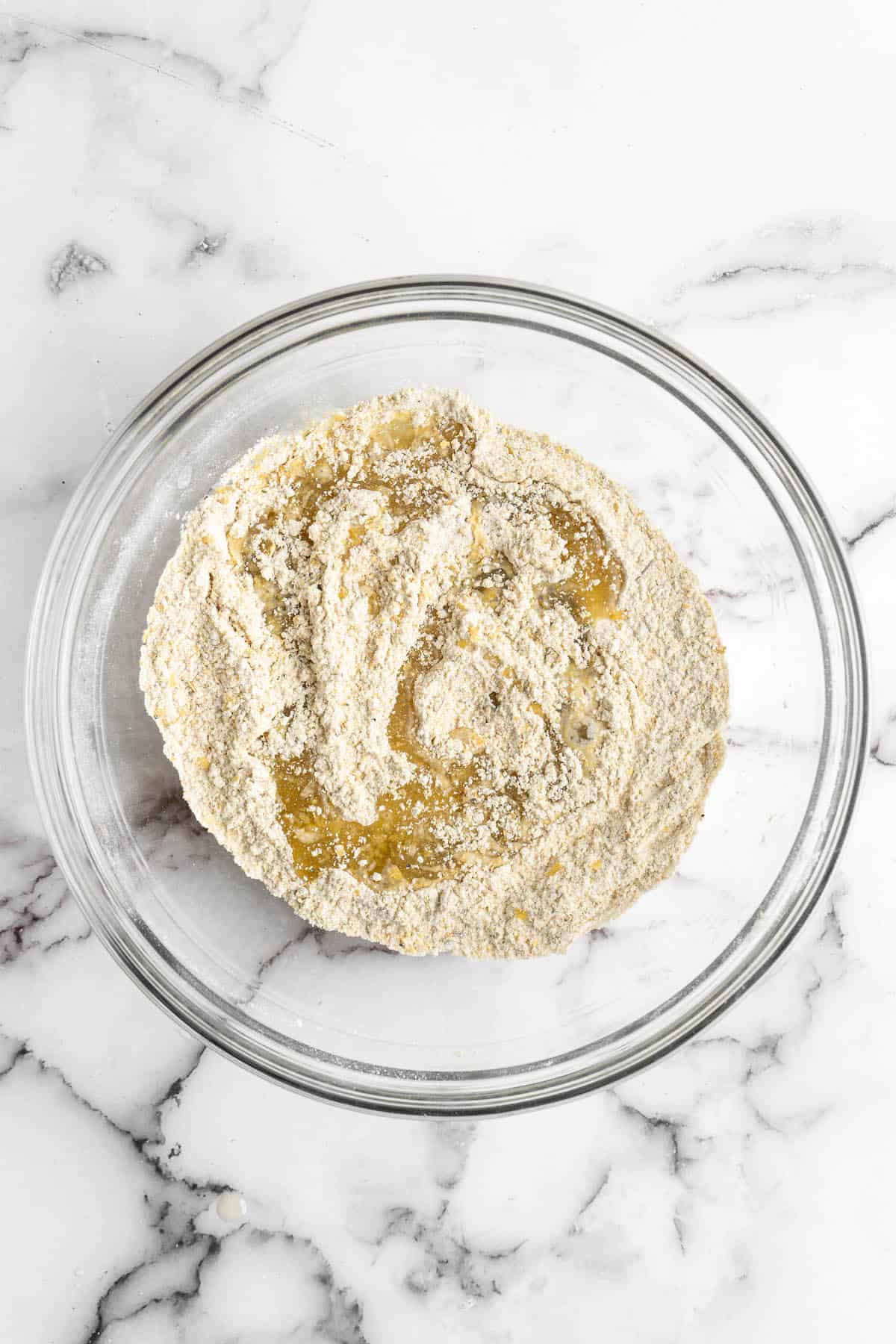 Form the dough. Whisk together the dry ingredients in a large mixing bowl. Add the olive oil and ice water and use your hands to mix everything together until pea-sized crumbs form. Then, press the mixture together to form a dough. Knead for 2 minutes.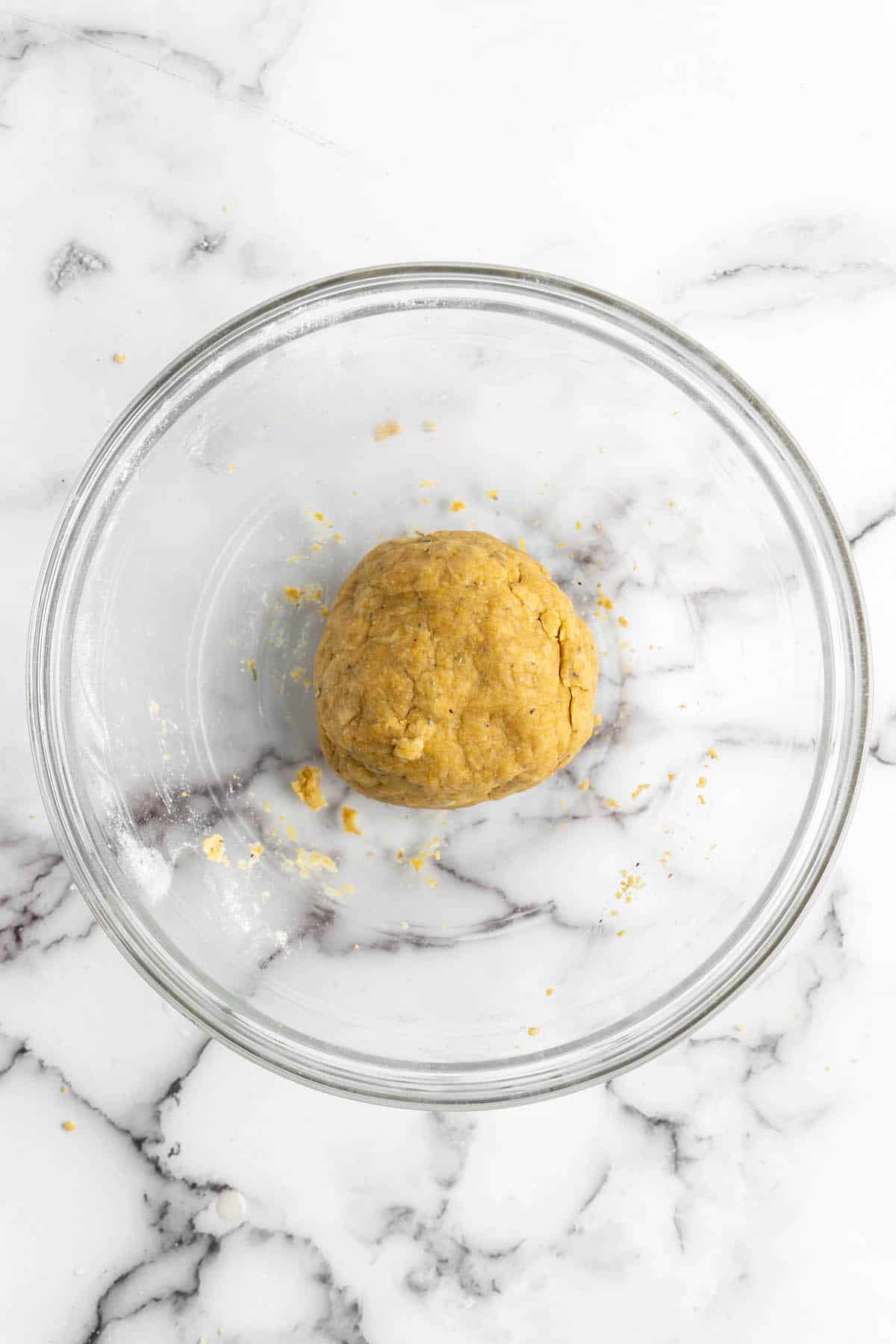 Chill. Form the dough into a ball and wrap it in plastic wrap, then freeze it for 10 minutes. Begin preheating your oven to 400°F/200°C.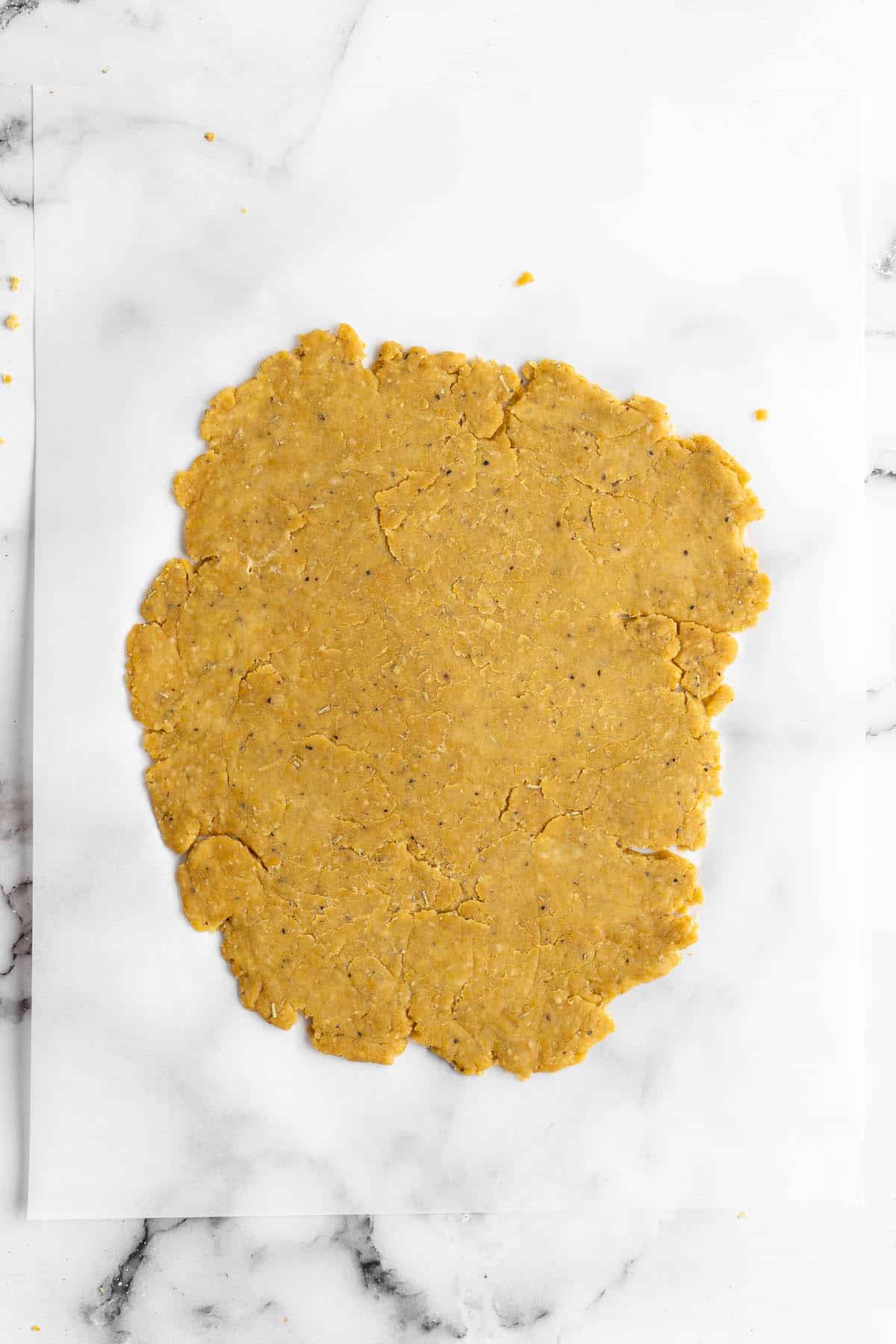 Roll out the dough. Unwrap the dough and place it on a piece of parchment paper. Roll it out to 1/8-inch thick.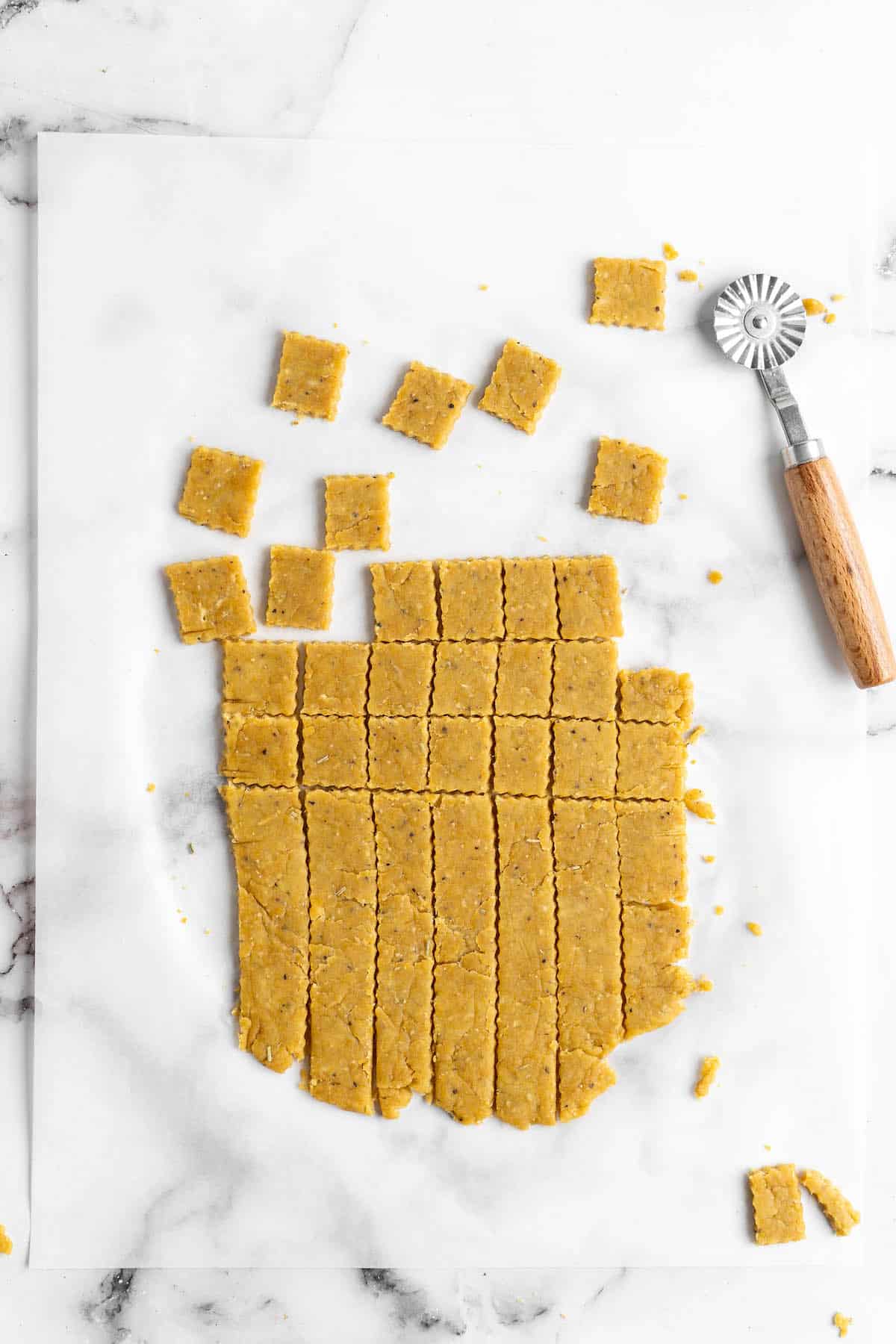 Form the crackers. Use a knife or a pastry cutter to cut the crackers into 1-inch squares and poke a hole into the center of each. Place them on a parchment-lined baking sheet and sprinkle them with salt.
Bake. Place the baking sheet in the oven and bake for 10 to 12 minutes.
Cool. Let your vegan Cheez-Its cool completely on the baking sheet before serving. As they cool, they'll get crispier!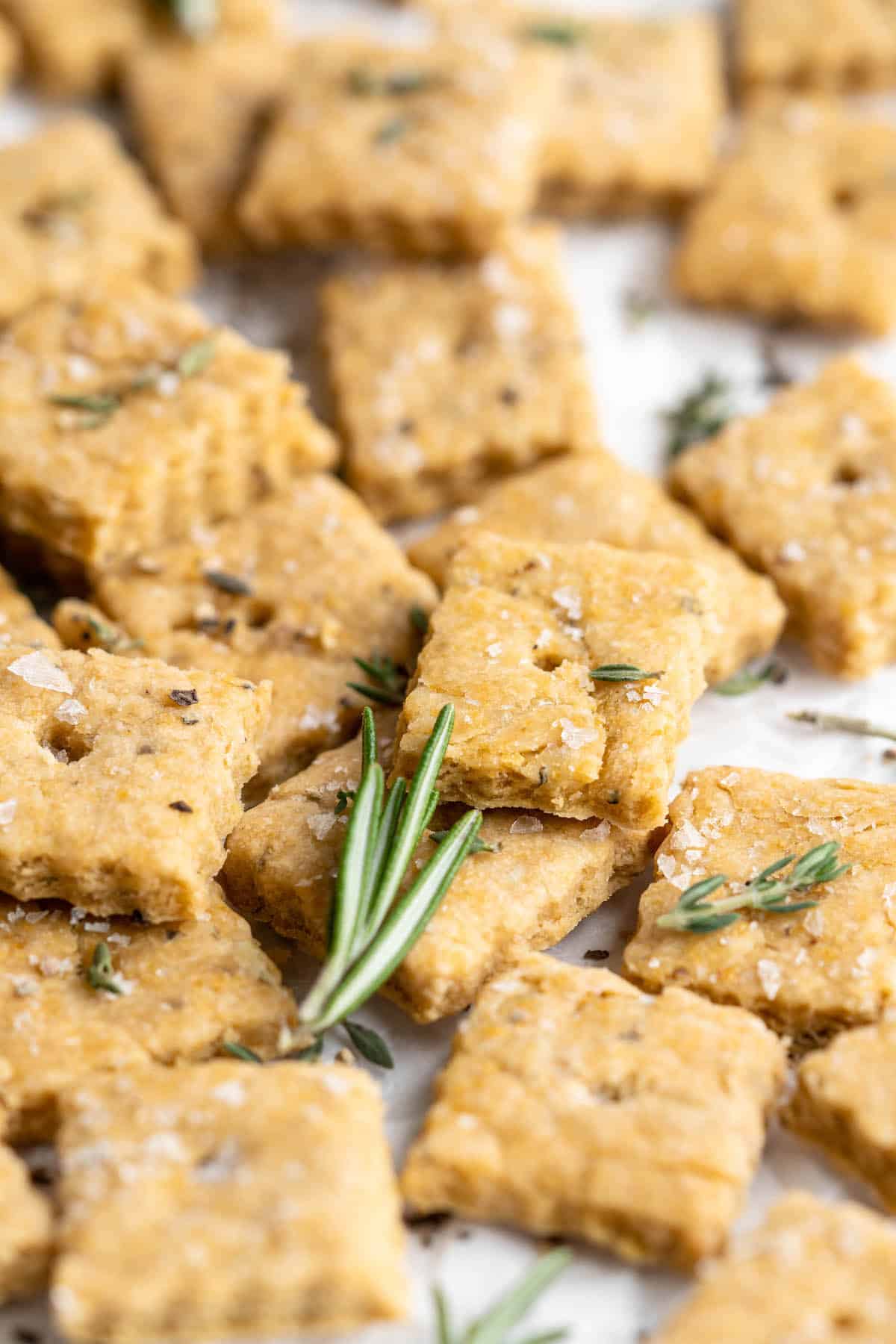 Tips for Success
I have some hints and tips to help you make sure your vegan Cheez-Its turn out delicious!
Measure the ingredients with a kitchen scale. You won't have to wash as many measuring spoons and cups, and you'll be certain to have the right proportions.
Expect a crumbly dough. But if it won't come together, you can add another tablespoon of water.
Roll out the dough evenly. It should be 1/8-inch all around, from the center to the edges. If different spots have different thicknesses, your crackers will all finish baking at different times, or some will be doughy on the inside.
Variations
I love the flavour of rosemary in these vegan cheese crackers, but thyme is lovely too. Try smoked paprika or sprinkle the tops of the crackers with everything bagel seasoning. There's a lot of room to experiment with vegan Cheez-Its as long as you don't change the dough or overall proportions of the recipe.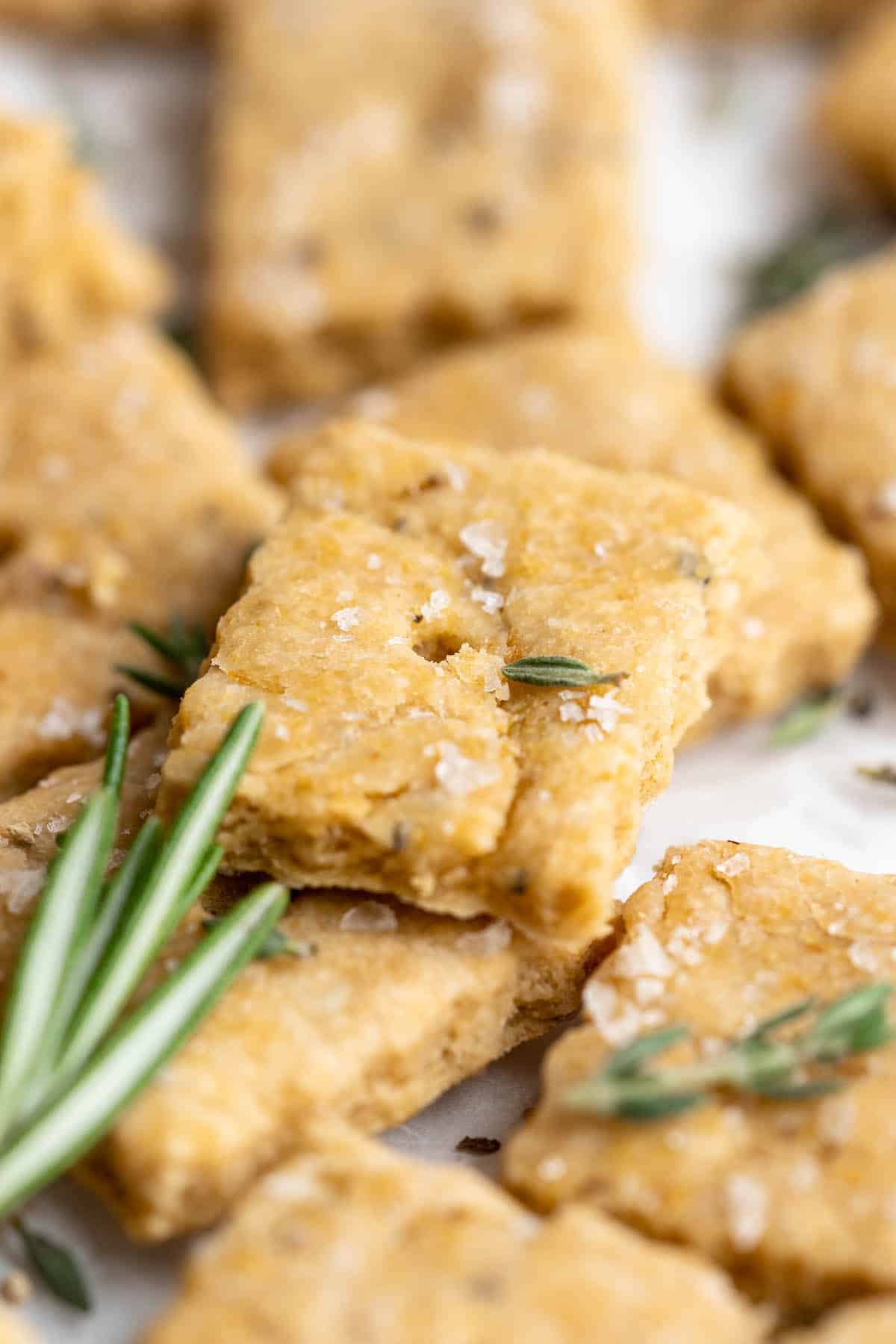 How to Store
Store your homemade Vegan Cheez-Its in a sealed airtight container at room temperature. They'll keep for about a week.
Enjoy friends! If you make this homemade Vegan Cheez-Its recipe, please snap a photo and tag #jessicainthekitchen on Instagram! We'd also love it if you would leave a comment below, and give the recipe a rating! Thanks so much!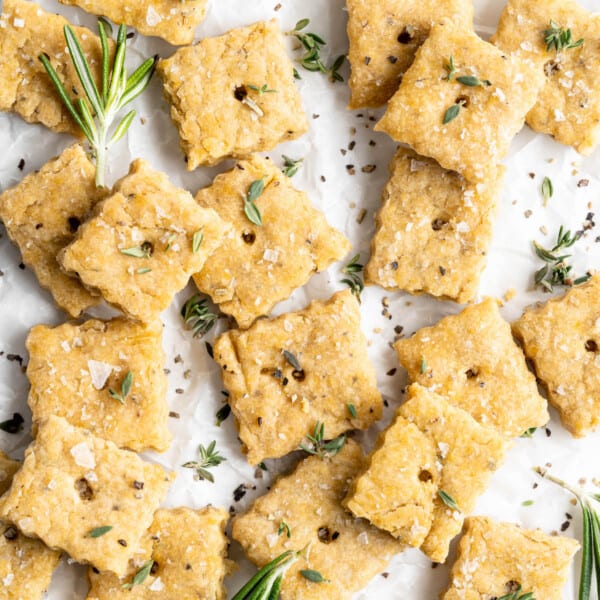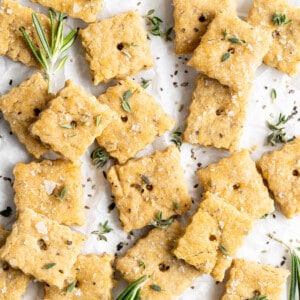 Vegan Cheez-Its
You only need 30 minutes to make your own homemade vegan cheese crackers! They're crispy, crunchy, and full of cheesy flavour.
Ingredients
½ cup Bob's Red Mill Nutritional Yeast , 30g
1 cup Bob's Red Mill Gluten Free 1:1 Baking Flour, 148g
½ teaspoon freshly ground black pepper
½ teaspoon dried rosemary
½ teaspoon sea salt
½ teaspoon garlic powder
½ teaspoon onion powder
¼ cup ice cold water, + 1 tablespoon if it is looking crumbly
¼ cup olive oil
Instructions
In a large bowl, add all the dry ingredients and stir together. Pour in the olive oil and the ice water and using your hands, mix together into pea sized crumbs until the liquid is incorporated, and then form together with your hands until a dough comes together.

The dough may look a bit dry and crumbly at first. It can take a while to absorb the liquid. You can add about a tablespoon of water to the dough if after a minute it's still dry and hard to use.

Knead the dough together for about two minutes. Wrap the dough with cling wrap and place in the freezer for about 10 minutes while you preheat your oven to 400°F/200°C.

Remove the dough and using a rolling pin, roll the dough on a parchment paper to less than a ⅛ inch aka, as thin as you can. This will guarantee a nice crispy and flaky cracker. Try and roll it as even as possible as well to ensure the crackers bake evenly.

Using a knife or a pastry cutter, cut the crackers into 1 inch squares, up and down the dough.

Poke a decorative hole into each cracker. Remove the crackers one by one and place on a lined parchment, or separate them on the same parchment (I find putting them on a different one much easier), ensuring they aren't touching. Sprinkle with extra sea salt on top.

Bake the crackers for 10-12 minutes. If they aren't totally even, some may bake faster than others at the 10 minute mark, and others will take the full 12 minutes to bake.

Remove from the oven and let cool completely. If they aren't crispy as soon as they come out of the oven they will crisp up once cooled. Serve and enjoy!
Notes
Store your homemade Vegan Cheez-Its in a sealed airtight container at room temperature. They'll keep for about a week.
Calories: 12kcal, Carbohydrates: 1g, Protein: 1g, Fat: 1g, Saturated Fat: 1g, Sodium: 15mg, Potassium: 6mg, Fiber: 1g, Sugar: 1g, Calcium: 1mg, Iron: 1mg
Disclaimer: Although jessicainthekitchen.com attempts to provide accurate nutritional information, kindly note that these are only estimates. Nutritional information may be affected based on the product type, the brand that was purchased, and in other unforeseeable ways. Jessicainthekitchen.com will not be held liable for any loss or damage resulting for your reliance on nutritional information. If you need to follow a specific caloric regimen, please consult your doctor first.