Vegan Herbed Parmesan Crackers
These Vegan Herbed Parmesan Crackers are done in 30 minutes! They are easy to make in one bowl, are crispy and flaky, and gluten free!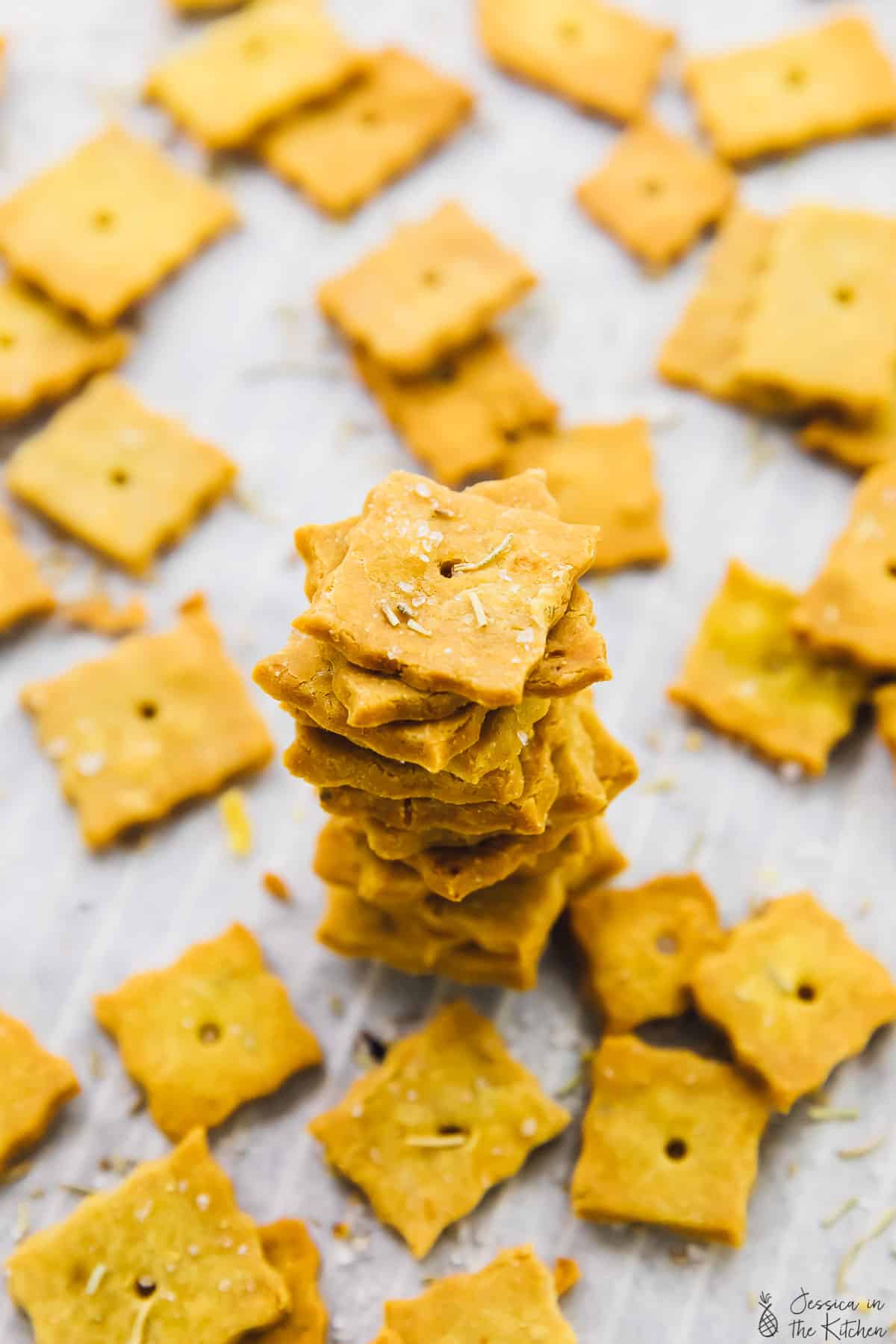 Do you know what I realised? I have never made crackers for you before! What?? A good cracker is definitely essential to snacking and catching up on your favourite shows, and there's no reason why you shouldn't be able to make one at home. Honestly, it's the best of both worlds. You can whip them up in 30 minutes, AND you can have crackers flavoured EXACTLY to your liking. Hello night in!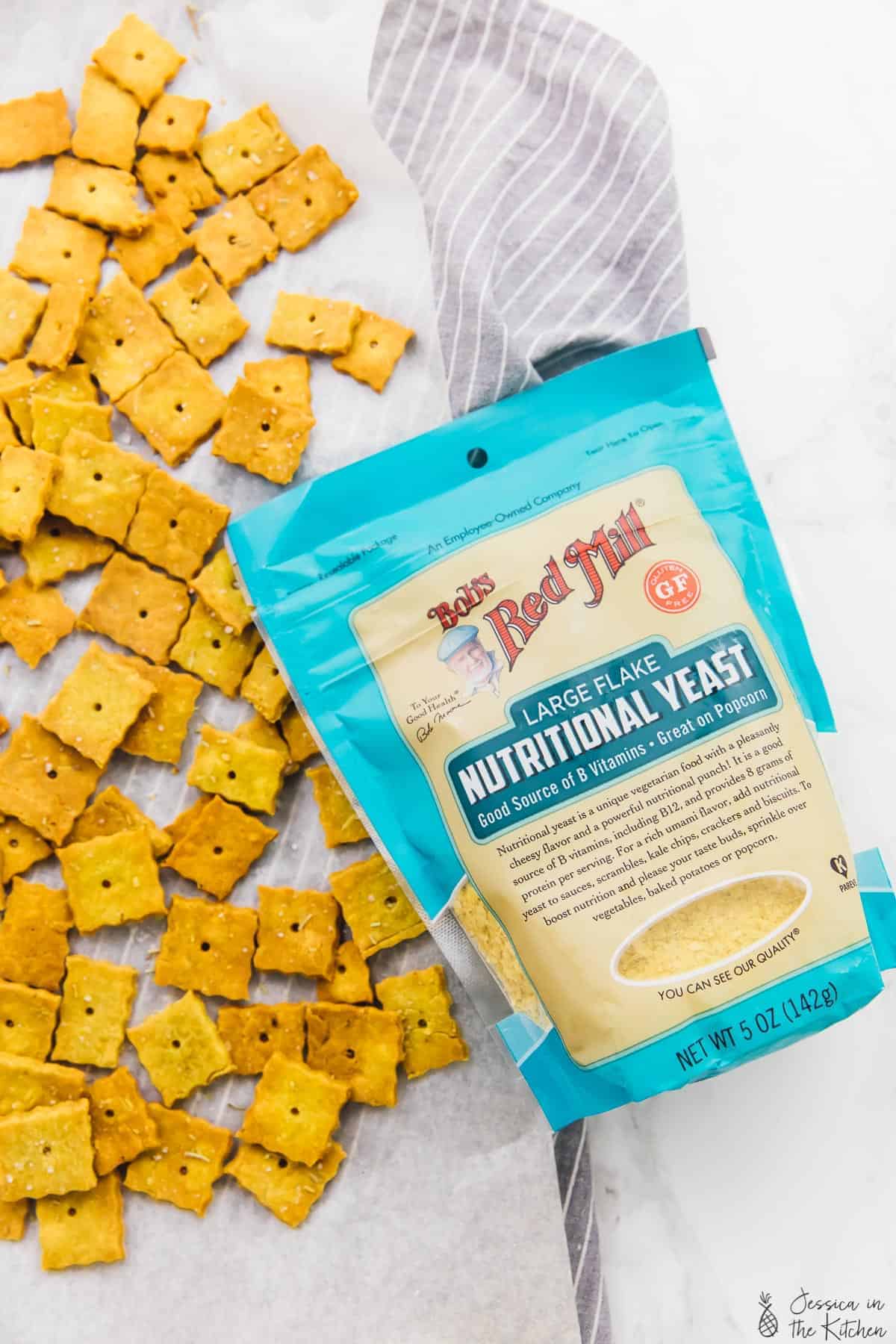 Making these parmesan crackers was honestly pretty easy, so easy I was shocked. You make a dough, you roll it out and cut it, and you bake it. It's honestly foolproof and the best part is, even if you don't cut perfect crackers, they're still delicious!! I was craving a cheesy flavour for these, and knew I had to use my Bob's Red Mill Nutritional Yeast in this. If you're intimidated by nutritional yeast or have no idea what to use it for or what it is, let me break it down easily. Here's an excerpt from my ebook, It's That Easy:
"Nutritional yeast aka nooch is an inactive yeast made from sugarcane and beet molasses. Think of it like mushrooms. Because it's inactive yeast, you can't use it to cook. However, it is basically a super food – it is high in B12, protein, folate, thiamine, riboflavin, niacin, selenium and zinc.
It's gluten free, vegan and is a great source for your B12 vitamins. I could go on and on about nutritional yeast, but it has a cheesy taste that is super popular in the veg community for adding to sauces, popcorn and even to make a vegan parmesan cheese."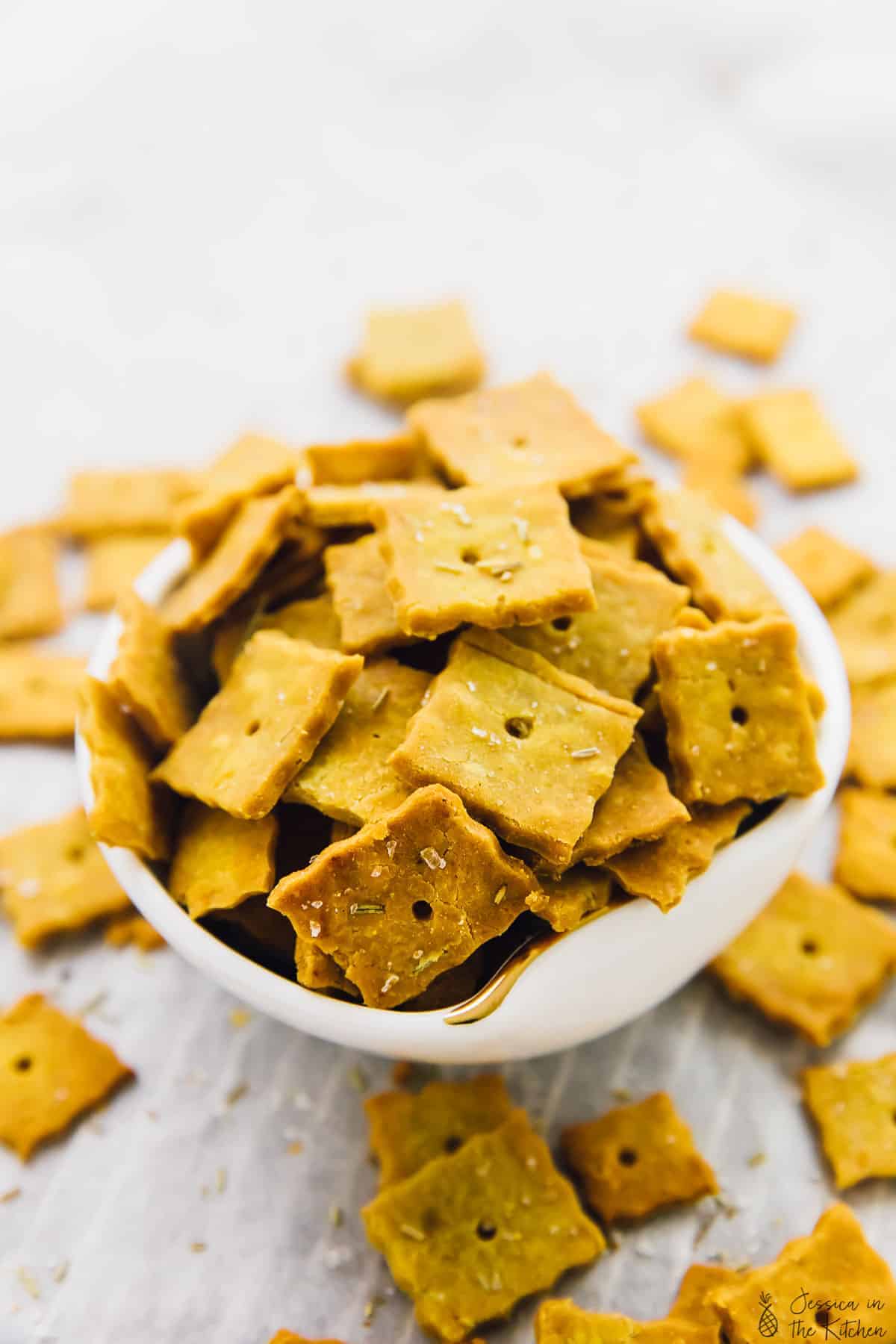 My favourite thing? That cheesy flavour! If you're going to use nooch, this Bob's Red Mill Nutritional Yeast is really high quality. A lot comes in the package too so even after using 1/2 cup in these crackers, I have a whole lot left. Other recipes I recommend trying this in:
On kale chips
Nooch popcorn: sprinkle lots with garlic powder over freshly made popcorn
I wanted to take advantage of that cheesy flavour here, and to make these Parmesan crackers. I used the seasonings in my vegan Parmesan cheese recipe to amp up these crispy crackers which really made these taste so amazing.
Of course I wanted everyone to be able to try them, so I made them gluten free and vegan too! I love that the gluten free flour held up so well in these. Trust me, these have the flavour of the buttery, flaky crackers that you know and love. Try them out and let me know what you think friends!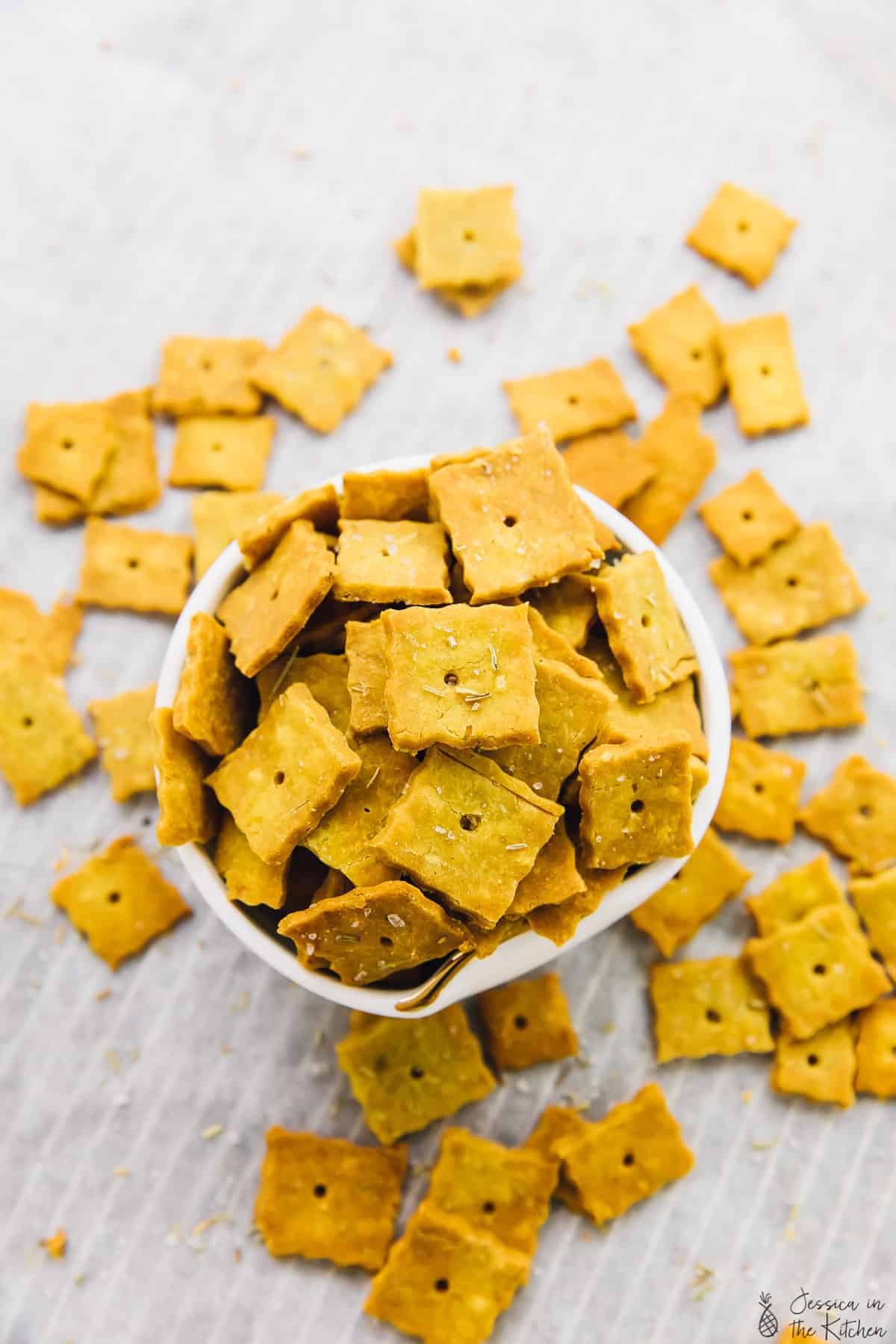 YOUR QUESTIONS ANSWERED
Q: Why is my dough impossible to manipulate?
A: It might be too dry! Try and add a teaspoon of water at a time to get it moist enough but not wet. You can avoid this by measuring out the ingredients using a kitchen scale.
Q: Why aren't my crackers crisp/a little bit dough-y on the inside?
A: If you made your crackers thicker than ⅛ inch, they won't bake in time. Bake them for about 3 more minutes depending on thickness, watching so they don't burn.
Q: Can I switch up the flavours?
A: Yes you can! You can use thyme instead of rosemary, or even add smoked paprika to enhance the flavour of the nutritional yeast.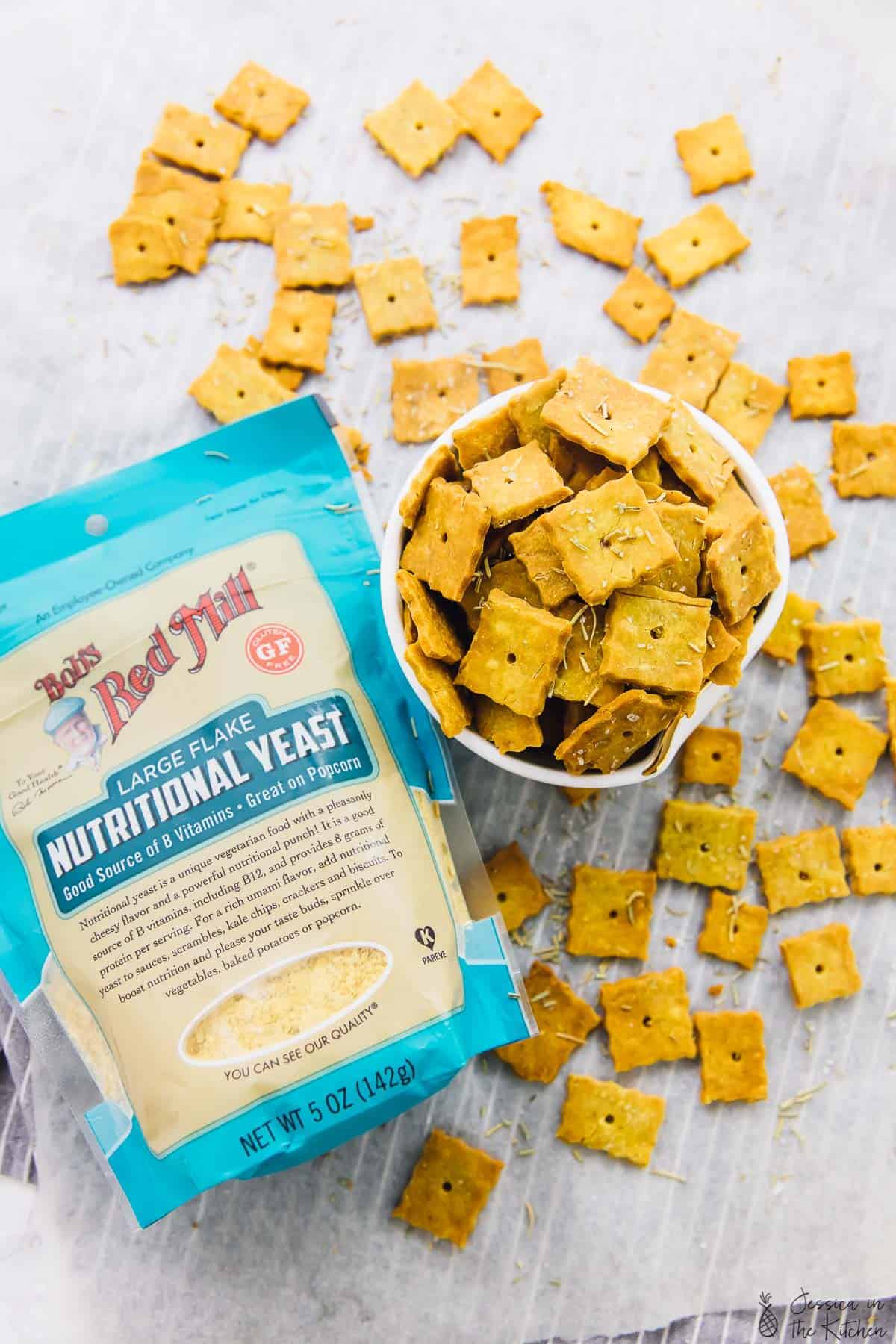 This post is sponsored by Bob's Red Mill. Thanks so much for supporting the brands who support Jessica in the Kitchen! All texts and opinions are my own.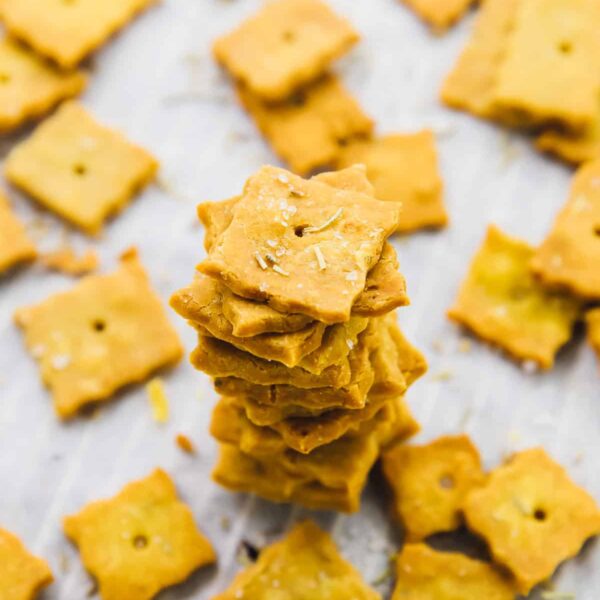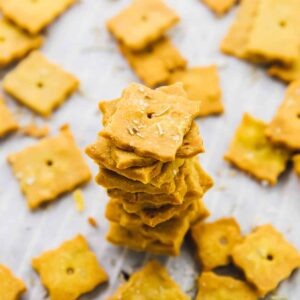 Vegan Herbed Parmesan Crackers
These Vegan Herbed Parmesan Crackers are done in 30 minutes! They are easy to make in one bowl, are crispy and flaky, and gluten free!
Ingredients
½ cup Bob's Red Mill Nutritional Yeast , 30g
1 cup Bob's Red Mill Gluten Free 1:1 Baking Flour, 148g
½ teaspoon freshly ground black pepper
½ teaspoon dried rosemary
½ teaspoon sea salt
½ teaspoon garlic powder
½ teaspoon onion powder
¼ cup ice cold water, + 1 tablespoon if it is looking crumbly
¼ cup olive oil
Instructions
In a large bowl, add all the dry ingredients and stir together. Pour in the olive oil and the ice water and using your hands, mix together into pea sized crumbs until the liquid is incorporated, and then form together with your hands until a dough comes together.

The dough may look a bit dry and crumbly at first. It can take a while to absorb the liquid. You can add about a tablespoon of water to the dough if after a minute it's still dry and hard to use.

Knead the dough together for about two minutes. Wrap the dough with cling wrap and place in the freezer for about 10 minutes while you preheat your oven to 400°F/200°C.

Remove the dough and using a rolling pin, roll the dough on a parchment paper to less than a ⅛ inch aka, as thin as you can. This will guarantee a nice crispy and flaky cracker. Try and roll it as even as possible as well to ensure the crackers bake evenly.

Using a knife or a pastry cutter, cut the crackers into 1 inch squares, up and down the dough.

Poke a decorative hole into each cracker. Remove the crackers one by one and place on a lined parchment, or separate them on the same parchment (I find putting them on a different one much easier), ensuring they aren't touching. Sprinkle with extra sea salt on top.

Bake the crackers for 10-12 minutes. If they aren't totally even, some may bake faster than others at the 10 minute mark, and others will take the full 12 minutes to bake.

Remove from the oven and let cool completely. If they aren't crispy as soon as they come out of the oven they will crisp up once cooled. Serve and enjoy!
Calories: 12kcal, Carbohydrates: 1g, Protein: 1g, Fat: 1g, Saturated Fat: 1g, Sodium: 15mg, Potassium: 6mg, Fiber: 1g, Sugar: 1g, Calcium: 1mg, Iron: 1mg
Disclaimer: Although jessicainthekitchen.com attempts to provide accurate nutritional information, kindly note that these are only estimates. Nutritional information may be affected based on the product type, the brand that was purchased, and in other unforeseeable ways. Jessicainthekitchen.com will not be held liable for any loss or damage resulting for your reliance on nutritional information. If you need to follow a specific caloric regimen, please consult your doctor first.